Do you spend much time and effort to style your long hair? Check how to spend less time on your look by choosing the right hairstyle for your long hair. Here are the most popular hairstyle ideas for curly and straight long hair.
Long hairstyles for women
---
Long hair hairstyles impress greatly by their variety both for men and women. This very article demonstrates the most frequent types of hairstyles for boys, girls, men, and women with long hair. You will find quick and simple hairstyles for long hair, braid hairstyles, long wavy and curly hairstyles for women as well as for men. Discover some tips with easy long hairstyles. And maybe you would like to try some long hairstyles with layers or with bangs. If you are a gorgeous black woman then you will adore long hairstyles for black women. Thus, every man and woman with long hair is sure to find out something special and dear to the soul.
---
---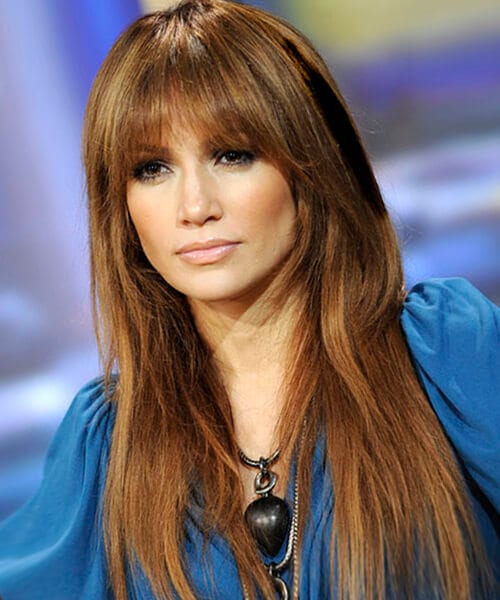 Long hairstyle with bangs
A variety of hairstyles with bangs impresses greatly. These quick hairstyles for long hair are perfect when you want your hair to free-flow even if it is quite long. These days long side bangs are in trend. The side-swept bangs blend well with the face-framing layers, in spite of the fact that they are rather long, they flatter for all face shapes and really comfortable to wear. The most popular shape for wearing bangs straight across the forehead is arched. They also must be quite long if you want to look modern.
Such kind of bangs will be ideal for faces with big foreheads. In fact, healthy long hair is woman's precious jewel and a nice layered hairstyle with bangs will help you to wear it with comfort. If you want to make your mane lighter and more movable create long bangs blended into the shortest layer that will provide a beautiful frame for the face. In case you need to correct your face shape or vice versa draw attention to your facial features, you should create layers that start below the chin with straight bangs to frame the face. It is better to style the bangs with a round brush flipping them to the center.
---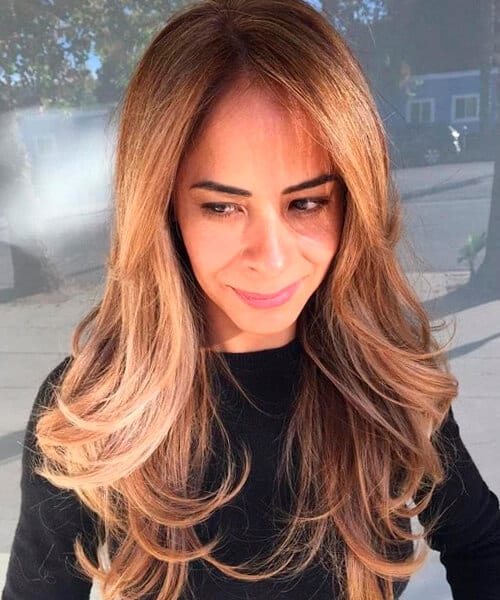 Long layered hairstyle for women
Actually, layering is achieved in two ways – the first is a basic haircut and the second is with the help of the color. If you want to make the hairstyle more lightweight, a blonde long layered hairstyle with a dark brown underlayer is a perfect solution for thick type of hair. Long layered hairstyles are universally flattering, thus they can flatter any face shape, including oblong faces. This simple hairstyle for long hair can make thick hair more manageable, add volume to fine hair and just looks all around perfectly. In spite of the fact that long hairstyles with layers work well for every hair type, they are particularly advantageous for thick hair.
You may style your effortlessly gorgeous hair in a deep side part and sweep the elegant loose curls over one shoulder. That will be an excellent way to demonstrate your long healthy hair.
---
Pretty hairstyles for long hair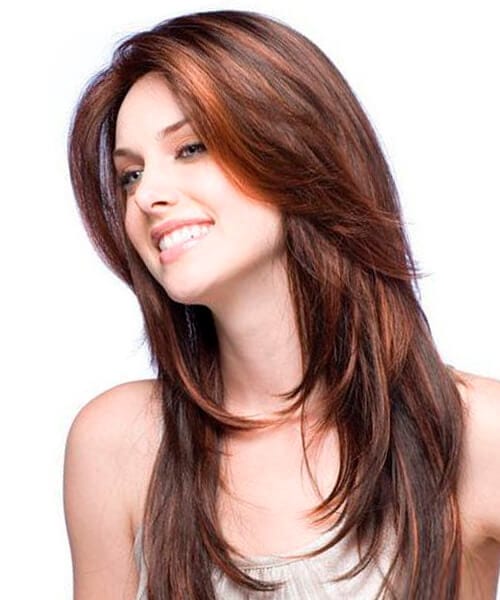 Front layers pretty hairstyle for long hair
In this hairstyle for girls with long hair the hair is heavily layered around the face with bare layers at the back and ends. It is extra flattering for those women who have lots of fine hair and it is perfect for straight textures. The layers don't look wimpy as the hairstyle gives weight. If you have a heart shaped or an oval face you should start the layers at your cheekbones whilst if you have a square jawline you'd better begin a little above your cheekbones. It is considered to be one of the best hairstyles for long thin hair.

---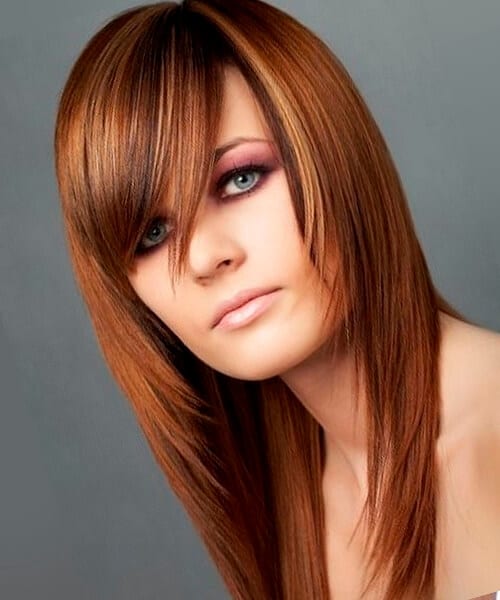 Tapered ends pretty hairstyle for long hair
This long layered hairstyle for girls with long hair removes bulk and keeps natural spirals look great. The horizontal layers should start at collarbone level in the back but rather remain long in the front. In this case you don't get the dreaded wedge shape when you tuck the hair behind the ears. In addition, the hair looks thick and streamlined. It is rather quick and simple hairstyle for long hair.
---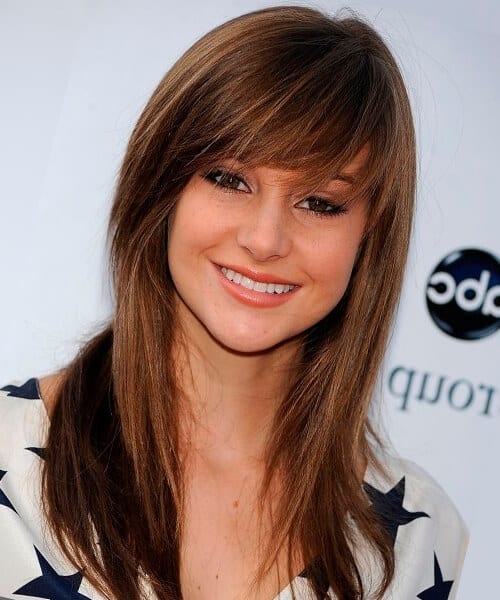 Long with bangs pretty hairstyle for long hair
This long hairstyle for women has come to present-day modern life from 1960s. However, to avoid dorky-looking blunt bangs, you shouldn't have cut them too wide as they must create a triangle shape that aligns with the outer corner of the eyes. While achieving your hairstyle you are to ask your hairdresser to snip up into the ends to make them not too blunt and to add a few light graduated layers in the front. The rest of the hair may be kept in one length or if you wish you could sprinkle in a few light layers. The most important trick here is not to make the layers around the face too short. If they begin below the chin, they will look most flattering.
---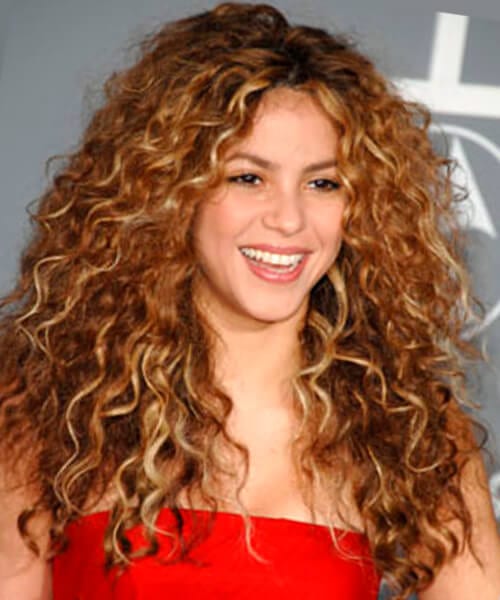 Long with tight curls pretty hairstyle for long hair
With this long hairstyle for women to create wild and curly texture you are supposed to have beautifully blended round layers all around the head that will lend weight without looking heavy. If you keep the layers on the longer side no matter what your face shape is. The first layer should not start until chin level. The hairstyle is considered to be a good hairstyle for long thin hair. Moreover, this long wavy hairstyle is considered to be a simple hairstyle for long hair.
---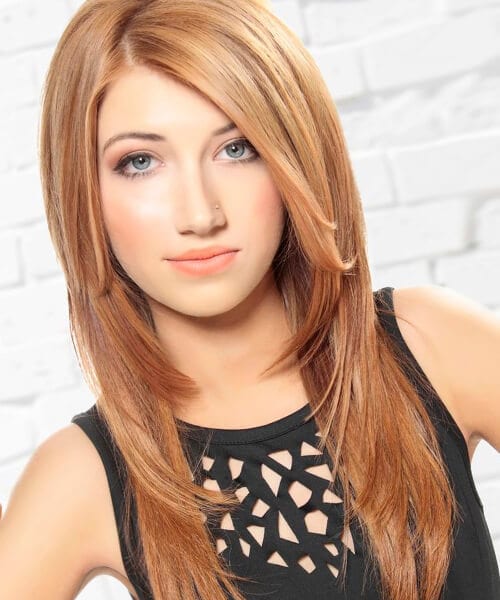 All around layers pretty hairstyle for long hair
If you want a simple and at the same time versatile option you should try this long hairstyle for women with haphazard layers. The hairdresser must take the bottom two inches of hair and cut it in such a way that is not really perfect by pointing the scissors downward. This pretty hairstyle for long hair is a kind of wash and go cut due to the slightly imperfect ends. The hairstyle takes care of the styling for you as you can let it air dry or blow it out. One of the beneficial points of this long hair hairstyle is that it compliments almost every face shape and, moreover, it can be styled with a side or a middle part.
---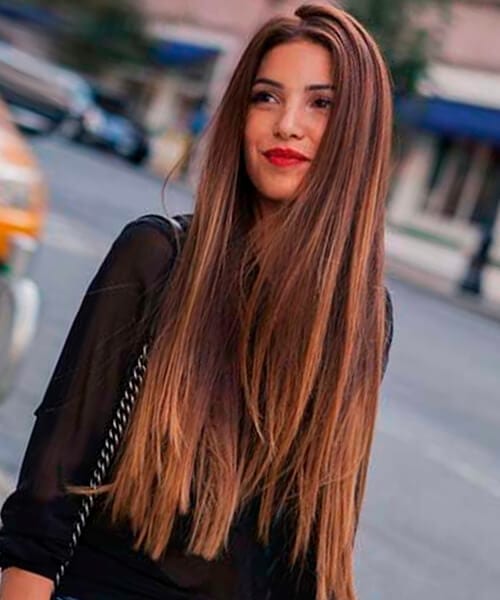 Super long hair pretty hairstyle for women
The hairstyle features cascading long hair done exactly the right way. The key point lies in balancing the length with a few face-framing layers. The hairdresser must organize all the hair of one length and a few layers that should start at the cheekbones and are recommended to be sliced with a razor. However, it is advisable to avoid such length in case you have fine strands, otherwise, they will appear feathered or limp near the ends.
---
---
Long weave hairstyles for women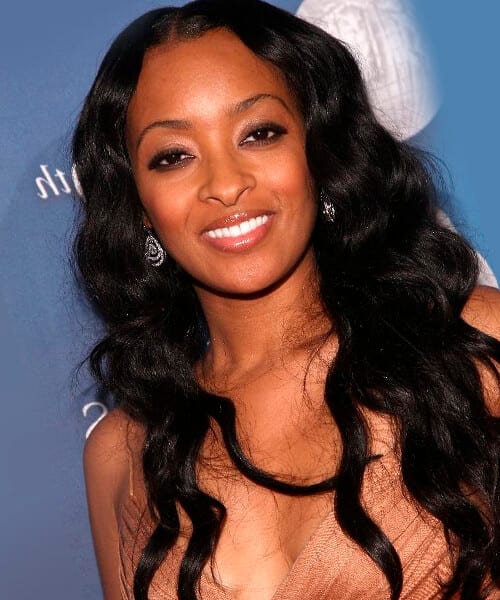 Royal weave hairstyle for long hair
This hairstyle demonstrates peek-a-boo highlight adds that give funky fun to the hair in a matter of seconds. To style it properly you need to section out bangs in a shape of a half circle. Then you are to comb bangs to the front and using one inch gold barrel curling iron curl them. The next step is to curl the ends of the rest of the hair with the help of the same device. In the end it is recommended to apply some light finishing spray. It goes without saying that to keep hair soft and healthy you should use a good cleansing shampoo. In addition, this long hairstyle for women fits any face shape.
---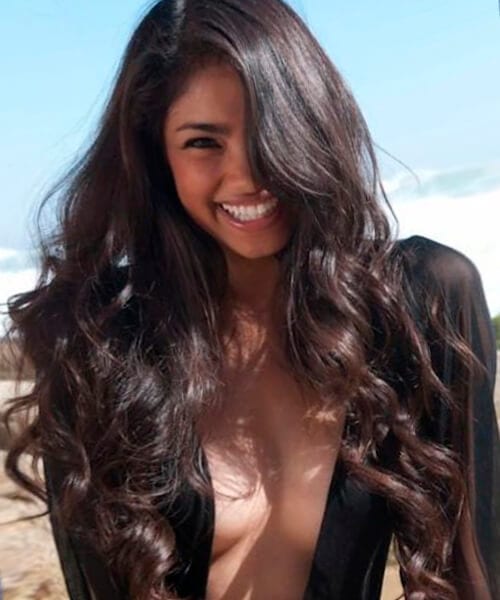 Hot and sexy long weave hairstyle for women
This hairstyle is suitable for those women who want to look sexy and attractive. It requires only a few steps to form it. In fact, weaves serve as one of the ways to protect styling the hair, because it allows you to avoid damage and to grow the hair long without having to shape it in a troublesome way. Nowadays, lots of actresses and singers use long weave hairstyles to support their appearance in front of numerous fans. To make this impressive long weave hairstyle you should have a very healthy hair.
The next important thing is to groom your hair every day to make it resistant to any damage and shedding it with a comb. Moreover, a wide-toothed comb will be better than a paddle brush. Actually, long weave hairstyles were brought into spotlight by various celebrities. This hairstyle for long hair looks really stylish and at the same time quite classy and elegant.
---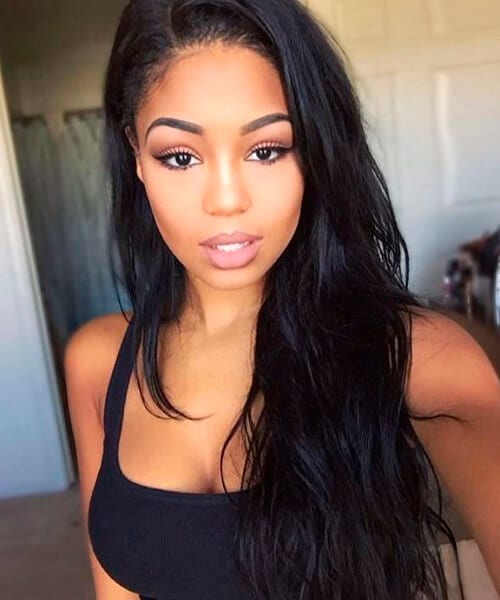 Soft and straight long weave hairstyle for women
This long hair hairstyle represents straight hair with rather light waves giving it some natural vibe. With such hairstyle your locks won't be stick just straight as it is a more relaxed look. The hair hits right in the middle of the back that gives you a great length in case you want a change, for instance curling. In addition, a long weave hairstyle is the easiest way to skip the months of growing out the hair and it means that you can rock these gorgeous long locks any time you would like.
---
Long hairstyles for black women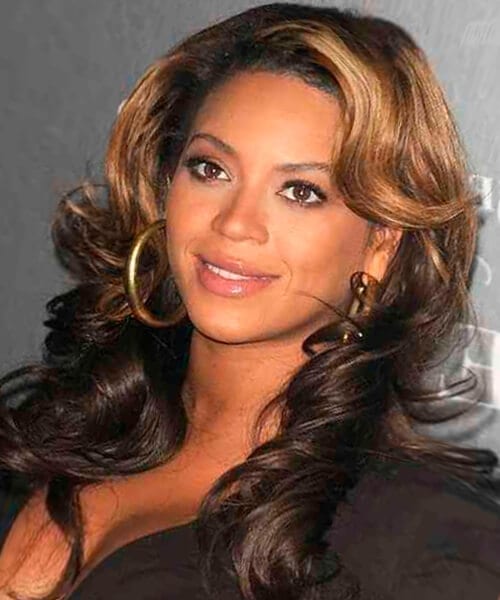 Extensional long black hairstyle
It is not a secret that most part of Afro-American women is blessed with beautiful long hair. This hairstyle features long curly hair with a fringe. Soft curls really impress as this full of shine and volume extensional hairstyle is ideal for a weekend shopping trip or even an evening out. To style it properly you need to start with dry hair preparing it with a thermal protectant. Then you should curl the hair vertically working in medium-sized sections and flat iron the bangs as you wish.
To create a beautiful volume you may use special hair donut placing it under the crown of your head and backcombing around. It is not difficult to achieve the style as may seem; you just need then to smooth your hair over the donut and pull it into a slight side ponytail under the hair donut. To finish the look you may arrange your hair over a shoulder and set the hairstyle with a medium-hold hairspray. One of the beneficial points about this black long hairstyle is that it works well for all face shapes.
---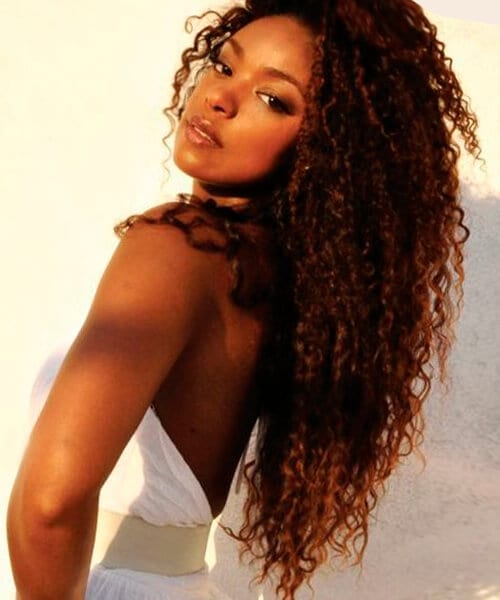 Long curly hairstyle with layers
This long layered hairstyle is ideal for gorgeous black women's hair. Surely everyone will stop and look at you admiring your splendidly curled long layered hairstyle. To style it you should begin with freshly blow-dried hair not forgetting about thermal protectant. The next step is to section the top and wrap the underneath in hot rollers. Use a flat iron to smooth the hair and take the bangs away from the face while rollers are cooling. Then you are to remove rollers and slightly comb through the curls with your fingers. To finish the look it is advisable to apply some amount of shine-enhancing spray to the ends. Also, it is recommended to protect the locks while heating with some heat protection serum. All face shapes will be complemented by this black hairstyle for long hair.
---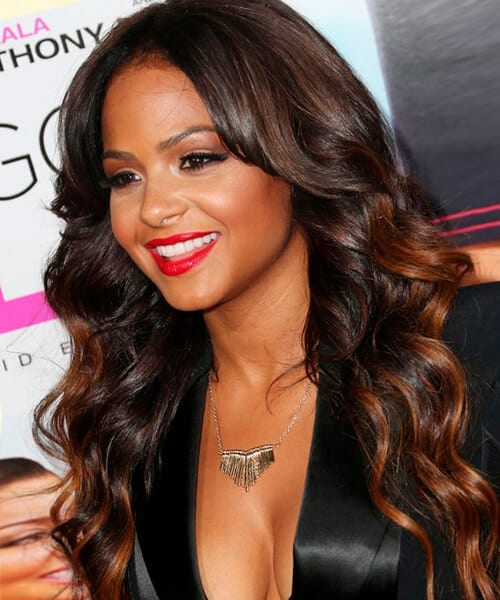 Long wavy hairstyle for black women
One of the major new hairstyles for black women is a long wavy hairstyle cut on thick and straight hair that is full of natural volume with defined waves in the lower lengths. If you happen to have an oval face shape, the key point to your hairstyle is the center parting. Fringe is another important thing to compliment the look. They are so changing these days, from the full forward straight across fringe to the extra-long that can be styled to make wings on either side of the face. Then to get the final finish you should add a fresh medium ash brown color to give classic elegance to glossy jet black hair.
---
Braid hairstyles for long hair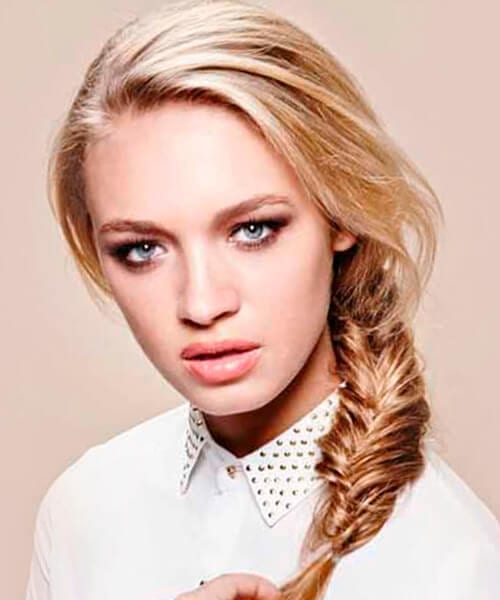 Foxy fishtail braid hairstyle for long hair
This is one of the best hairstyles for long thick hair. It is incredibly simple and represents a perfect way to keep your hair out of the face preserving all styling points. You should start with gathering the hair into a high ponytail and secure it with some holder. The fishtail must be done by separating the ponytail into two sections, then grabbing small pieces from the outside of each section so that finally they meet in the middle. You proceed in the following way until the whole ponytail is braided.
When you are through, secure the bottom with some ponytail holder. To finish the look you may spray your braided fishtail with a light hold finishing spray. If you apply a bit of a shine serum in a braid it will help you to hide any flyaways and, moreover, it will make your braid look shiny and soft. This braid hairstyle for women with long hair is absolutely stunning; it will surely accentuate long thick hair and an oblong or oval face shape.
---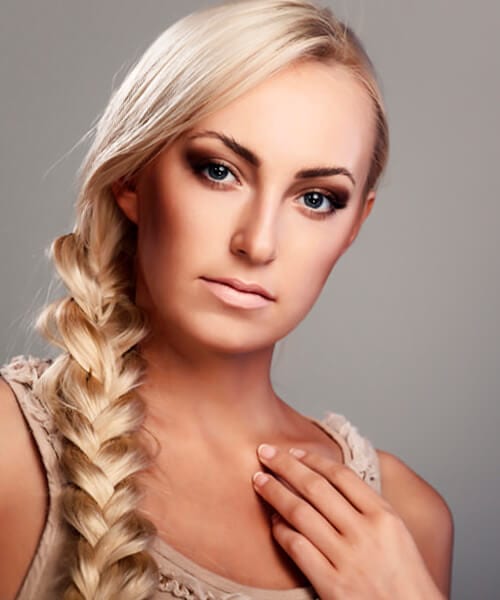 Bombshell braid hairstyle for long hair
This hairstyle for girls with long hair demonstrates a combination of messy and manicured points of modernizing your everyday French braid. To achieve this marvelous hairstyle you are to start with a small curling iron to curl your hair. Then with the help of a backcombing brush create volume at the roots in the back of your head. The next step is to complete the French braid but quite loosely, for doing it you need to begin on one side of the head in the middle back area and to end on the opposite side at the nape of your neck. If you desire you may leave bangs.
To give a messier look it is advisable to use a rat tail comb to pull out some pieces thus gently loosen the braid. In case you feel the necessity to place the curls that have fallen out of the braid you may use bobby pins. And finally, apply some light hold finishing spray. In addition, this pretty hairstyle for long hair will look great on every woman that wants to make her round face appear slimmer. And, of course, long and thick hair is perfect for this hairstyle.
---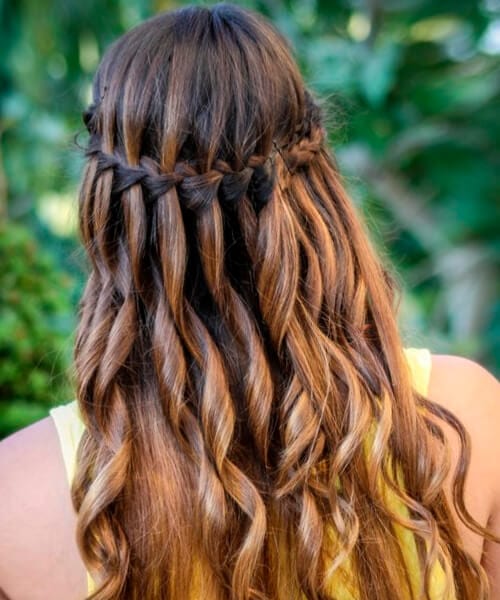 Waterfall braid hairstyle for long hair
The braided waterfall long hair hairstyle has lately become one of the most popular hairstyles for girls with long hair. The hairstyle may be a great option for a night out or a casual day activity as it features half up and half down hairstyle what makes it absolutely stunning. To style it correctly you should start the braid on one side of the head, while completing a traditional French braid you should let the bottom section of it fall out each time. As soon as you through stop the braid at the back middle section of the head and secure the end with the help of a bobby pin.
Then you are to create the same braid on the other side of the head. Finally, when both of your braids meet in the middle back section of the head, you need to secure them again using a bobby pin. As for the rest of your hair, you may curl it with the help of curling iron. And to finish the look as usual spray it with a light hold finishing spray. This long hairstyle for women will be ideal on thick, medium or even fine hair. Moreover, if you leave the hair down around your face, it will be an excellent way to soften harsh features.
---
Long hairstyles for men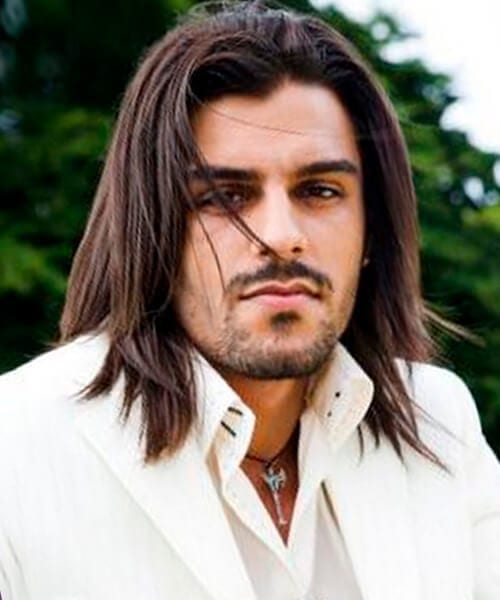 Long straight hairstyle for men
Surprisingly, but these days men's long hairstyles are as different as women's, especially when unfettered by the restrictions imposed by social groups. Long straight hairstyles may be longer than traditional images, and yet they are definitely masculine with clean-cut lines and bold hairstyling. The best color for this hairstyle will be rich warm chestnut brown with darker hints of low lighting features. One of the advantages of this long hairstyle for men lies in that the straight styling is quite simple – the only things required are deep-set side parting and sleek, smooth styling for a satin-finished look.
This hairstyle for men with long hair can be made unique by adding some textured and more defined weight lines in the upper layers of the hair. These lower layers must be gently cut at the nape area. The hairstyle features super straight style and texturizing with some sculpting product. The hair may be textured with a dab of pomade if you want to add definition to your locks.
---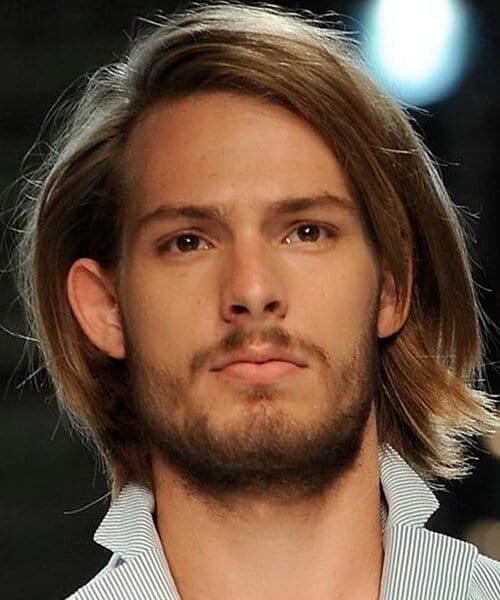 Medium-long hairstyle for men
The hairstyle is called medium long as it features long hair on the top and short hair at the sides. It is extremely popular with men nowadays, because such style offers a wide range of versatility. As soon as the sides and back of the hair have been cut off, you may do anything to the longer part. The variety is really huge – the hair can be slicked back and straightened for a sleek look, or it can be gelled and combed into a side parting for a more retro look, or just combed into a pompadour type top. The hairstyle is beneficial as it has endless options with that you can work and, moreover, to see which one suits you best you can mess around and achieve a perfect look with this medium long hairstyle.
---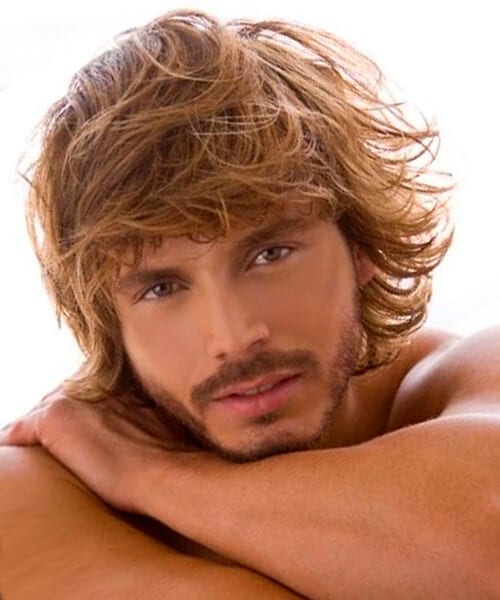 Beachy look hairstyle for men with long hair
The hairstyle does not require your living at the beach to get it. However, you should be rather patient to wait until your hair reaches your chin. The length of the whole hair must be uniform all over your head. Then the barber will chip some hair at the bottom to give it some layering. Thus, you will achieve some movement and texture of the hair. If the place where you live is blessed with a sunny climate, the hair has a great opportunity to get a natural sun-kissed look. Otherwise, you may add some highlight for the locks. In fact, this hairstyle does not need much maintenance.
You will have the best look if you keep your hairstyle unkempt, nevertheless, it doesn't imply the fact that you will ditch trimming the hair for quite a long period of time. There is a small tip how to maintain the hairstyle – to get the natural beachy look you may use a sea-salt spray.
---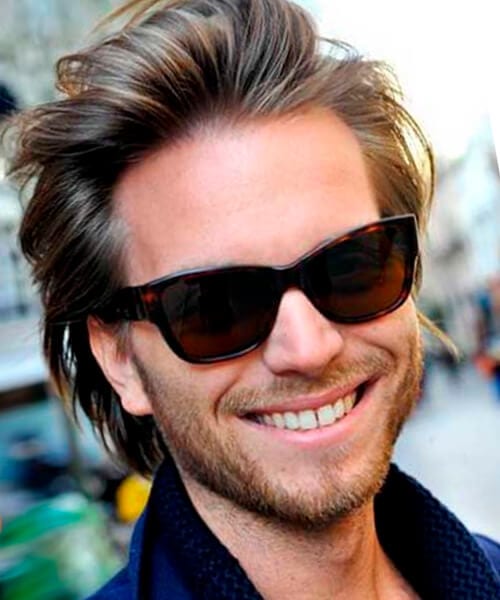 Pulled back men's long hairstyle
Once there will be the time to tie your hair. Whether to concentrate on work or to participate in sports, in any way the best variant is to tie the mane than to get it mucky. You may pull back all the hair and tie it in a ponytail, however, be sure to tie it low and not crown it the head like women do it. If you happen to know how to tie a man bun, just go for it. You can easily pull back the top half of the hair if your hair length is around your jawline. Thus, you will get a low ponytail. When you pull your hair be very careful as pulling it harshly may damage it and, moreover, weaken the roots. Remarkably, it is recommended to choose the right rubber bands to reduce the breakage and not to add tension to hair.
---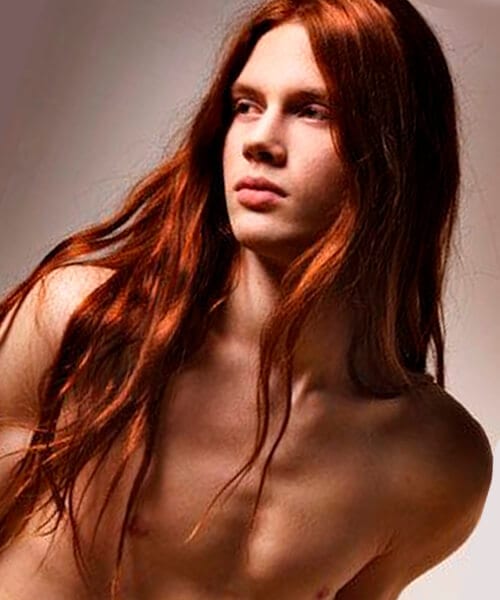 Long flaxen locks hairstyle for men with long hair
This long hairstyle will suit strong, angular Nordic features of those men who are brought into harmony by glassy and smooth styling of long flaxen strands. The key point of this hairstyle is the color of the hair and its styling whilst the cut is quite simple, blunt trimming of the super-long locks. The hair features an intricate blend of tones in shades of wheat, gold, and honey-blonde. It is blown super-straight and ironed to a glossy, smooth and yet free-flowing finish.
---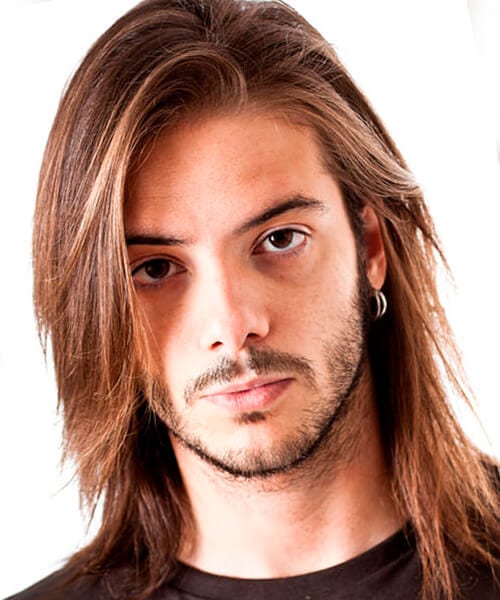 Long layered hairstyle
An impressive men's long hairstyle with layers is not really long-haired by objective standards, the 4-6 inches of length in this long hair hairstyle is long for the traditional men's haircuts. It features the hair that is layered in so-called long- layered technique which creates increasing lengths towards the lower portions of the head. To give the ends a soft finish the layers are then textured heavily using a razor tool that allows some definition and movement of the natural wave pattern of the hair. Being inherently masculine in its wild styling and rugged silhouette, the look is one of the most romantic. In fact, the wave and natural texture in many ethnic hair types is usually a great challenge for barbers, but still it is possible to find a way to make the hair work.
---
Long curly hairstyles for men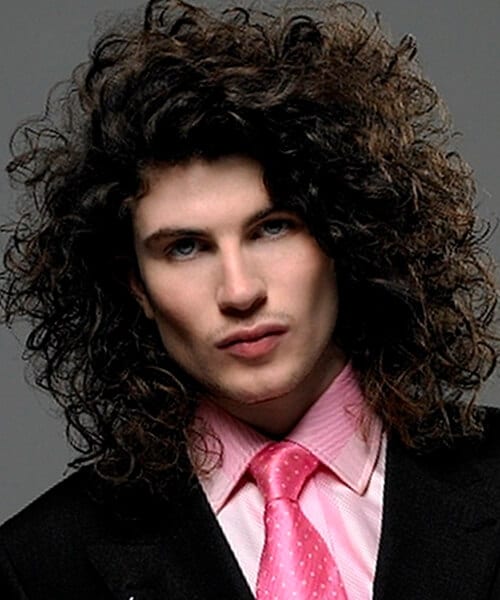 Men's long hairstyle for very curly hair
A layered haircut can be executed on head full of curls. The bulk and volume of the hair are managed with the help of tapered lengths together with a rounded top and crown.  Thus, this hairstyle perfectly suits very curly hair types. In order to minimize fuzziness and frizz that can result from over dry curly hair, it is critical to exercise care with styling, especially drying. It is not advisable to fully dry the hair and is better using a leave-in conditioner and a diffused hairdryer. To add definition and control fuzz it is recommended to apply a light hold hairstyling product that can offer manageability and control for curly hair and can be freshened up with extra leave-in conditioner or a simple spritz of water.
---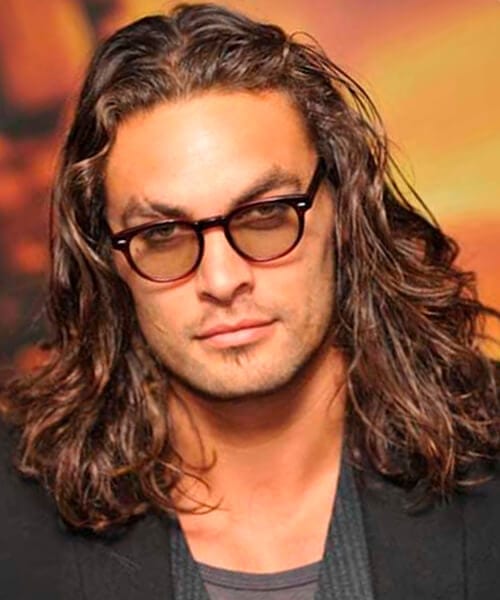 Long hairstyle for men with curls
An interesting fact has hit the present-day world of fashion – women's hairstyles are becoming shorter whilst men's are growing longer and longer. There is no exception with long curly hairstyles for men. The current trends offer the freedom for long male locks and thus more freedom of movement in the hair.
Bouncing curls and loose waves are taking the spotlight instead of stiffly dressed locks. This layered curly hairstyle demonstrates the top, crown, and nape cut in a long uniform hairstyle with layers where the sides are close-cropped to give some balance to wider faces and features creating a vertical focus. This hairstyle is perfect for those men who have natural wave in their hair. The styling will consist of a diffused blow-dry technique applying some light hold product to provide gentle hold and to keep the curls defined. By the way, a dab of product raked through the hair adds definition without weighing the hair down too much or stiffness.
---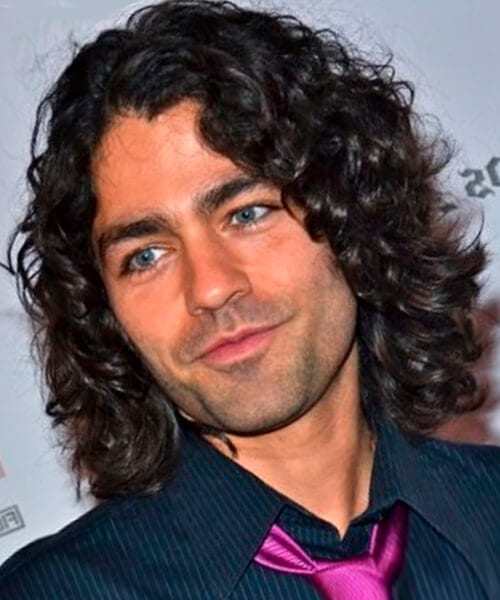 Spiraling curls hairstyle for men with long hair
This hairstyle takes ample benefit of naturally curly hair. The essential haircut is circular and the length of the hair must be kept longer than it is traditionally expected. The fringe must be cut approximately nose-length and tapered at the sides. To create an array of spiraling curls the hairstyle involves scrunching with the fingers while blow-drying. If you want to organize a definition in the curl, apply an additional dab of smoothing serum and the hair should be fluffed out with the fingers.
---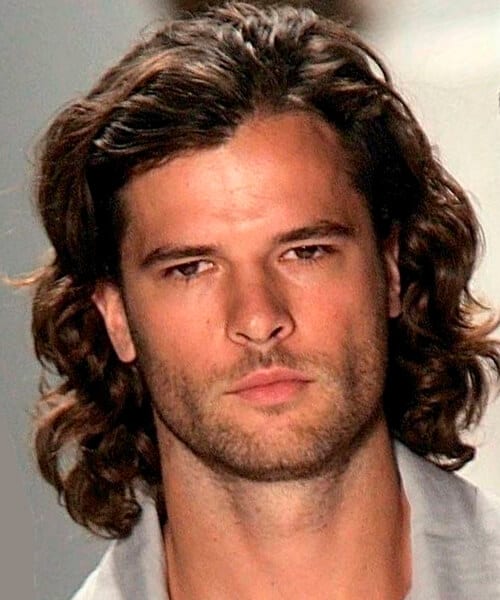 Best men's long hairstyles for long faces
The first and most important thing is to understand what means a long face shape. The face must be longer than it is wide; there is often a rounded jawline in a combination of cheekbones and jaw of one and the same width. There are several hairstyles for long faces, for instance, such face shape looks perfect with medium long hairstyle that is long on the top and short at the sides. This kind of hairstyle will provide better balance and make the face appear less long. Also, long layered hairstyles will suit long faces, the hairstyles worn in a way where the front hairline is disguised.
It goes well with a long straight hairstyle, where the hair can be side swept or not. Long hairstyles with bangs also will enhance your facial features. If you like to sharpen your face a bit, you may create some angles and volume on the top. In fact, a man bun looks great on long face shape. Another trick is a neatly groomed beard that can provide additional balance, however, you shouldn't allow the facial hair to grow too long if you don't want to lengthen your face. Moreover, glasses divide the face and draw attention away from the length of the face, thus providing balance.
---
Men's easy hairstyles for long hair
A few tips for men's long hairstyles
It goes without saying that very few men are willing to spend a significant amount of time on their hairstyles. However, long hair itself requires a bit more time than the short one. Nevertheless, there are some easy hairstyles for long hair that may help you to spend a little less time if you know a secret. In fact, it is not entirely true that long hair is more high maintenance. A secret lies in that long hair can always be pulled back, even if you didn't have enough time to wash it the day before. In case you run late, you may refresh your long hair with a little light spray gel or pull it back in a ponytail.
---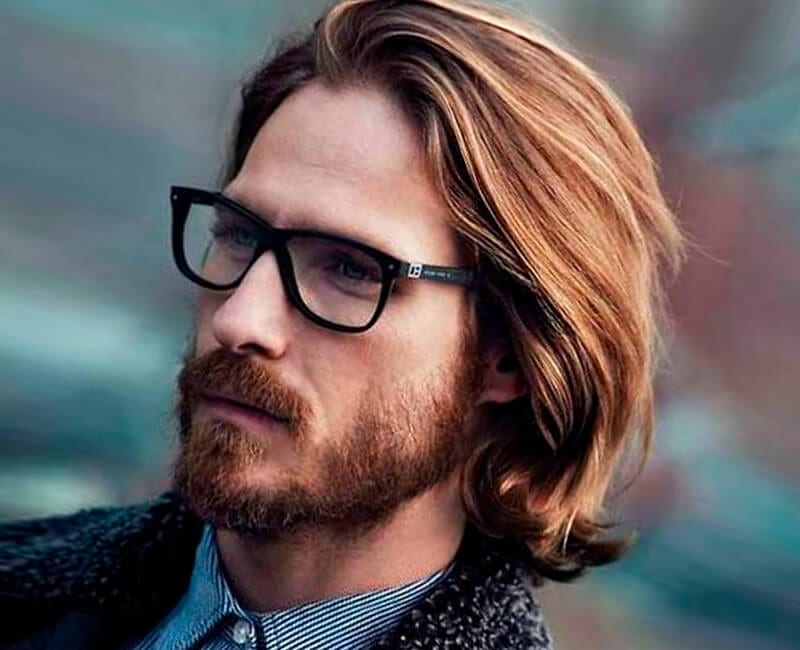 ---
You are surely a lucky man if you have texture in your hair. If you own some type of texture, it will create a fine wave. The only trick is to bring it out and when the hair is wet, it is really easy to do. You should scrunch the hair from the bottom to the scalp until the natural wave comes in. You will usually achieve an easy hairstyle for long hair, if you air dry it and, moreover, a grooming cream and a light spray gel naturally dry better.
In achieving easy hairstyles for long hair, you should find what you want to accentuate depending on your face shape. In fact, a good hairstyle for men with long hair is able to diminish anything you are insecure about and to accentuate the best features. For instance, if you have a nice jawline it would be great if some front layers hit the jawline.
---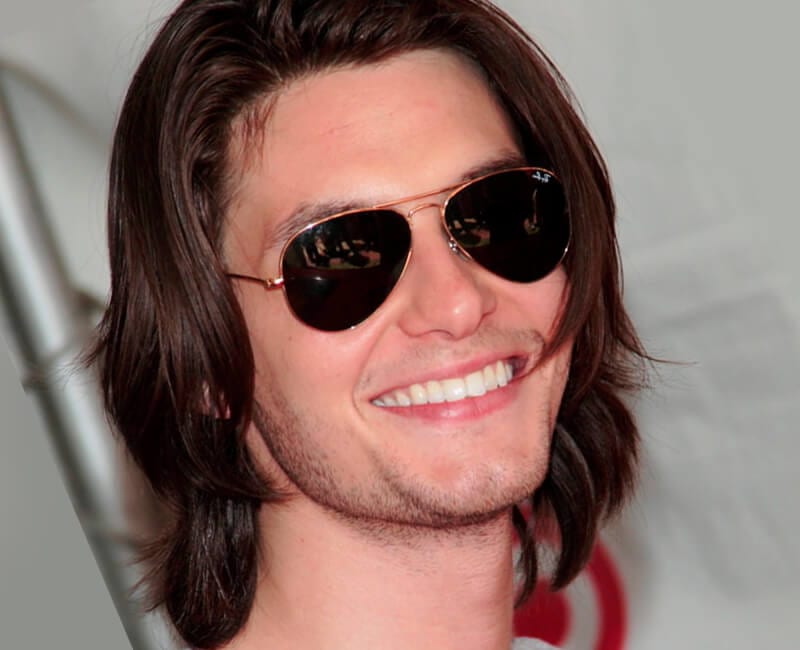 ---
There are some other products recommended for men's long hairstyles. Frankly speaking, all these pastes, pomades and gels are made for short hair, so when you have long hair, you'd better use some grooming cream with a light spray gel. You will also need some wide tooth comb or a square paddle brush with plastic or synthetic bristles. There must be large balls at the tip of the bristles to help you with detangling. And, of course, you should invest in a couple of hair ties in case you want your hair out of the face.
In spite of the fact that it is really easy to wear long hairstyles for men, long locks require some care. In case not to get split ends and straggly-looking hair, a man should always be getting trims. Also, you should shampoo your hair at least twice a week or better – three times per week. It is advisable to add some conditioner after washing with shampoo. Notably, there is a great innovation of the 21st century – a dry shampoo, that is available everywhere these days. You may have one for your bag to get refreshed after the gym, for instance. It is also a great thing for those men who have naturally oily hair and just a perfect in-between product to use.
---
Boys' long hairstyles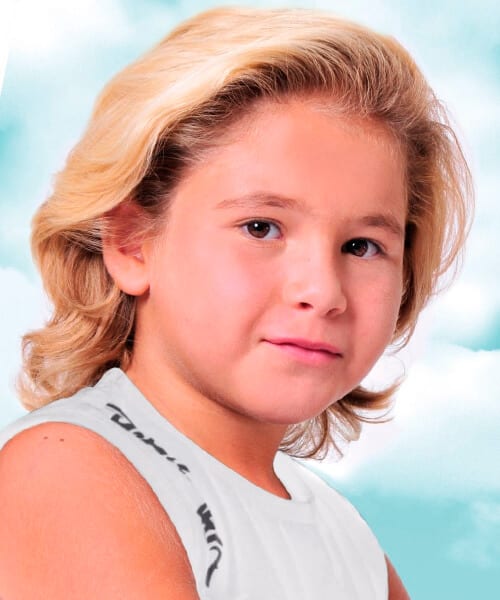 Long surfer hairstyle for boys
Almost every young boy with long locks wants to show off his long surfer hairstyle. This long hairstyle for boys works best on hair with a bit of wave or that is naturally straight. To get an edgy deconstructed look you should ask a barber for long layers using a razor. To style the hair, start with drying it properly and then style it with a side part. It is so cool for youngsters to look like beach boys. This hairstyle is admired by its versatility as it can be worn shaken out and shaggy, you can add some shine product. And, of course, you should maintain a healthy look for long hair by shampooing and conditioning it regularly.
---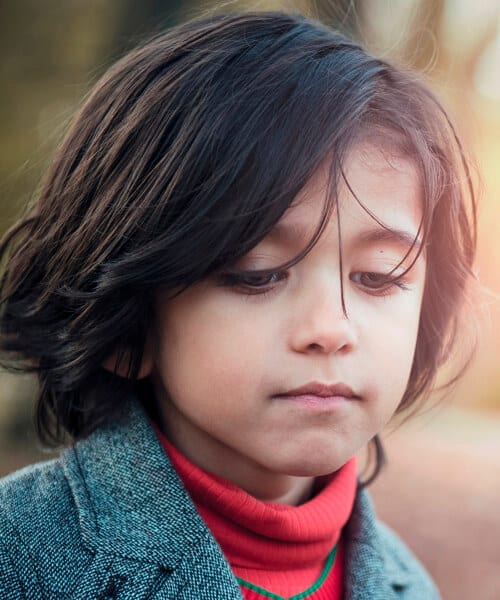 Wild boys' long hairstyle
The wild side of the look is brought out by a long hairstyle for boys with a tapered neck and much volume at the back of the head. Notably, the long front area reaches over the eyes and ear lobes. The styling is quite casual. You should just wash and knead in some gel after it, then dry while styling with fingers. You may create this seduction look by pulling your hair straight over with a skeleton or round brush while blow-drying the hair. Then comb a casual side partition, again blow-dry the front slightly outward and you will be ready for a great success.
---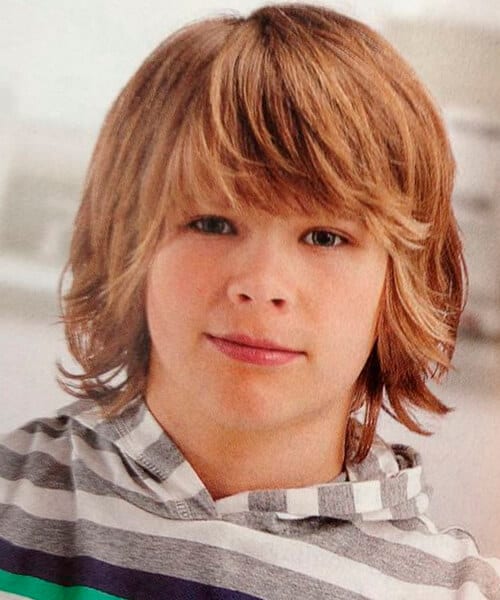 Rock 'n' roll boys' long hairstyle
Such gorgeous hair with this hairstyle is able to turn the world upside down and bring back the 1950s look. The longer hair will make more fun and you will achieve a rock star look. Lucky you as you needn't wear those big hair bands and, moreover, there is no need to get the perm for the long hair. You should keep the strands of the hair straight and sleek in a way they fall on your shoulder. In case your type of hair is straight, you may keep a uniform length all over.
To transform the look it is possible to get some bangs around your face or to add light layers. If you intend to achieve a long straight hairstyle while your hair is wavy or curly, you can smooth these curls out using a flat iron on the dry hair to get this perfectly straight look. To help you to maintain this hairstyle you may apply some straightening balm or serum and if you want to piece out the tips of your hair it is advisable to hair wax it.
---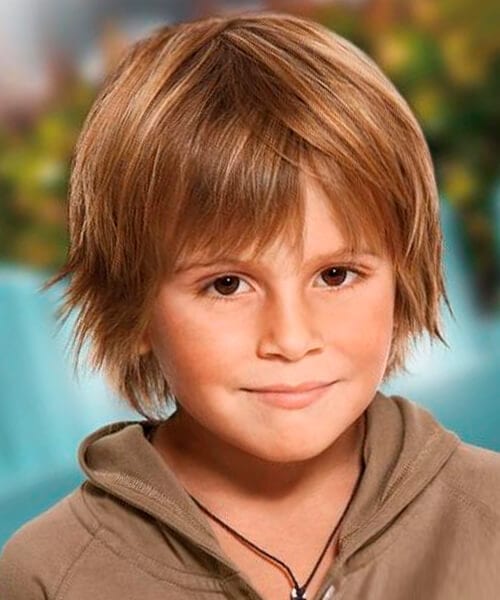 Thick and shiny long hairstyle for boys
This is one of the most popular boys' hairstyles for long thick hair. If you are blessed with thick and full hair why not show it off?! Surely you will receive an envious look from people for demonstrating your gorgeous mane. You should have your hair cut in long layers in a way it will highlight the frame of your face. Then you are to blow dry wet hair in one direction and keep tossing it with your fingers while it is drying under the heat.
To bring out the volume and shine you may scrunch the hair. Those boys who have a lighter shade of hair will find it shiny whilst the boys with the darker hair will discover added shine than the light-haired boys. If you want to add some extra shine to the hair, you should use a shampoo and conditioner. To control the waves and style of the thick hair, you may try the light hold shine pomade.
---
Conclusion
Well, now you know lots of interesting points about long hairstyles for men as well as long hairstyles for women. Choose the best hairstyle suitable for you and be gorgeous in any situation and everywhere.
---
---