A hairstyle plays an important role in your image. Do you need to prepare for a formal occasion? Check our collection of popular hairstyles for ladies that will suit formal events. Choose among the best semi-formal and formal hairstyles for women and feel confident.
The Best Hairstyles for Formal Occasions
---
Formal occasions do not occur in our life every day that is why it is so important to be ready to celebrate any event wearing a gorgeous formal hairstyle. There are lots of various ideas to create the best hairstyle from short hairstyles to half up half down formal hairstyles. Semi-formal hairstyles can also be of great help as well as easy formal hairstyles.
---
Formal short hairstyles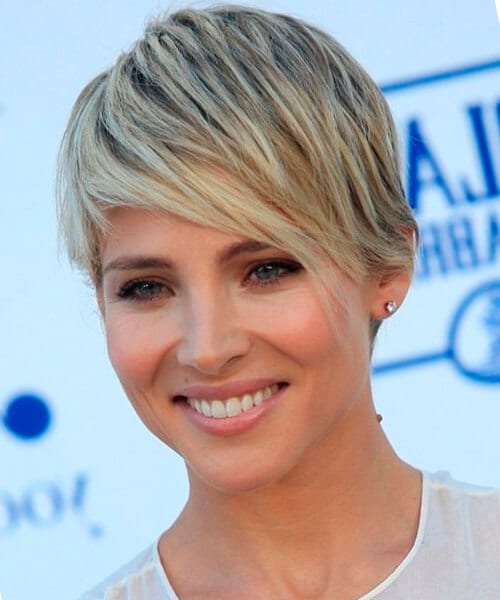 Pixie crops formal short hairstyles
Actually, pixies are considered to be the shortest hairstyles, therefore you need to make a little effort to get ready for any important event. You may refresh your haircut or change the hair color and have your hair styled to the chosen idea. The variety of this kind of hairstyle is really great, from a sultry and edgy brunette crop to a soft platinum blonde with side-swept bangs. It is also possible to create a long pixie, which is still short, sporting a chic bedhead hairstyle with shaggy bangs.
The timeless success of pixie hairstyles remains uncontested; they are really easy formal hairstyles. It looks marvelous with the wispy front fringes pulled to the side that highlight the facial features, whilst the fullness of the crown area serves well as a perfect cushion for any delicate hair pieces and adds volume to the hairstyle. Cute neat pixies usually look sweet and appropriate for different formal occasions. When short front pieces cover one side, curl them and mess the curls on the top, it will render the hairstyle sort of irresistibly cute mess and you will definitely be a princess of any evening.
---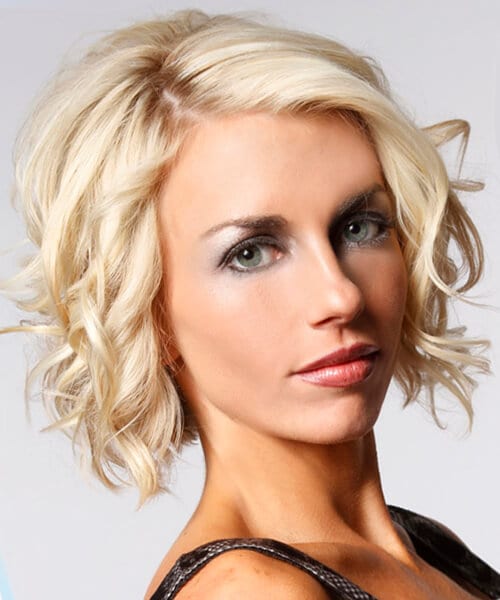 Bobs formal short hairstyles
Bring out the texture with short bob formal hairstyle. Modern bob hairstyles are gorgeously shaggy, messy, tousled, and radiant and whatever you like to enhance the texture of your hair. To create the best hairstyle for formal event you can style the bangs delicately to one side adding a side parting or you can sweep them off the face. Bob formal short hairstyles are guaranteed to work with any elegant outfit. If you want to be more formal, you should have your bob smooth and neatly combed, whilst cute and tiny flyaways will express a livelier look.
An off-center part can balance out the length of the face, if needed, and the braided bangs may add interest to your hairstyle. It's always wonderful to make a personal statement with a formal short hairstyle with a complex-looking four-strand braid that goes diagonally across the back of the head and hides in beautiful loose tousled curls. In case you are thinking of something more classic, you are to try a rounded bob with under-curled ends that will have fancy and really effective look. The hair is gathered from the front and may be pinned down at the back, creating a smooth and pristine appearance. It is an excellent choice for those ladies who opt for simplicity; it is quite easy formal hairstyle. In addition, it can be chosen as a winter formal hairstyle.
---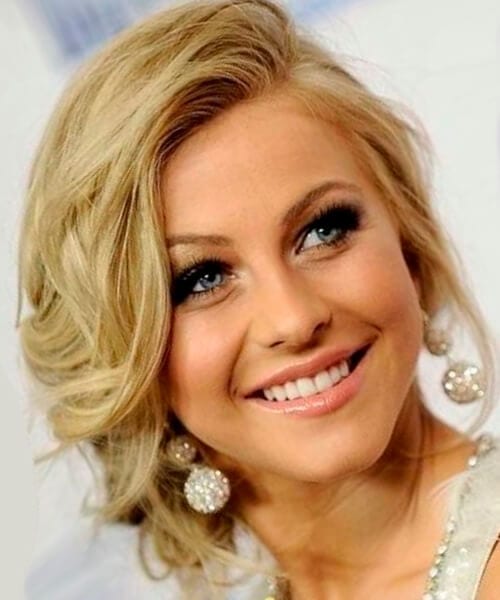 Short formal hairstyle updos
This group of formal short hairstyles suggests at least a bob length. Even on short hair you can create twisted and braided hairstyle updos that will look fancy and intriguing. It is also possible to wear a fake updo with curled locks sleeking them back by fixing randomly at the nape with bobby pins. You may add a tender hair flower that will also be right to the point. You will surely appreciate the simplicity of a fine updo featuring carefully curled ends lifted and pinned at the back. Such look seems extremely polished and absolutely divine if you enhance it with platinum blonde hue. Feel free to make your statement with formal hairstyle updos that can be created from a disheveled style with a harmonious volume throughout.
A fashionable look will be achieved by the full side bangs separated from the crown with an unkempt braid. It may start somewhere among the waves above one ear disappearing into the tousled hair. In fact, short hair is not a contraindication for hairstyle updos, of course it is hardly going to be voluminous, but it may be cute and interesting, for sure. You should keep in mind the trend on messy updos with twists and braids.
---
---
Half up half down formal hairstyles
Nowadays an increased interest in half up hairstyles is frequently seen in various countries around the world. It happens due to their polished and feminine look and a gorgeous combination of both hairstyles. It is possible to enjoy a polished vibe of an updo and at the same time the sexy look of the hair that is down. These hairstyles are perfect for any season; they may be regarded as winter formal hairstyles heating you in cold weather or summer styles nicely balancing with spaghetti straps, strapless tops and beautiful dresses. Half up half down formal hairstyles are ideal for special and casual events as well. They give an impression as if you have spent hours doing them; however they are super-easy to create. In addition, they suit well any face shape and hair length.
---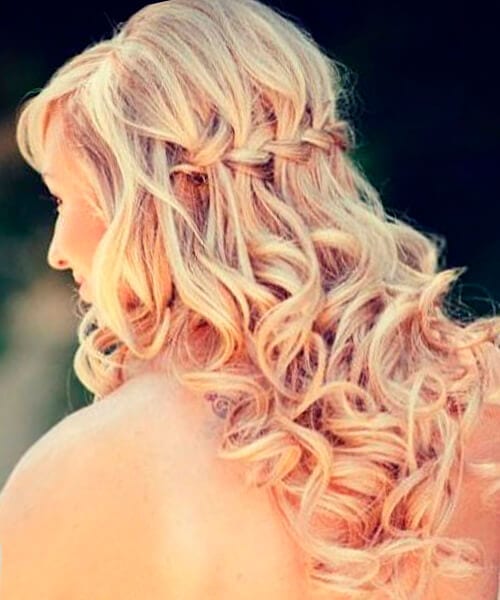 Waterfall braid with curls half up half down formal hairstyle
The hairstyle has several beneficial points. The first lies in that the hair is off of the face enough not to worry about messing it up when dancing, for instance. Also it runs down enough to look romantic and gorgeously flowing. The second advantage of this hairstyle is that it looks really amazing and makes the heads turn.
The French waterfall braid is perfectly combined with big curls. Even short haired women can achieve this half up half down formal hairstyle. The only disadvantage of this hairstyle is that it is not an easy formal hairstyle; it takes a lot of effort before you get used to it, but the result is really worth it. The hairstyle must be started as a simple French braid, picking up three strands of the hair near the hairline.  Then you should cross the lock closest to the top of the head over the middle section.  Over the new middle section cross the bottom section, then again cross the new top section over the new middle, after it the bottom over the middle. The next step suggests dropping the middle lock down in such a way that it blends in with the rest of the hair.
You should pick up a piece of the same size from near your part.  Thus, this tress becomes a new top section and you continue the braid crossing it over the middle. You are to repeat these steps all the way around the head. In the end you are just to secure the braid behind the ear with a bobby pin.  To enhance this gorgeous hairstyle for formal occasions it is recommended to curl the down part of the hair and you will get the best hairstyle.
---
Semi-formal hairstyles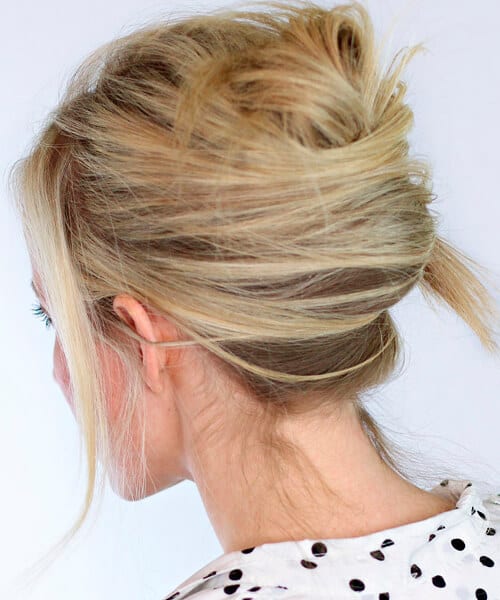 Messy French twist semi-formal hairstyle
A sleek French twist is considered to be a classic formal hairstyle updo, whilst leaving parts messy makes the hairstyle semi-formal and more casual. If you let the imperfections fall so that the natural texture takes its course, the hairstyle for formal occasion will look modern. The key point in this look lies in its texture, as having silky clean hair will not do you any favor, make sure that the hair is gritty and still has movement. To create a messy French twist semi-formal hairstyle start by prepping your hair with some spray and quickly blow dry it in cold setting. With the help of a curling iron and hairstyling products you may add texture to your hair.
Take a comb and tease the crown section for volume, if desired it is possible to add a bit of tease to the sides and the ends as well. The next step is to follow through to the ends and rolling them to the desired direction to make a twist in, until you reach the head keep rolling. Then you are to pin the twist to the rest of your hair. In the end to achieve the best hairstyle it is recommended to loosen the front by removing some tresses from the twist securing it all with bobby pins. Also it is possible to lock this semi-formal hairstyle by spraying. For a half-up variant, you should pull only half of your hair up and back into a ponytail. Then you are to work the hair into a twist securing it at the crown and leaving the bottom hair hanging.
---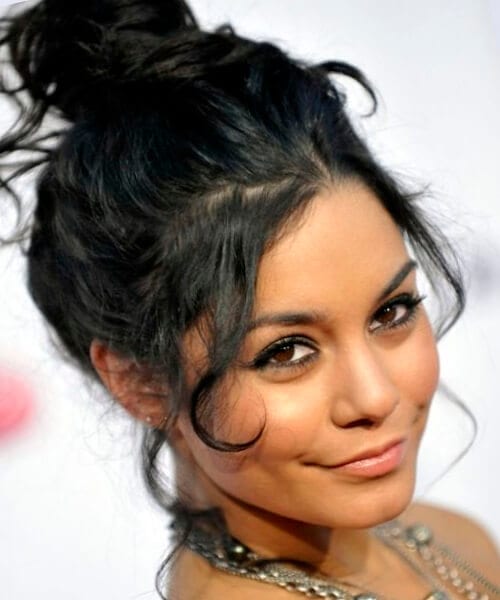 Ballerina bun semi-formal hairstyle
This hairstyle for formal event is classic and quick, moreover you can wear it with almost anything and it can make you look taller. The hairstyle can be worn high up on the top of the head or down lower near the back of the neck. The hair length starts with the collar bone and may be longer. To create the hairstyle you should secure the hair into a high ponytail, and then twist it around the base securing it with bobby pins. It is also possible to pull the hair into a high ponytail securing only a part way with hair elastic as an alternative.
Then you are to wrap the elastic around the base of the tail one last time pulling your hair partially through and securing this top knot with bobby pins. To finish the look it is advisable to smooth down the flyaways and spray all over with a firm holding hairspray.
---
Conclusion
Hairstyles for formal occasions vary greatly, choose the best one suitable for you and be sure to impress everybody.
---
Easy Formal Hairstyles: Hair Tutorial
---