Do you have an oval or a round face? Find out what hairstyle will suit your face type best. The right hairstyle can change your image completely. So, follow the tips on what to take into account when choosing the proper style.
Best hairstyles for long face
---
The first important thing to understand is to identify your face shape as long. A long face is basically a bit longer than wide; it has an elongated forehead, a strong jaw, and broad cheekbones. A hairstyle for long face must round your face out and keep it from looking longer than it is. Considering the shape of your face you should choose the right hairstyle for you. Actually, there are several criteria for the best hairstyle for a long face.
The most flattering hairstyle for a long face shape is shoulder-length. Indeed, it is the perfect length that is somewhere between chin and shoulders. Also, it is necessary to create width, for instance with waves. If you get bangs, they will make your face appear shorter as the bangs usually cover up especially large forehead. Any bangs will do, from blunt to long with side-swept bangs; it may be a tapered or rounded fringe.
---
---
If you choose a long bang, hitting at the cheekbones and cutting the length of the face in half, it can be combined with a lot of layers that will help soften the face shape. Thus, you will achieve a sexy and gorgeous style. In hairstyles for long face a part matters a lot; it must be a side part because it makes the face appear wider. The trendiest part is a center part, but in spite of its popularity you shouldn't apply it as it will make the face appear even longer than it is in reality.
To create the illusion of width you may try some chin-length bob hairstyles. Long face requires specific type of the hair: it mustn't be too long and straight, in this case it drags the face down, and if you have curls or waves you can break the rule, as much body always adds width to the sides of the face. If you prefer wearing short hair, try to avoid short layers that will only add volume on the top of your head.
---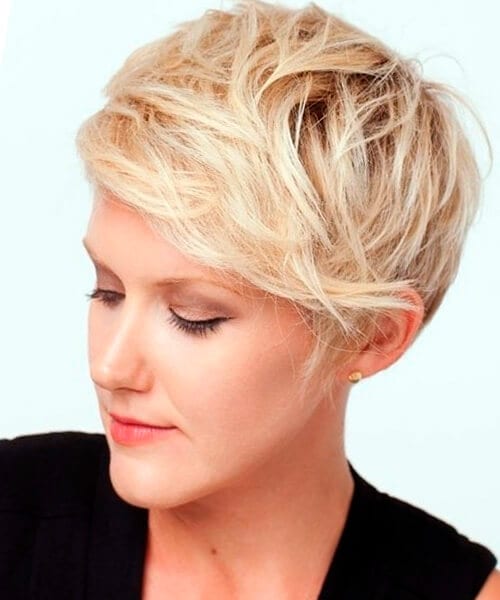 Messy pixie hairstyle for long face
This is a hairstyle for a long face that is worn short on the sides with some length on the top. The style doesn't add much volume if approached with caution. You can make your pixie work as long as you part it on the side to balance the things out. Also soft waves will bring you more balance and width. Moreover, gently waves can completely transform an everyday hairstyle into something truly special. The waves mustn't be too tightly woven or too loose.
For a messy pixie a few strands must be kept longer that will allow you to create a fabulous look. The hair must be gently teased into various positions; it will bring your look to life and add a deal of texture with enough volume. Messy pixie best hairstyle for long face impresses by its choppy, delicate, windswept and utterly beautiful look. In fact, the hair does not seem to understand what direction it is going in and due to this particularity it works perfectly.
---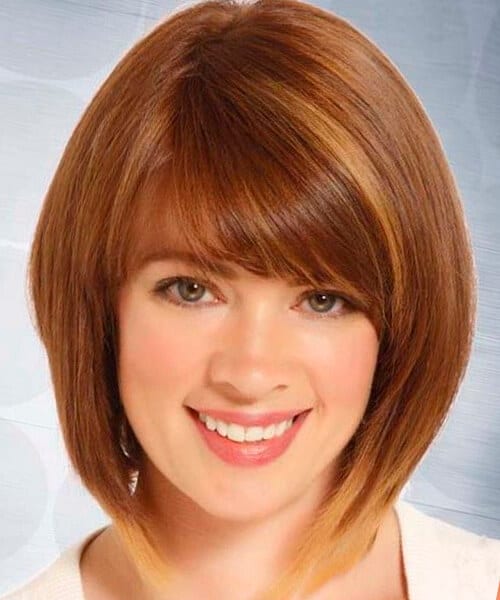 Hairstyles for oval-shaped faces
Oval face shape is the most versatile face shape and if you are a lucky owner of such shape you can wear almost any hairstyle. You will look graceful with any length of your haircut, whether with layers near your cheekbones, chin or lips, or any other feature you want to highlight will be perfect.
The long layers oval-shaped face hairstyle looks amazing when it hits at the cheekbones and the chin. It features the long hair in the back and the shorter hair in the front in a way that it does not weigh down the face.
Speaking about the right hairstyles for oval faces you should remember to stay away from various dated hairstyles as a bad hairstyle can age you by ten years. It is not recommended to fight your natural hair texture. For instance, if you happen to wear curly hair, don't try to straighten it. In case you have super thin hair don't waste your time and money to grow it beyond your shoulders with the help of various extensions. You surely don't want your hair to be lifeless and flat. Instead, you may cut it in layers and just keep the length above the shoulders.
Shoulder length waves hairstyle will be ideal for oval-shaped faces. The length of such simple and tousled look suits hairstyles for oval-shaped faces. The waves will add volume and draw out the cheekbones, which will make any oval face appear slightly more rounded than lengthening it. If you want the waves to work on fine hair, you should add volume with some mousse to the roots.
---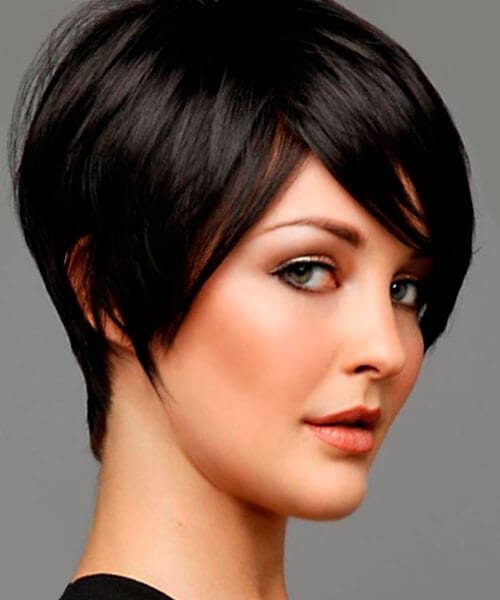 Short hairstyles for thick hair and oval face
In fact, thick hair is a natural gift as it needs only being clean and groomed without any sophisticated rim for fantastic hairstyles. However, if it is too long, it may feel really heavy, that is why a short hairstyle is a perfect solution. Short hairstyles often look more gorgeous than longer hairstyles.
---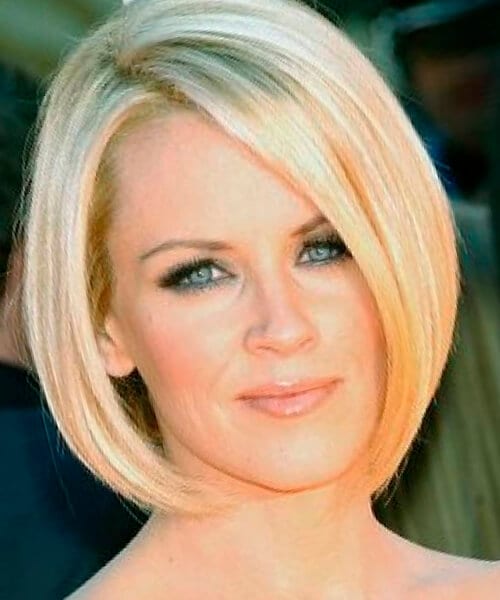 Layered short hairstyles for thick hair and oval face
This oval face shape hairstyle is layered and tight on the sides and in the back. On the top, it is longer and layered in connection with the hair on the sides and in the back. At the same time, in the back it is cut shorter and gradually gets longer to the front creating a trendy fringe. To have it hairstyled, when the hair is still wet, it is advisable to use a hairstyling product, to blow dry it with a hairstyling brush, then to use some thermal protection and smooth the longer pieces with a flat iron.
The right hairstyle for thick hair and oval face may be finished with a product for texture. Actually, the layers frame an oval face and better control the volume. If the hair is of one and the same length, it may weigh you down.
---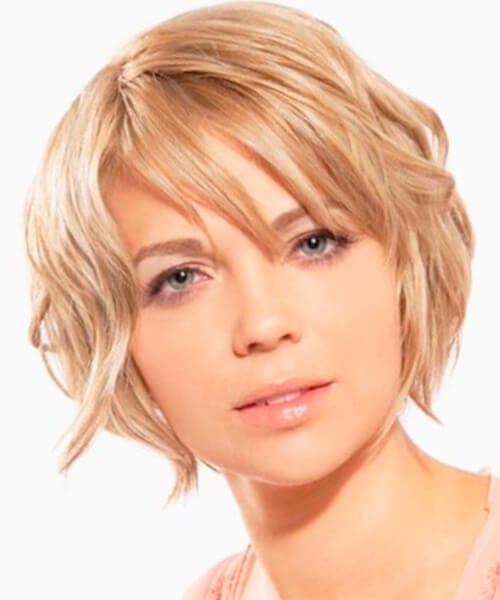 Bob, short hairstyle for thick hair and oval face
A graduated bob is considered to be one of the best hairstyles for oval shaped faces and for thick type of hair. It is shorter from the backside and longer in length from the front view. The right layering technique aims to break up the solid parts of weight and leaves the hair defined and flexible with its natural movement. To achieve this oval-shaped face hairstyle you should have your thick hair layered near the ends for the reason of avoiding the dreaded triangular shape and hairstyled it into big voluminous waves.
It also may be styled in side-swept bangs to create a chic, edgy and carefree look. However, thick textured hair type could have trouble in setting the style without a light hair spray, thus some light hold hairspray is recommended to use. Actually, bob hairstyles are really popular and trendy among the ladies with oval-shaped faces. Moreover, it is an ideal variant for working women.
---
Shag short hairstyle for thick hair and oval face
A hairstyle for straight sleek hair gives a sophisticated and yet edgy look to those women who wear it short and shaggy. To achieve this oval face shape hairstyle you should apply some smoothing cream and blow-dry the hair straight with the help of a paddle brush. Then you are to part the hair almost to the back of the crown and to tease it at the back of your crown with a teasing comb. Here you are supposed to smooth the top layer over the teased section. For a little flip, twist the front tips around the barrel of a curling iron. In the end finish your style with a shine serum and a holding spray to get the glossy factor.
---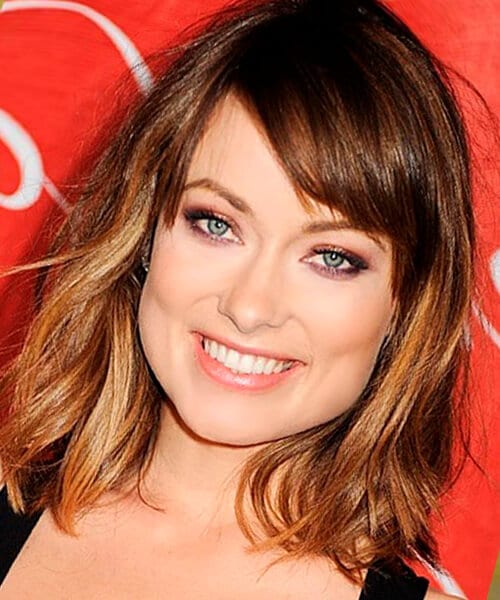 Hairstyles for a square face
The right hairstyle can enhance any square-shaped face; it can flatter angular bone structure and soften facial features. In fact, there are lots of hairstyles for square faces that are easy to get at home. Long, loose waves usually hide a wide jaw; a soft, side-swept fringe brings attention towards the eyes and draws it away from the jawline. By the way, a sophisticated side-swept fringe makes hairstyles a cinch for anyone with square face shape. You may try wearing the long-hidden layers with blunt ends, which are perfect for this face shape. To balance the shape more evenly you may wear your hairstyle parted in the middle.
---
Below the collarbone hairstyle for a square face
The collarbone length, in combination with turned inward layers, perfectly frames the face. The graduated layers are the key points in this hairstyle as they cut off the broadness of the wide cheekbones and the jawline. A rounded bang look will also complement a square face shape by narrowing it out a little. The outside corners of the fringe must be an inch to an inch and a half longer than the center of your bangs. It will also create a framing effect and draw attention inward, ultimately softening a wider face.
---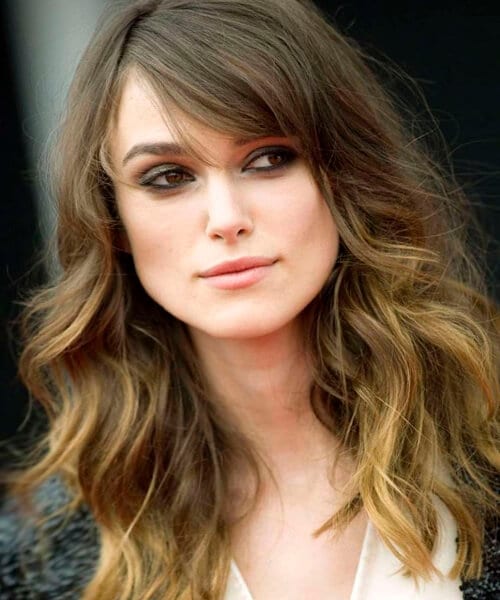 Wavy hairstyle for a square face
A hairstyle of medium length is a perfect way to frame a square face. If you add to it a side part above one temple and the long bangs falling to the other temple, it will be ideally framed, that is really important with square-shaped faces. Such hairstyle is incredibly flattering and, moreover, quite easy to maintain.
---
Conclusion
Whether you have a long-shaped face, an oval or a square face you can look beautiful in case you choose the right hairstyles according to your face shape. Follow advice mentioned above and be gorgeous anywhere and anytime.