Let your boy choose one of the coolest undercut designs for boys of different ages. Here are the original ideas of undercuts with asymmetrical lines, fringe, letters, and favorite characters like spider man. Choose the one that will fit your small man best.
Boys' Undercut Designs: Cool Style Ideas for Small Men
---
25 Incredible Undercut Designs for Boys
Rocket Undercut Design for Boys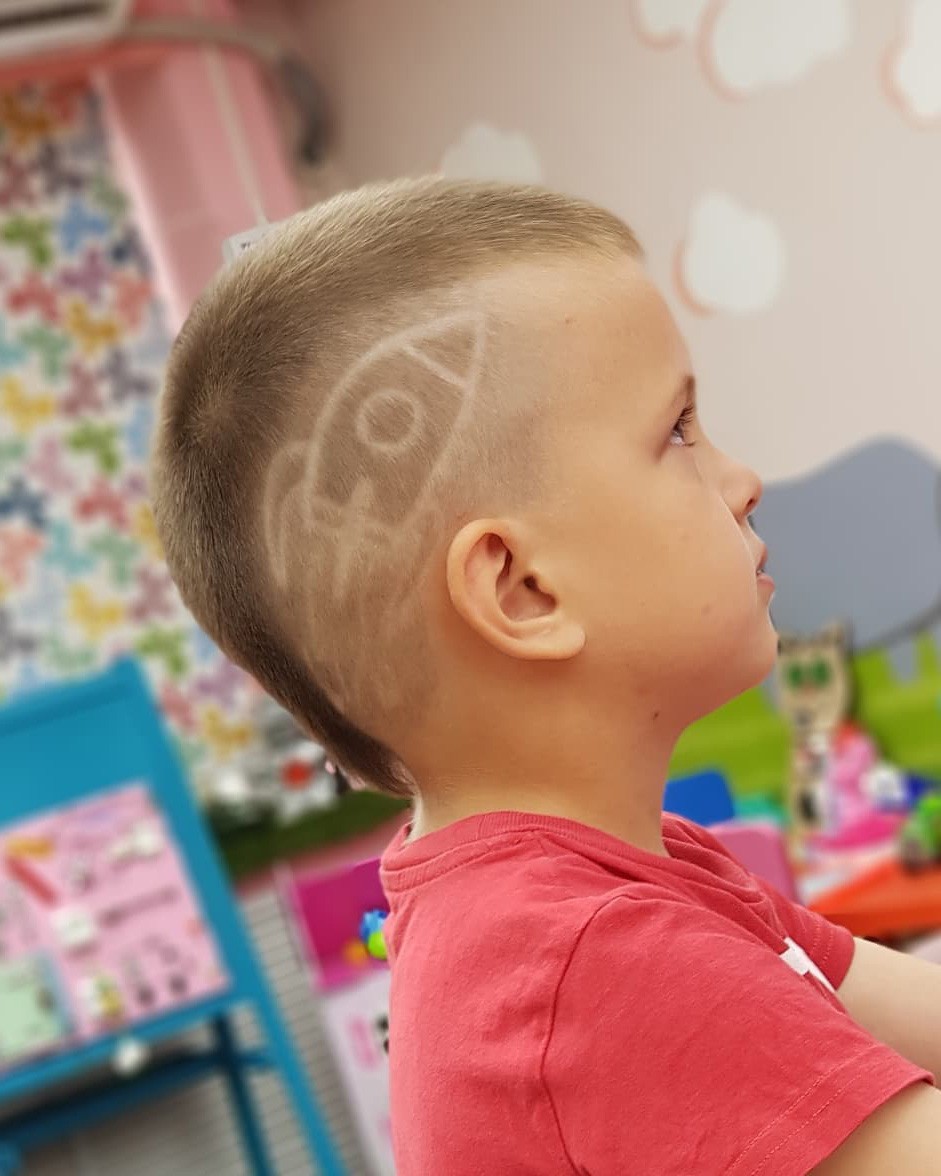 There are several types of undercut hairstyles for boys that you can do with designs, depending on the image you want to portray. The first thing to do is to figure out what image you want to create. You can choose which type of haircut will portray your image best a rocket undercut design for boys is one of the styles that should be selected when you want to create a look that will stand out.
High Fade Undercut with Asymmetrical Lines for Boys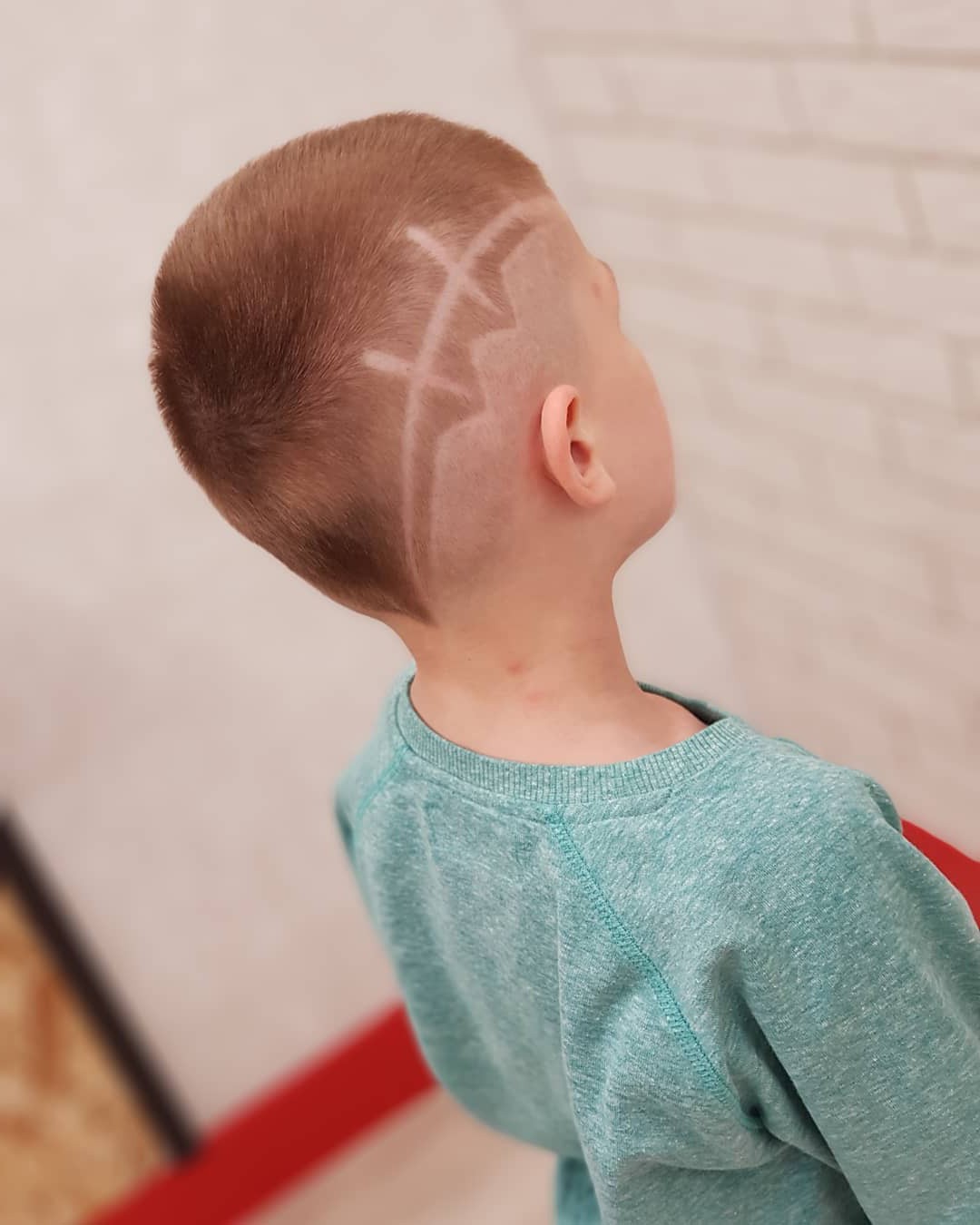 For instance, if you want to project a tough-guy look, you may want to get a high fade undercut with asymmetrical lines for boys.
Side Part Undercut Hairstyle with Spiderweb for Boys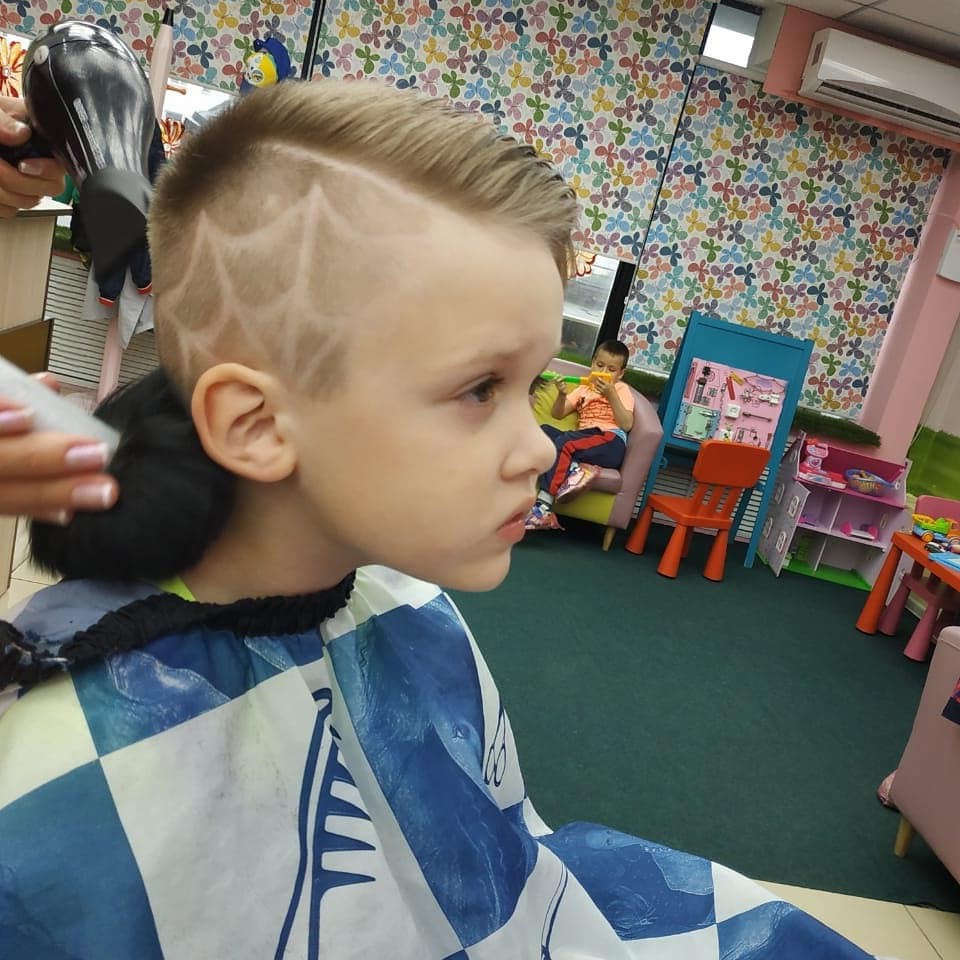 This is a short and smooth haircut that gets shorter and smoother as it nears the ends. It is usually considered to be a more dramatic type of haircut. A side-part undercut hairstyle with spiderweb for boys makes the same impression and is also considered one of the best choices for boys. Because it is short, it can give a person a more angular appearance. If you do not have time to dye your hair, the fade haircut is also available in black or brown.
Lightning Bolts with Star Haircut for Boys
However, if you are very much into fashion, you may want to choose lightning bolts with a star haircut for boys. It is available in all colors of the rainbow, and the most popular color is blonde, which is a more mature color.
Faux Hawk Undercut with Two Lines Design for Teen Boys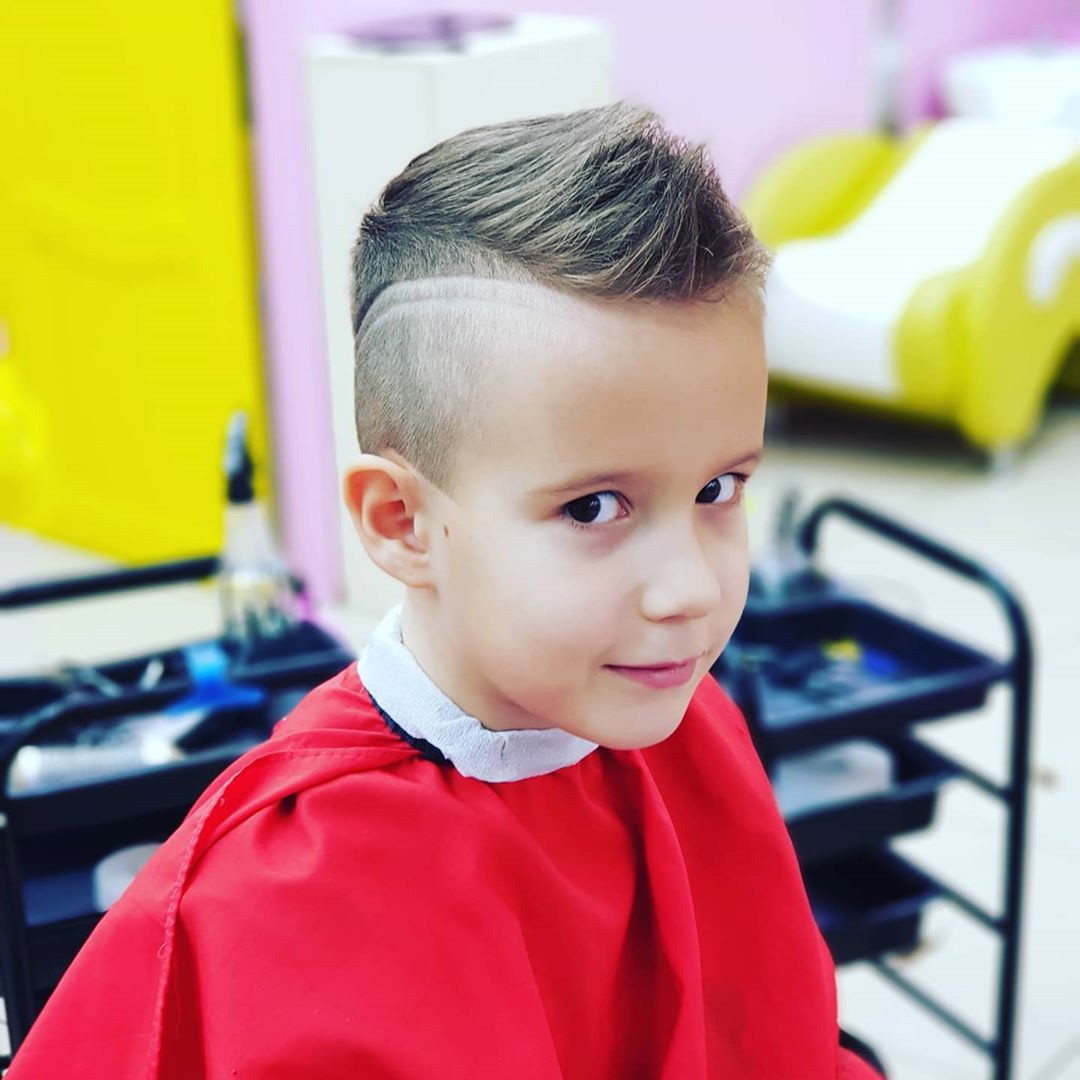 A cut known as a faux hawk undercut with a two-line design for teen boys has become very popular with boys recently. It looks very edgy and has a clean cut. It is considered to be a youthful type of haircut. 
Ninja Hairstyle for Boys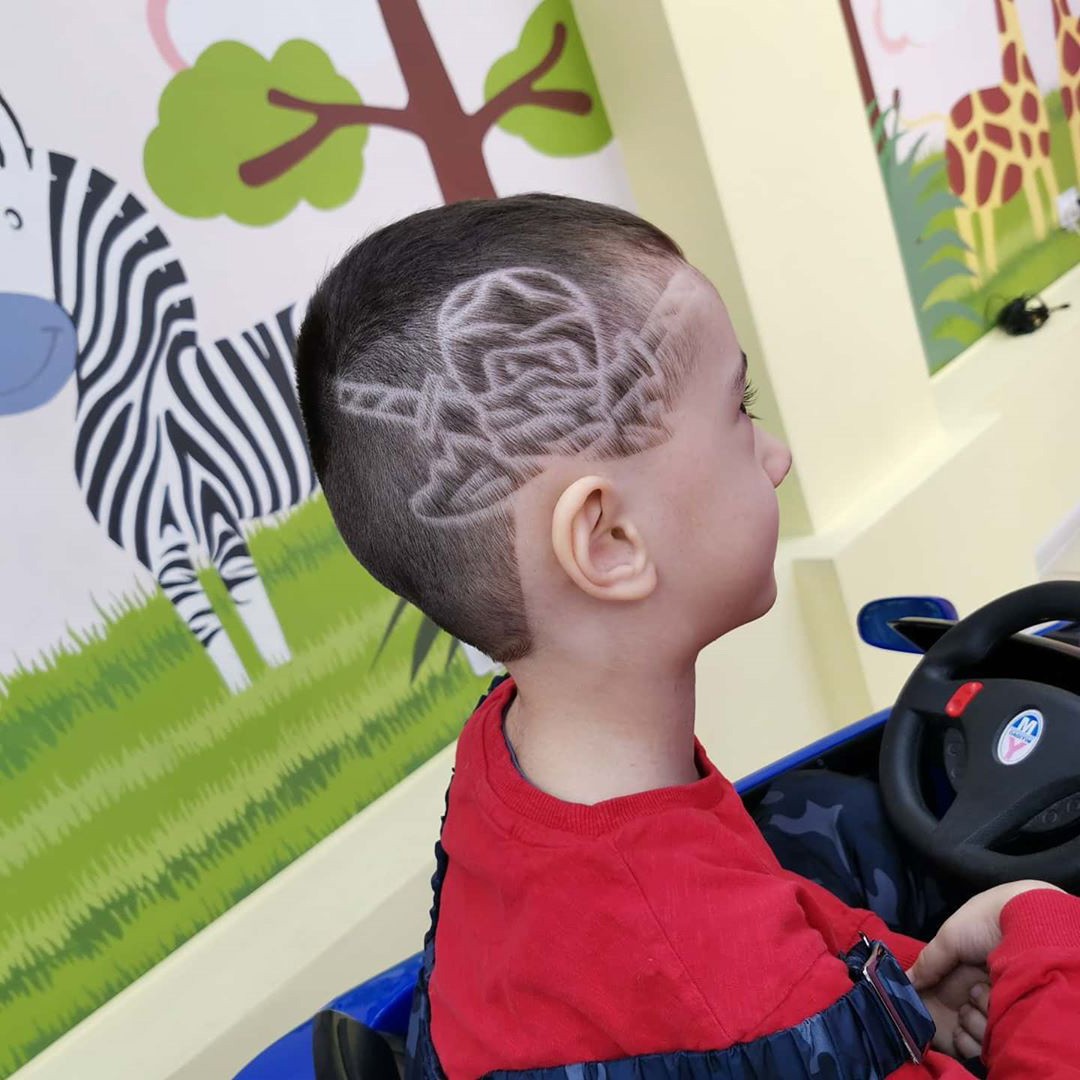 For example, if you are getting your haircut at a barbershop, the cut may have a washed-out look. Choose a ninja hairstyle for boys if you want to highlight your individuality.
Undercut Design with Fringe and Letter A for Boys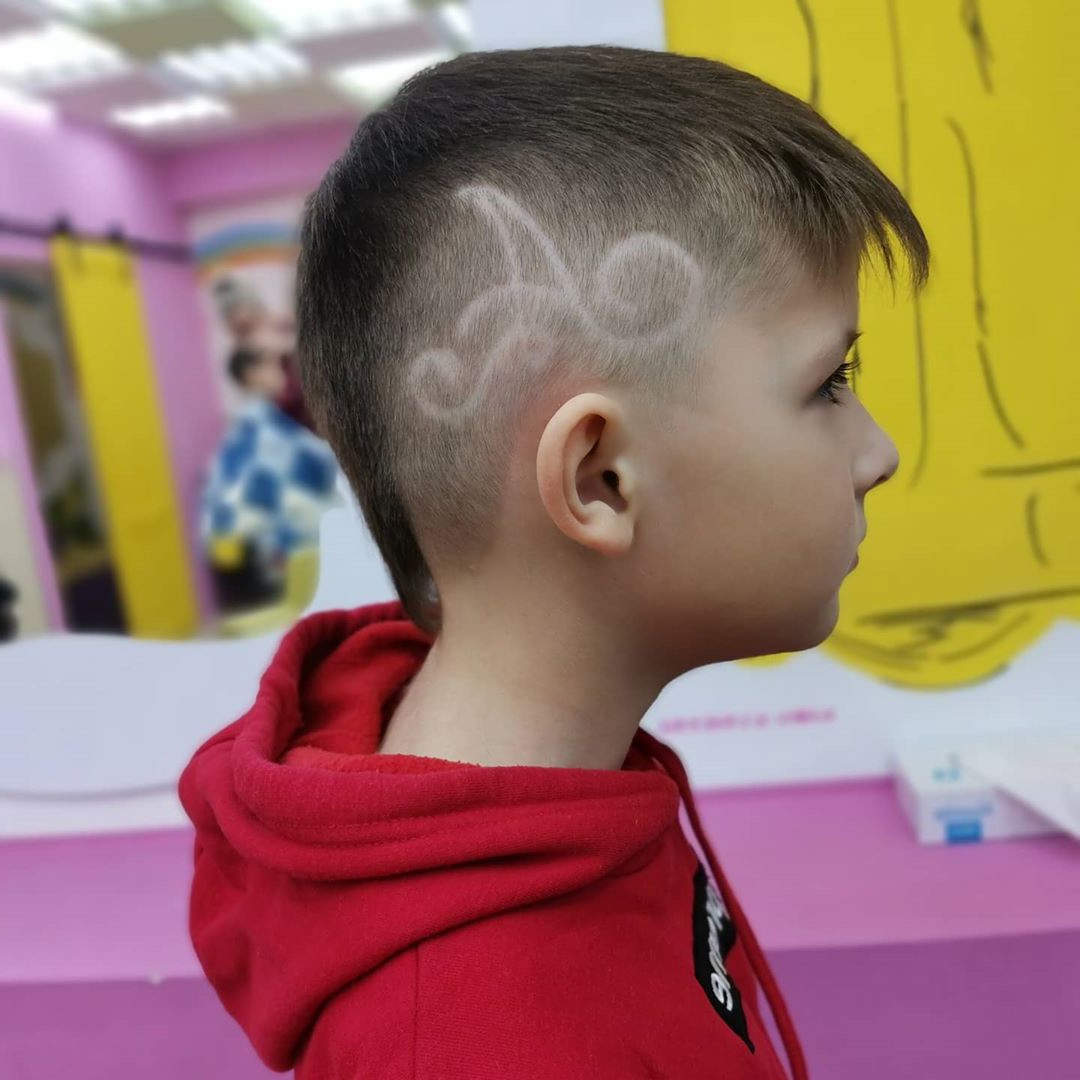 If you are interested in getting the undercut haircut, you should focus on how your hair grows out. For long hair, you may want to get the cut called the swept end. If you have short hair, then you may want to get the undercut style – an undercut design with a fringe and letter A for boys.
Long Hair Undercut Hairstyle for Boys with Panda Design
Undercut designs for boys work well for both short and long hair. The cut should allow the scalp to breathe and allow the hair to appear fuller. Since this type of haircut can work for a variety of hair lengths, you should try several styles to see which one will work best for your boy. A long hair undercut hairstyle for boys with a panda design is worth choosing.
Boys Short Disconnected Undercut with Tiger Muzzle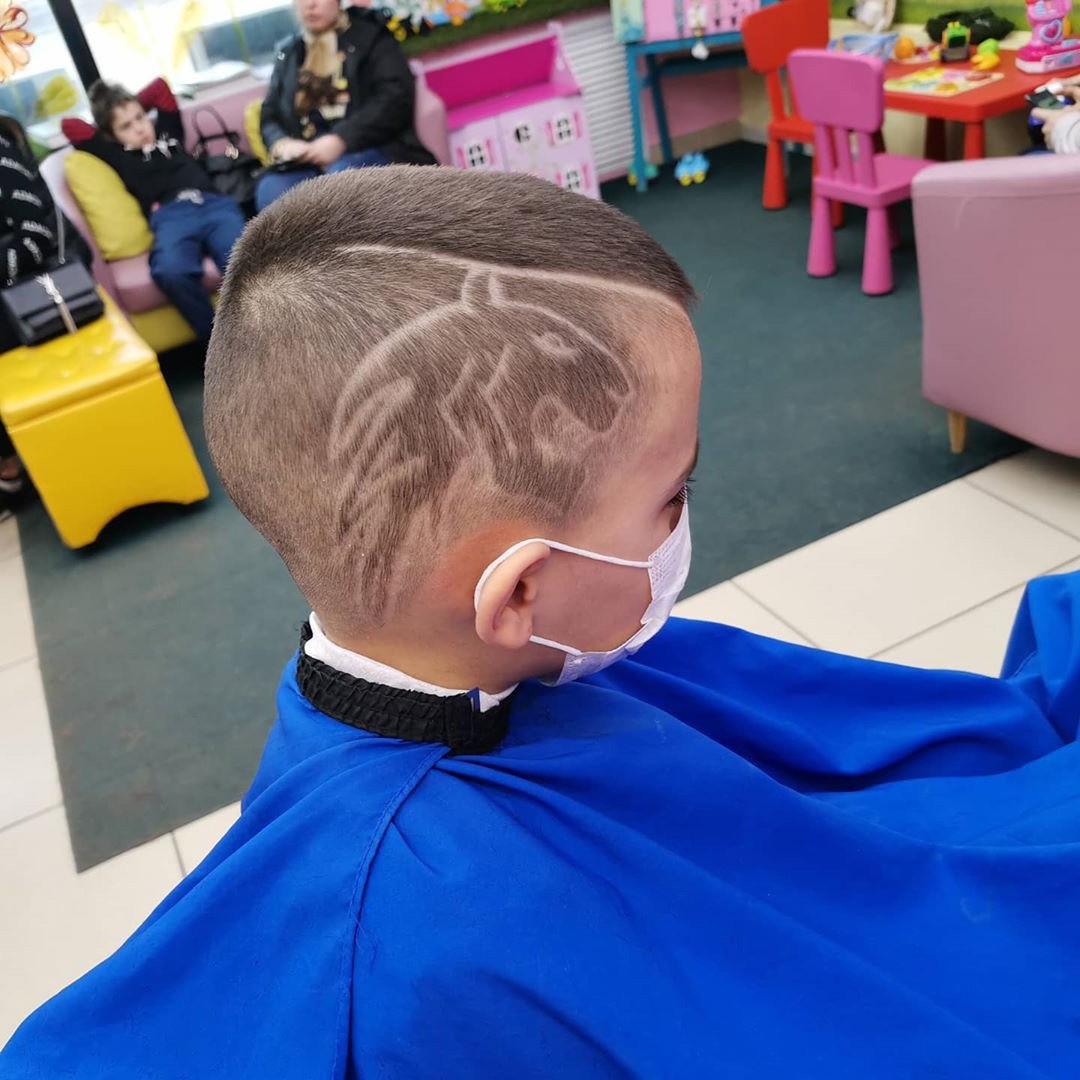 Short undercut haircuts are usually done in layers. Start at the top of the head and gently work down. When you reach the back of the neck, lay the hair back with the left side facing up. Lay the hair down in another layer and work down to the bottom of the neck. Boys' short disconnected undercut with a tiger muzzle is one of the best styles for short hair.
Long Undercut Cut for Boys with Alien Design
Angled fade haircuts for boys can be a little tricky to do. If you can follow these steps, you should be able to create an excellent, professional style. Keep in mind that this is more difficult than most undercut designs because it requires a lot of work. A long undercut cut for boys with an alien design is an excellent example of the style that requires much work and creativity.
Side Swept Undercut Design with Lines for Boys
Another choice is the fade haircut. As the name implies, this hairstyle is used to hide hair that is beginning to lose its hair. The darker the hair is, the easier it is to achieve this type of haircut. For example, if you have very dark hair, then the fade haircut will be your best option. A side-swept undercut design with lines for boys will also be an excellent choice for dark hair.
Cannon and Cannonballs Cool Haircut for boys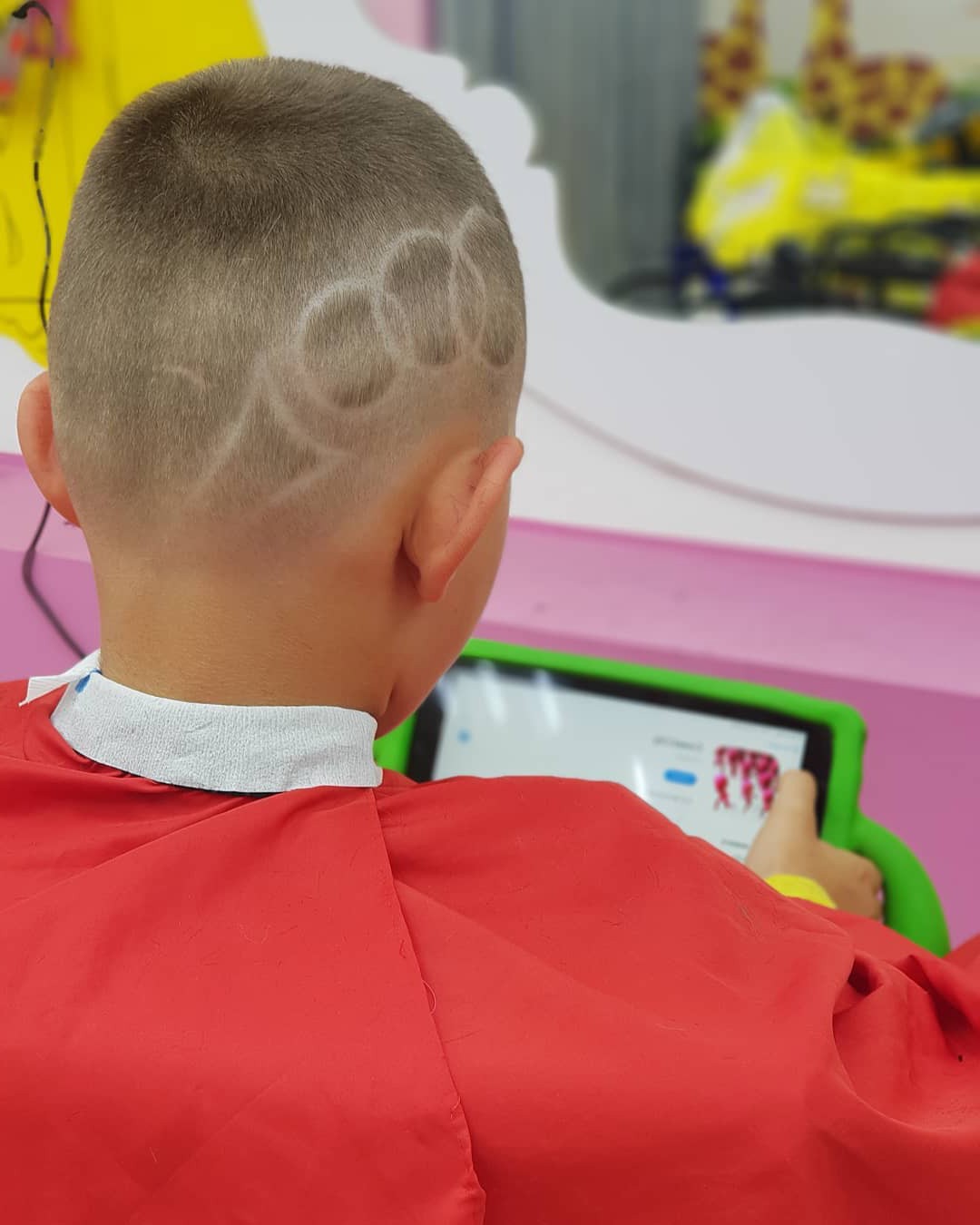 When you get the fade haircut, make sure you ask the barber to take off the sides of your hair so that you can see how your hair is growing out. If you are unhappy with the results, then you may want to look for another barber. Find someone willing to work with your hair and make sure that you like the hairstyle. Can your barber make a cannon and cannonballs cool haircut for boys? Then, he is a professional!
Boys' Haircut with Modern Plane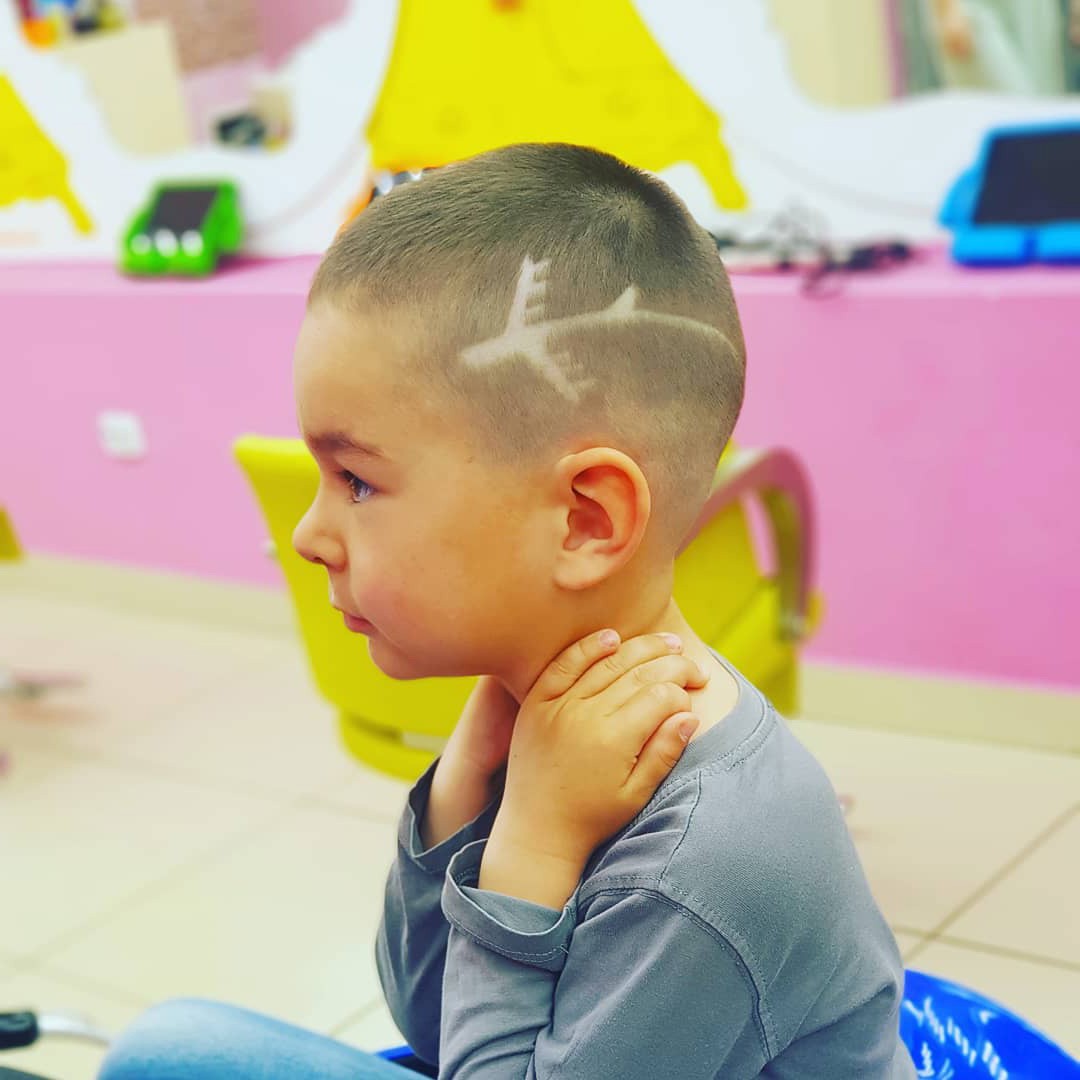 If you are trying to determine what type of haircut you want to get to your son, then you can also look for pictures of boys on the web who have the undercut haircut. The most popular styles are the swept end, the swept and fade, and the slicked back. Boys' haircut with a modern plane is also one of the most popular styles now.
Star and Lines Design Haircut for Children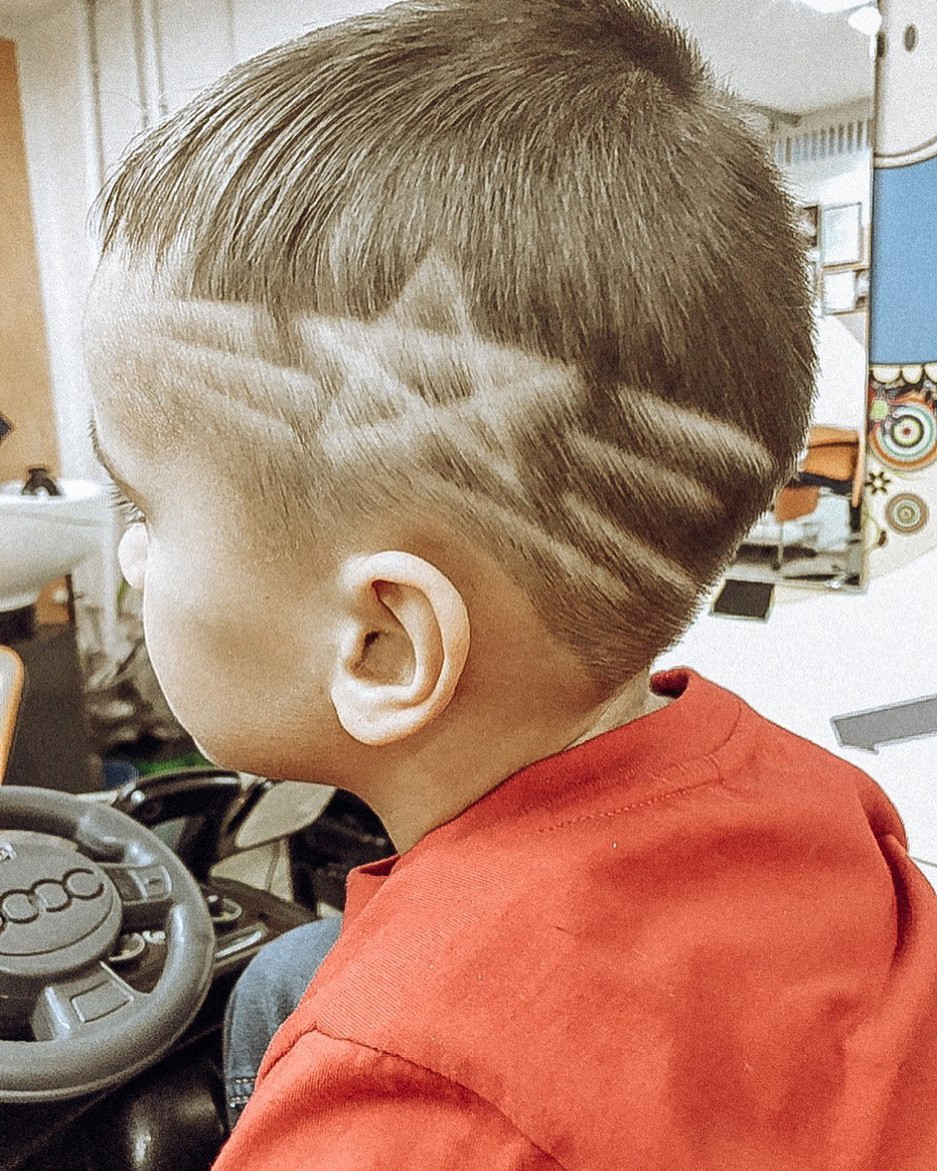 You can also do a straight cut with your undercut haircut, which is a trendy style. Consider making the style known as a star and lines design haircut for children 
Boys Popular Haircut with Weaving Pattern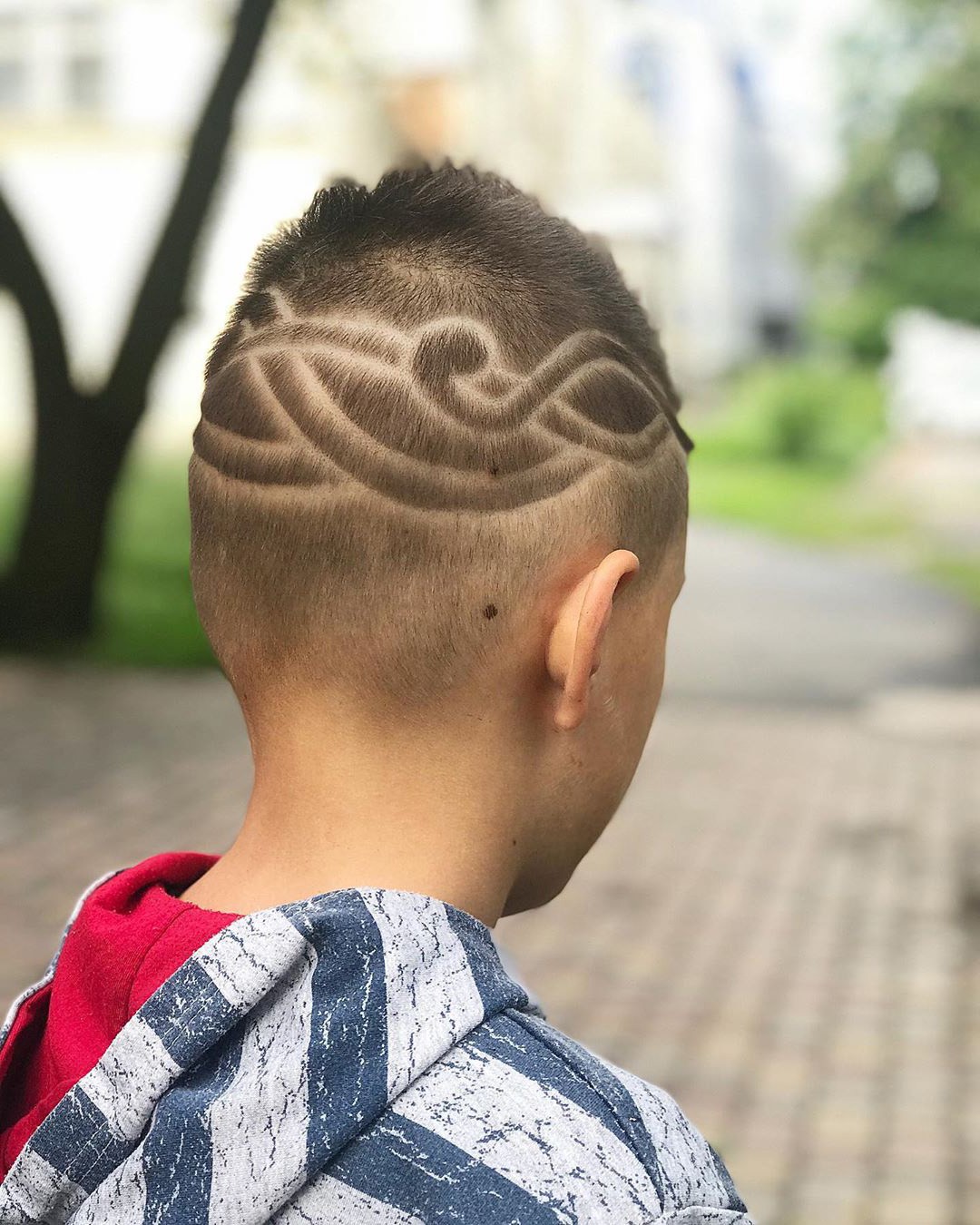 The reason the undercut haircut is popular is that it does not take up much hair when done. Plus, it looks great. If you have long hair, you can choose the blow-drying technique. For short hair, you can go with a perm or a flat iron. Boys' popular haircut with weaving pattern is an excellent choice for wavy hair, even if it isn't long.
Funny Monster Undercut Design for Little Boys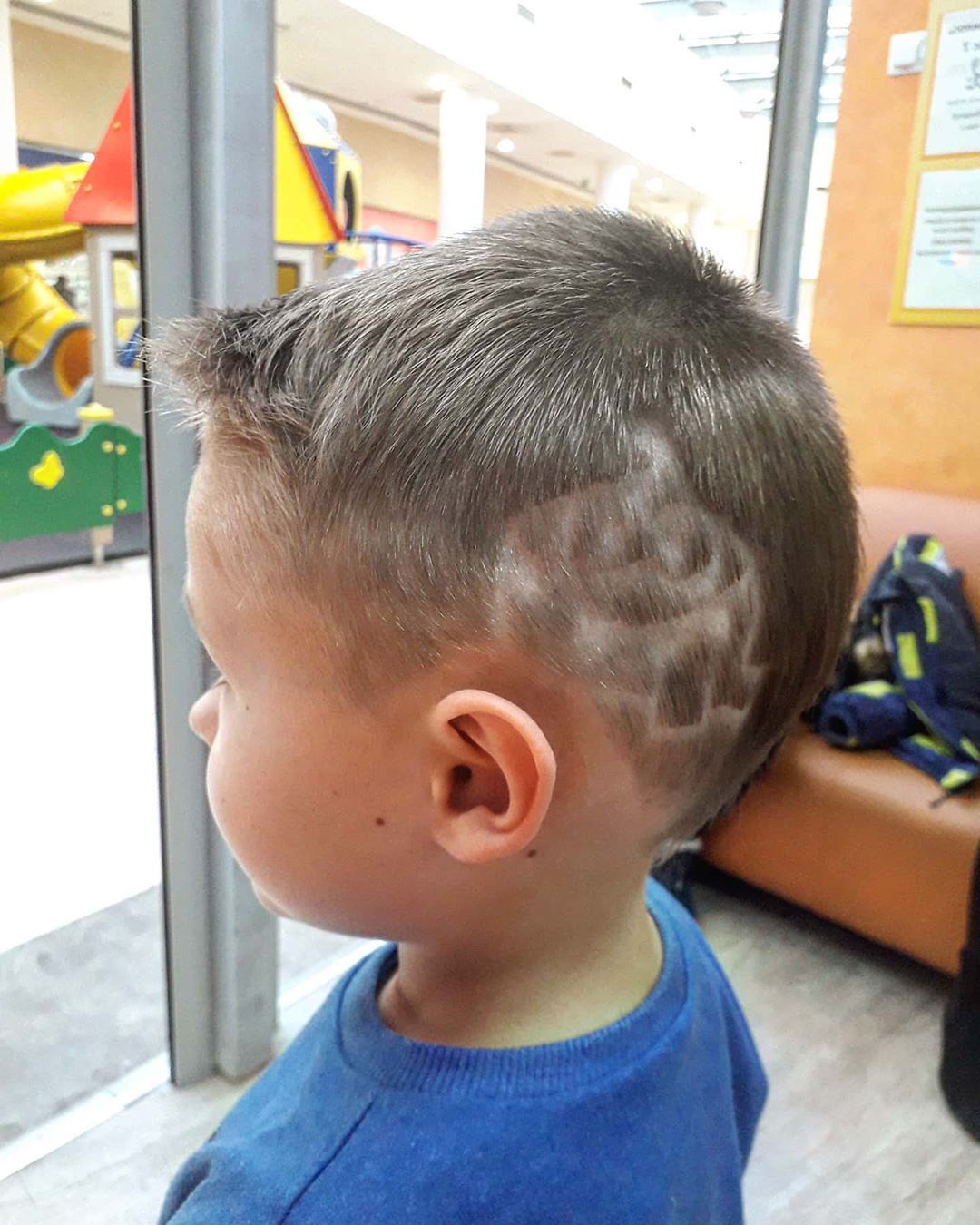 Whether you choose a fade haircut or the undercut haircut, you can try it on and come up with the right style. A funny monster undercut design for little boys is one of the styles each boy wants to wear.
Little Boy Disconnected Undercut with Helicopter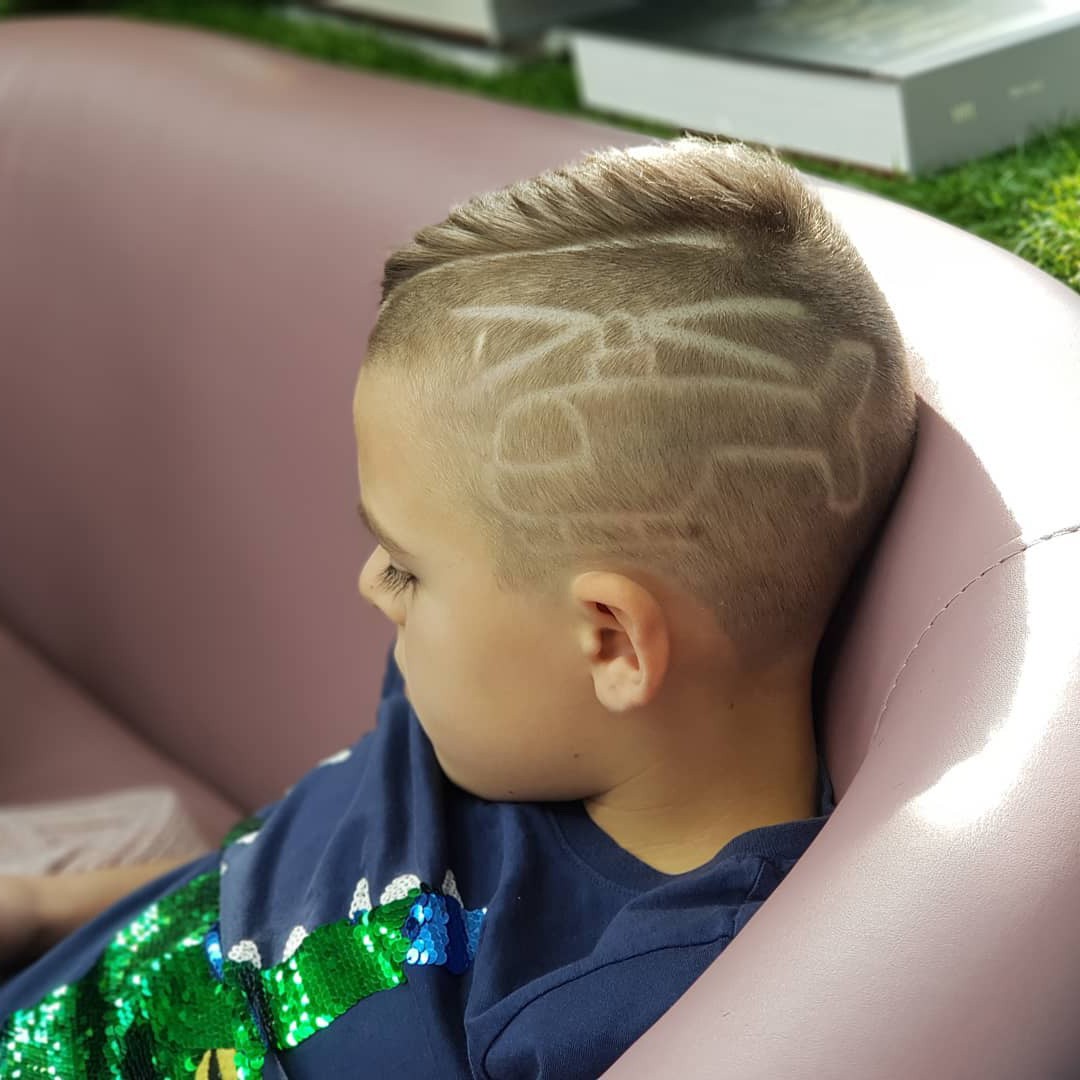 As you get used to the haircut, you will be able to recreate the hairstyle that you think will look best. A little boy disconnected undercut with the helicopter will look super stylish.
Cute Little Boy Cut with Boat Design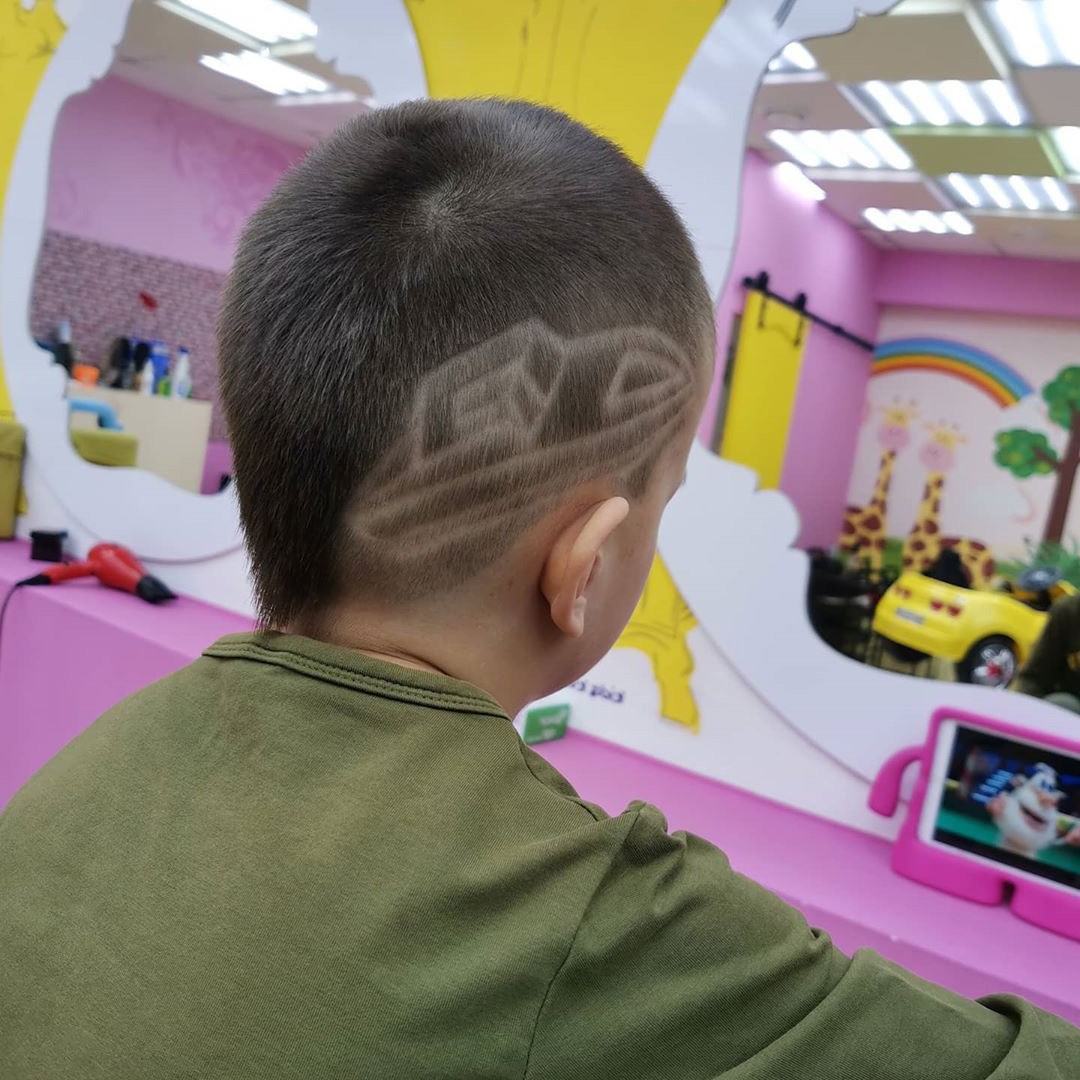 If you are looking for an undercut haircut, you can begin by looking on the Internet to get a feel for the style. You can visit various barbershops to get a feel for the cut. A cute little boy cut with boat design is one of the favorite styles for many barbers today.
Undercut Designs for Kids for Any Occasion
20+ Awesome Undercut Designs for Kids
Flaming Hair Design for Kids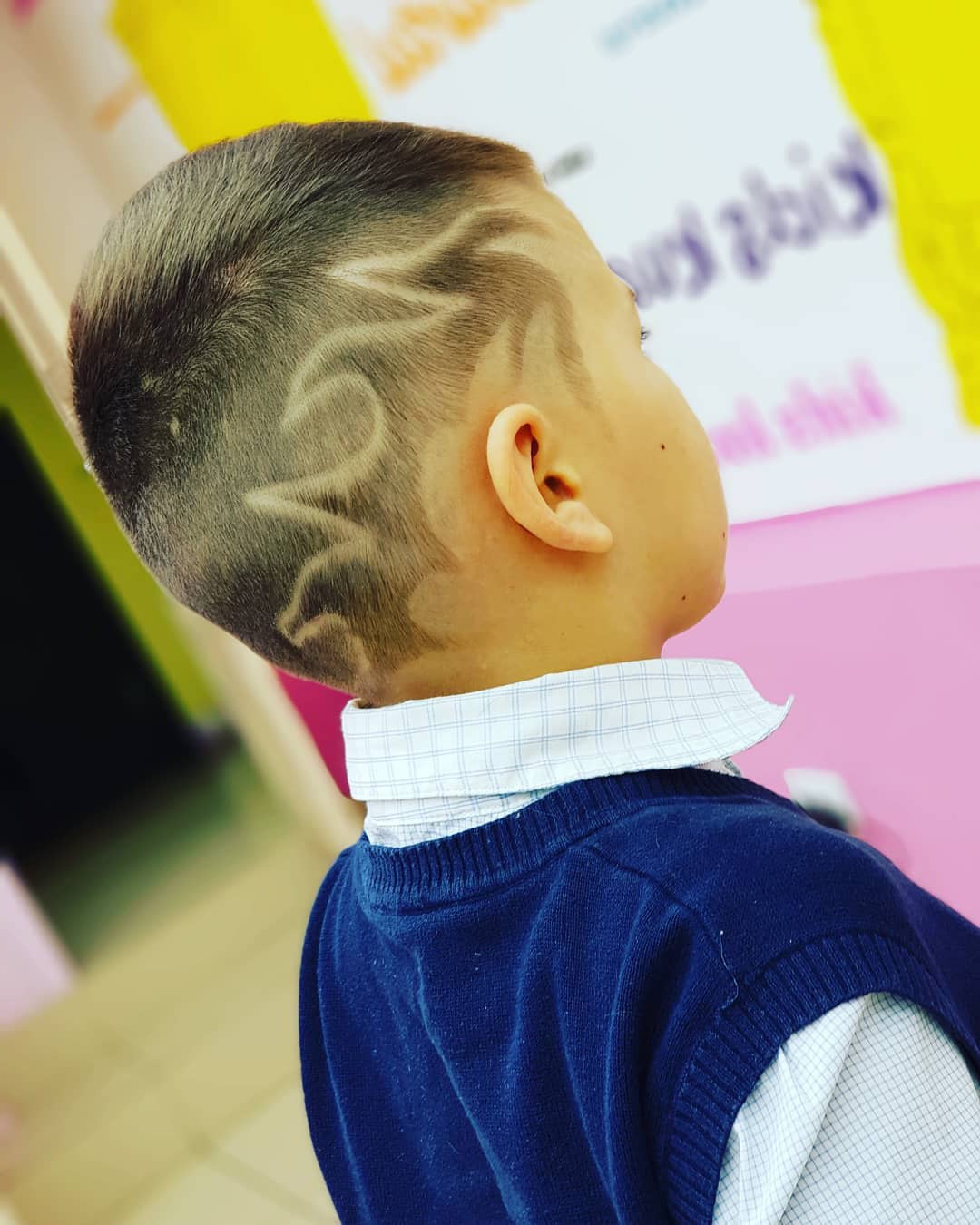 There are many different types of hairstyles for kids that you can try if you are tired of the same cut. You want to be able to get a hairstyle that will complement your personality and style. Flaming hair design for kids is exactly what you need if you're going to impress everyone.
---
---
It is always best to consider your child's age and hair type when deciding on what type of haircut to get for him. Your hairstylist should be able to tell you what type of hair type your son has. This is important as he will not only be wearing the haircut, as it will affect his overall appearance. With so many hairstyles for boys available, you want to choose one that suits your son. There are three types of hairstyles for boys.
Dolphin Design for Short Hair Kids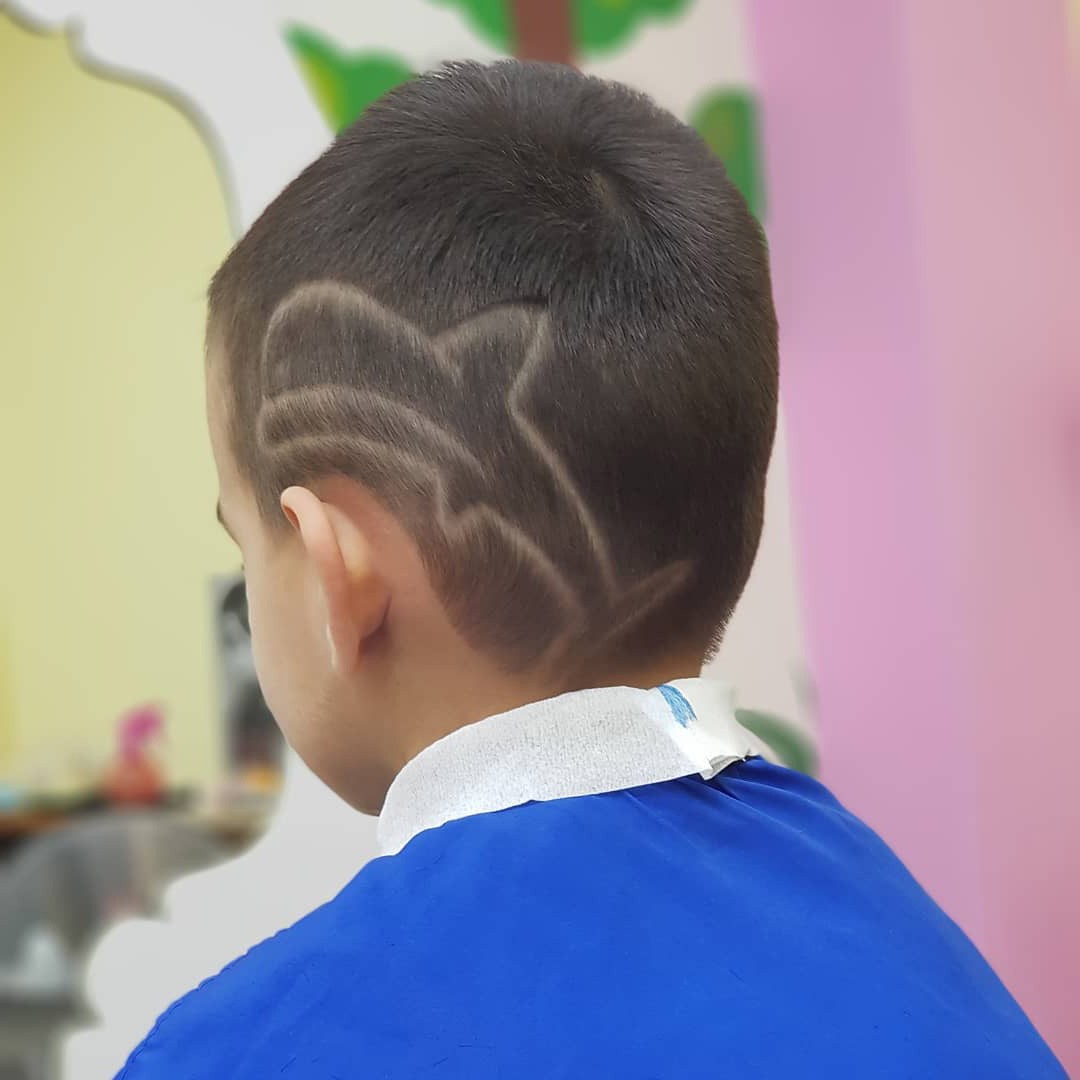 The first type of haircut for boys is the undercut hairstyle. If you want your son to look older, this cut will be a perfect choice – a dolphin design for short hair kids.
Long N Fade Undercut Hairstyle for Kids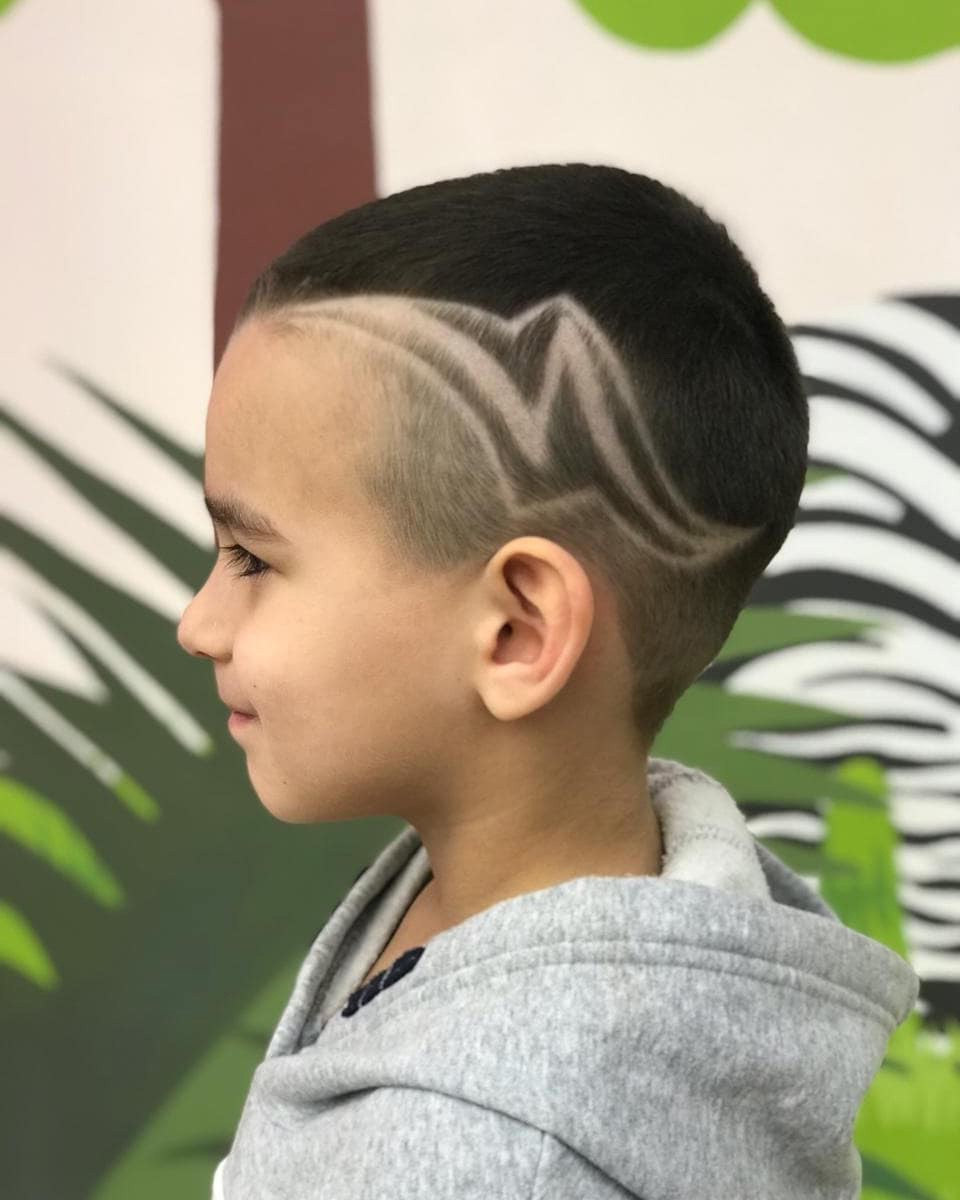 The second type of haircut for boys is called fade haircuts. A long N fade undercut hairstyle for kids is chosen more often than any other style. Fade haircuts were popular in the sixties and seventies. Now, it is back in style and can do the trick when it comes to making a man look younger. 
Fohawk Fade Undercut with Zorro Design for Kids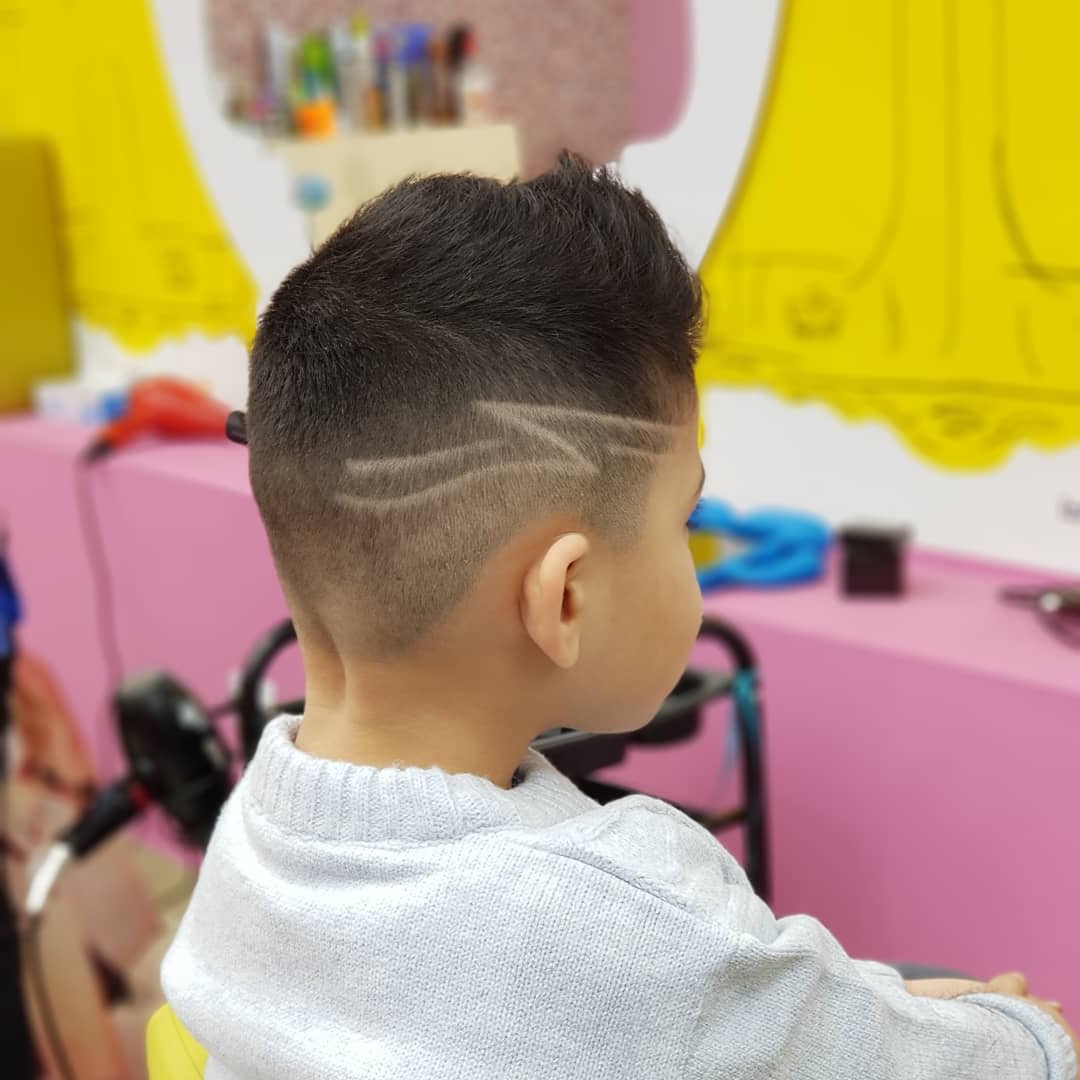 A fohawk fade undercut with Zorro design for kids is very popular now. The hair is always longer in the front. This is because the hair's length is so short that it fades the hair into a clean style. In the front, the cut is medium length. For more definition, you can use a medium or even a medium to full blow-dry to give him a crisp appearance. 
Undercut Design with Long Zig-Zag Line for Kids
An undercut design with a long zig-zag line for kids is the style that will help to create an impressive look for the medium and long hair.
Horse Muzzle Haircut for Kids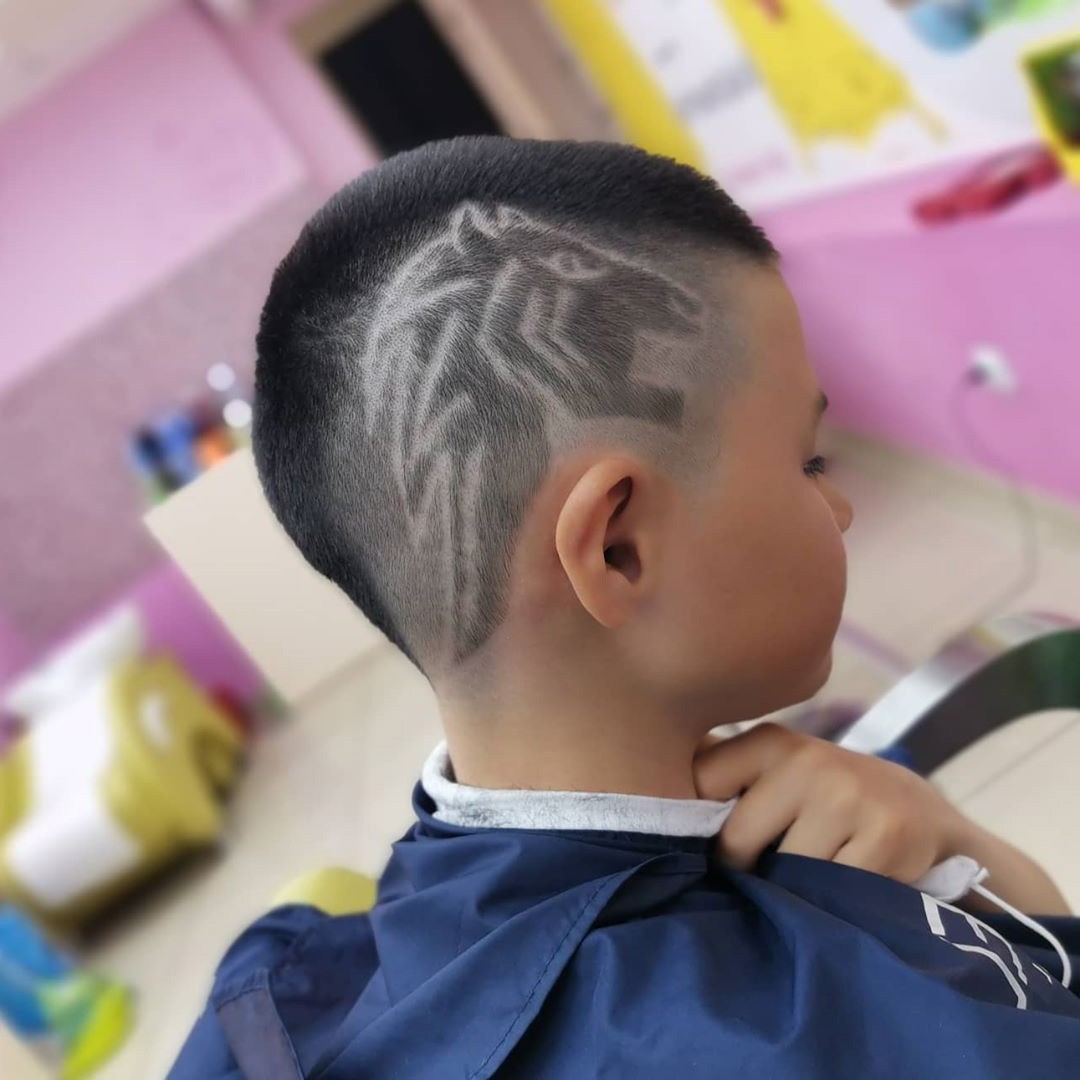 Another option for fade haircuts is the horse muzzle haircut for kids. This haircut is very similar to a buzzcut in that the hair is longer at the front and shorter at the sides.
Undercut Haircut with Fringe and Letter Z for Kids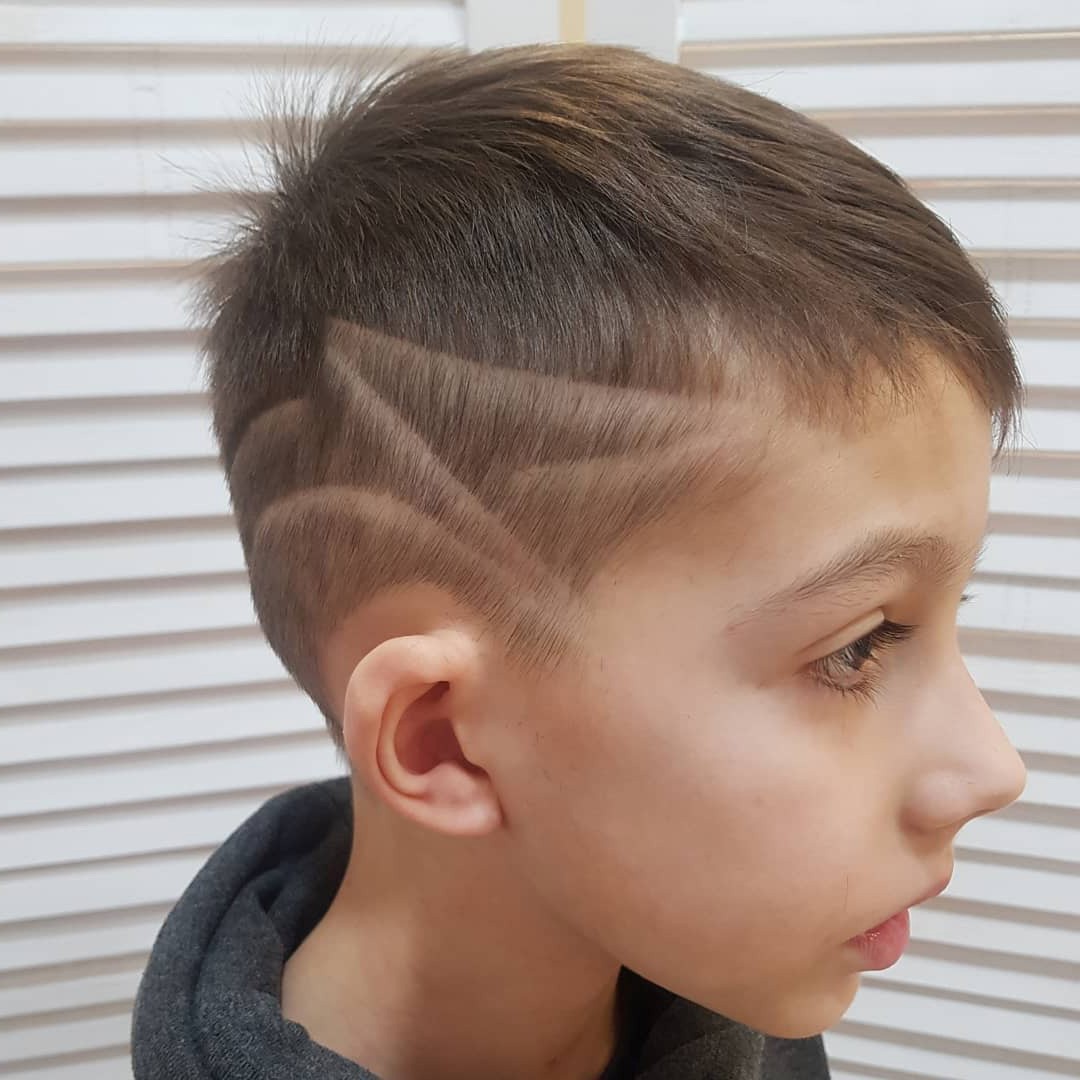 The third type of haircut for boys is called the Mohawk haircut. It is a very long style that was popular in the sixties and seventies. It isn't less popular than an undercut haircut with a fringe and letter Z for kids.
Mickey Mouse Design Undercut for Kids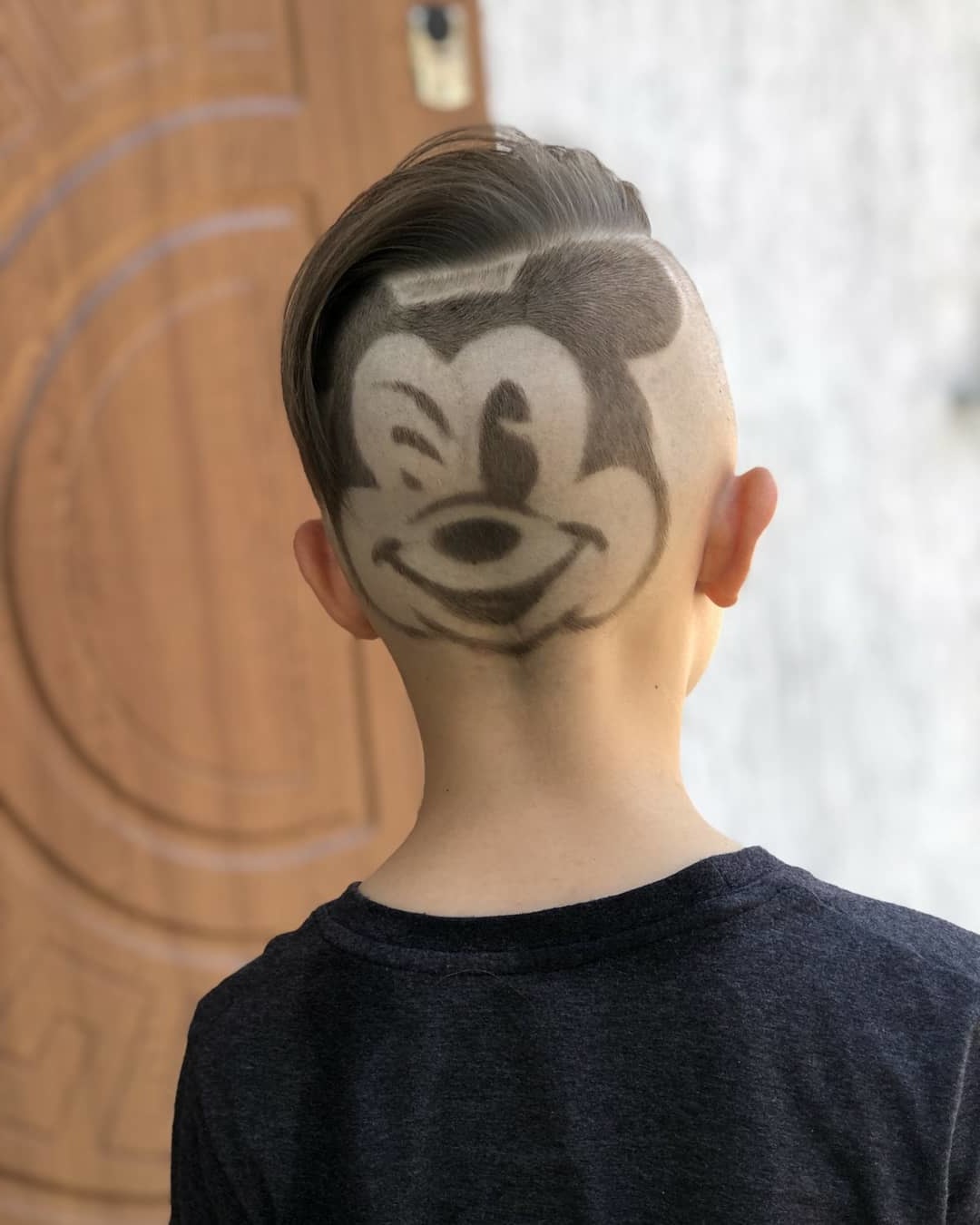 There are many boy undercut designs that work well for both boys and girls. One of the good cuts for both boys and girls is Mickey Mouse's design's undercut for kids. This is usually done in a side-swept style with hair that is cut from the top of the head.
Batman Hairstyle for Cute Kids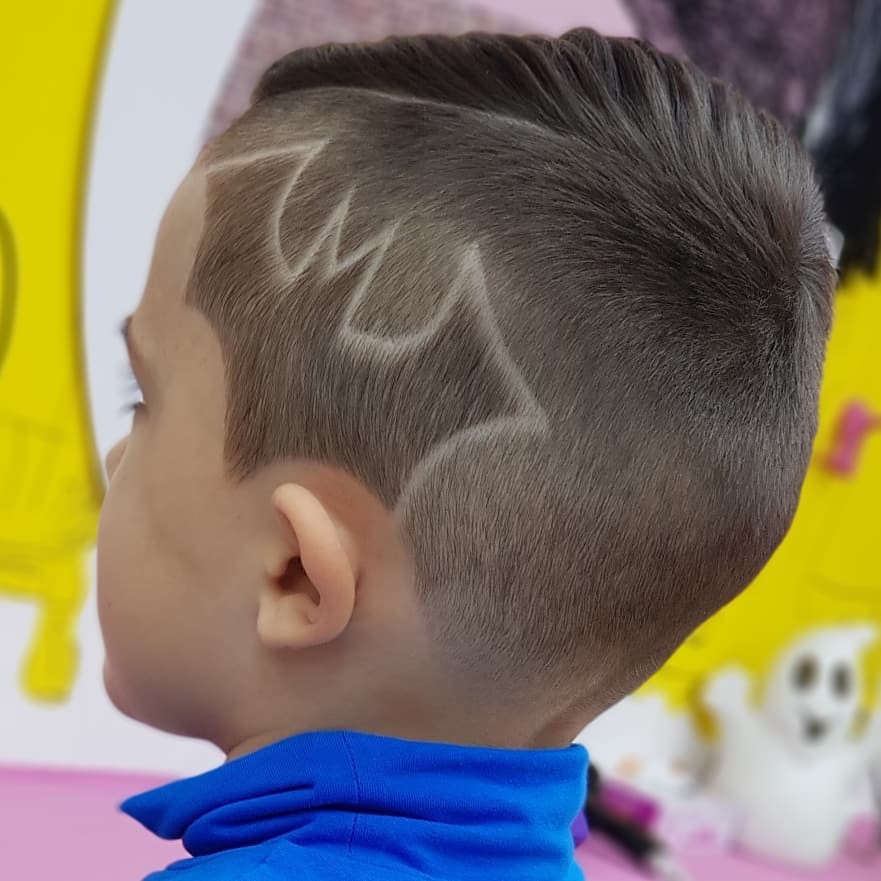 If you need a haircut for your son, be sure to pick out the different haircuts designs for boys. Don't miss an opportunity to make a great style – the Batman hairstyle for cute kids.
Fade Undercut with Pulse Line Design for Kids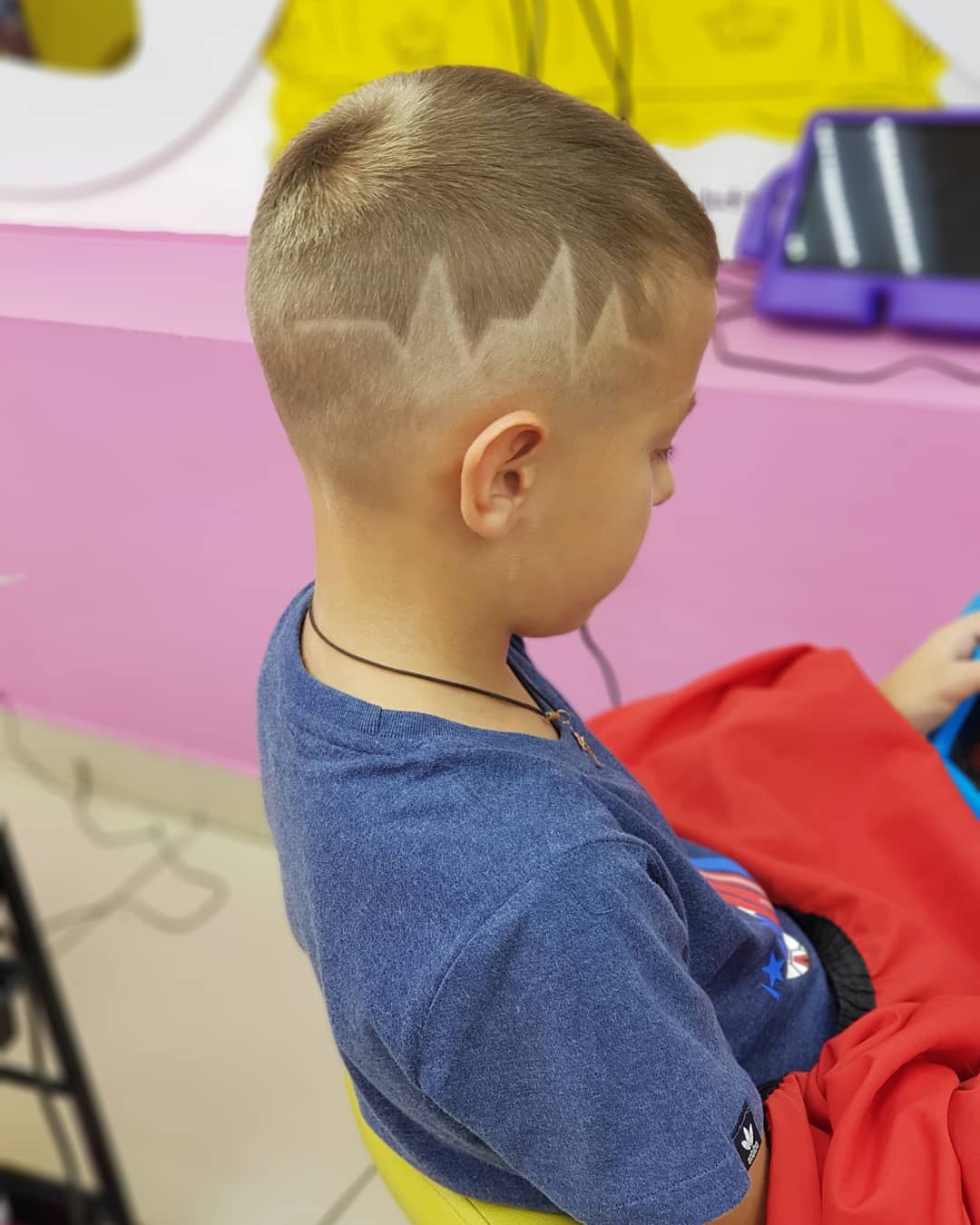 Once you have picked out the right haircut for your son, be sure to use the same hair care products. It is a good idea to follow the same routine in the way you wash his hair so that the hair does not go through the process of losing its color. A fade undercut with a pulse line design for kids will suit almost everyone.
Ninja Haircut for Kids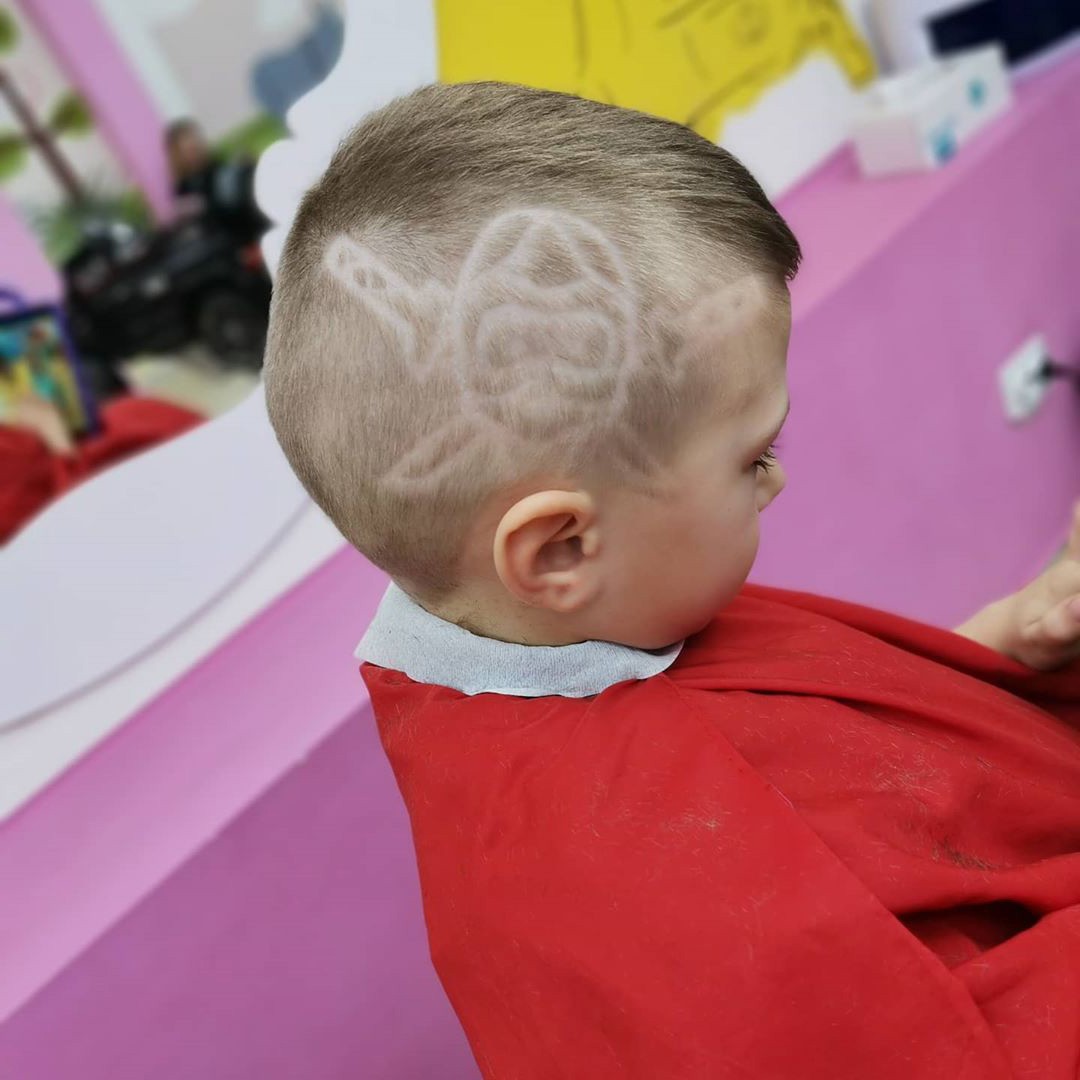 When choosing your hair care products, be sure to pick products that are designed to help your hair grow longer. For example, if your son has thinning hair, you need to make sure that you use products that contain ingredients that nourish hair. Also, never add dyes to the hair. If your son wears extensions, remember to remove them once a week. A ninja haircut for kids is the one that can be worn by any boy with great pleasure.
Pikachu Hairstyle Design for Little Kids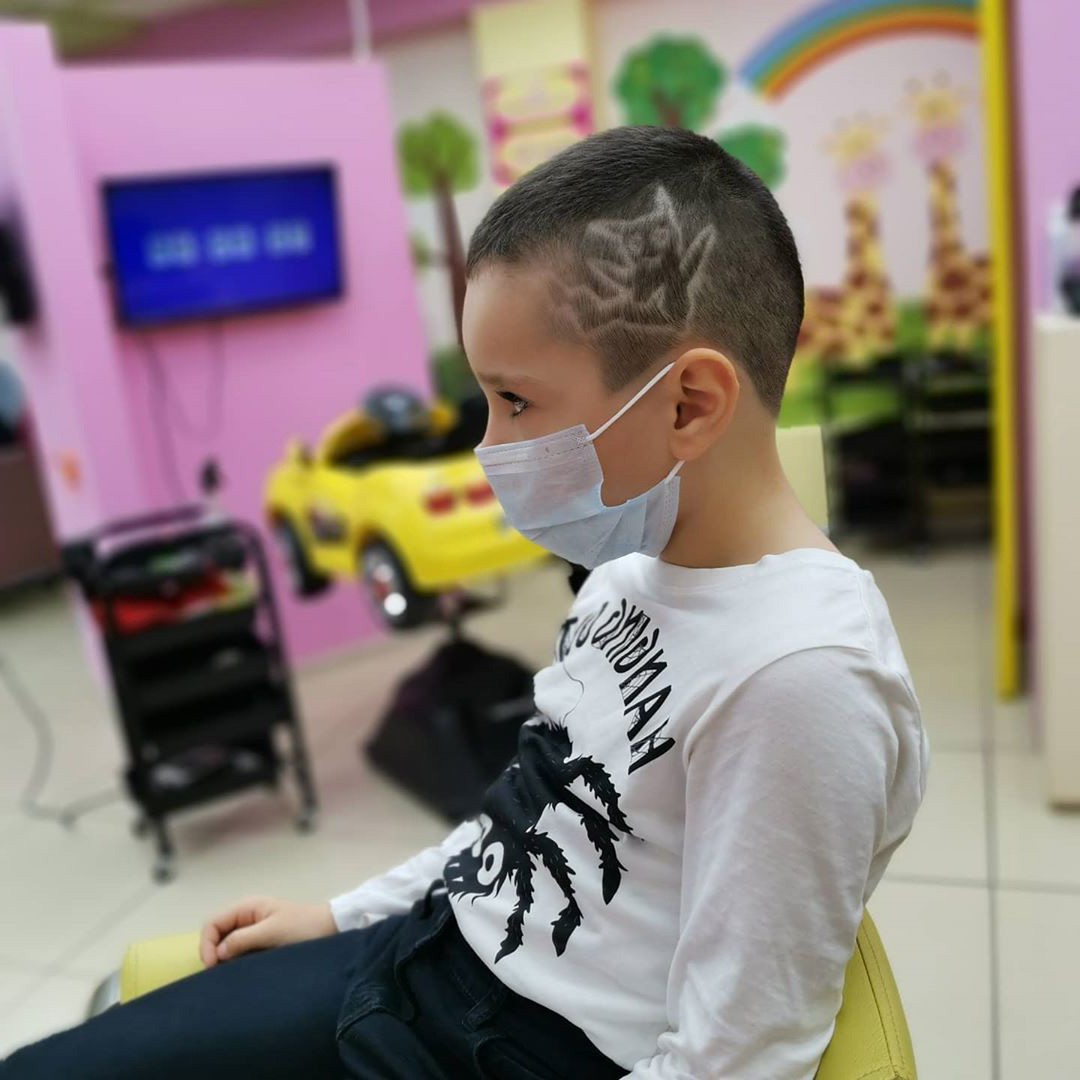 Use styling gels and mousse to give your hair a look you want. Like the Pikachu hairstyle design for little kids? Why not? Don't be afraid of experiments with the hair.
Cool Bus Hair Style for Kids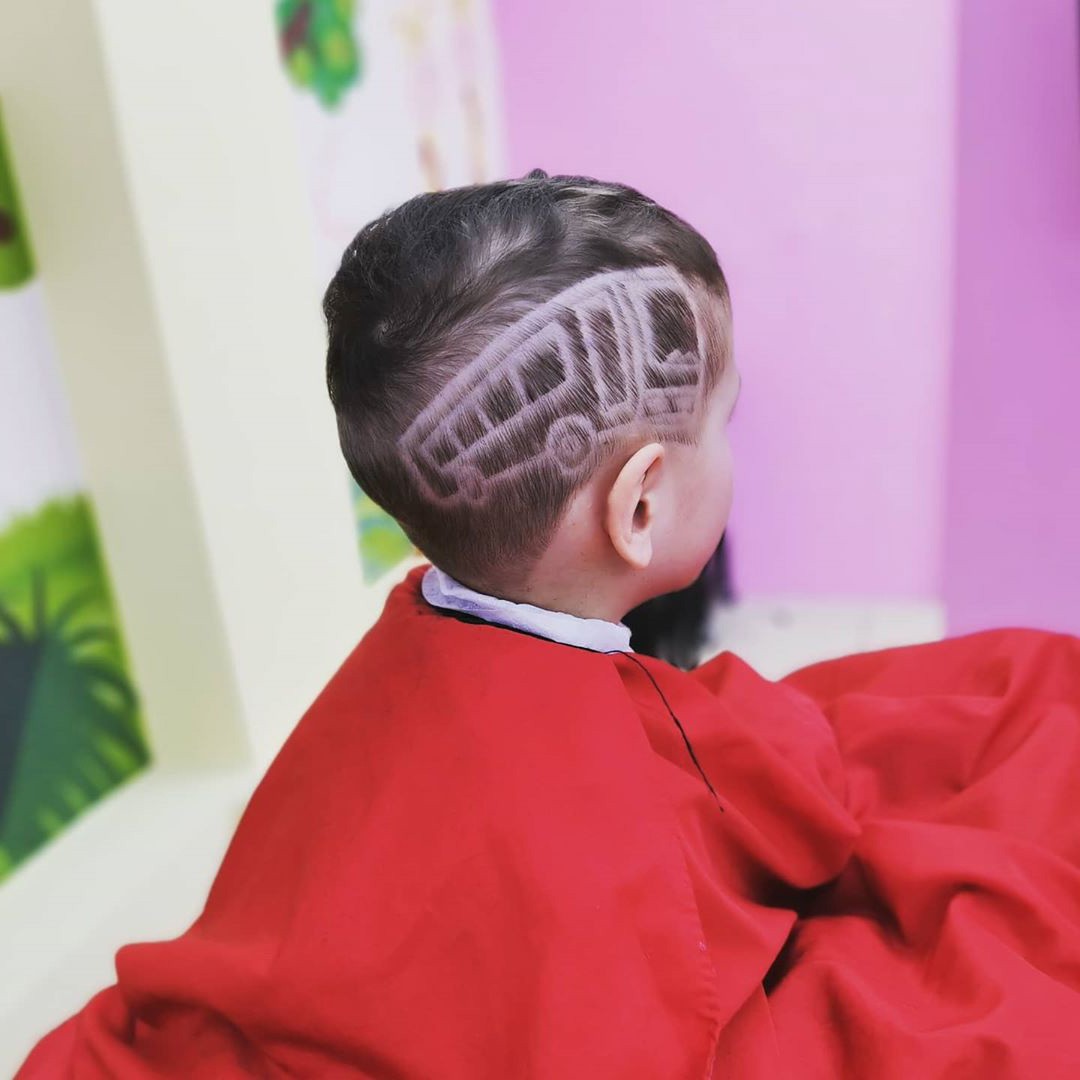 If you are using products that are meant to be used with extensions, be sure to change them every day. Only add products to the hair that are appropriate for the type of cut your son has. A cool bus hair style for kids is a great choice.
Kids Orange Hair Undercut Design
Hair coloring is a great way to change the look of a boy's hair. You can either color the hair yourself or have your son do it. Be sure to use a hair color that matches the cut and not the color of the shirt that your son wears. Kids' orange hair undercut design will suit most of the small boys.
Fade Undercut Hairstyle for Little Kids with Car Design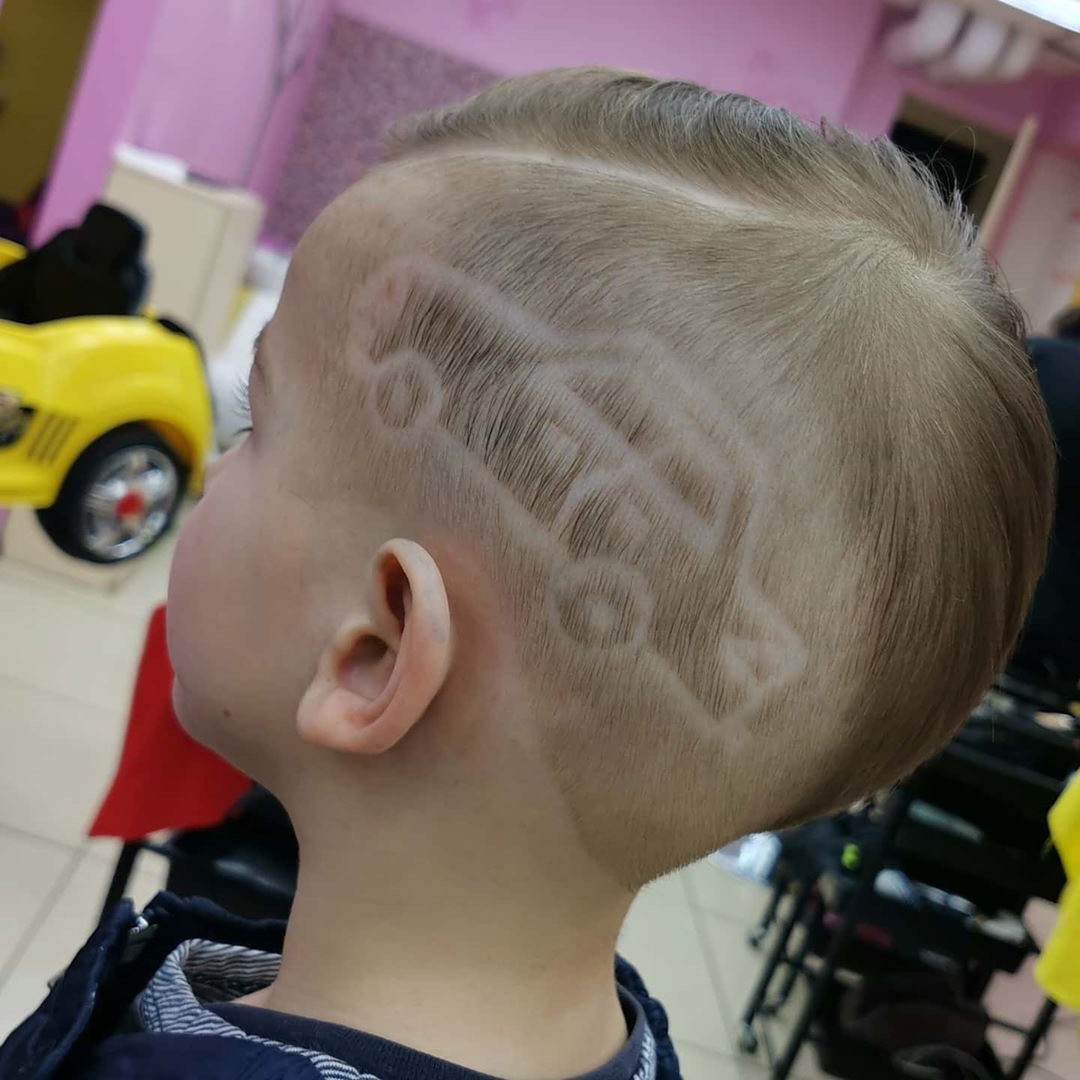 There are so many different types of undercut designs for boys that you will probably find one that fits your style. No boy won't like a fade undercut hairstyle for little kids with car design.
Cool Arrows Cut for Kids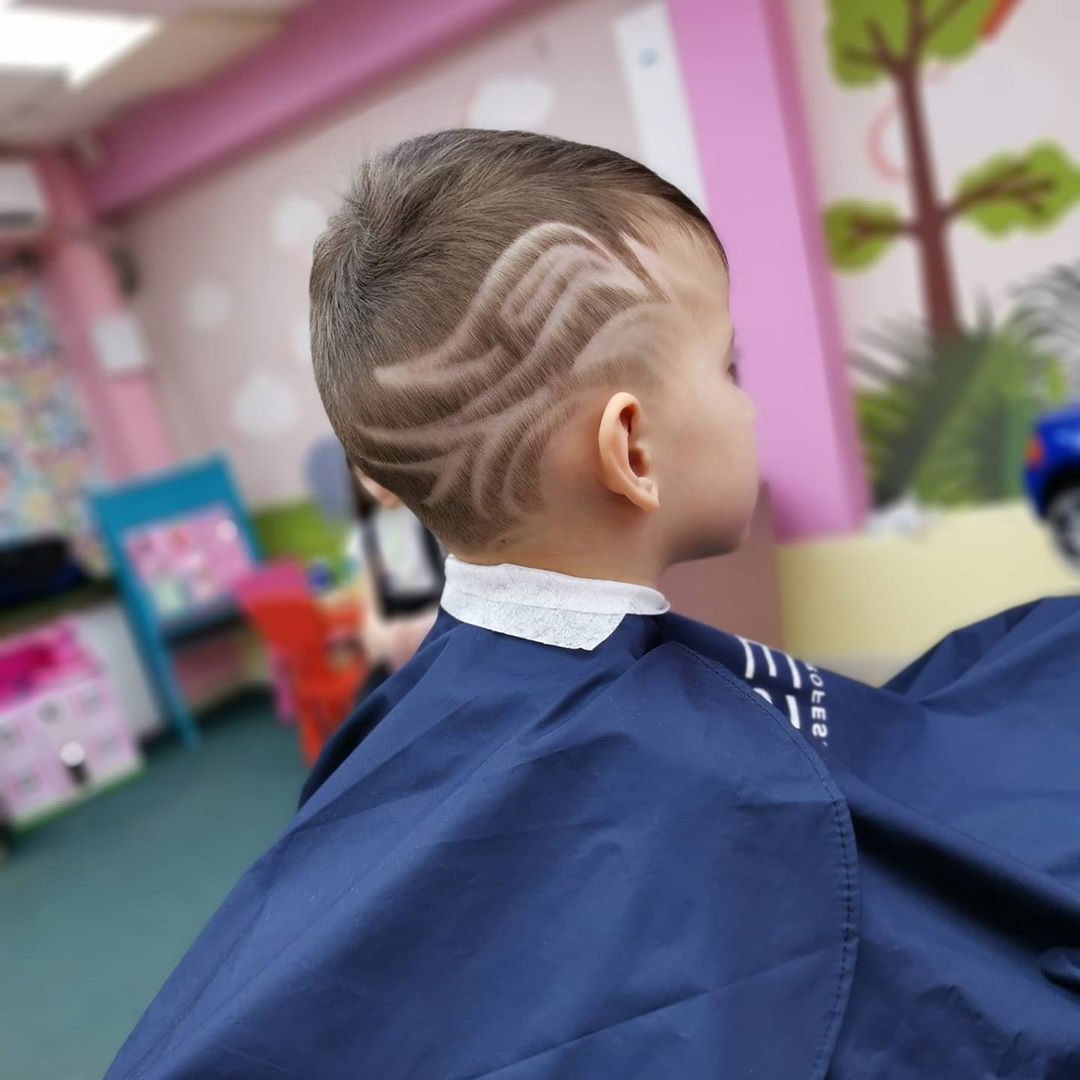 The types of undercut designs for boys are perfect for making your son look young and fresh. Be sure to experiment with different cuts until you find the one that will suit your child best. Consider making cool arrows cut for kids at least once.
Undercut Hairstyle for Kids with Short Pigtail and Triangles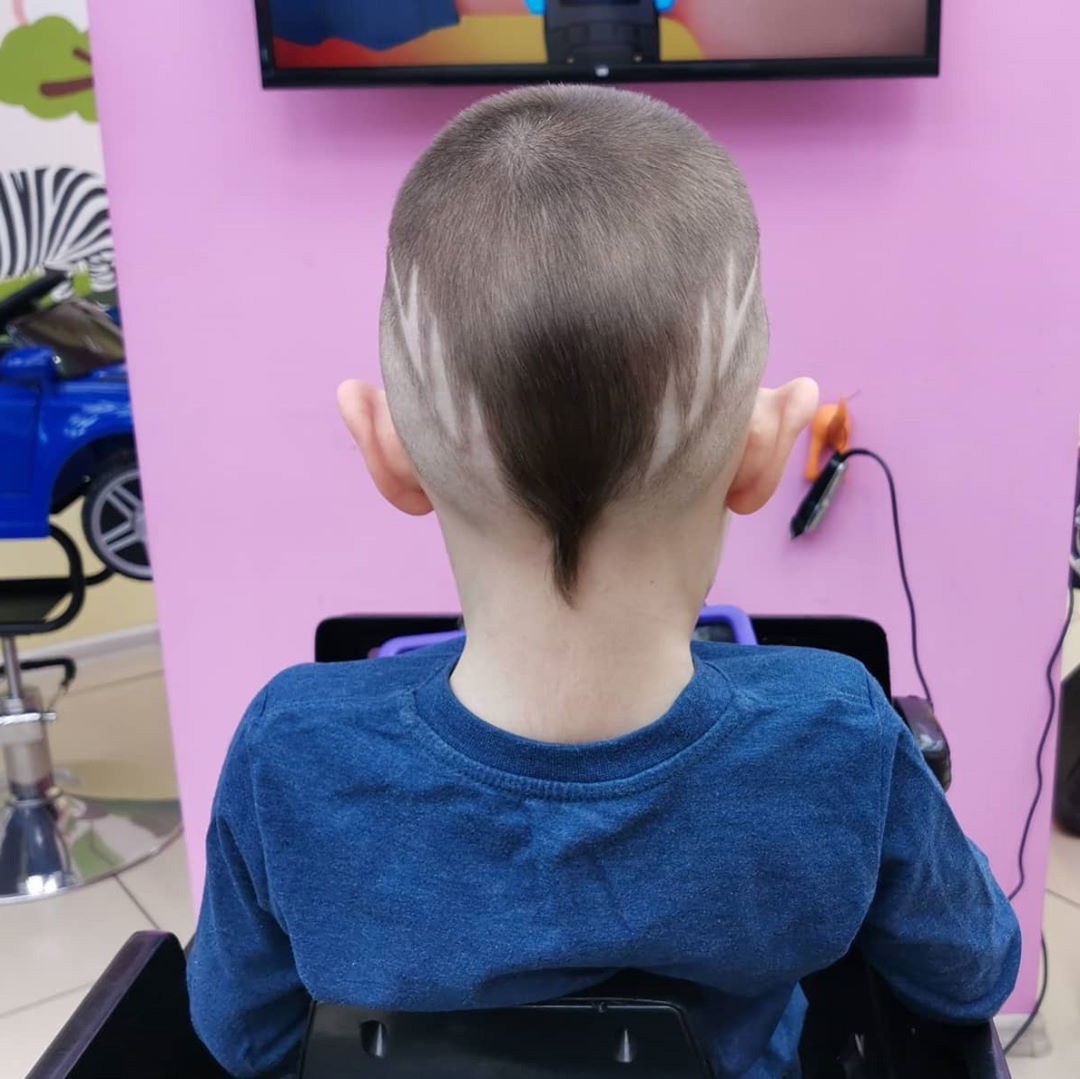 If you are looking for a style for boys who are more reserved than the average guy, you may want to consider getting an undercut hairstyle for kids with a short pigtail and triangles.
Soccer Ball Undercut Design with Pigtail for Kids
Since the undercut haircut is one that is used by most men, it is easy to find one that you like. A soccer ball undercut design with pigtail for kids will suit both small and big men.
Skin Fade Haircut for Kids with XXX Design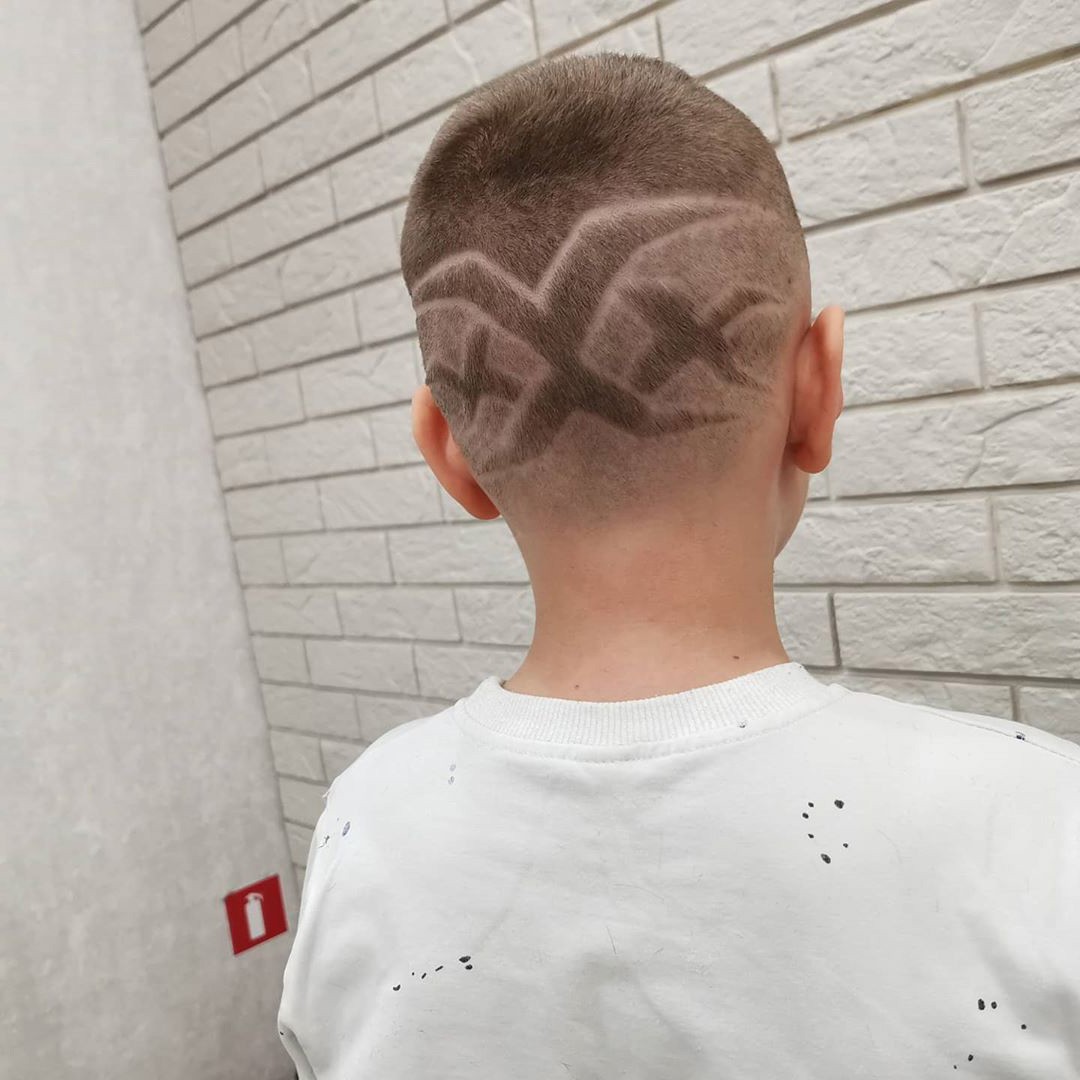 Some barbers are going to offer a fade haircut, but they are going to do it in a longer style. This type of hairstyle is only really needed if you have long hair. A skin fade haircut for kids with XXX design is a great style to choose from.
Toddler Boys Undercut Designs: Most Popular Styles Are Here
20+ Amazing Undercut Designs for Toddler Boys
Toddler Boy Short Haircut with Triple X Design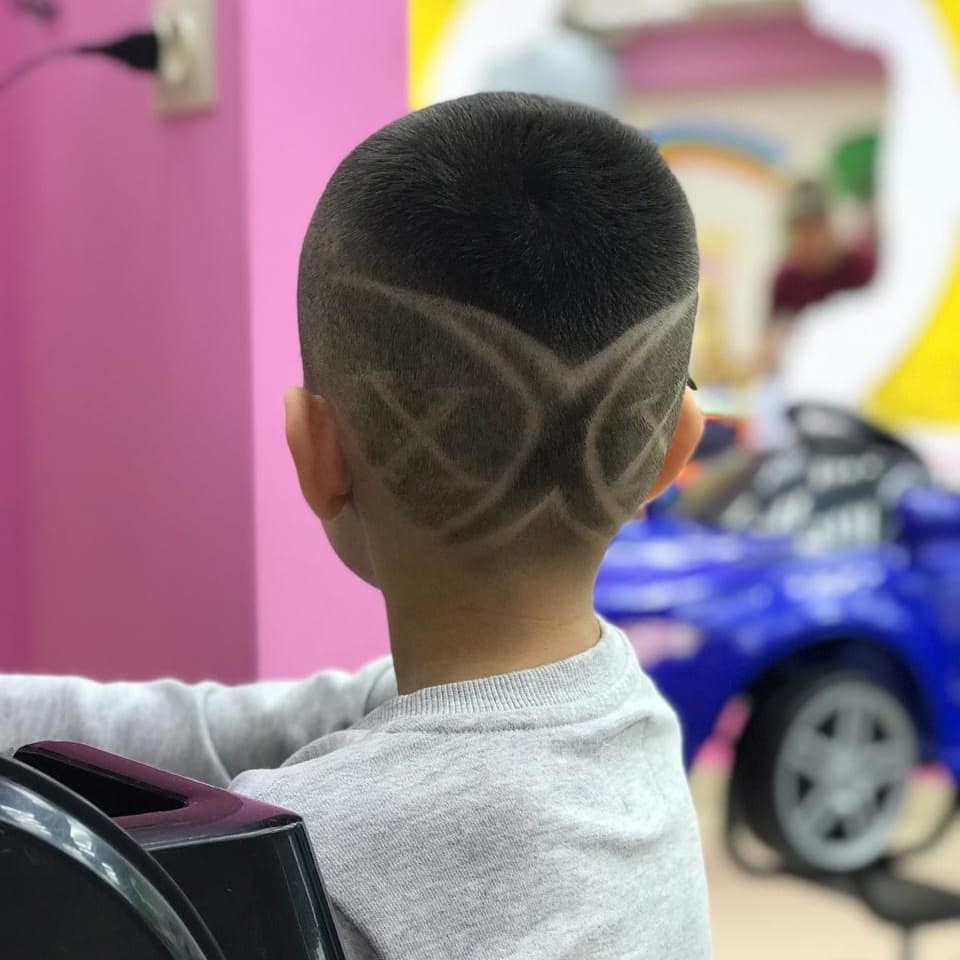 There are many different types of hairstyles for toddler boys. These toddler boy short haircut with triple X design will be great for styling around the house or getting the kids ready for school. The best thing about this hairstyle is that it can be used for both boys and girls, of course, if girls like brave styles that make an unforgettable impression
Toddler Boy Hairstyle with Cobweb Design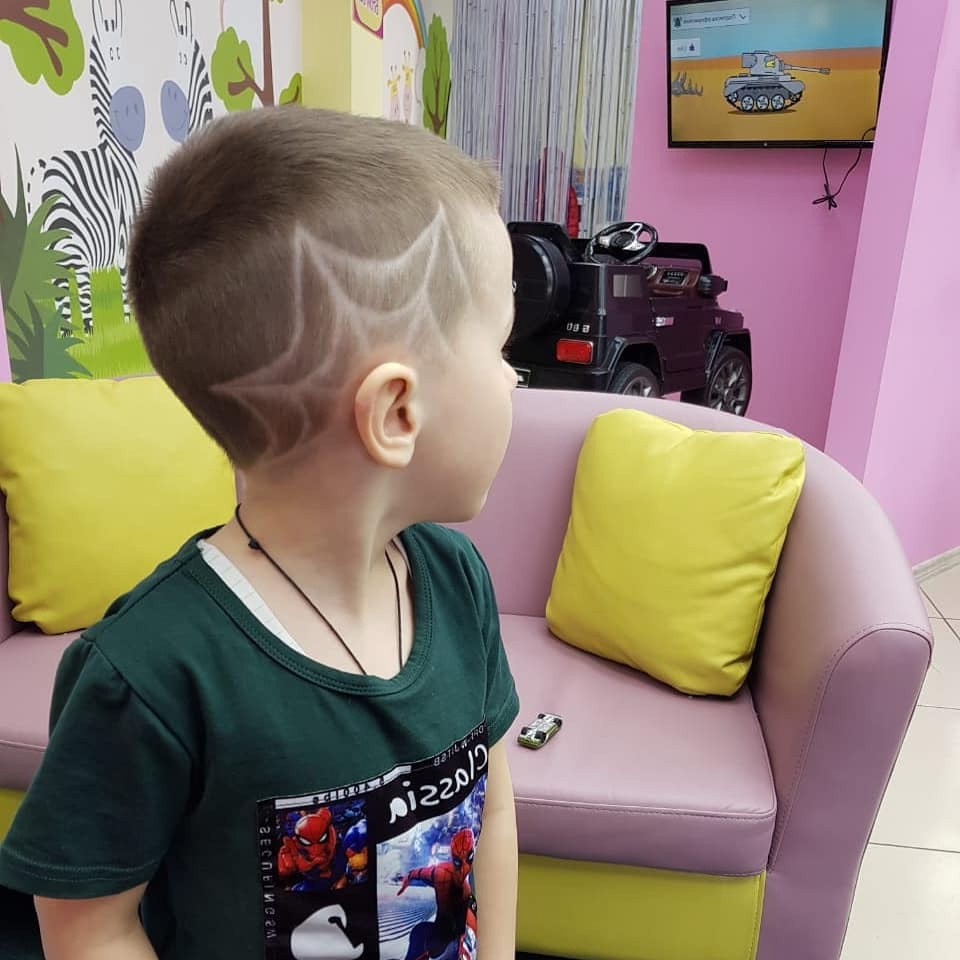 One of the most popular undercut designs for toddlers is the toddler boy hairstyle with a cobweb design. This cut comes in two different styles. It can either be shaved or go straight down the back of the head. Both styles are flattering on boys because they have short hair that will frame their faces. 
Undercut Design with Lines for Toddler Boys
Another popular haircut for toddler boys is the undercut design with lines. This style works well for boys because it cuts off the top of their hair, leaving only the top of their ears. This look also makes them look taller because of how the top of their hair covers their face. This is an ideal haircut for toddlers because it keeps the hair out of their eyes, which is something they love to do.
Toddler Boy Long Z Undercut Design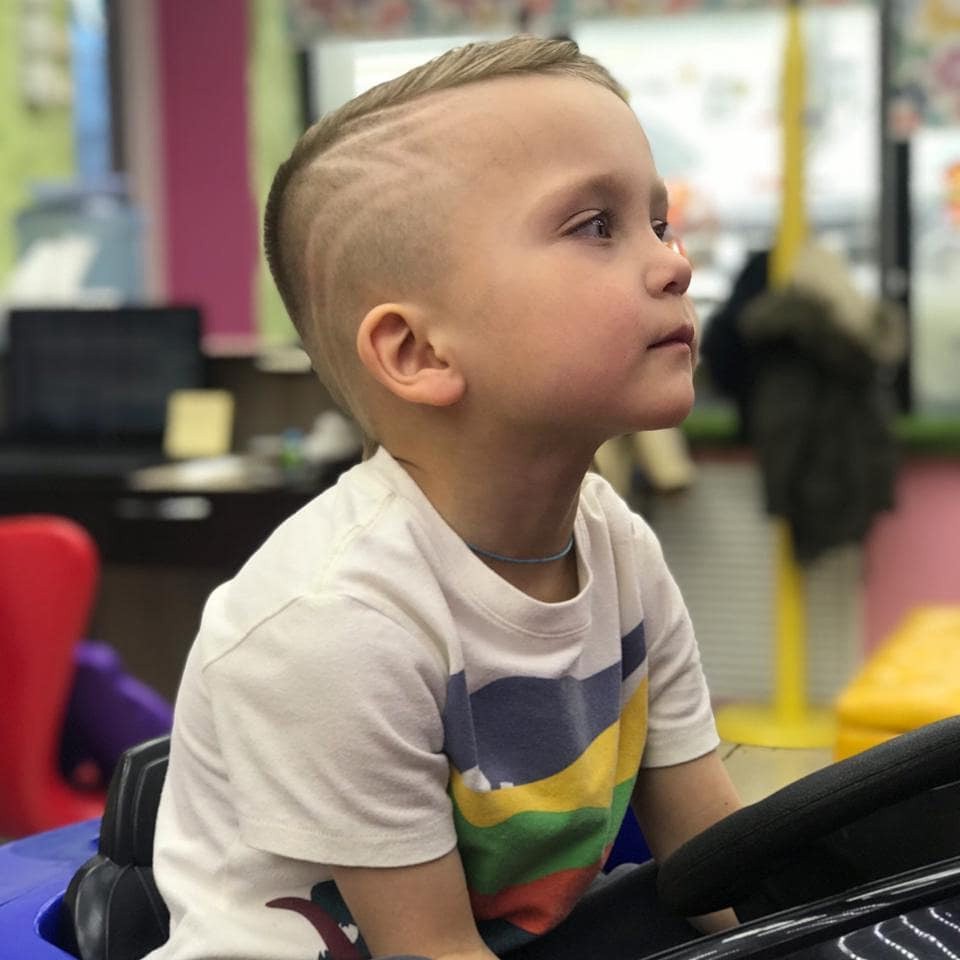 A boy's haircut can also be made fun with the Pixie cut. This is done by having the hair from the front or side of the head. This hair is then curled to make it longer, and the ends are parted on one side. A toddler boy long Z undercut design is great for longer hair.
Train Design Cut for Toddler Boys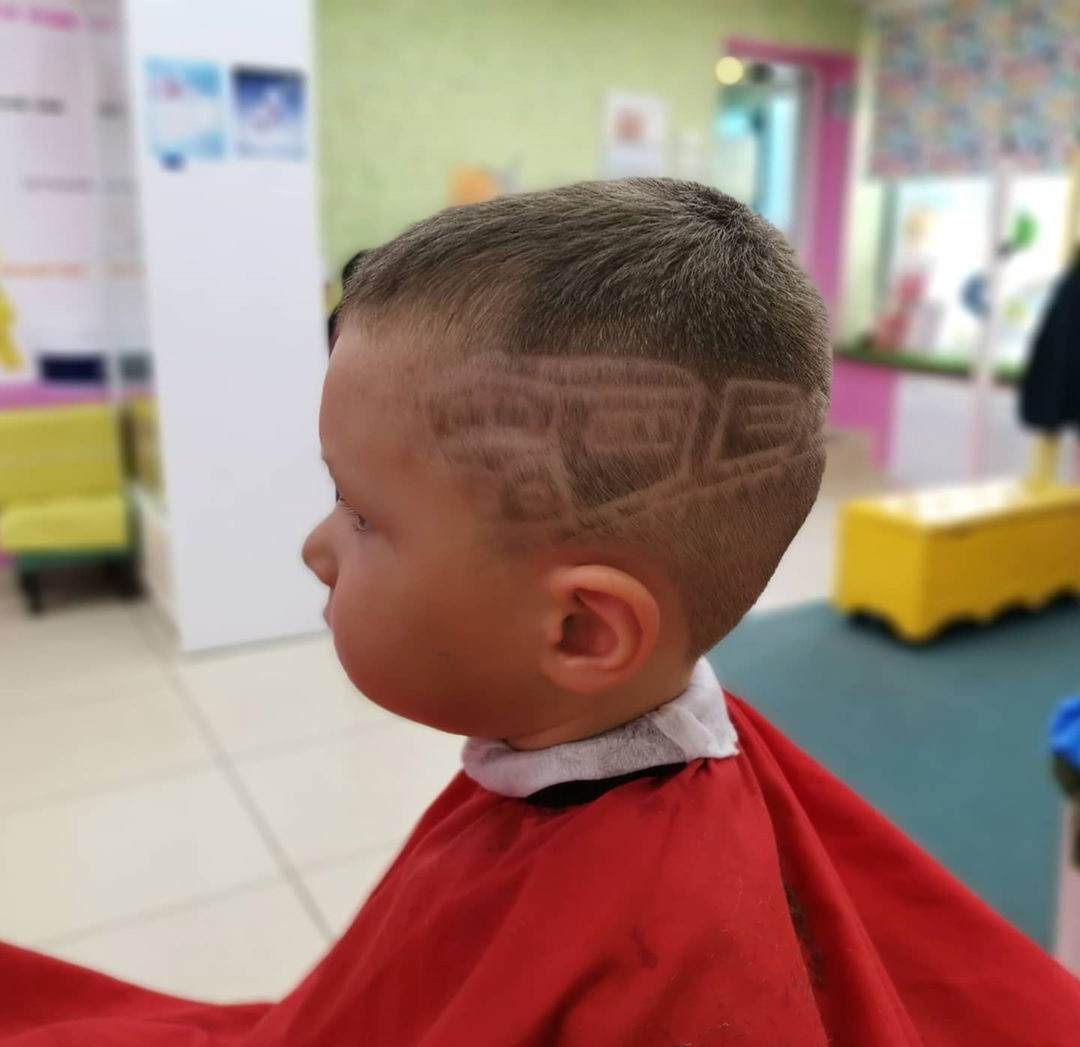 This style is a great way to get the child to wear his hair up more because it is long enough to make it look like they have a ponytail. A train design cut for toddler boys is a perfect choice for any occasion and hair length.
High Fade Undercut with Triangle Design for Toddler Boys
Toddler boys' undercut designs can also be done with short cuts. This is usually done on boys who have hair that is too long for the face to cover the entire face. These are very popular with boys, and there are many short cuts that a parent can choose from. One of them is a high fade undercut with triangle design for toddler boys.
Side Swept Rainbow Undercut Design for Toddler Boys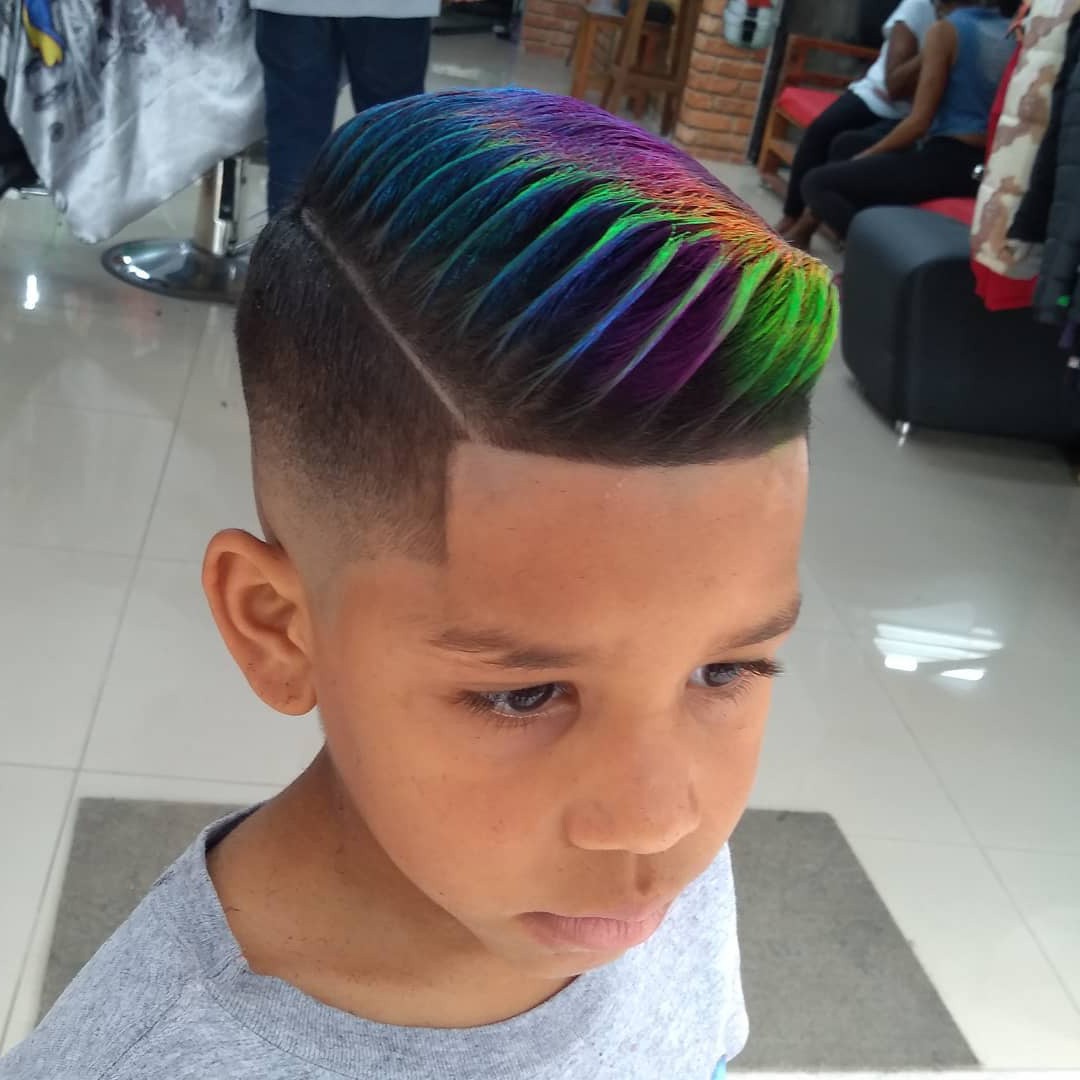 Looking for a bright style that everyone will pay attention to? A side-swept rainbow undercut design for toddler boys will be the right choice.
Crab and Waves Hairstyle for Toddler Boys
Another haircut that is great for toddlers is the crab and waves hairstyle. This is a great style because it is very stylish. No person would say that this hairstyle isn't the stylish one.
Cute Toddler Boy Haircut with Petal Design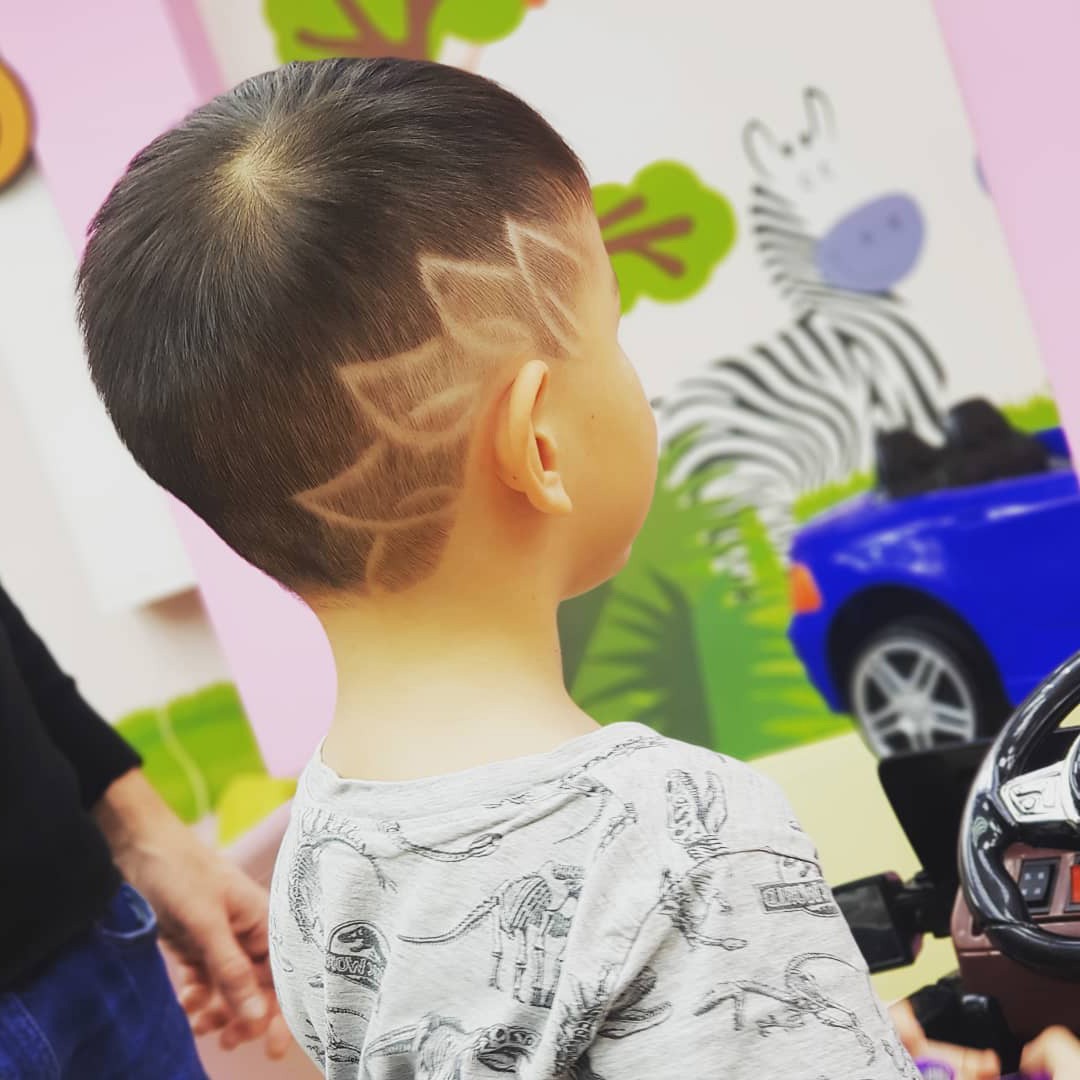 Boys can also have some of the hottest cuts for their hair when they are younger. One of the cuts that are commonly done for younger boys is the Pompadour. This is a fashionable look for most boys because it is a classic style that looks great. A cute toddler boy haircut with petal design is also one of the most popular styles now.
Star Hair Design for Toddler Boys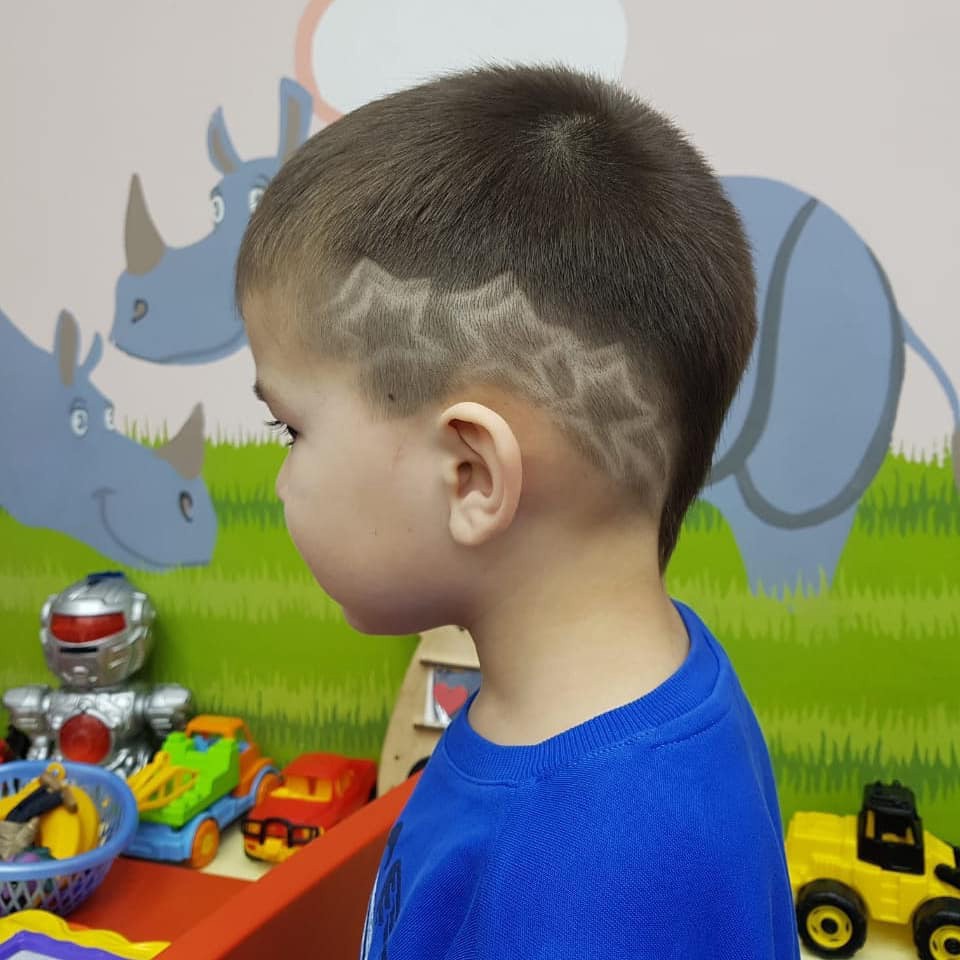 If boys want to have short hair, there are plenty of options available to them. One of the undercut designs that are popular for toddler boys is the star hair design haircut.
Spider Web Hair Design for Toddler Boys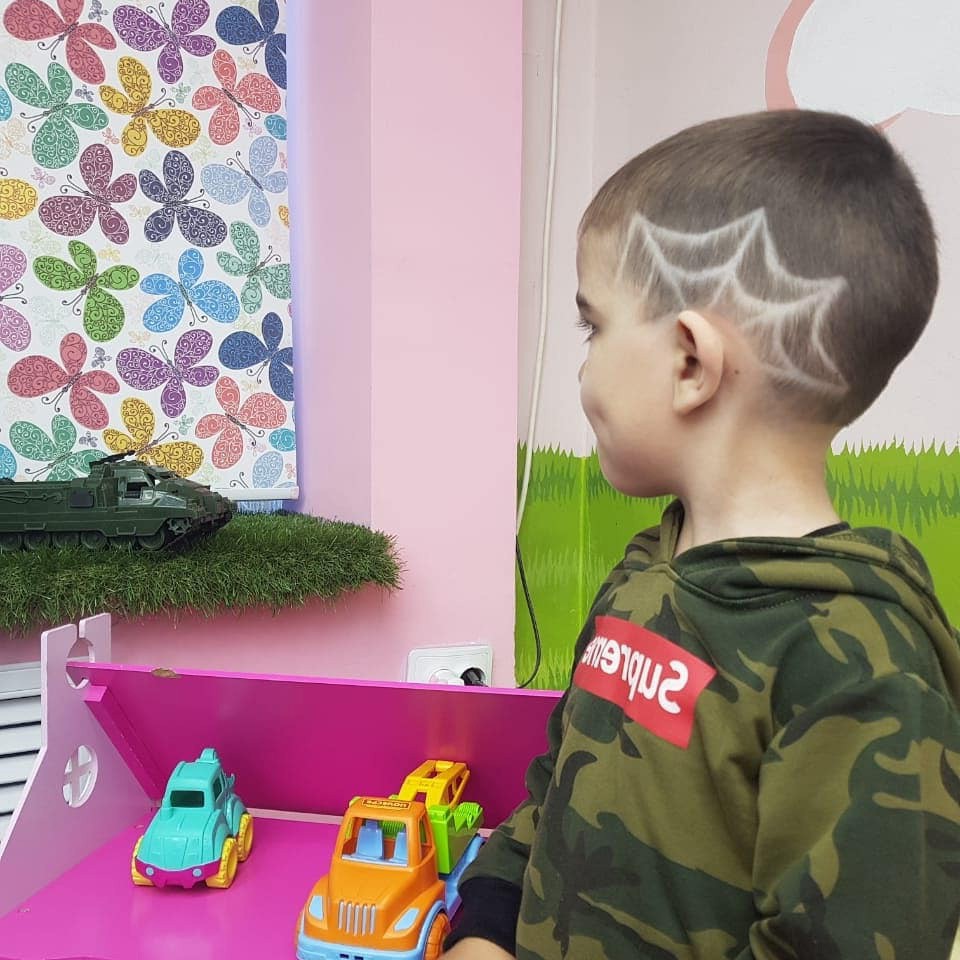 This is a short hairstyle that has a center part and combing it into the back of the head. This looks nice and is an excellent style for older boys that have short hair. A spider web hair design for toddler boys is more than great – it's cool!
Toddler Boy Dive Plane Fade Undercut Hairstyle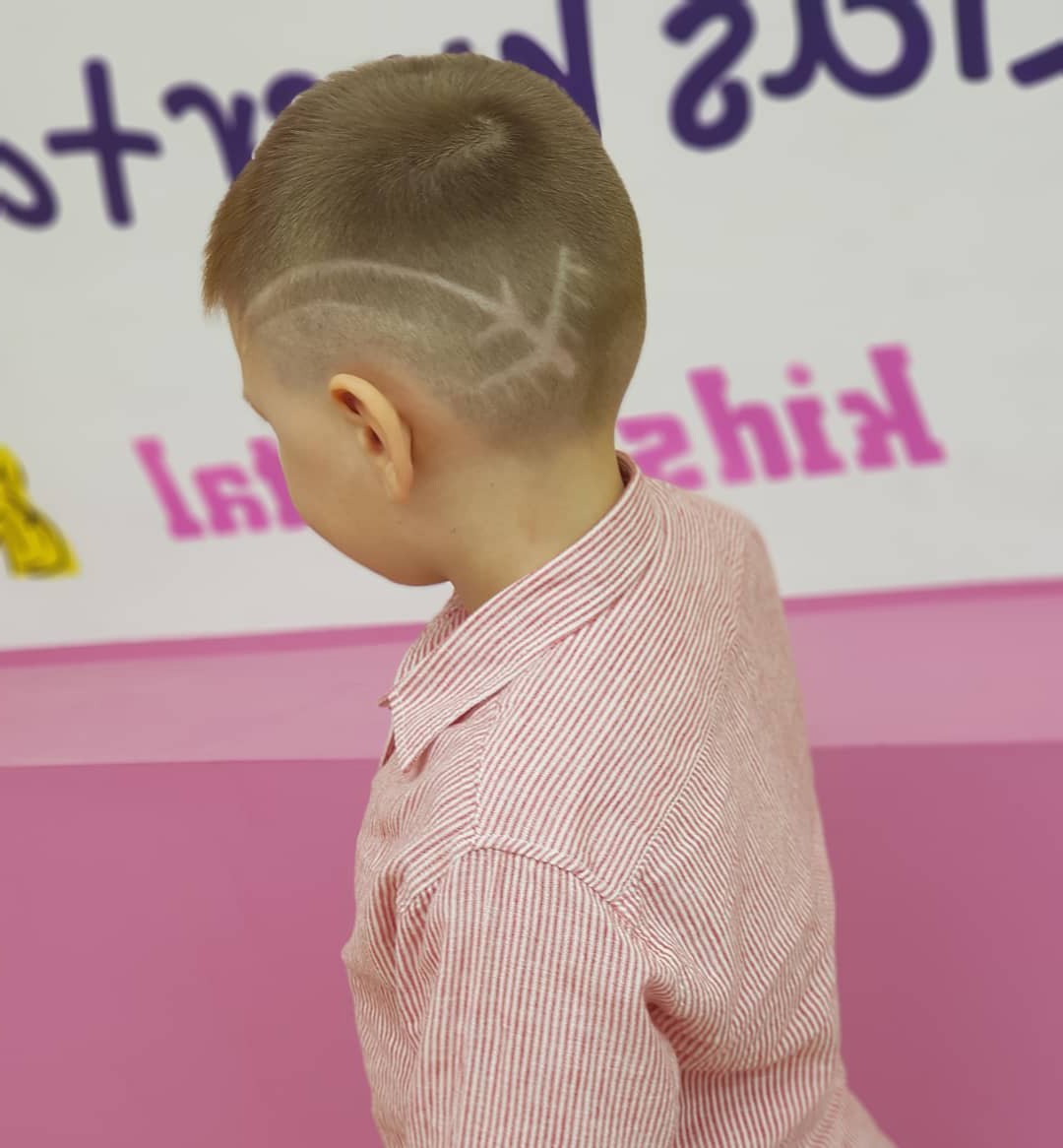 Another short haircut that is popular for boys is the side part. This is a shaved part that is worn in a ponytail form. It is also possible to style the hair into different styles depending on what the child prefers. A toddler boy dive plane fade undercut hairstyle will make a great impression on passers-by.
Racing Car Undercut for Toddler Boys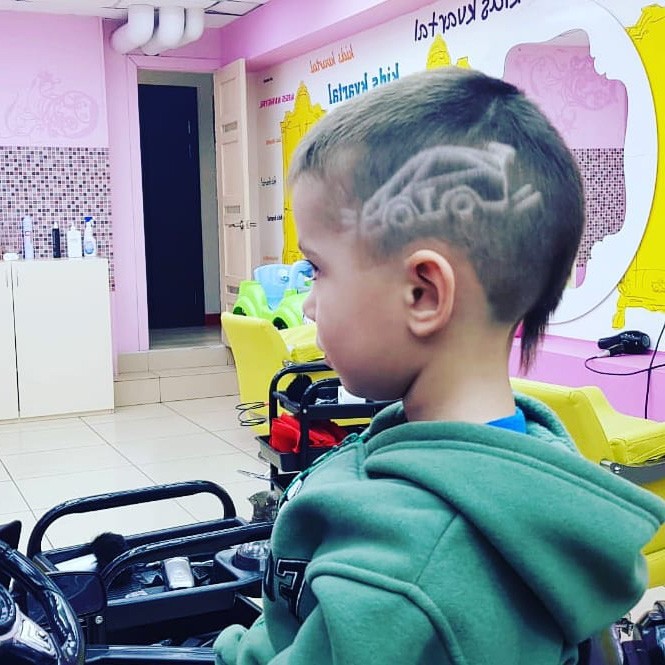 This type of haircut for boys can also be done in a curly style. This is a shorter style of haircut that has long ends and curls that fall into the head's back. It looks good on boys that have long hair because it frames their faces and allows them to be the center of attention when wearing this style. A racing car undercut for toddler boys is the style that should be chosen if you want to attract attention.
Undercut Haircut with Fringe and Letter M for Toddler Boys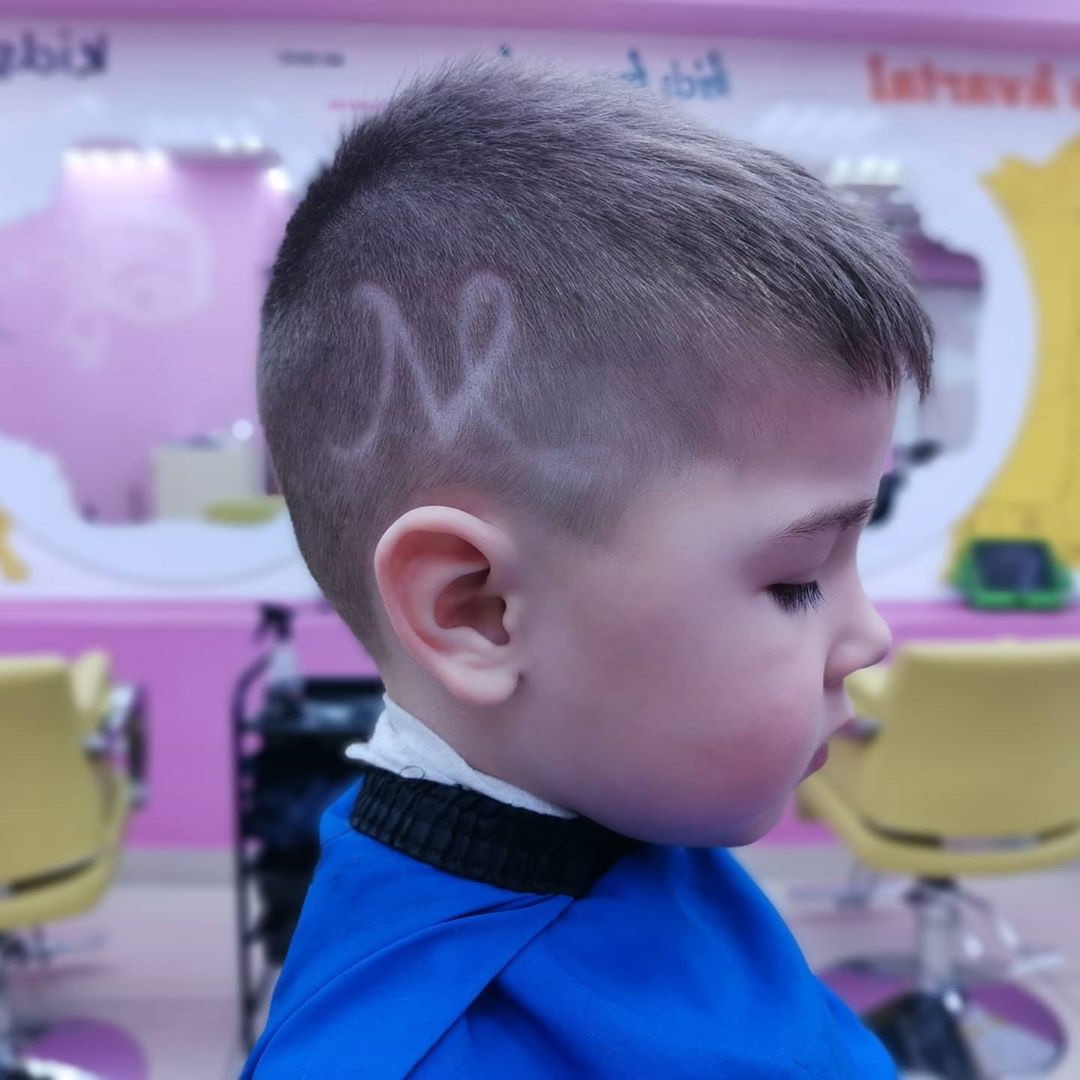 Whichever haircut a child chooses depends on the child. For example, an undercut haircut with fringe and letter M for toddler boys will be selected by those who like experiments. 
Toddler Boy Cut with Dinosaur Design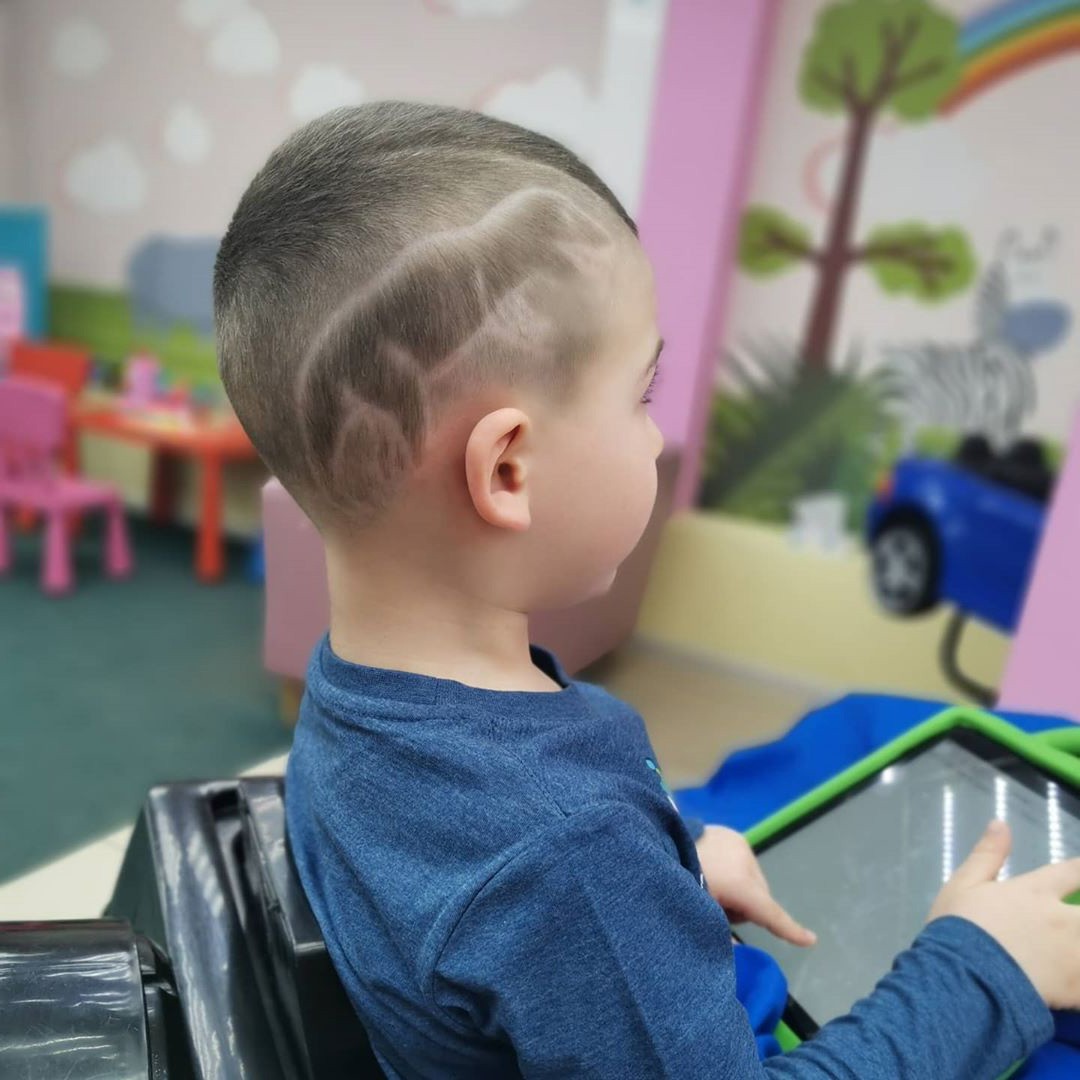 The same can be said about the hairstyle known as the toddler boy cut with dinosaur design, which most boys like most of all. 
Toddler Boy Intersecting lines Design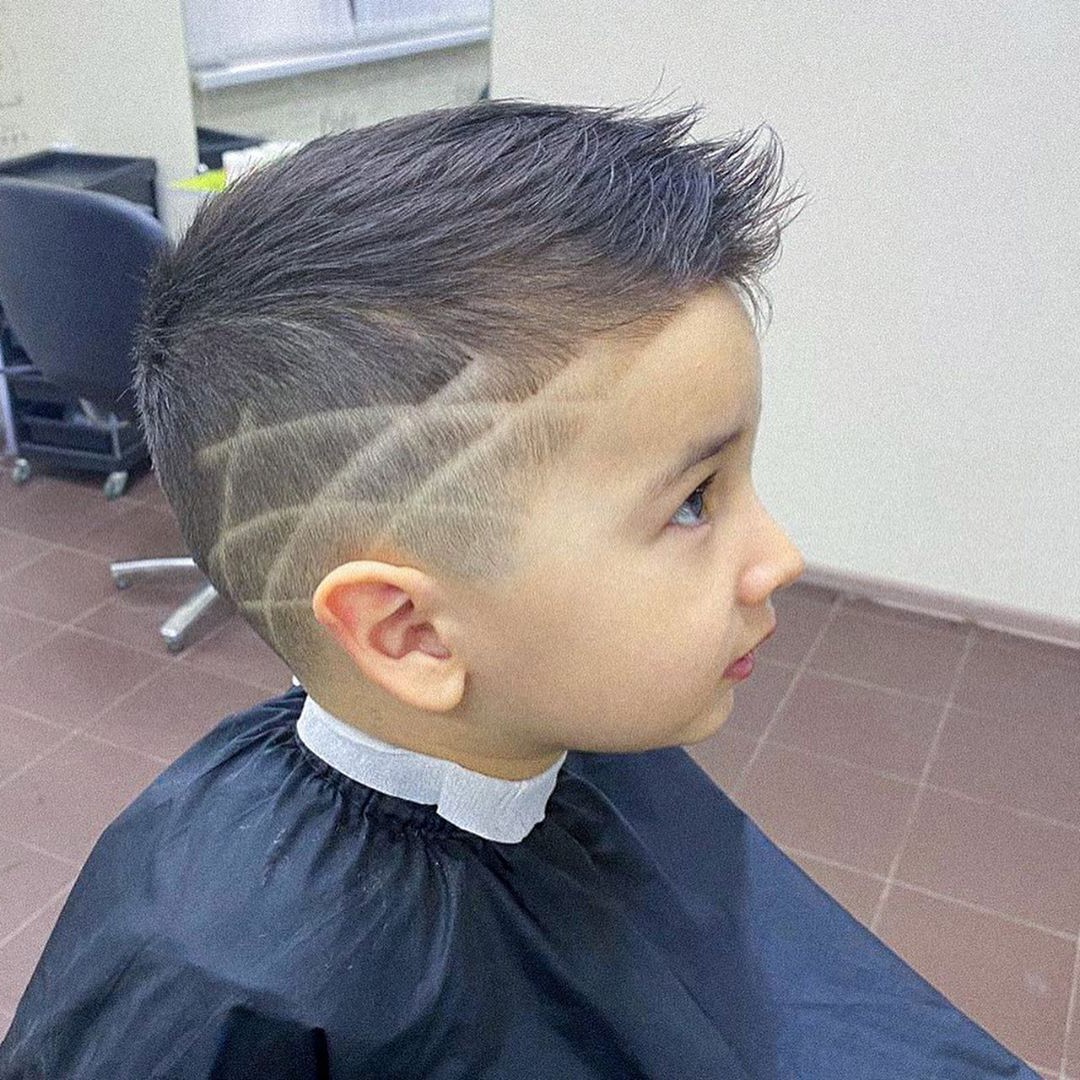 A toddler boy intersecting lines design is another style that is worth choosing if your boy likes changing his image from time to time. 
Choose the best style taking into account the peculiarities of each one. Not each undercut will suit your boy because all of them are different and will suit boys with different hair type, length, and character.