Want to look fresh and natural? Then, go and check the best collection of natural hairstyles for African American women and girls. Choose among braided styles for various hair length. Learn how to create a great look with the right natural hairstyle.
The Best Natural Cuts in 2020
---
Hairstyles for natural hair are getting very popular due to various celebrities showing off their real hair on social media. Another reason of their growing popularity lies in the fact that natural hairstyles for Black women are the healthiest options for the hair, especially if you want to have it longer. You definitely realize how enjoyable and fun your black curls are as with a variety of natural hairstyles you must have already fallen in love with your kinky coils. Creative quick natural hairstyles are expressive and really effortless that allows them to bring out the unique texture of natural hair hairstyles.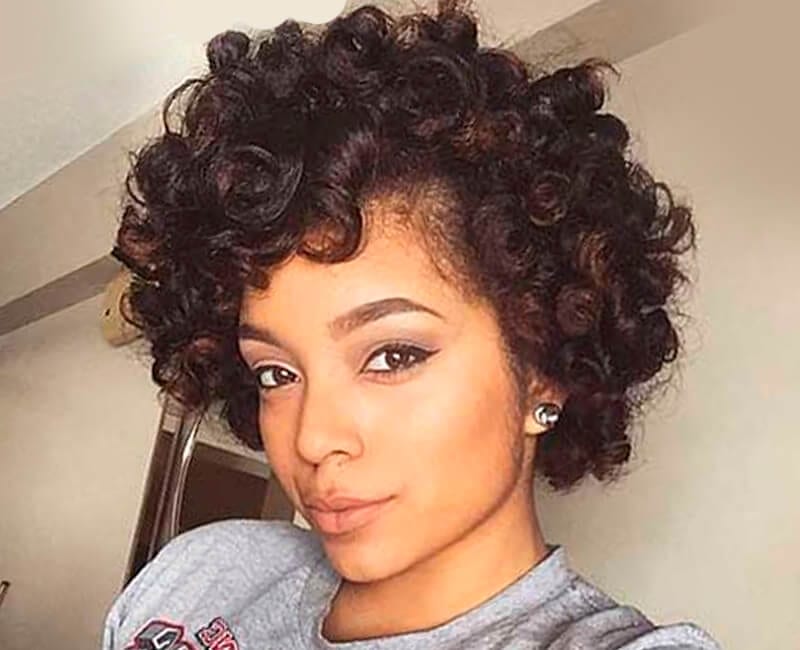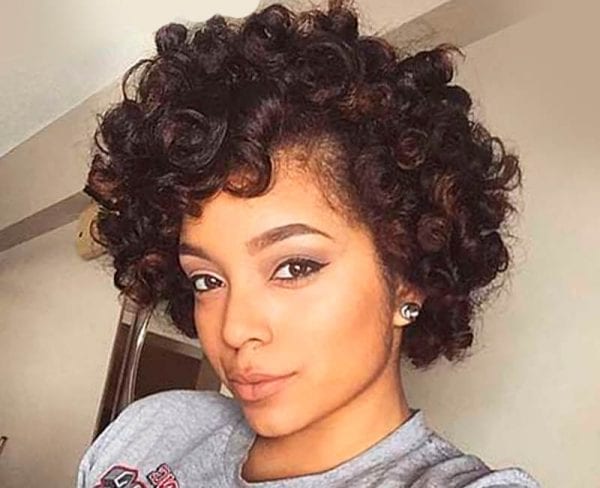 Protective hairstyles for natural hair emphasize on keeping the curls healthy and styling them in an ingenious manner. Even hairstyles for short natural hair as well as natural hairstyles for medium length hair are apt to surprise everybody with their novelty and inventiveness. Natural braided hairstyles will also impress your imagination and won't leave you indifferent in choosing interesting options invented specially for you.
Notably, a majority of African American women often encounters many troubles and surprises with their natural hair. Sometimes it can be difficult to style or, on the contrary, the hair may lack length for impressive versatile hairstyles you can see in various booklets. The other problem may occur is when the hair gets extremely dry and brittle due to experiments with different hairstyling products and procedures. Quite often the only way out in these cases is to achieve a short haircut and to have patience to wait for the new healthy growth. To have a natural hairstyle is not an easy task. To style and to create various beautiful styles and at the same time to maintain healthy locks is an extremely difficult process. That is why the easiest way in getting quick natural hairstyles is to wear your hair as natural as possible.
Options for short natural hairstyles
Natural hairstyles for short hair vary greatly and provide a wide range of possibilities. Among these hairstyles you may find the following:
Protective hairstyles for natural hair
They look rather stately, but the most beneficial feature of them is that they protect the delicate structure of natural hair from the loss of moisture. For instance, a twisted look that may seem impossible to get at first glance, but it is definitely much easier than you may think. You just need to wrap the hair tightly around some small flexi rods or straws, and let it air dry overnight or sit under a dryer if you are short of time. Then you should pull the curls out or separate them for even more curls and body, or wear them tight and compact. Thus, you will achieve an excellent protective hairstyle for natural hair that is naturally curly. Actually, the best way to keep your natural hairstyle protective lies in simple maintenance.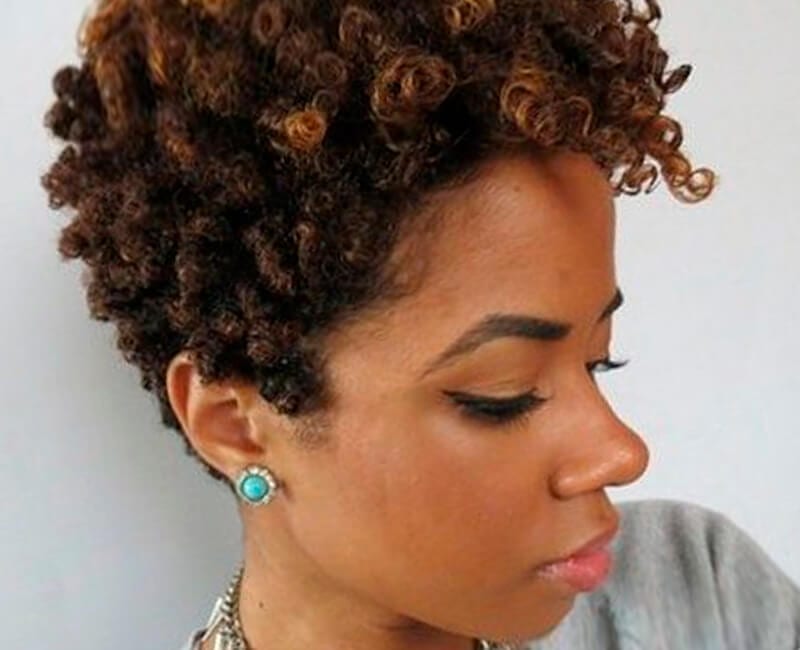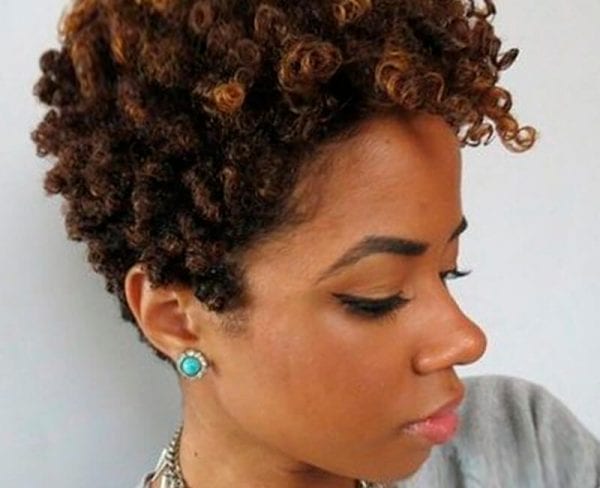 The most stylish thing you can do is to keep your hair moisturized and trimmed. It goes without saying that healthy hair looks great and, therefore the curls will have the nicest aspect when they are taken care of. So, if you have a short hairstyle it is more likely to be cuter. A popular protective hairstyle for natural hair is a twist-out natural hairstyle for short hair. With the help of it women can achieve full curls without using heat techniques. It is a low maintenance hairstyle and if you happen to sleep on it, the curl pattern won't be messed up at all. A flat twist detail in the front can be combined with further protect of the edges of the hair.
---
Twists
In case you have some extra volume, the twists take it under control and make you look gorgeous either wearing them loose or in elegant natural updo hairstyles. If you are sick and tired of your normal wash and go there is always a great solution to throw a few twists along your hairline. Moreover, it is rather easy and incredibly cute for any texture of the hair and suitable for any length. This is a quick way to add some chic to a simple African American natural hairstyle.
If you happen to find yourself completely over your everyday natural hairstyle, don't get disappointed as a marvelous twist out is a splendid solution to this common issue. Moreover, if you pin up one side you will achieve an added bit of style. Twisted short natural hairstyles for Black women can last for weeks and look appropriate. You may create the side bang that will add some versatility to your look or pin it back, or for a funky casual look wear it down.
---
---
---
Puffs
African American ladies really love this substitute for a common bun as it allows them to introduce elements of braiding or twists into their puff hairstyles and makes their look eye-catching and exquisite. The easiest way to rock your everyday hairstyle for short natural hair is to tie the hair up into a nice ball of curls. You just need a bunch of pins or large elastic to create a cornucopia of marvelous curls. It can be a quick natural hairstyle with a mixture of convenience and style as it is really simple and even can be done the night before. For instance, cute curly bouffant hairstyle looks adorable with a headscarf. The interesting texture of a puffy bouffant atop the head makes the whole appearance divine.
To get the edges healthy you need to keep them intact by avoiding tight braids and wearing wigs or weaves for a long period of time. The things mentioned can damage the hair and stunt hair growth. For a funky and casual everyday look, you may accessorize your short natural hairstyle for Black women with a bandana. Actually, a puff is a simple natural hairstyle quite popular during summer season among African American women. Most part of them has won it at some point in their natural hair journey. If you want to spice up your puff hairstyle start from the hair stretched via twists or big braids.
---
Mohawks and Fauxhawks
They are appropriate for Black women's natural hairstyles due to their eccentricity and boldness. If you are looking for a unique way to spruce up your natural hair hairstyle, the Mohawks always take the first place. The edginess of this hairstyle remains fashionable. It is a good idea to start fresh along the sides of the head with a fresh hairstyle. With a natural Mohawk hairstyle, you can keep your curly Afro hair really trendy. While some women are scared to take the plunge, you may try this natural hairstyle for short hair that is both versatile and bold. You may also ask your hairdresser to add some parts and colors to your new perfect hairstyle.
Classy Fauxhawk styles can also embrace your texture and short length hair. Natural hairstyles for African American women vary greatly and are quite easy to maintain. Moreover, if you add some color it will update your natural hairstyle for short hair and make a big difference. Mohawk hairstyles are good enough for those women who want to pull their hair into a ponytail but can't do it. In this case, you can pin it into a Mohawk just in the middle of your head that will allow you to have the hair out of the face and not to force it into a tiny ponytail or bun. To achieve a unique short natural hairstyle you may add in a parted design or try it to make spikier.
---
Finger coils
This is an excellent idea for those women who are searching for natural short hairstyles which make emphasis on outstanding textures. Cute coils look perfect on every African American woman. It doesn't really matter whether the texture of your hair is naturally tightly curled or not if you manipulate the hair effectively. You should take into consideration different flexi rods, straw sets or a well-done twist out that can allow you to get a marvelous hairstyle for short natural hair.
These cute, short and super easy hairstyles work well with naturally curly hair. It is so easy to get a quick natural hairstyle if you just wash and go it and it will appear great on most hair textures. Also, it is advisable to make your daily routine the most effective for your hair with special products ideal for curl pattern and hair type.
---
---
---
---
---
---
---
Natural braided hairstyles
The most pleasant way to protect the hair from harsh environmental factors, to give it some rest and to forget about hair styling for months is a braided hairstyle. Braids make space for creativity due to various interesting braiding techniques that make every head unique. Moreover, you may experiment with natural or curly texture, highlights, clips, shapes or patterns. African American natural hairstyles are created for braids as thick hair is a great advantage and a unique bonus that must be used. Braiding offers women a variety of choice: cornrows and micro braids, fishtail braids and black braided buns, twist braids and blocky braids, hair bands and tree braids, French braids and even more.
When you pick a desired natural braided hairstyle, you obtain a possibility of changing it easily by shaping the braids into various gorgeous hairstyles both for special occasions and everyday life. Specialists claim that braids were popular even 2000 years ago. So there definitely must be something magical and mysterious in them, if they have survived till these days. Every year natural braided hairstyles are seen at fashion shows due to world-famous designers who experiment with braids.
Trends in natural braided hairstyles for inspiration:
Twists and wrap-around braids for Black women natural hairstyles with fresh flowers. They may be loose and messy.
Cornrowed buns, tight and edgy cornrows. They have always been regarded as a casual hairstyle, but nowadays they are in Haut Couture collections and that is why may be considered as a hairstyle for even special occasions.
Low braided buns. Braided natural updo hairstyles represent an extra charge of elegance that can ennoble even the simplest outfit.
Whimsical very loose braids for long hair. That is a kind of braid starting from the mid-shaft, that is not noticeable in the front, and looking sloppy in the back.
Twisted rope braids. They feature three-dimensional braids that are ideal for long thick hair. These hairstyles for a natural hair look unhackneyed, rather interesting and that is why they are really worth a try.
---
---
---
---
---
---
---
Natural hairstyles for medium length hair
---
---
---
---
Natural updo hairstyles
---
---
---
---
Conclusion
If you are sick and tired of hair breakage from wigs, weaves and chemical straightening or you are seeking for a fresh new look natural hairstyles are definitely for you. African American natural hairstyles can be perfect for your hair and your individuality as there are so many variants to choose from. There is always a fantastic hairstyle to suit not only your taste but your kid's, too. Hair trends call on staying natural, so you shouldn't be afraid of wearing your gorgeous curly natural hairstyle. Among African American celebrities there are lots of good examples that are really worth following. In spite of the fact that natural hair is hard to deal with, there are different options for women not to spend too much time on styling and look expressively stunning. Indeed, natural hairstyles give an impression of daring and extravagant appearance. You will certainly attract everybody's attention.
---