Skin fade haircut is one of the most popular male styles in 2021. It isn't surprising as the hairstyle with the hair length decreasing towards the neck looks excellent. Be sure to attract the attention of ladies with your perfect sense of style.
Trendy Variations of Skin Faded Haircuts for Men
---
Incredible Skin Fade Tutorial
---
What Is a Skin Fade Haircut?
Have you seen fresh pics of male haircuts in fashionable magazines but still don't know what a skin fade is? It's one of the styles everyone wants to make as it looks very original. The haircut's main feature is the changing hair length that decreases when it comes to the neck.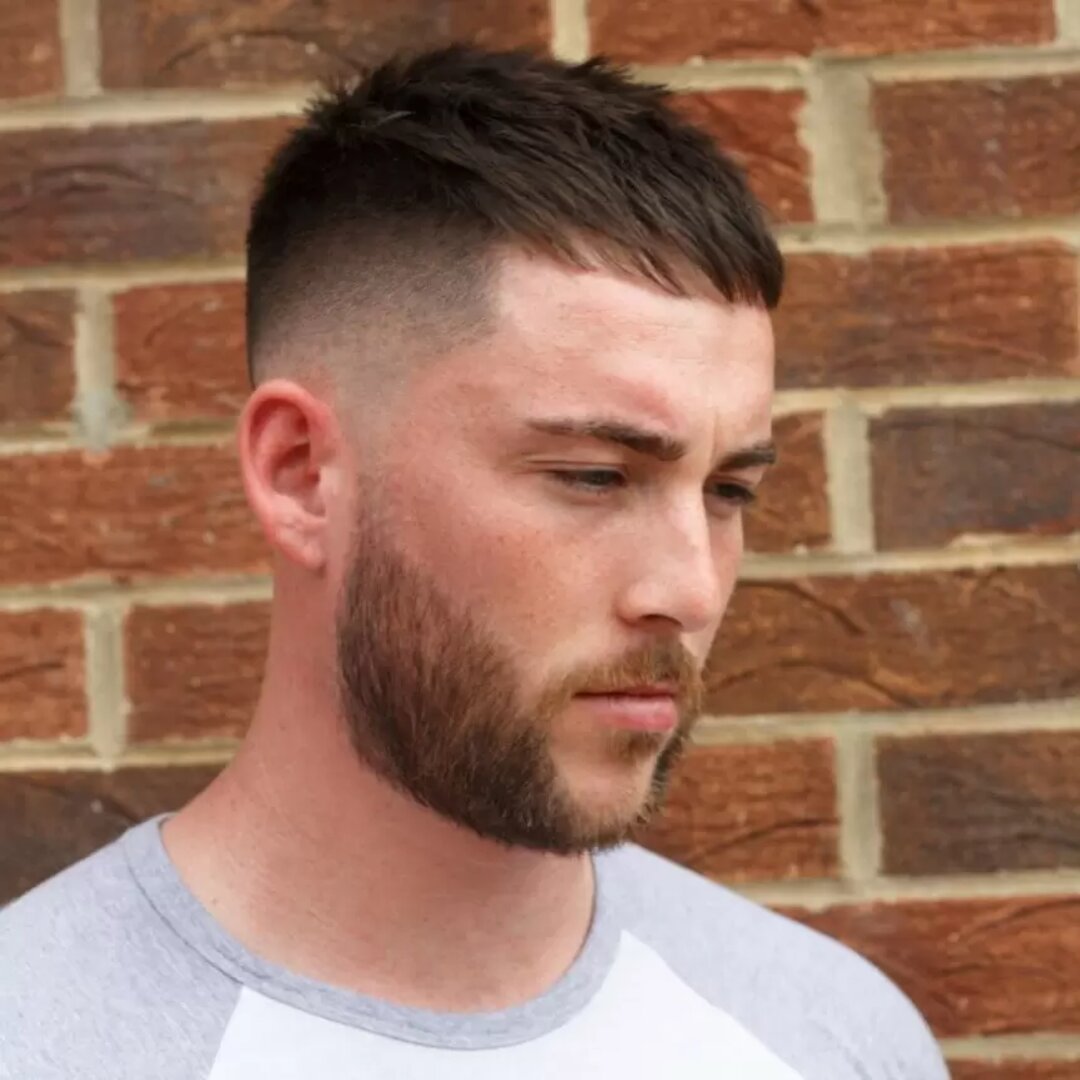 ---
Skin Fade Haircut for Men
Do you find it challenging to choose among trendy styles in 2021? Pay attention to a skin fade that is not only fashionable but also versatile. It suits any kind of occasion. Whether you are going to impress everyone at the party or want to look good at an interview.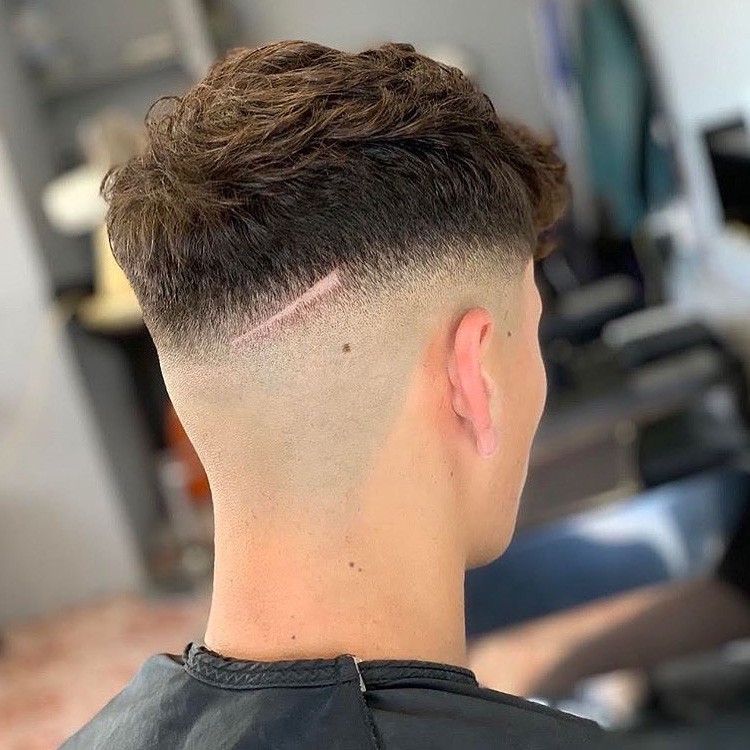 ---
Low Skin Fade Haircut
When it comes to skin faded styles you have a large variety of options to choose. The low skin fade is one of the most common. The difference between the hair length is more visible in this version of a haircut for men.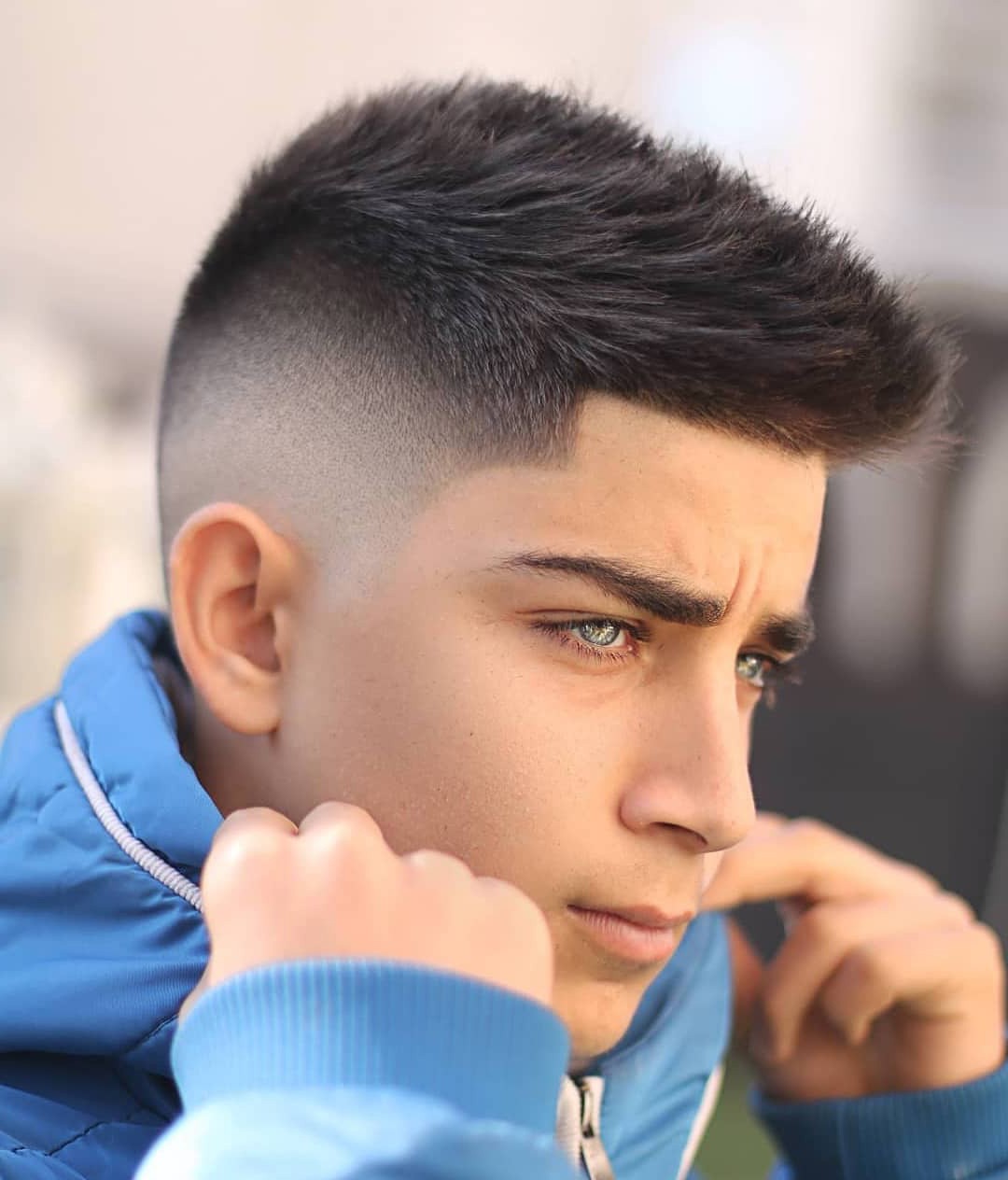 ---
Mid Skin Fade Haircut
A mid skin fade means that the line of the hair length starts decreasing above the ear. It looks excellent as the medium faded option adds originality to your look. It isn't for conservative men who don't like cardinal changes in their image.
---
High Skin Fade Haircut
Want your hair to become shorter from the very top? Then, don't look further rather than a high skin fade. It's a cool style for men who want to show how self-confident they are. Consider this option if you are fond of super trendy styles in 2021.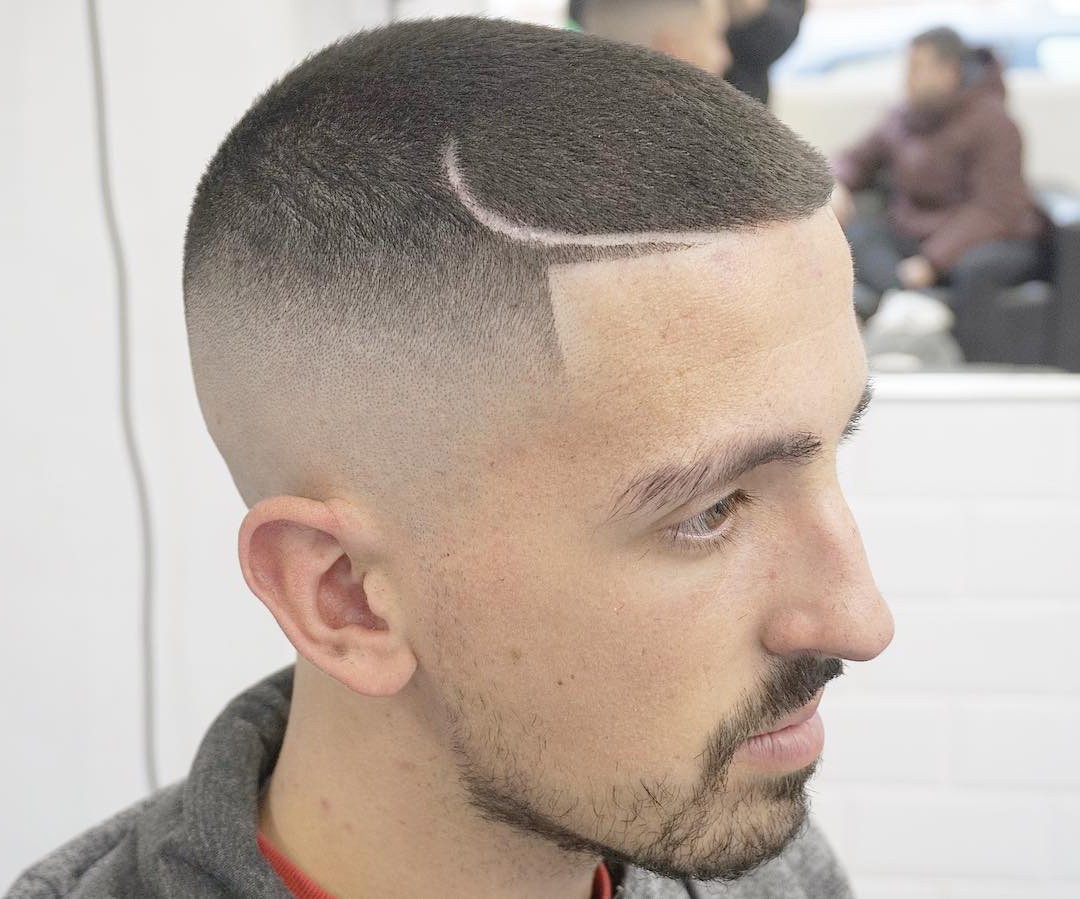 ---
Skin Fade + Taper
A skin fade taper is one of the excellent choices for men in the summer. It differs from the clear line between the hair length on the top and the temples. Choose it, and you'll look amazing with a super stylish haircut.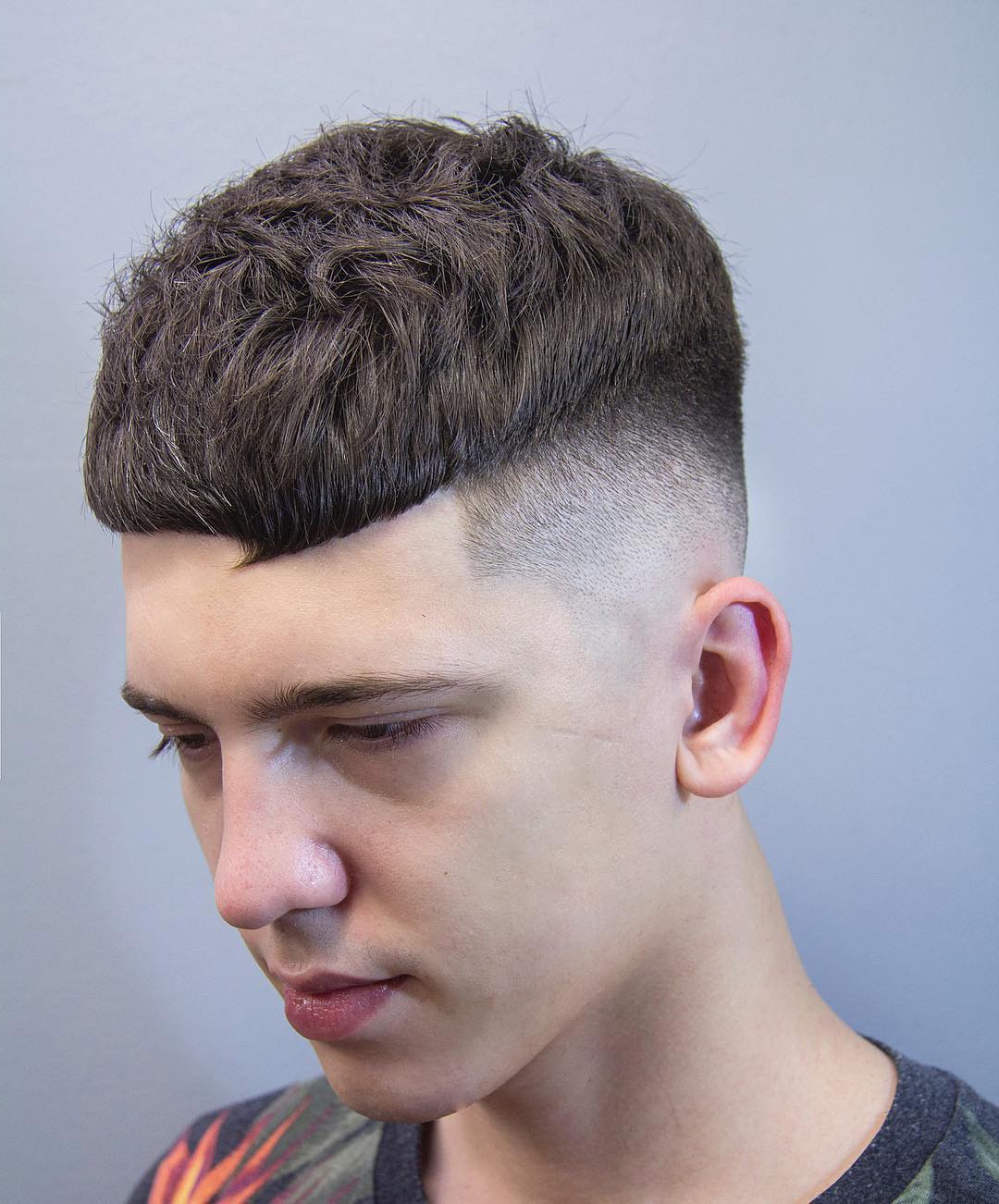 ---
Skin Fade + Comb Over
No doubt that a skin fade comb over is one of the trendiest haircut versions for the representatives of strong sex. Men who like freedom, bikes, and want to win the hearts of females will pay attention to this option.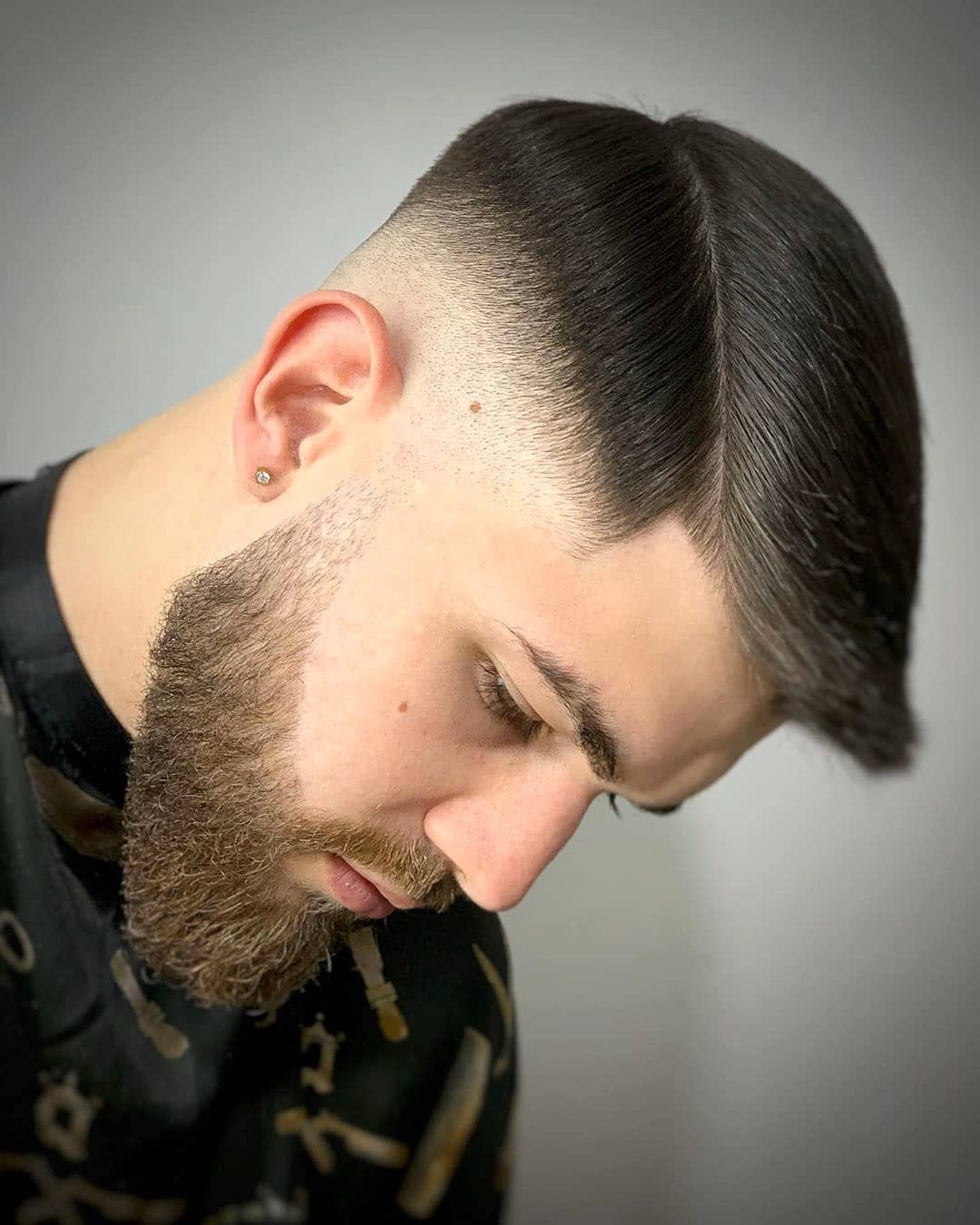 ---
Skin Fade Men's Haircut
Ask your barber to create a skin fade men style and enjoy all the pros of this haircut. Since then, you'll be in the center of attention. Women like men who aren't afraid of experiments. If you can cut your hair without any problems, you'll be able to go further than experiments with your hair length.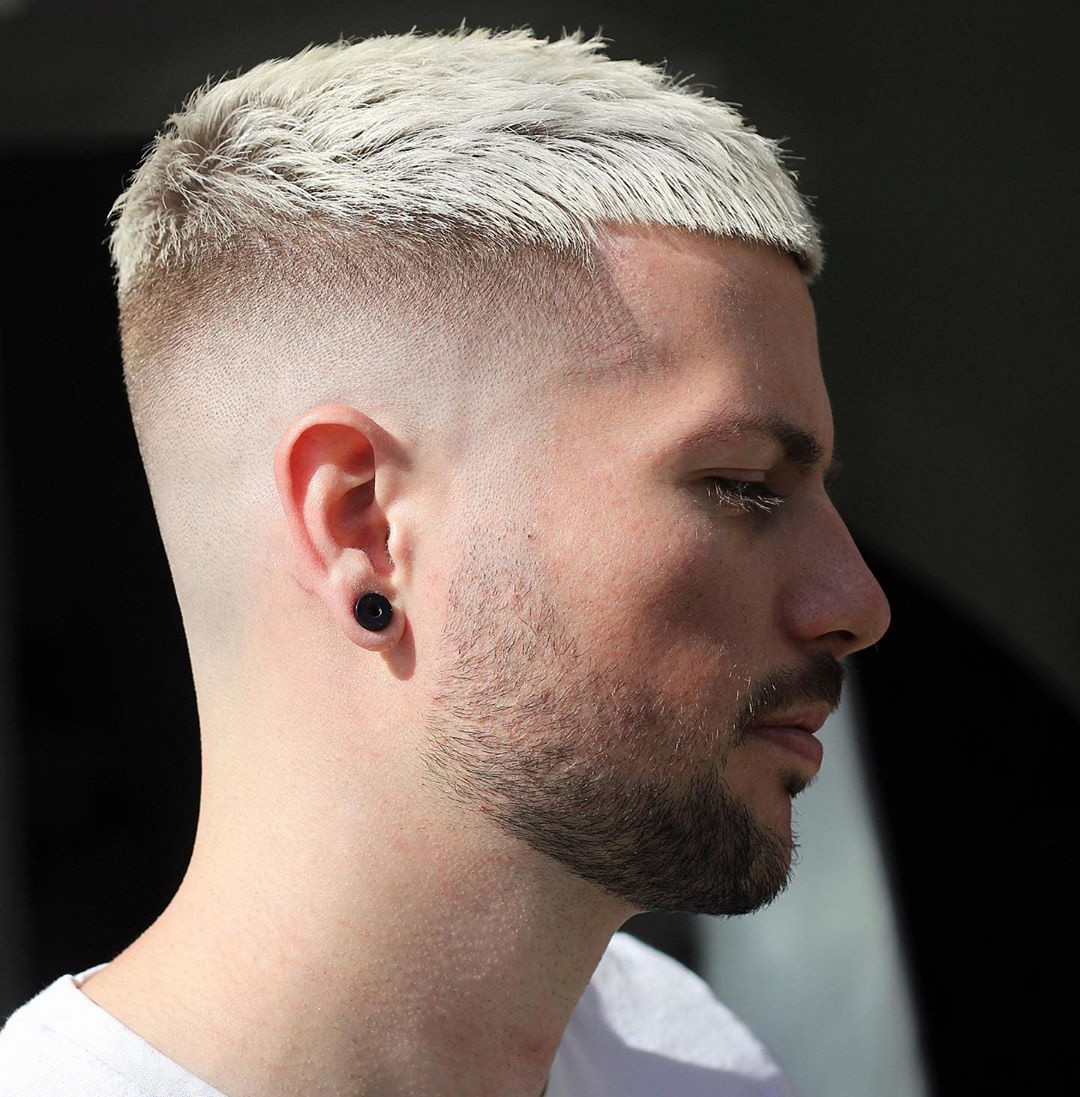 ---
---
Skin Fade with Beard
Don't cut your beard as it is still in fashion to wear a skin fade with a beard. There was a period when every other man decided to wear a beard. Now, you're offered a much better option – combine a faded look with the stylish beard, and the success is guaranteed.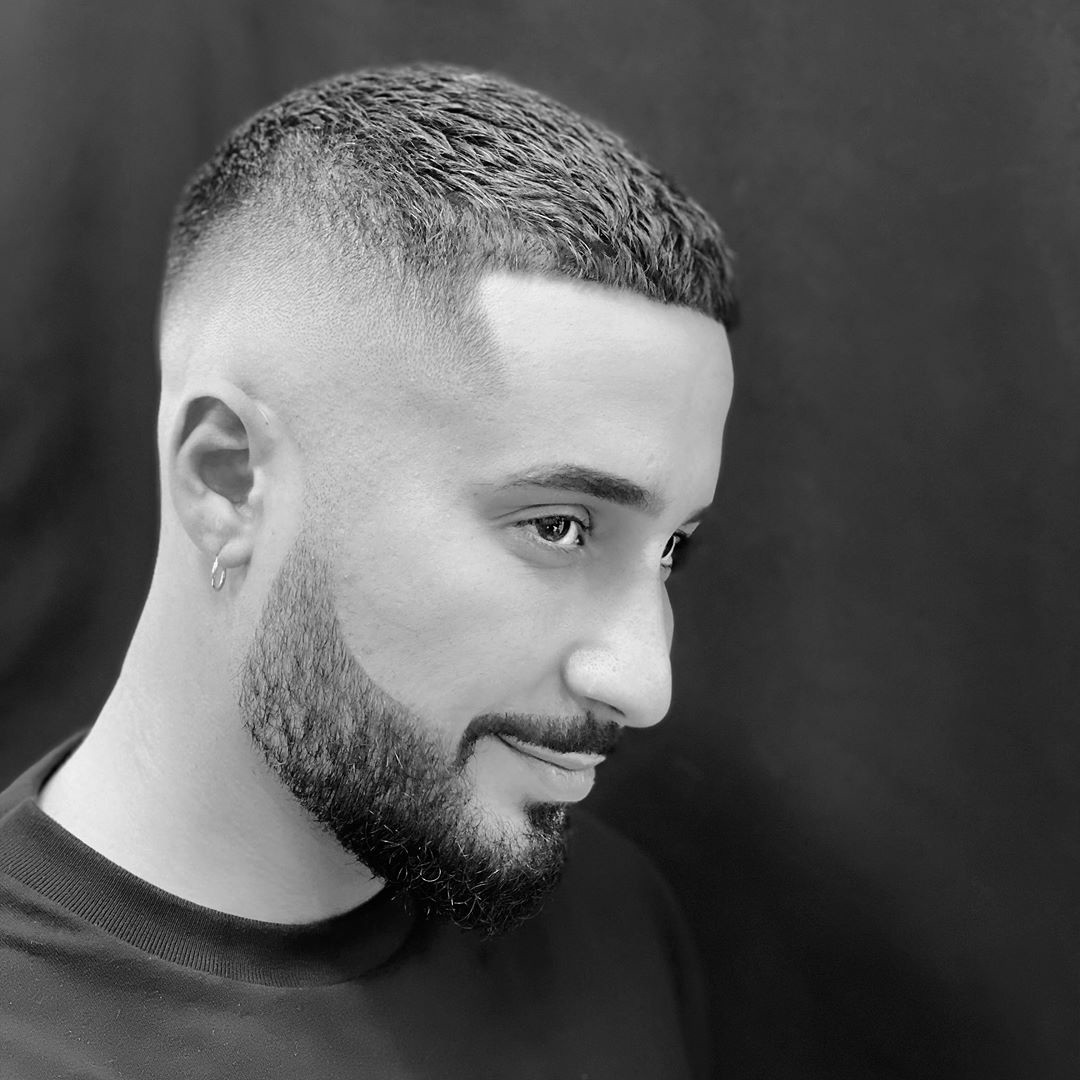 ---
Skin Tight Fade Haircut
A neat look can be created with a skin-tight fade. This option will suit you best if you are searching for a haircut that is easy to take care of. You won't need to spend much effort to create and maintain this haircut for men.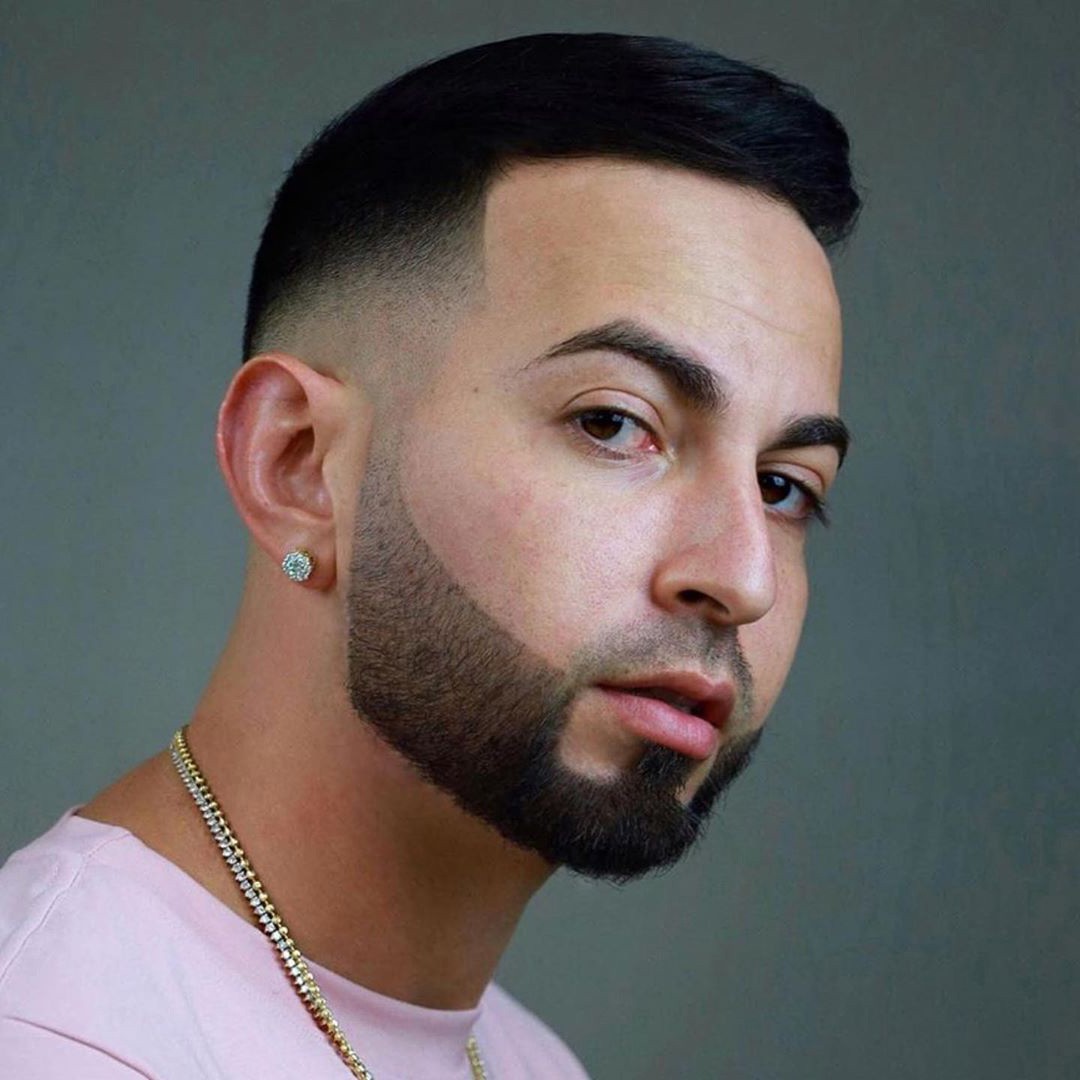 ---
Skin Fade + Black Hair
Skin fade haircut looks great on the black hair. It helps to make an accent on the necessary parts of the head so that the hairstyle looks bright. Black haired men like this haircut much. Nobody will argue that it looks on the dark hair.
---
Skin Fade + Curly Hair
Don't start panicking if you want to create a faded look but you have got a wavy hair type. You can also try to make a skin fade curly hair. Ask the barber to choose the appropriate length of hair on temples because curly hair texture can cause some difficulties in creating the desired effect.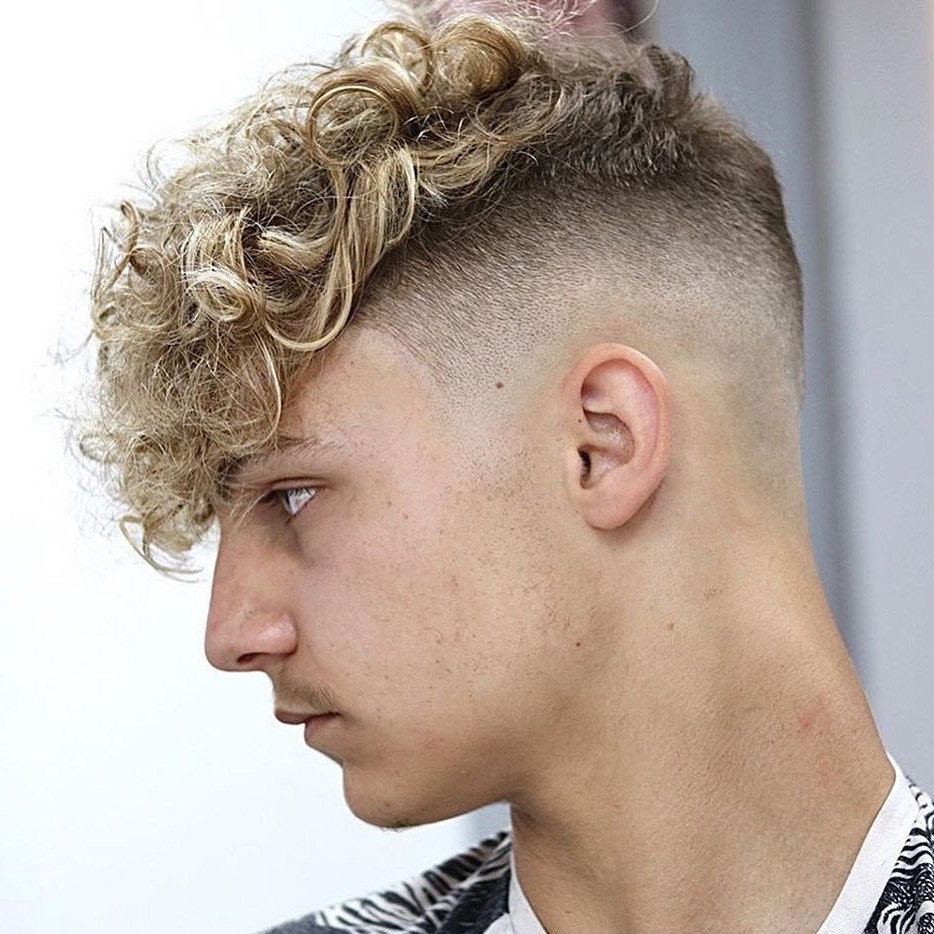 ---
Low Skin Taper Fade Haircut
Do you prefer a low skin taper fade? It isn't surprising – most men give preference to this type of male hairstyle this year. It won't bring radical changes into your image, but it'll make your style more modern and bright.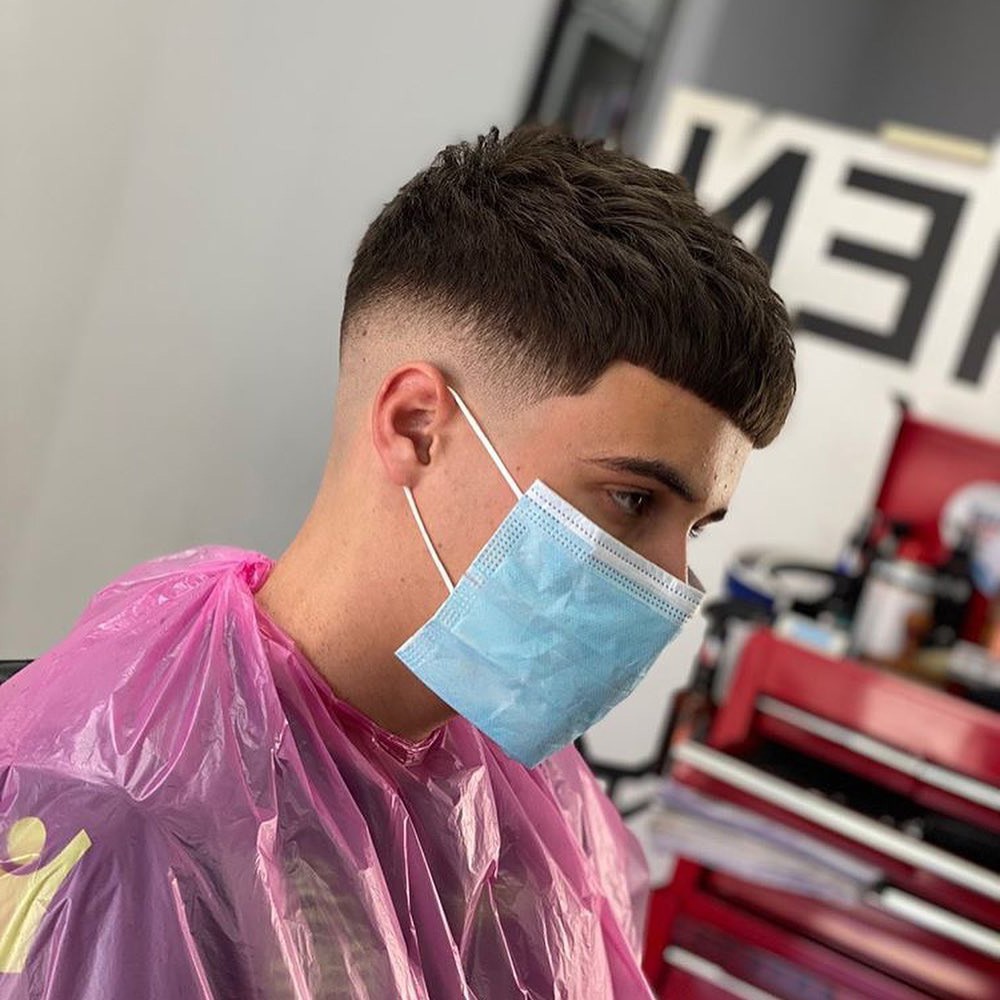 ---
Men's Skin Fade Haircut
Don't you know how to choose the right hairstyle? Scroll down to consider all the variations of trendy male hairstyles. Most prefer the men's skin fade haircut to any other option. This style has an excellent sense of taste and can impress every passer-by, whether it's a man or a woman.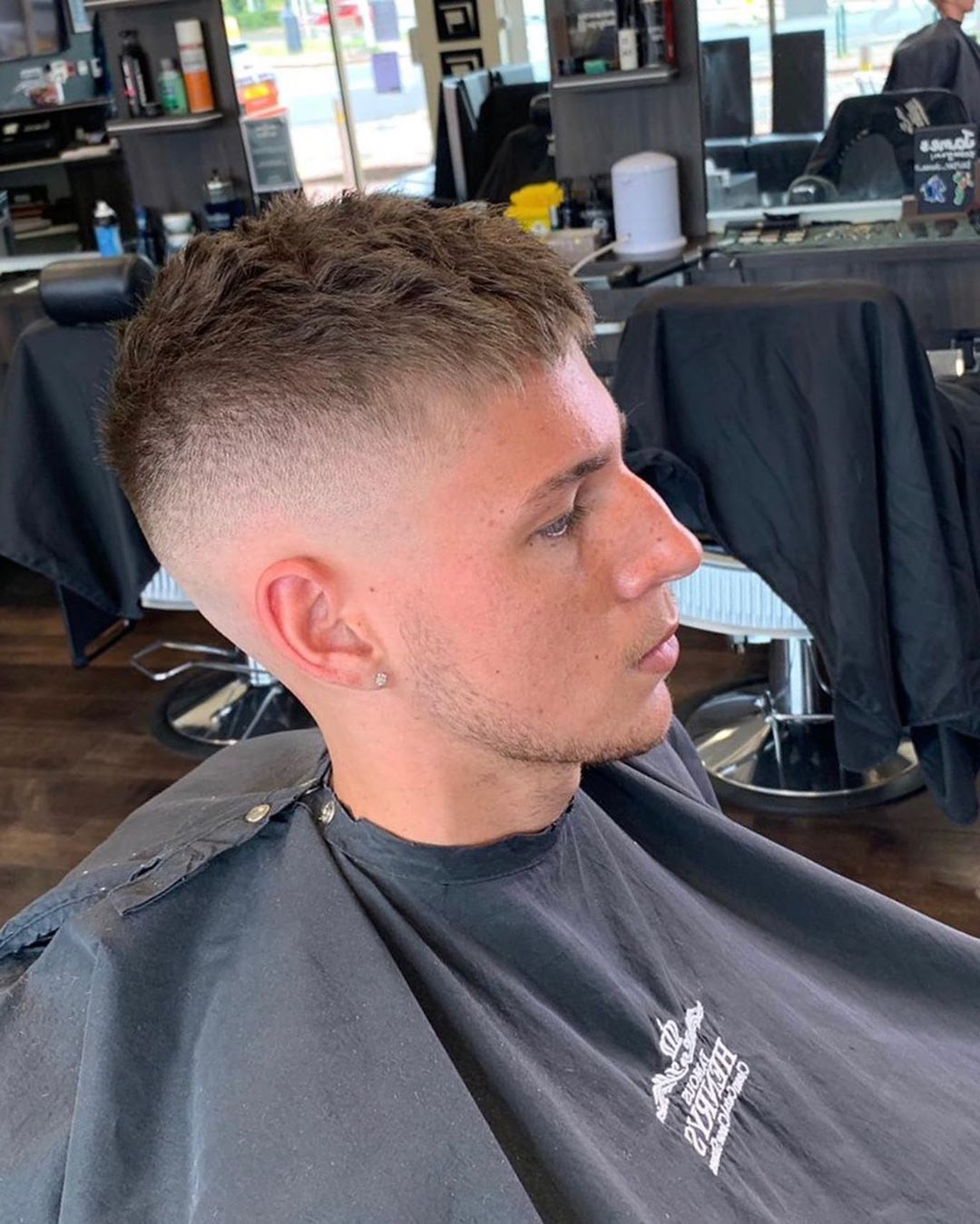 ---
Skin Fade + Short Hair
It is a misconception to think that it's difficult to create an original haircut for short hair. A skin fade short hair is one of the coolest options for you to try. It is perfect for the hot season because of the hair length, and it looks stylish all year round.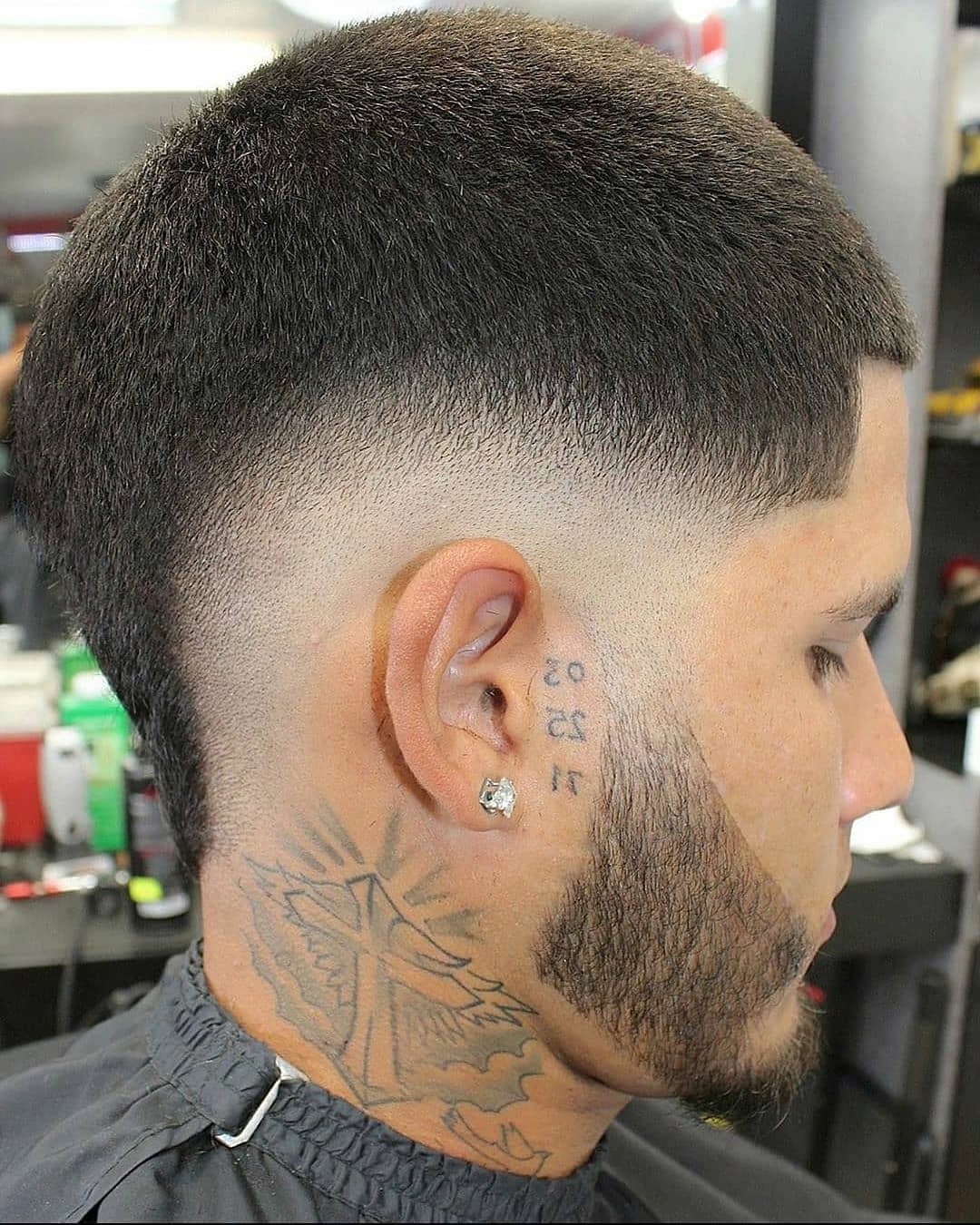 ---
Buzz Cut + Skin Fade
A buzz cut skin fade is for those representatives of the strong sex who want to create a masculine image. It'll help you to look more serious and adult. If it's your aim, then don't hesitate to create this style.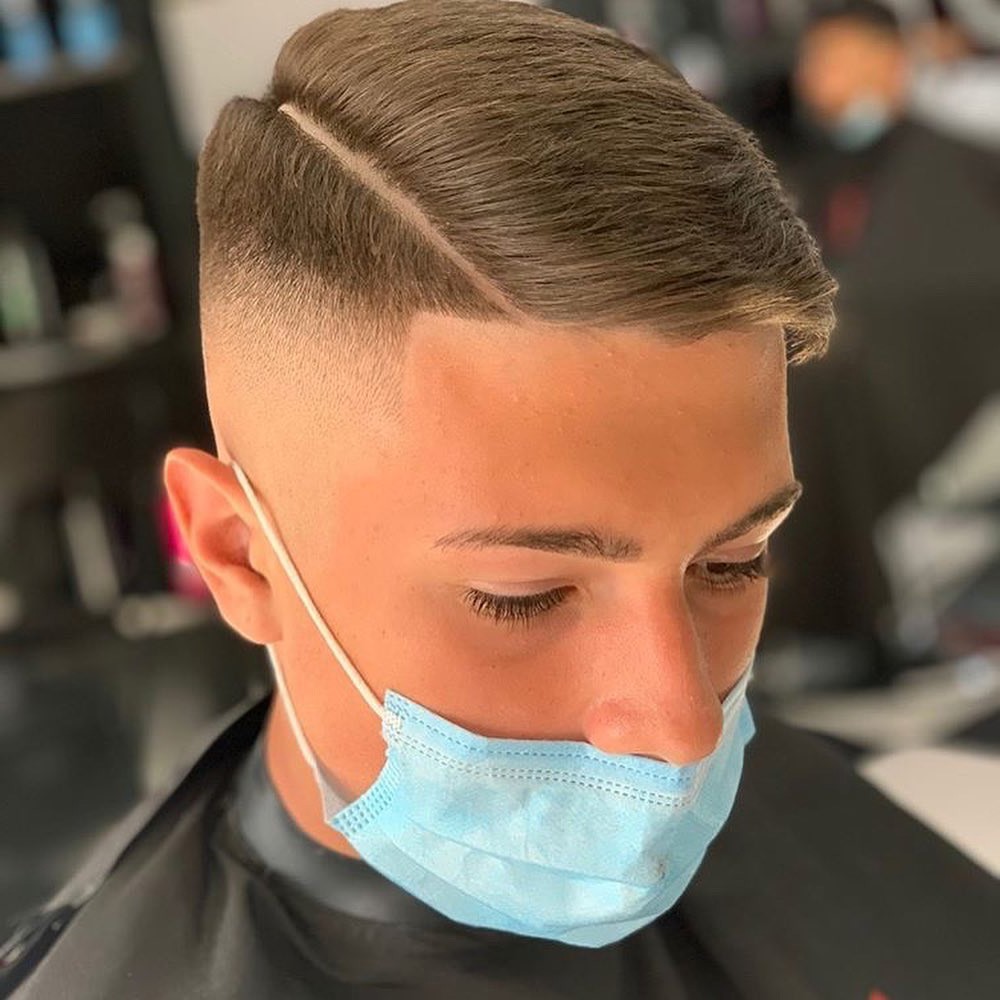 ---
High and Tight Skin Fade Haircut
It isn't easy to make a neat haircut that doesn't require too much effort to take care of it. A high and tight skin fade is exactly what you need if you are searching for an excellent option that is easy to make and maintain.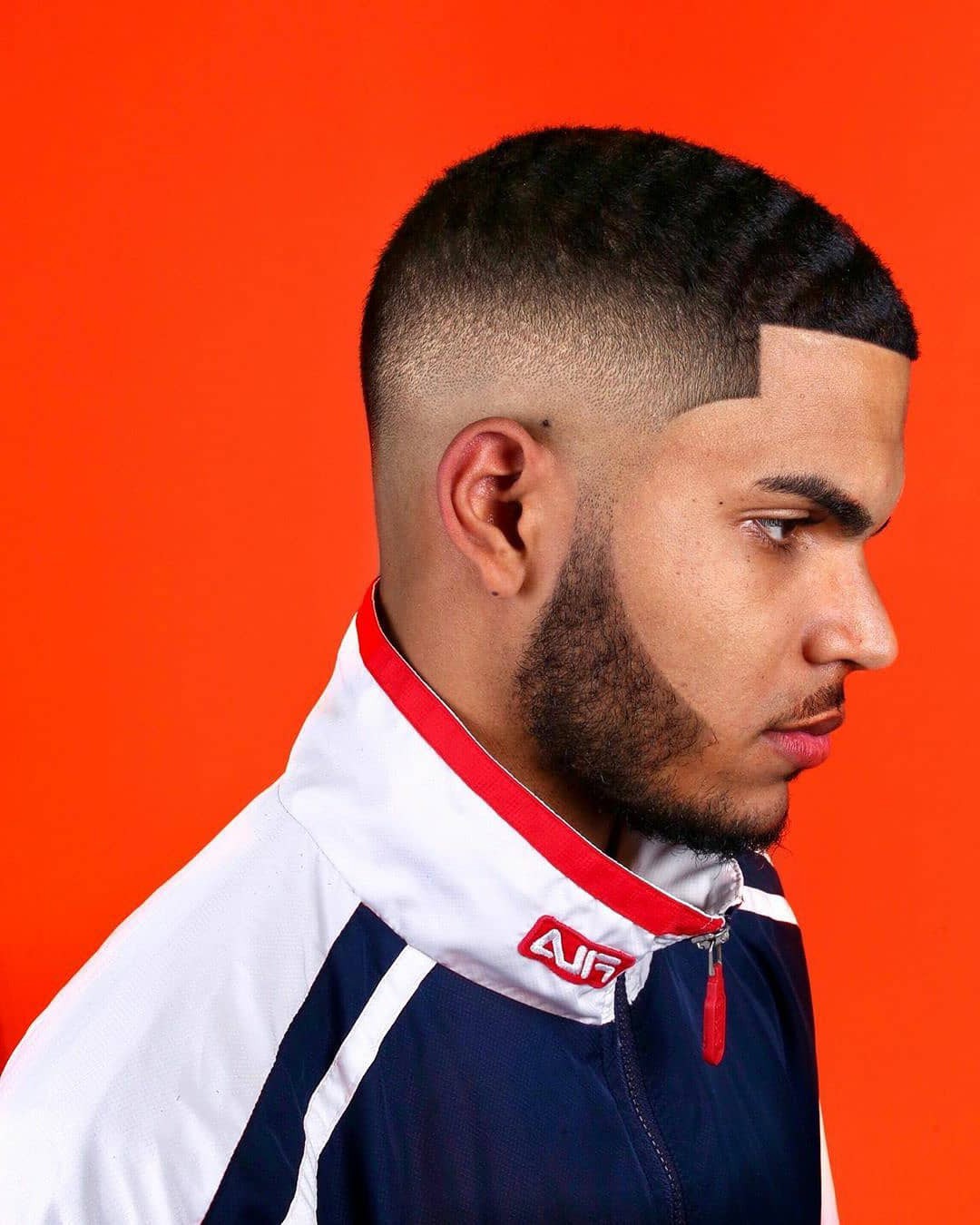 ---
Skin Fade + Undercut
Do you want to have as minimum hair as possible and have an original look at the same time? It's exactly what you get when you create a skin fade undercut. It looks nice and is versatile for men of different ages and professions.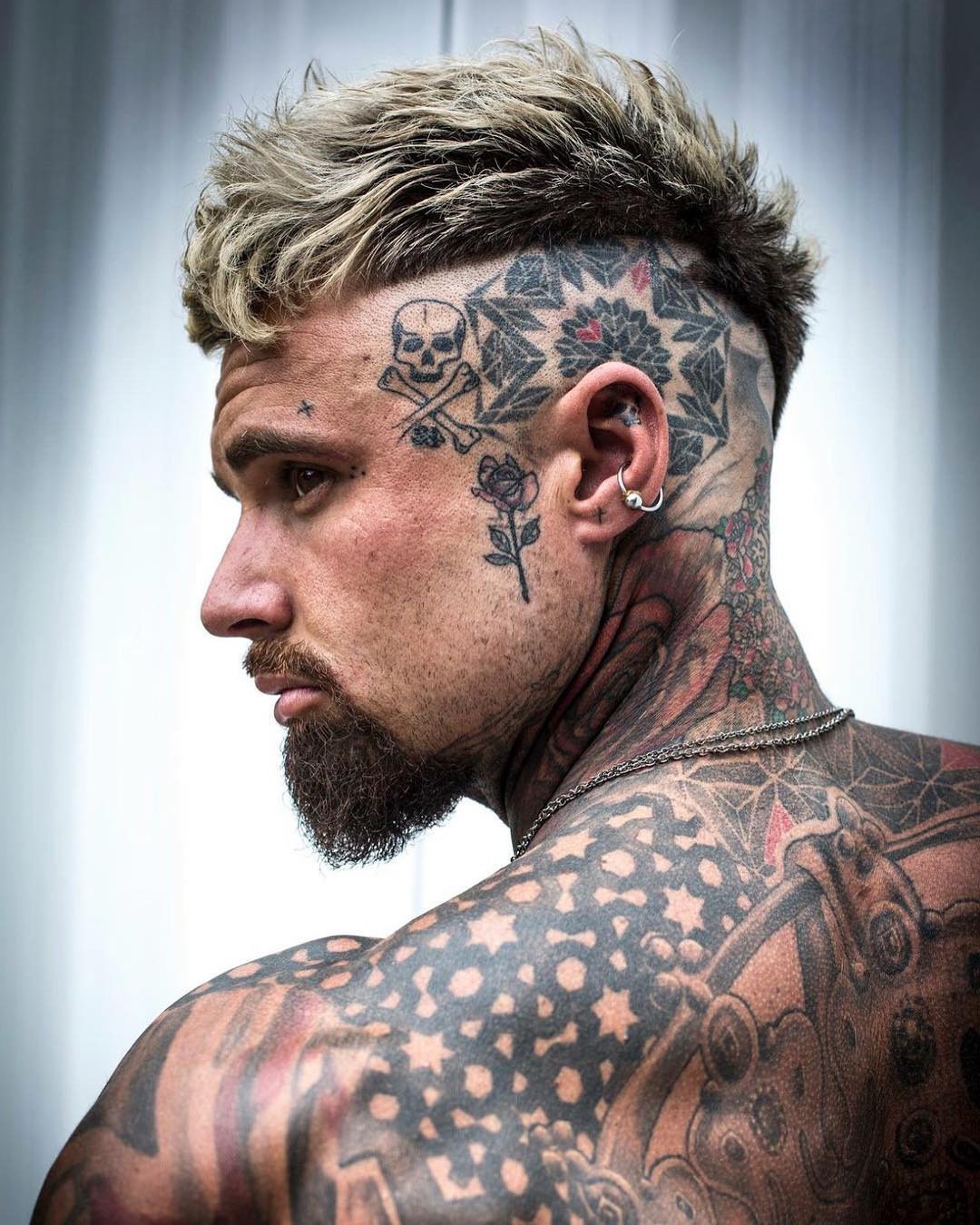 ---
Skin Fade for Black Men
A skin fade black man is one of the most favorite styles for black males in 2021. It is a style that helps to create an impressive look that is even more effective thanks to special hair texture.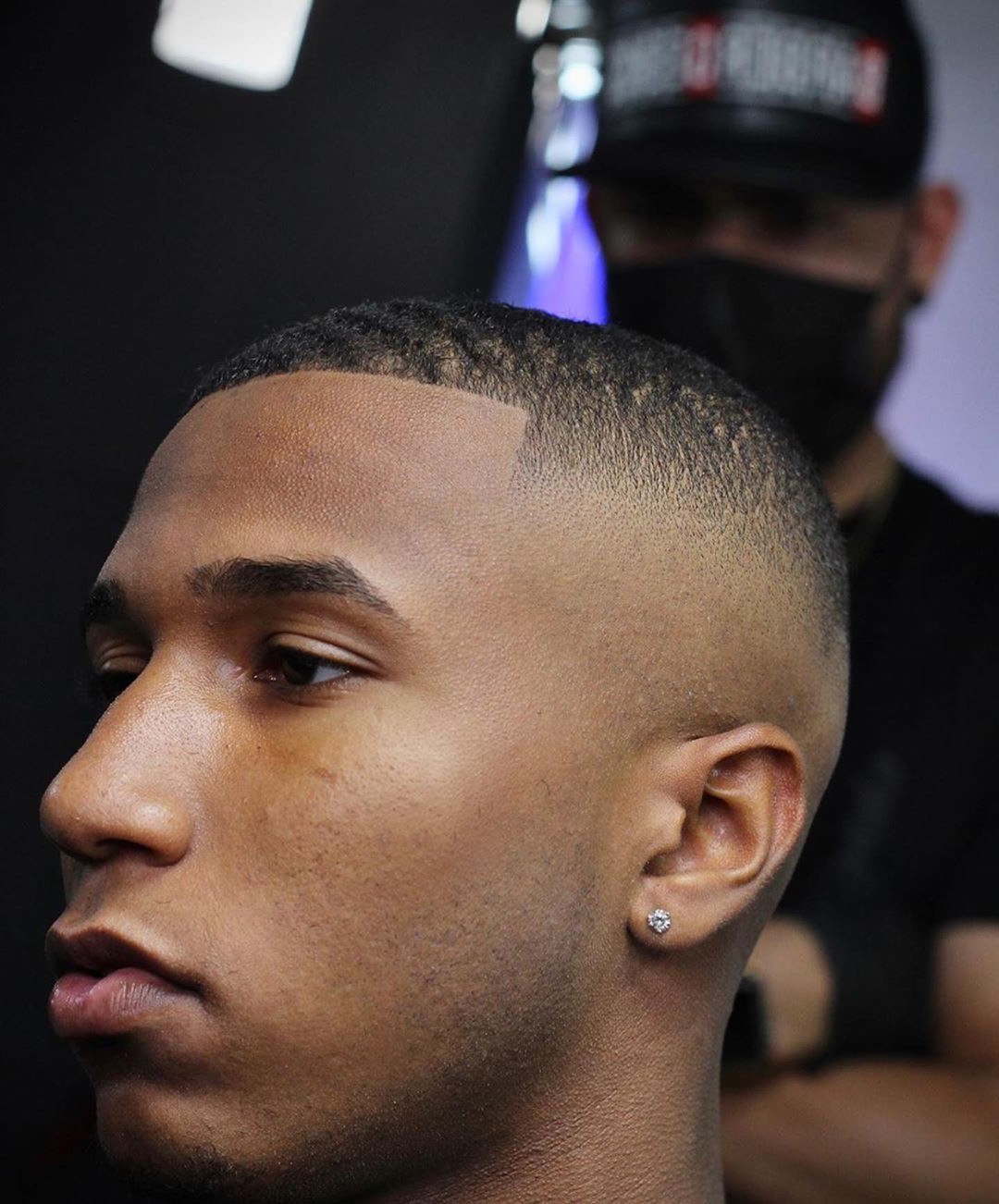 ---
Skin Fade + Long Hair
There are many advantages to having long hair. You can try a skin fade long hair or choose some other hairstyle. You'll be happy with the offered haircut option – it'll add some unique feature to your long hair. Just try it for your hair length.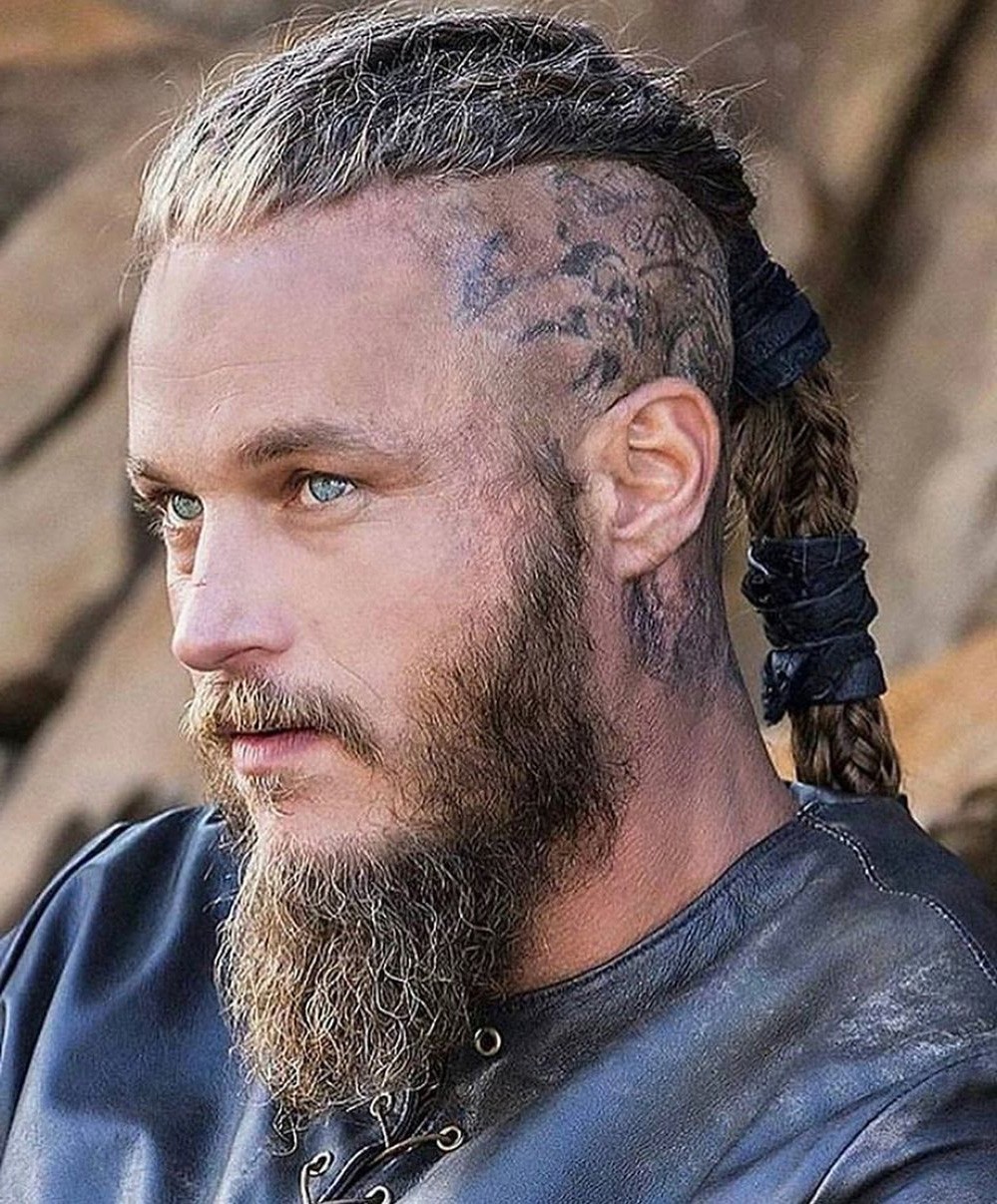 ---
Skin Fade + Long Top
Some men think that they should avoid making the skin fade just because this hairstyle supposes cutting hair shorter and shorter. There is an excellent version for you – a skin fades long on top and shorter when it becomes closer to temples.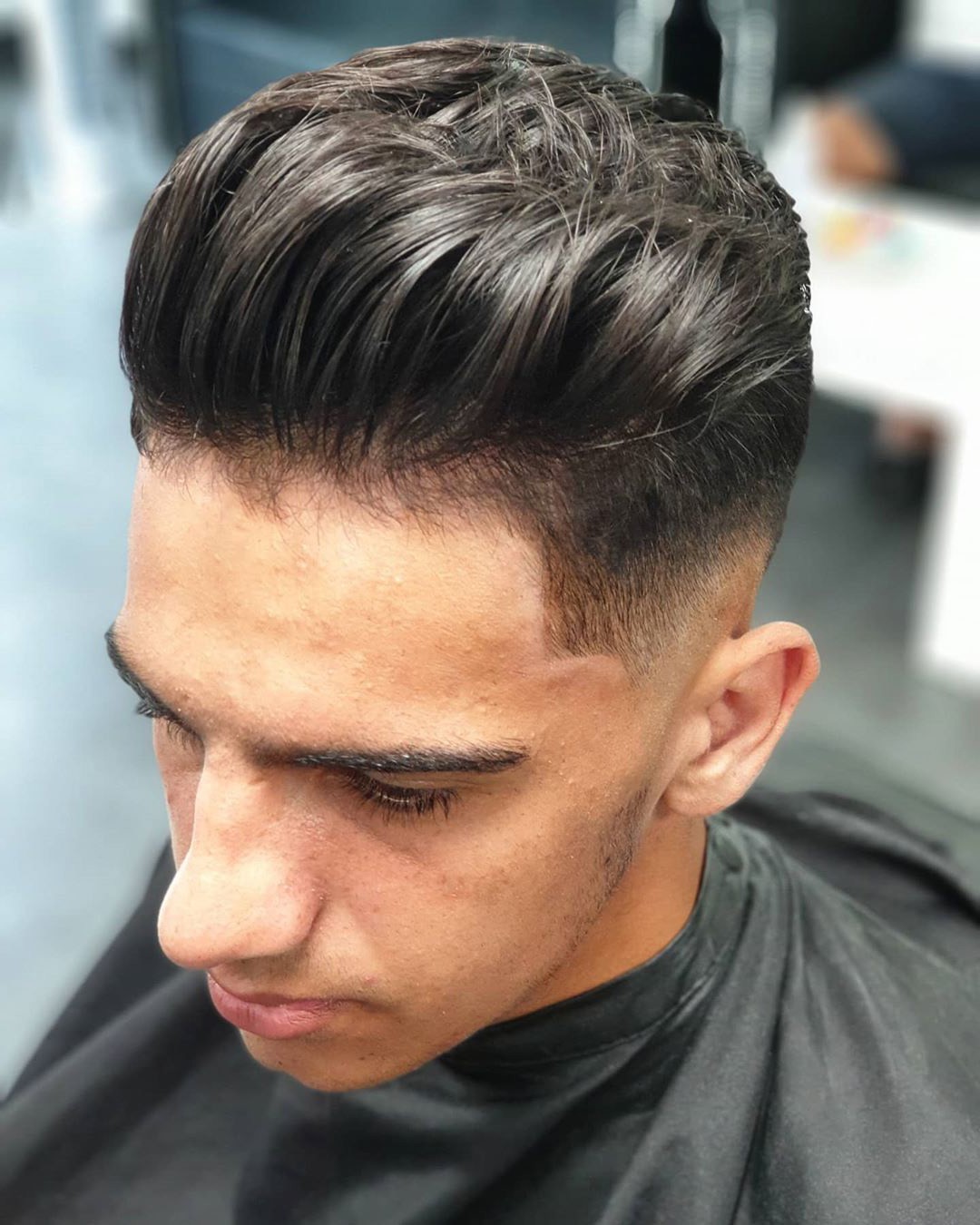 ---
Skin Fade + Short Top
Do you like it when hair is short on the top of the head? No doubt, you need to ask your stylist to make a skin fade short top. It looks trendy and elegant, regardless of the age and social status of a man. Don't hesitate to try it as it's perfect for everyday wear.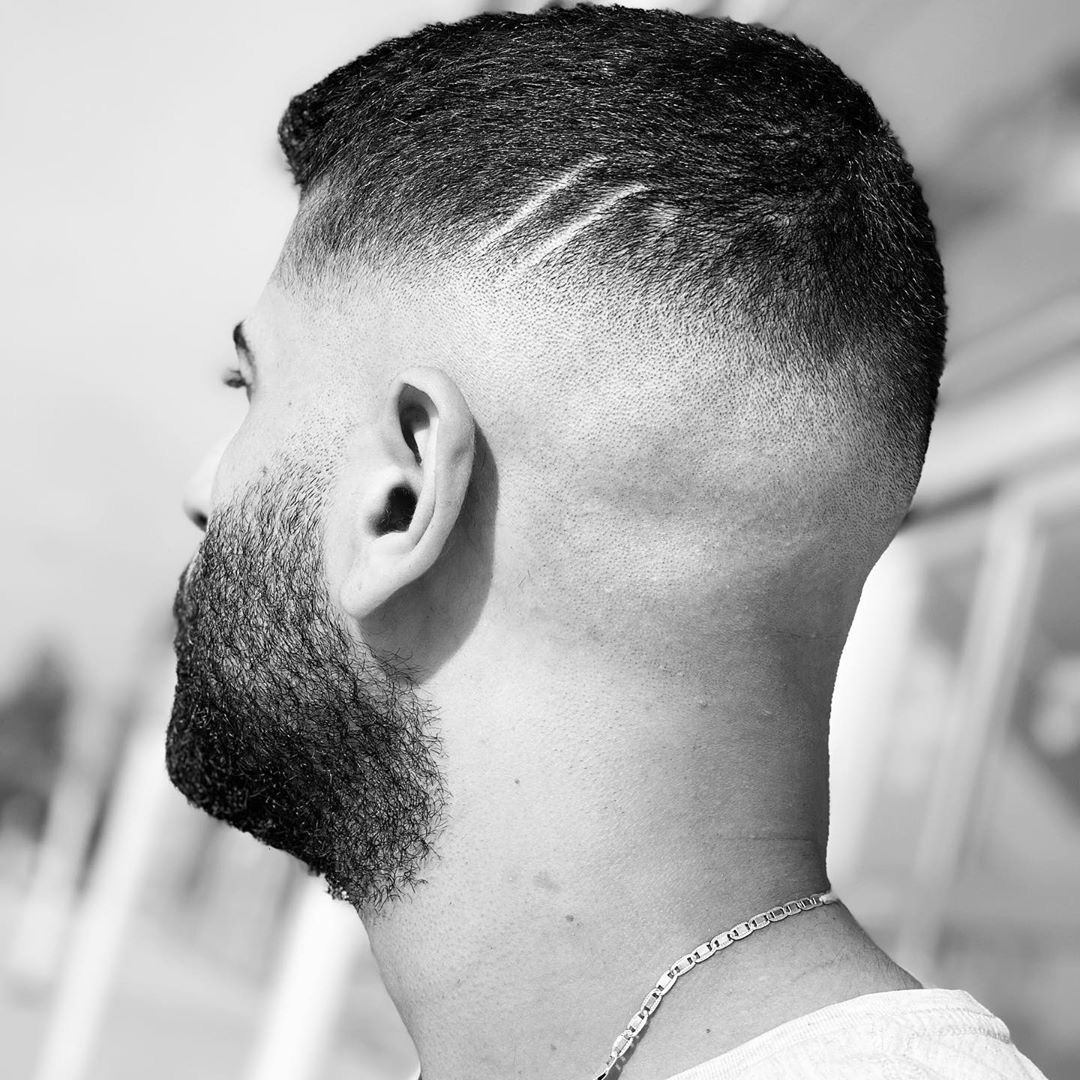 ---
Bald Skin Fade Haircut
A bald skin fade is an ideal option for men who just want to look strong and self-confident. It's one of the leading styles of the current year. You can be sure that it'll look cool next season as well. The haircut is characterized by short hair length and an effective look.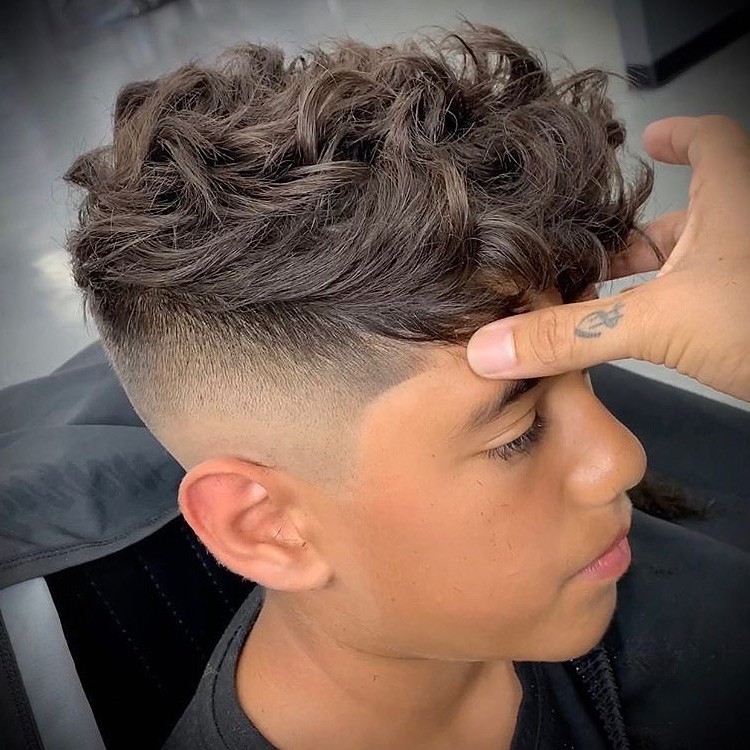 ---
Drop Skin Fade Haircut
Wonder how exactly a drop skin fade differs from a standard variation of this popular male hairstyle? The main feature that is different here is the length of the hair on the back of the head. Show the barber the pic where you like the haircut length most and make it now.
---
Skin Fade + Mohawk
Skin fade Mohawk is an excellent hairstyle for young guys and those who like when everyone pays attention to their haircuts. It is impossible to go somewhere and not notice that passers-by stare at your hairstyle. It's one of the coolest trends in 2021.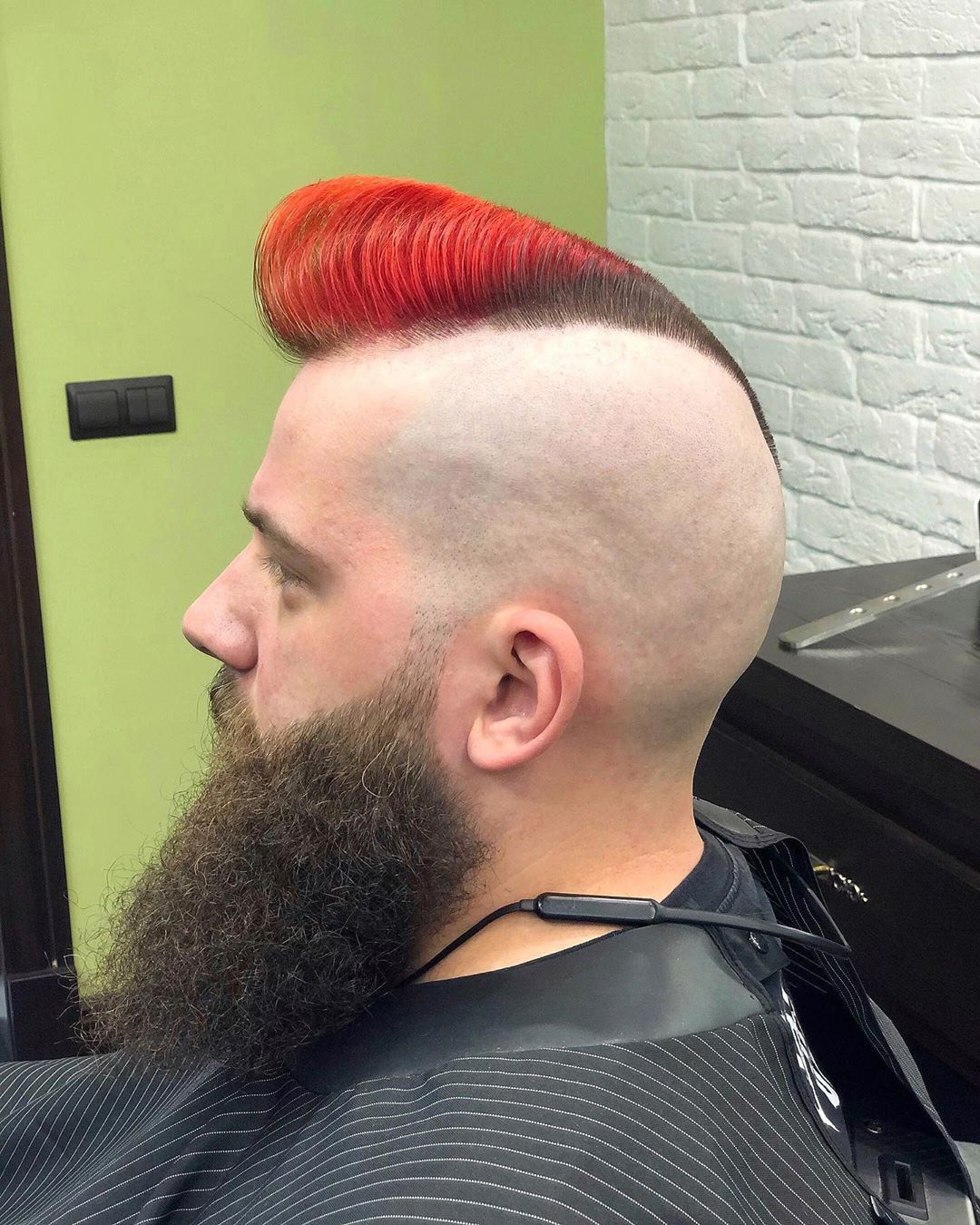 ---
Skin Fade + Pompadour
A skin fade Pompadour is just one of the variations of the hairstyles for men. The classic version appeared a long time ago. Now, you can make it brighter and more interesting, thanks to the faded cut. It will suit almost any man, especially if you want to look great daily.
---
Skin Fade + Slick Back
A skin fade slick back is one of the options that are worth choosing if you like a creative style. It combines the features of classic haircuts and at the same time, it looks very actual nowadays. It's one of the haircuts that will suit both a biker, and a businessman.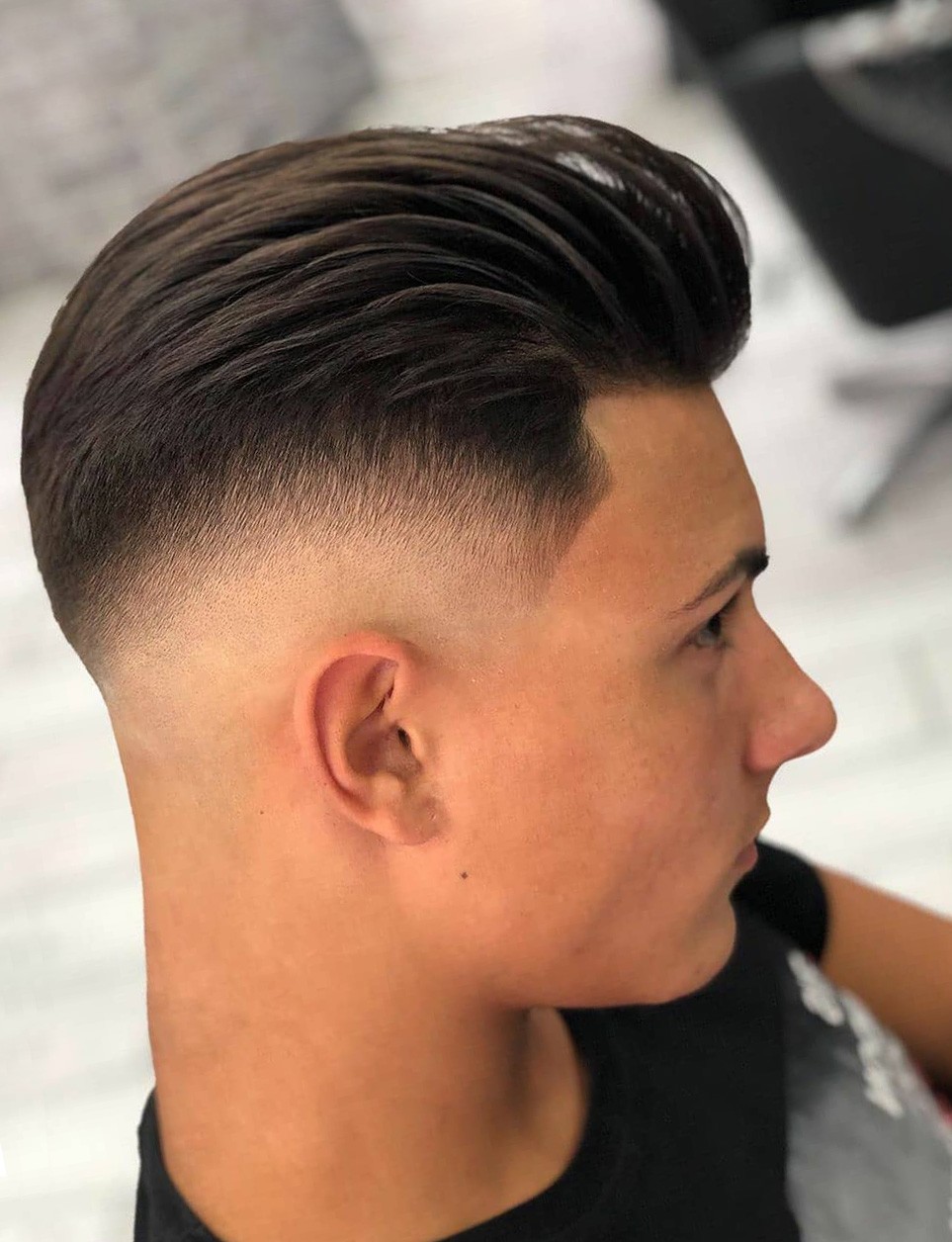 ---
Skin Fade Hairstyle
No need to look further if you want to wear a nice style every day spending minimum time and effort to create it. A skin fade hairstyle is an impressive hairstyle for cool men who know what they want from their life.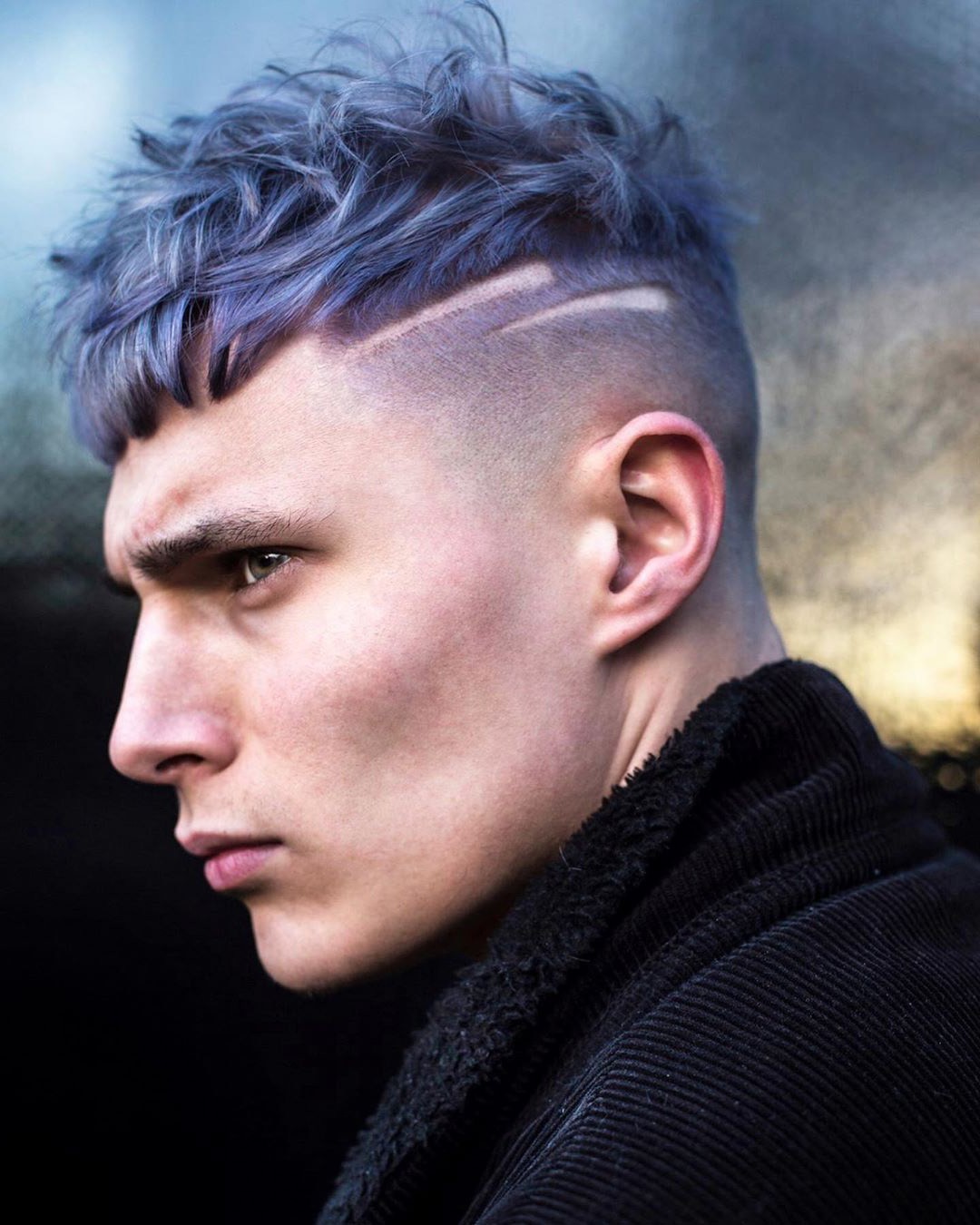 ---
Asian Skin Fade Haircut
An Asian skin fade is just a wow hairstyle for men, young guys and mature men. The hair texture differs in Asian men and helps to create an unforgettable look and a long-lasting effect. Try to repeat the same style you can see on the pic, and you'll see what impression it will make on your friends.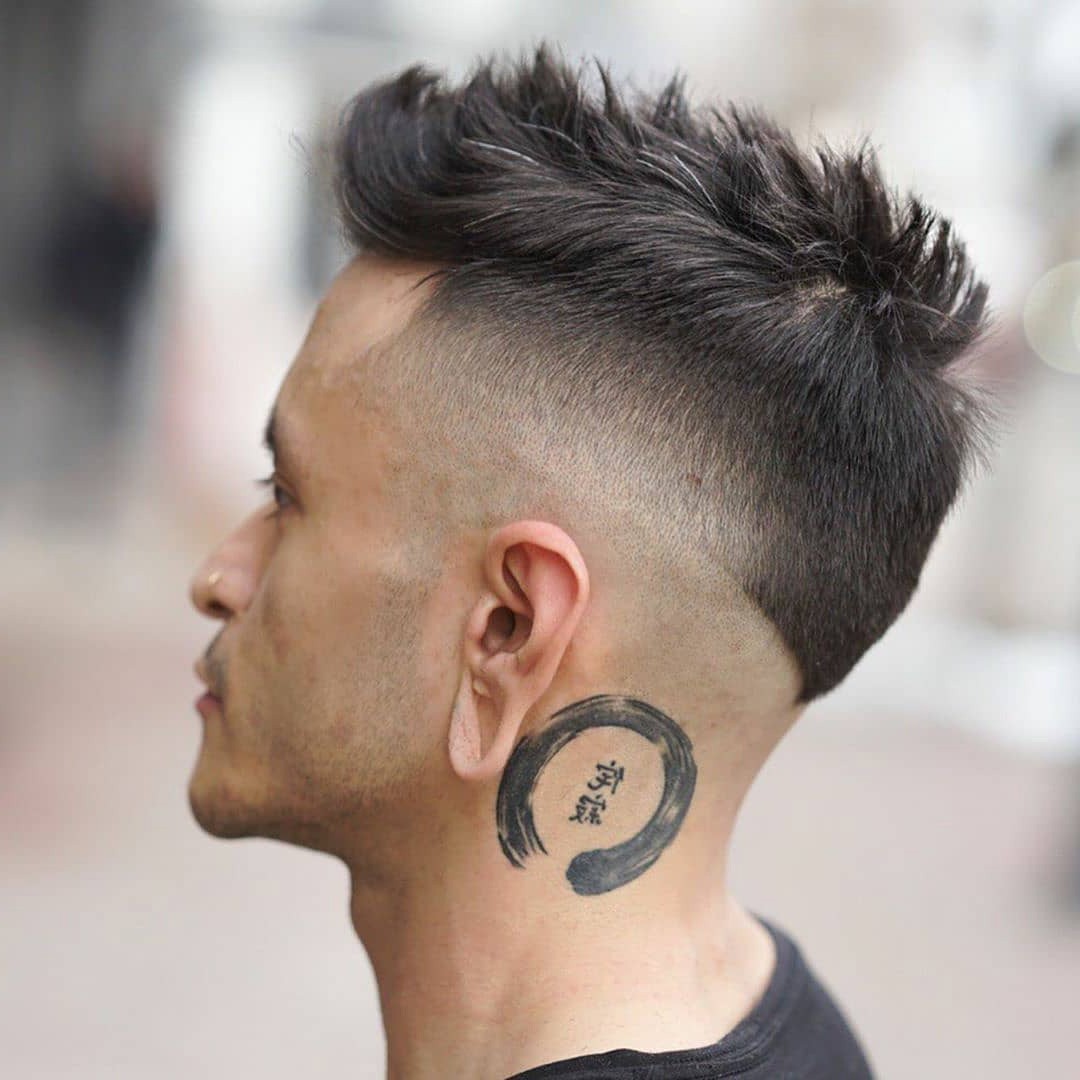 ---
Skin Fade + Crew Cut
A skin fade crew cut is a nice style for those who want to follow fashion. Not every man would choose it because it doesn't refer to standard hairstyles. It looks more radical. A short hair length helps to create the desired effect. As you can see, the hairstyle has a sharp finish.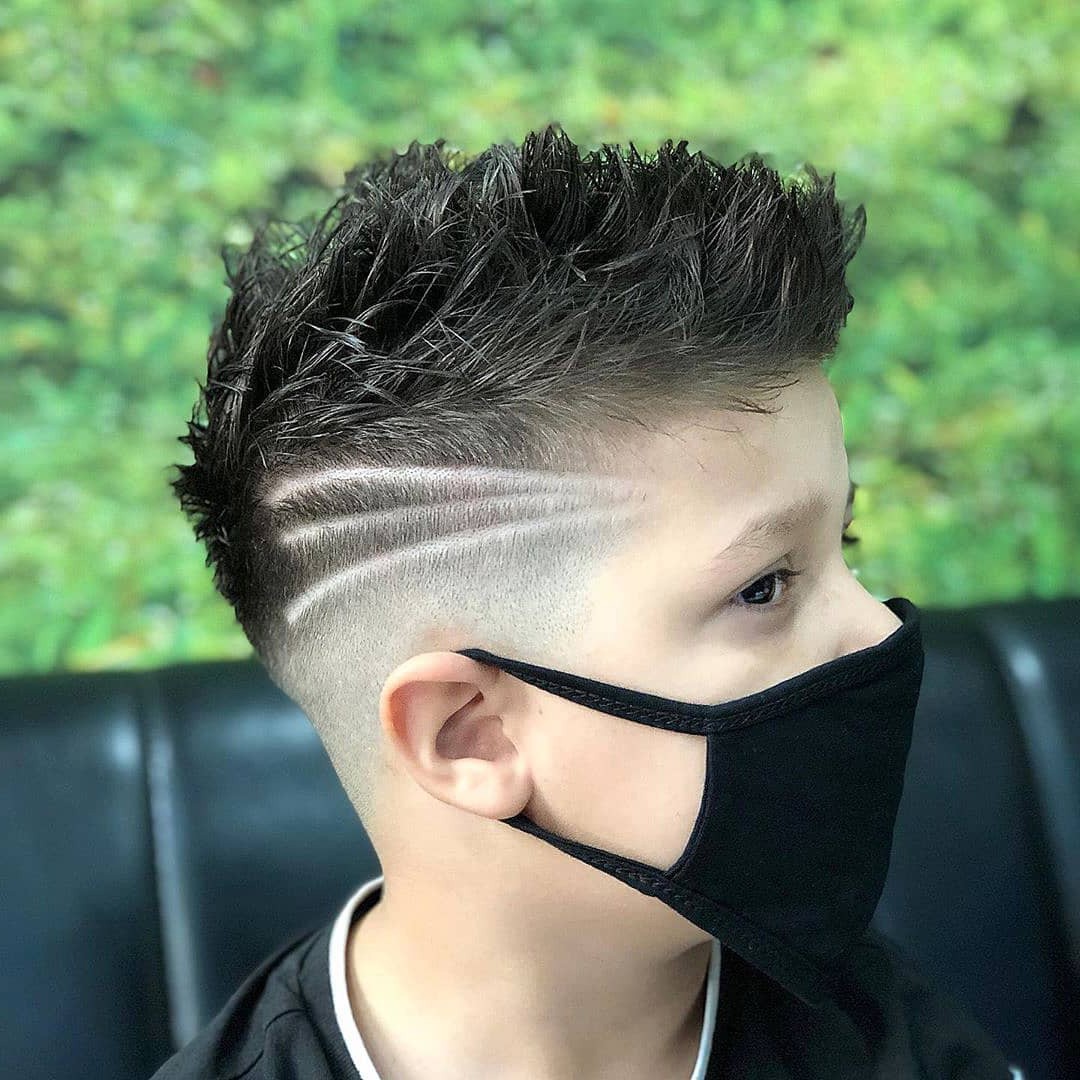 ---
Skin Fade + Design
Do you want to stand out? Why not create your design and show it to the barber? Tons of skin fade designs will help you to look original and express your personality. Become your stylist and impress everyone with your ability to create new images and focus on what you like.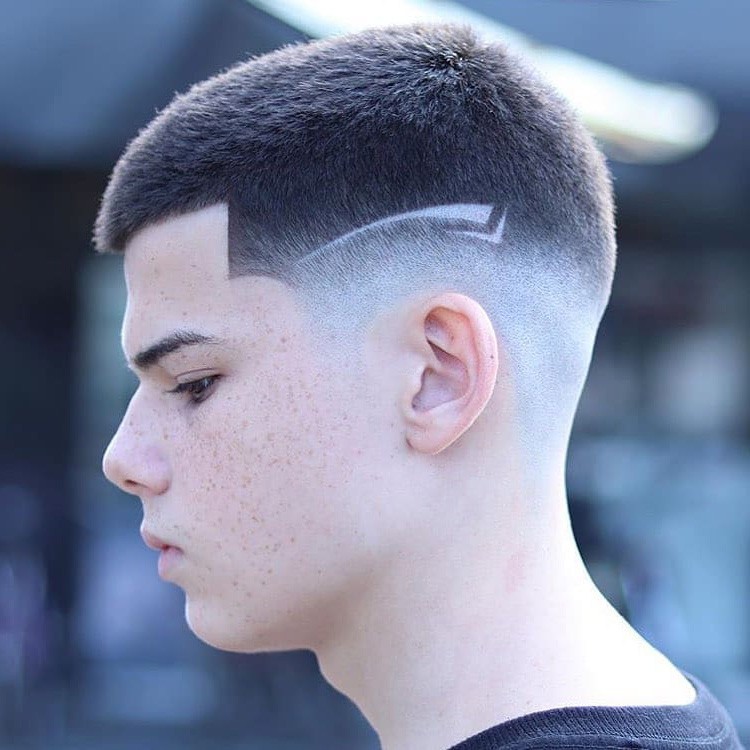 ---
Skin Fade + Side Part
Want to create a new style, but you don't want to spend much time on this? You are recommended to try a skin fade side part. This hairstyle doesn't have radical differences compared to the standard faded look but has a more effective look.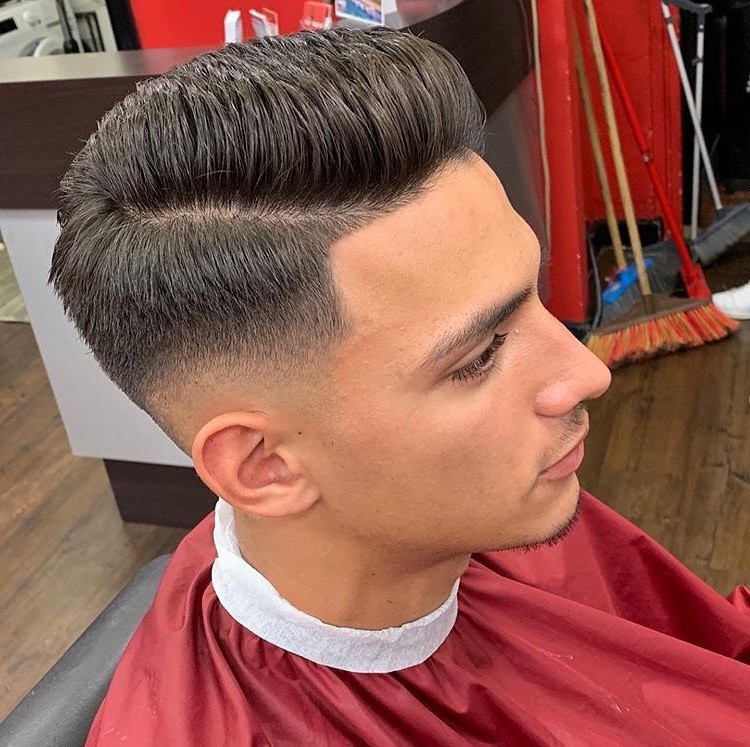 ---
Skin Fade with Line
A skin fade with the line is an easy-to-do version of a modern male haircut in 2021. This variation will suit men with any face type and hair texture. Choose the line and tell your barber that you want to try a new look.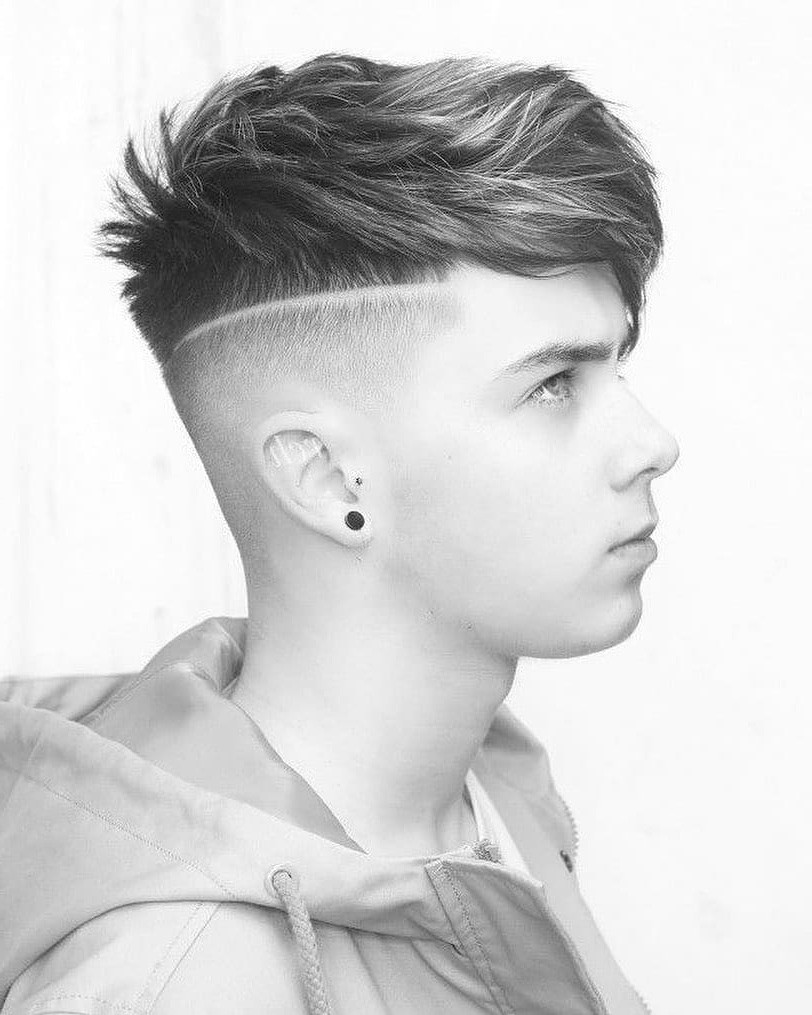 ---
Skin Fade with Waves
Want everyone envy of your fine hair and a great sense of style? No doubt, you should go to the barber and make a skin fade with waves. Of course, this style can be done if you have a wavy hair texture.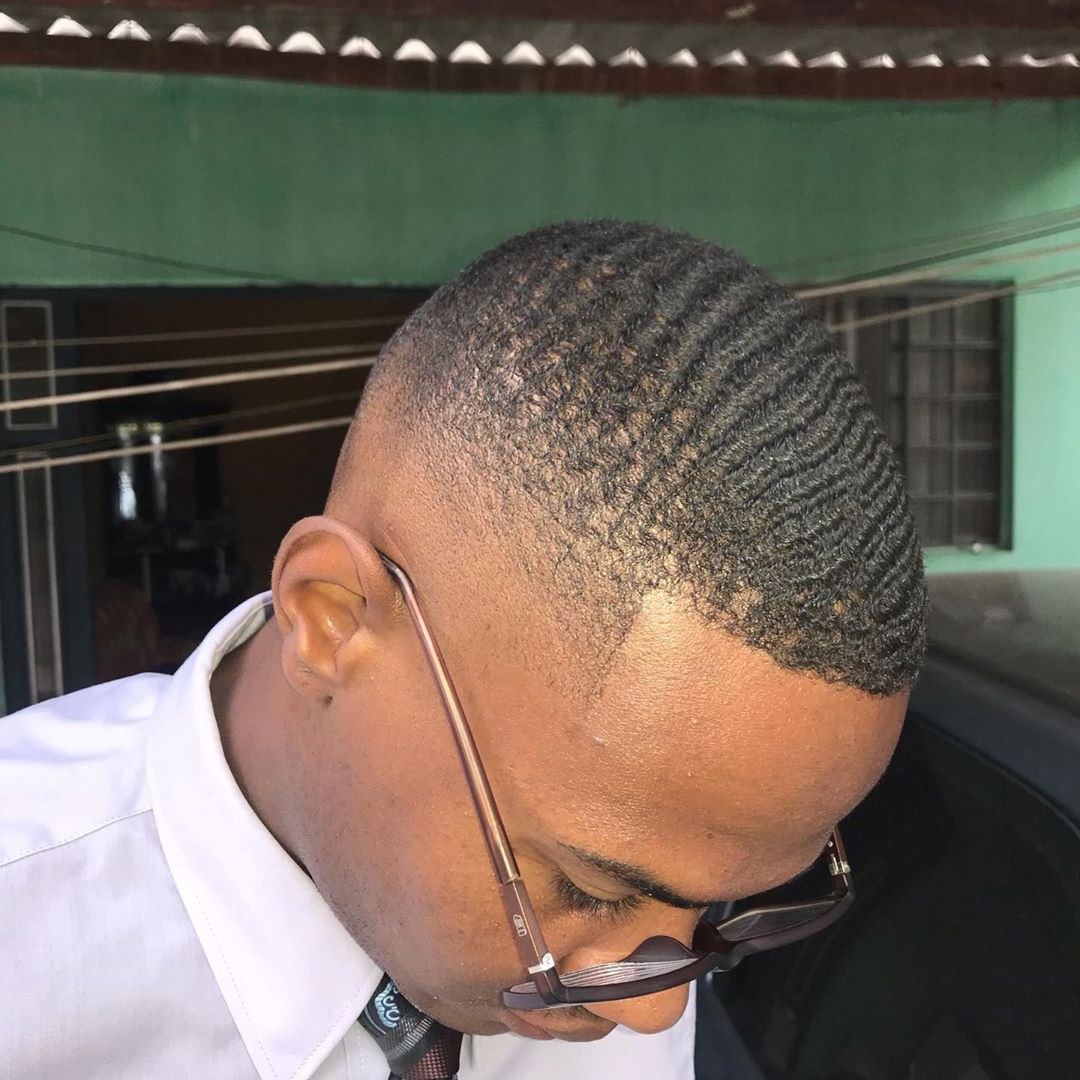 ---
Skin Fade + Faux Hawk
A skin fade faux hawk is a good choice for those who want to look trendy and cool but they must meet the requirements that refer to a certain dress code at work. It isn't as radical as the Mohawk style and is more often chosen by guys.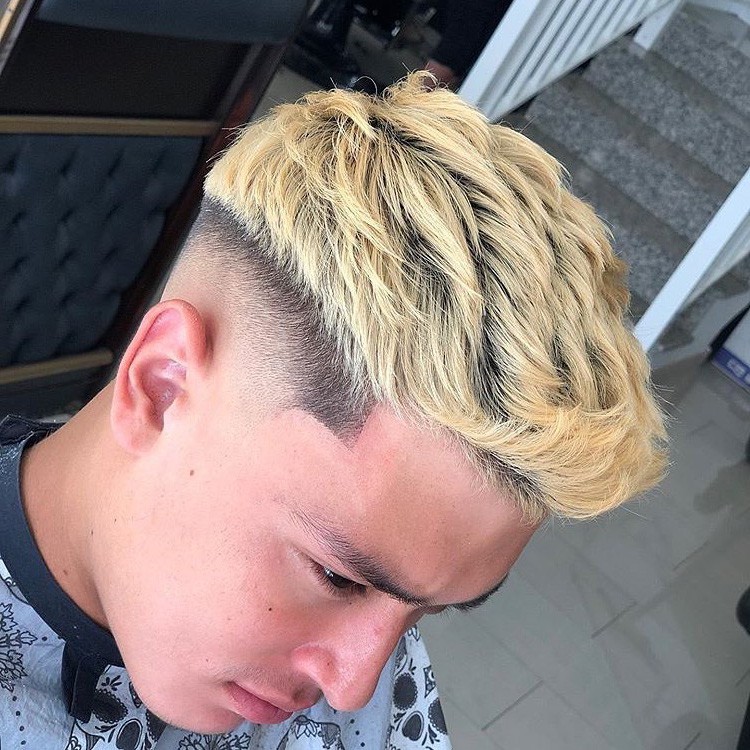 ---
Skin Fade + Man Bun
What about a bun? Don't hesitate to choose a skin fade man bun. It is an excellent type of haircut for everyday wear. It's convenient to wear it for both a party and work. Choose the length of a bun you like most and wear it easily.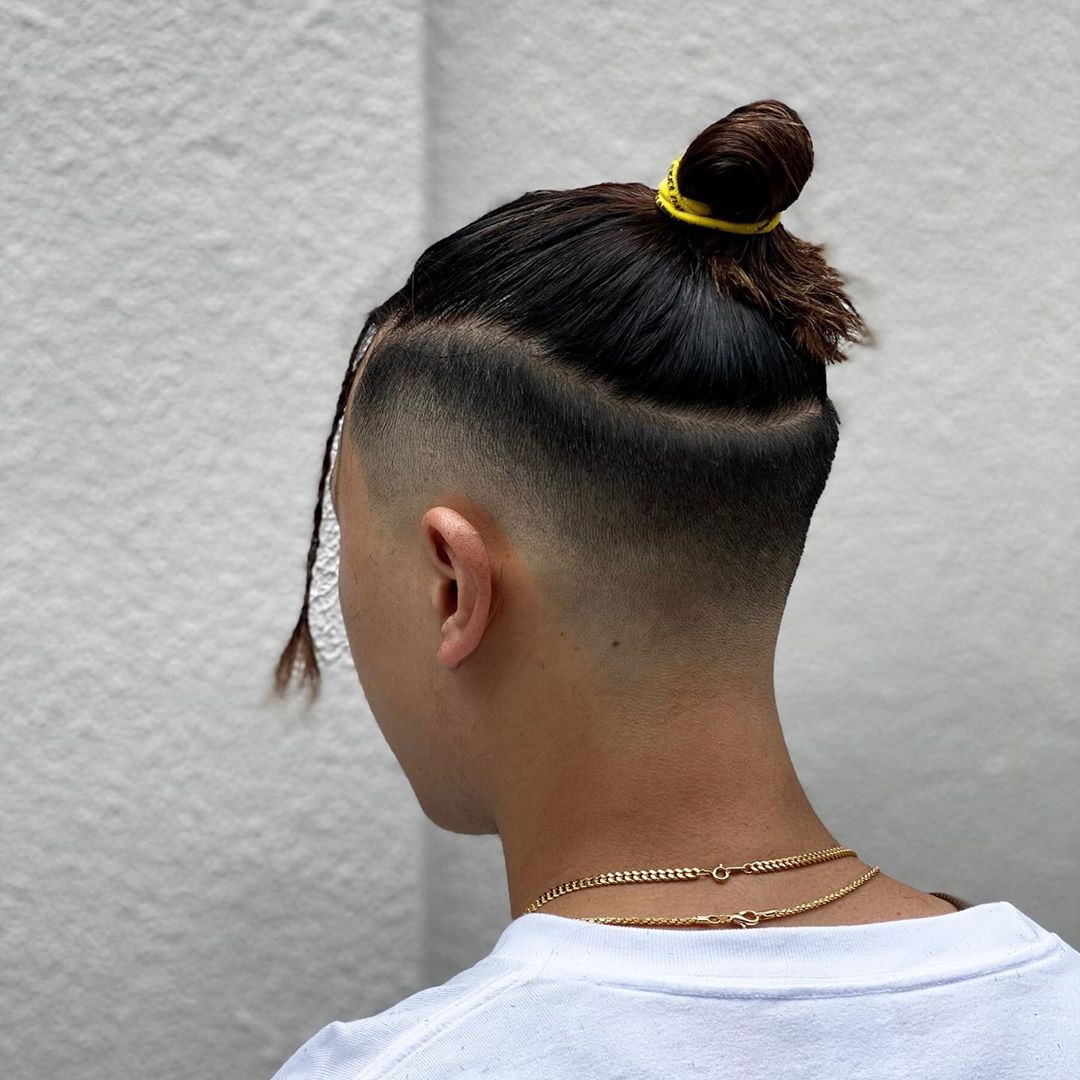 ---
Kids Skin Fade
Believe that your son will be happy if you make a kid's skin fade for him. This style looks cool on boys and young guys. It's a good choice for a son and a dad. There are many variations for children to choose from. It's just one of the numerous styles for kids.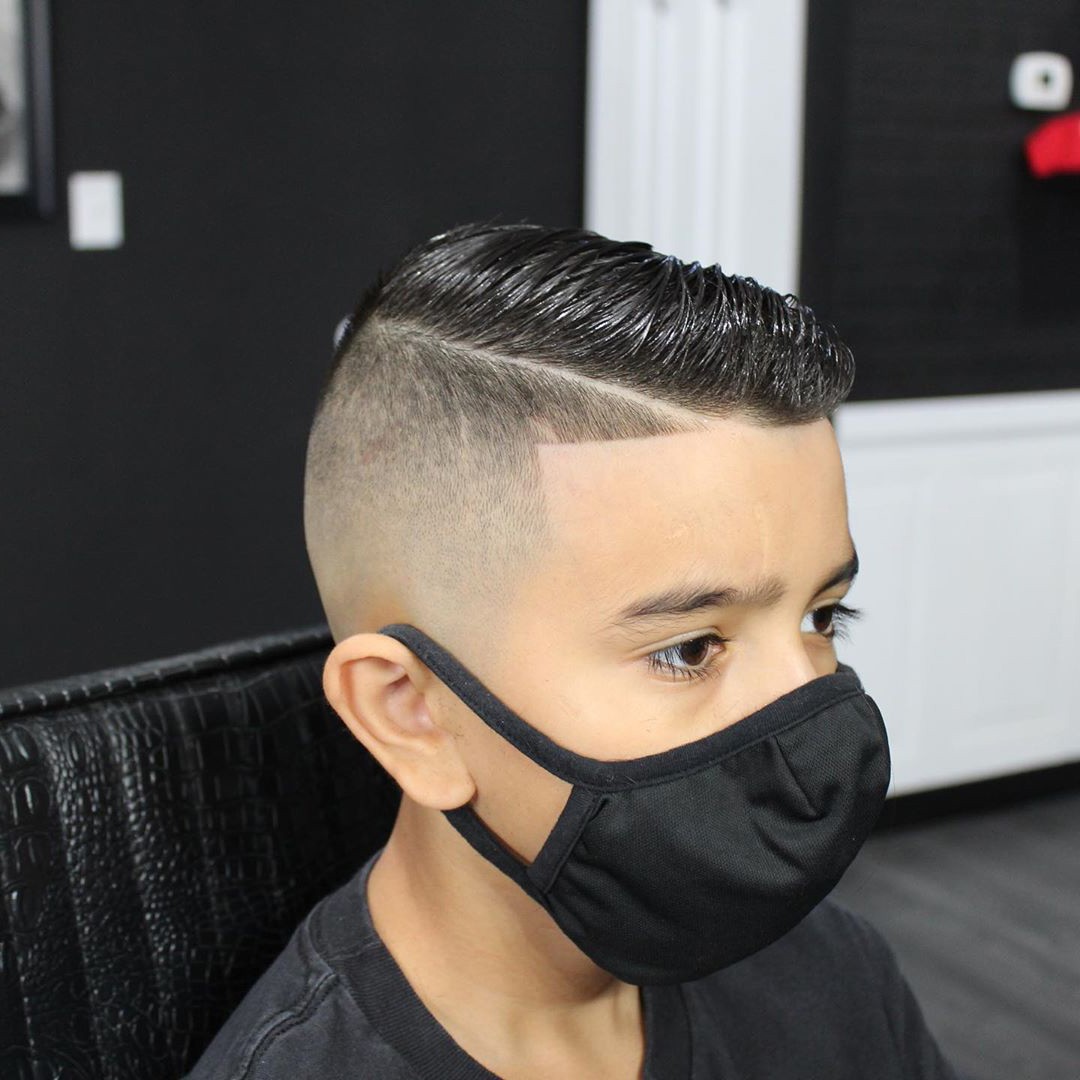 ---
Military Skin Fade Haircut
Most boys dream of serving the army to have a masculine look. Today, it's enough to make a military skin fade, and you'll look like a strong and handsome man like those who serve in the army. Even if you aren't an army man, choosing this style is a great idea.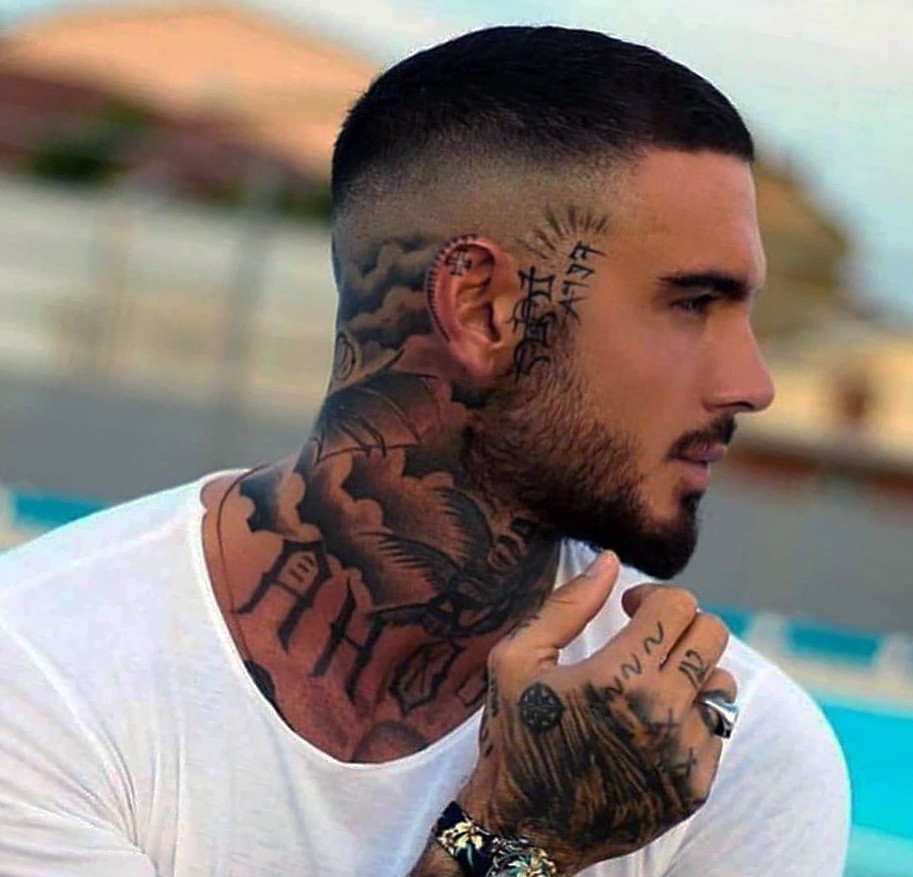 ---
Skin Fade + Fohawk
"Wow, this man looks cool and trendy!" – Be sure to hear these words from almost every passer-by if you make a skin fade fohawk. It isn't surprising as it's a choice of men who aren't afraid to be in the center of attention daily.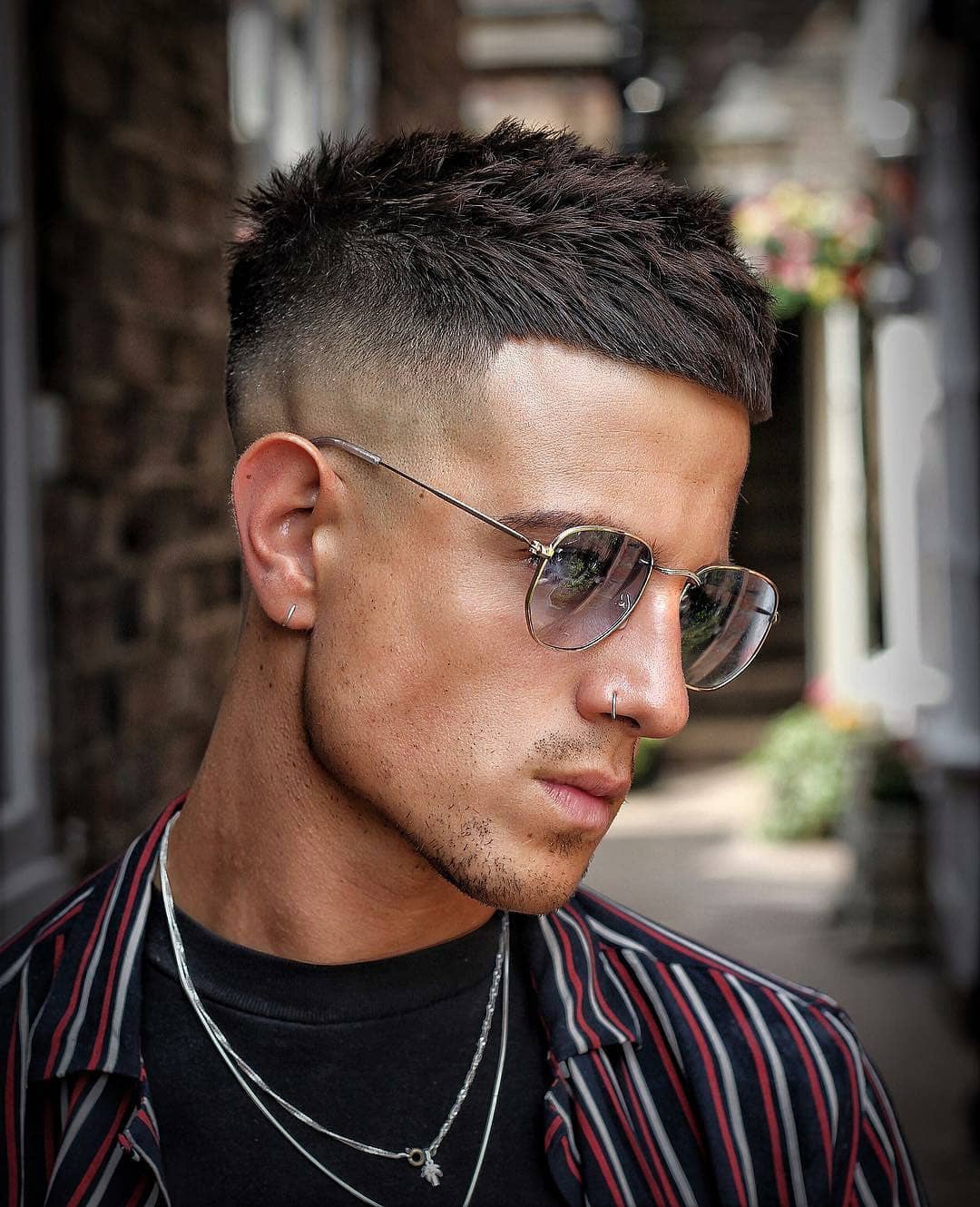 ---
Skin Fade + Quiff
A skin fade quiff is one of the perfect styles for everyone who likes when the hair is shorter on sides. This option is chosen when a man wants to add masculinity to his image. Just try it and you won't regret it as this hairstyle will always be popular.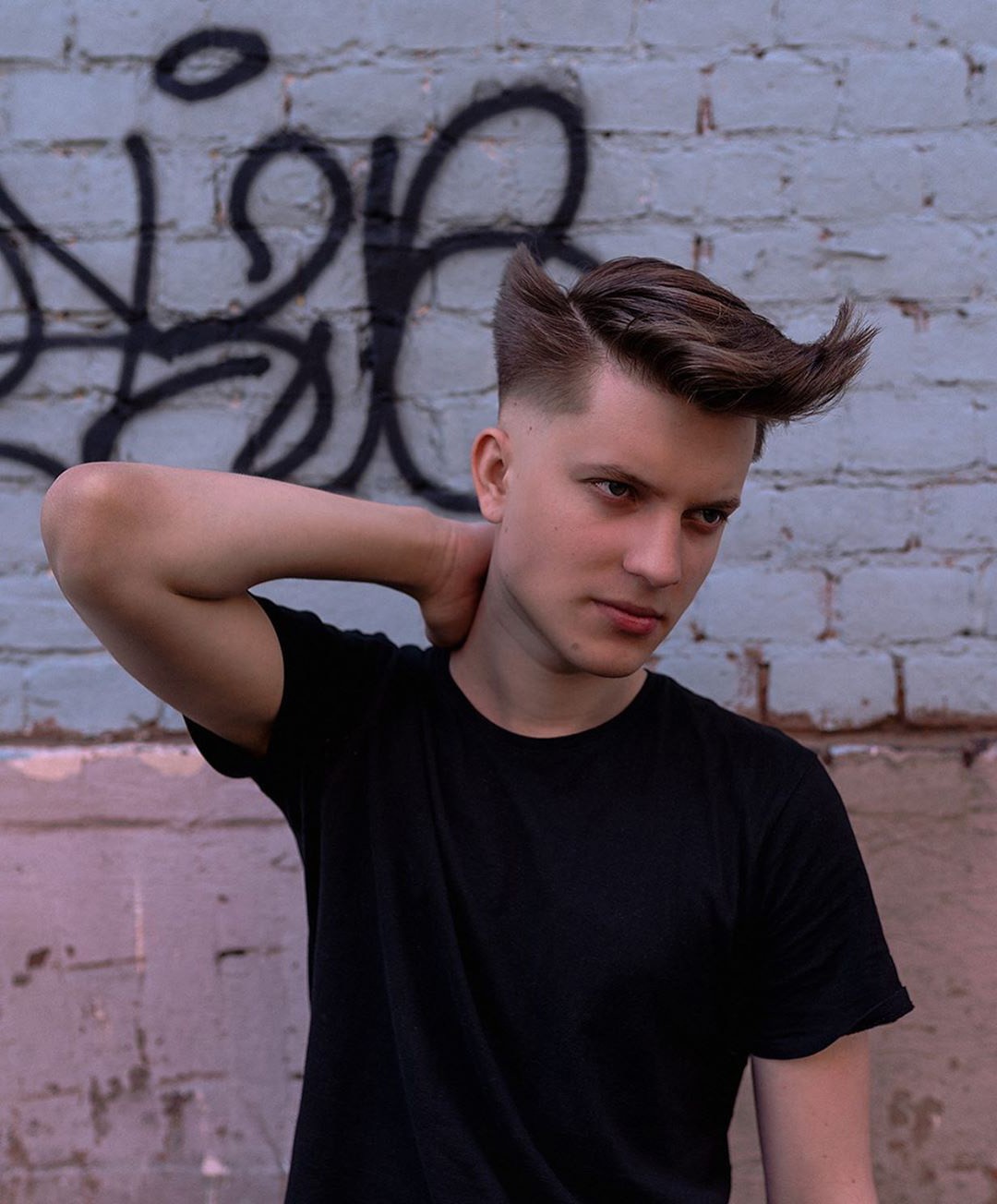 ---
Crop Top + Skin Fade
A crop top skin fade is one of the hairstyles worth trying at least for the summer season. It is characterized by having a cropped top on the head that looks nice and is easy to maintain at the same time. Some say that it suits young guys more than mature men.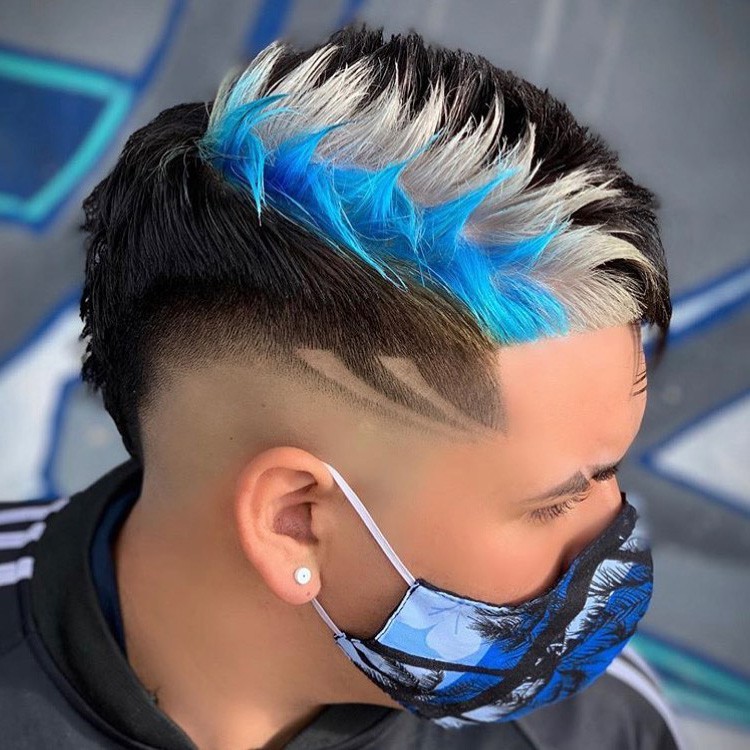 ---
Skin Fade + Blowout
Choose how faded your sides must be and choose the perfect skin fade blowout for you. It looks nice if it's textured. It's up to you to decide which option you like most. A blowout will help to diversify your everyday haircut.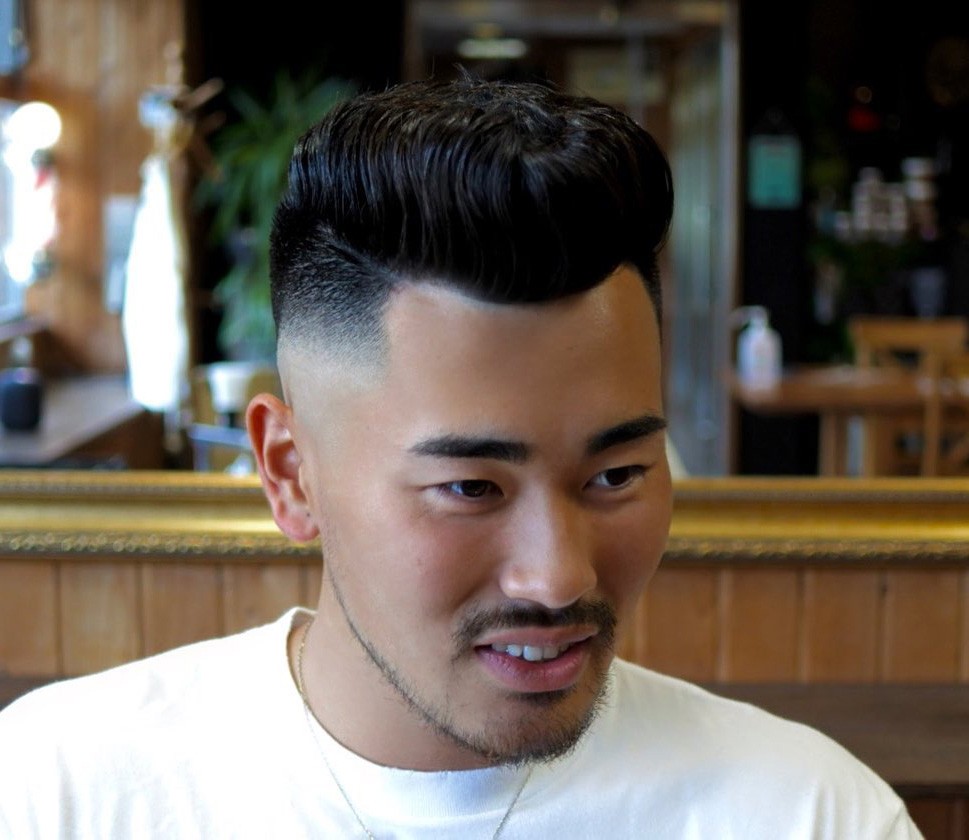 ---
Skin Fade + Spiky Hair
Don't you like standard hairstyles? Then, you should choose a skin fade spiky hair. Try it at least once, and you'll want to make it again and again. This style is one of the coolest for young guys of 2021.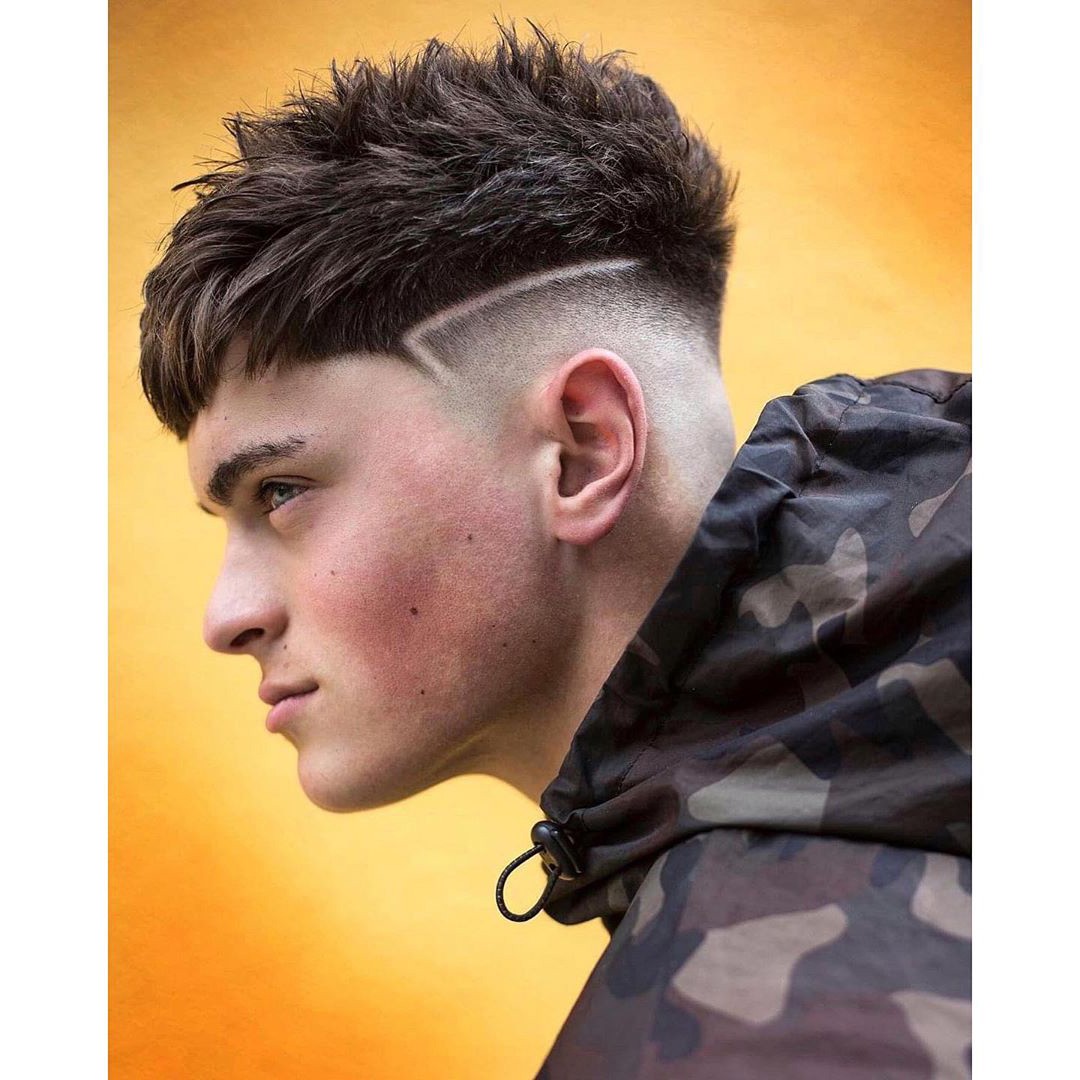 ---
Skin Fade + Dreads
Dreads are still popular among youth. A skin fade dreads are especially popular now as faded sides add a special charm to the classic version of this hairstyle for men. The only con of this style is that you can't change it fast and easy if you want to try another one.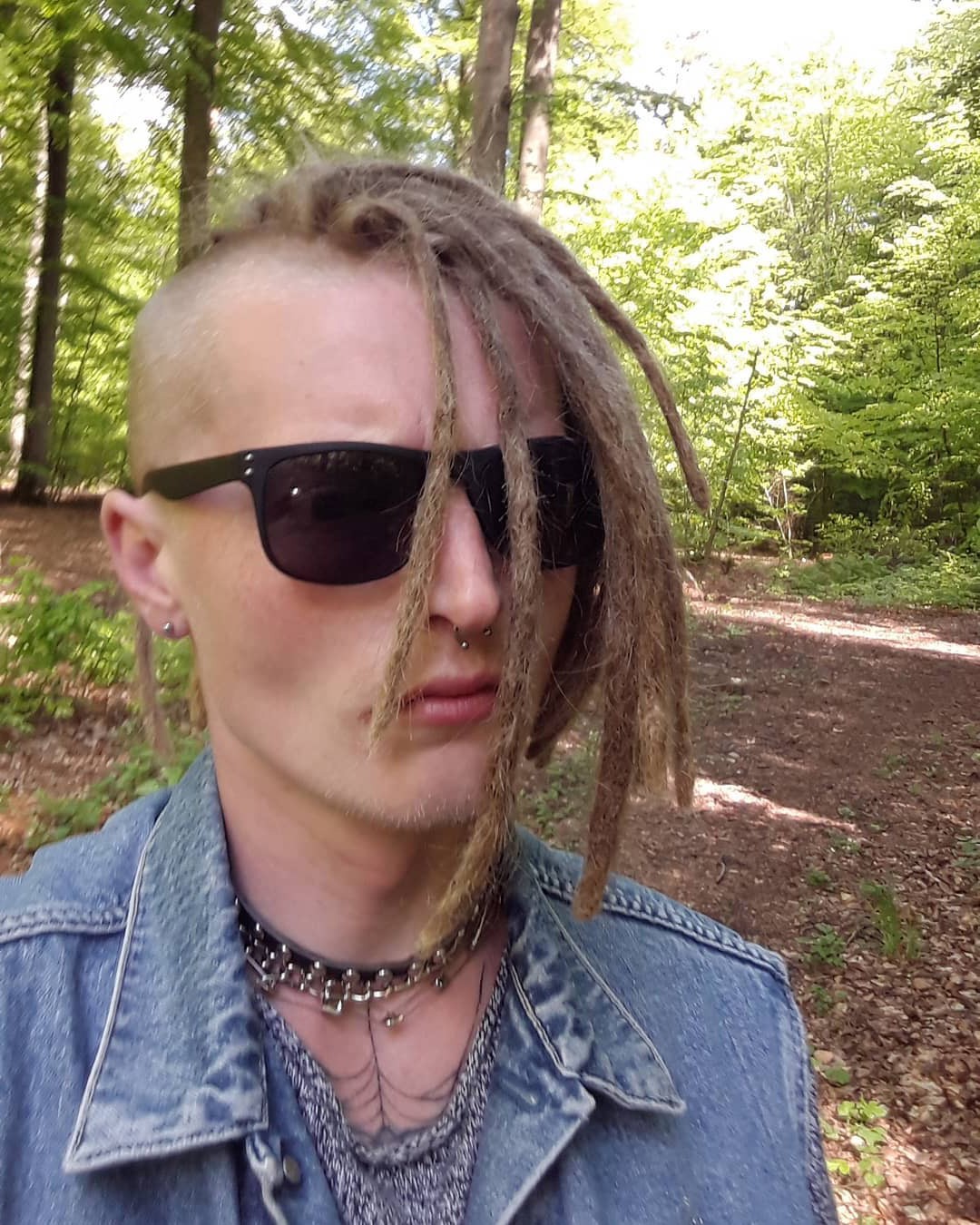 ---
Skin Fade + Braids
Braided hair looks attractive not only on females but also on men. Skin fade braids will become a great finish of your image. Just tell your barber how you would like to braid your hair and enjoy all the advantages of this modern style for men.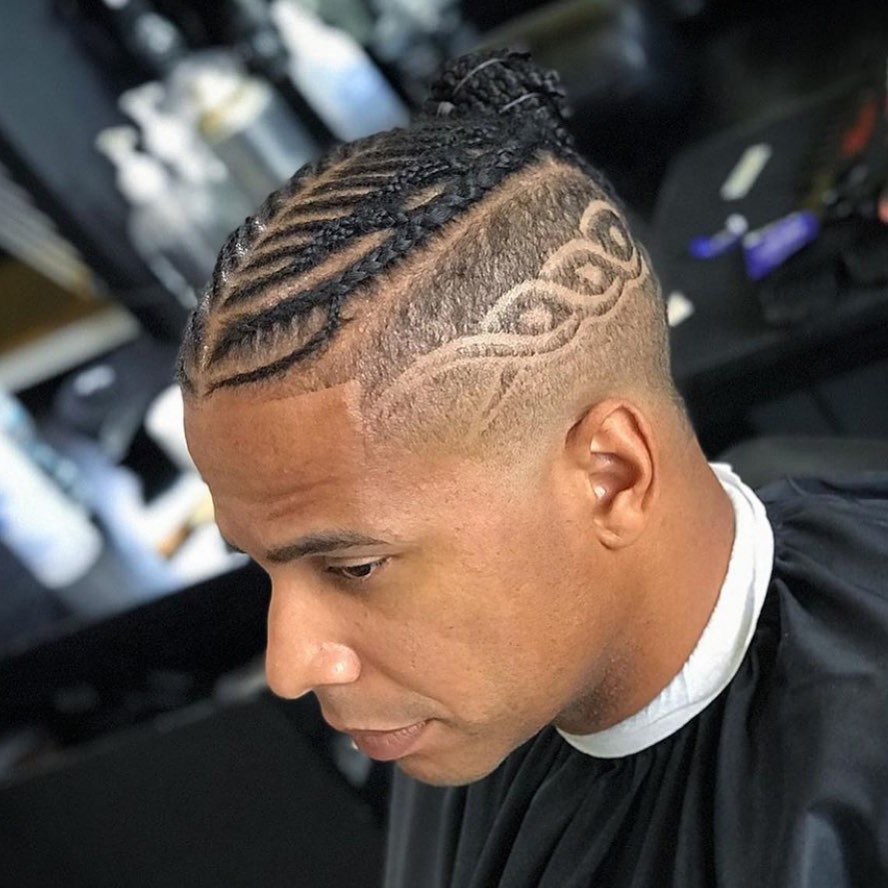 ---
Afro Skin Fade
An Afro skin fade has become one of the common styles among black men. It has a distinctive feature – the hair texture that is necessary for the creation of the cool style. Choosing this haircut is the right decision if you have the appropriate hair type.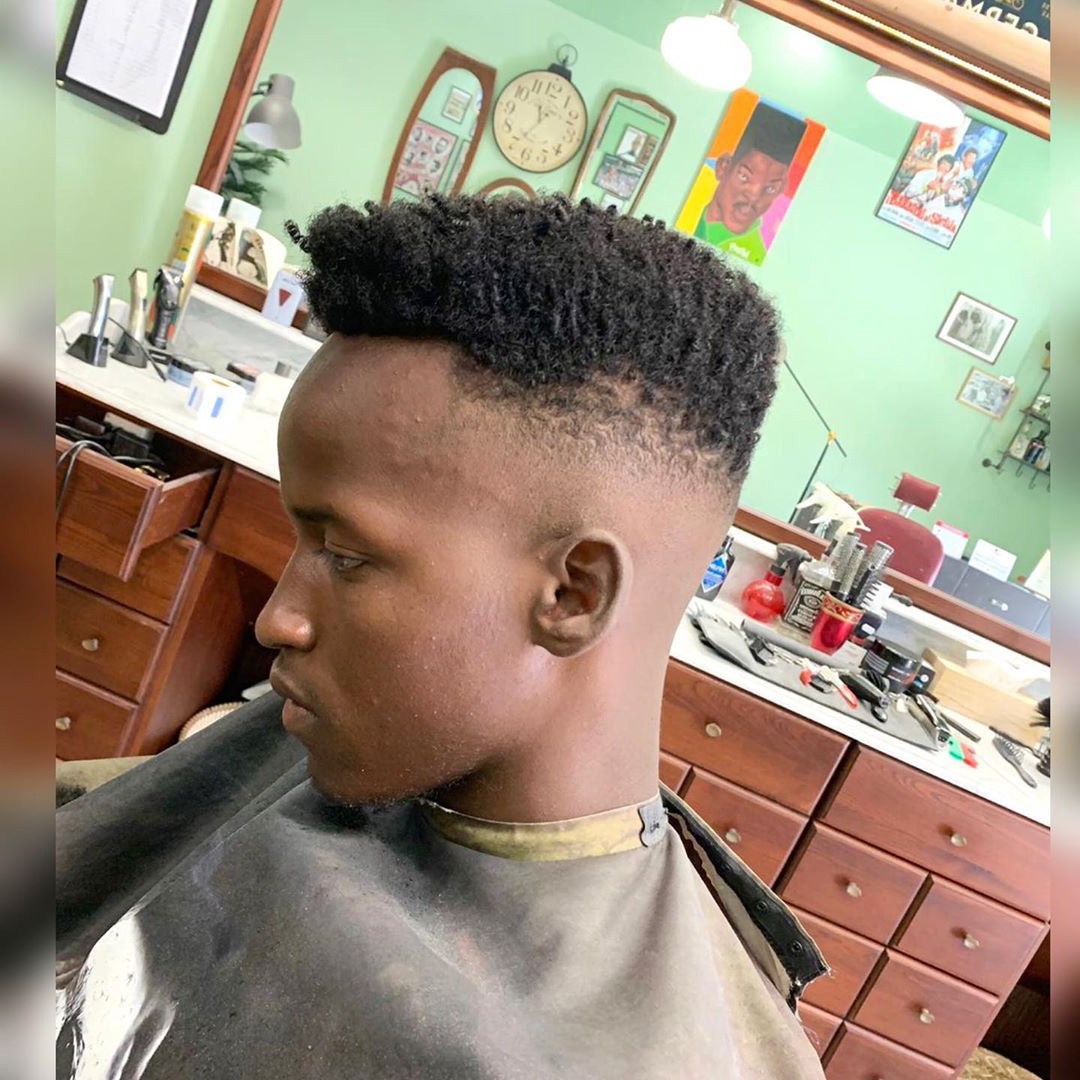 ---
Skin Fade + Twists
Add twists to your skin faded hair, and your image will attract the attention of every man and female. It's a style for men who like experimenting. Don't hesitate to go to the professional barber's salon and make the same style you can see here.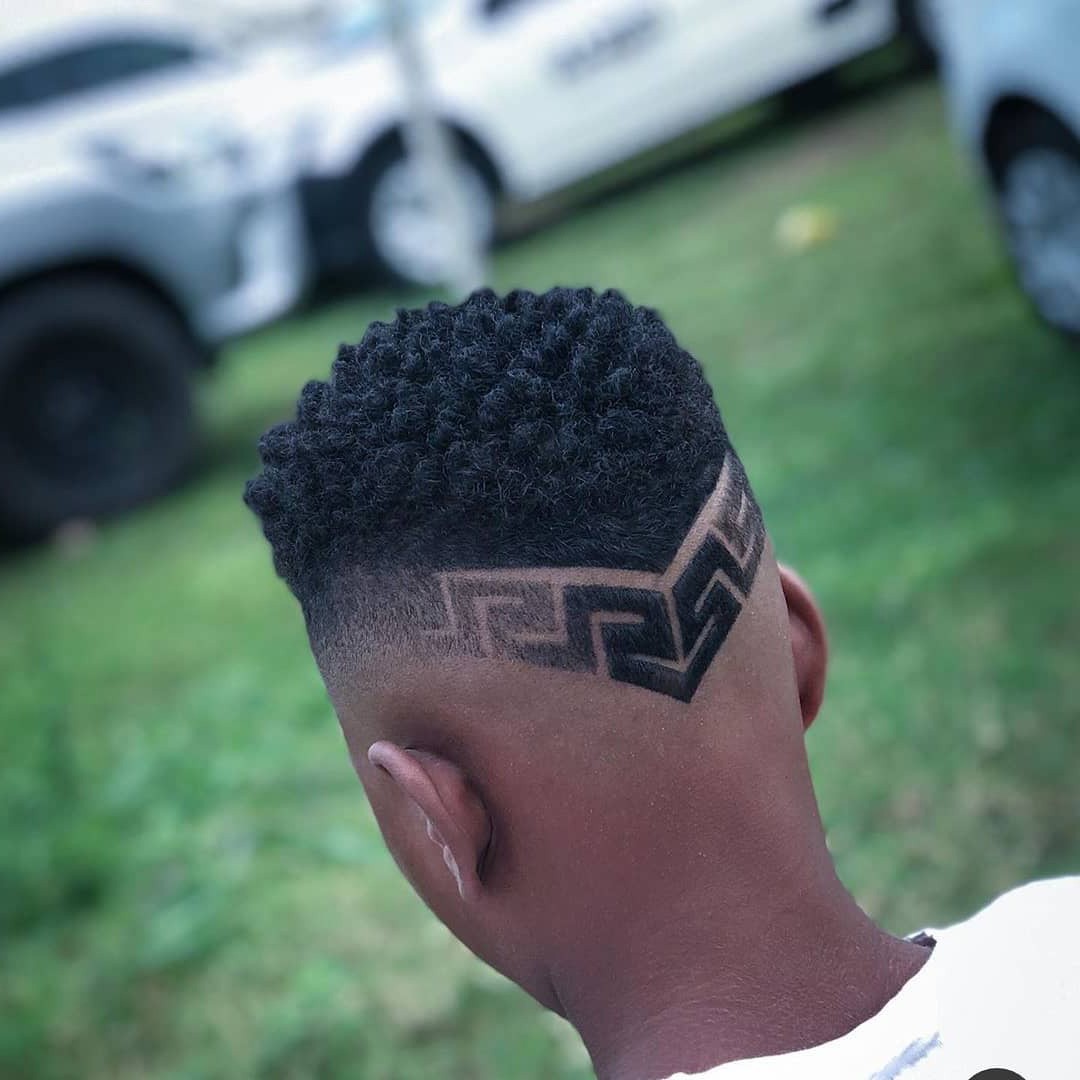 ---