Want to make an impression of a strong independent woman? Then, don't look further than the collection of bob hairstyles for females. This type of undercut will help you to create the necessary look fast and easy. Scroll down to find your perfect bob.
The Most Popular Bob Hairstyles
---
Nowadays there is a great variety of hairstyles for thick hair as well as hairstyles for thin hair. Contemporary women can choose among medium bob hairstyles with bangs, choppy or messy bobs, short layered or curly bob hairstyles – all of them deserve attention and can be worn with great success.
---
Bob hairstyles for thick hair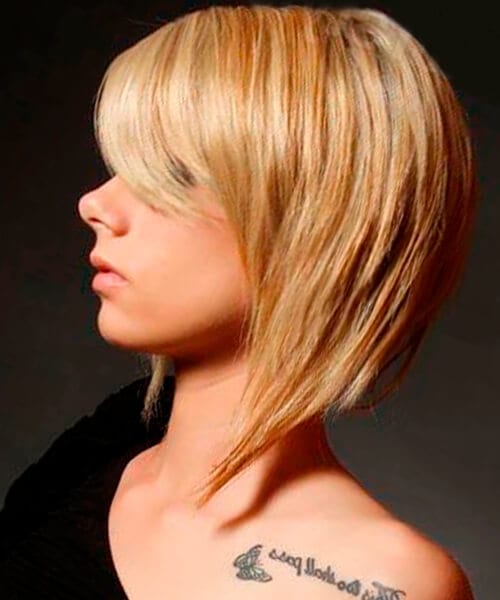 Sleek elongated bob hairstyle for thick hair
This bob cut hairstyle is a good idea for thick hair. It is one of the best medium bob hairstyles with bangs that features straightened and polished hair. The length of the hair is medium that allows it to play with the color, streaking several locks into light if the basic color is dark. Also it is advisable to add some trimming for the edges to make them thinner for easier styling. Hairstyles for bobs mustn't be always short, this medium bob hairstyles with bangs is a perfect example. Go for such bob hairstyle with bangs and impress everybody with your creativity and boldness. The secret of bob hairstyles for thick hair of any length is a right layering.
The shorter pieces going towards the ends can perfectly balance out the longer length. In such a way you may keep your bob cut hairstyle not only short, but medium and even long without ballooning to the unmanageable thickness. To achieve a desired form you just need a quick blow dry after washing before hitting the road. In such hairstyles the bangs play a part of face-framing layers, the hair features different length throughout going shorter in the front and gradually lengthening towards the back that can allow you to wear some updos and ponytails. Moreover, if you take your bobby pins and pin the front pieces back, you will get a gorgeous half up half down hairstyle.
---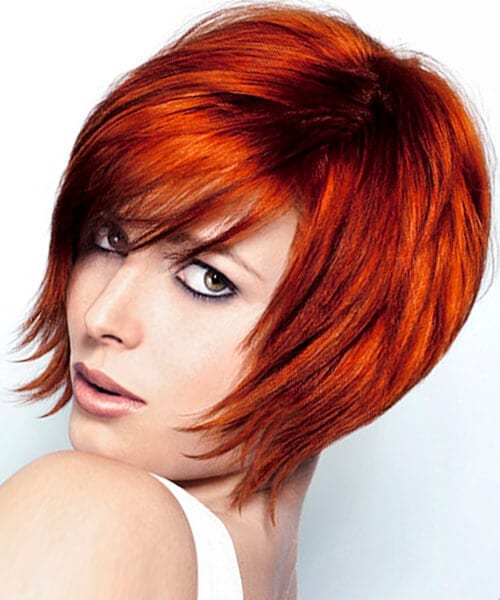 Short layered bob hairstyle for thick hair
The chin length layered bob is enhanced by adding horizontal edges into the hairstyle. It demonstrates an angular bob with elongated front tresses. The neat smooth edges contrast with multiple layers that are cut at angles and highlight a marvelous feathery texture of thick hair. The layered locks can be center parted and thinned out at the ends. Thus, featuring some special quirk they will look trendily messy. The hairstyle can be improved by darkening the roots and adding several blondish highlights, thereby you will get an awesome color update.
Remarkably, thick hair offers a variety of hairstyles. Bob is not an exception; it is really beautiful and, by the way, quite timeless. A layered bob offers appropriate hairstyle for every face shape. In fact, the technique of layering is invented to remove volume and allows the hair to be light enough to express movement. It requires little effort to style volume and texture into hair with short layered bob hairstyles. The right layering removes all that excessive weight and makes your hairstyle light as a feather.
---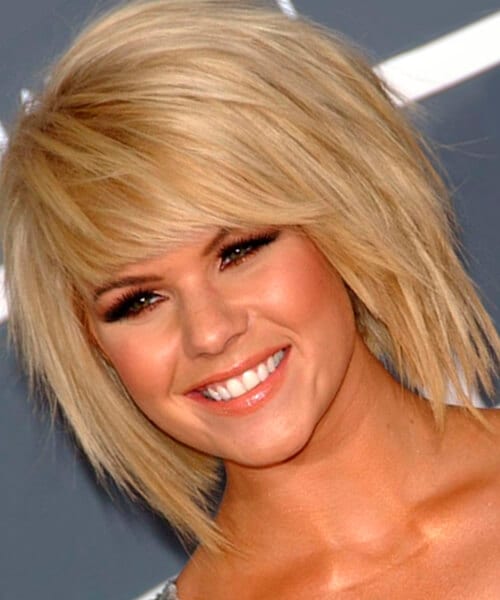 Edgy choppy bob hairstyle for thick hair
Bobs are really tricky for women with thick hair. It is a great solution in those situations when you don't have enough time in the morning to style it properly. This choppy, layered hairstyle represents a difference in lengths thereby leaving out the weight of thick hair and offering the wearer a flattering silhouette. Choppy bob hairstyles are excellent for those ladies who are always on the go. Choppy layered in the back hairstyle can be complemented by a smooth fringe. If you want to update your look easily, this hairstyle will give you all the possibilities just adding a deep side part, switching the sides or parting over your normal way.
A multi layered dimension with a cheerful shattered effect and choppy jagged ends are the leading tendencies nowadays. This edgy choppy bob hairstyle for thick hair can give you a completely new fresh impression. To bring your usual hairstyle to the previously unknown heights use contrasting lines along with color enhancers.
---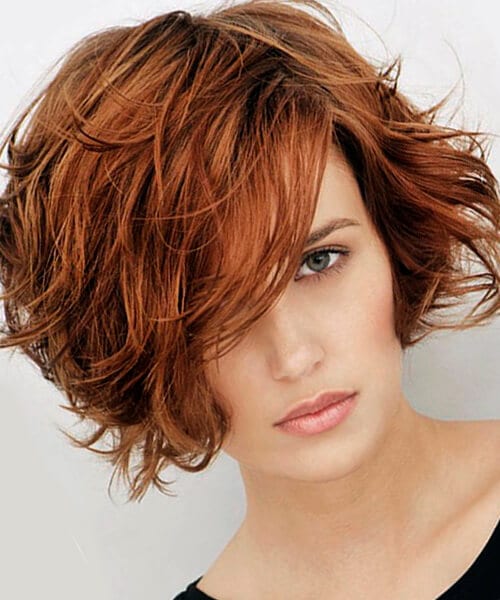 Messy bob hairstyle for thick hair
Messy bob hairstyles include short layered bob hairstyles and choppy bob hairstyles. To achieve a messy chic hairstyle you should chop the length to a desired level and add layers to it. The choppier you will create your hair, the messier in a good way it will look. If you have a bit of natural waves, this hairstyle will accentuate them and therefore you will get an extremely easy styling. Basically, this hair looked disheveled, but these days it is considered to be extremely stylish and in a manner of organized chaos that can give any woman a truly magnificent appearance.
---
Bob hairstyles for thin hair
Bob cut hairstyle is a relatively decent and fairly low-maintenance solution for thin hair. Cropped, chin-length or collarbone hairstyles are equally beneficial for hair that lacks body. You can always add some simple styling techniques in combination with available hair products. The most important thing about fine hair is to make it look thicker; in this case bob hairstyles for fine hair are a great solution. There are lots of various tricks, for instance you may ask your hairdresser for highlights, or to make it wavy or messy drawing attention to texture and edges.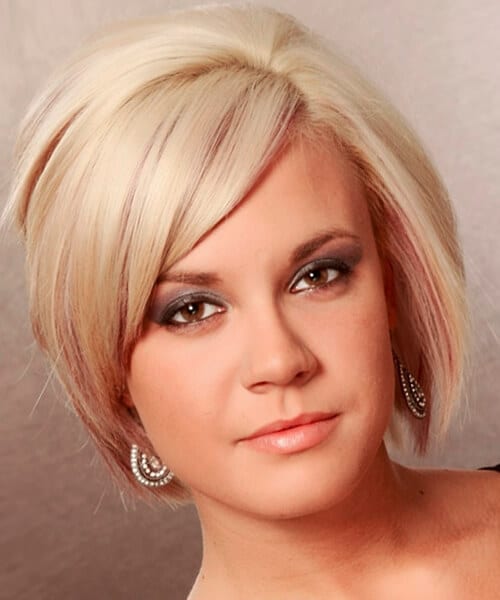 Short bob hairstyle for thin hair
Fine hair seems to have more volume if it is short as the length does not weigh it down and allows it to bounce free, giving off the look of thicker tresses in such hairstyles. Short bob with a length that falls around the chin will make you able to style it big and loose. This short bob hairstyle for thin hair is worthy of being raved about as it represents an elegant vibe with its carefully cut length and messy texture. It also features the side-swept bangs that effortlessly fall across the forehead, thus softening the whole look. If you opt for easier styling, make the length shorter.
In fact, one of the best ingenuities to make short bobs look fuller is to use highlights and low lights. The former hue must be two shades lighter than the natural hair, whilst the latter should be two shades darker. Therefore, the mix of colors will create the illusion of depth.
---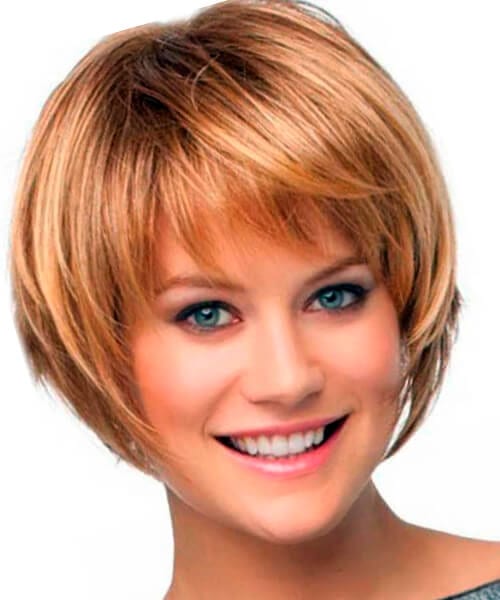 Short layered bob hairstyle for fine hair
One of the most beneficial features of layers lies in that they can naturally create volume in fine hair. Short layered bob hairstyles demonstrate how the shorter pieces cooperate together with the longer pieces and retain the length when adding the bounce. It is recommended to apply some quick spray of dry shampoo at the roots of clean hair to get a textured look. A part of secret is hidden in styling the layers. Fine hair wears windswept appearance better than the thick one because it is quite light in weight to hold any gravity defiant hairstyle. However, you will need to take a bit of practice with a blow dryer and iron to make this super chic look yours.
---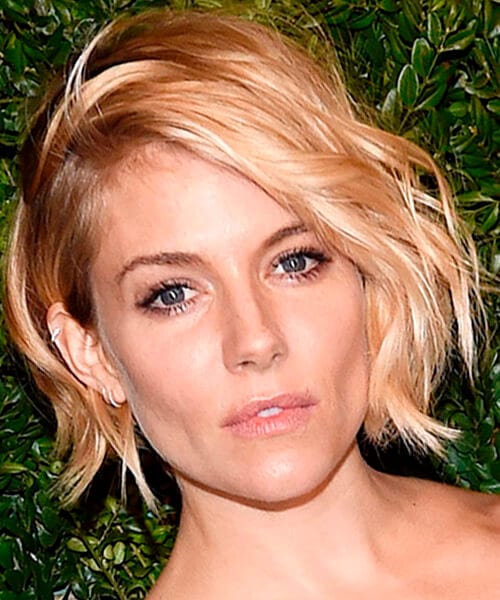 Short curly bob hairstyle for thin hair
Actually, curled back hair can draw attention to a pretty face in this marvelous bob hairstyle for fine hair. To get this style you should apply thermal protection to your dry hair, first. Then curl the sections of your hair vertically around a medium-sized barrel away from your face. Using some finishing spray you will perfectly set your short curly bob hairstyle. Moreover, all face shapes work well with this type of hairstyle. Adding curls to your everyday bob is a perfect way to dress up and bring a desired volume to your thin hair.
Notably, short curly bob hairstyles are gaining their popularity among lots of women for the reason of the ability of the curls to occupy more volume and present a vivid texture comparing to any plain short hairstyle. In fact, the curls mustn't be all majestic and imposing as simple symmetrical curls will do their job with any simple bob. If you add a deep side part, you will get a marvelous hairstyle for any occasion. During a morning rush hour you may leave the roots untouched and round the ends, making a side part with your fingers and setting the whole look with some holding hairspray.
---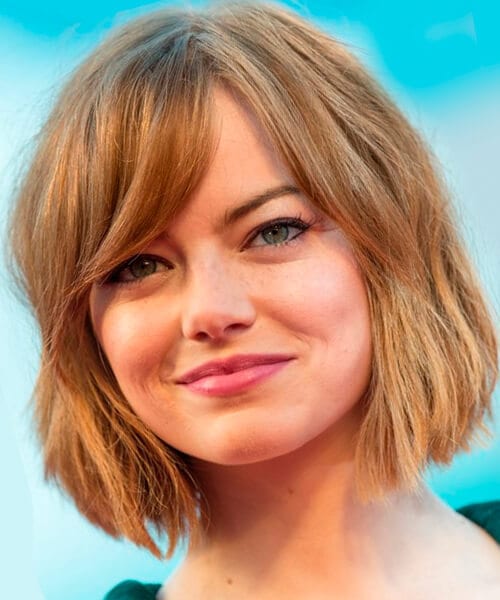 Bob hairstyle with bangs for fine hair
A chin length bob is a good way to demonstrate sharp angular features of your striking cheekbones. Ladies with fine hair have a great opportunity to add texture and fullness without curls using this hairstyle for bobs. Nothing is quite as quirky as a bright short bob hairstyle with bangs, it looks really eye-catching. If you want to add volume to thin tresses, you may curl the ends. Going longer in length will bring you the sex appeal with a voluminous medium bob hairstyle with bangs. Layered chin length side bangs always accentuate and frame thin faces gorgeously.
---
Conclusion
Depending on your hair type, choose the right bob hairstyle. Short bob or medium, layered, choppy or messy – there is a huge variety of options to be the most beautiful lady.
---