A wedding is a very important event which requires much preparation. The well-chosen hairstyle will help you to look beautiful on your wedding pics. Check which one will fit your style and image best and be the prettiest and the most fashionable bride.
Vintage wedding hairstyles
---
A wedding day is an important event in the life of every woman that is why it is necessary to think over all details about your inner and outer look. A hairstyle for a wedding is a crucial point of the whole bride's look. So in this article, you will discover different ideas for your hairstyle to make up your mind whether for vintage wedding hairstyles, braided wedding hairstyles, half up or wedding hairstyles with veil, medium-length or long hairstyles for a wedding or maybe something else.
---
---
Vintage wedding hairstyles are perfect for lovers of vintage style. You may be struggling to find a great image and various ideas for your hair on a big day, but there is no need to worry.
---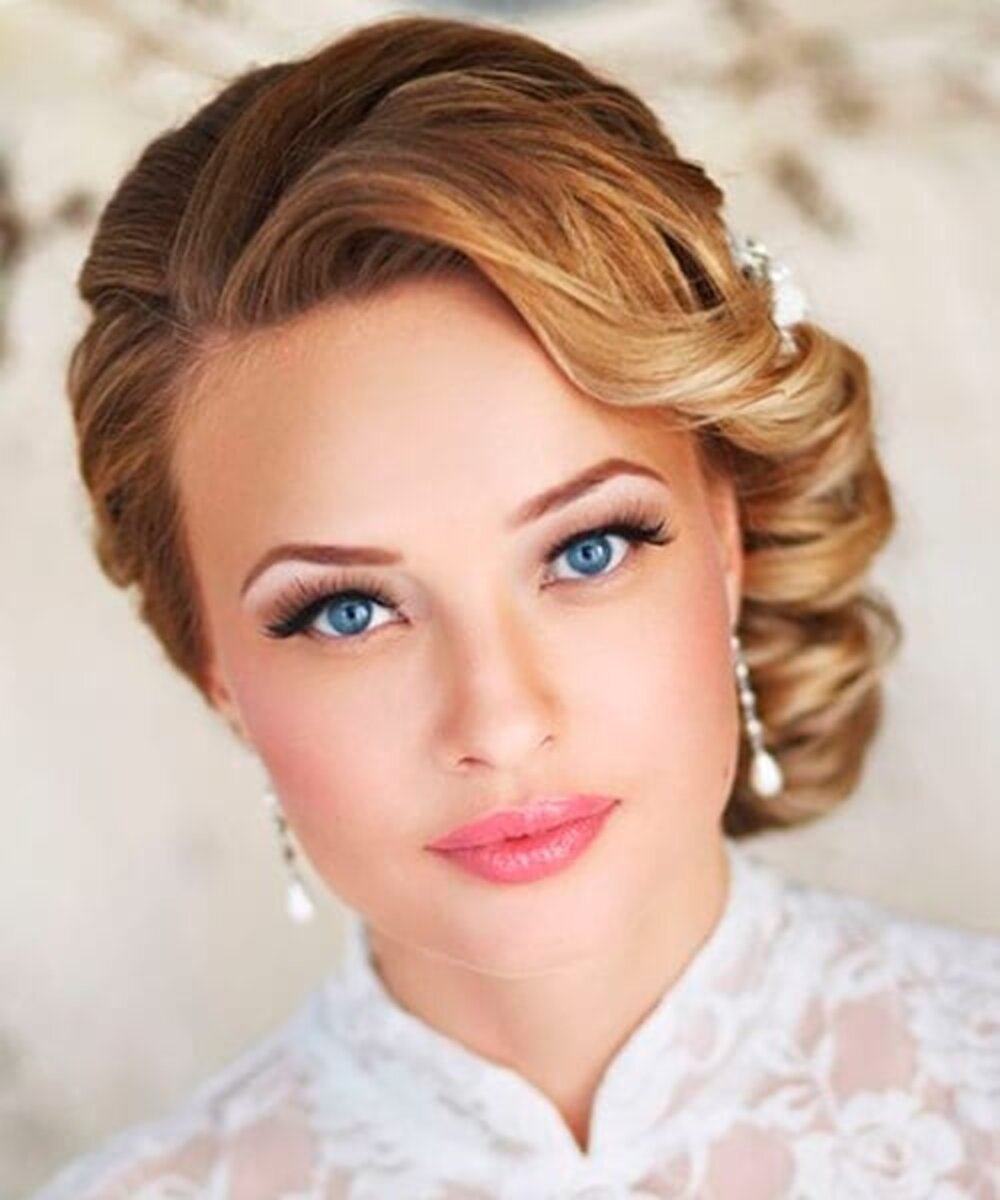 Hairstyle for a wedding inspired by 1920s – 1940s look
For a truly glam wedding you may leave your hair down with soft and sleek waves, in this case you will get gorgeous 1940s inspired look. That decade is also known for victory rolls hairstyle for wedding. The rolls can be achieved by sweeping the hair up and away from the face, and then rolled and pinned toward the top of the head. It is a perfect hairstyle for a vintage look to work with as victory rolls form the basis of numerous forties-inspired hairstyles.
If you want to achieve a classic look you should make pin curls by wrapping the hair around your fingers and securing tightly to the head with a bobby pin. It is recommended to carry out this procedure overnight, and then undo to reveal a tight curl and brush it out with a soft bristle brush. Vintage wedding hairstyles can also be inspired by soft curls from 1920s and 1930s or so-called finger waves that include curls and soft buns curled into the nape of the neck. This kind of hairstyle is ideal for short to medium length hair brides.
---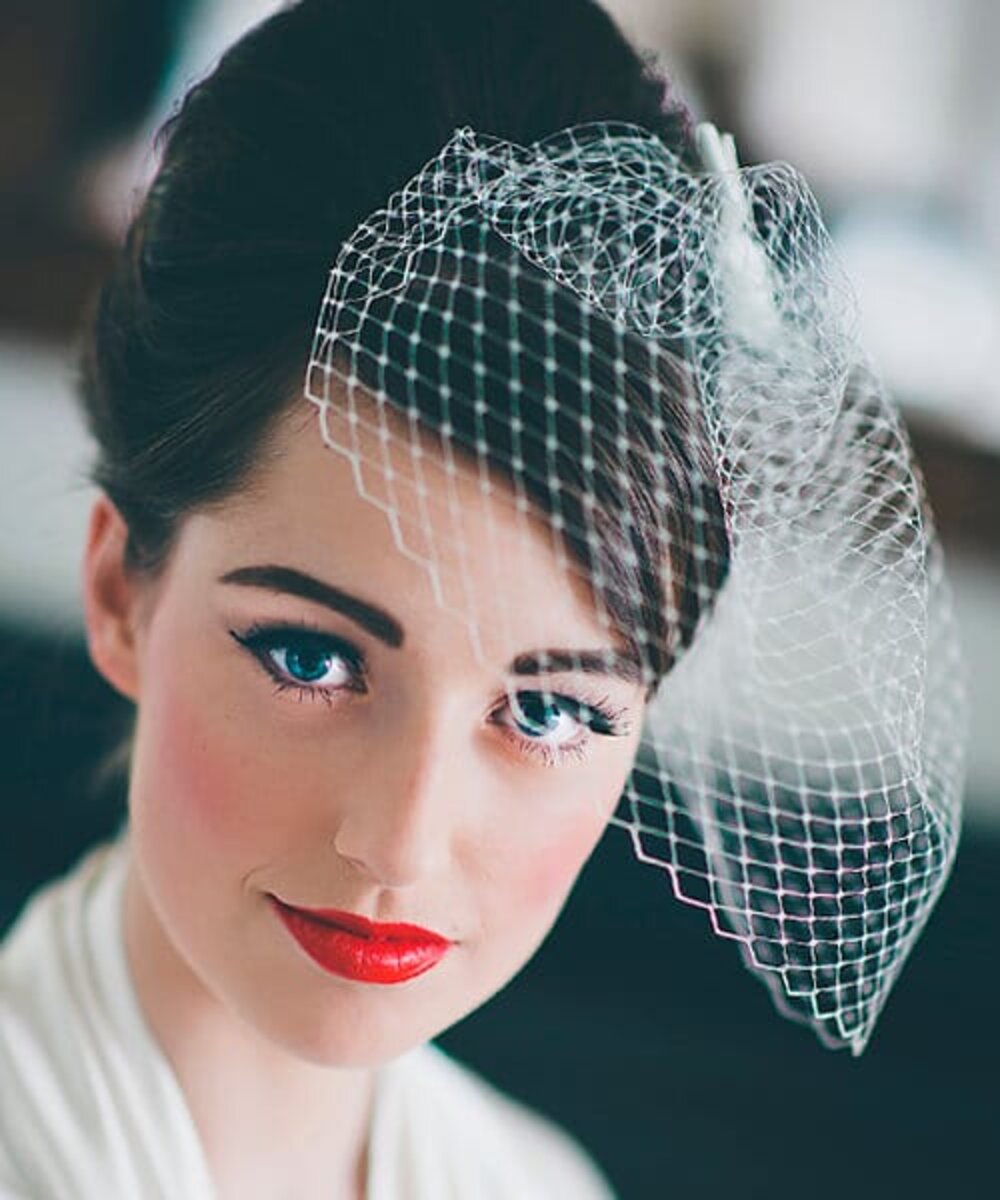 Hairstyle for a wedding inspired by 1950s – 1960s look
Another fabulous wedding hairstyle updo is a pin-up doll hairstyle that was made popular by so-called pin-up beauties such as Jayne Mansfield, Marilyn Monroe and Bettie Paige. The vintage wedding hairstyle combines curls, victory rolls and betty bang fringes. However, 1960s marked iconic beehives as most frequent hairstyles for brides. Such hairstyles are better created on second-day hair and require a little of teasing, back-combing and lots of hairspray. Moreover, it can be a good wedding hairstyle with a veil or it may be worn with a little birdcage. But classic 1960s inspired hairstyle for wedding is half up half down hairstyle that is actually a variation on a traditional beehive with some hair left down.
---
Half up wedding hairstyles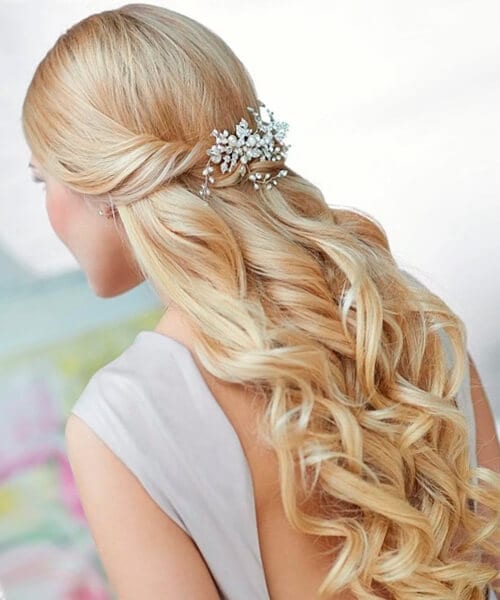 Cascading curls half up wedding hairstyle
It is a great opportunity to show off your amazing long locks in this gorgeous curly wedding hairstyle. In addition, it is not difficult to style it. First, you need to apply some styling crème to dry hair, and then you are to set your hair in medium sized hot rollers and allow them to cool. Second, you are to pull the hair to desired side and create a loose ponytail taking the whole top section. After it wrap the hair around the ponytail and pin it with a bobby pin. To create fullness you may lightly backcomb the hair and finish it with a medium hold hairspray. This wedding hairstyle, half up, is suitable for all hair textures and all face shapes.
---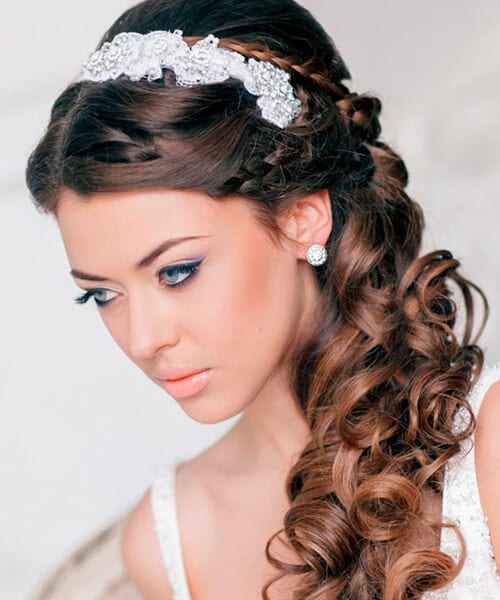 Grecian twist half up wedding hairstyle
This medium length wedding hairstyle reminds us of a Greek Goddess combining beauty and grace. While styling it prepare towel dried hair with a mousse, and then take a medium-sized round brush and blow dry your hair with it. When curling the hair with a one-inch curling iron curl it towards your face and leave the top section smooth. Then you should allow the curls to cool and after it gently finger comb through. When it is done create a deep side part and taking a two-inch section from the front curl it away from face. Then you are to sweep the curl away from your face and twist it. To fix it bobby pin the twist at the top of the ear and adjust bangs as desired. To finish the style apply some strong hold hairspray. Notably, this curly wedding hairstyle suits all hair types and all face shapes.

---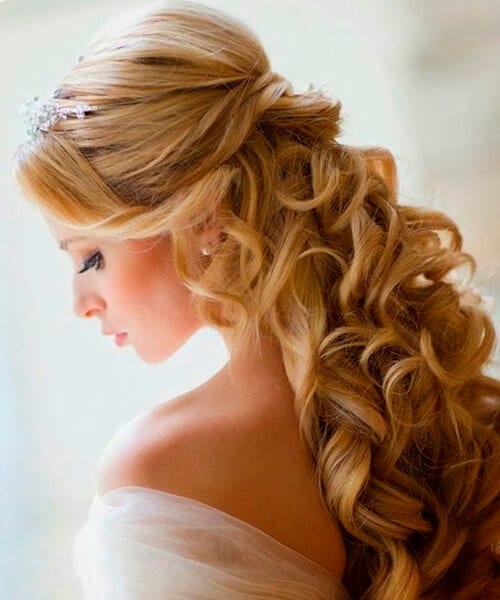 Pretty pouf half up wedding hairstyle
If you are an adherent of simple wedding hairstyles this wedding hairstyle updo is surely designed for you. In spite of the fact that it is simple it is also chic and free from fuss that makes it look really gorgeous. To style it you need to put some effort. First, you are to prepare the roots in the crown area with some texturizing paste and create a deep side part. Second, you are supposed to backcomb the crown to desired height not forgetting to smooth the hair over backcombing and to fix it you need to bobby pin the hair in place just under the crown.
After it you should take a big section from the front and smooth it with a flat iron. Then wrap section around backcombing and again bobby pin it in place. In the end you may flat iron the rest of the hair and lightly bend the ends under. To finish the style apply some shine enhancing hairspray. If you want to create weightless volume with a bit of grit use some styling paste. In addition, this is one of the best medium length wedding hairstyles suitable for heart shaped, triangle and oval face shapes. Thick hair type will also work great for it.
---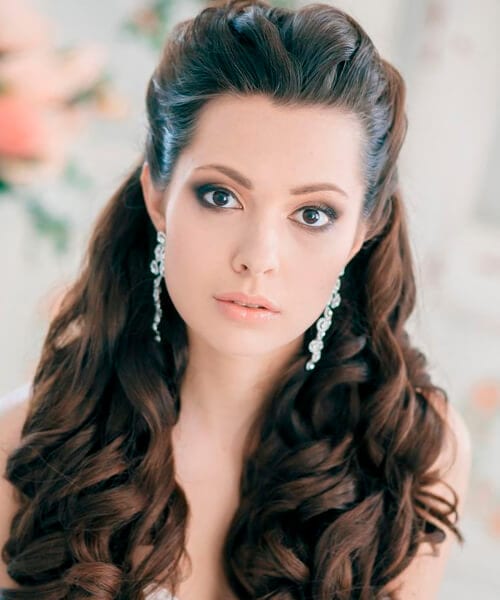 Mane attraction half up wedding hairstyle
This full and fabulous long hairstyle for wedding will perfectly show off your marvelous locks. To start styling you should prepare your hair with a hairstyling cream and set it in medium-sized hot rollers and after they are cool remove them. Then you need to lightly backcomb the top and the crown and gather the top with the sides into a ponytail. As soon as it is done pull the hair upwards and twist it taking a section from behind the ears to the nape of the neck and hold the hair in place with bobby pins. For fullness lightly backcomb the loose ends. Apply some light hold hairspray to finish your wedding hairstyle updo. This curly wedding hairstyle will suit all hair types and all face shapes.
---
Innocently sweet half up wedding hairstyle
You should try this simple wedding hairstyle for a youthful look with tons of charm. To achieve the hairstyle apply a hairstyling mousse to towel dried hair, then using your fingers blow dry it. Using a small flat paddle brush blow dry the bangs from side to side. Then curl the hair starting below the ears with the help of a curling wand. Apply a small amount of texture paste into the ends. When done, pull the sides back and hold the hair in place with bobby pins. As usual, finish your long hairstyle for wedding with a hairspray. In addition, this is a great wedding hairstyle for thin hair suitable for all face shapes.
---
Wedding hairstyles with veil
Lots of brides adore the classic look of a veil and therefore want to combine their veil with a wedding hairstyle that stuns. In fact, there are various hairstyles for brides that work great with the beloved headpiece. Classically a sophisticated hairstyle for brides can be achieved by a stunning tulle veil secured with a pretty pin whilst the hair may be styled differently. For instance, a super sleek high bun will keep all eyes on your beautiful face, if paired with shiny jewelry or kept just simple, you will look really gorgeous.
In case you have pretty, natural ringlets there is a great opportunity to show them off by turning up the romance with a center part and a classic tiered veil. It can be a romantic hairstyle for wedding with pulled back waves if you pull a few pieces of the hair back with a low veil to demonstrate your loose waves with gorgeous earrings. For straight hair you may create a side bun hairstyle pairing a low looped bun with a Swiss cage veil. For medium length wedding hairstyle with veil use extensional curls to achieve a glamorous big day look. You may add a side braid to your loose curls and get an absolutely marvelous look.
---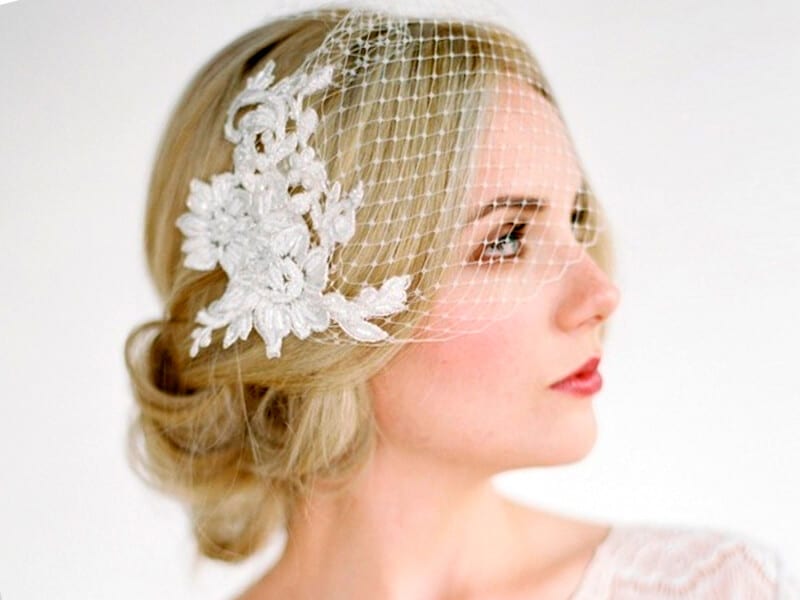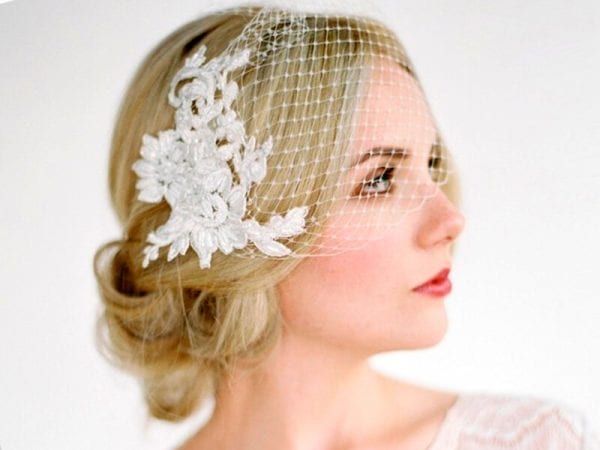 ---
An extravagant variant of wedding hairstyle updo with veil is braided wedding hairstyle. It is very useful in case you have a long veil as the braid will give a good base for confidence. If you have thick, strong hair braided wedding hairstyles are very effective then. Moreover, you may enhance your hairstyle by adding a diamante clip or a mini tiara and get a very elegant look.
---
Conclusion
Remarkably, there is a great choice of wedding hairstyles these days and you are lucky to be inspired by the ideas available in this very article. Try one of the hairstyles mentioned above and be the most beautiful bride.
---