Pixie haircuts are chosen by women of any age and appearance. Every lady will find a pixie hair cut she likes most depending on her face shape and hair texture. Check how to add bangs and highlights to make your original pixie cut.
---
What Is a Pixie Cut Hairstyle
A pixie haircut is a trendy style for ladies in 2021. Few women ask their hairstylists to cut their hair short all over the head. Girls and mature women who follow trends ask to make an elegant style pixie whose main peculiarities are short hair on the back and sides and a longer top.
---
Pixie Haircut Tutorial
---
Why This Haircut Is Right for You
Not sure that pixie cuts will suit you? Don't have any doubts. This haircut is the right one for you if you are looking for a stylish and elegant hairstyle solution. It's the cut for ambitious women who know what they want and always reach their goals. Proper pixie cuts will help you to look self-confident and shine like a star.
---
Pixie Hair Cuts Front and Back Views
Long Pixie Cut
Don't want to cut hair too short but want to make pixie? Then, a long pixie cut is the best choice for you. It's the option that includes long bangs and long hair on top. Compared to the standard pixie it's a bit longer.

---
Medium Pixie cut
A mid pixie cut is very popular now. The length of hair is not short and not long. It is the golden middle. If you hesitate which one to choose: short or long pixie, then, choose a medium pixie style. Create a new stylish look with the medium pixie style.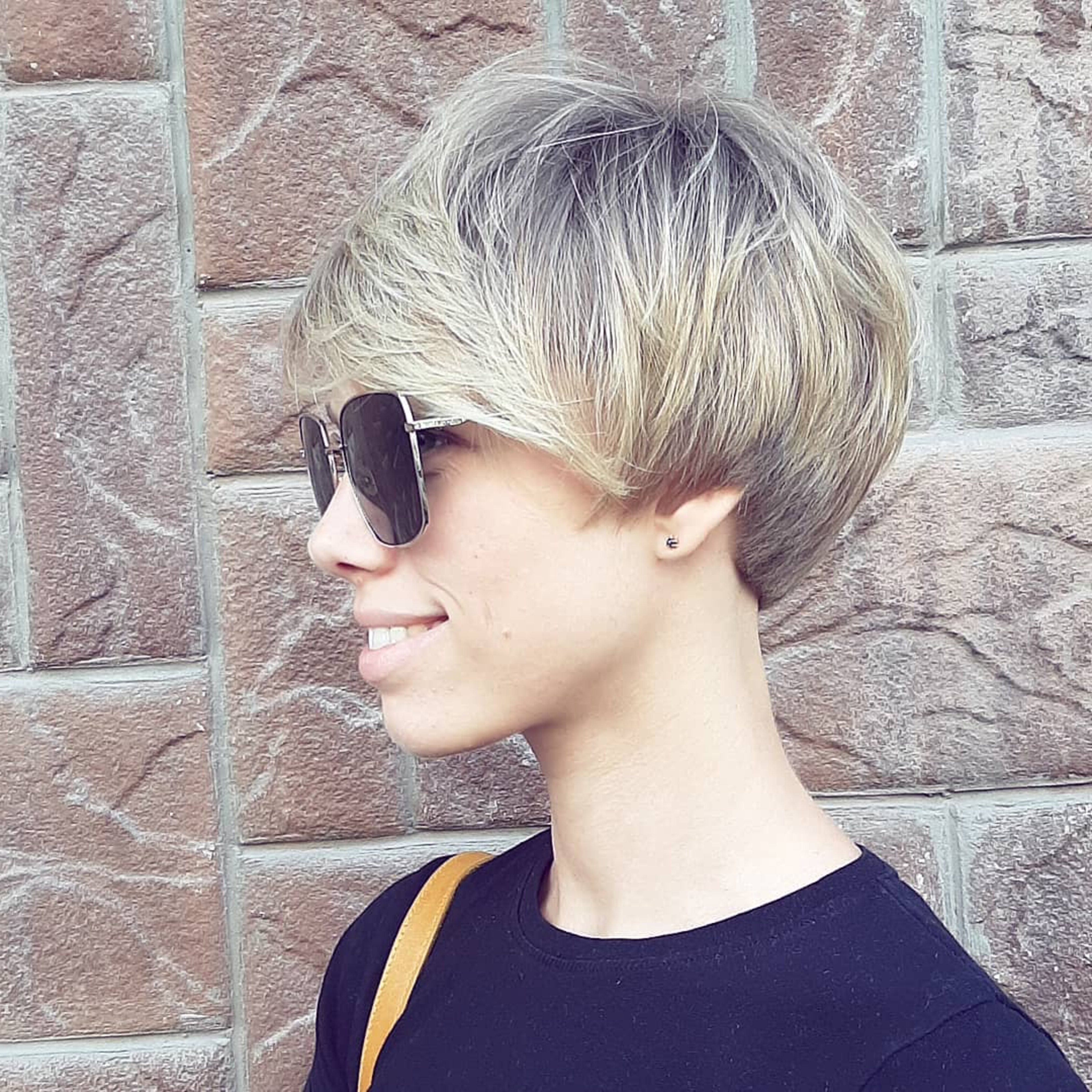 ---
Short Pixie cut
Brave girls who aren't afraid of experiments should choose a short pixie haircut. It's short but still looks feminine. Most hairstylists agree that women who are older than 50 should choose this style. A short cut helps to look younger.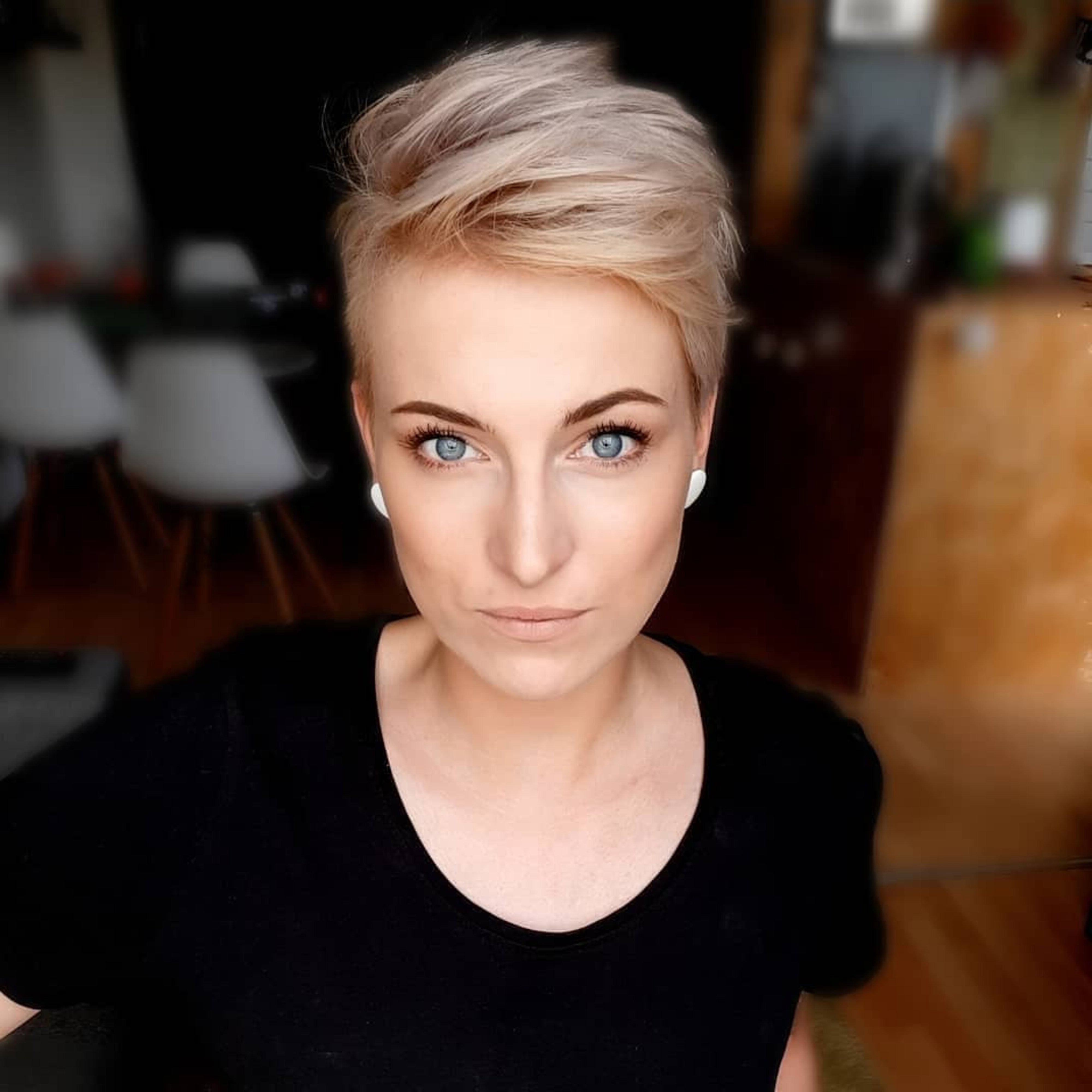 ---
Very short Pixie cuts
A very short pixie is the style that not every woman will like as it is a bit boyish. However, some admit that any type of pixie is cute. And this one isn't an exception.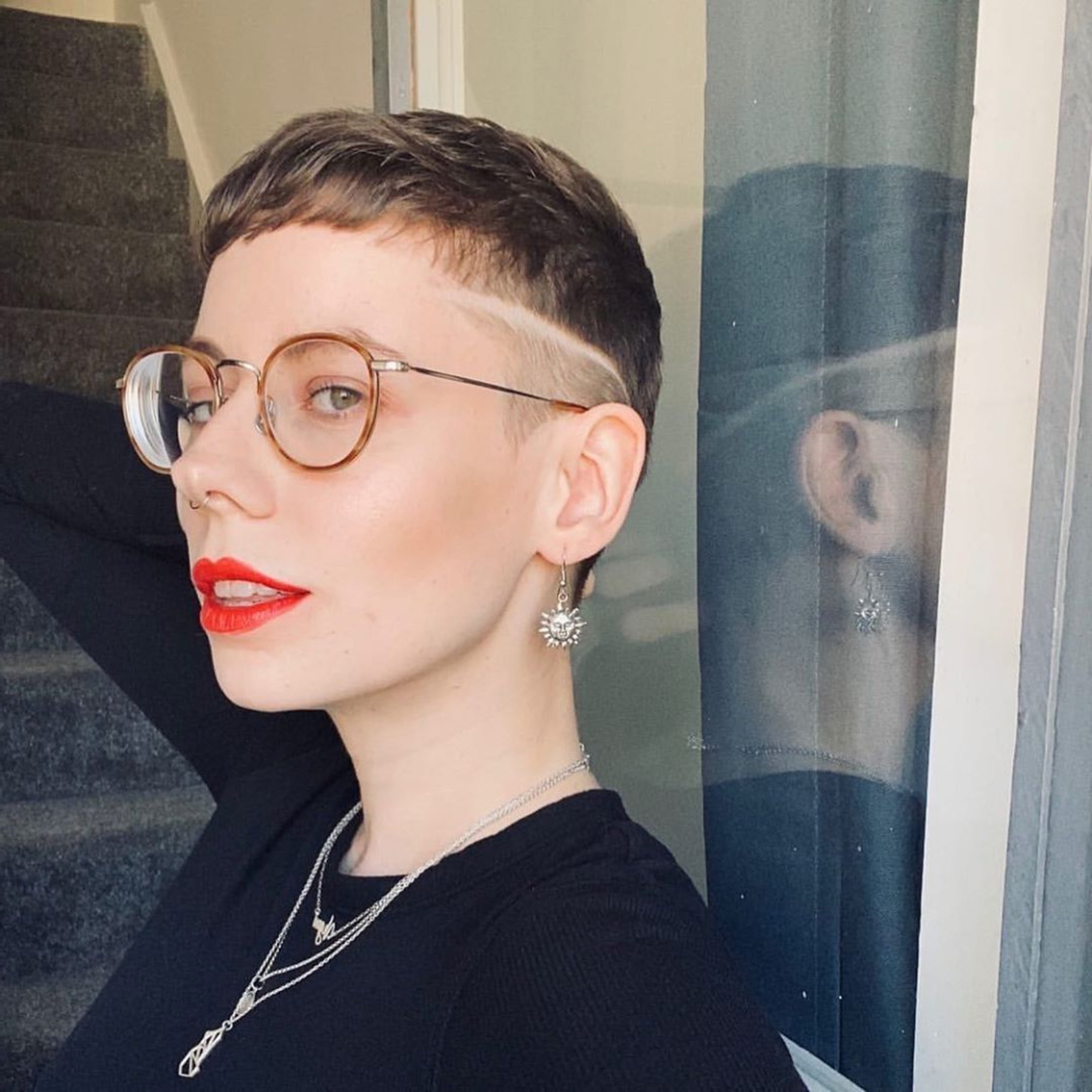 ---
Pixie Bob Hairstyle
Pixie bob is a new version of the standard bob haircut for women. "What stylish cut to choose this year?" – Is this the question you ask yourself? If yes, don't doubt and go for a pixie bob. It's an incredibly cool style that is somewhere in the middle between a pixie and a bob cut.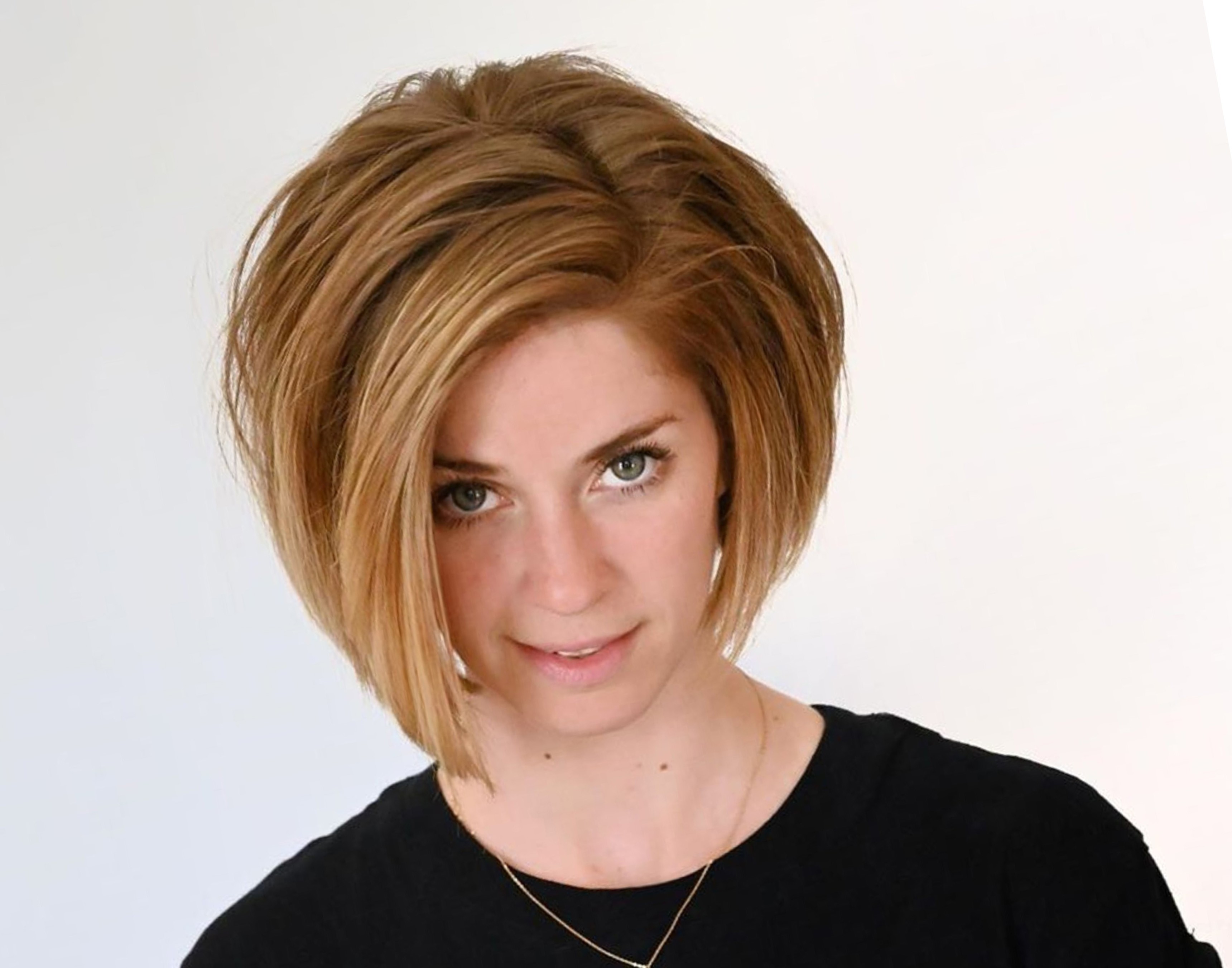 ---
Asymmetrical Pixie haircut
Asymmetrical pixie for ladies is a combination of various lengths and styles. It's a nice choice for fashionable ladies who like changing styles. In most cases, this cut has long bangs that are worn on one side.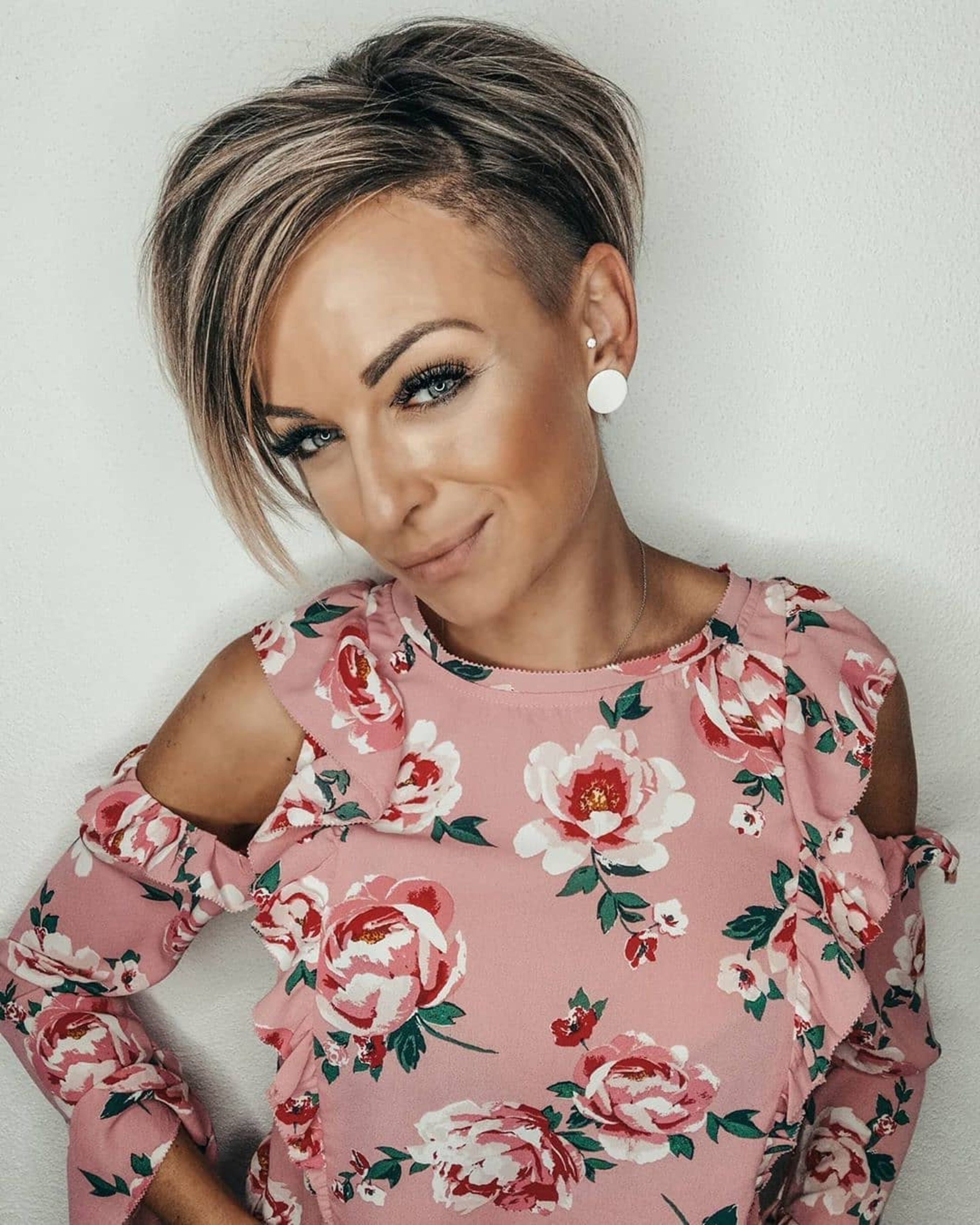 ---
---
Best Pixie Cut  for 2021 – What's Trendy
Messy Shaggy Pixie
The name speaks for itself. Some may say that it looks like chaos on the head but it isn't so. It looks cool with casual everyday clothes. Messy shaggy pixie is on the list of leading cuts in 2021. No doubt it will remain popular the following year as well.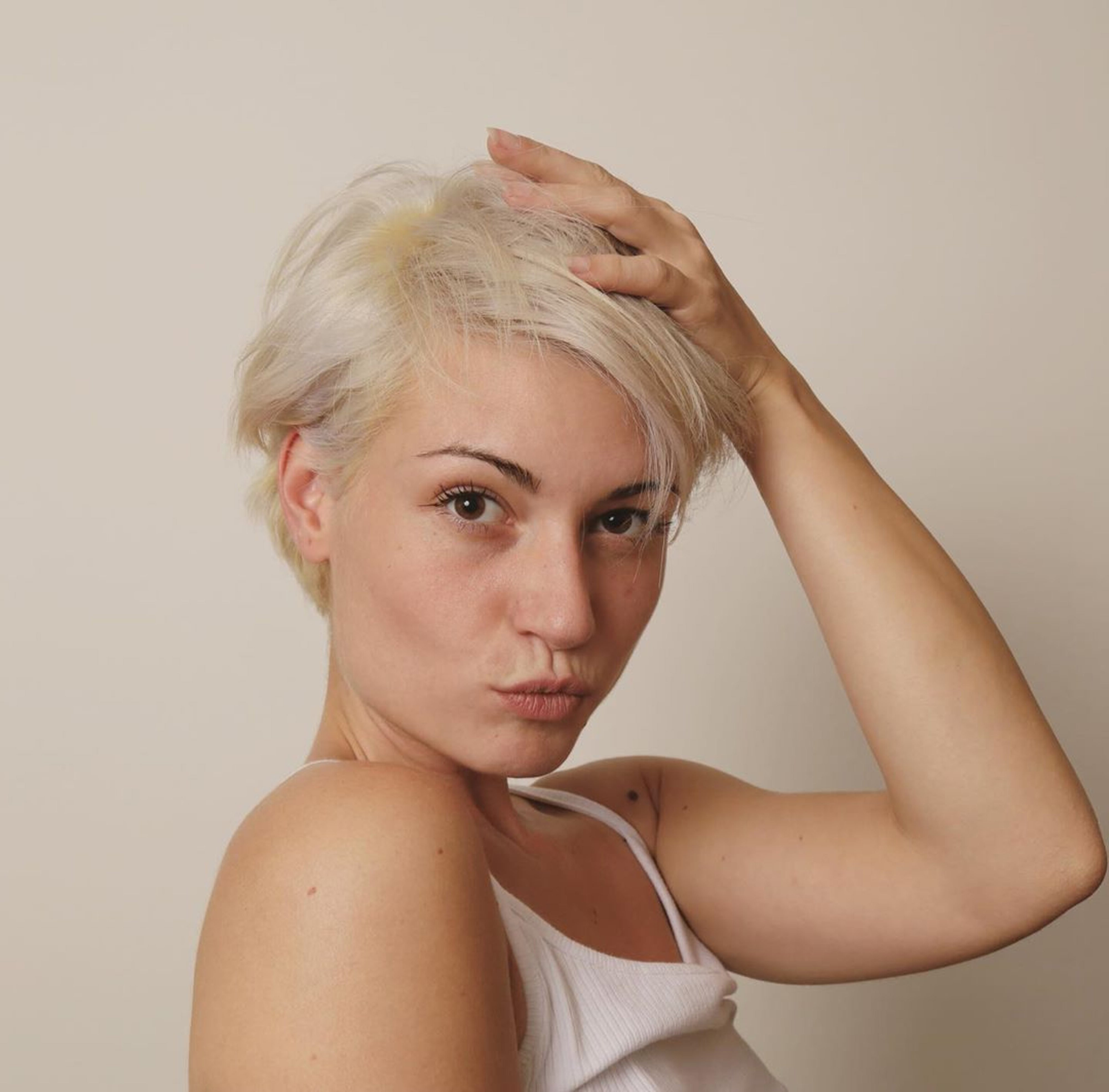 ---
Classic Pixie
Are you a conservative person? Then, a classic pixie cut is exactly what you need. It's a nice hairstyle for business ladies and women who are over 45. This neat cut helps to create an accurate image of a serious lady.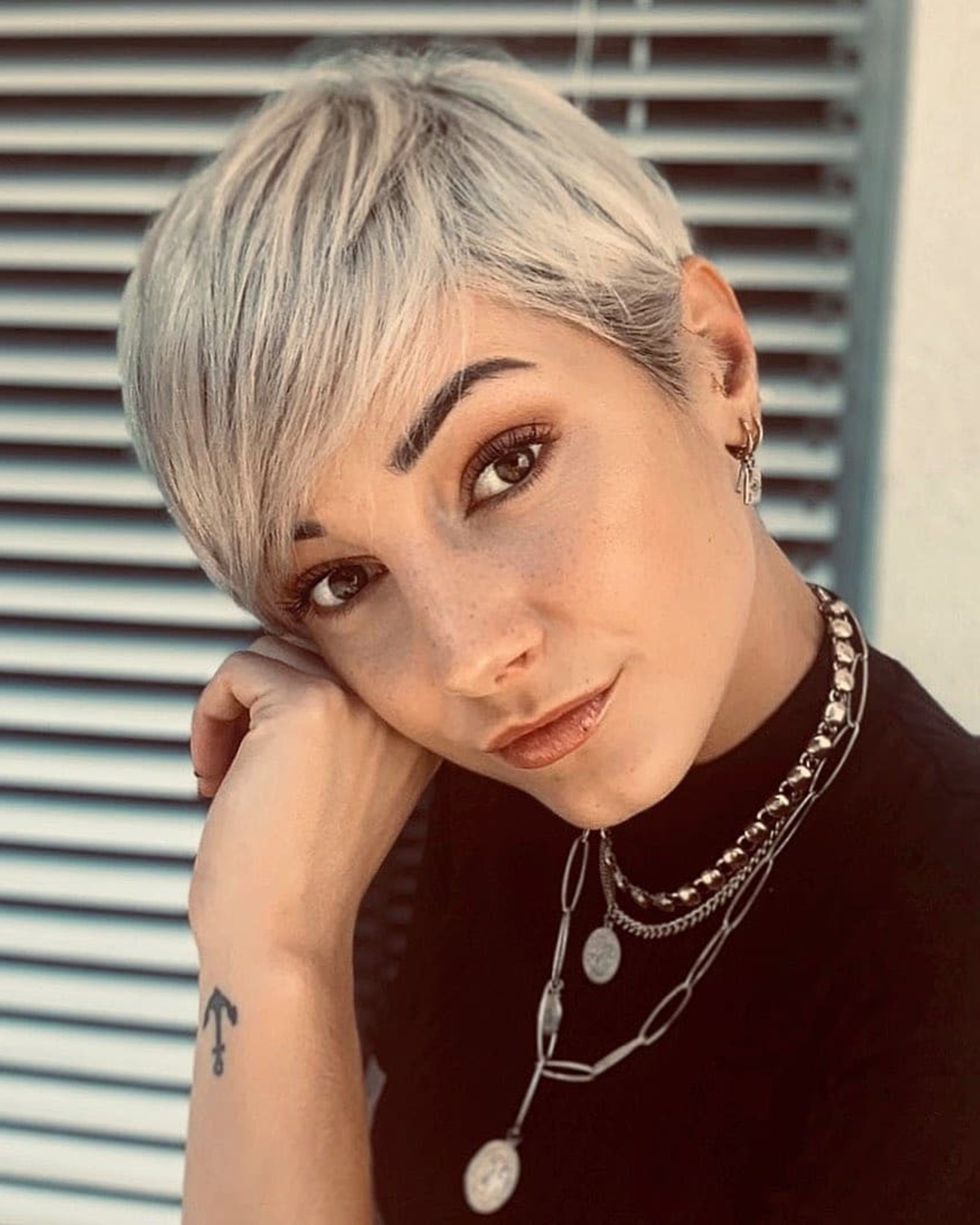 ---
Feathered Pixie with Balayage Highlights
"Just wow!" – A feathered pixie with balayage highlights won't leave anyone indifferent. It's a bright cut for self-confident women. It is impressive and unique. Highlight your personality with it.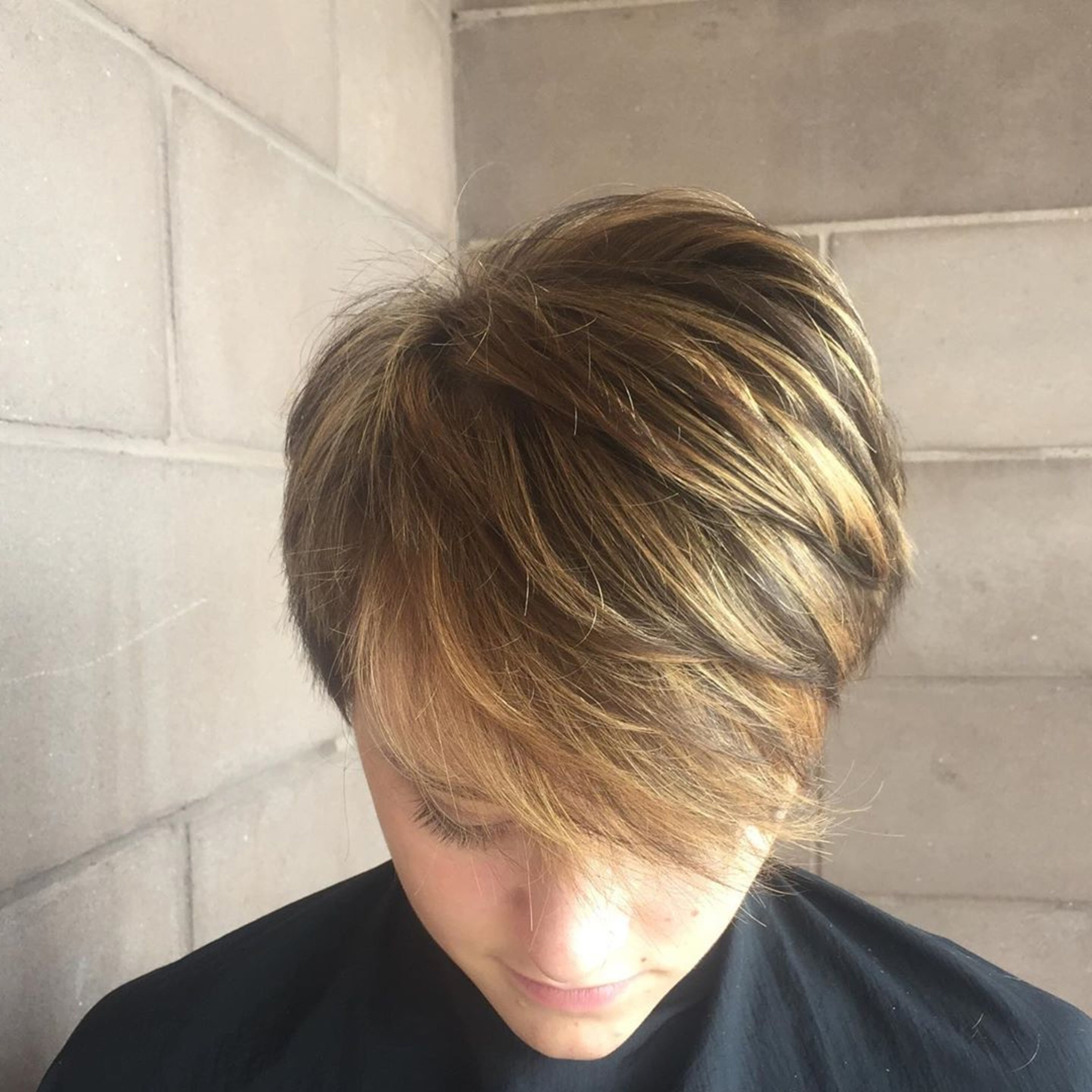 ---
Two-Tone Pixie
A two-tone pixie is a choice for those who doubt and can't choose the only one hair tone. Why can't you combine two tones? You will be in the center of attention! Just try it now and create an elegant mysterious look.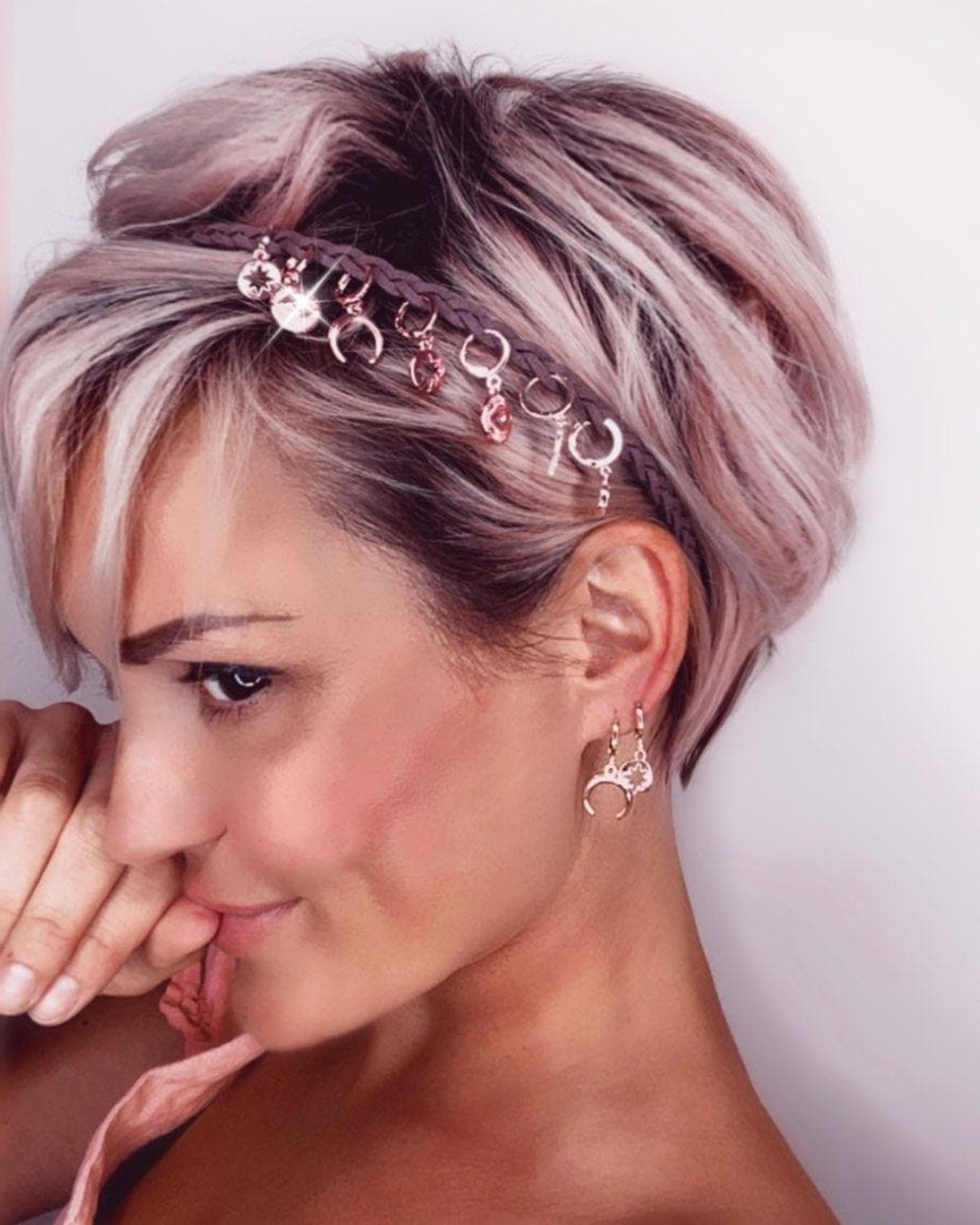 ---
Choppy Gray Pixie
A choppy gray pixie hairstyle is characterized by a fashionable color and elongated bangs on the side. Ladies of any age will have a nice look at it. However, mature women of 40-50 like this cut more than other options.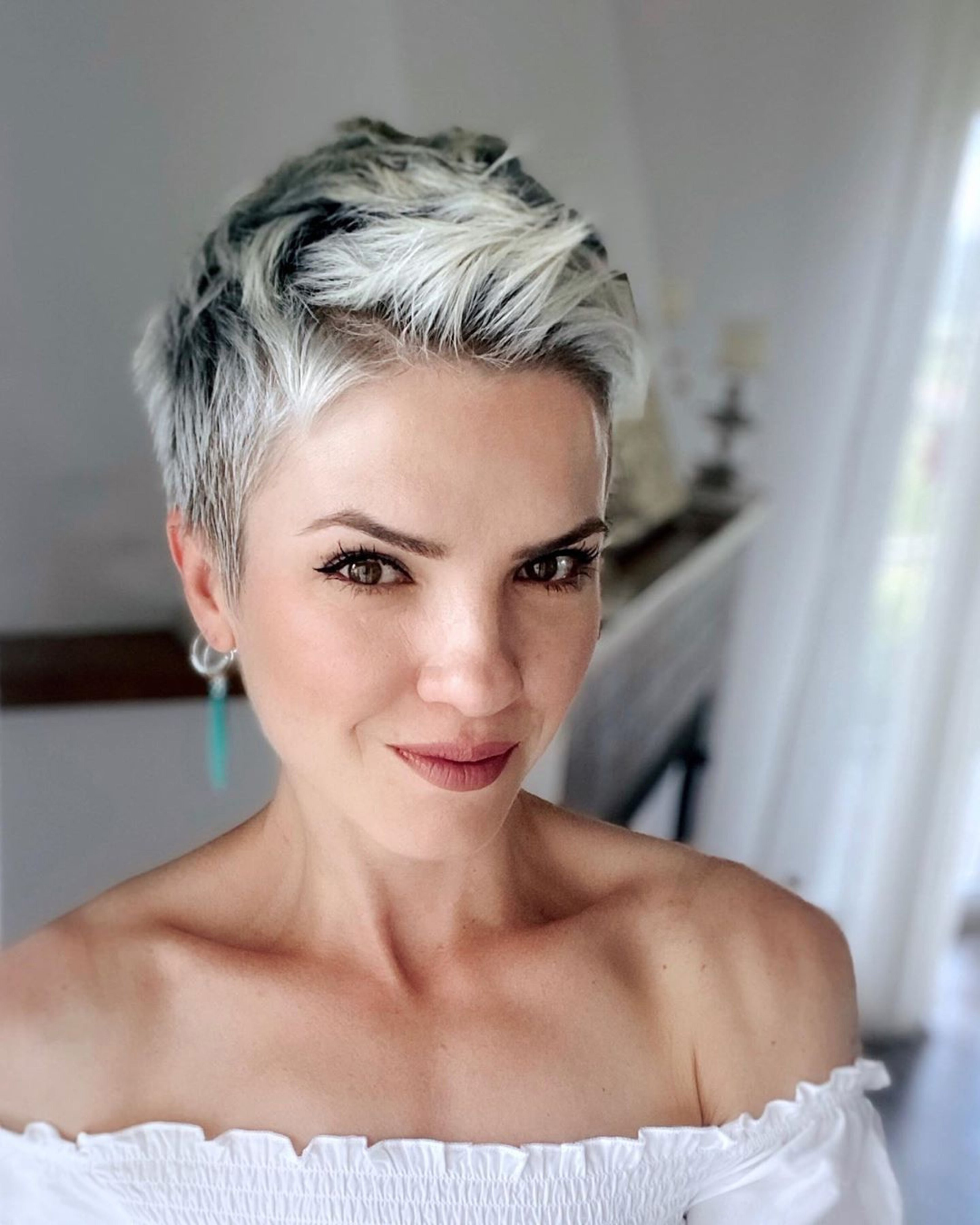 ---
Side-Parted Pixie-Bob
A side-parted pixie-bob is the same standard bob but with a slight difference. Add more texture and color to your pixie hairstyle. Long bangs on the right or left side will look cool on you. It's a new version of the short bob.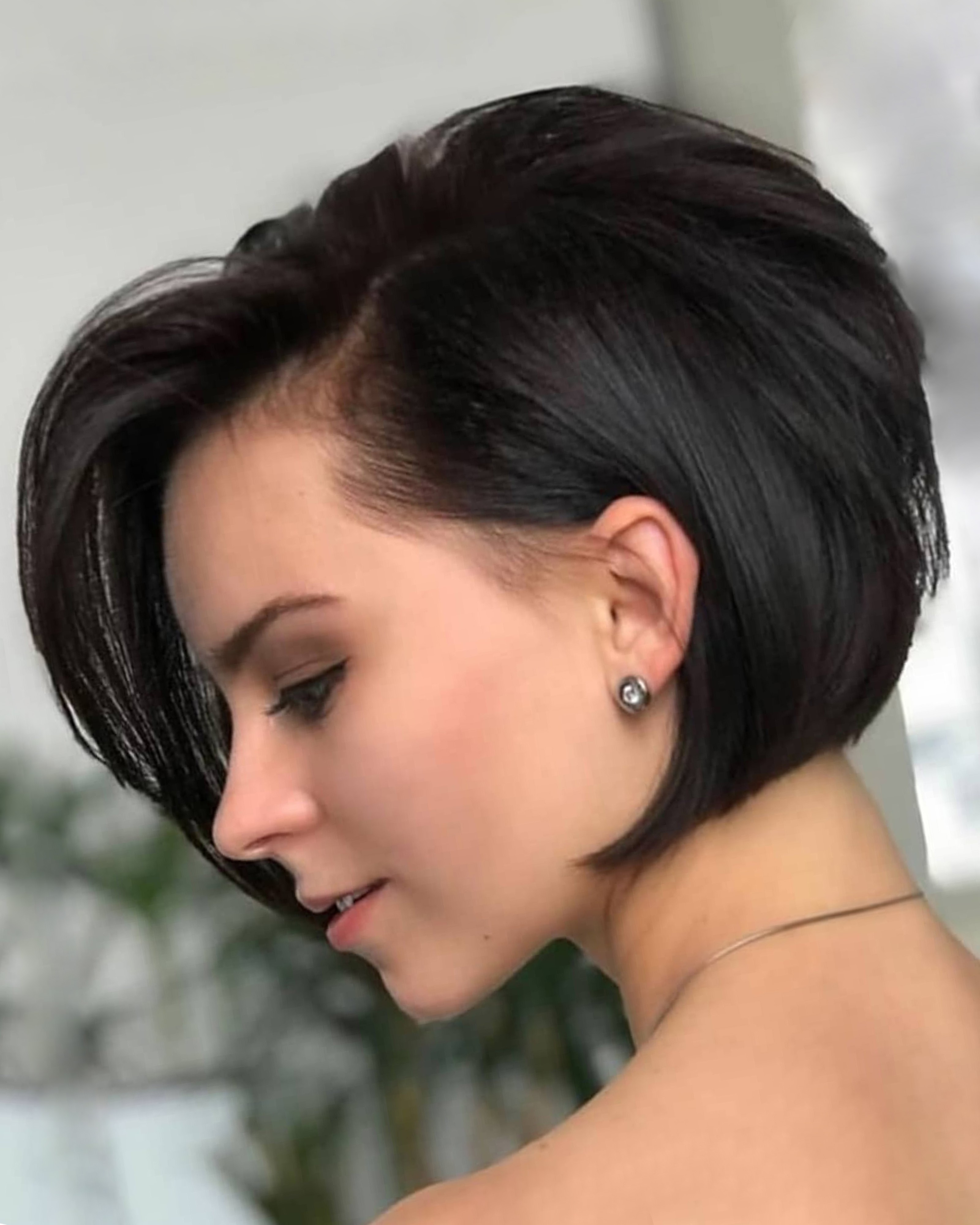 ---
Pixie Buzz Cut
A pixie buzz cut is for serious business ladies and just those who like extremely short cuts. You won't look like a boy if you choose it. But if you want to look more feminine, you should consider some other styles.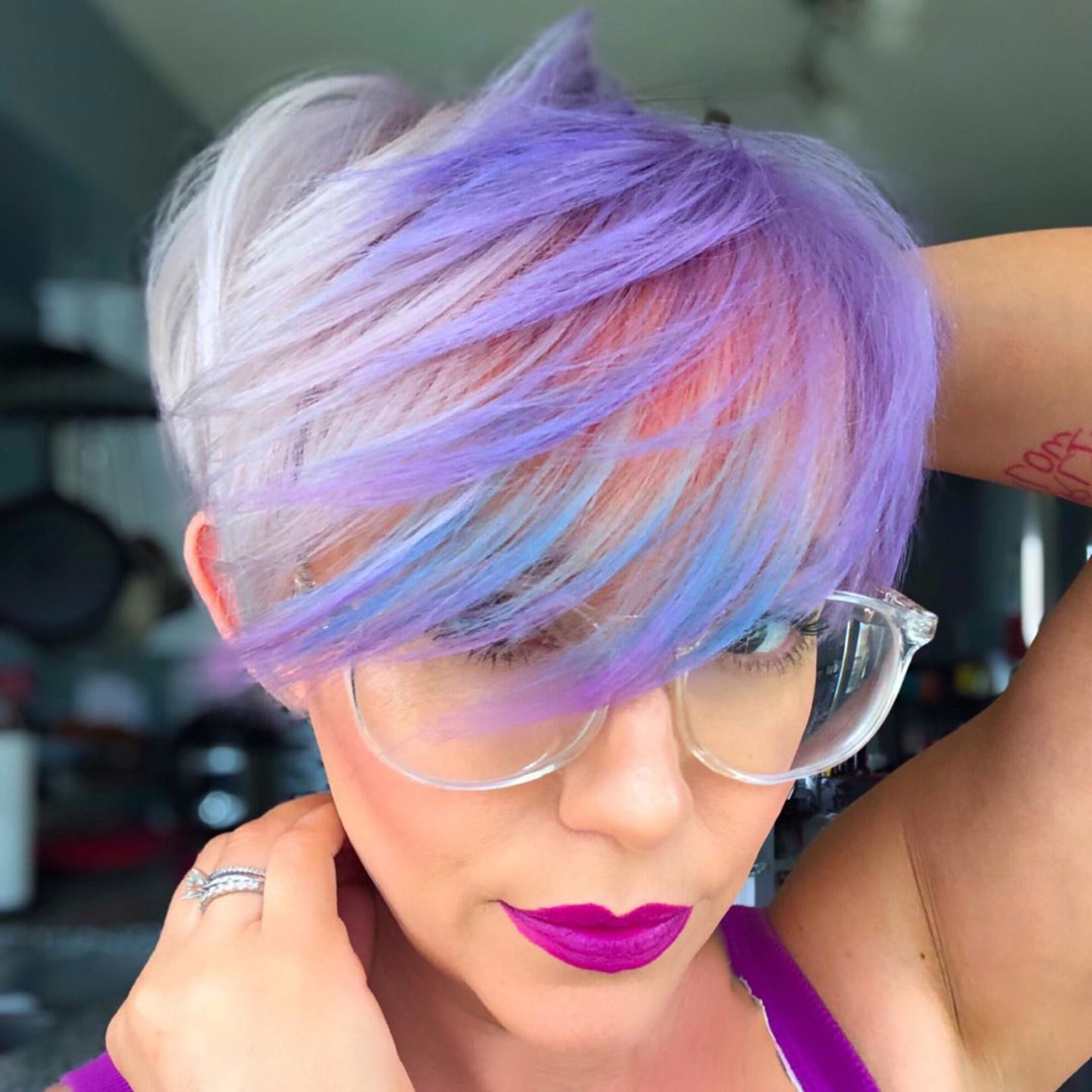 ---
Different Types of Pixie cuts
Shaggy Pixie Hairstyle
A shaggy pixie hairstyle is a haircut that frames your face with the layers. The hair looks a bit messy but still stylish and trendy. A shaggy cut is the one that fits any type of face. Try and you will enjoy the difference.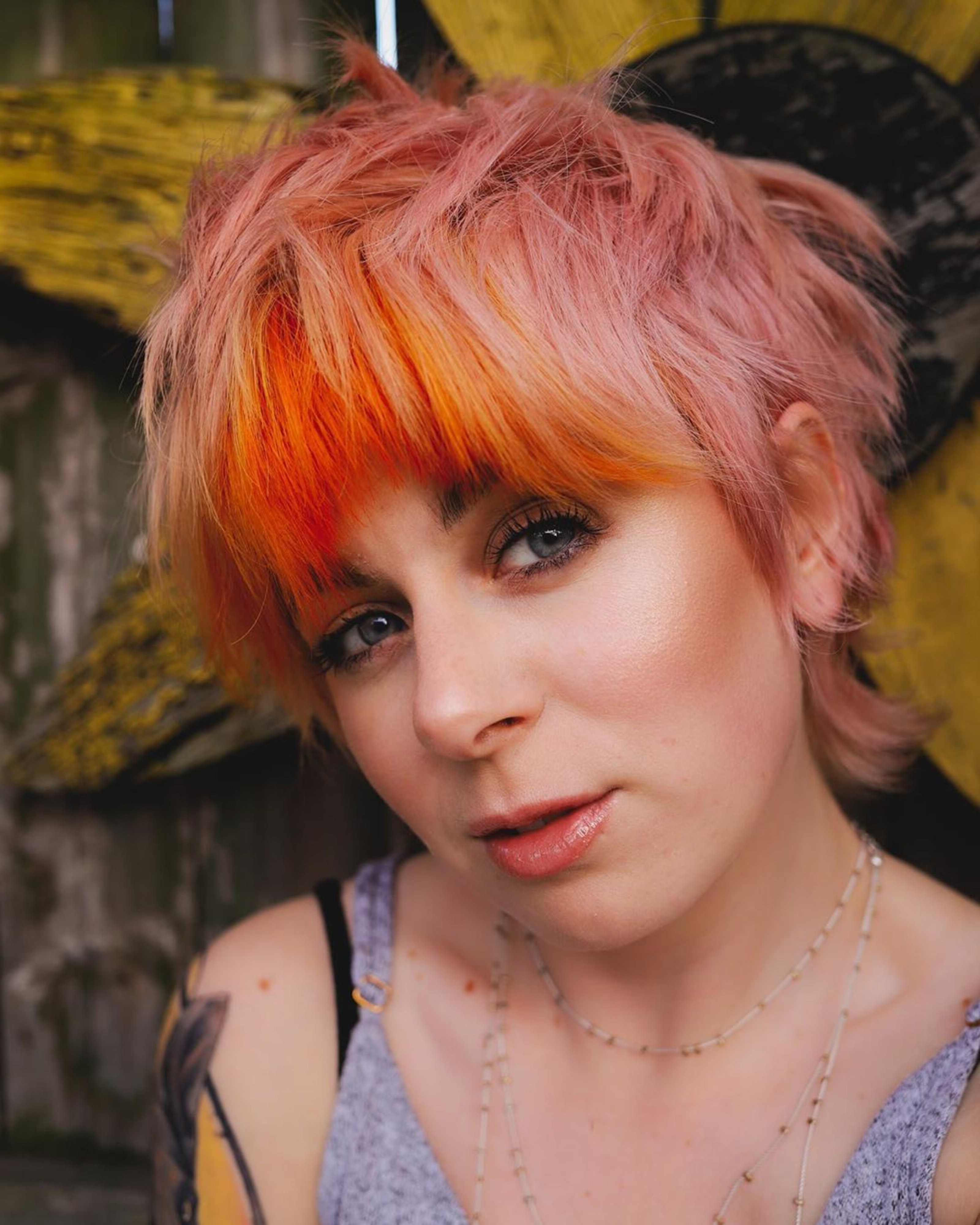 ---
Edgy Pixie cuts for round faces
Choose one of the edgy pixie styles to create a stunning look that will suit your round face best. This hair type will help to visually prolong your face and create a trendy look.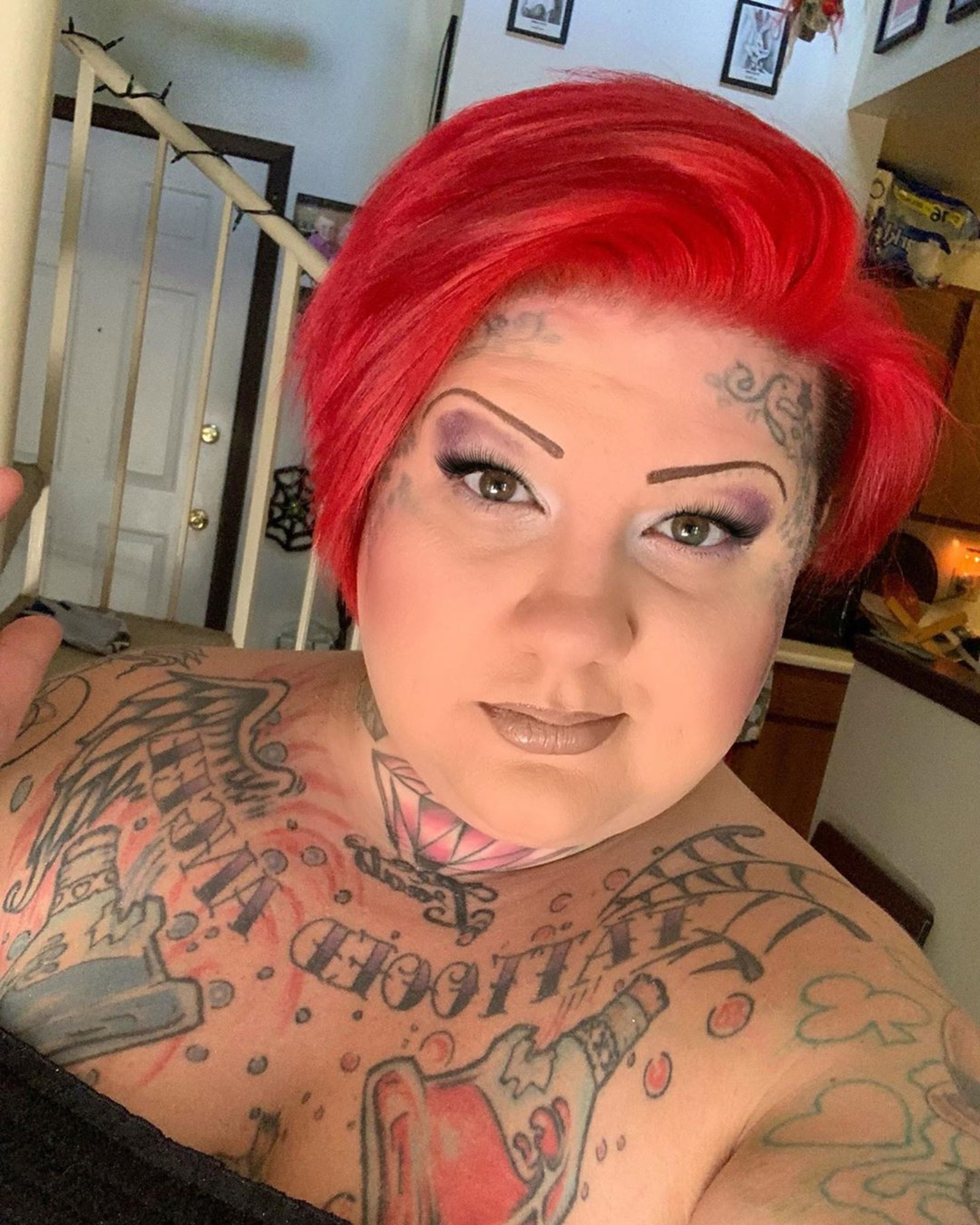 ---
Spiky Pixie
There are a lot of variations of a spiky pixie haircut. Add a fresh touch to your haircut and your image will change completely. Spiky cuts suit strong women who set goals and do their best to pursue them.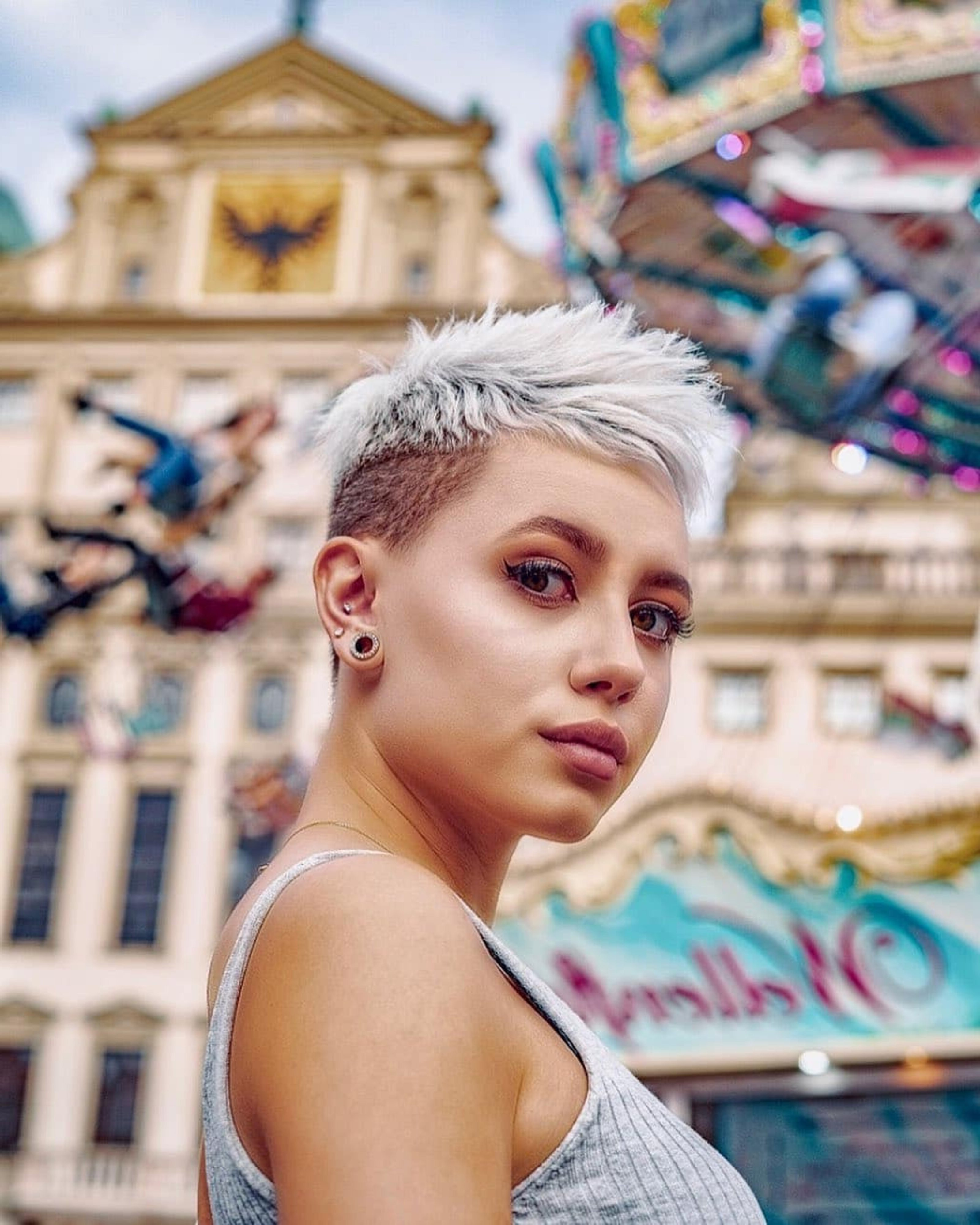 ---
Choppy Tapered Pixie
A chopped tapered pixie is one of the most popular styles. Make it with layers or without them, add long bangs, or make the cut shorter. It is up to you to create a great look that will emphasize your individuality.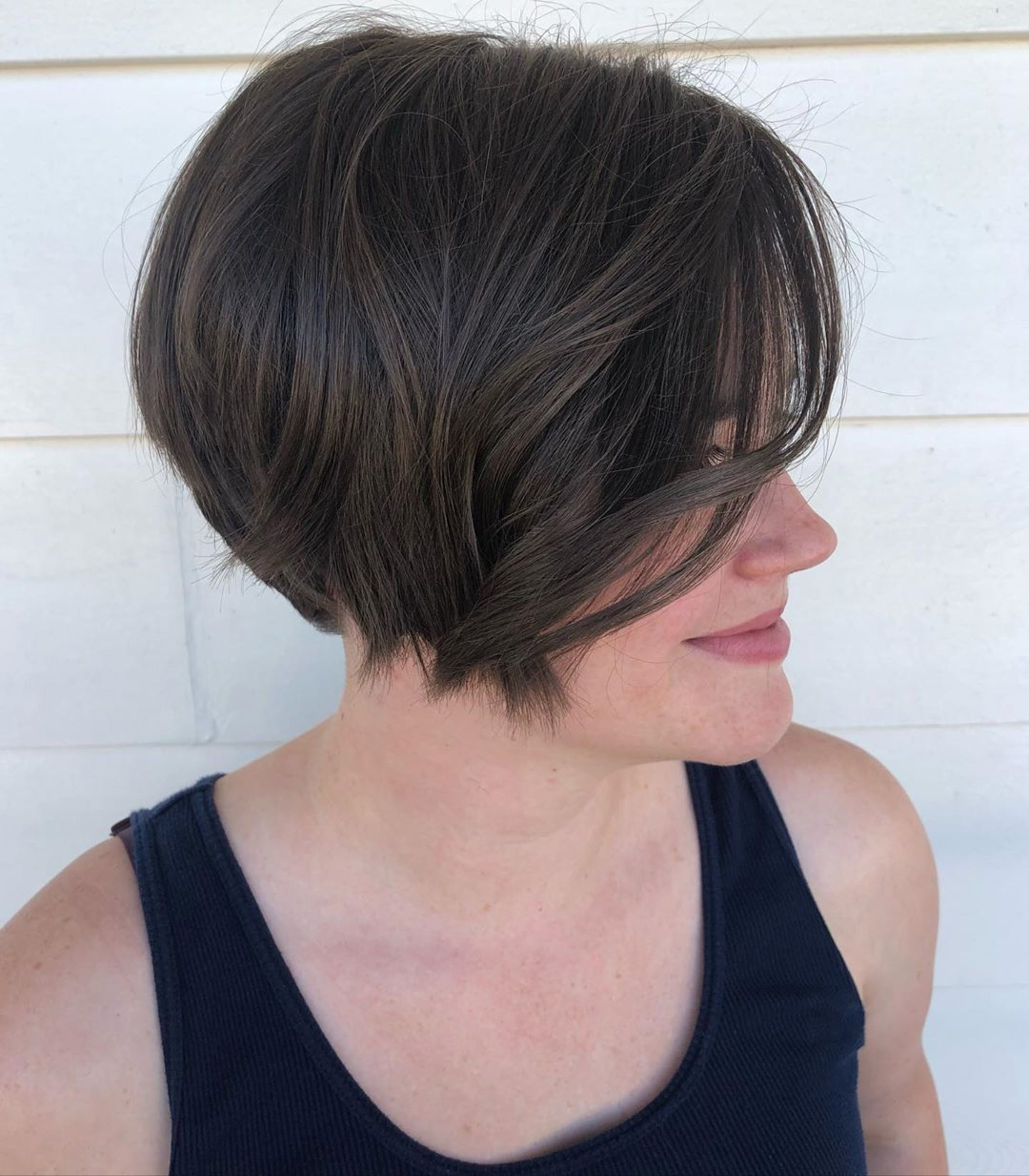 ---
Tapered Pixie cuts
Tapered pixie cuts look amazing on girls and women of different ages. Want to look the most fashionable this year? Try one of the tapered pixie cuts. Textured pixie cuts from this category look charming.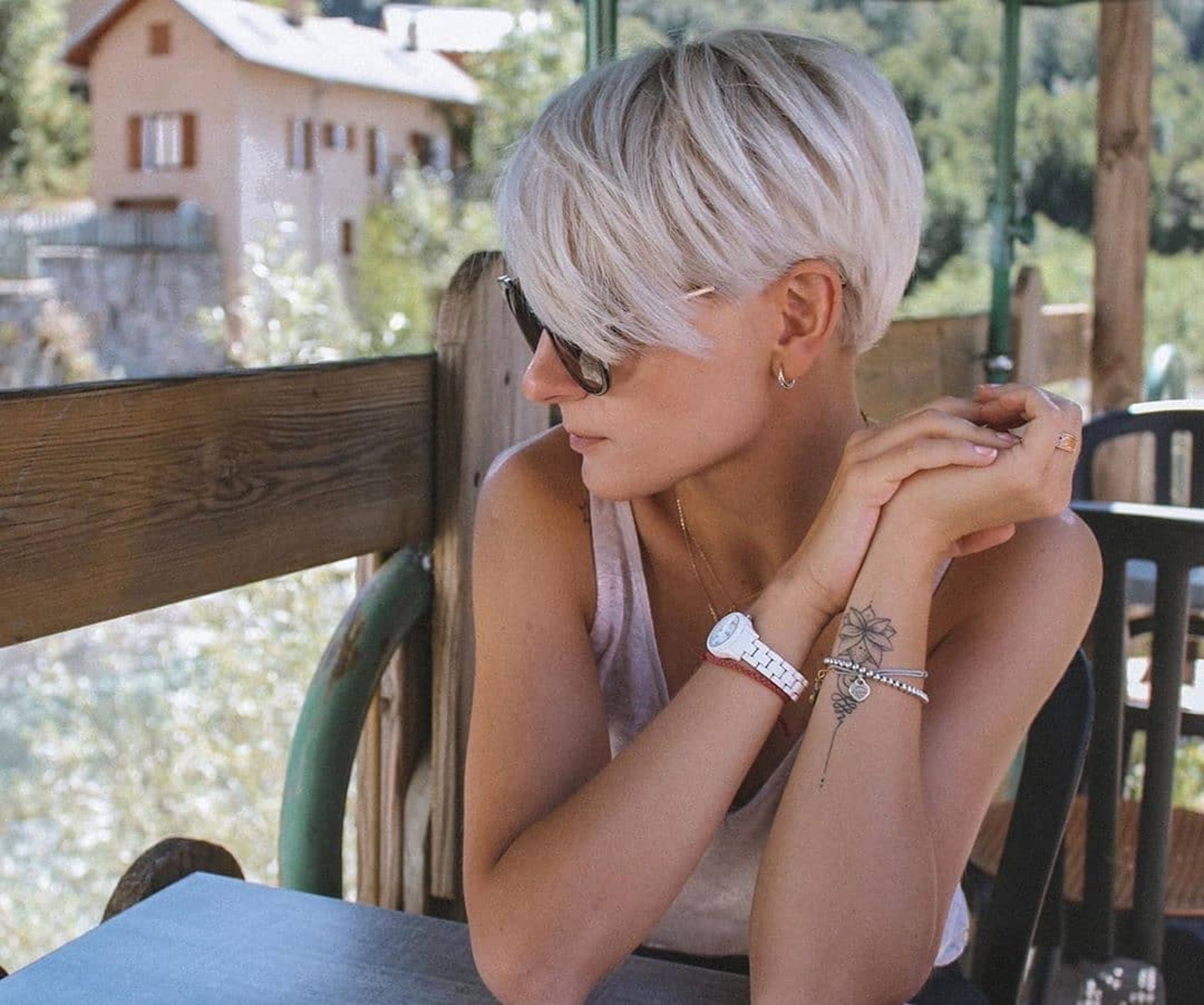 ---
Messy Pixie cuts
A messy pixie cut has one great advantage. Know what it is? You won't face any problems when wearing this style. It is easy to maintain. Just make it and forget about worries. You look trendy!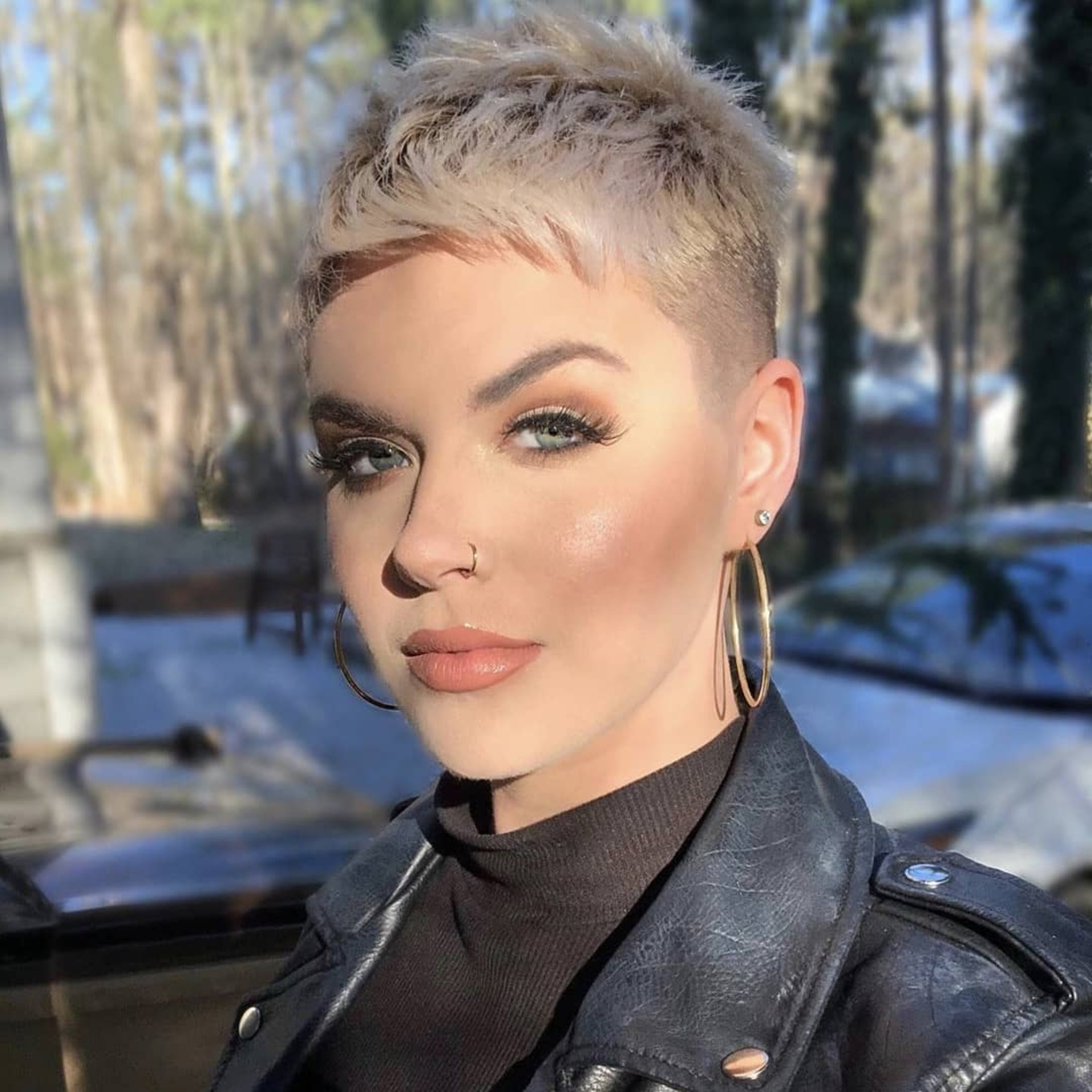 ---
Elongated Textured Pixie
Elongated textured pixie is one more option to consider if you are looking for something new and original. It isn't that short and isn't long. A specially designed texture helps to create a cool image fast and easy.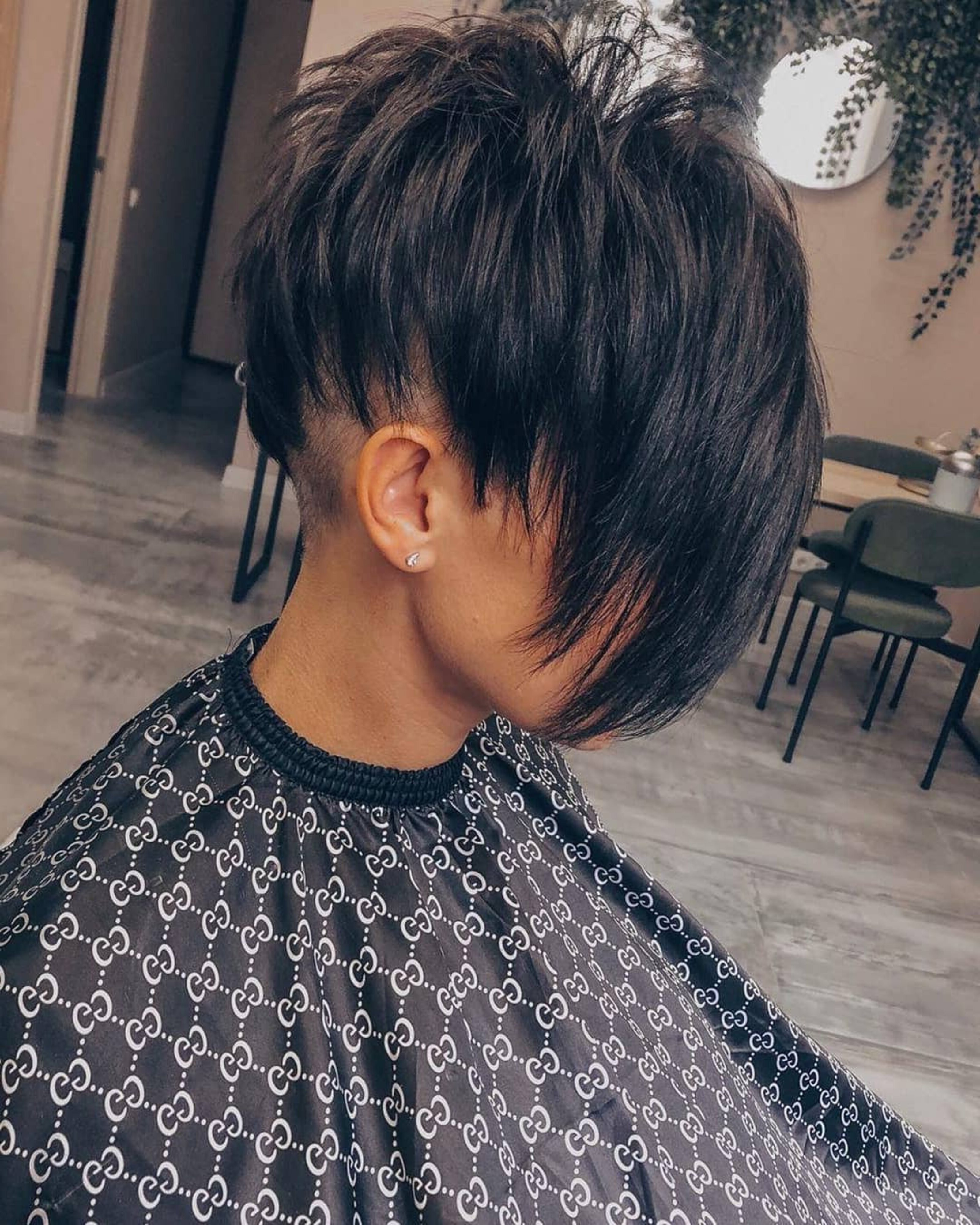 ---
Pixie Undercut
A pixie undercut is popular among young women and older ladies. It isn't surprising as there are many options to choose from. You shouldn't worry that you won't find the style that will fit you best. Whether you have an oval or a round face, you will find your best pixie.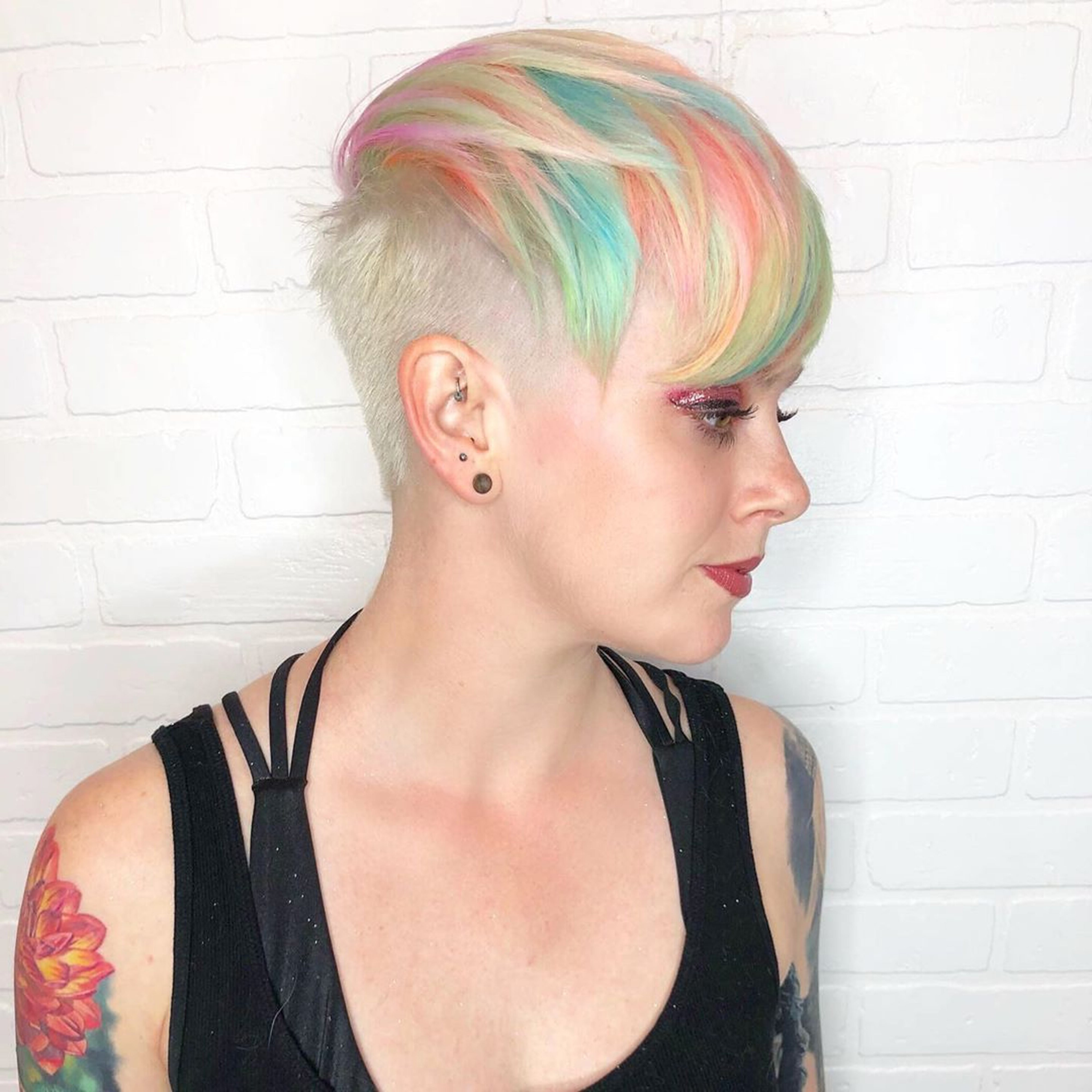 ---
Curly Pixie
Girls with curly hair should give preference to the curled pixie. Most women with curls complain that it is difficult to style wavy hair. Forget about any complications. A curly pixie will make it easy to look like a celebrity.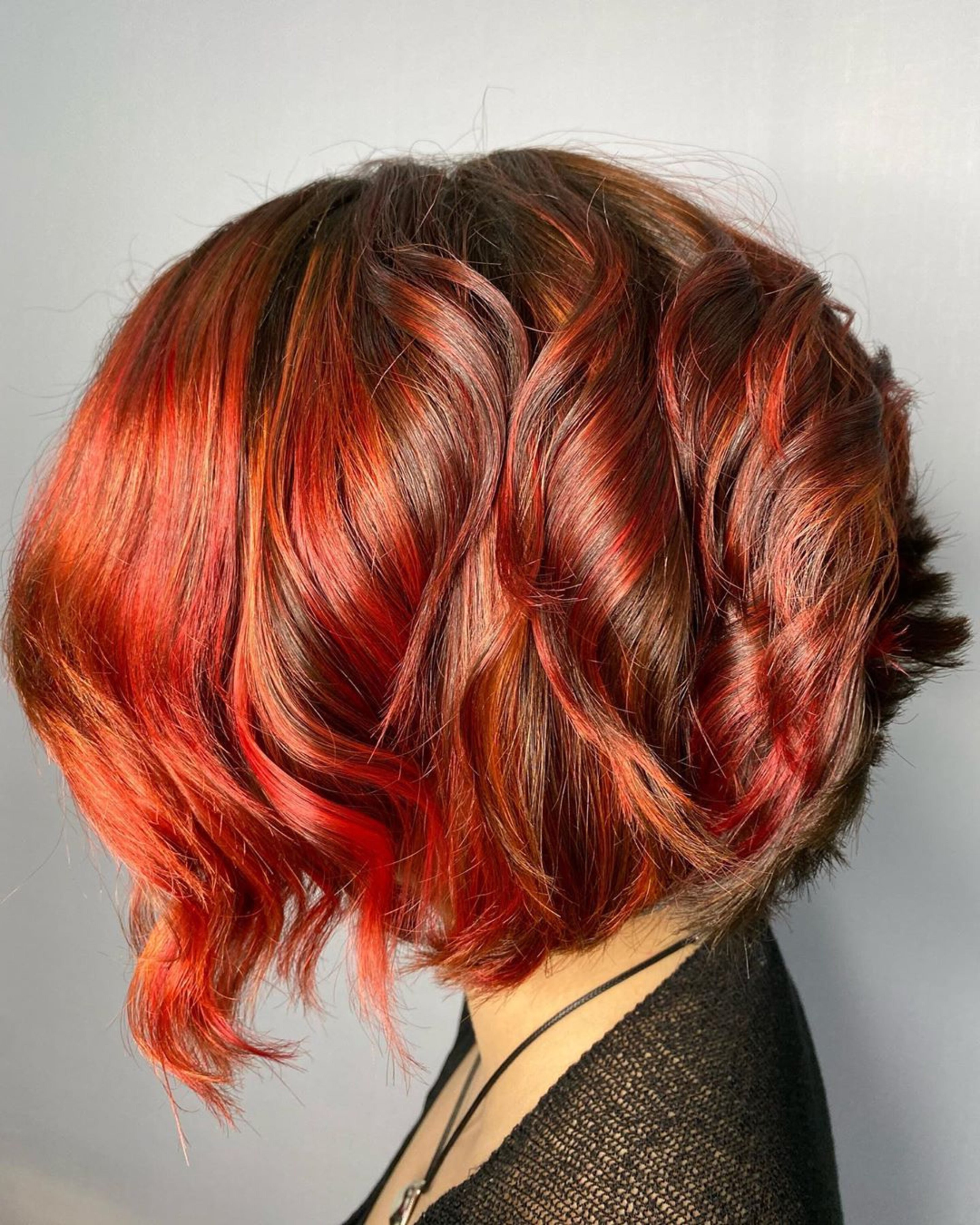 ---
Half-Shaved Pixie
A half-shaved pixie is a good style for ladies who want to create an extraordinary haircut. You shouldn't look further if you need to impress someone. It's a nice cut to make but you should take into account that the shaved part will grow fast and the effect will be noticeable but a bit less.
---
Wearing Pixie with a bang
There are different ways on how you can wear pixie. But the most common one is wearing pixie with a bang. You have a variety of options to choose from. Do you like wearing a long or short bang? Make it of any length, color, and texture.
---
Long bang haircut
A long bang haircut is a nice style to pick up as it suits any occasion. Every woman wants to look feminine. A long bang is a good choice for this aim. You can wear accessories with this cut and decorate them.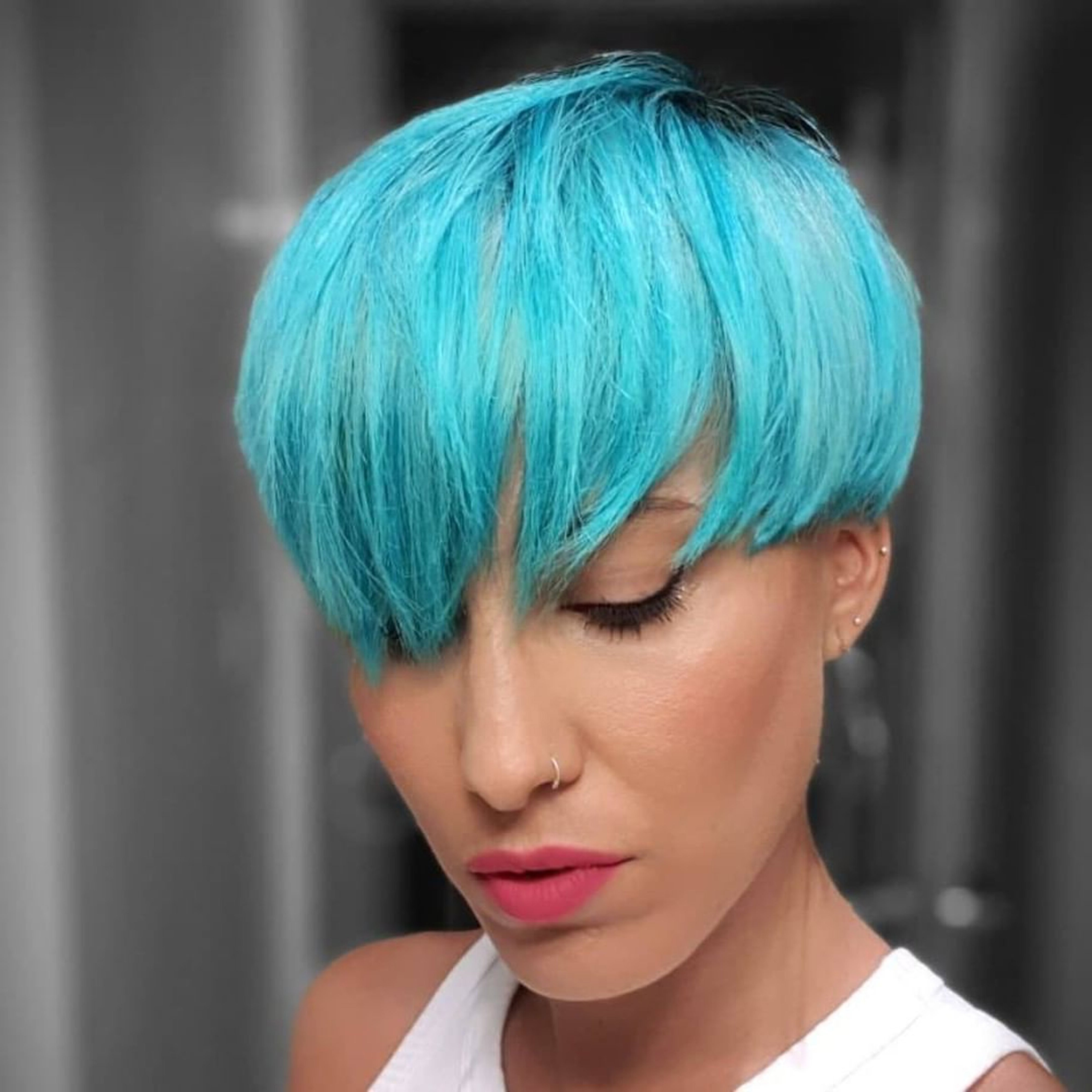 ---
Side bang hairstyle
A side bang hairstyle is the one you can wear at any time. It will look perfect at any age. A side bang variation looks more stylish and elegant than the straight bang. Check it and you will see that it's a cool option to choose.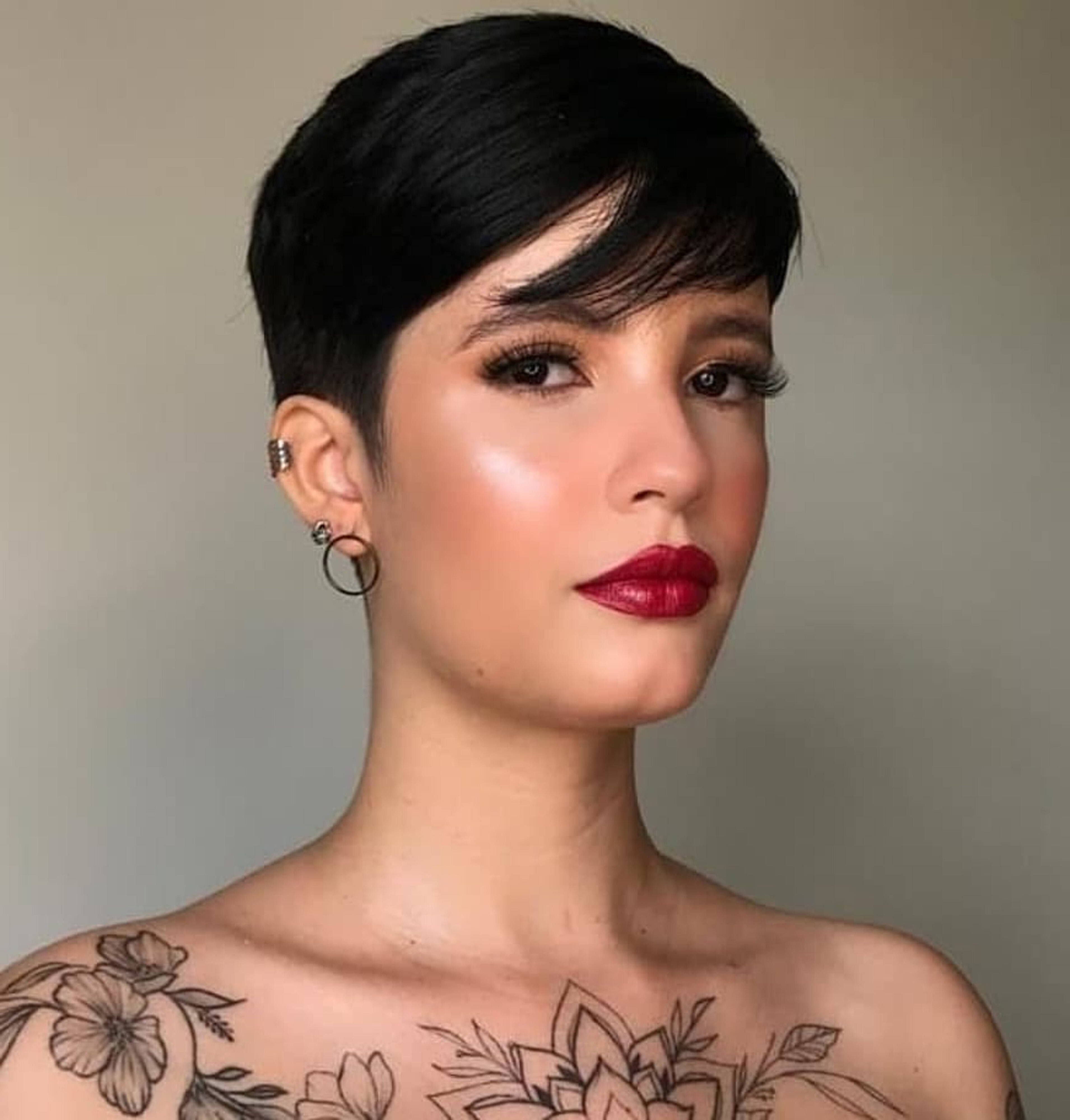 ---
Cute Pixie cuts for young ladies
There are pixie cuts for kids and young ladies that every girl will be glad to wear. You can check a large variety of options and find the one your daughter likes most. Wearing a pixie style, your small girl will look beautiful.
---
How the haircut will look with your face type
Check the connection between a face type and a type of haircut before you choose the one for yourself.
---
For Round faces
If you have a round face, you are recommended to try either a pixie bob or a spiky haircut.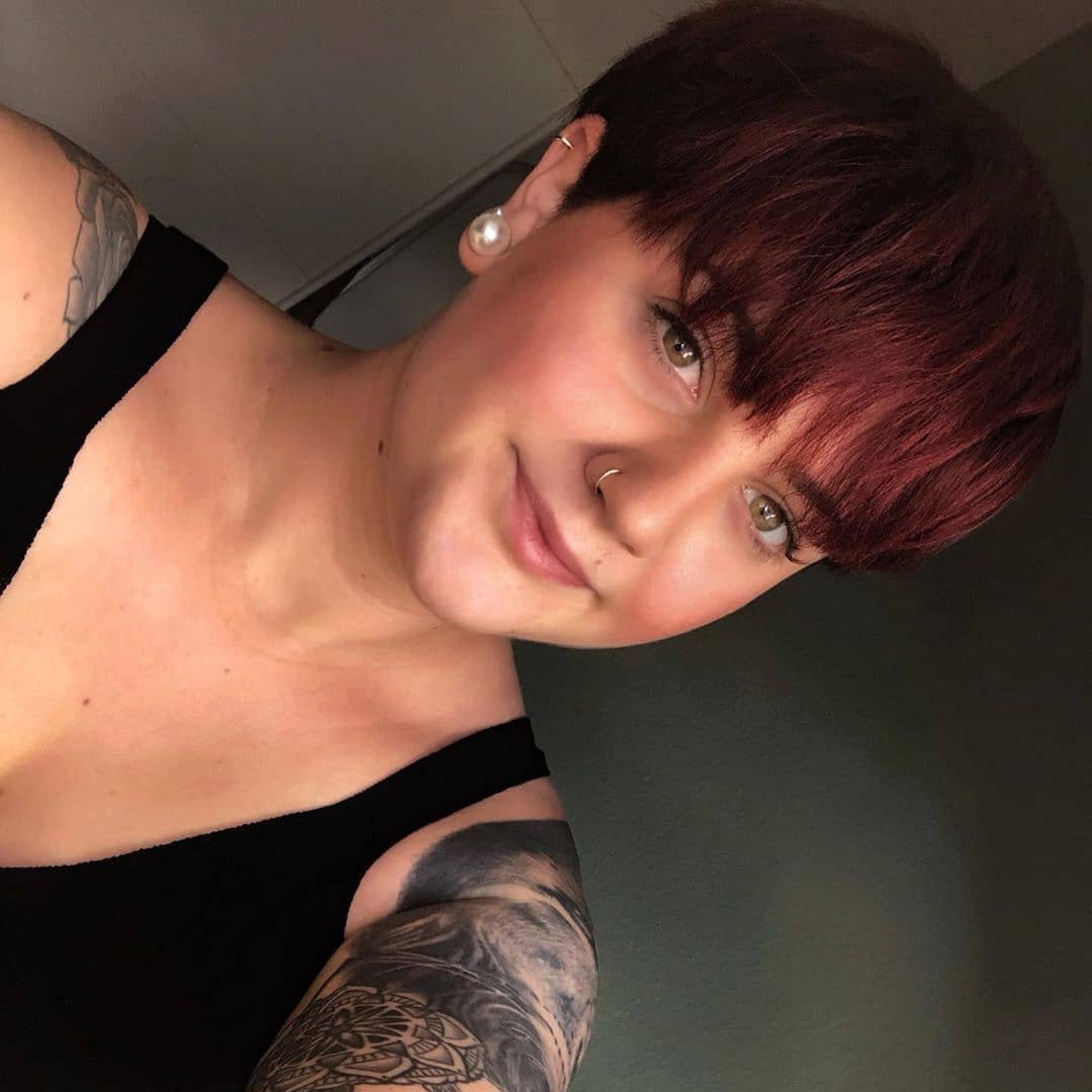 ---
For Oval face
An oval face makes it easy to choose the pixie style. You can wear any textured pixie with long or short bangs.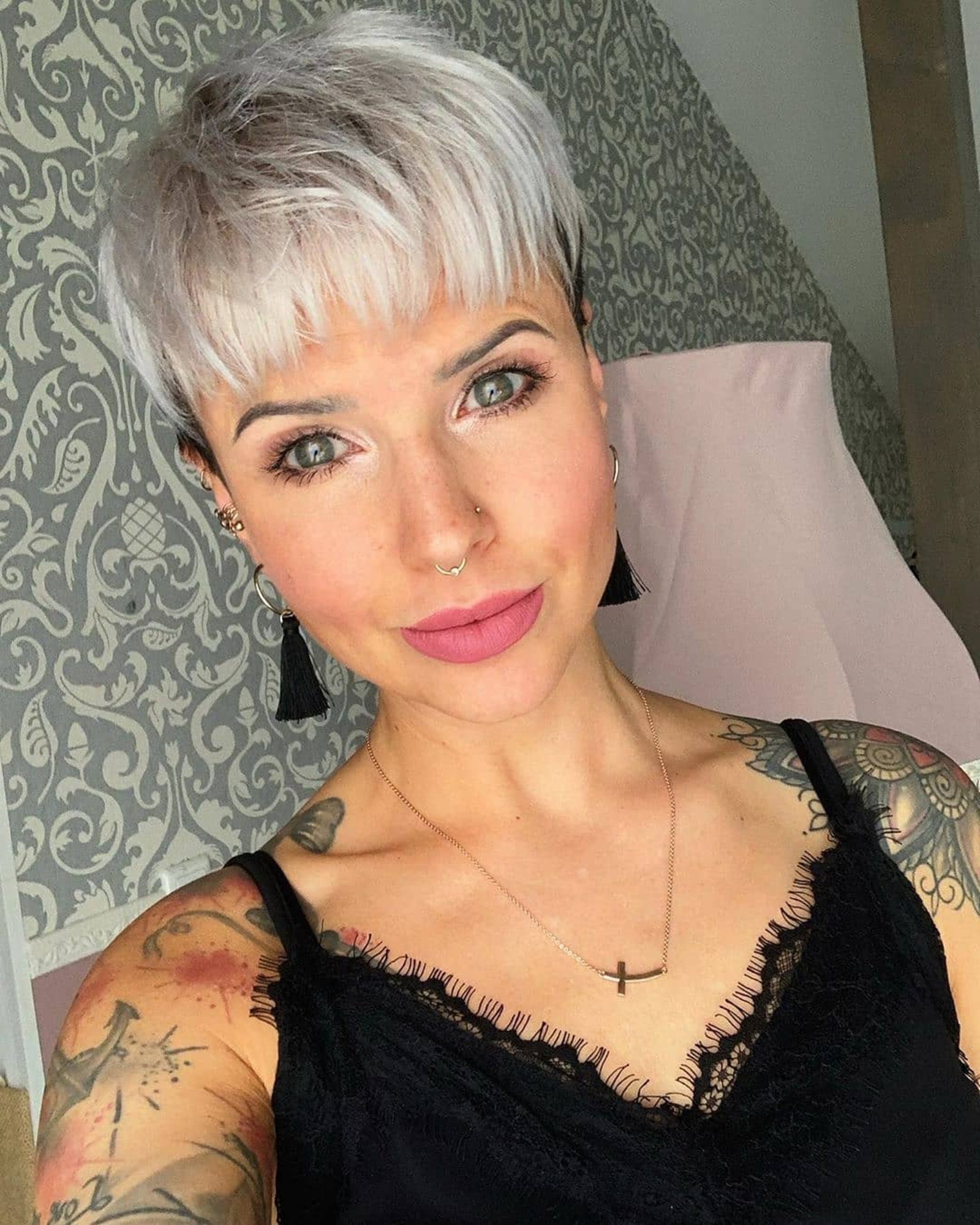 ---
For Long face
Want to make it shorter visually? Then, a side bang pixie is one of the options to consider.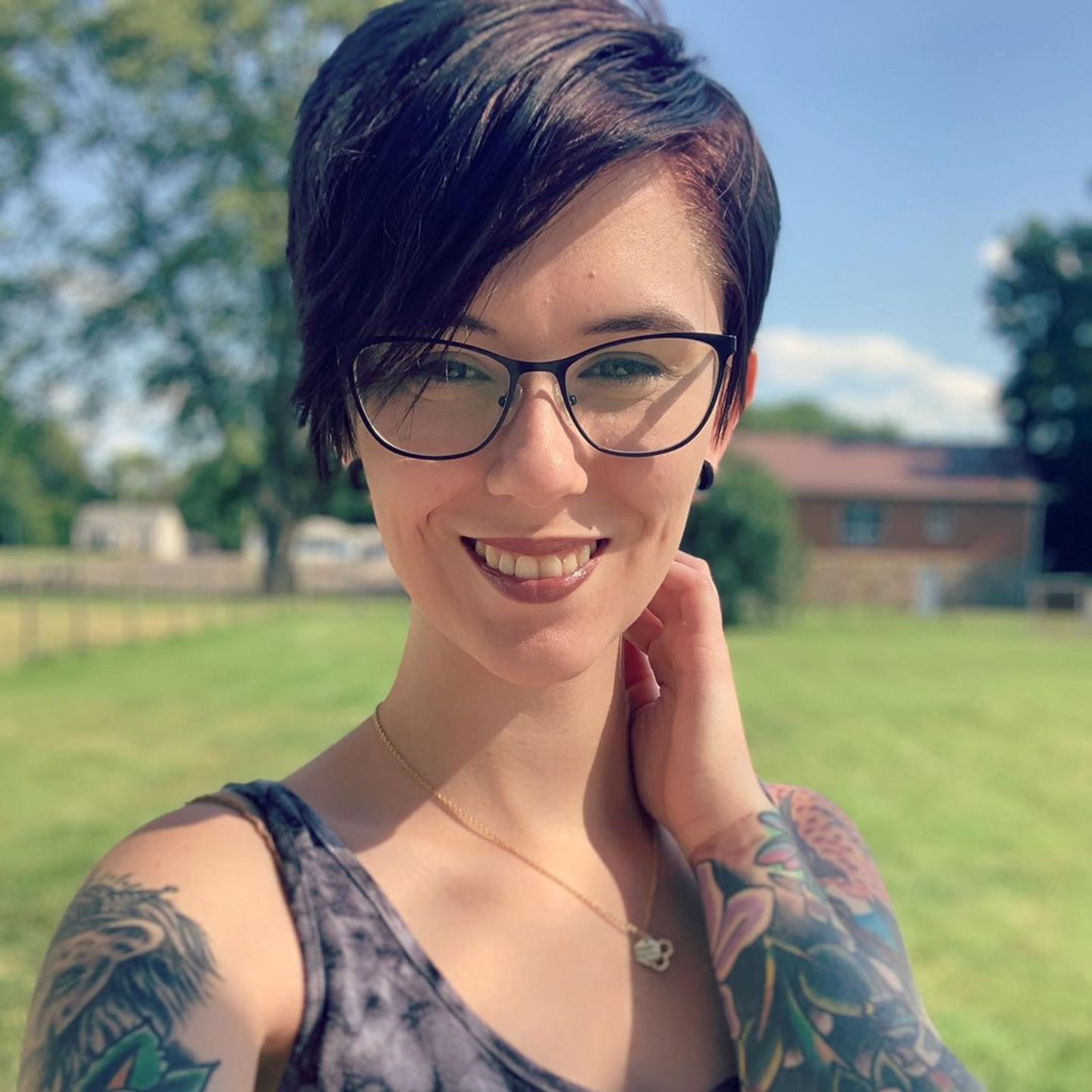 ---
For Square face shape
This face type requires a careful selection of a pixie style. You can check how a messy pixie cut will look on you.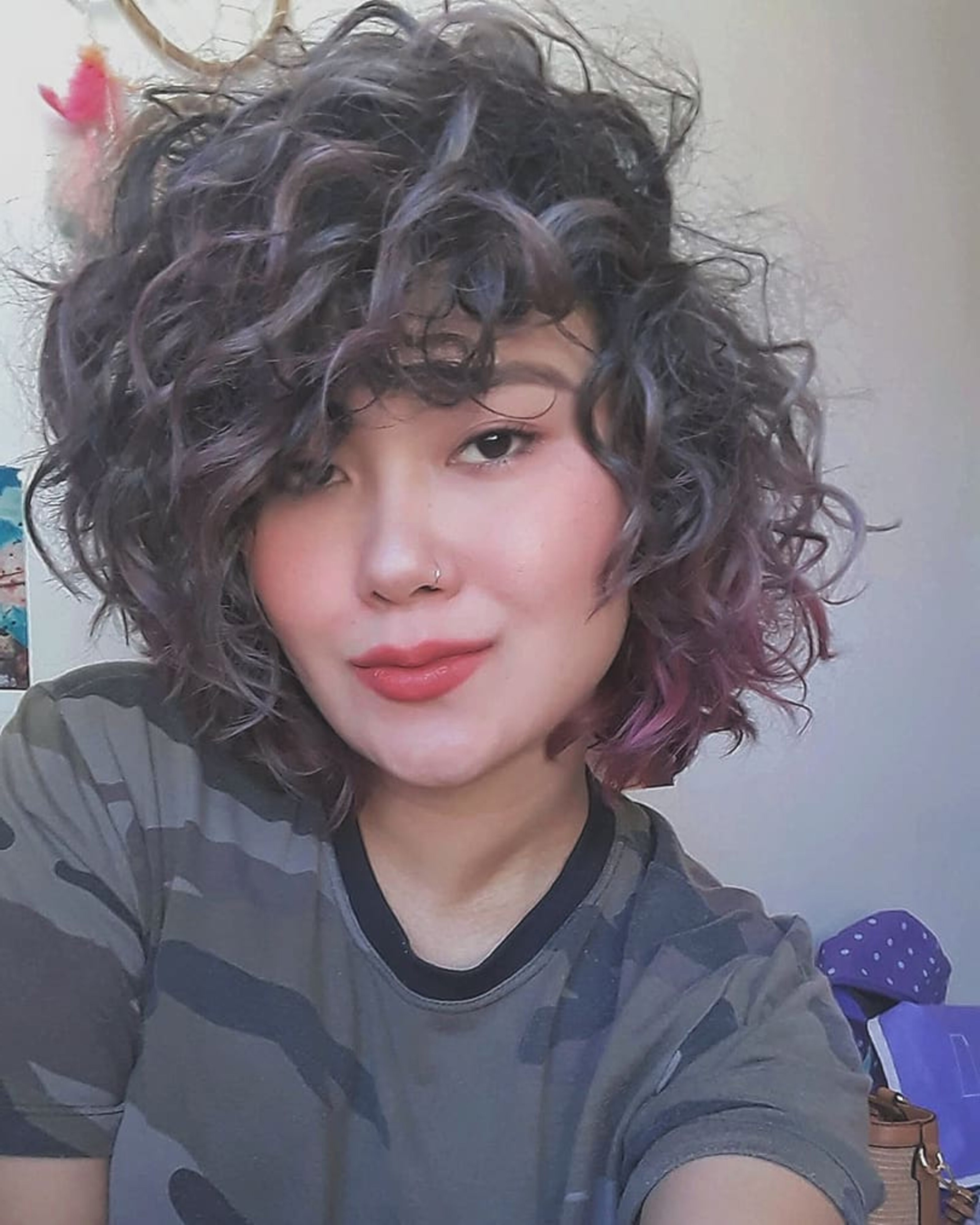 ---
For Fat face
You can cover your face with long bangs on the right or left side.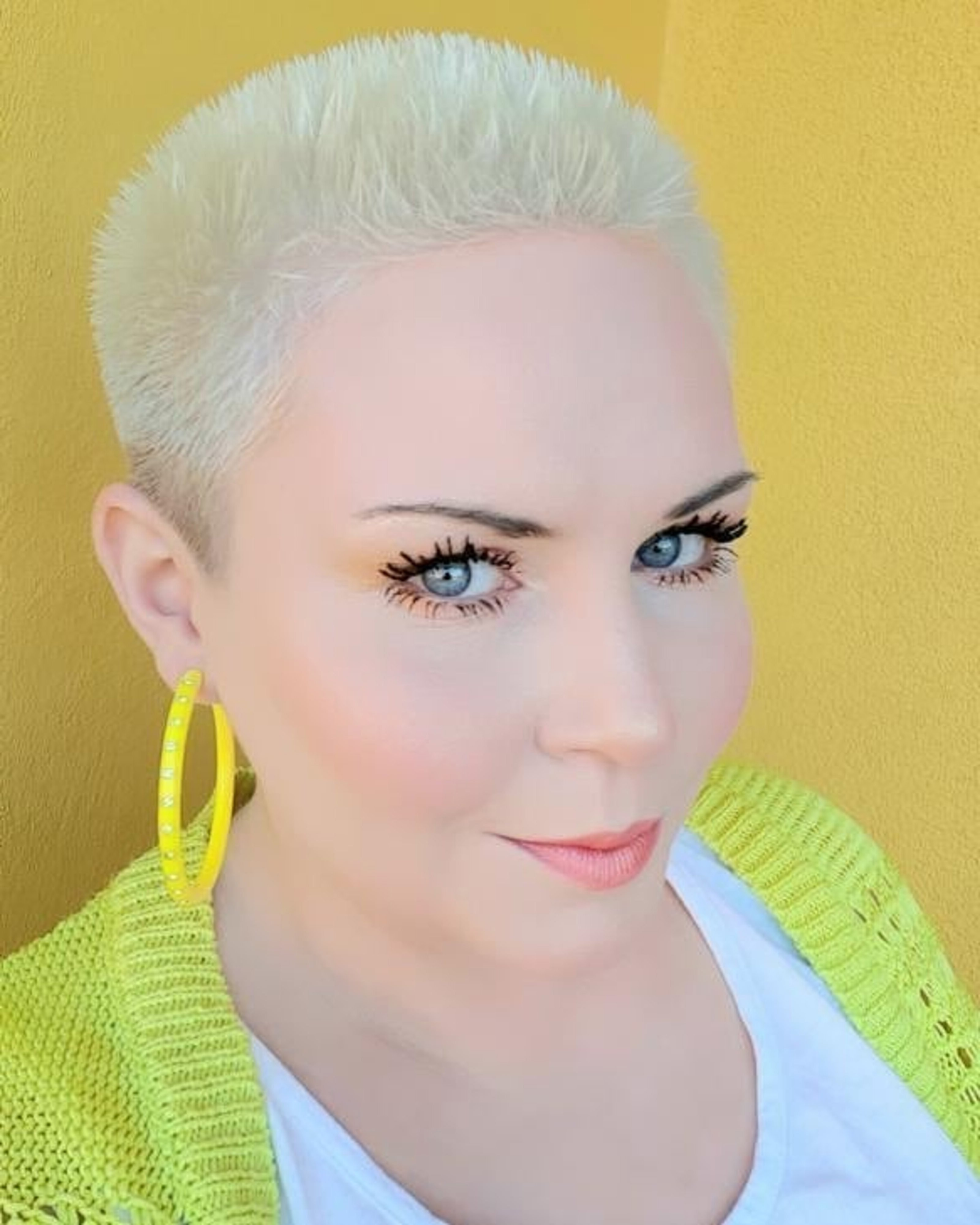 ---
For Pear face
Don't hesitate to choose a cute pixie pear cut for your face type.
---
For Heart shape
The heart-shaped face will look excellent in the combination of a half-shaved pixie style.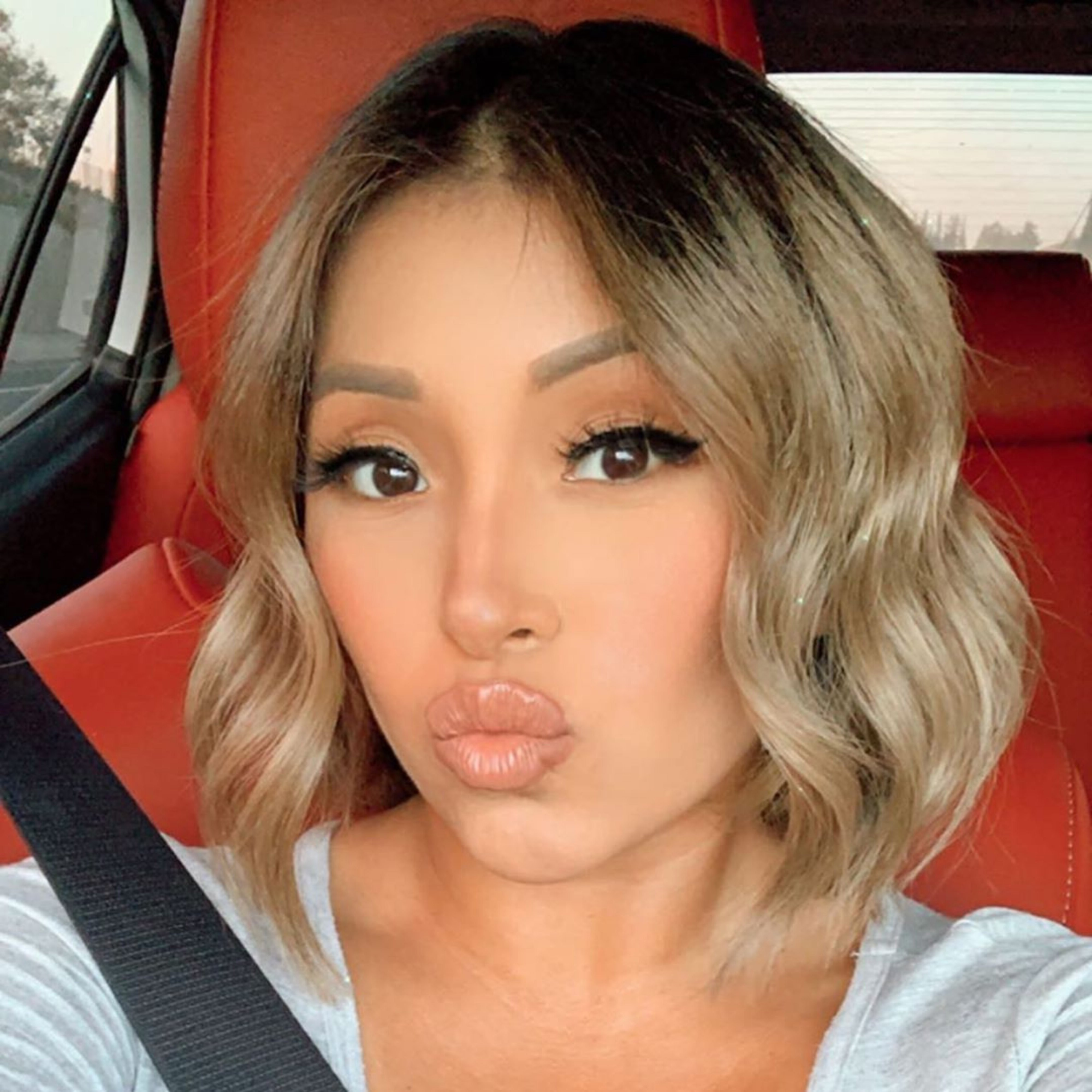 ---
Diamond face shape
Want to shine like a star? Then, add a fresh touch to your face type and create a pixie with short or long bangs.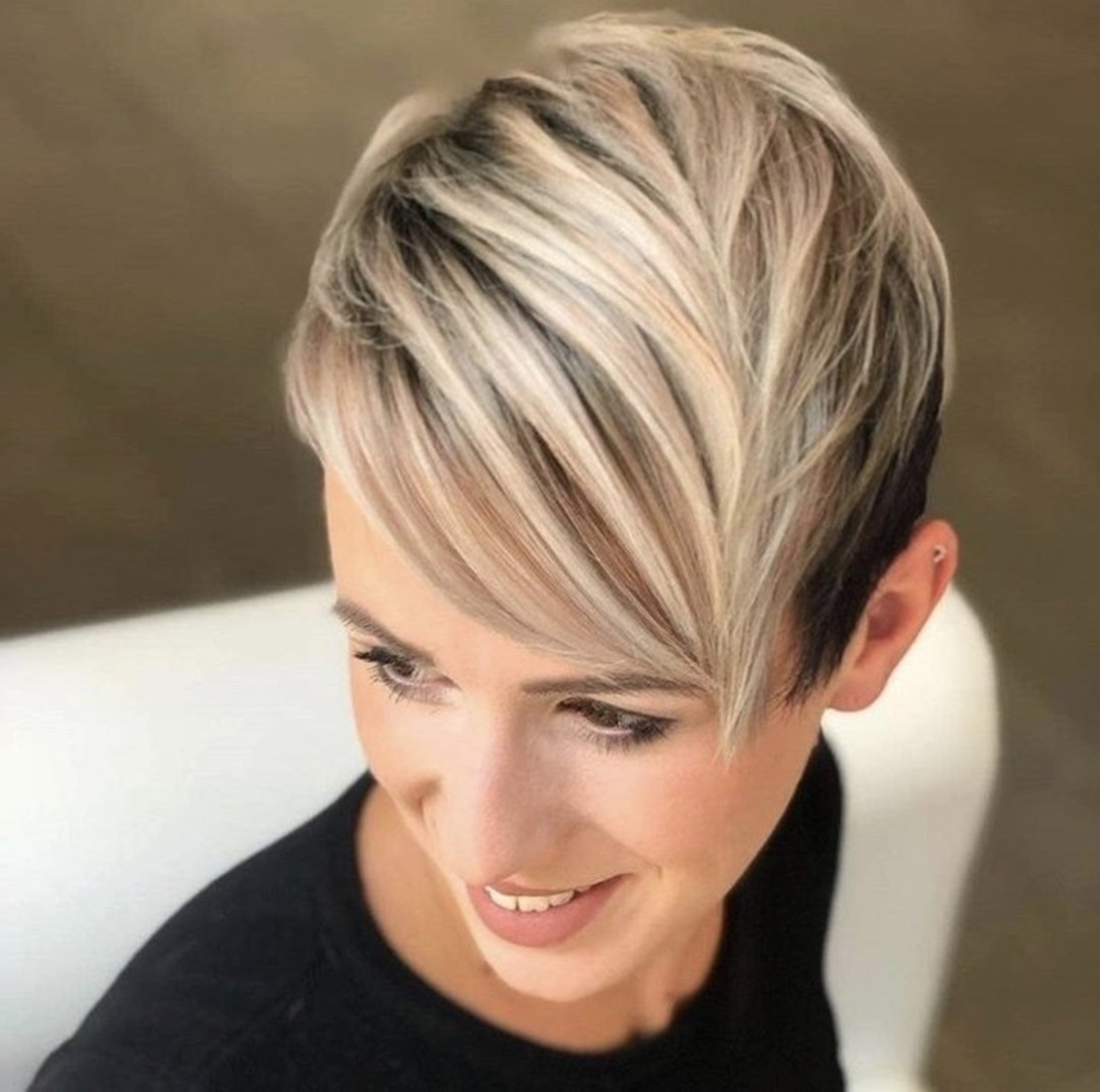 ---
How the Haircut looks with all hair types
Thick hair type
A pixie cut will look great on thick hair as there are many options to choose from. You can wear any of them with your high-quality hair type.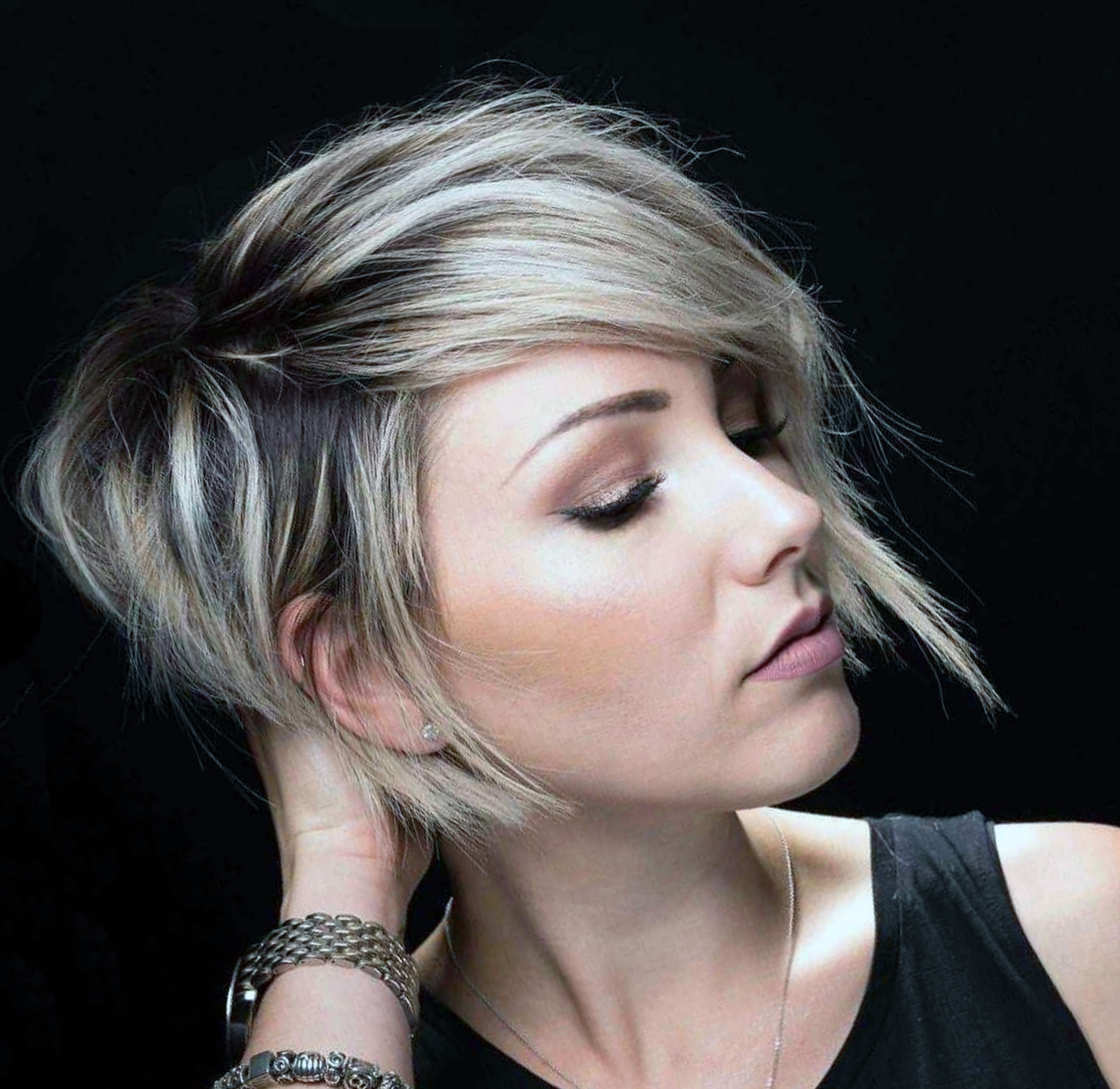 ---
Thin Hair type
Think hair isn't prevention for making a pixie. You can choose the one with bangs on one side.
---
Curly or Wave Hair
Curly pixie cuts look very cute and nice on the ladies of any age, especially kids and young ladies.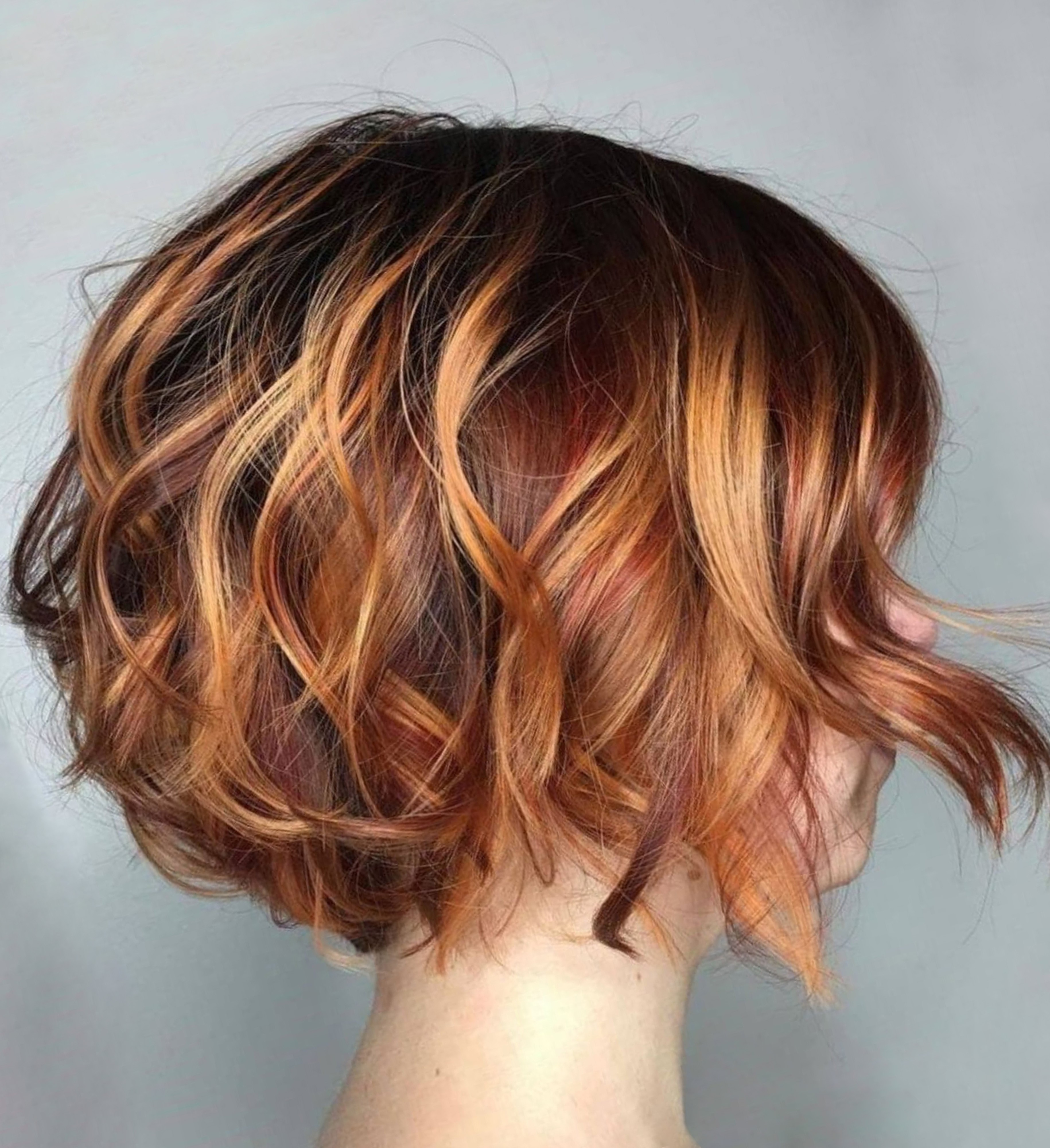 ---
Straight hair
A pixie for straight hair is easy to make and take care of. You can choose among more options compared to the curly type. You can shave the part of your hair or wear bangs. It is up to you to make the right choice.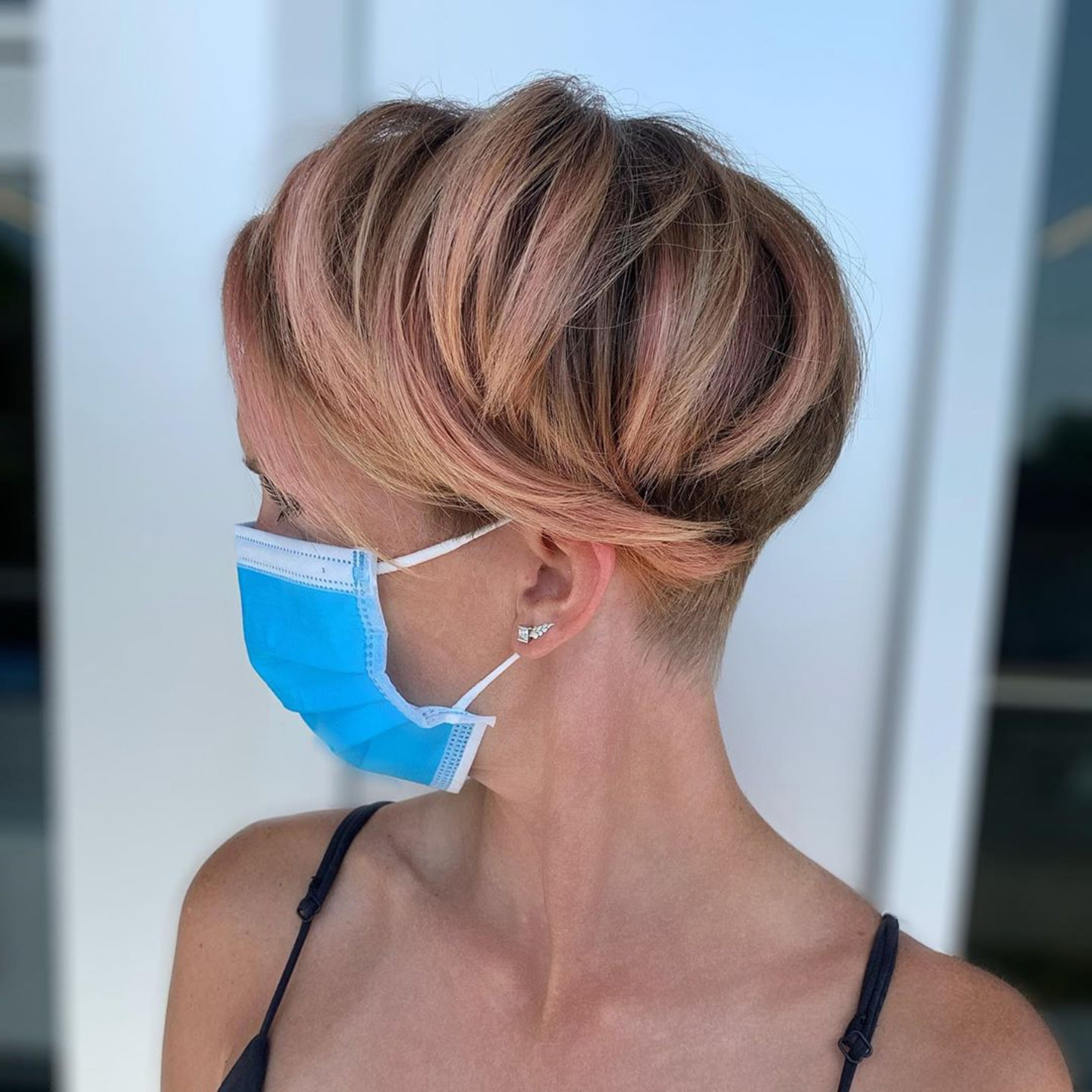 ---
Pixie cuts for black women
Pixie cuts for black women are the same as for white women. The only difference is the type of hair. The texture differs greatly which makes it possible to choose more textured and tapered pixie styles.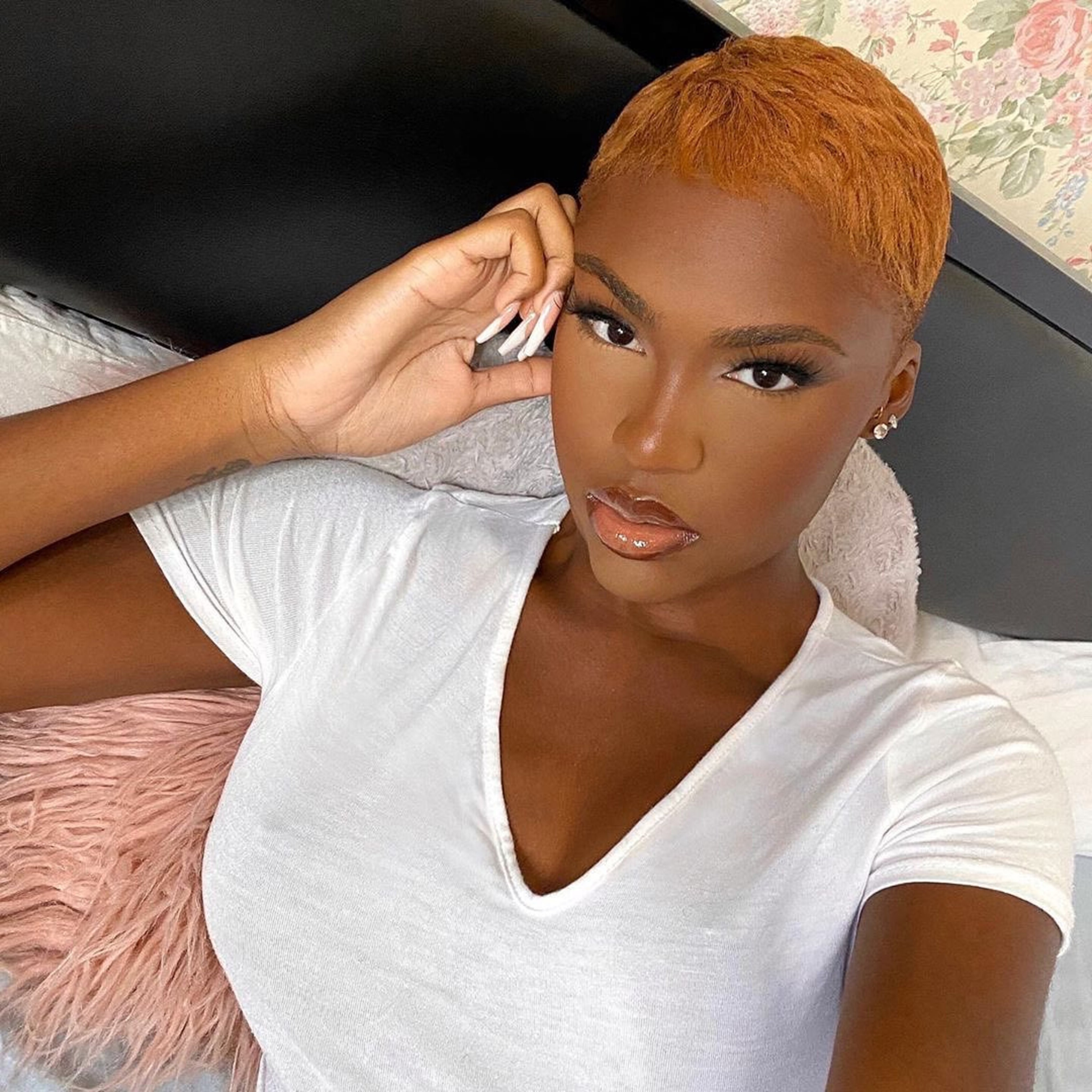 ---
How you could color your Pixie Cut
Color your pixie haircut in some bright color if you want to stand out. If not, then, choose some stylish color like gray or black. Blondes also wear pixie cuts and look wonderful. Here are the most trendy colors that will be fashionable in 2021 and the upcoming year.
---
Pink hairstyle
The pink hairstyle will suit young girls who want to look cute and are fond of the emo style. Those who want to look feminine and gentle should also pay attention to this color for their pixie hair cut.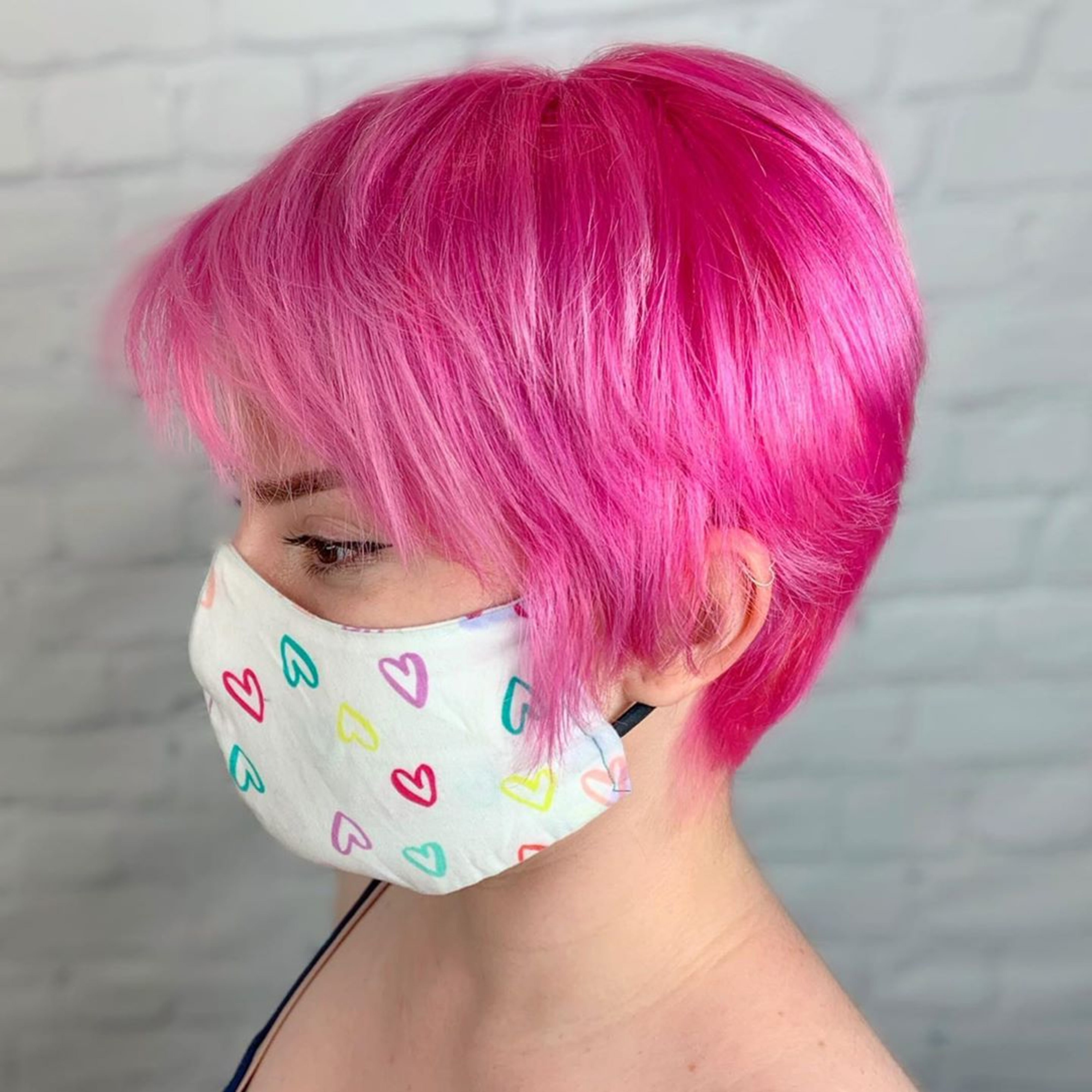 ---
Silver Pixie cuts
Silver Pixie cuts suit elegant ladies over 50 as it's the best way to hide natural grey hair under this trendy color. It will add charm to your hair cut.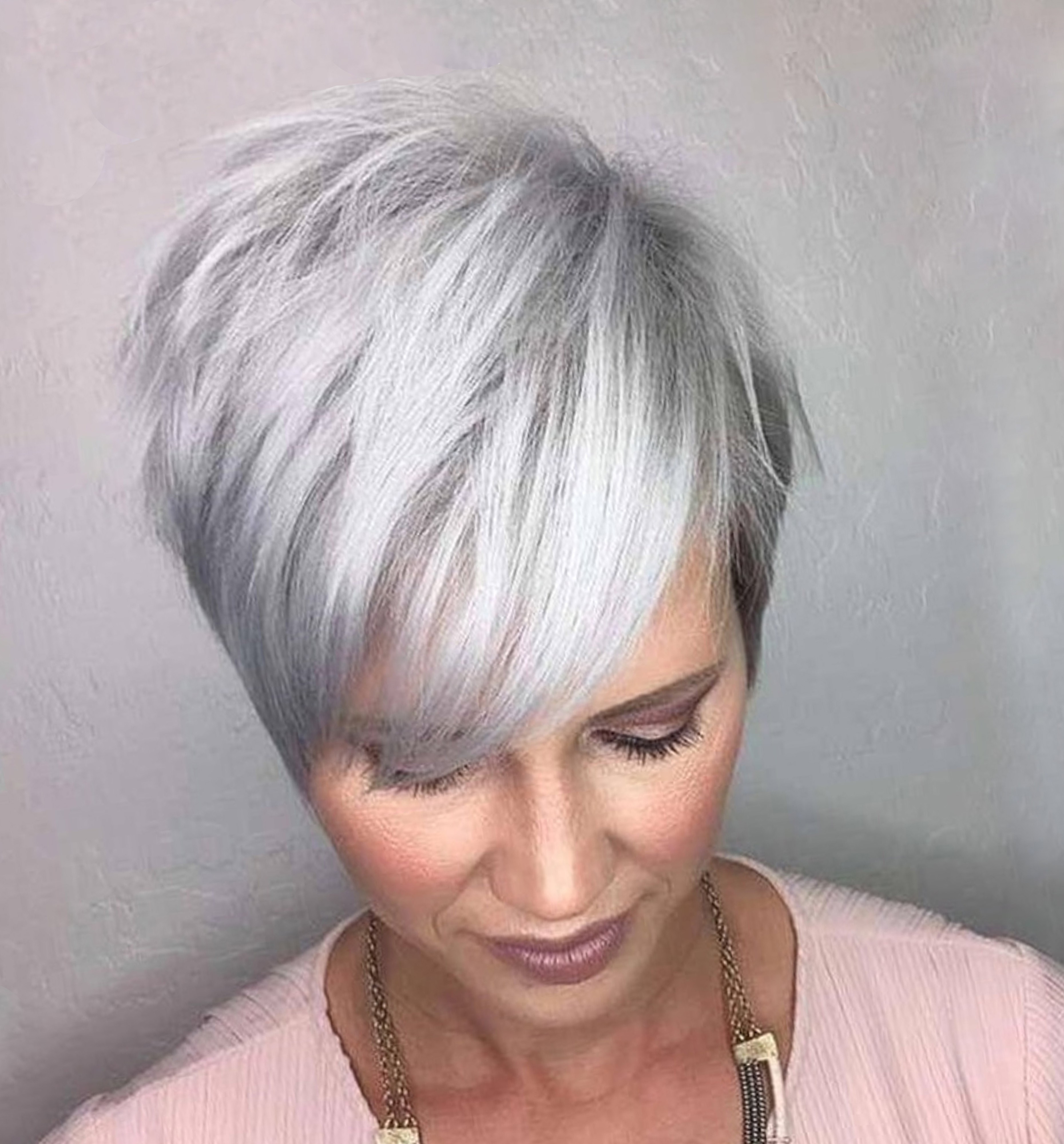 ---
Brunette Pixie cuts
Brunette Pixie cuts always look incredible. Black hair color is associated with passion and a sense of style.

---
Short black Pixie cuts
Short black Pixie cuts are ultra-trendy. They help to create a fresh look for ladies at any age.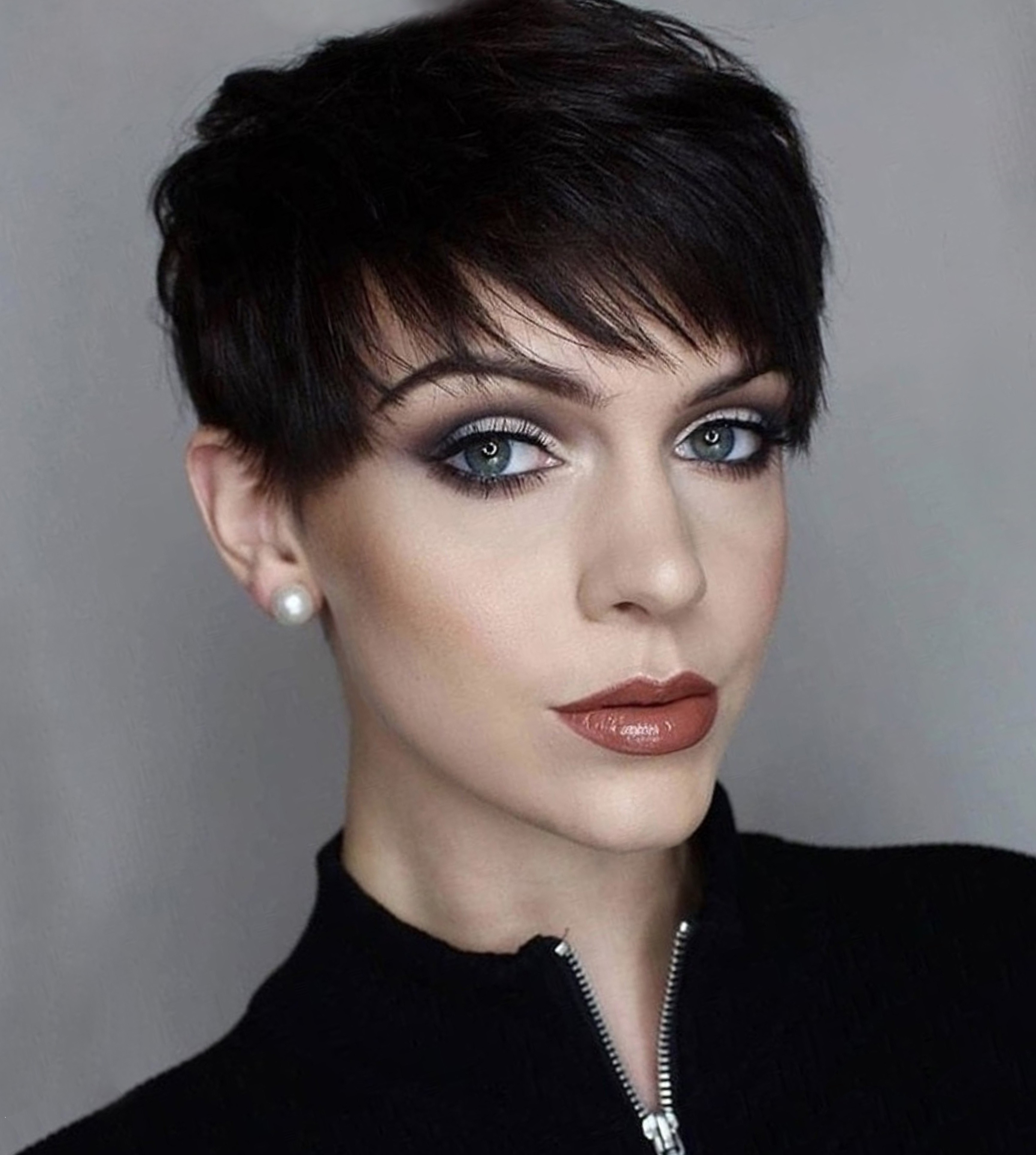 ---
Short blonde Pixie cuts
Short blonde Pixie cuts look also amazingly beautiful. Blondes can create a lovely pixie style by choosing one of the pixie variations for fair hair.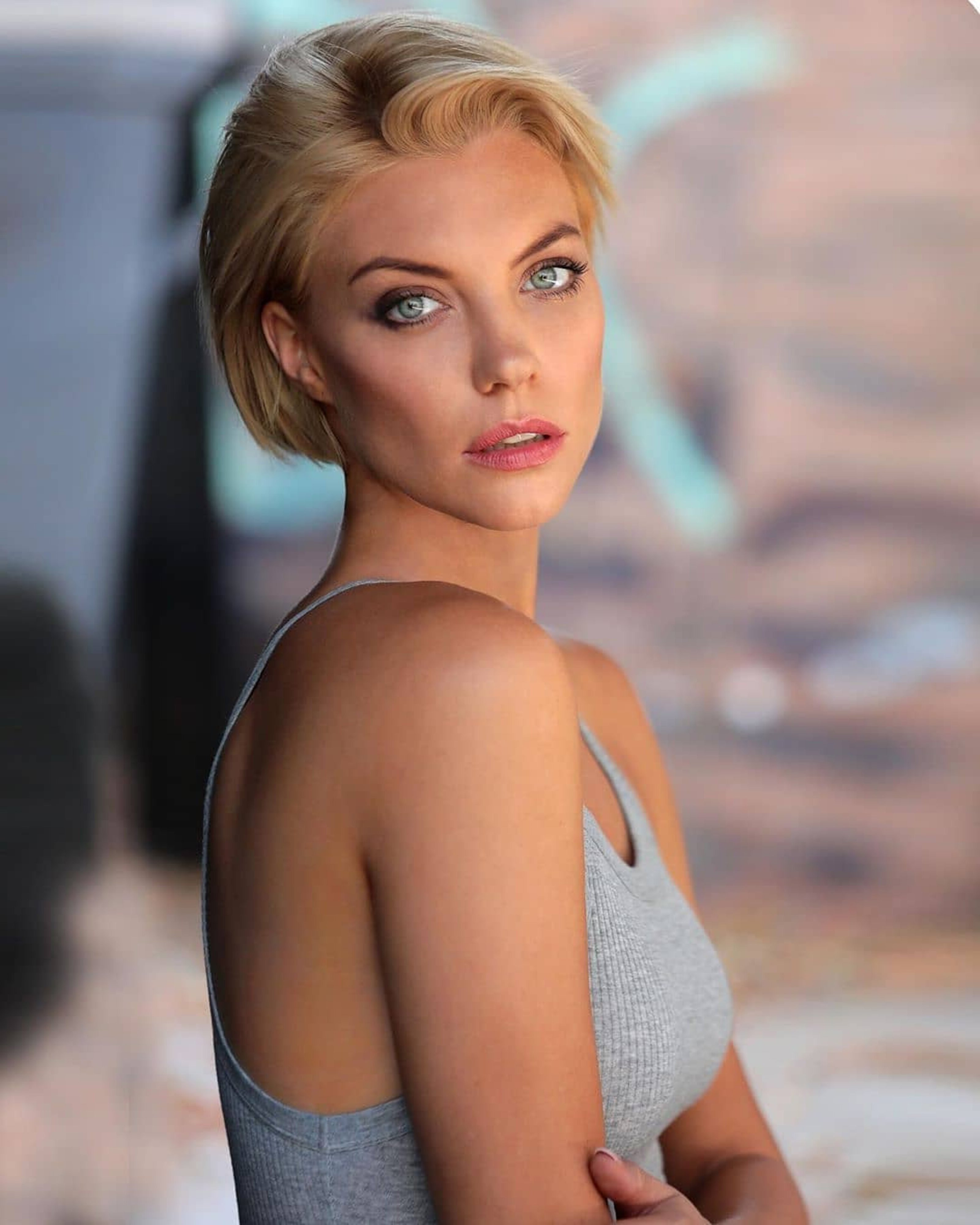 ---
Platinum Blonde Pixie
Platinum Blonde Pixie will help to create a noble elegant look that will suit special occasions. Whether you are going to go to prom or create a new party style, choose it.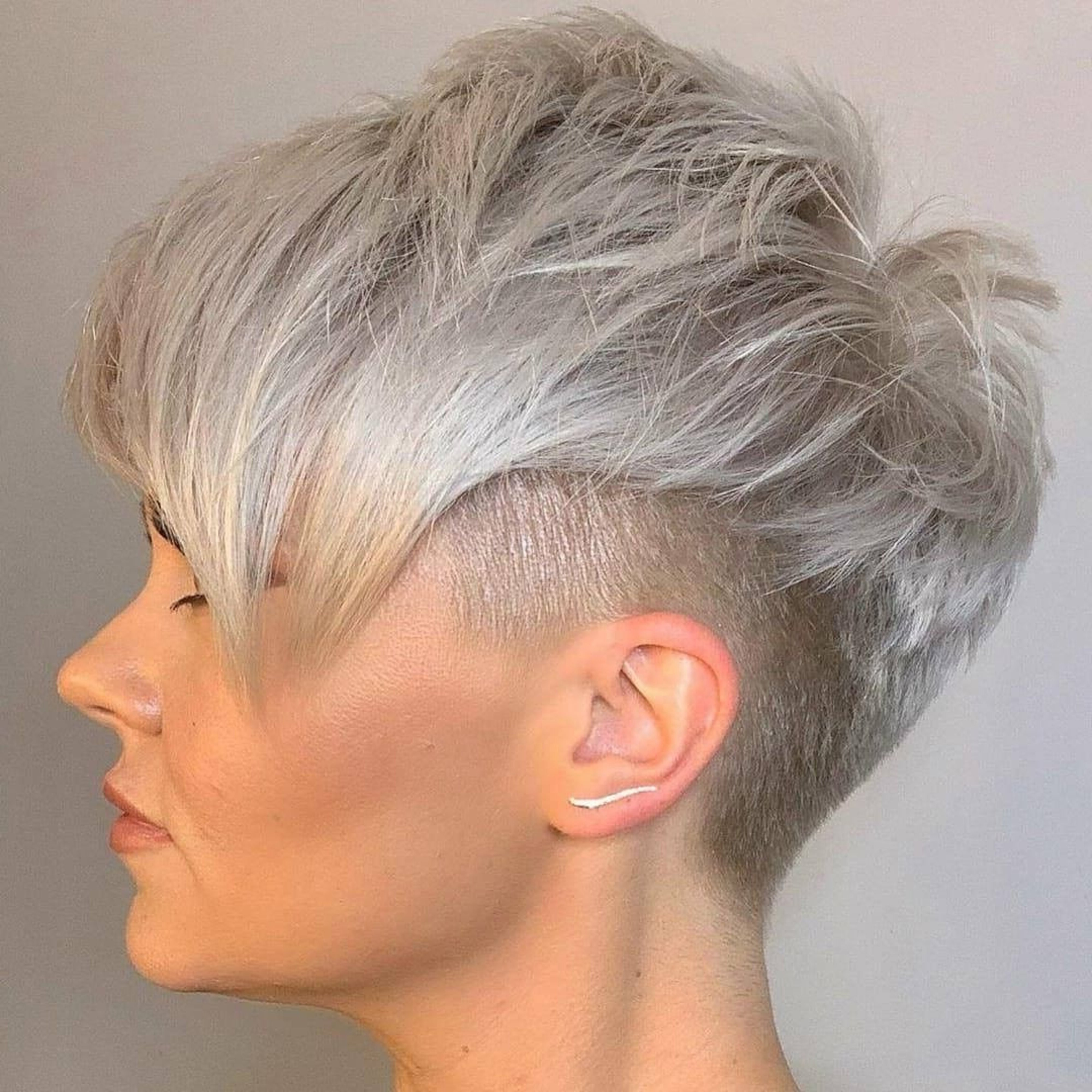 ---
Dark brown Pixie cuts
Dark brown pixie cuts look сlassy and stylish. Whether you are 30 or 60, it will nice. Age doesn't matter. Brown pixie will suit girls with black eyes.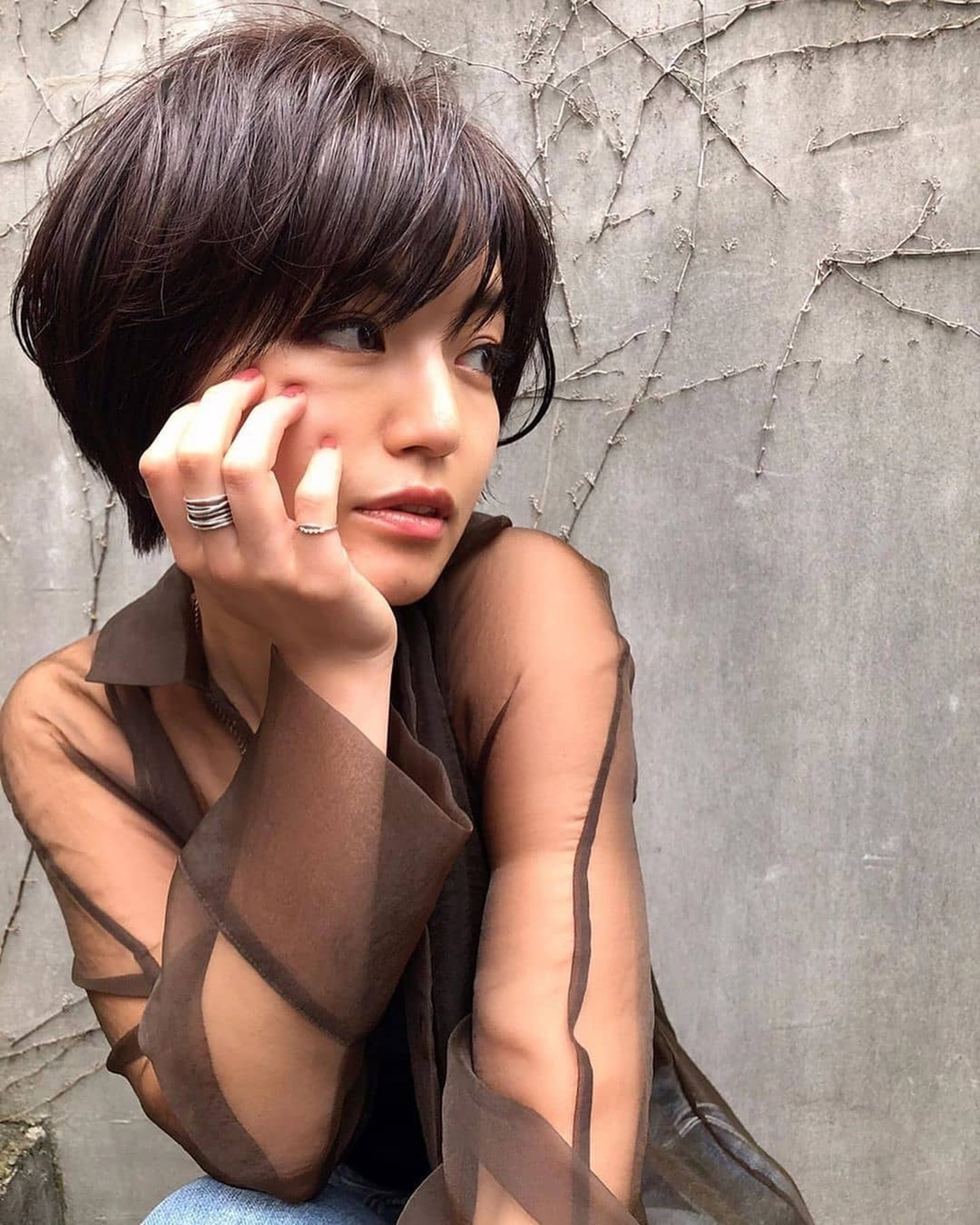 ---
Balayage Pixie
Balayage Pixie is one of the most popular trends of 2021. No doubt it will be popular the following year as well. Choosing this color, you will highlight your love for fashion and fresh style ideas.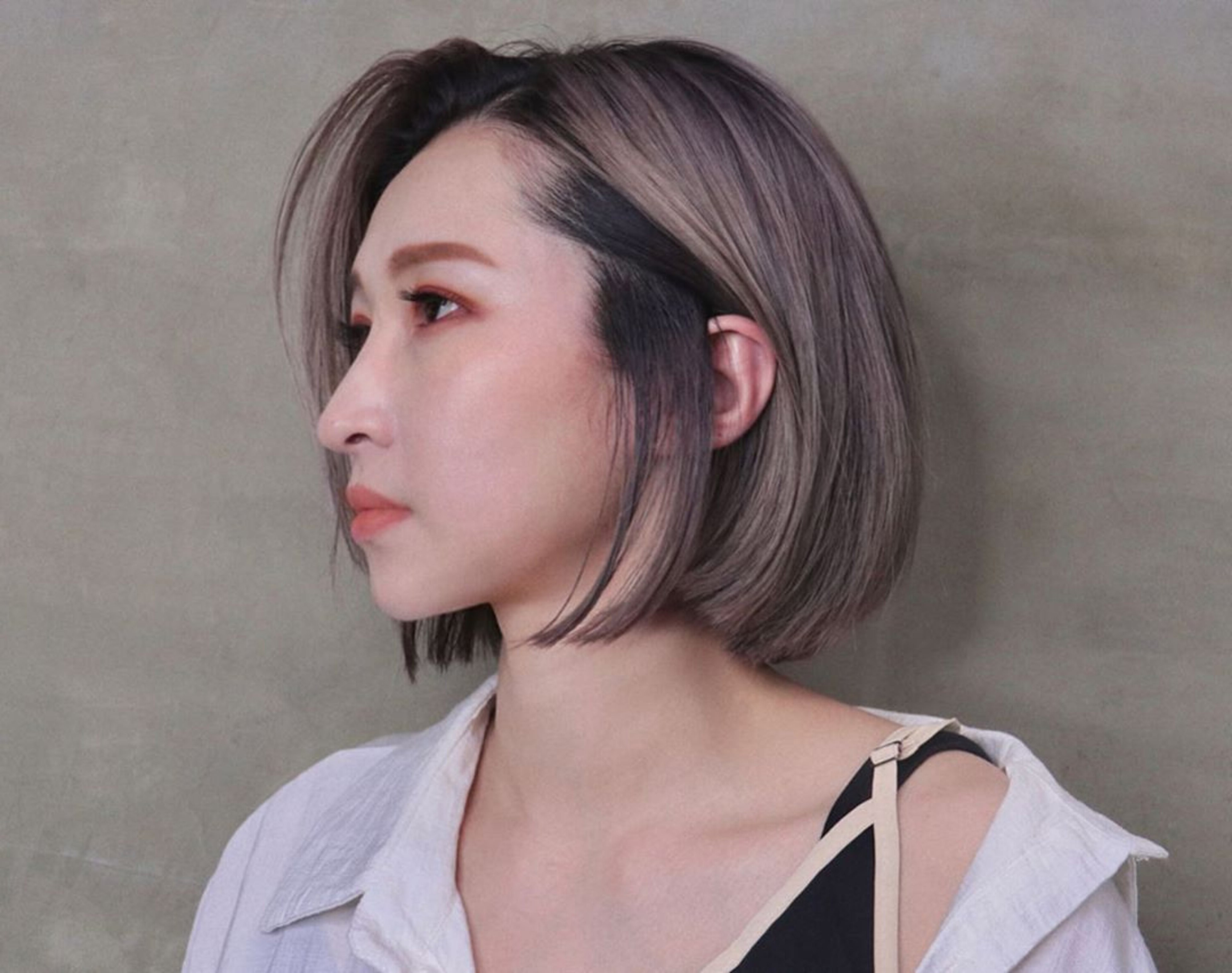 ---
Red Hair Pixie cuts
Red Hair Pixie cuts have been often chosen by ladies over 50 but now you can see young girls who dye their hair in red. It's a bright color to emphasize your uniqueness at any age.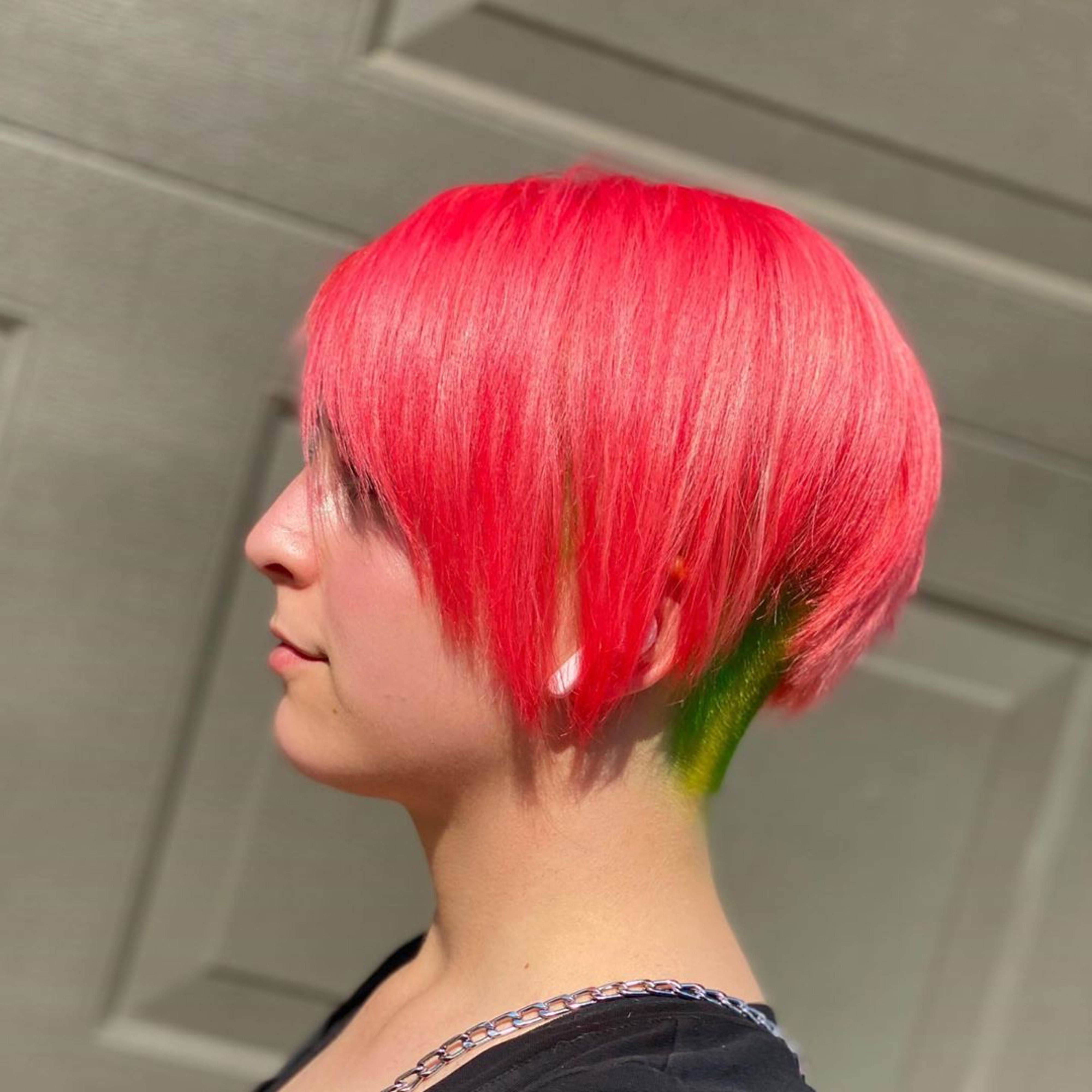 ---
Stylish look – Wearing Pixie cuts and glasses
Whether you have poor eyesight or want to wear sunglasses, don't doubt that the combination with a pixie cut will look just wow. It'll look even more elegant and stylish.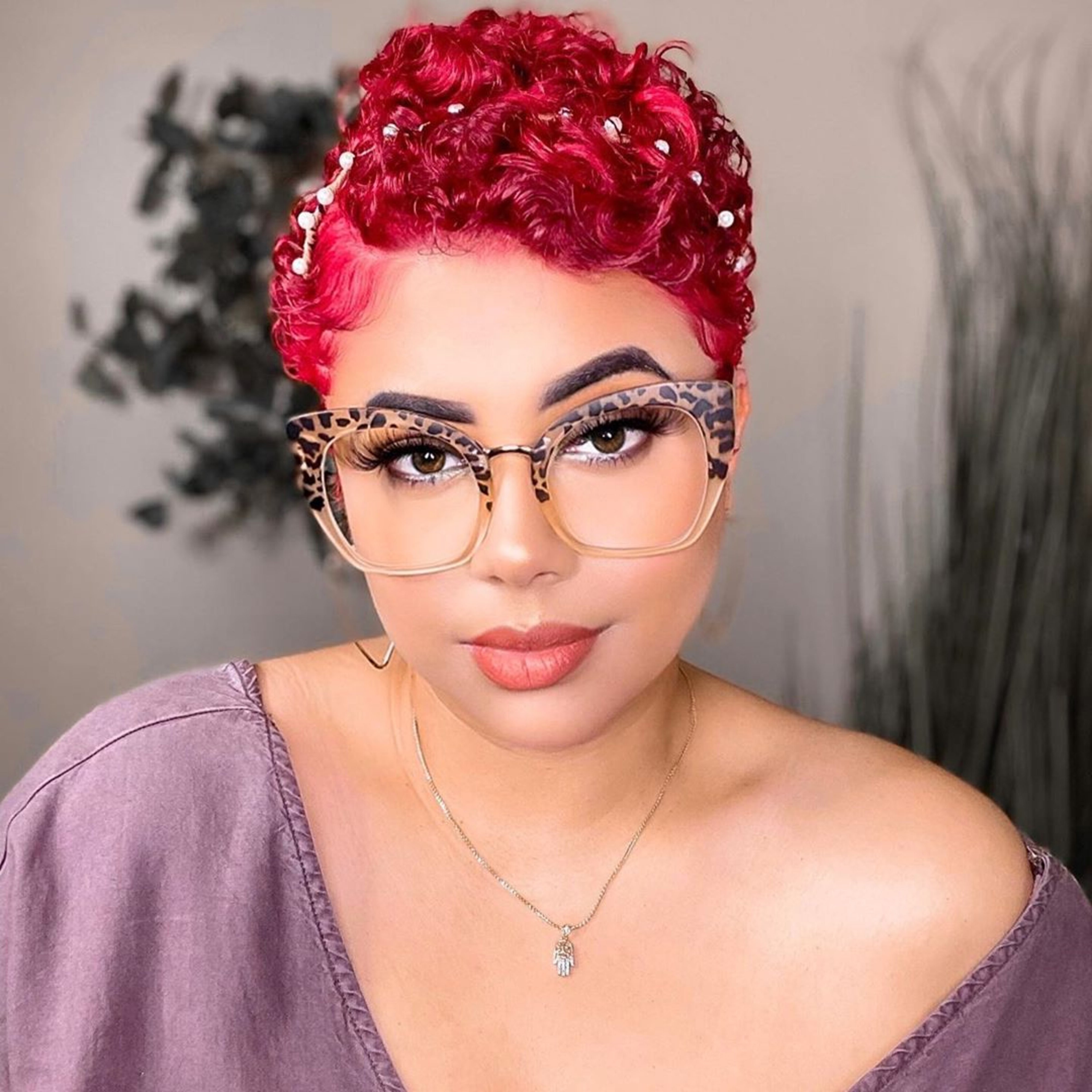 ---
Haircut for women of all ages
Pixie for little girls
Pixie for little girls looks very cute. Create a haircut with bangs for your little princess and she will look cool.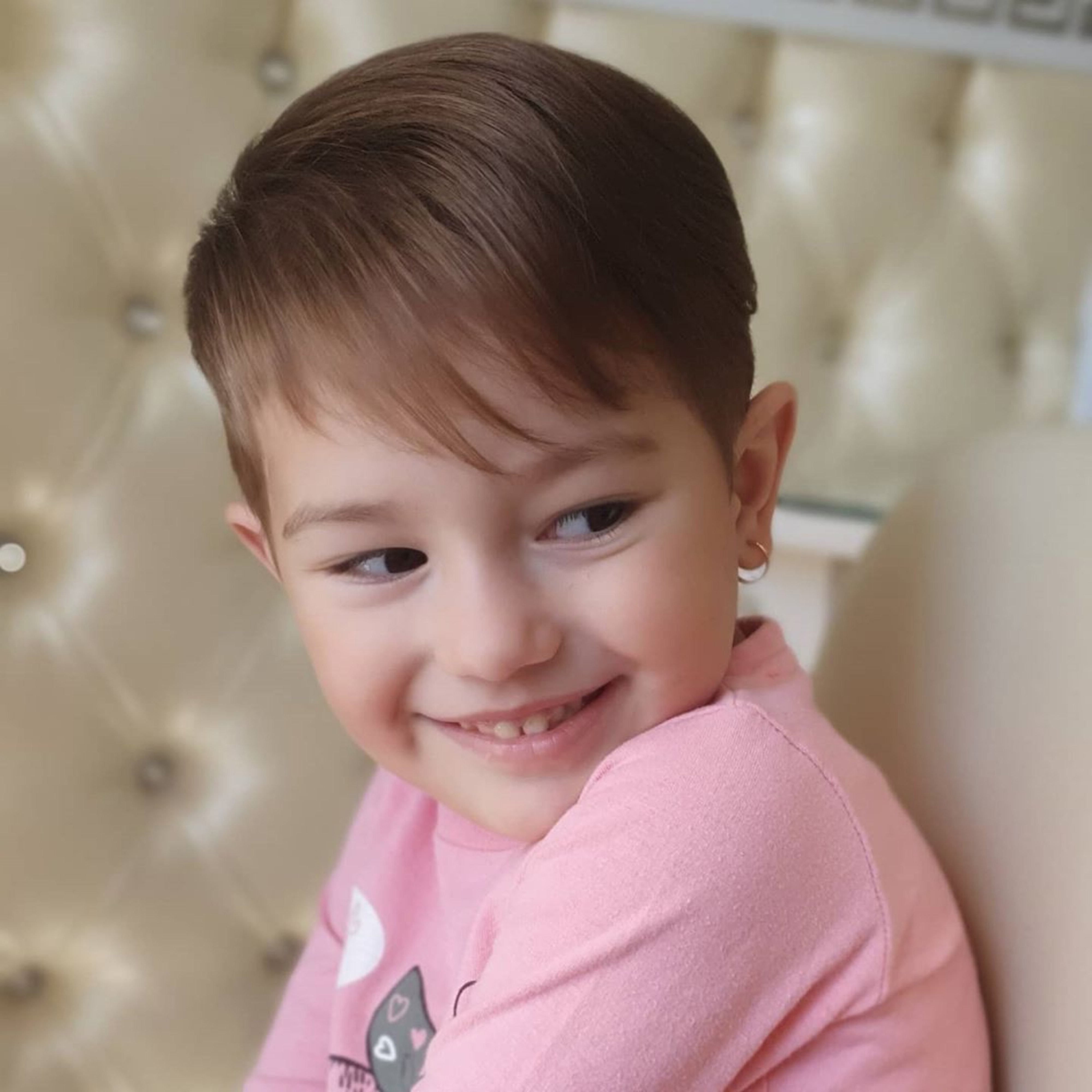 ---
Pixie for teens
Pixie for teens is chosen by more and more teenagers as they help to stand out from the crowd. Isn't this the main aim at this age? Of course, yes.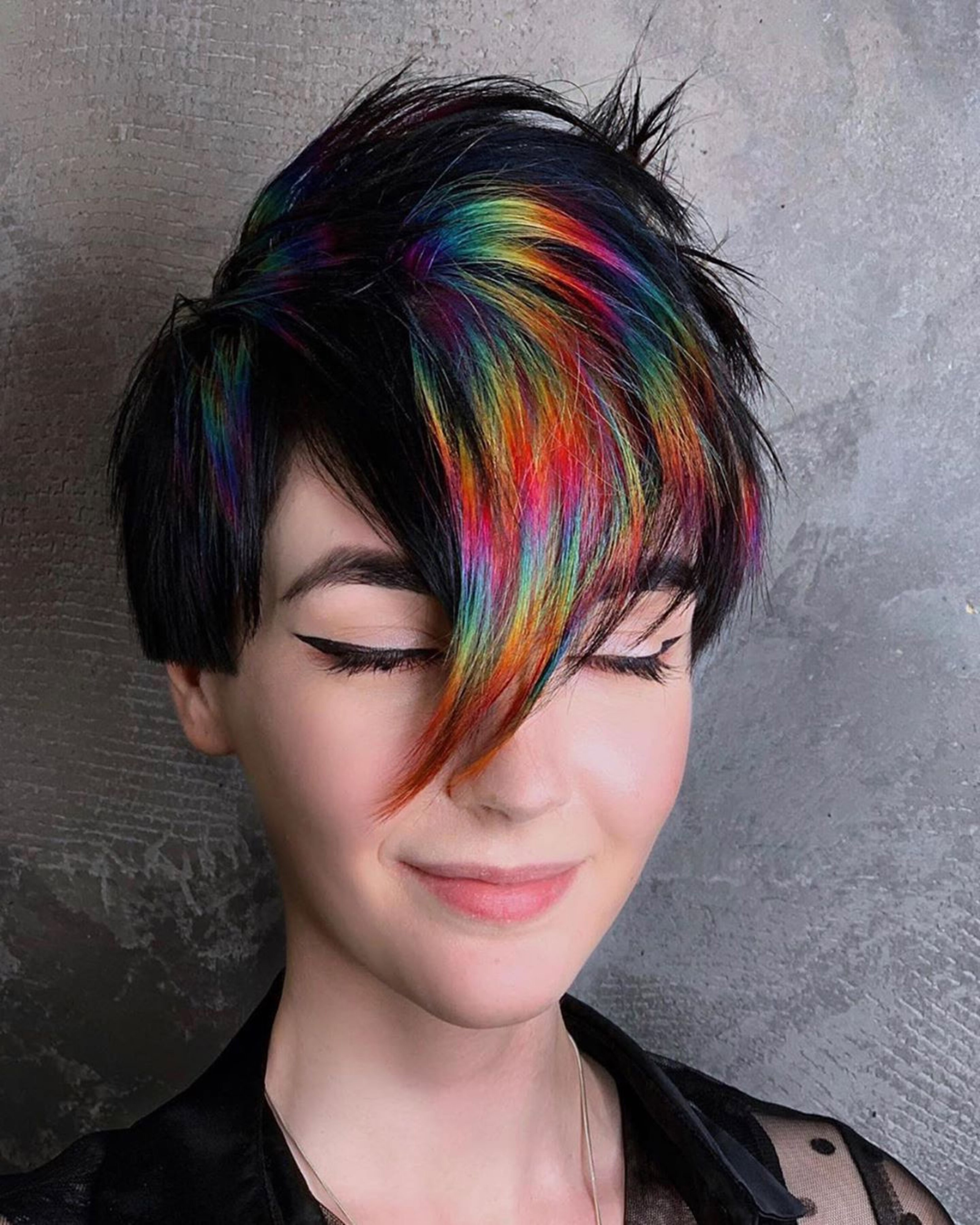 ---
Pixie cut for women
Pixie cut for women. Women of all age groups will find it easy to make a pixie style and maintain it. Young women prefer short bob styles.
---
Pixie cuts for women over 50
Pixie hair cuts for women over 50 should pay special attention to short pixie hair cuts as they help to create a younger image. You will look like several years younger.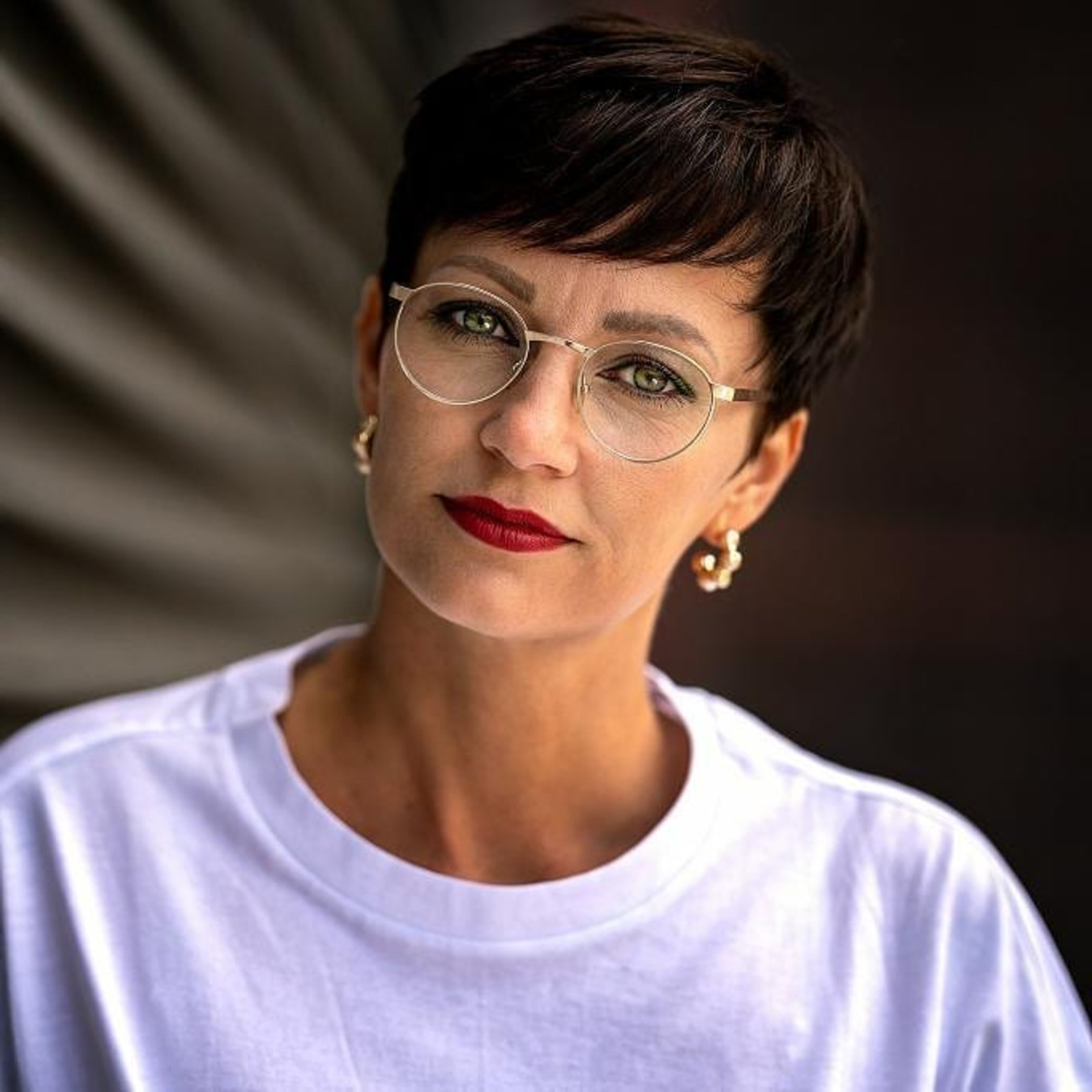 ---
Pixie cuts for older women over 60
Pixie cuts for older women over 60 are a great way to forget how old you are and create a fresh new look. You'll look like you are 50!
---
Prom hairstyles for Pixie cuts
A pixie hairstyle is a good choice for prom. Pay attention to those cuts where the hair length makes it possible to use some hair accessories to look bright.
---
Haircut style with low maintenance
It's a short variation of a pixie. The easiest one is a pixie hair cut for short straight hair rather than the one for curly hair type. It will be enough to visit a hairstylist once per month.
---
Best hair products for short hair cuts
It depends on your hair type. But in case you should use professional hair care products that don't contain chemicals if you want to maintain a great look for long. Use a hairspray.
---
Best shampoos and conditioner
There are many brands of shampoos and conditioners. Some like Garnier while others prefer Italian brands of hair care products like Alfaparf. The last one costs more expensive but it will help you to create a nice look with your top-quality hair.
---
FAQ
What types of Pixie cuts are there?
Different options vary in the length of hair. Choose among elongated, tapered, textured, etc.
Is a Pixie cut low maintenance?
Yes, if we talk about a short pixie. It's easy to maintain and take care of at home using high-quality products.
How do you maintain a Pixie cut at home?
Take care of it using good-quality products and visit your hairstylist regularly. The shorter your cut is, the more often you need to go to the stylist and cut it to enjoy the desired effect.
What is the sexiest Pixie Haircut style?
The one that fits your face type and hair texture. According to statistics, it's a long pixie cut.
Does a Pixie cut age you?
There are pixie options for all ages, including women who are over 50-60.
How to style a Pixie cut?
You should check the pics with pixie styles and select the one that fits you personally. The choice should be based on your personal preferences and your features.
How to style a short Pixie hairstyle?
A short pixie hairstyle is the one you should style with bangs, either side bangs or just long bangs with some clips and other hair accessories to create an interesting image.
What hairstyle can I get with a Pixie cut?
You can choose among a large variety of pixie styles. Your hairstyle will change significantly depending on the length of hair and the type of your face.
How to look feminine with a Pixie cut?
It is as easy as ABC. Any style you will choose will help you to create a sexy female image. Bob's styles with the half-shaved head look less feminine compared to other styles.
Can a Pixie cut look good on anyone?
It looks great on all women. The only thing to take into account is that you should choose the right pixie style depending on your face type.