Bob haircut has occupied the top positions on the rating of the most popular cuts for women for years. It isn't surprising as the hair cut looks elegant and stylish on any woman.
Before bob cuts were intended for women with short hair only but today one can see many bob hair cut variations to choose from.
---
What Is a Bob Cut Hairstyle?
A bob hair cut is a popular style for women which can be done for short and medium-length hair. The main distinctive feature of the cut is that the hair is cut straight all around the head.
---
Bob Haircut Tutorial
---
How to Know If Hair Bob Cut Suits You
A bob hairstyle suits girls and women with a round face, young ladies who are still searching for their perfect image, and ladies with fine hair. Both short hair and medium-length hair will fit this hair cut.
---
Bob Haircuts Length Types
The interesting fact is that initially, the bob hair cut was worn by girls with short hair. Now, women with straight and slightly wavy hair wear it, regardless of the hair length. You can make a bob style if you have shoulder-length hair.
---
Short Bob haircuts
Short bob haircuts have always been popular among women due to the low maintenance and their versatility. Bob hair cuts look elegant and help to create a nice neat look for any face type.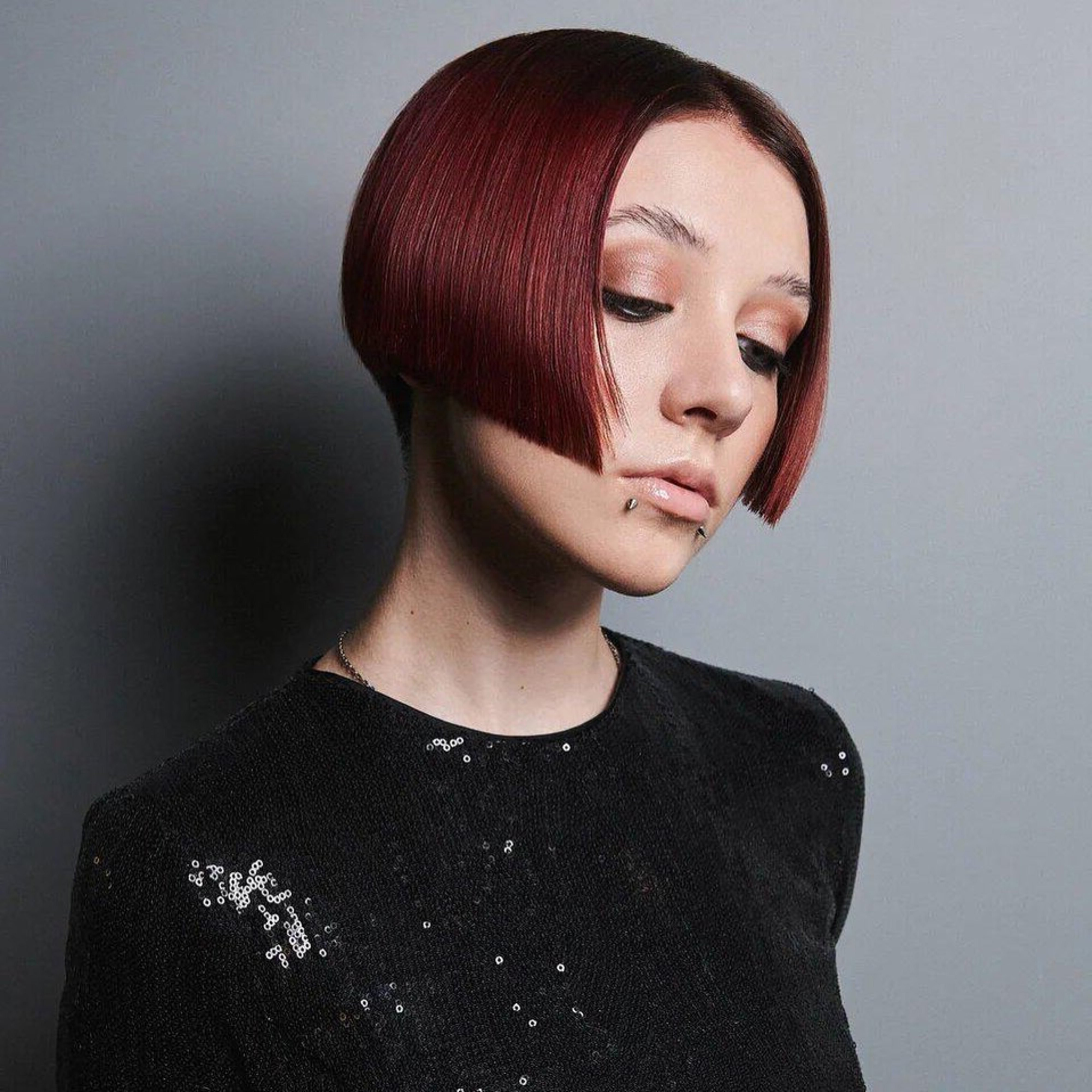 ---
Chin-Length (or Just Beyond)
Don't you want to part with your hair and make it ultra-short? No need to do this even if you want to wear a bob haircut. You can choose a chin-length bob that looks impressively. A length that is just beyond the chin looks great as well.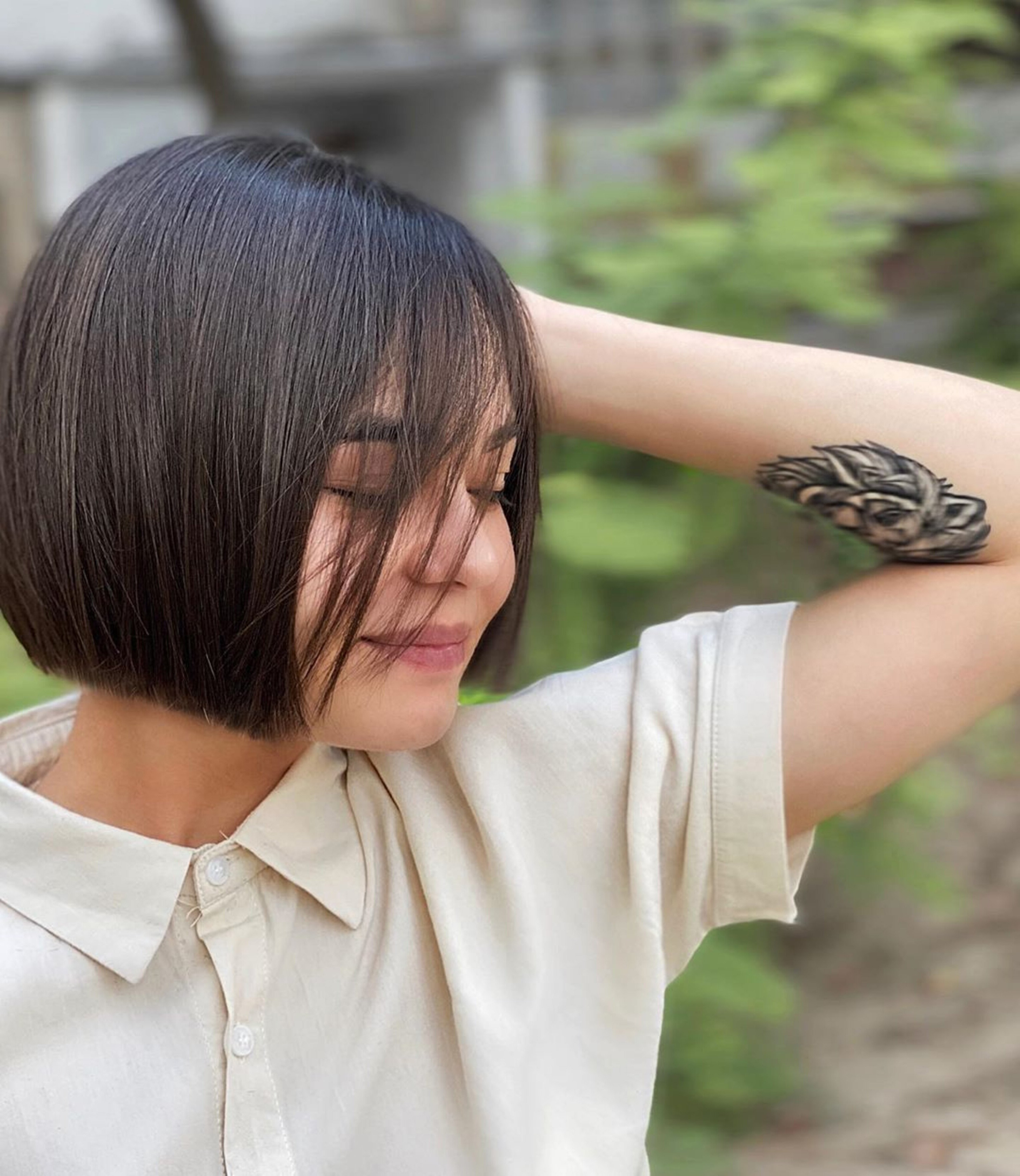 ---
Long Bob Cut (Lob)
A long bob is a new tendency in the bob variations. It will suit ladies with oval face type and those who don't want to cut their hair short. Just try this option and you will look amazing.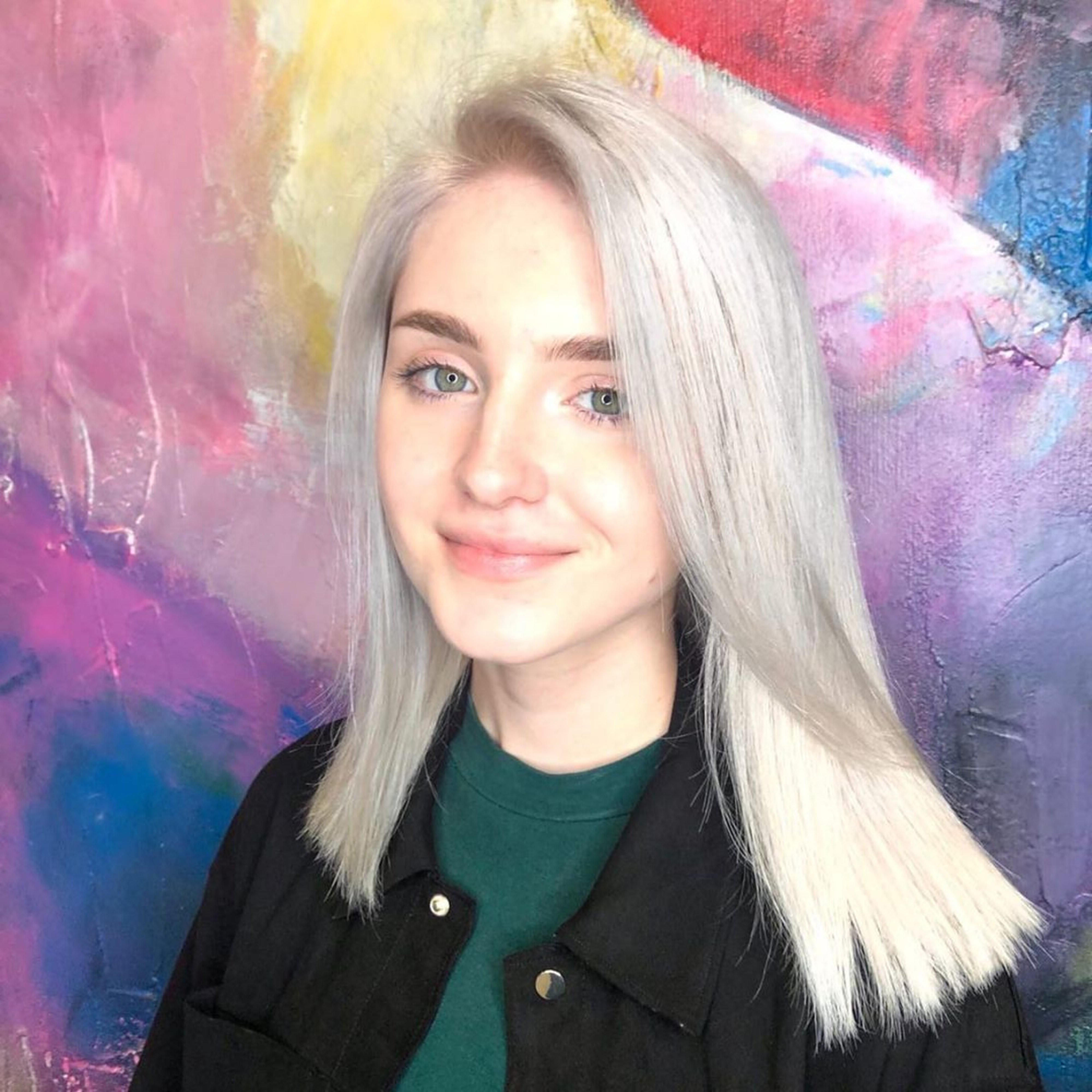 ---
Very Short Bob haircuts
Experienced hairstylists recommend women over 50 choose among very short bob haircuts. They help to look younger and create a new interesting image. Ultra-trendy bob cuts for short hair are exactly what you need in 2021.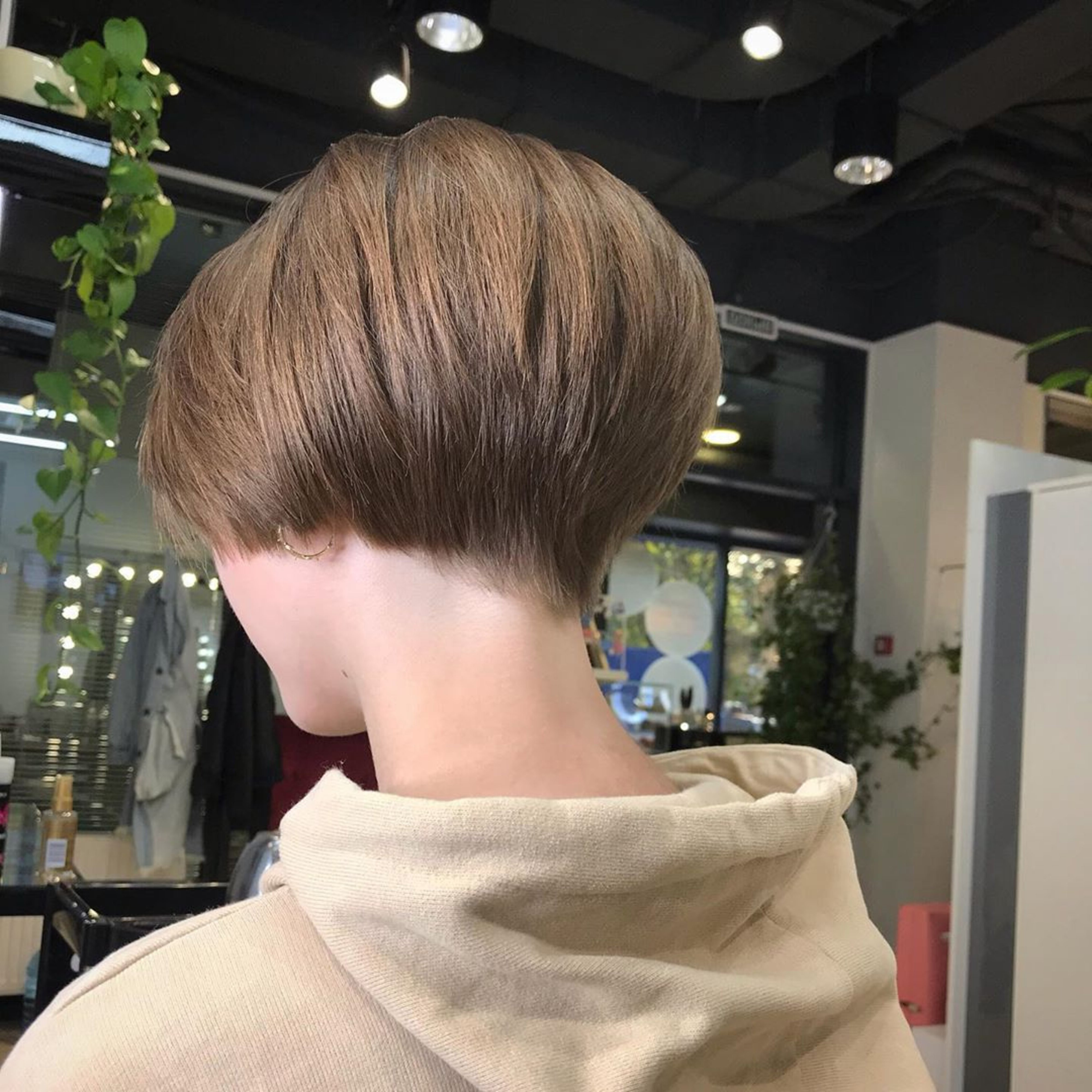 ---
Pixie Bob Hairstyle
A pixie bob haircut is one more super stylish option to choose from. You can choose long bangs and make a standard bob style more fashionable and original. It will help you to stand out.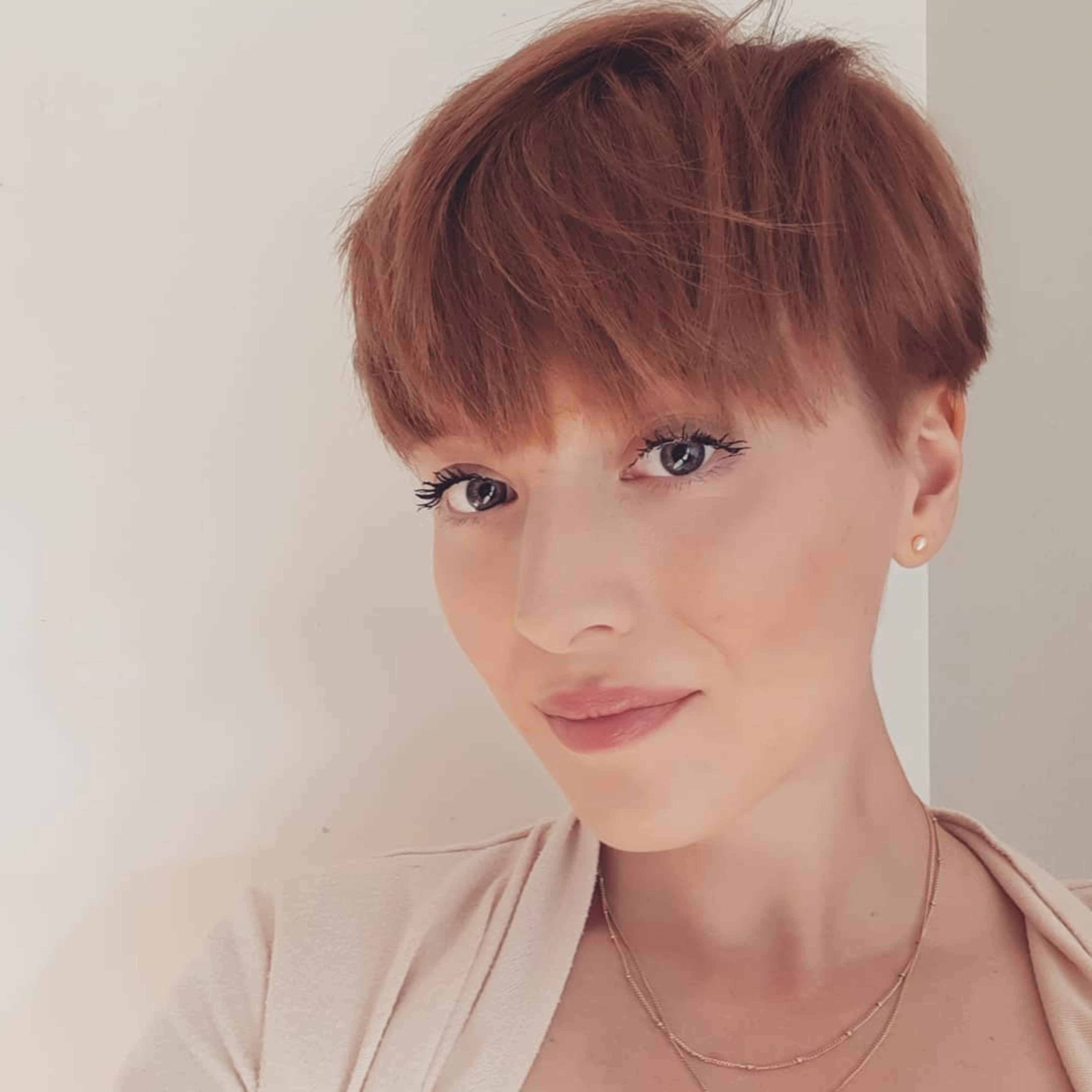 ---
Shoulder-length Bob haircut
Do you have medium-length hair and want to change your image? Consider making a shoulder-length bob style. A mid-length bob style will add a special charm to your everyday image and will suit special occasions as well.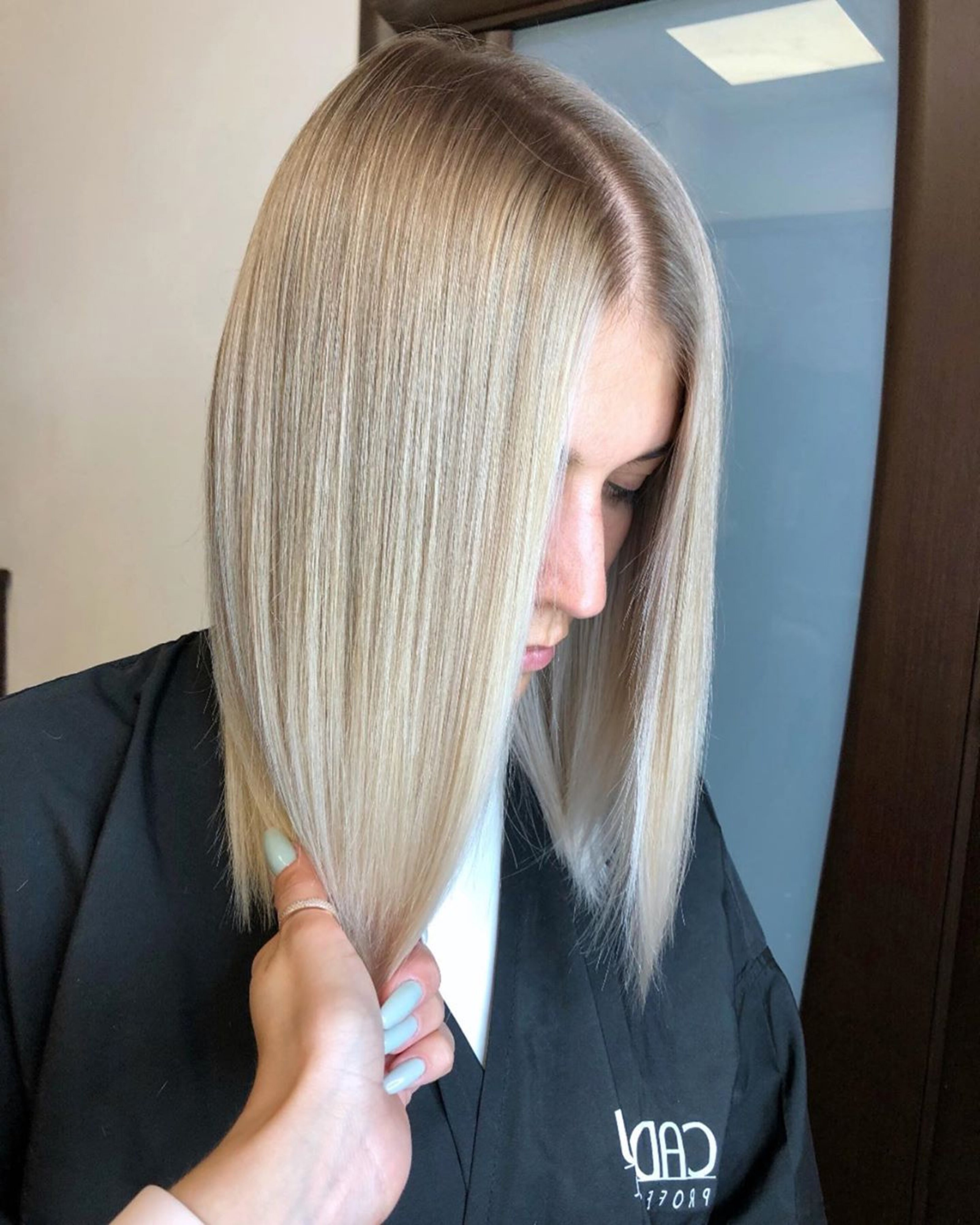 ---
---
Best Bob haircuts in 2021 – How to Style Bob Cut
Bob hair cuts vary not only in the hair length but also in the types of styling. You can style bob cuts in more than one way. Find out what these ways are to choose the style that fits you best.
---
Textured Wavy Medium Cut
A textured wavy medium-cut looks perfectly on young girls who want to be in the center of attention. This style is the one you should choose when you want to create a lovely image for your waved hair texture.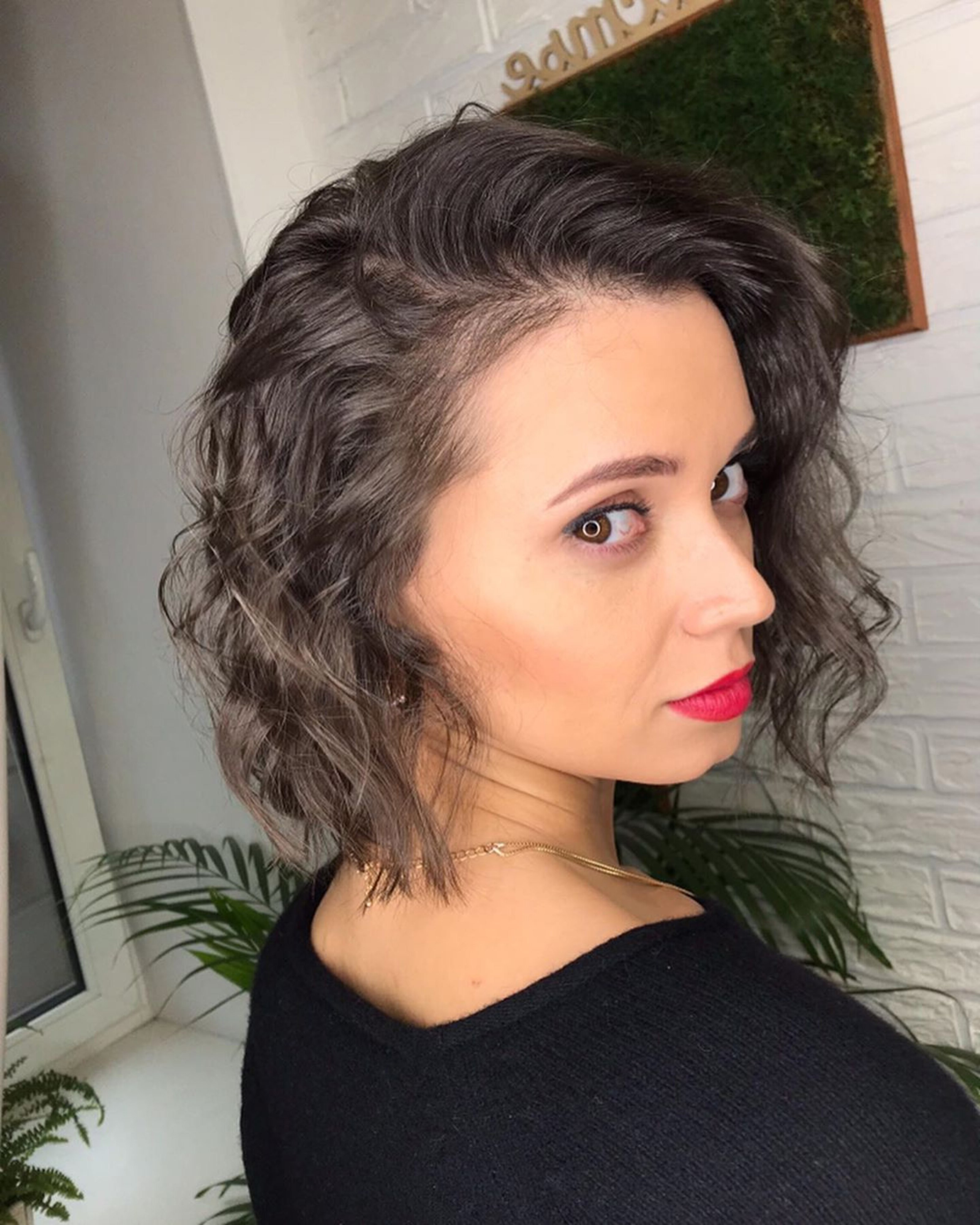 ---
Tapered Auburn Bob
A tapered auburn bob is a nice option to choose if you have time to style it in the morning. You will have more volume on the top of the head which decreases at the level of the neck.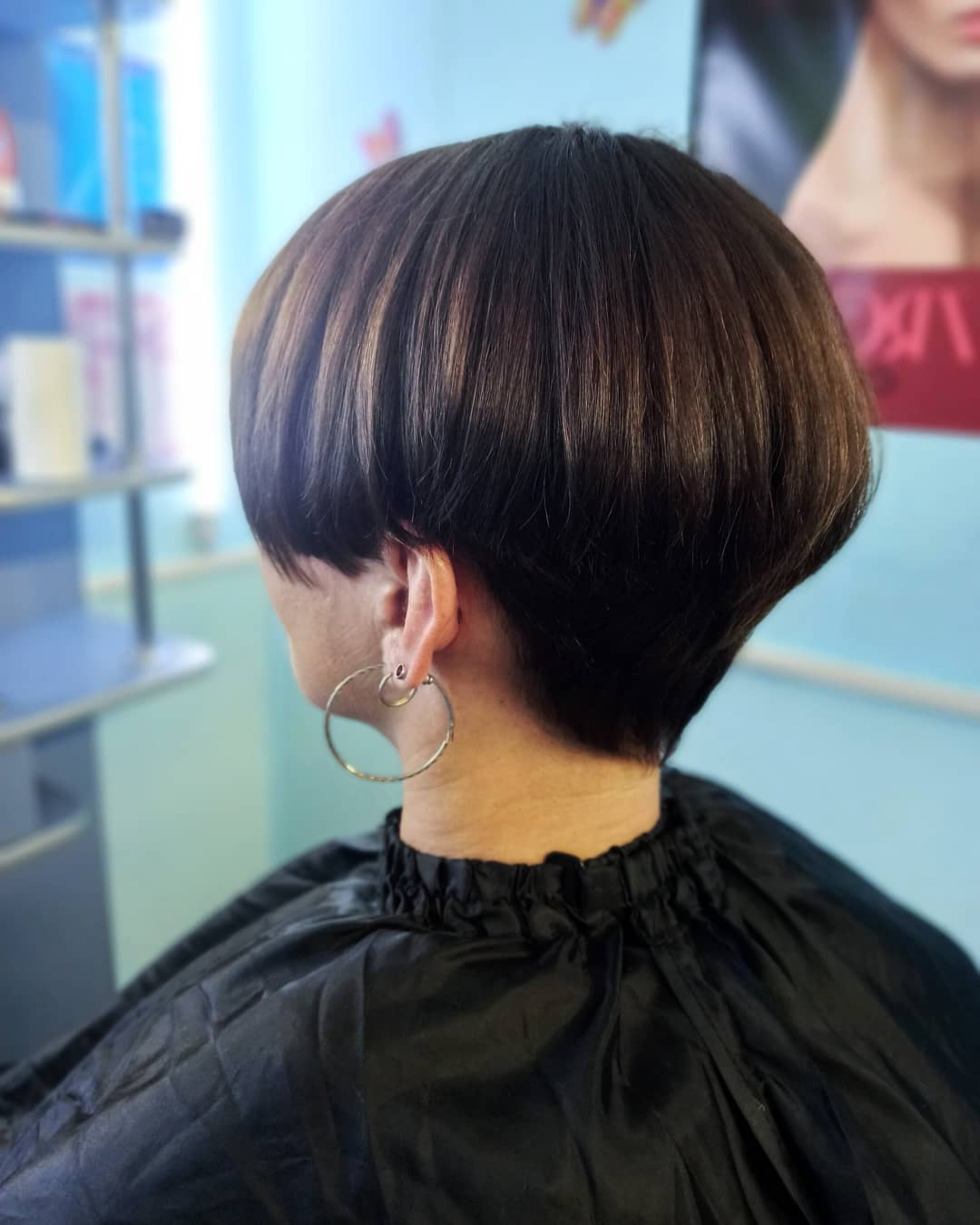 ---
Shaved Back Bob
A shaved back bob is a great option for young rebellious girls who love freedom and experiments. Don't be afraid to shave the back. It will look stylish and cool not only this year but also in the upcoming year.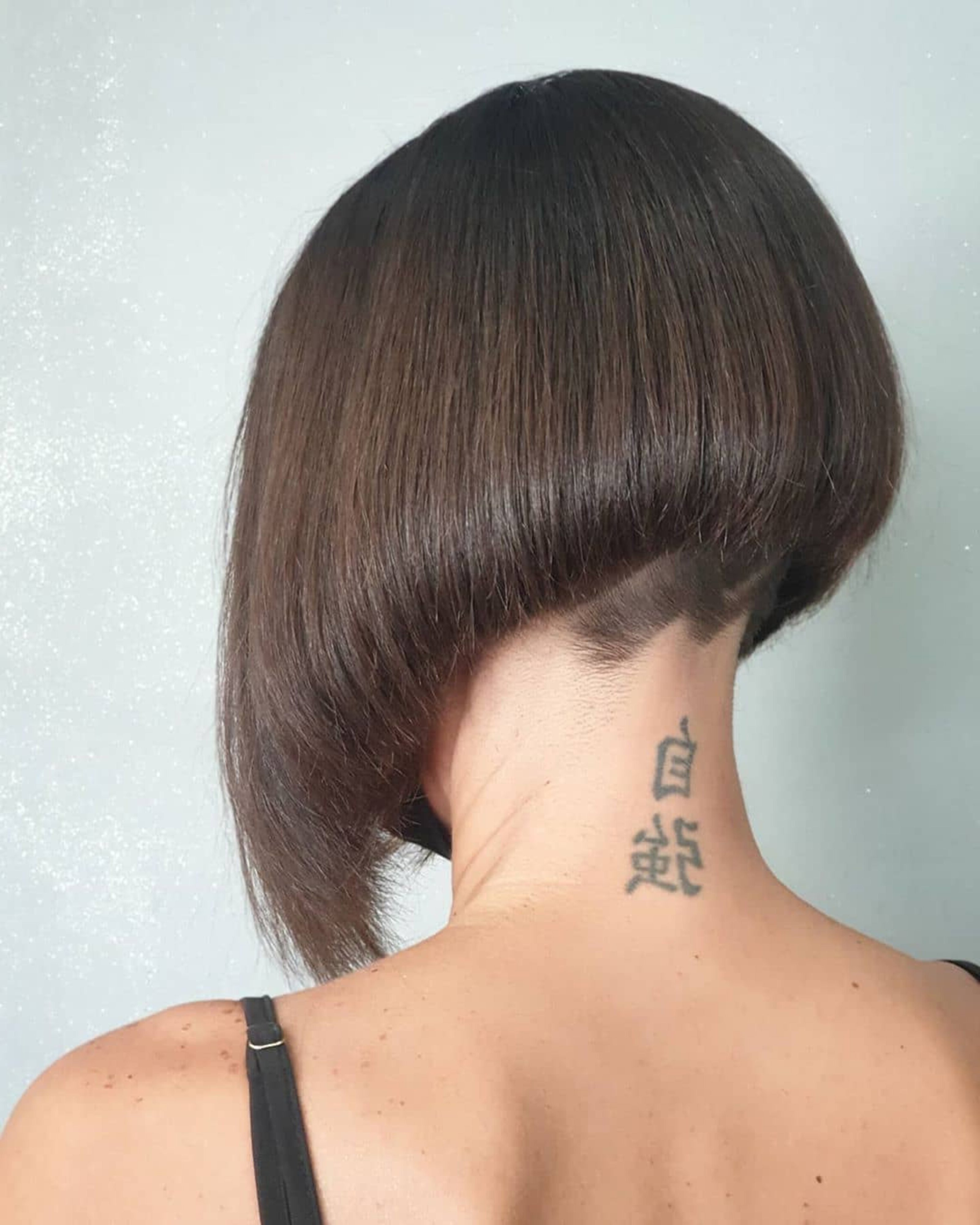 ---
Choppy Bronde Inverted Bob
A choppy bronde inverted bob appeared not a long time ago. It is an original variation of the standard bob that has one main distinctive feature – it's inverted. The hair can be up to the shoulder length.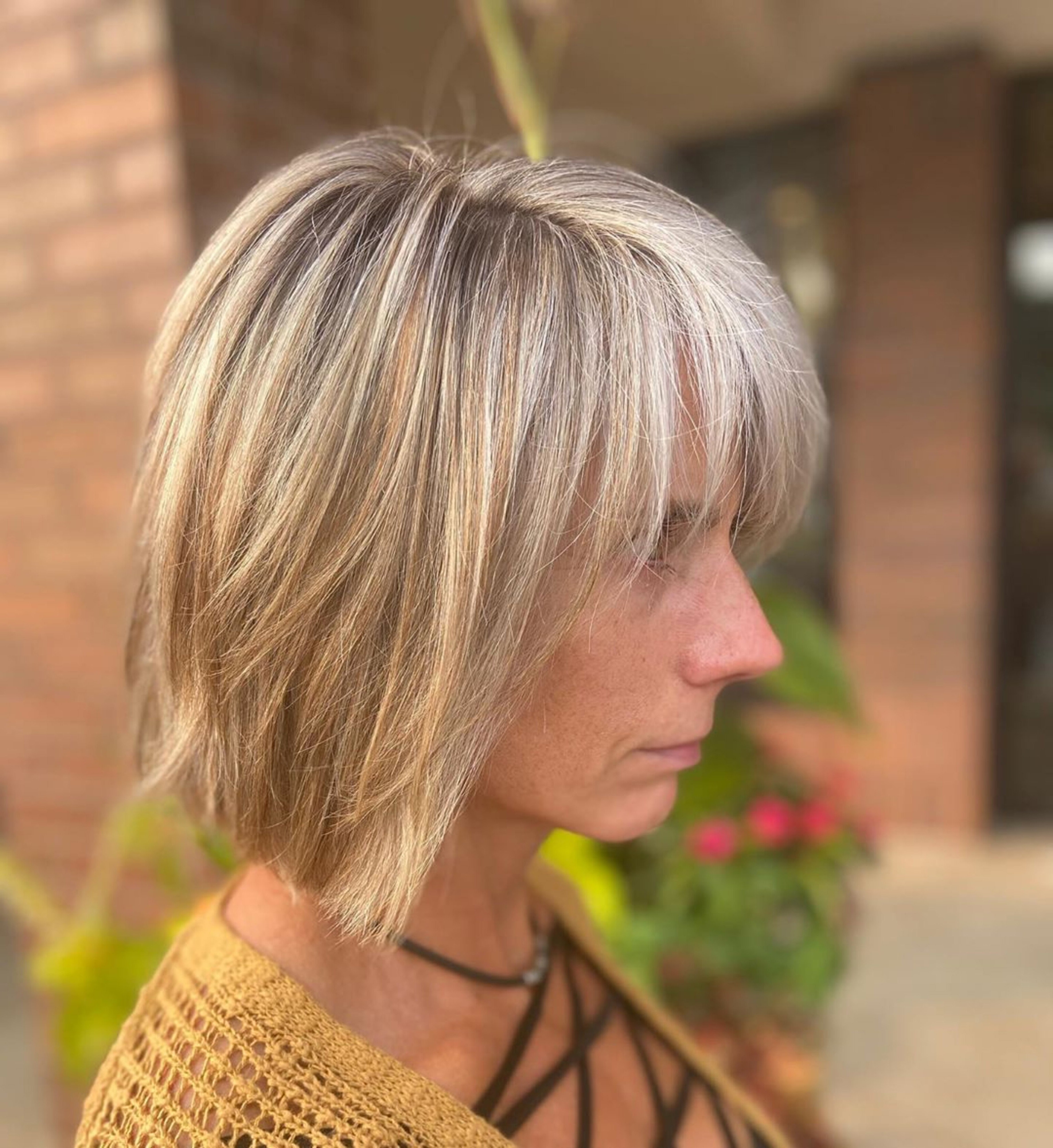 ---
Shaggy Bob with Bright Highlights
Do you want to change your image to something more noticeable and impressive? No need to look further. Consider making a shaggy bob with bright highlights and make an accent on your individuality and personal traits of character. It's more than just a haircut!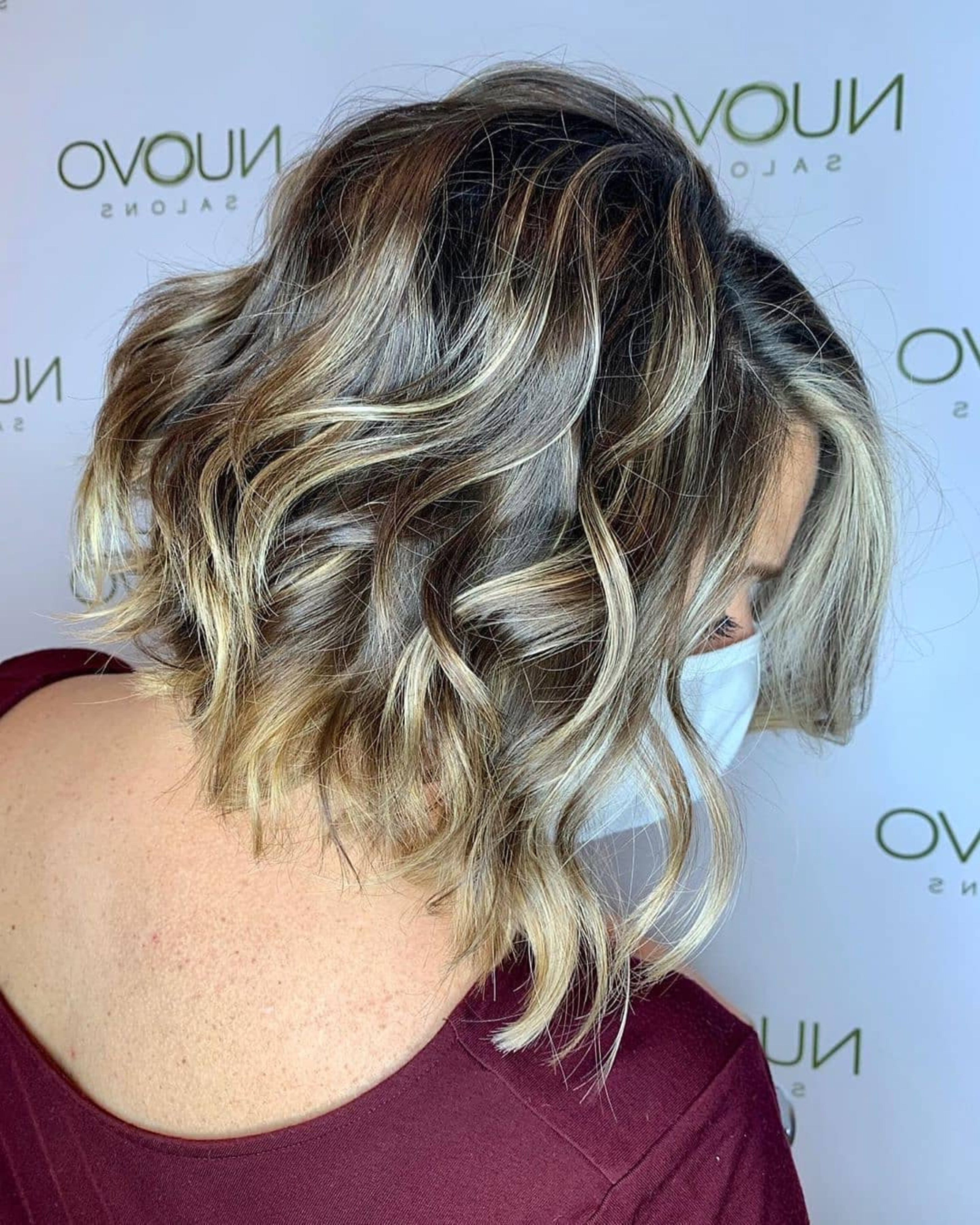 ---
Shaggy Bob with Razored Layers
Shaggy bob with razored layers is exactly what you need if you are a woman who likes changing something in her style from time to time. The main peculiarity here is razored layers that look super stylish. Are you a brave girl? Don't hesitate to make it.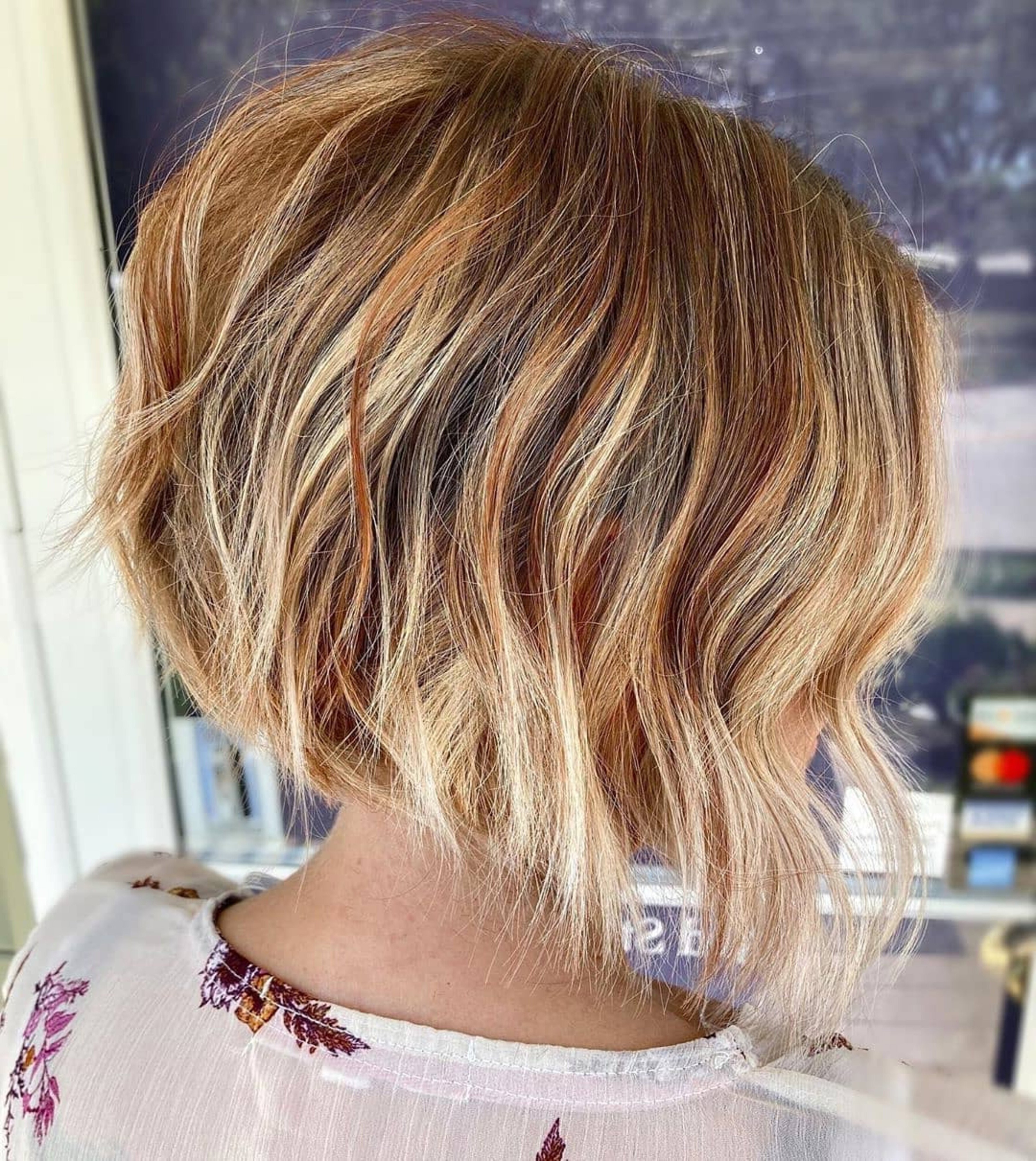 ---
One Length Bronde Bob with Feathered Layers
One length bronde bob with feathered layers is the style that won't leave anyone indifferent. You should choose it if you like styles with layers and aren't happy with the standard bob. Add freshness to your current bob haircut with the help of feathered layers.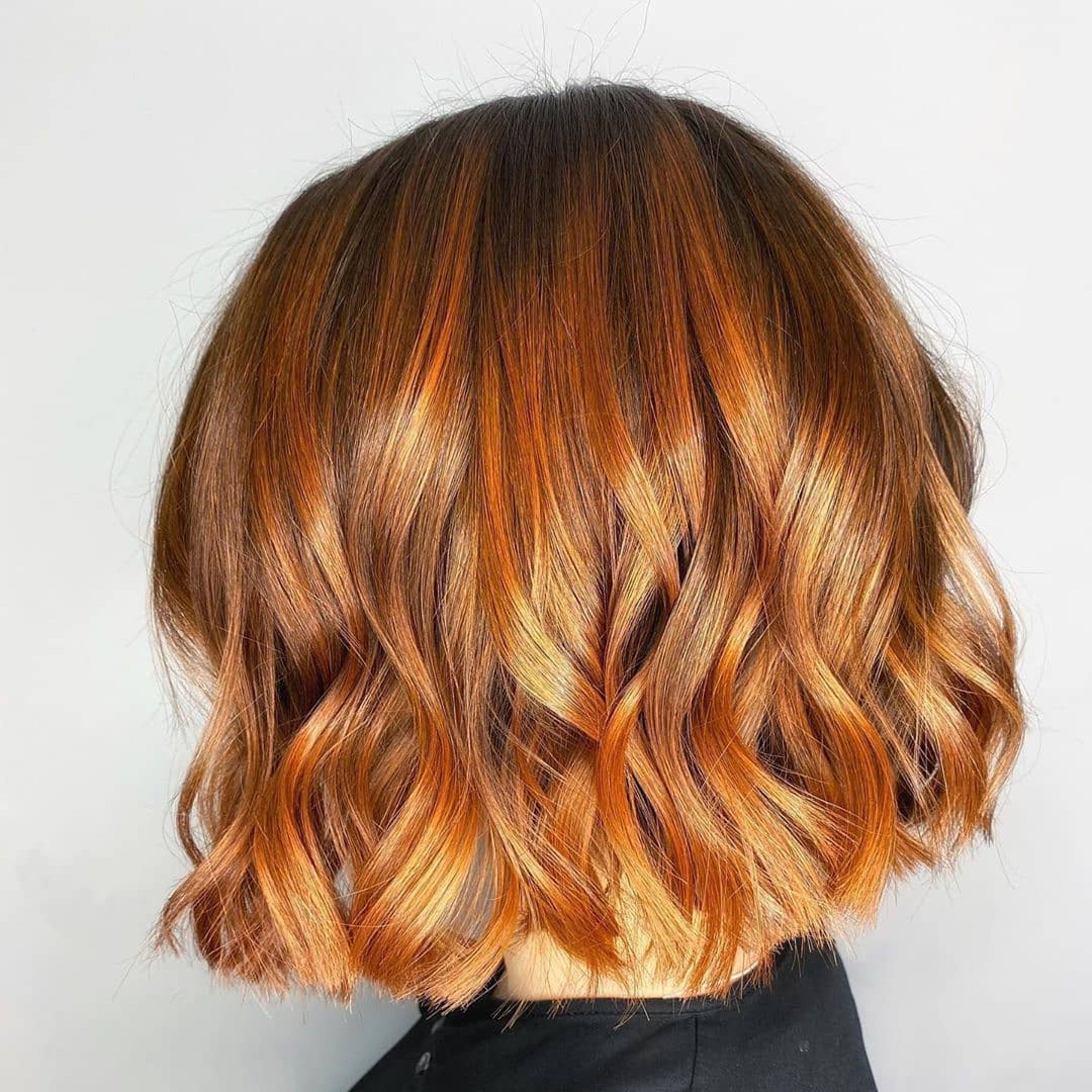 ---
How Can You Style Your Bob
"Is there one way to style my bob or not?" You will be surprised by how many cool ideas on how to style bob exist. Don't hesitate to choose one of them and change your today's image to a more fashionable one.
---
Classic Bob
A classic bob is a nice option to choose if you like classy styles. Businesswomen often give preference to this haircut as it is versatile and is always elegant.  It suits office workers and serious conservative ladies.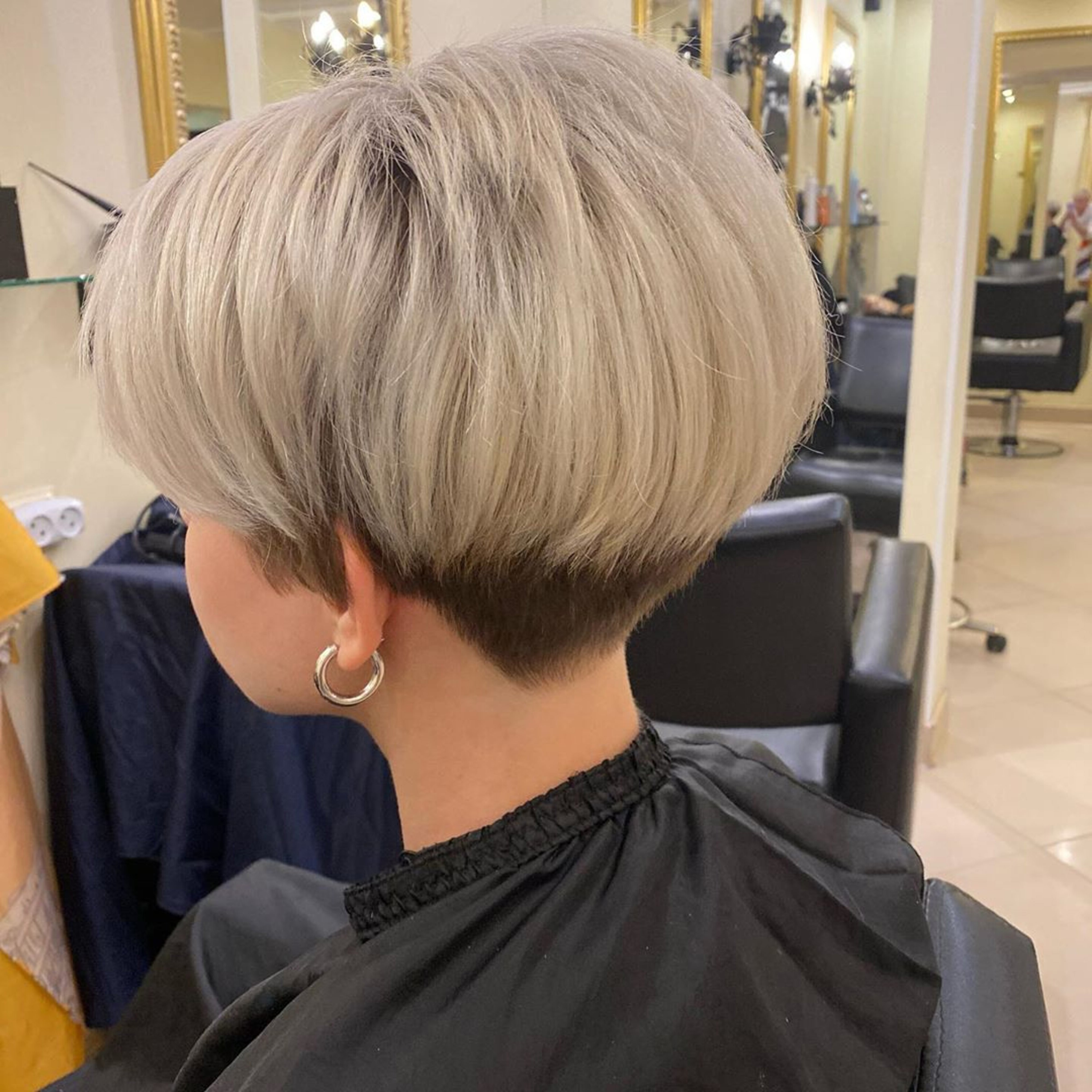 ---
Stacked Bob haircut
A stacked bob haircut is the one that impresses with its originality. A stacked bob is a good option to choose if you have straight hair and want to look neat every day. It's easy to maintain this hair cut.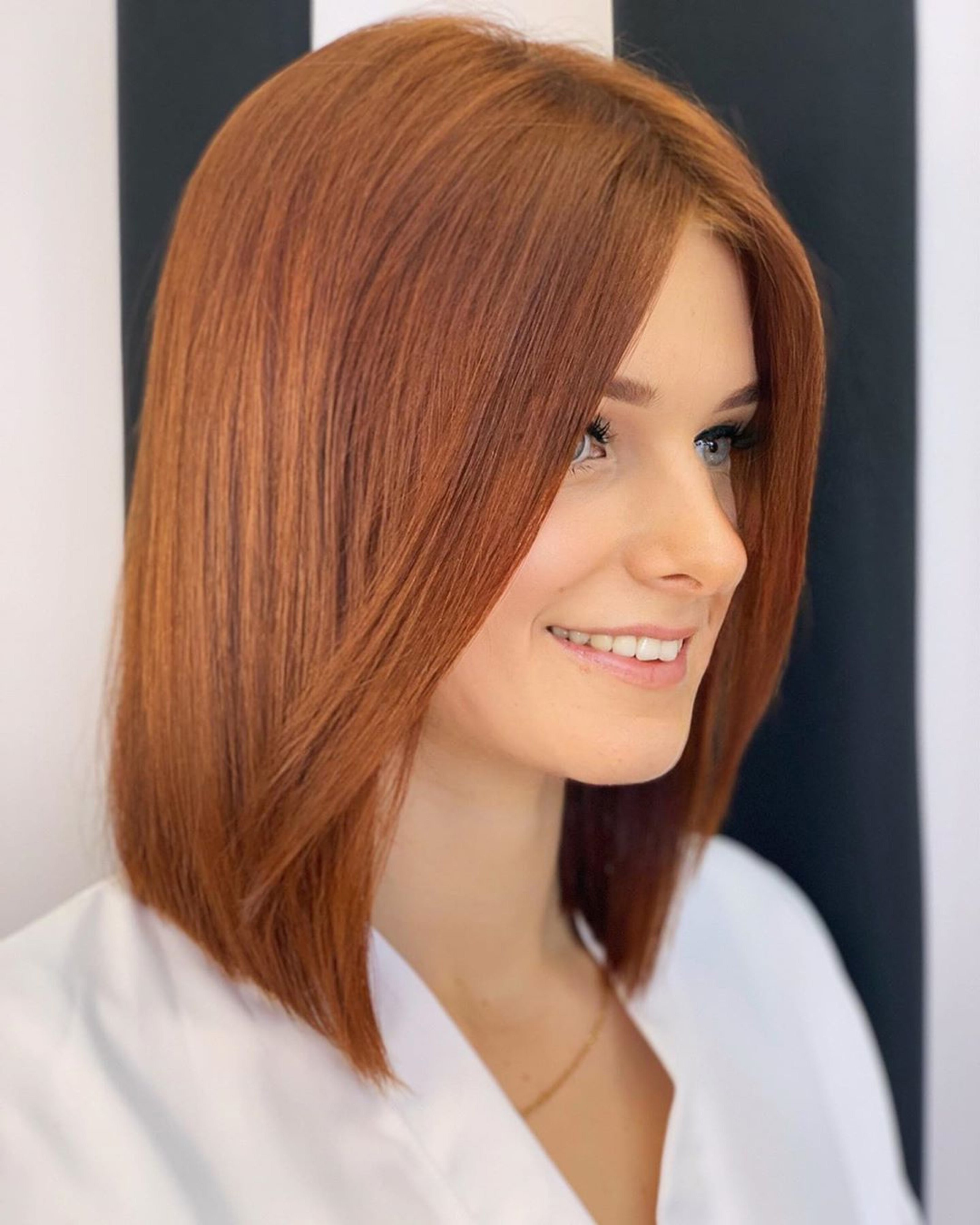 ---
Inverted Bob haircut
An inverted bob haircut is the one that will help you to create a unique look. It's a good way to add volume to your hairstyle and stand out with the original inverted design.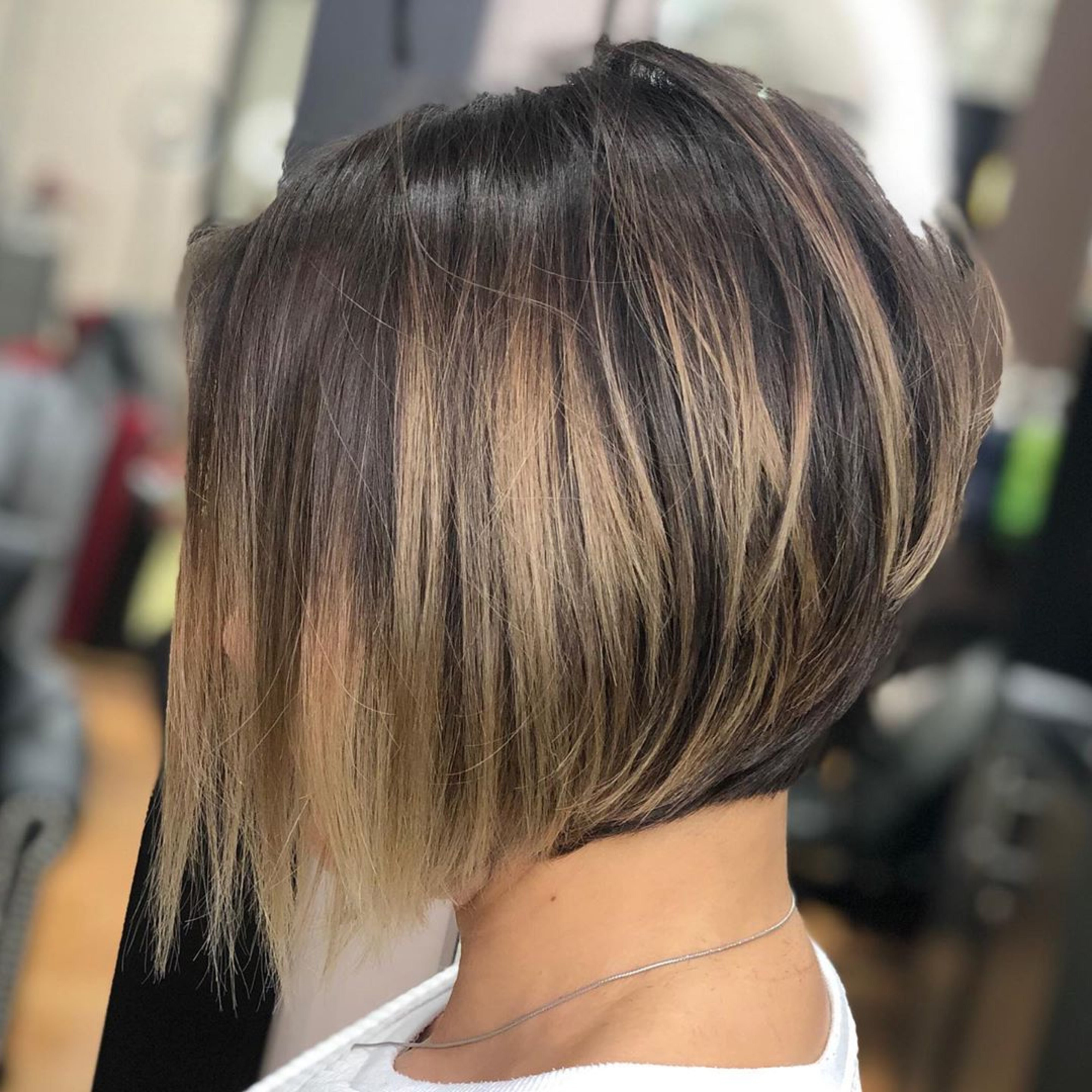 ---
Wavy Bob haircut
A wavy bob haircut is one of the styles that amaze with its beauty and gentleness. A girl with wavy hair will look lovely with this style. Style your wavy hair in this way and you will look impressively.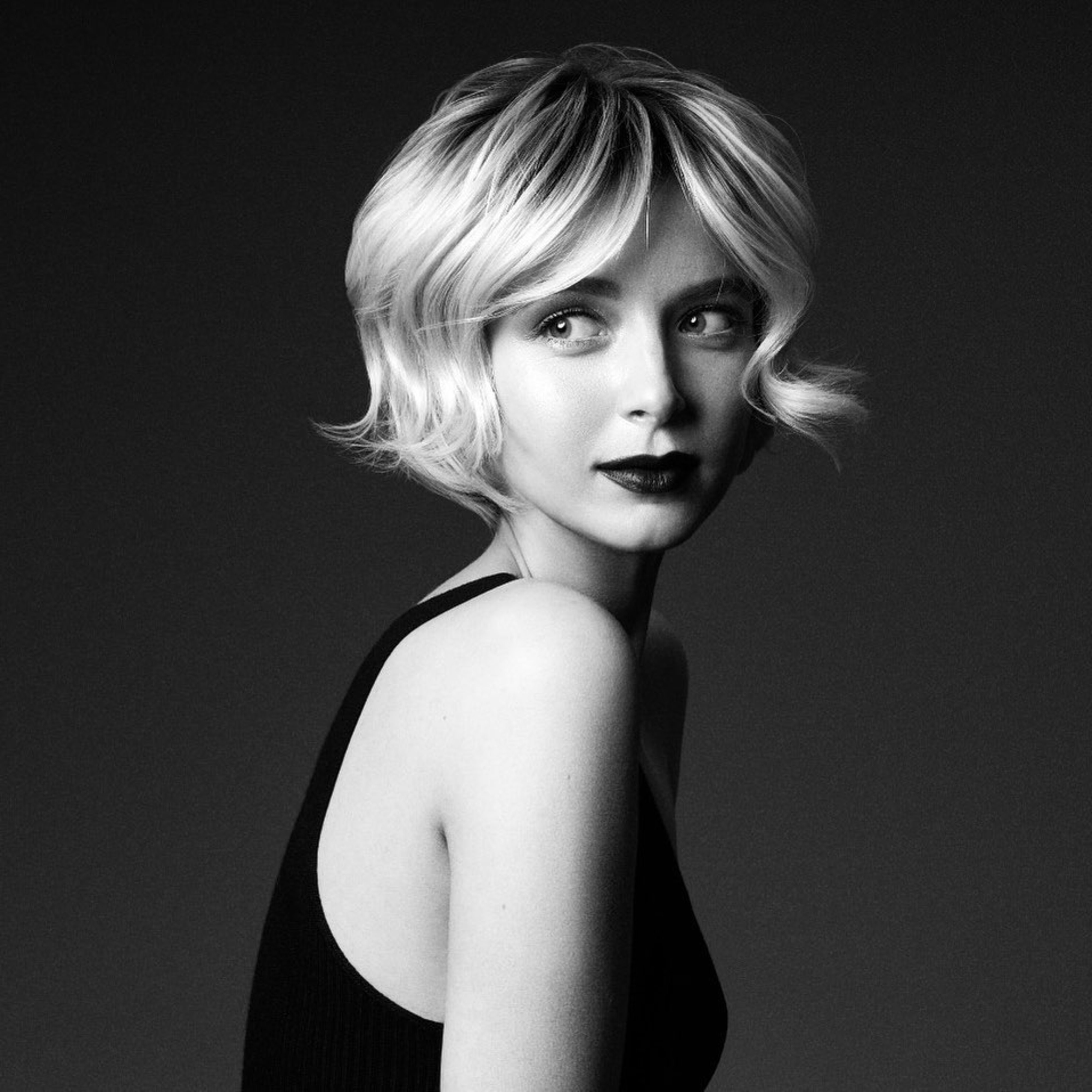 ---
French Bob haircut
No person has never heard about French bob haircut. You should consider this style if you think that it's the best one for your classic look. It hasn't lost its popularity over years and looks fascinating now.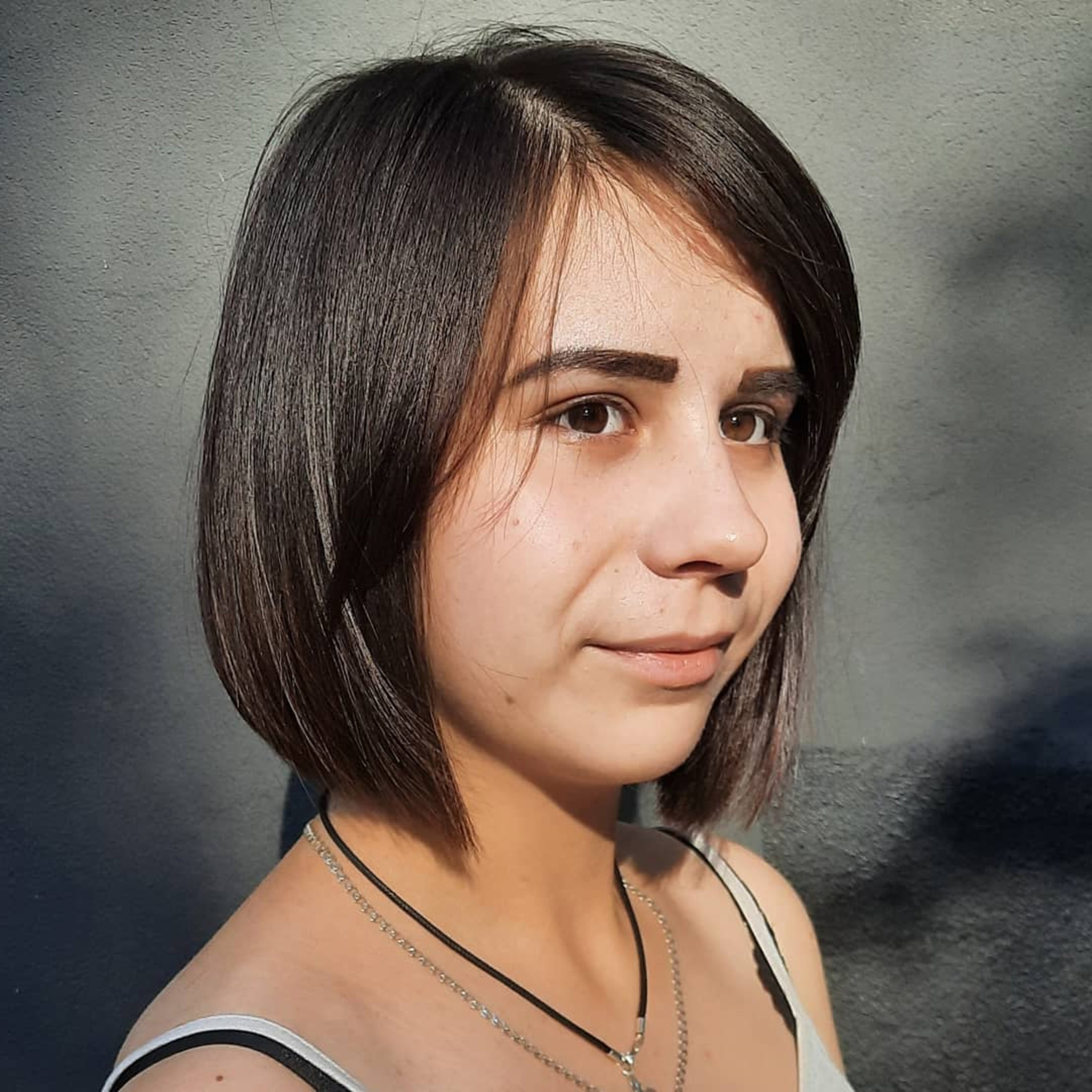 ---
V-Cut and Razored Blonde Bob
Nothing is as original as a V-cut and razored blonde bob. It is one of the perfect variations of bob haircut that suits young ladies who are always ready to change their look to the better one. Blondes will find this cut super stylish.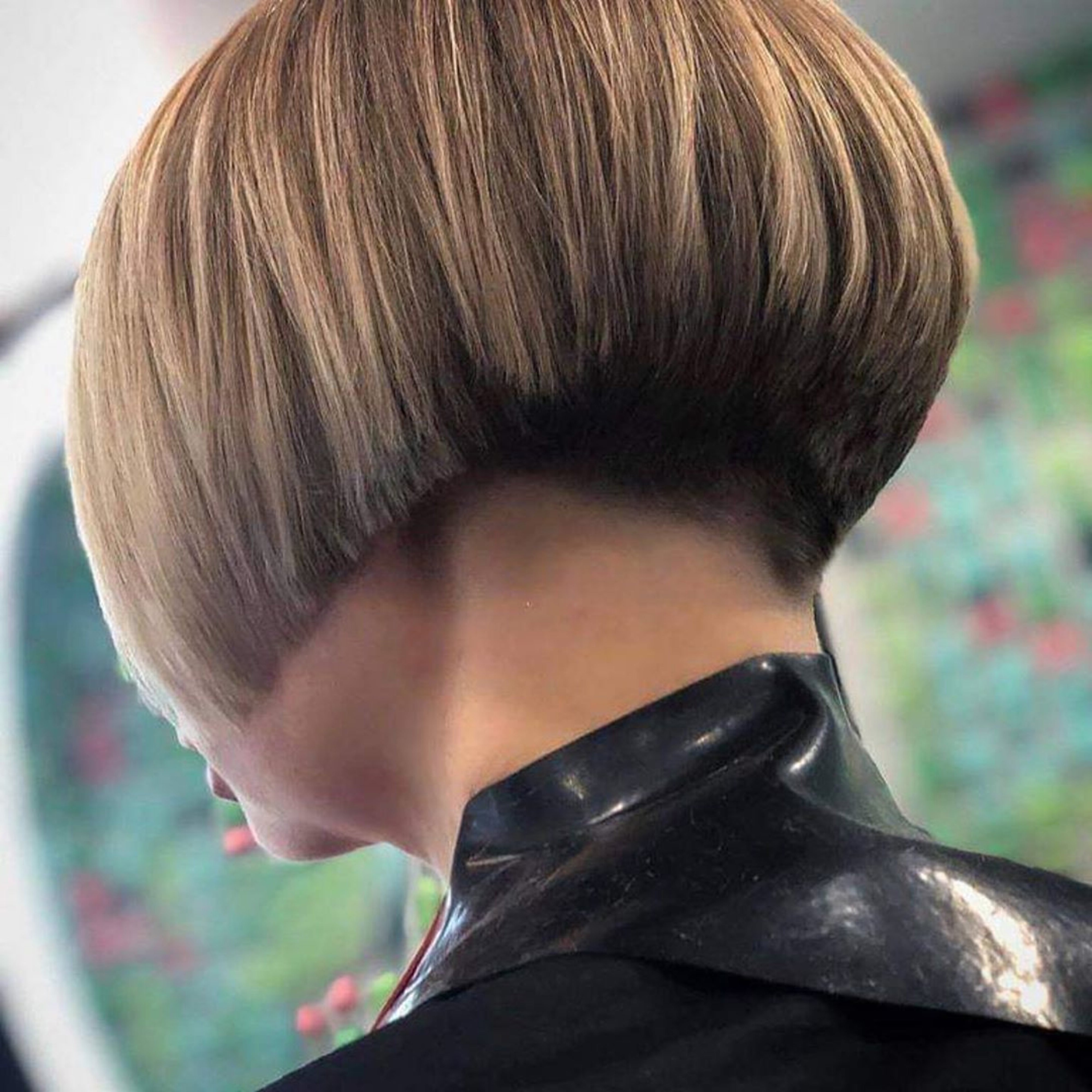 ---
A-line Bob
An A-line bob is a nice option to choose for straight hair. The hair length on one side is longer compared to the hair length on another side. It looks incredibly stylish and elegant for every day.
---
Asymmetrical Bob haircut
Do you like asymmetry in haircuts? Then, don't hesitate to make an asymmetrical bob haircut that looks original and is easy to take care of. The hair length may differ either slightly or much depending on your personal preferences.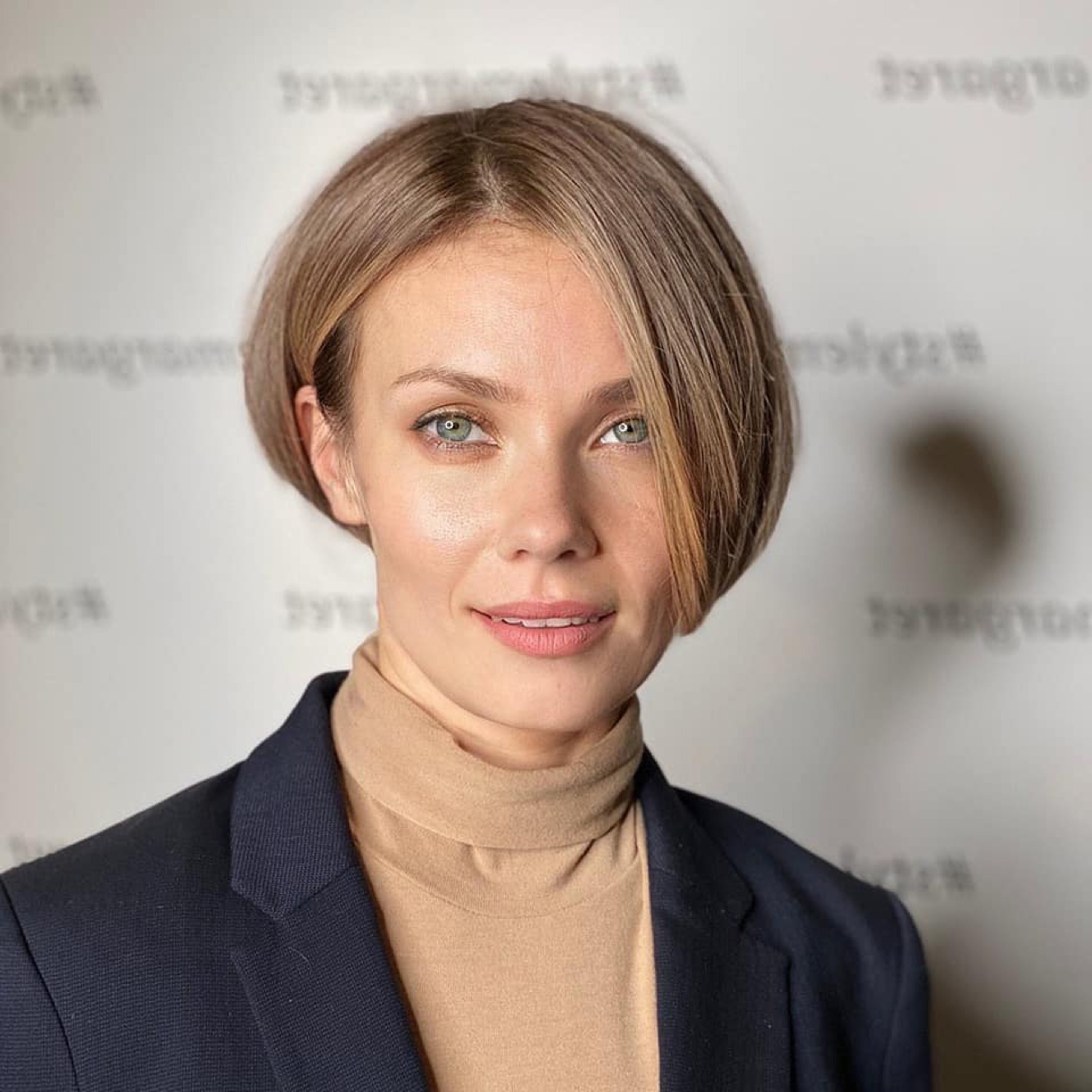 ---
Layered Bob
A layered bob is one of the common styles today. You should choose it if you like haircuts with layers and want to wear the style that differs from the standard bob. A layered bob is a good option for those who aren't ready to experiment with the short hair length.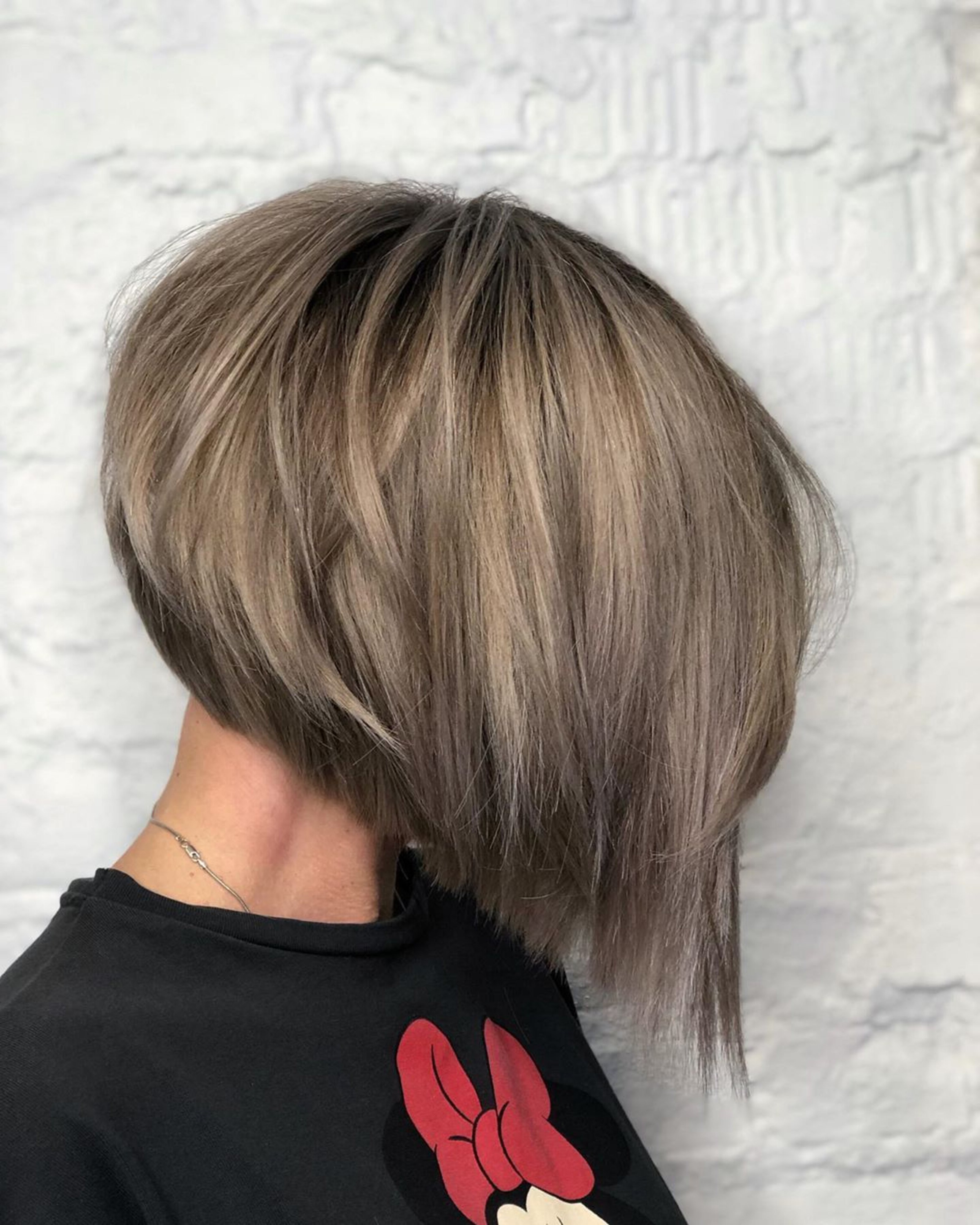 ---
One-length haircut
It isn't obligatory to make the haircut with different hair lengths. You can choose a one-length haircut and look amazingly beautiful and original. The hair length on both sides is the same here.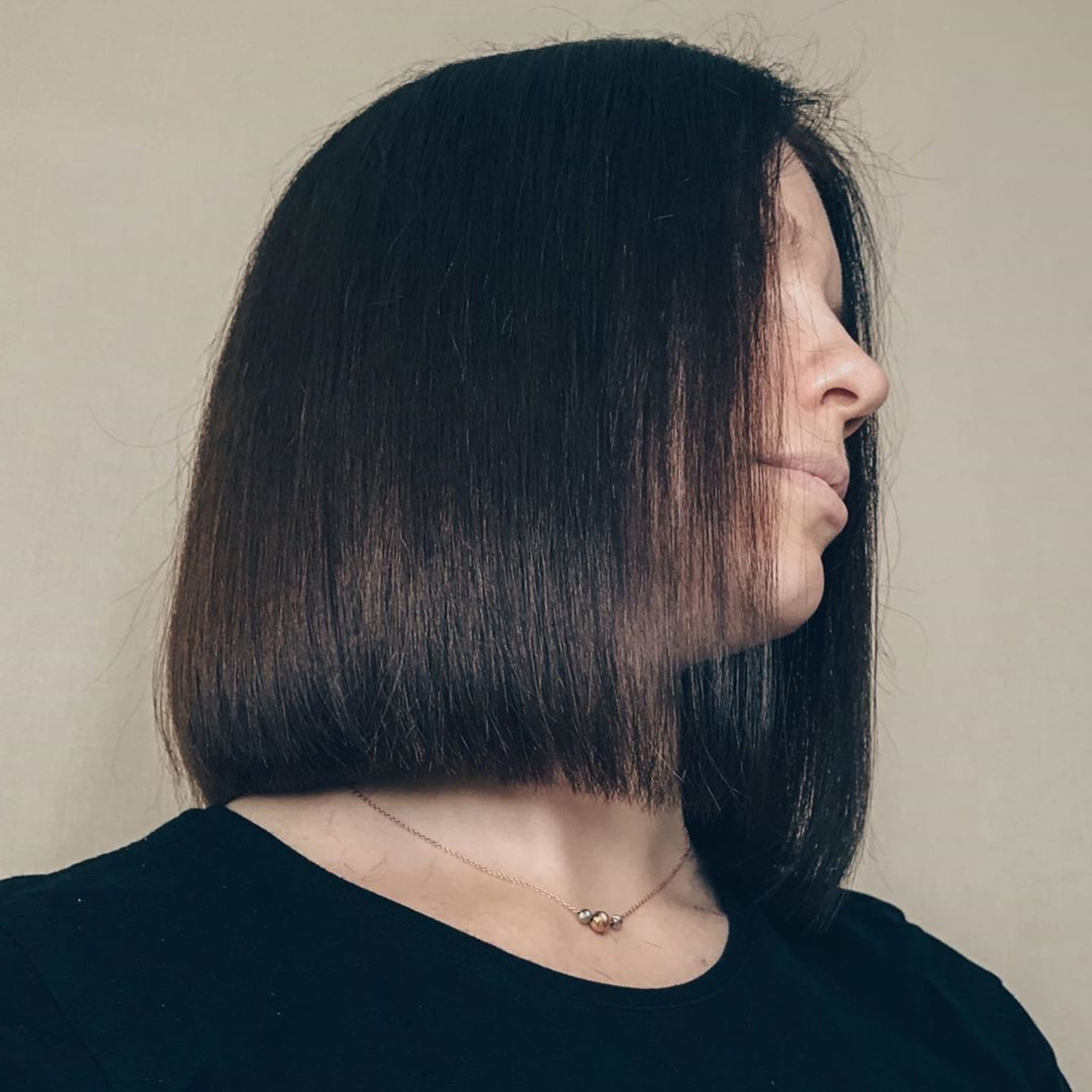 ---
How you can style haircut with bang
Do you like wearing bangs? Don't part with your favorite bangs or cut bangs if your current style doesn't include this feature. Bangs of different lengths and styles can be added to bob hair cuts to make them more versatile and original.
---
Short Bob haircuts with bangs
Consider making short bob haircuts with bangs if you like short styles but want to look feminine. Bangs will help to create the necessary effect quickly. You can choose bangs of any length that fit your face type.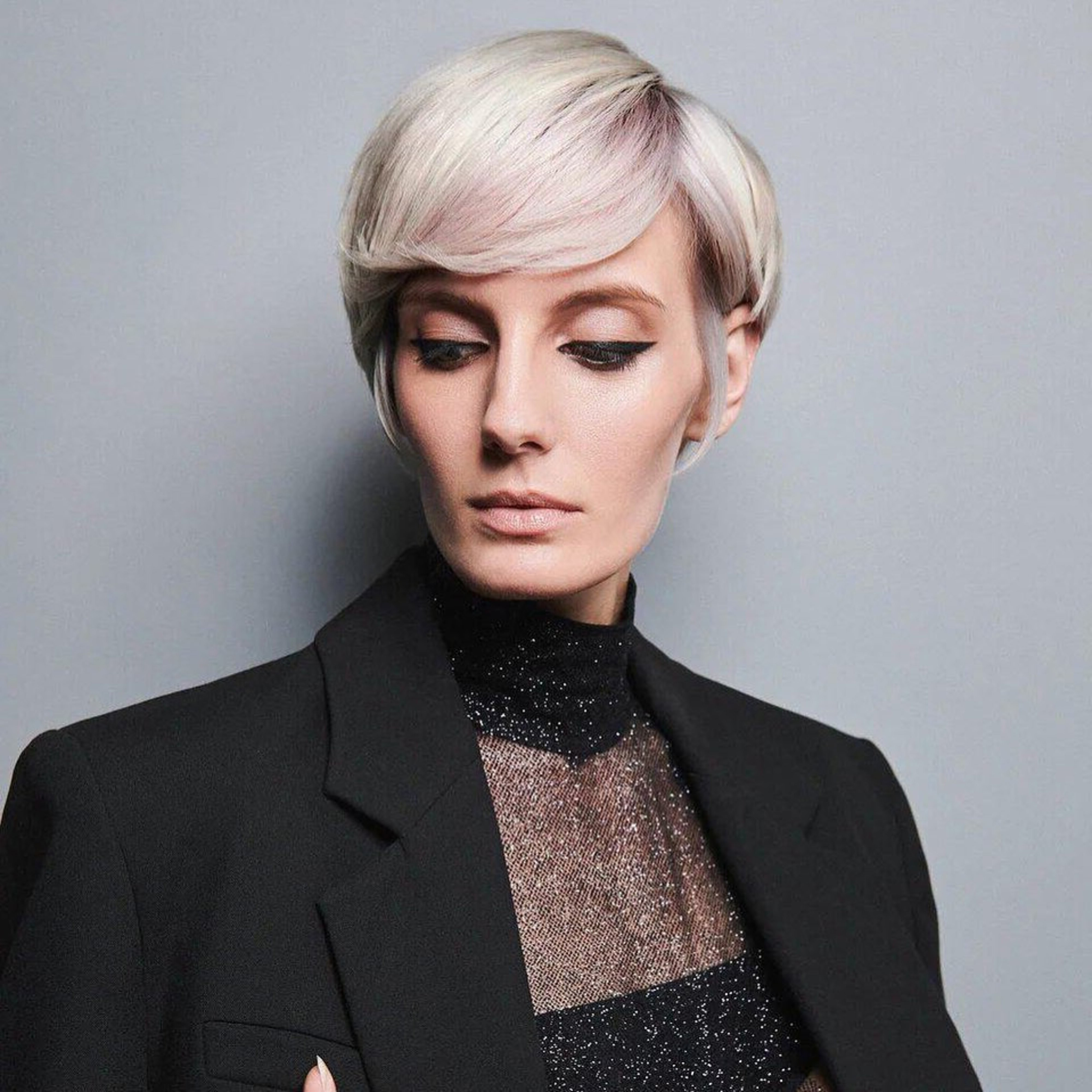 ---
Pixie Bob haircut with bangs
A pixie bob haircut with bangs is one more way to highlight your personality. Add bangs to your standard bob haircut and you will look more stylish than you were. The hair length may vary on both sides. The most popular option is with the bangs that are long on one side only.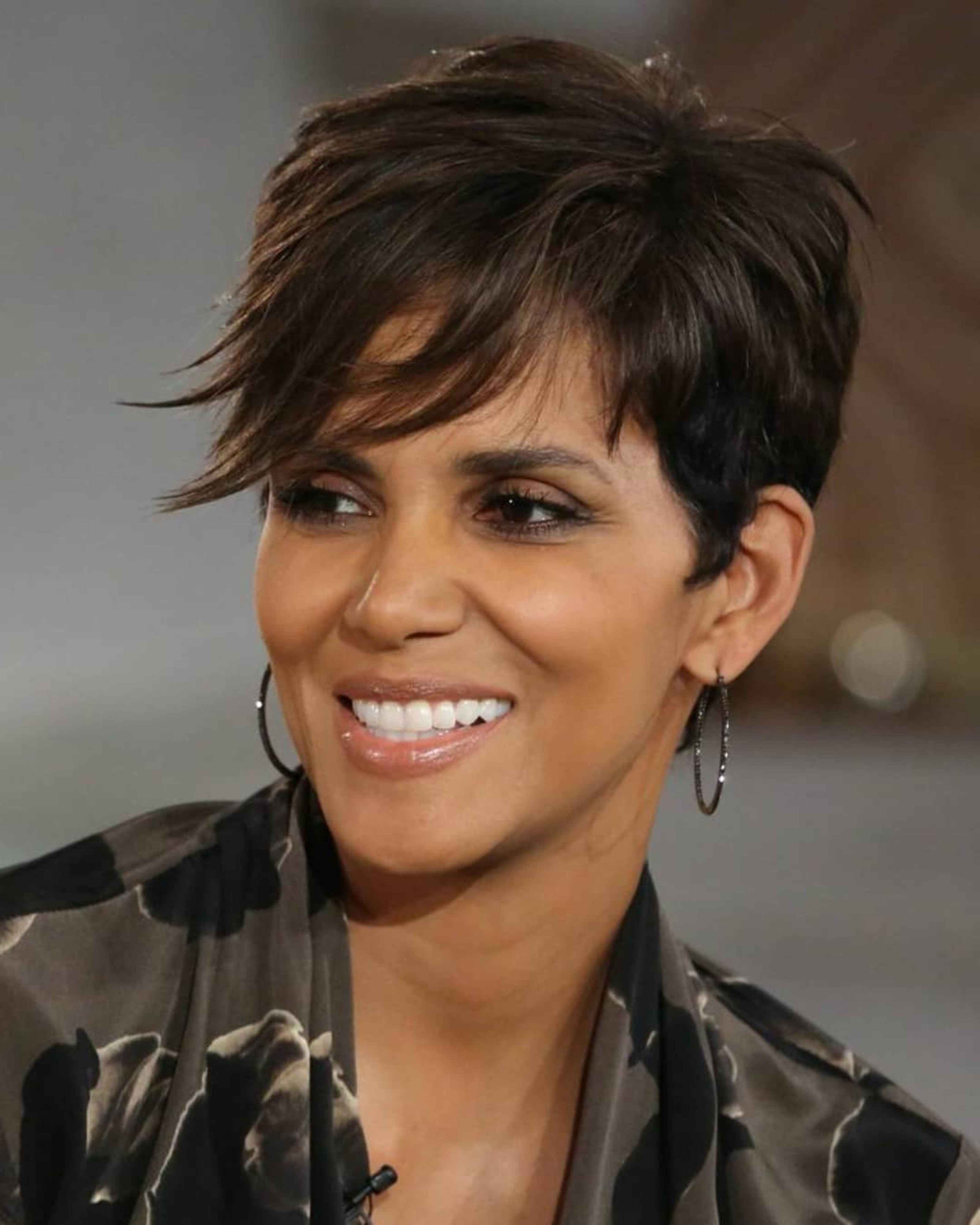 ---
Medium Bob haircuts with bangs
There are many great bob styles. Among which are medium bob haircuts with bangs. These styles help women to look feminine and not part with their fine hair. Make a bob haircut and wear it daily styling your medium-length hair without any problems.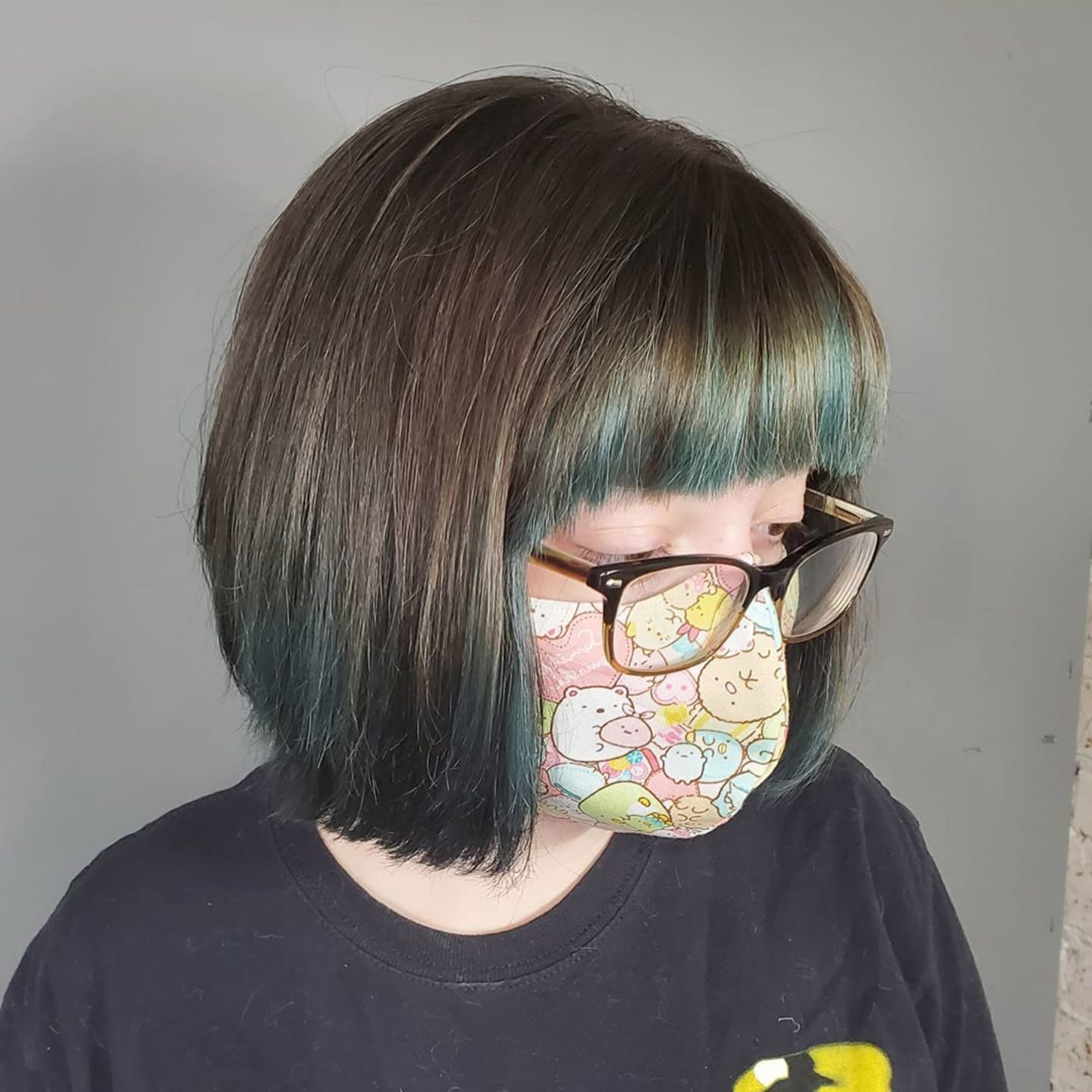 ---
Blunt cut Bob with bangs
A blunt cut bob with bangs is the choice of girls and middle-aged ladies. The key feature of this style is the same hair length on both sides and long straight bangs. It looks classy and elegant anytime.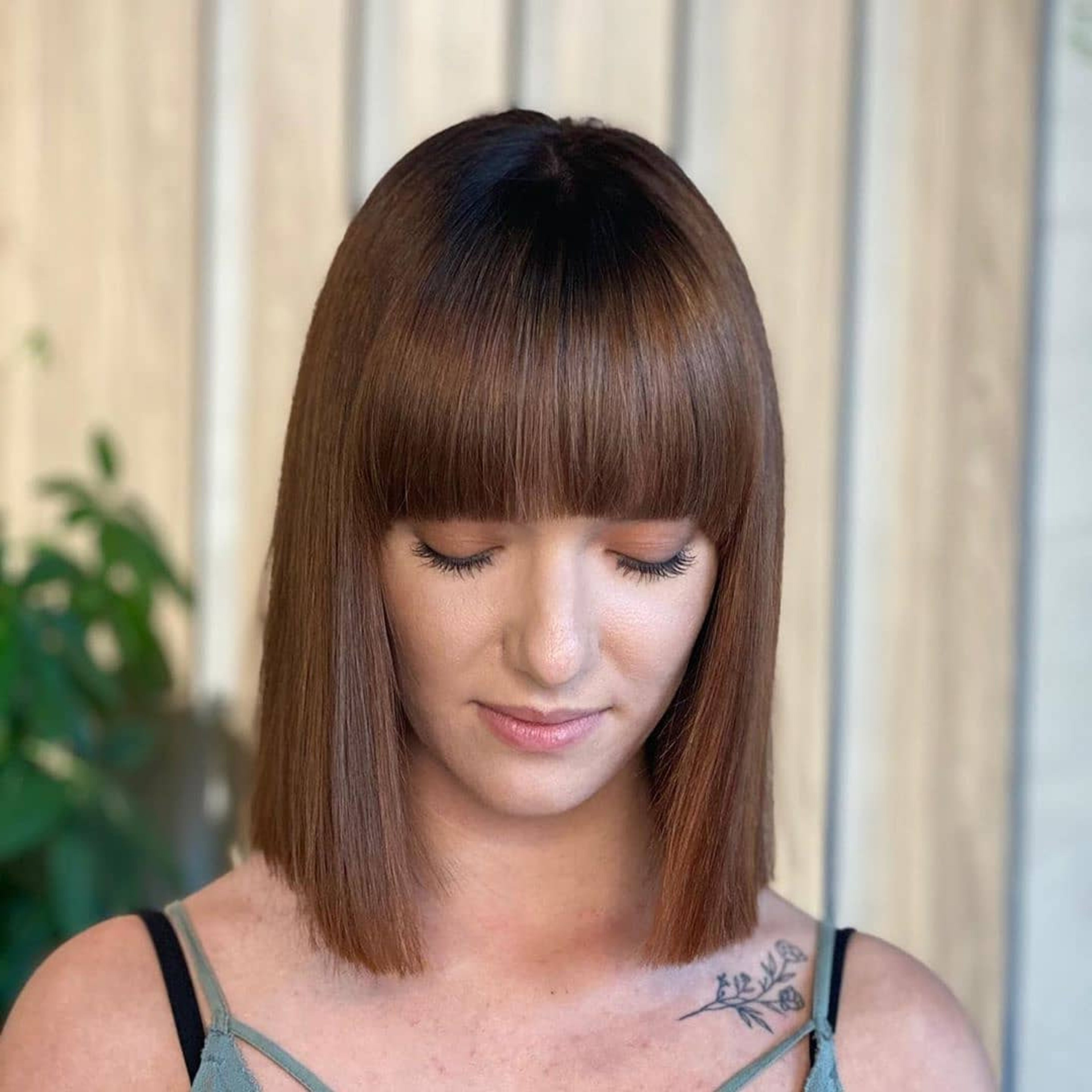 ---
Layered Bob haircuts with bangs
A layered bob haircut with bangs is one great option to choose from. It combines two original features like layers and bangs. These options will help to emphasize your personality and face type.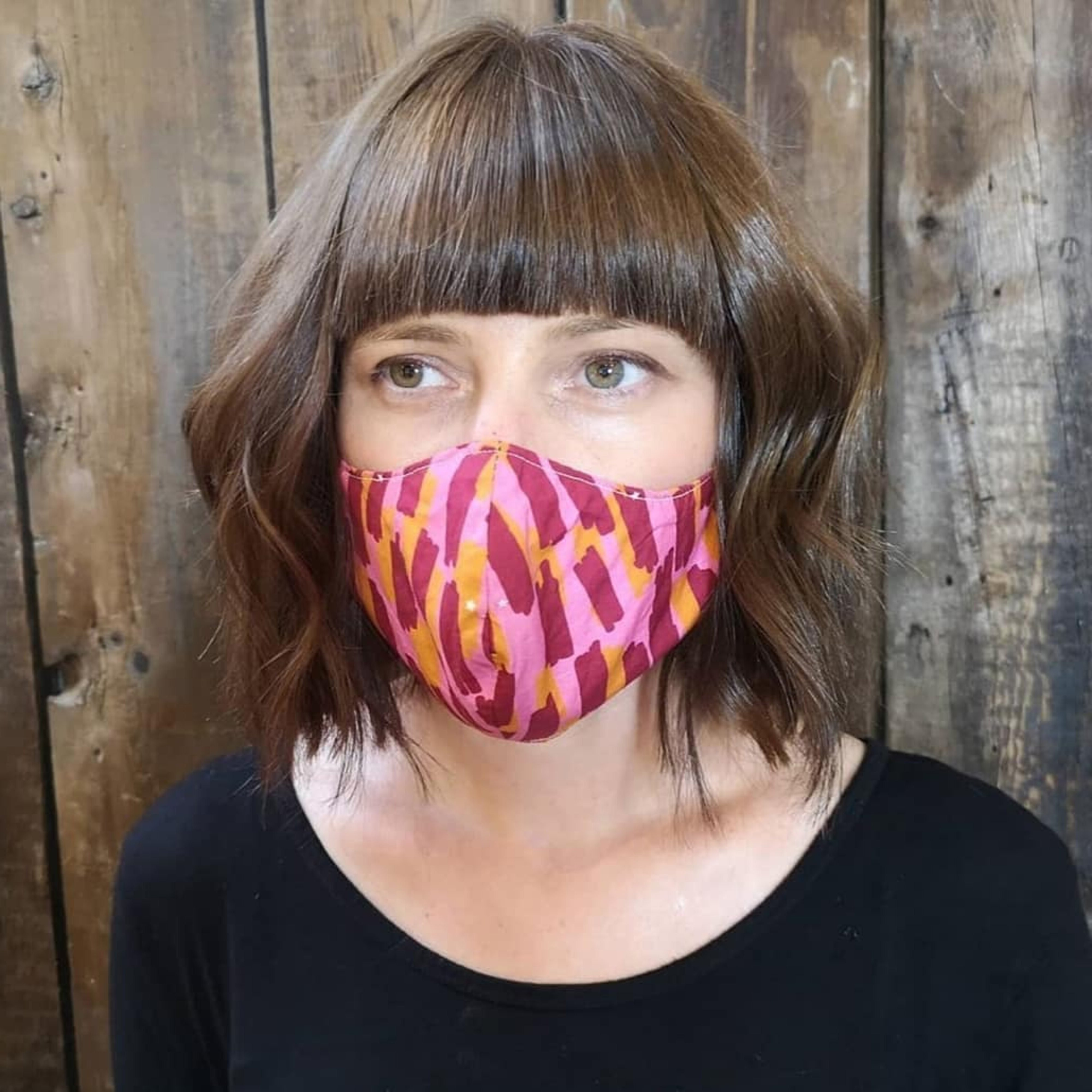 ---
Cute Bob haircuts for young ladies
"Wow, how cute she is!" – Want to hear the same words from all passers-by? Then, hurry up to choose one of the cute bob haircuts for young ladies. It's a great option to choose if you are against standard haircuts that are worn by most women and lack originality.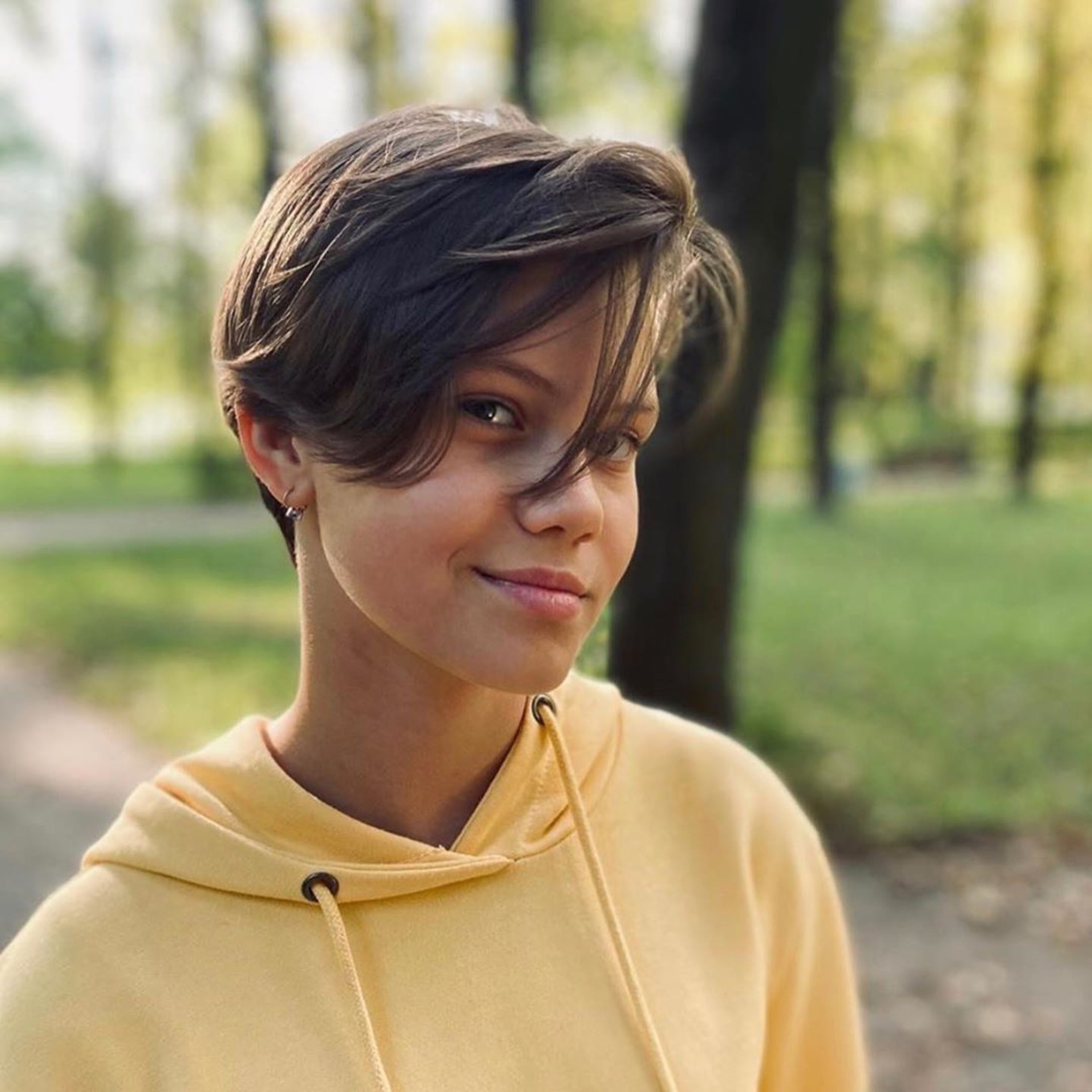 ---
How the haircut will look with your face type
The key to success is to choose the haircut according to your face type. There are tons of options to choose from. You should be ready to compare styles and choose the one that will fit the type of your face. Check what type you have and what cut will fit you better than others.
---
Round-Shaped
Women with a round face shape are lucky as they can choose any of the short haircuts. Bob hairstyles will fit round shape perfectly. Pay attention to the options without much volume on the top.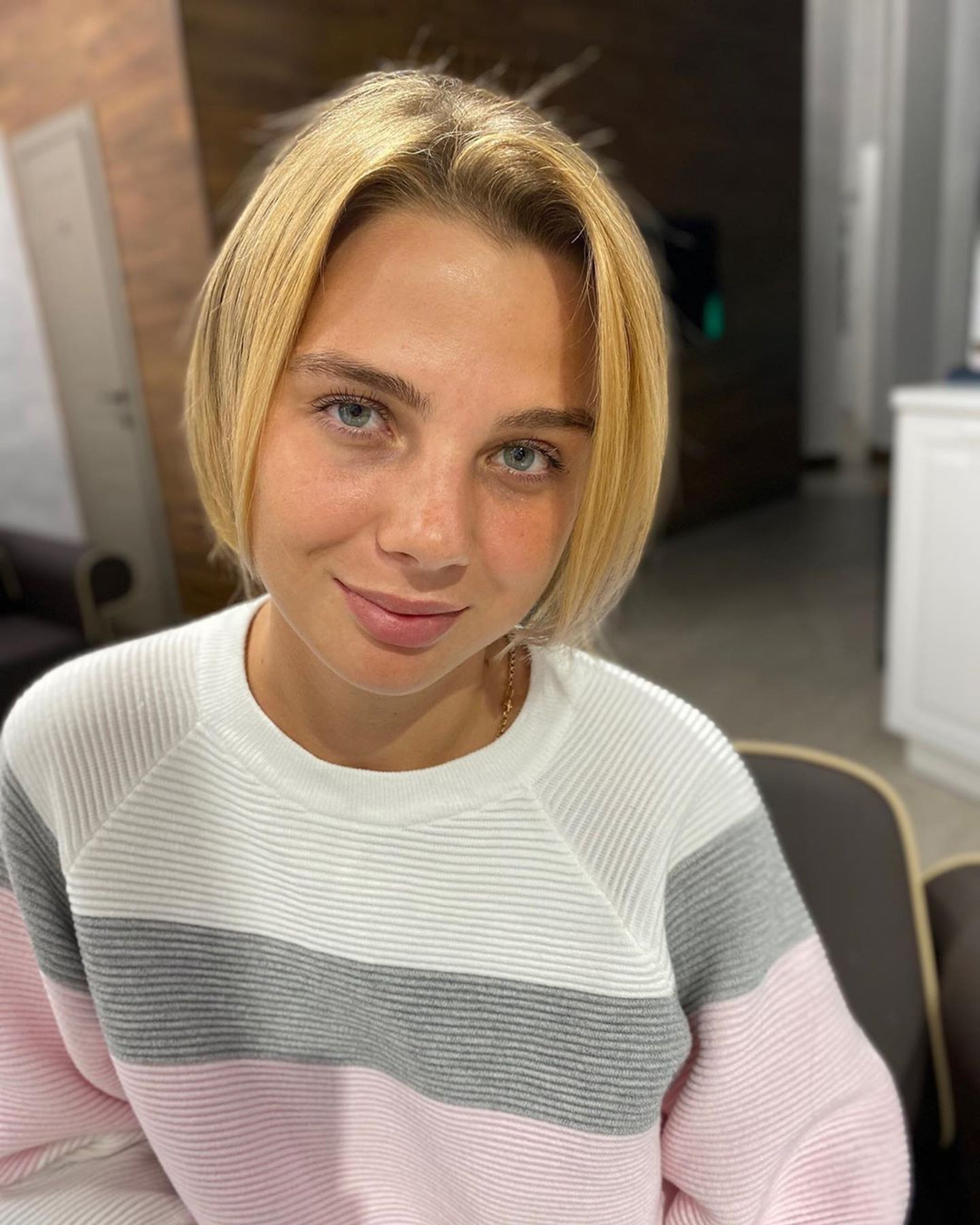 ---
Oval-Shaped
Girls with an oval face should choose among short and medium-length haircuts. There are no such styles that aren't recommended to the women with an oval face type. So, it is up to you to choose the one you like most.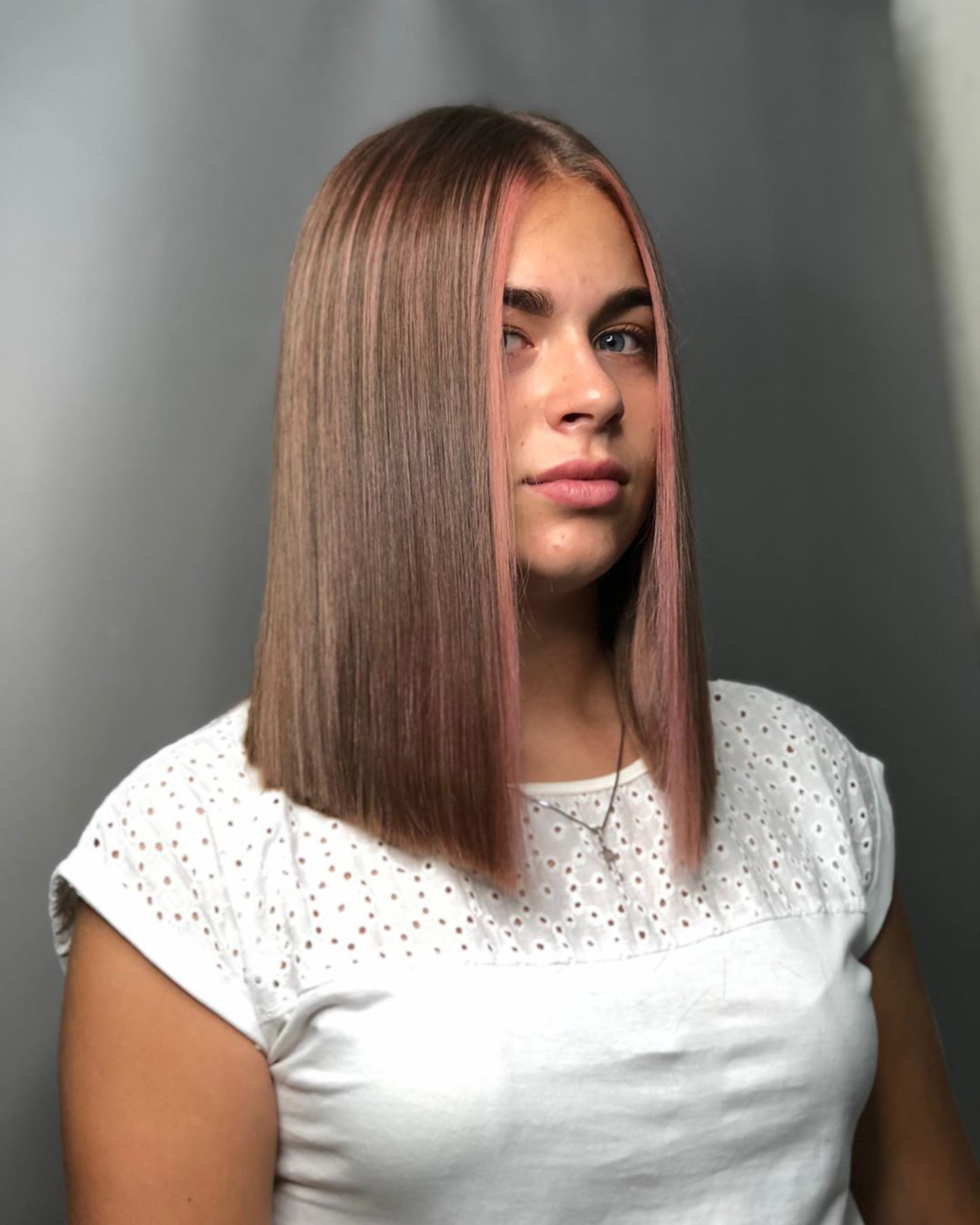 ---
For Long face
Want to make your long face visually shorter? It isn't a problem. You can choose among short bob styles with bangs that are shorter on one side and is longer on another side. It's up to you to give preference to one of the options as all of them will fit you perfectly.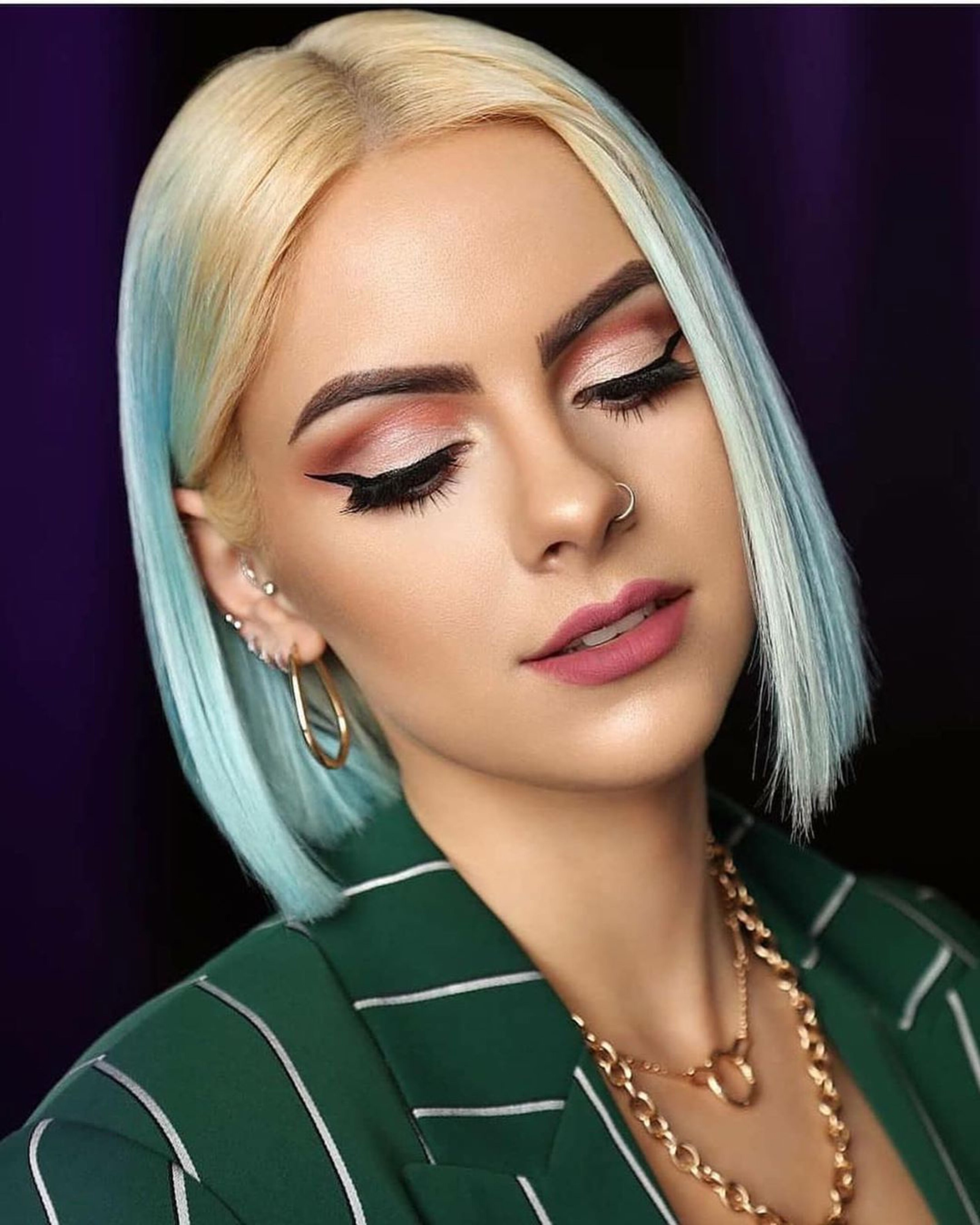 ---
Square-Shaped
A square shape of the face makes it more difficult to choose the right bob option. However, nothing is impossible. Consider an inverted bob haircut or the one that has bright highlights. Short and shoulder-length options will fit girls with this type of face.
---
For Pear face
Do you have a pear face? Then, consider a lovely bob haircut with highlights or layers.
A pear face type looks even more original in the combination with one of the trendy bob hairstyles with bangs.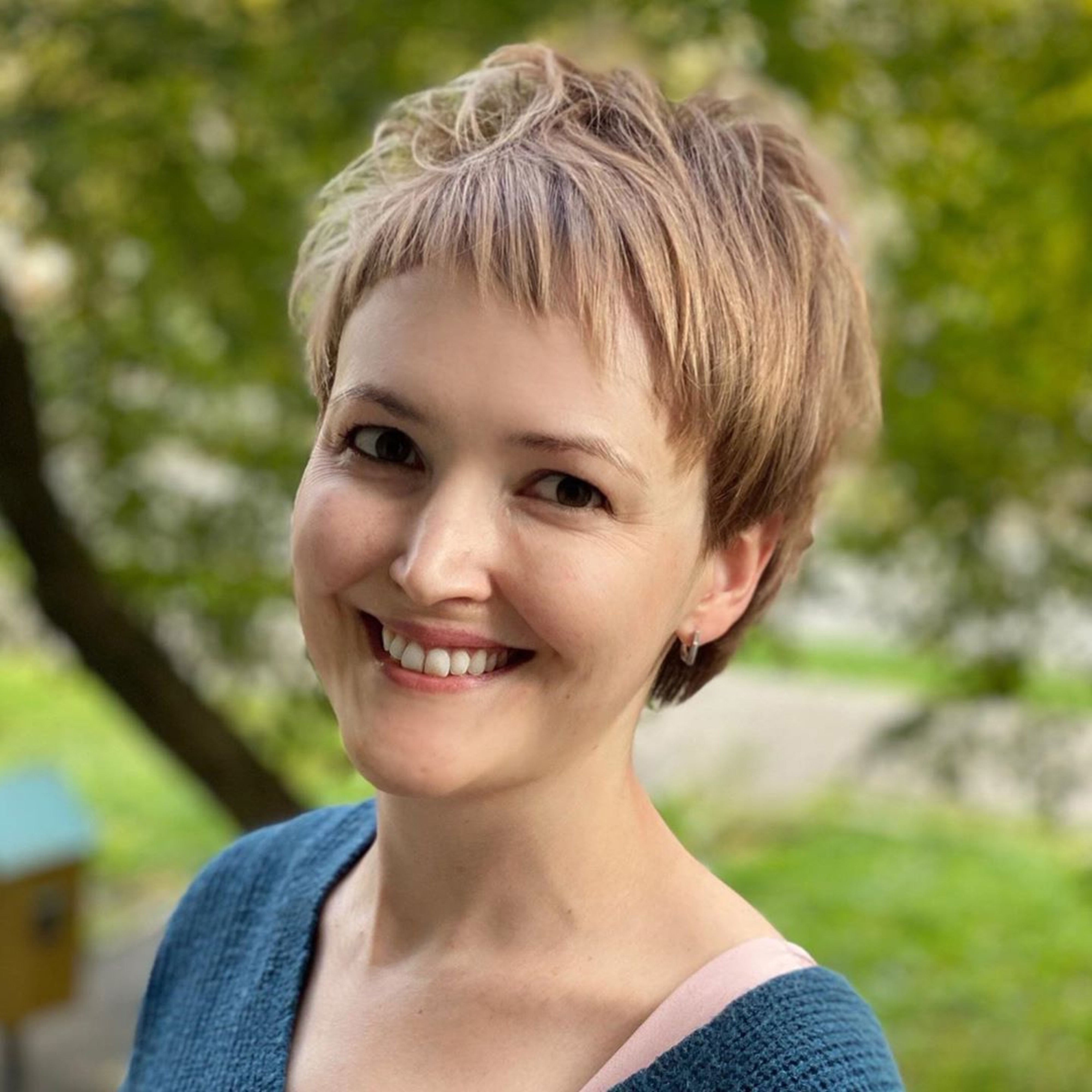 ---
Heart-Shaped
Girls with heart-shaped face types look very lovely and cute. Add a nice bob style to your unique type of face and you will impress everyone with your style. Check the pic and show it to your hairstylist to make the same one for you.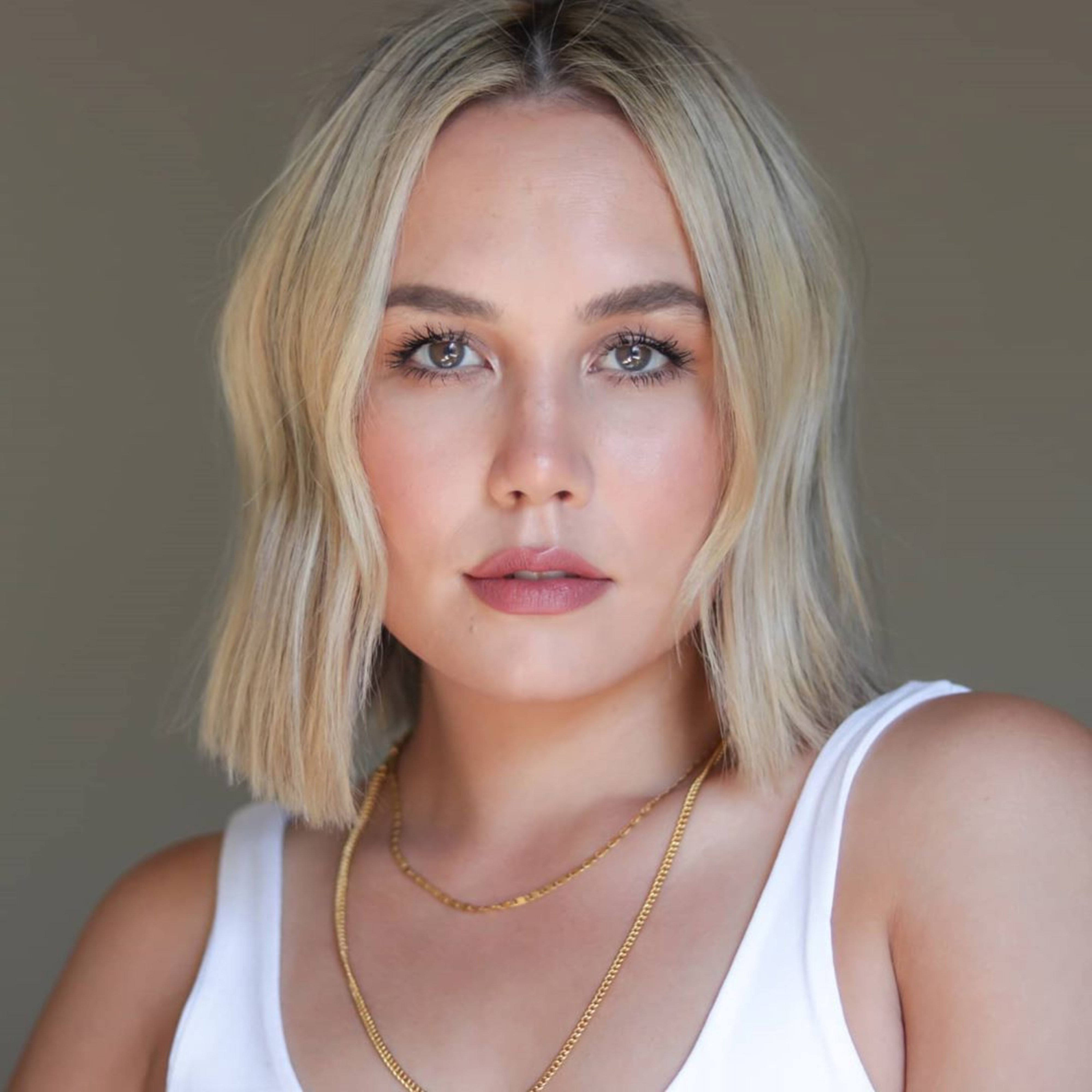 ---
Diamond face shape
A diamond face shape is one of the rarest among women. Want to create a luxurious image for your face shape? Don't hesitate to make a pixie bob hairstyle or some other one that will highlight your unique face shape best.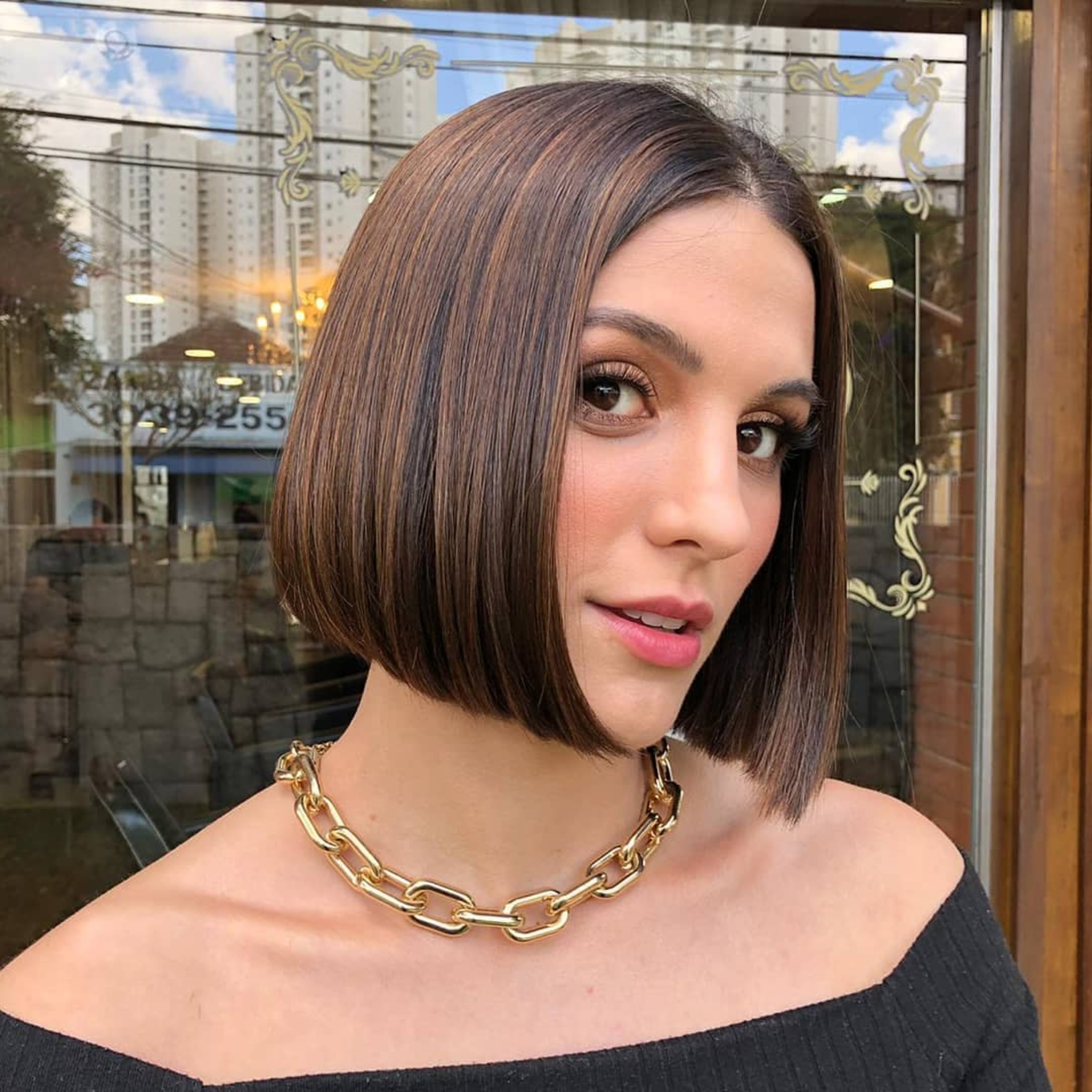 ---
Bob cuts for fat faces
There are many bob haircuts for fat faces and thin faces. The one you need for a fat face is a classy bob or a bob that doesn't have much volume on the top of your head. Pay attention to cuts with the same hair length on both sides.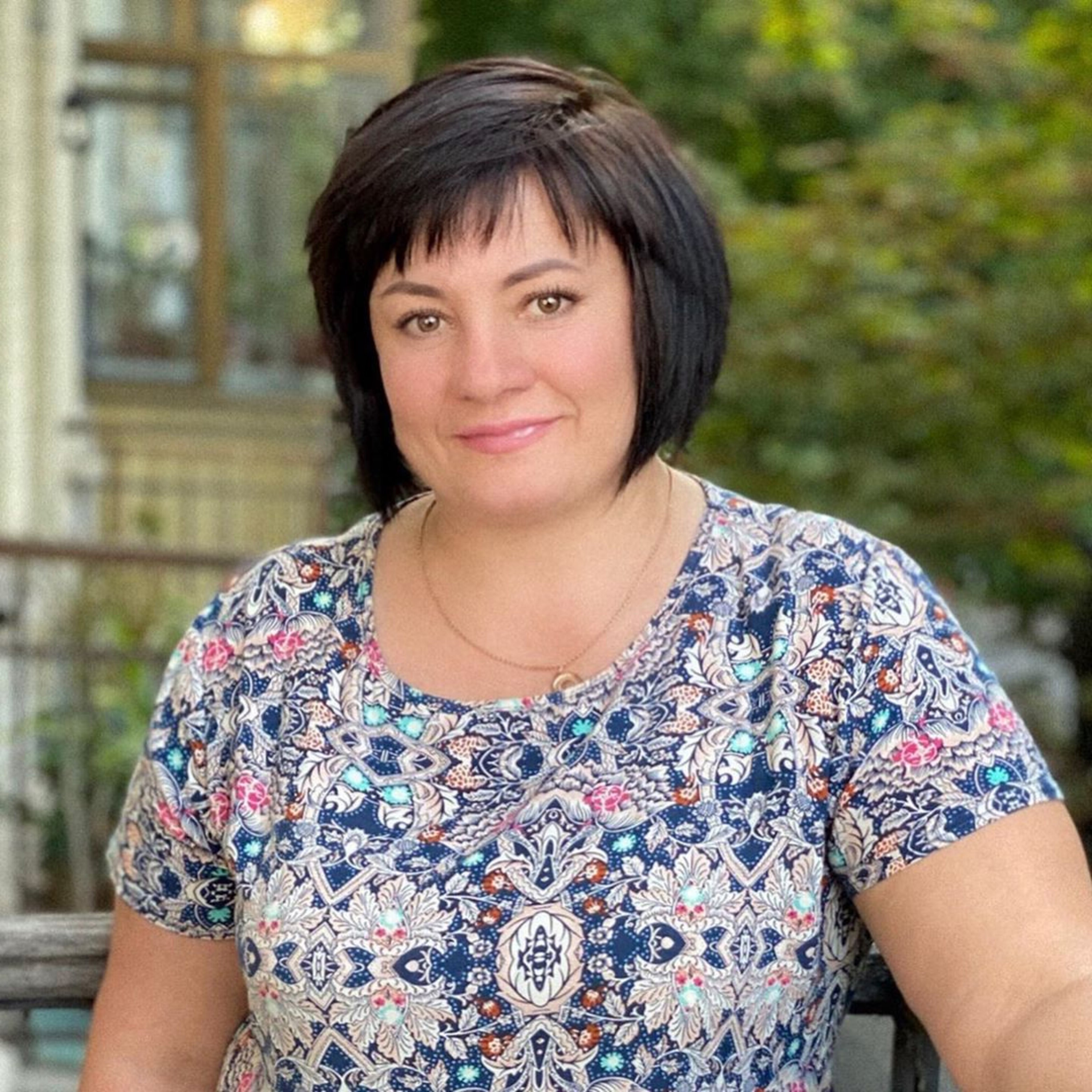 ---
How the Haircut looks with all hair types
A bob style has been chosen by ladies with thin and thick hair type, straight and curly hair.
It doesn't matter what hair type you have got, you can choose one of the bob styles that will fit you perfectly. Check what bob styles fit face types best.
---
Thick Hair type
Thick hair type is the best one as you can make any type of bob and other styles. You shouldn't worry that your style will be spoiled with weather conditions in several hours. Choose some styles with the same hair length to look great every day.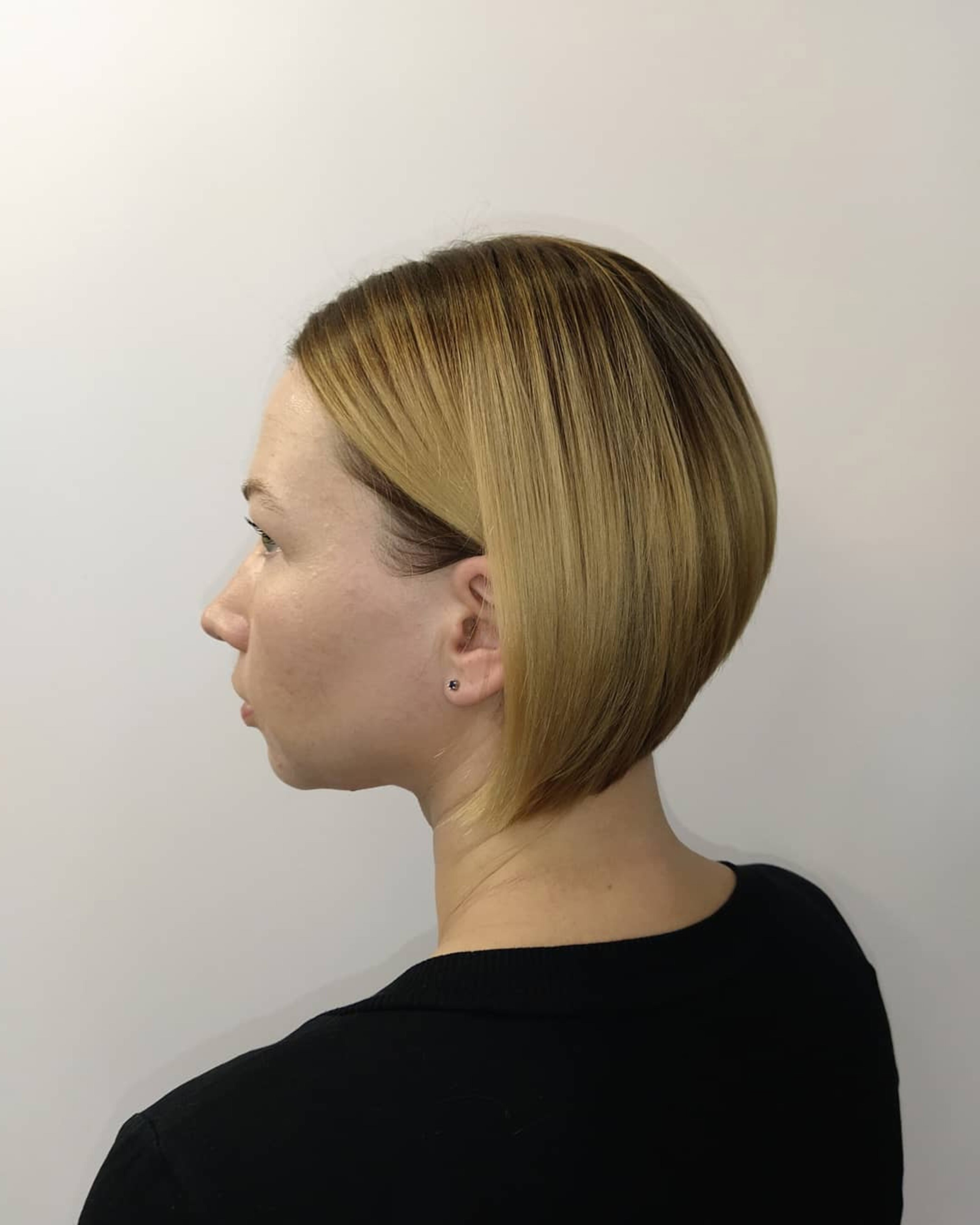 ---
Thin Hair type
If you have thin hair, your task is to choose the hairstyle that will help you to make your hair thicker at least visually. How to achieve this effect? You should consider one of the options that include volume. Consider variations with layers.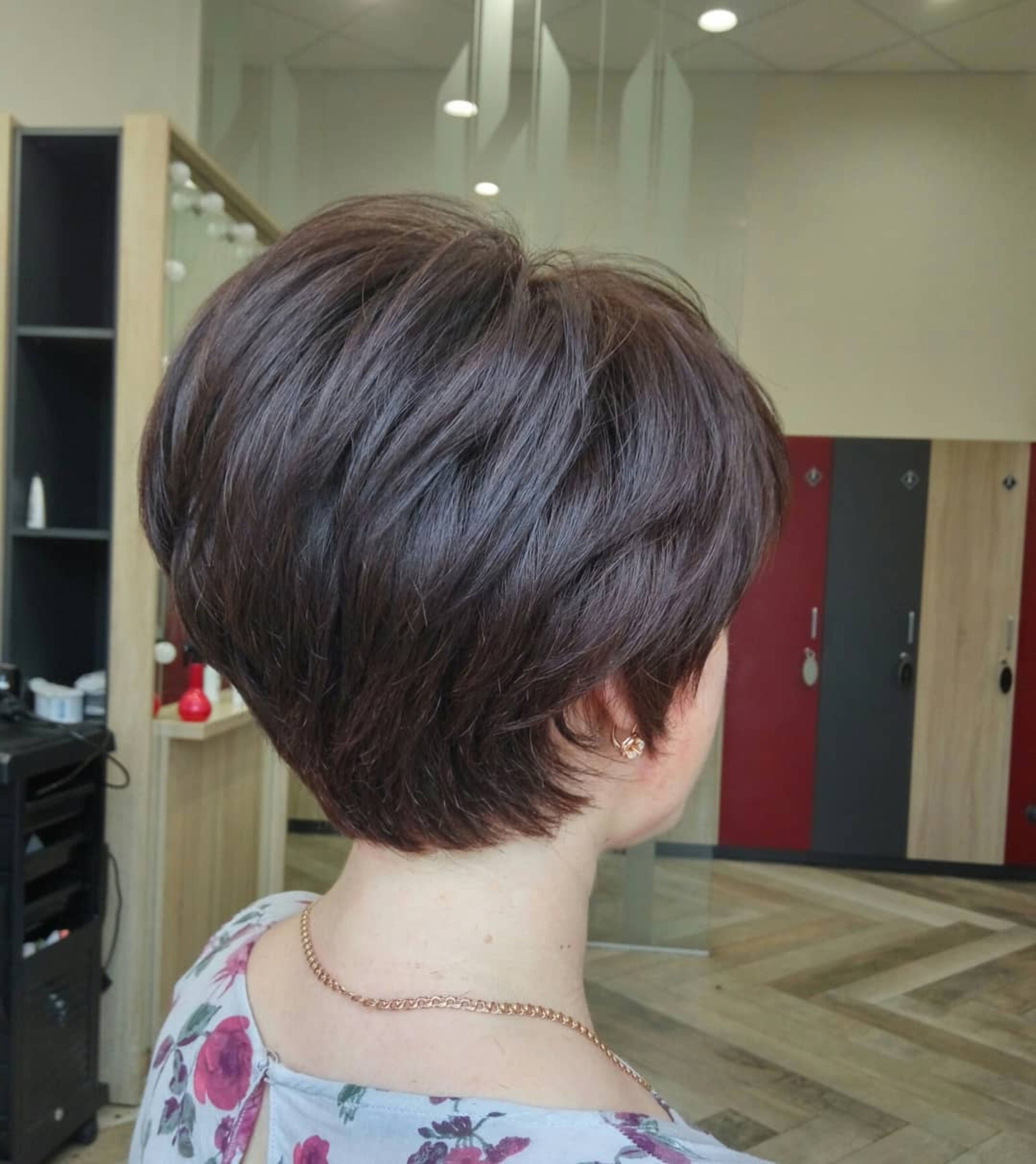 ---
Curly or Wave Hair
Curly bob hairstyles look lovely and make it easier to style hair every day. You can make any of the options that will fit your curled hair best. Check the pic and make it for your wavy hair type.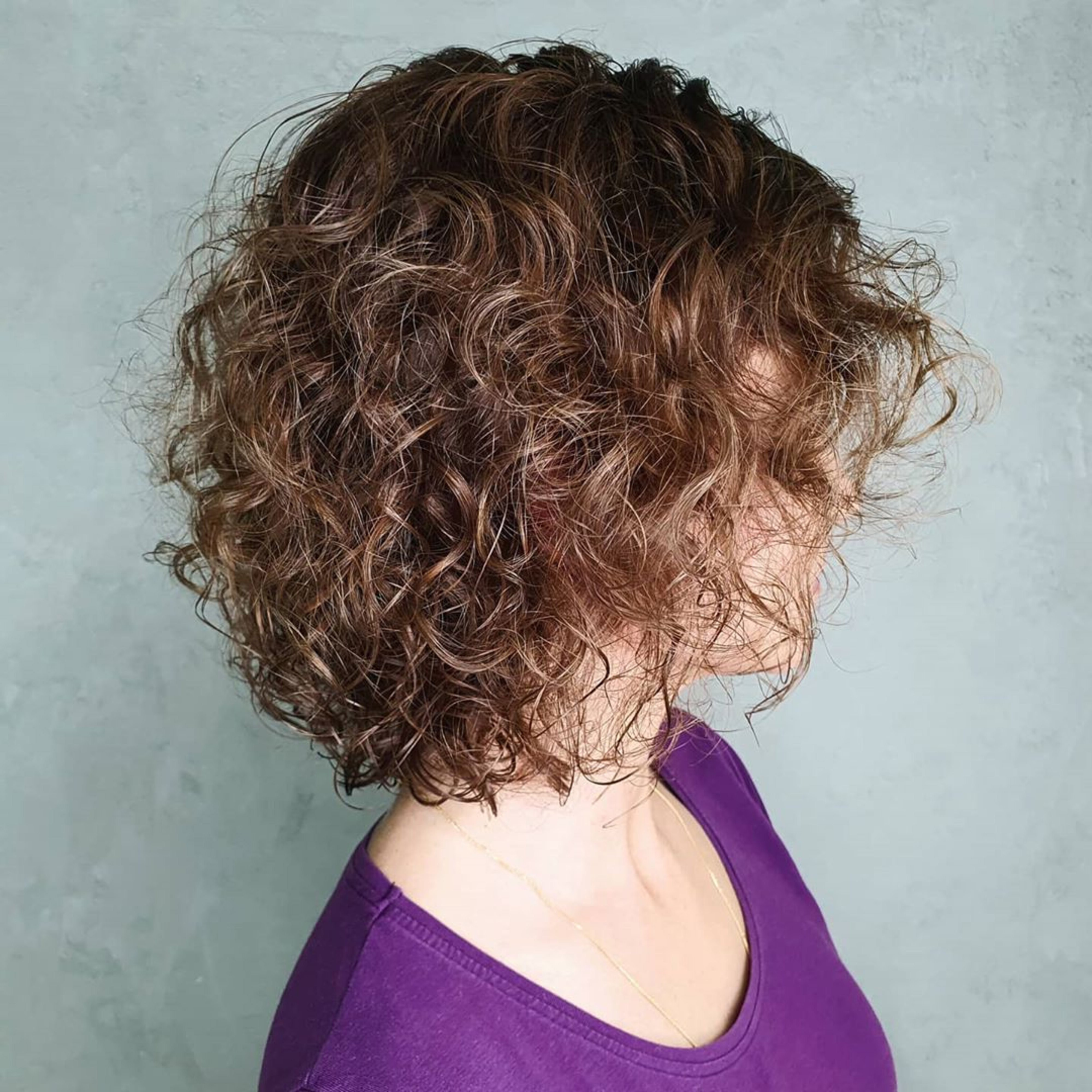 ---
Straight hair
Straight hair makes it possible to choose among tons of bob variations. You can make a classic bob or the one that has a shaved back.  It is since it is easier to work with straight hair and create the necessary look.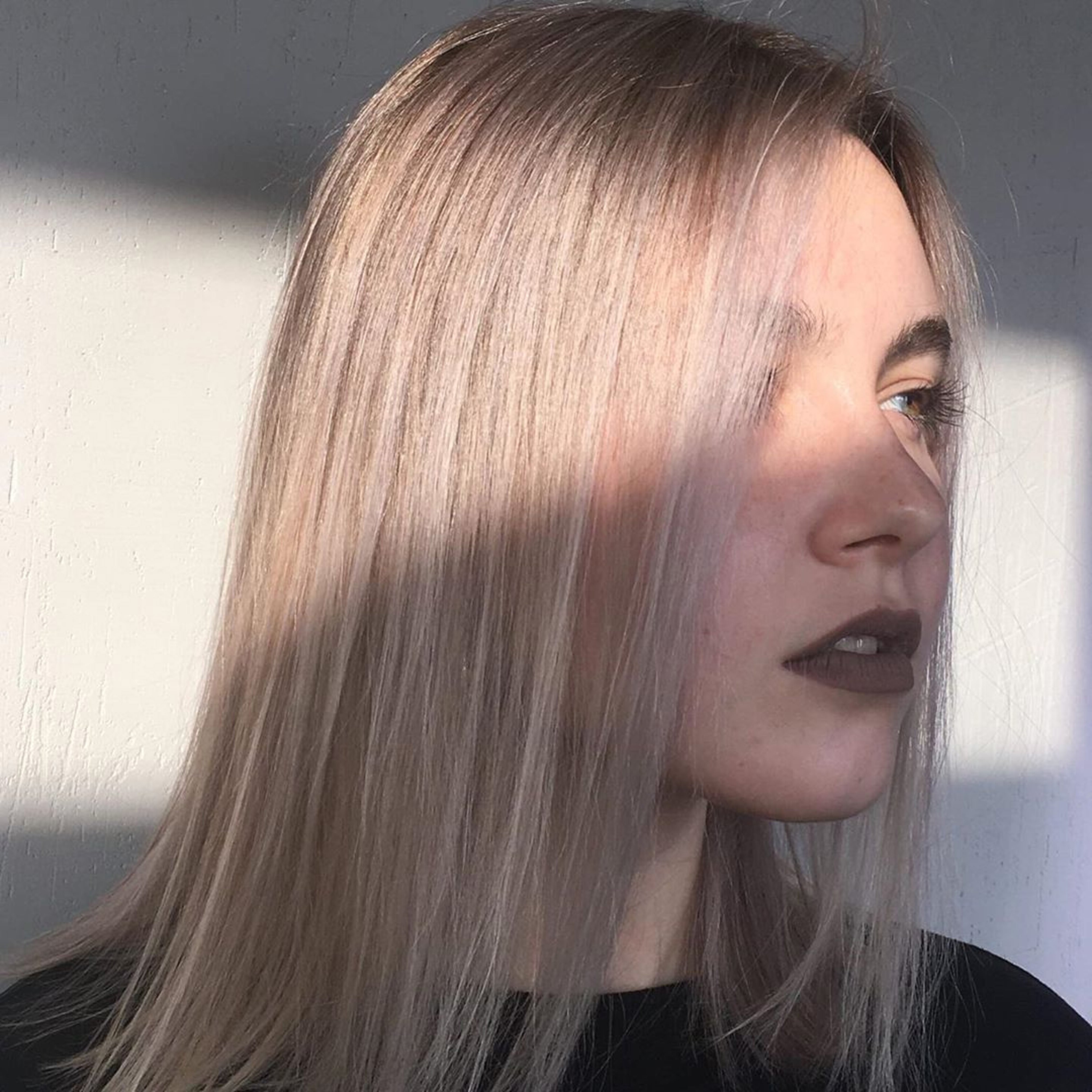 ---
Sexy Bob haircuts for black women
Afro-American women have fine hair. Bob styles fit them best, taking into account the hair texture. Sexy bob haircuts for black women look original and are versatile. You will always look perfect if you choose this style for your unique hair texture.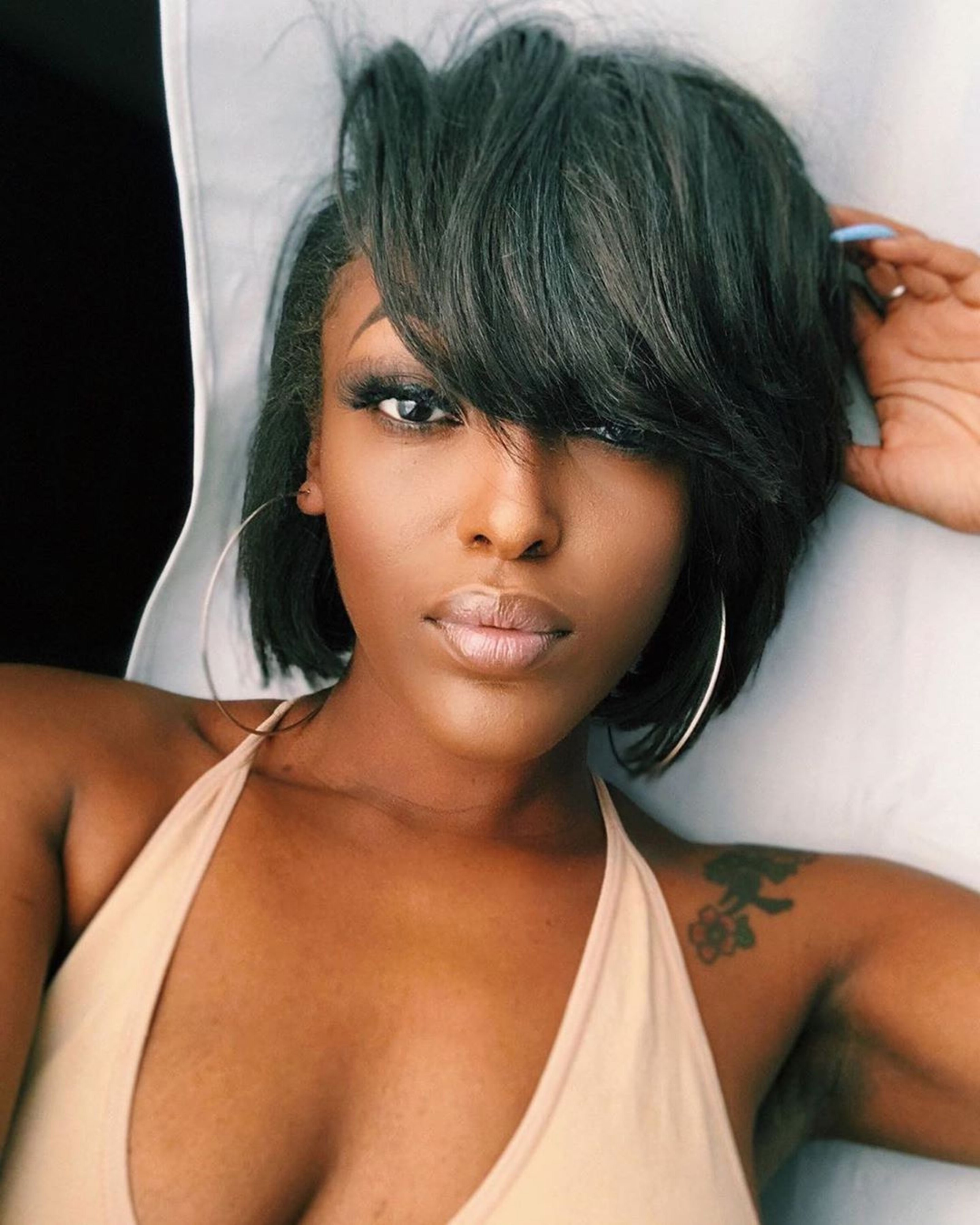 ---
How you could color your Bob Haircut
Do you like blonde, black, or some bright hair color? You can choose any color for your bob haircut. However, you need to remember that each color contributes to your new image and can either fit your face type or not. Make sure that you have chosen the right bob haircut color.
---
Bronde hairstyle
It's one of the latest trends that will suit girls who follow fashion trends and want to stand out. You should consider making the bronde cut if you want to add some freshness to the current style. It is a warm color hair that will look best in the autumn and winter seasons.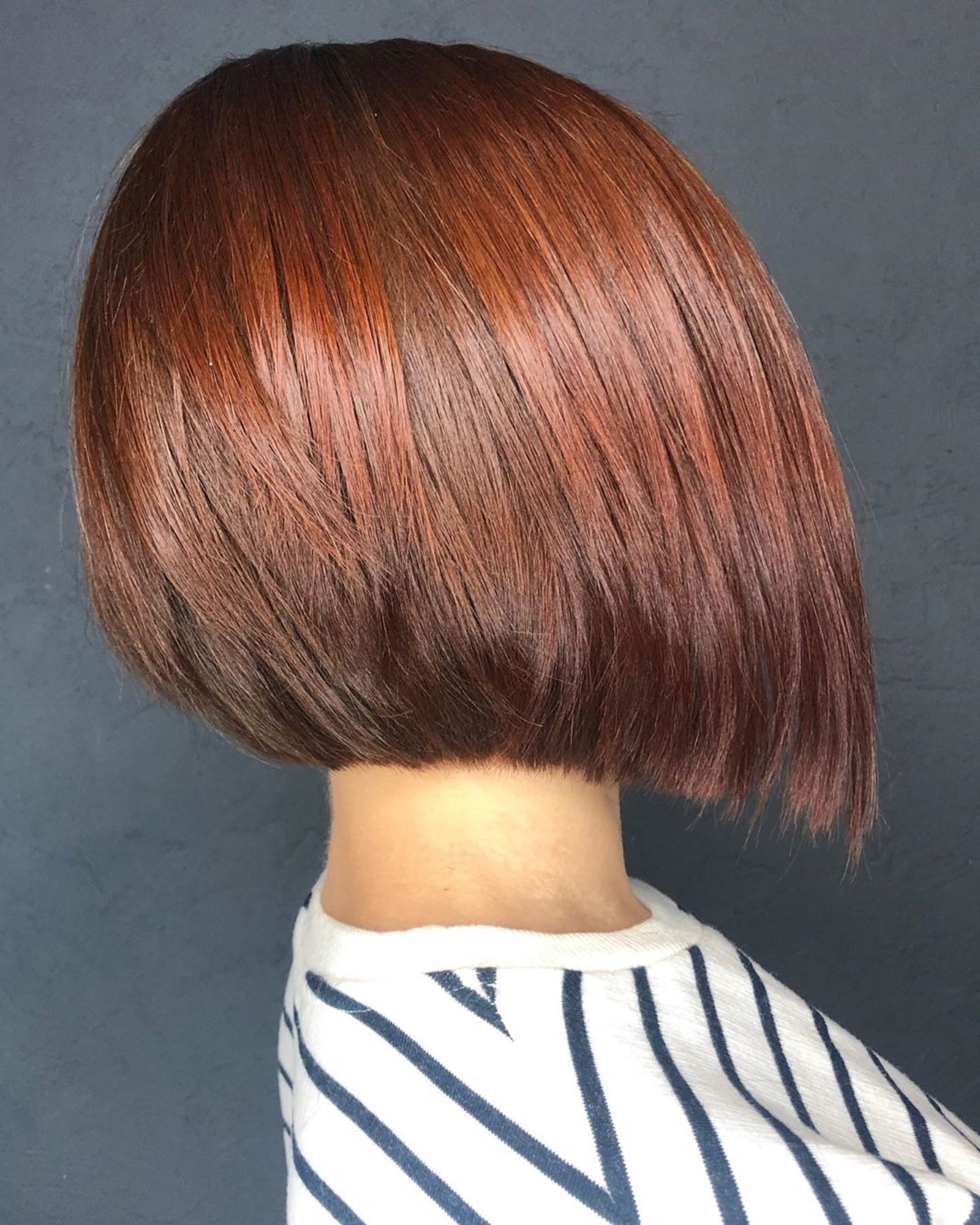 ---
Metallic Blonde
A metallic blonde is one of the classy variations for ladies. It has been popular for years and will be in fashion always. Middle-aged women like it most as not all ladies are ready for experiments with bright colors.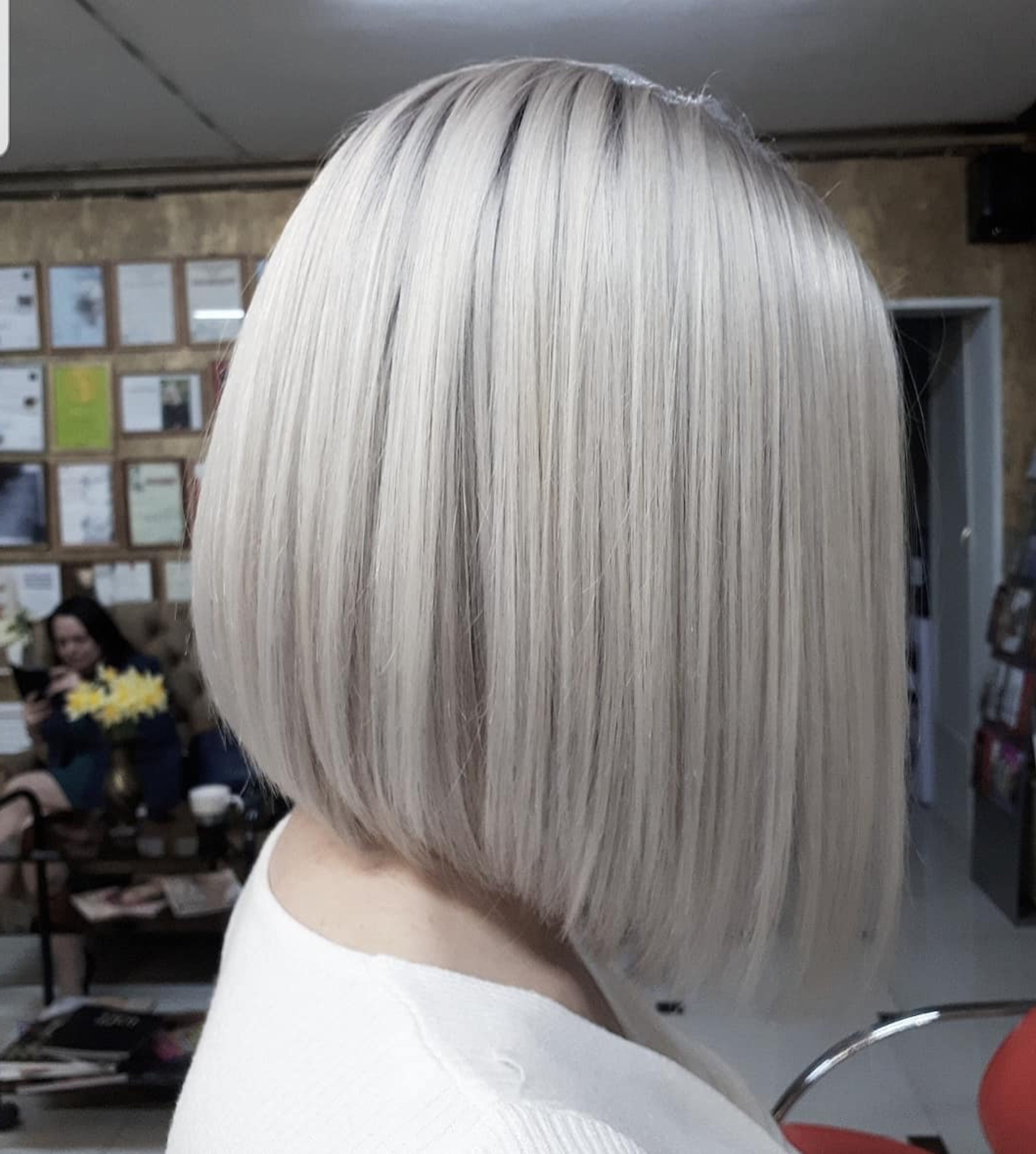 ---
Ashy Balayage
Ashy balayage is a nice haircut for women of any age. It isn't a standard classic style but most ladies will find it stylish and elegant. This color is even difficult to describe. But it has one main peculiarity. It is impossible to take eyes off of this hairstyle.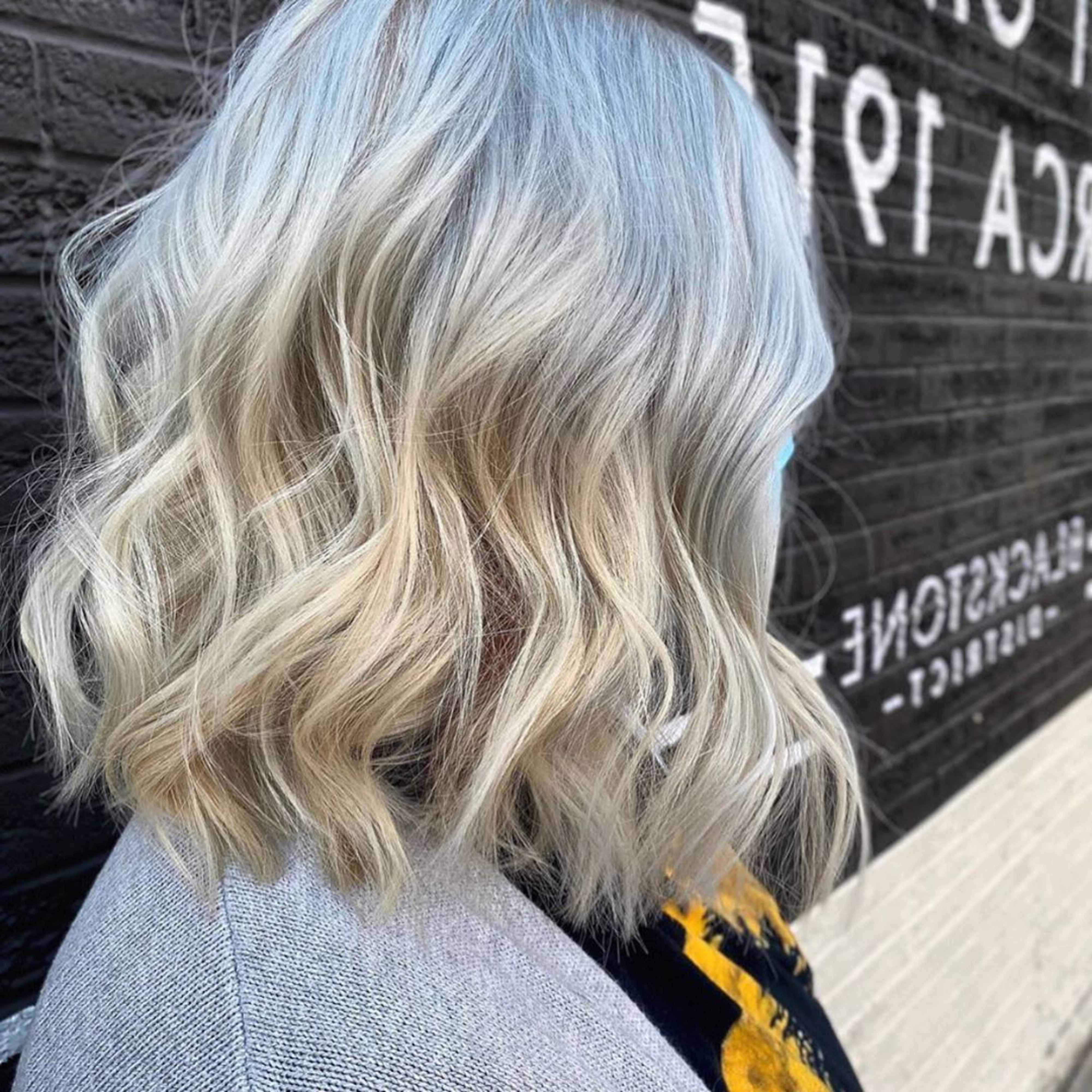 ---
Bob with Dark Roots
A bob with dark roots is a hairstyle chosen by many females today, regardless of age and status. It's a good way to highlight your sense of taste and love for originality. It will suit you if you want some changes but want them to be not that radical.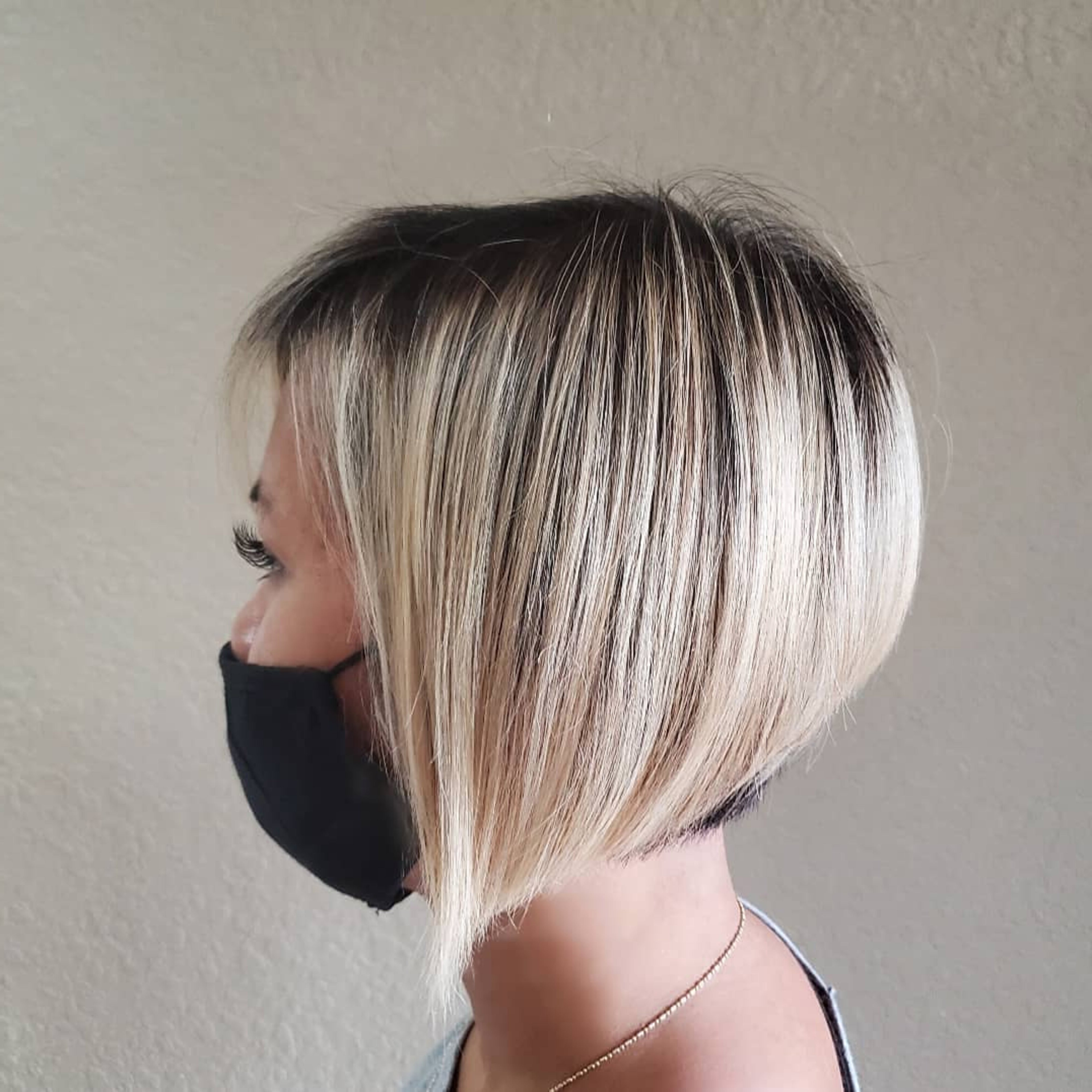 ---
Brown Bob with Caramel Highlights
A brown bob with caramel highlights is one of the warmest and creative colors for this season. It will warm the heart of your beloved when seeing your cute caramel highlights. A brown bob with highlights is a nice hairstyle for the golden autumn.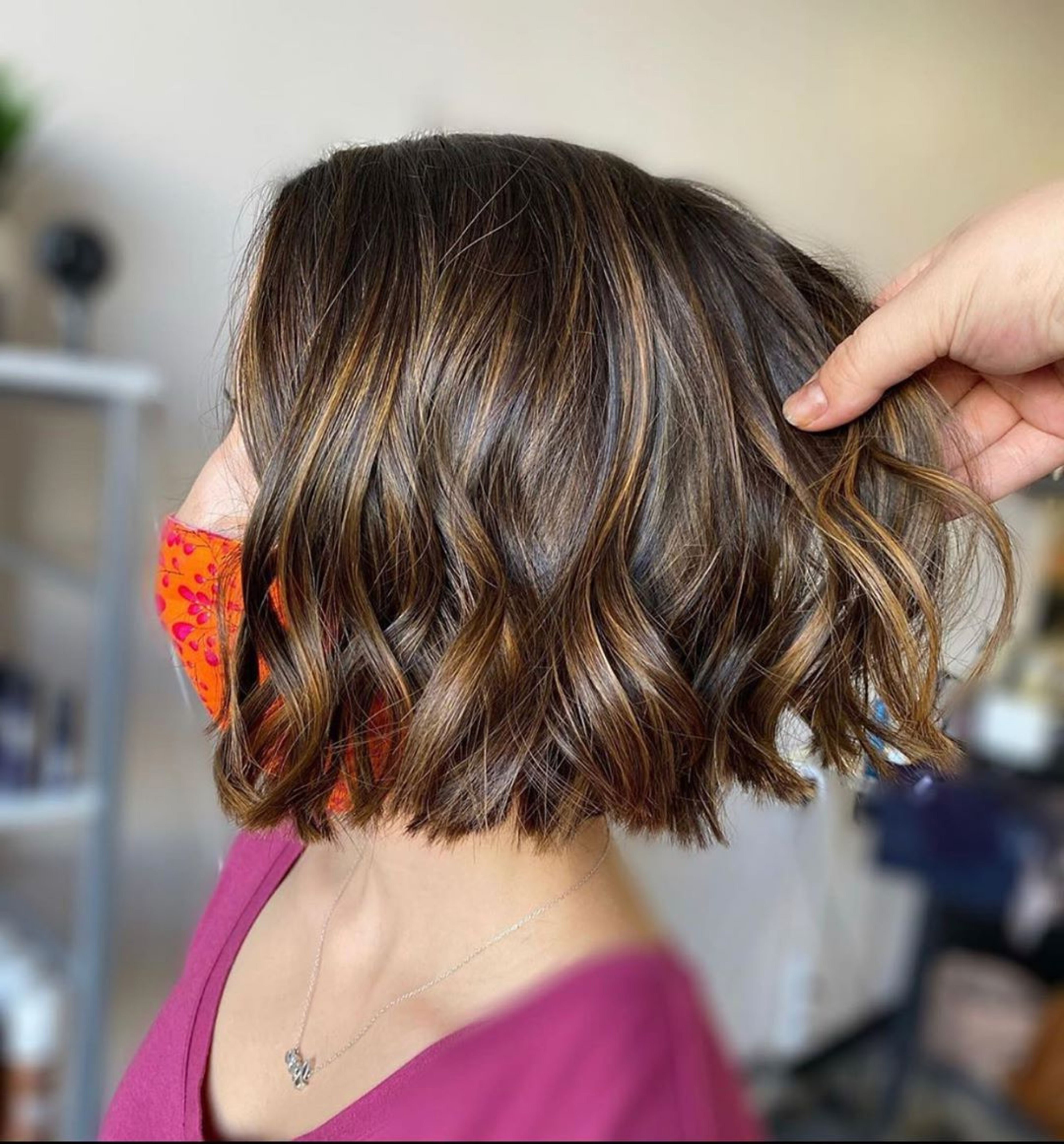 ---
Golden Blonde Bob
A golden blonde bob is a nice style for ladies who are over 20 and older. It's a hairstyle for women who know what they want and who want to show everyone how mature and smart they are. Of course, younger ladies can also choose it and look luxurious.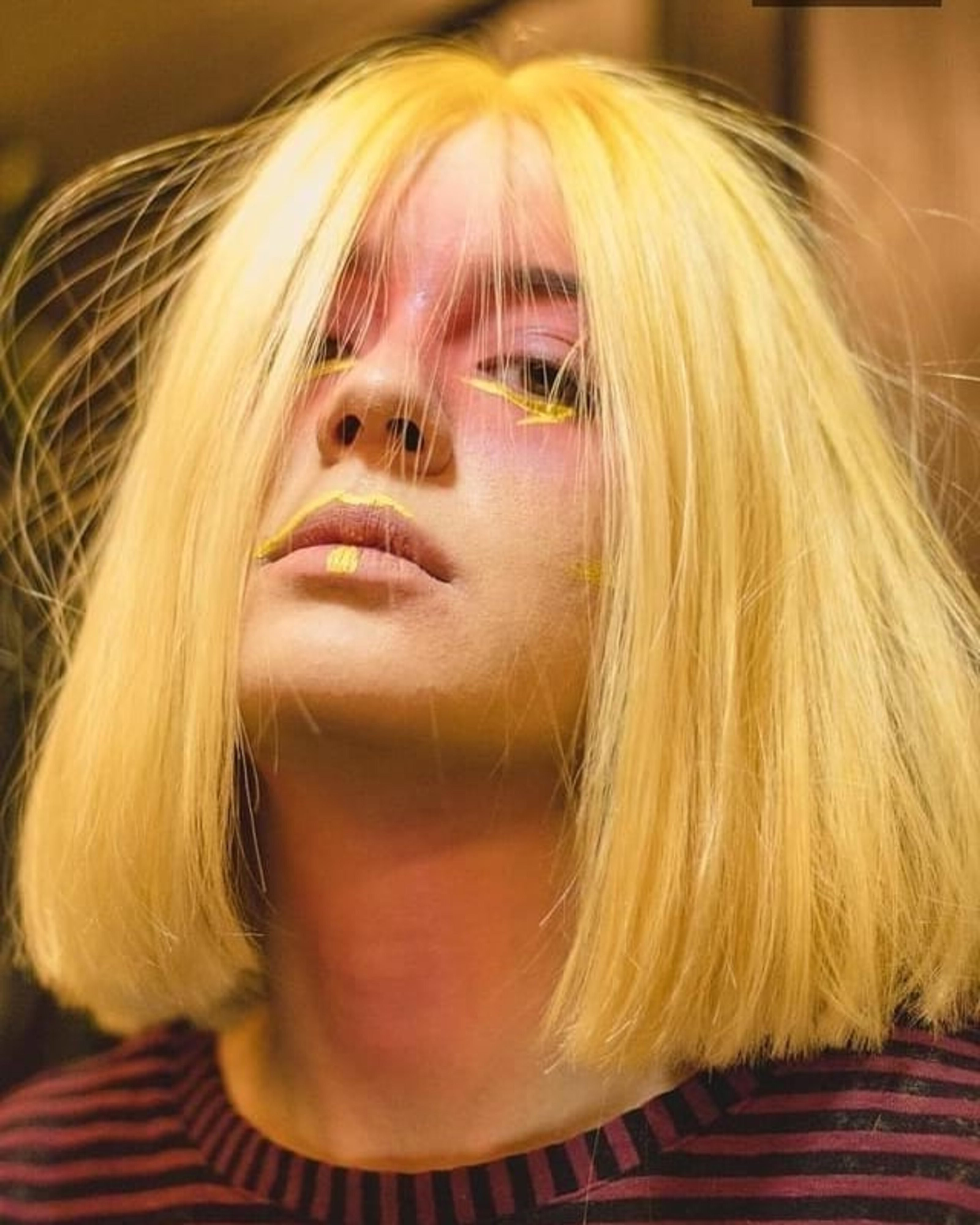 ---
Gray Bob with Layers
A gray bob with layers is a nice style for older ladies who have got grey hair and want to hide them. It will suit women who want to look stylish even after 50-60 and follow the latest trends.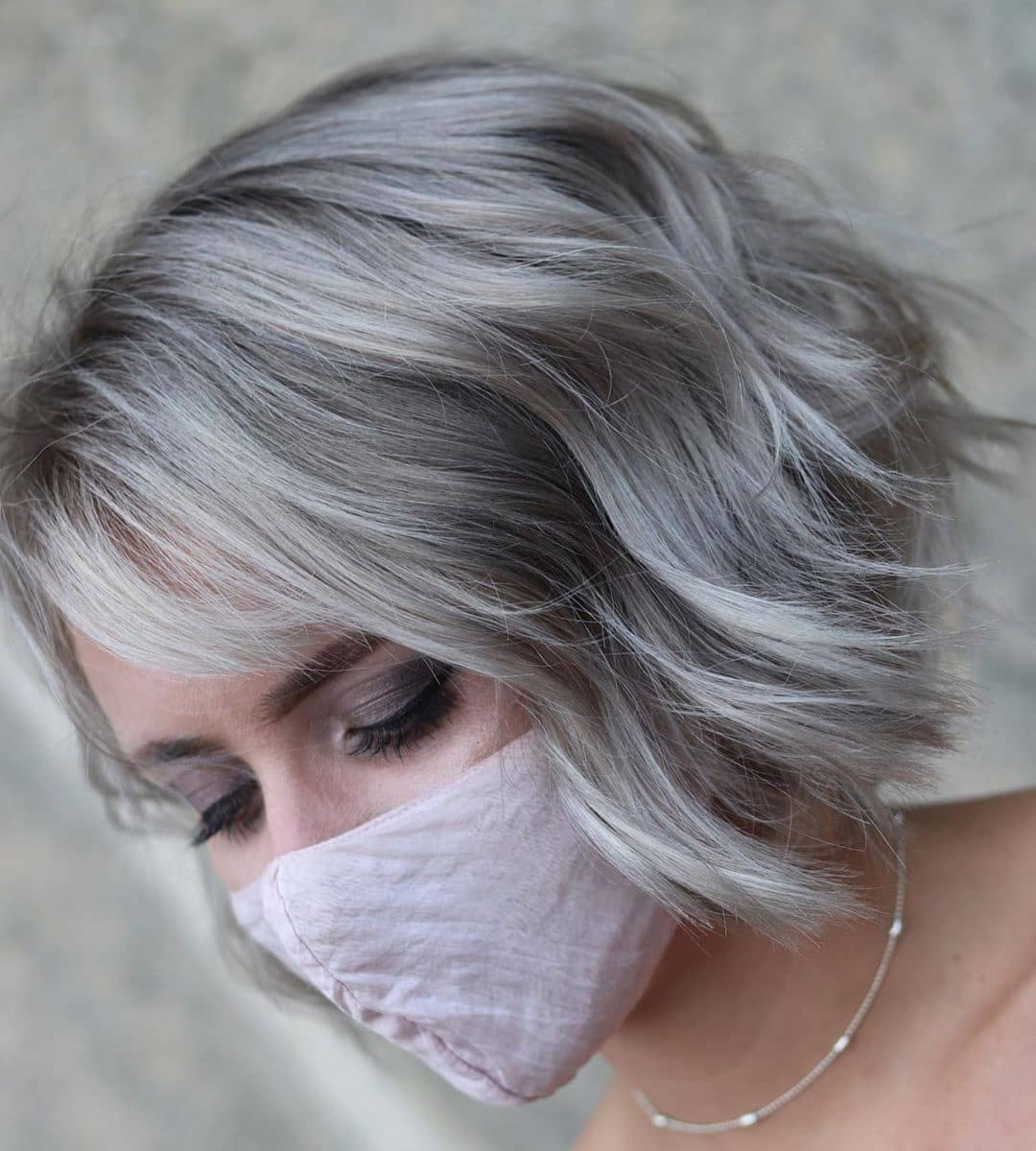 ---
Blonde Balayage Bob with Soft Layers
A blonde balayage bob with soft layers is a nice lovely hairstyle for young and middle-aged ladies. It is a great way to demonstrate your personality through the original layered bob style.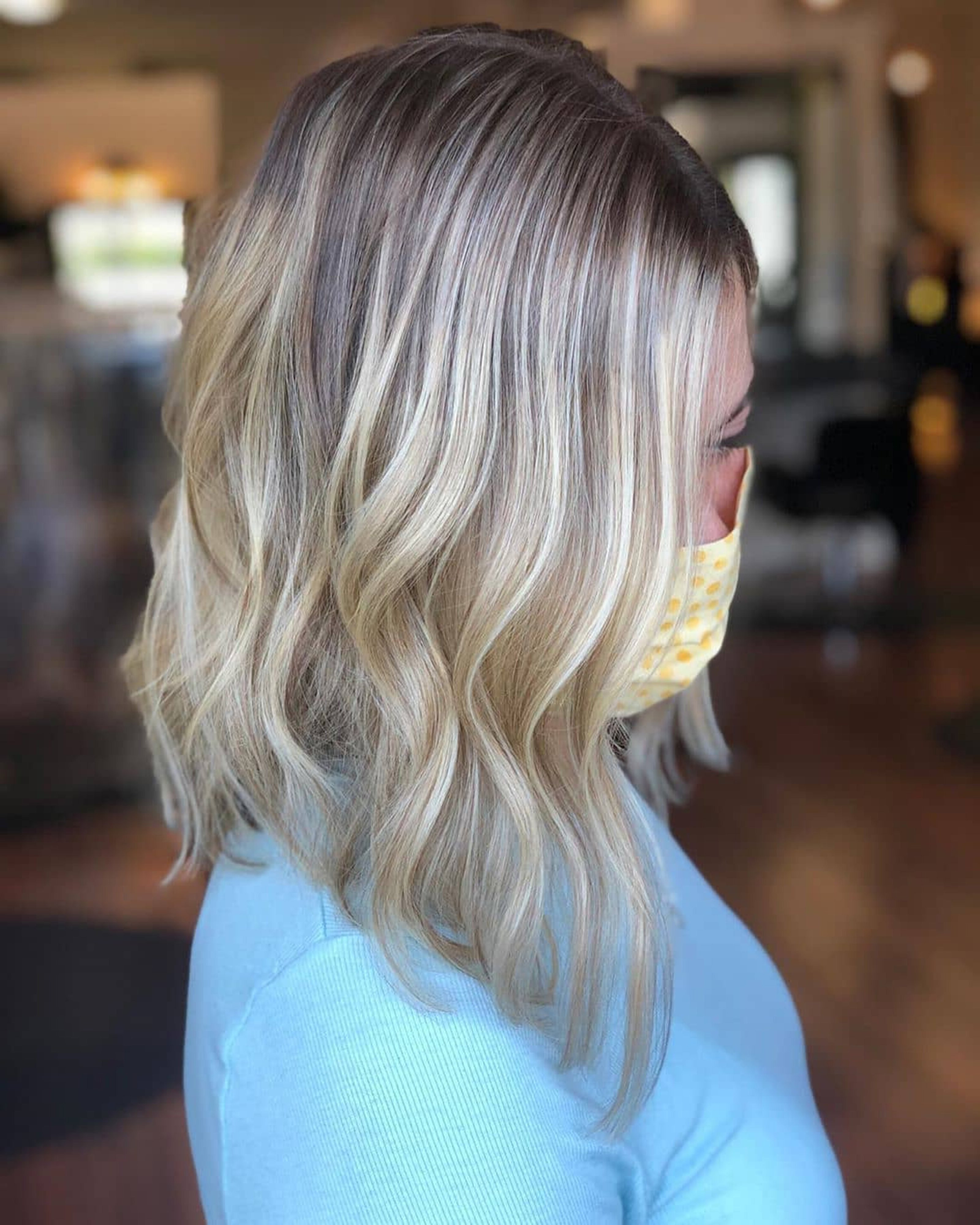 ---
Red Hairstyle
A red hairstyle is one of the most favorite styles for ladies who are older than 50. But today, the haircut has become popular among young ladies with rebellious character as well. You should make it when you want to add bright colors to your image.
---
Haircut for women of all ages
A bob haircut will fit little girls and elderly women. The woman of any age will choose a nice style for her face shape and hair texture. Scroll down to see the pics and choose the one that is perfect for your current style.
---
Kids Bob haircut
Make a bob cut for your daughter and she will impress everyone with her cute bob style. You should have a look at different options with various length and choose the one that will fit your kid's face shape and hair texture best.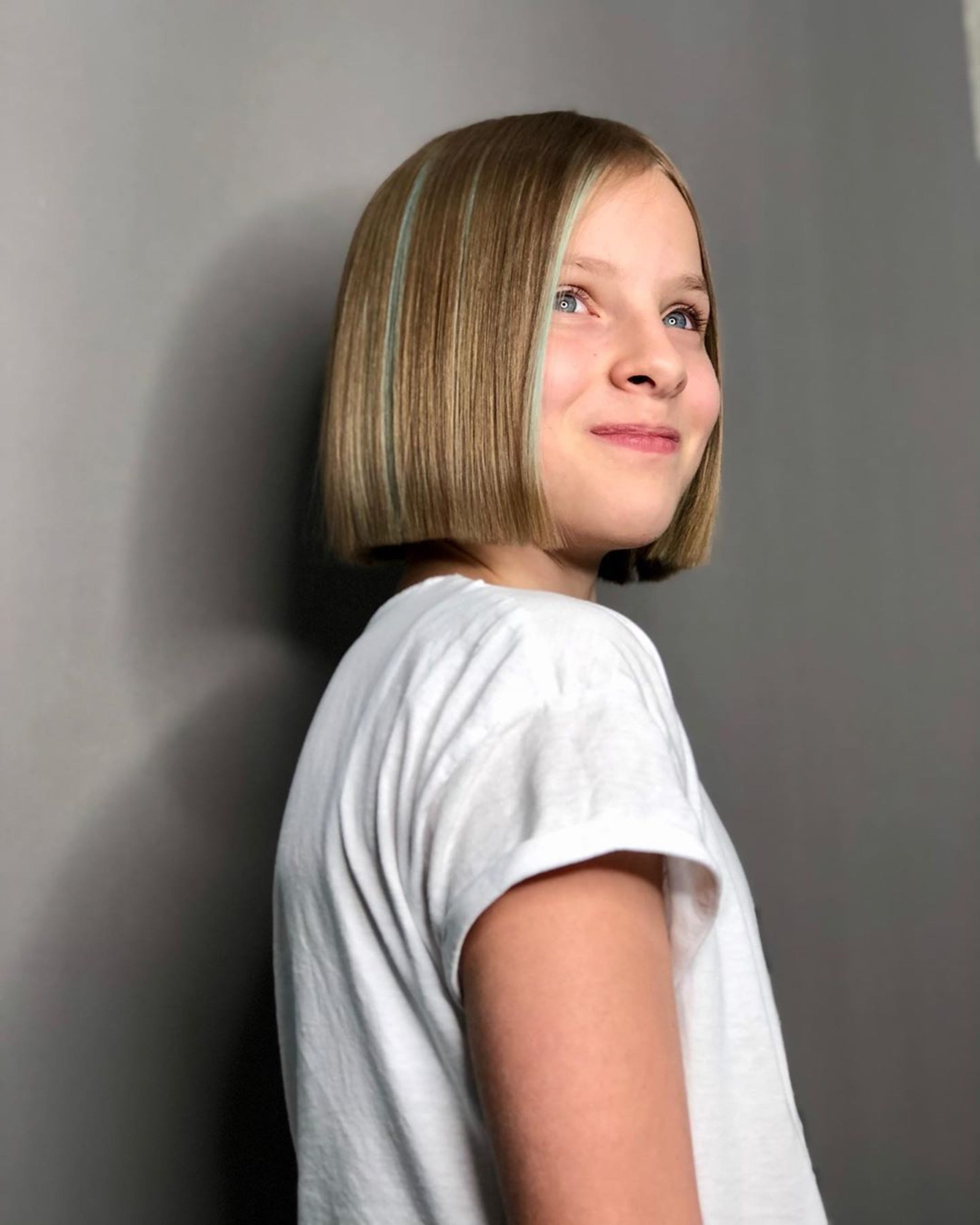 ---
Bob cuts for teens
Teens always want to impress their peers and stand out. Want to be in the center of attention? No need to hesitate to make one of the bob haircuts for teenagers. There are tons of variations. You can experiment with your style. Add bangs if you want, make highlights or layers.
---
Bob cut for women
Bob cuts fit women of different ages. The main thing is to choose the right style and variation that will fit not only the texture of your hair, length, and hair color.  It's important to make the style that will help you to show your inner beauty and demonstrate who you are.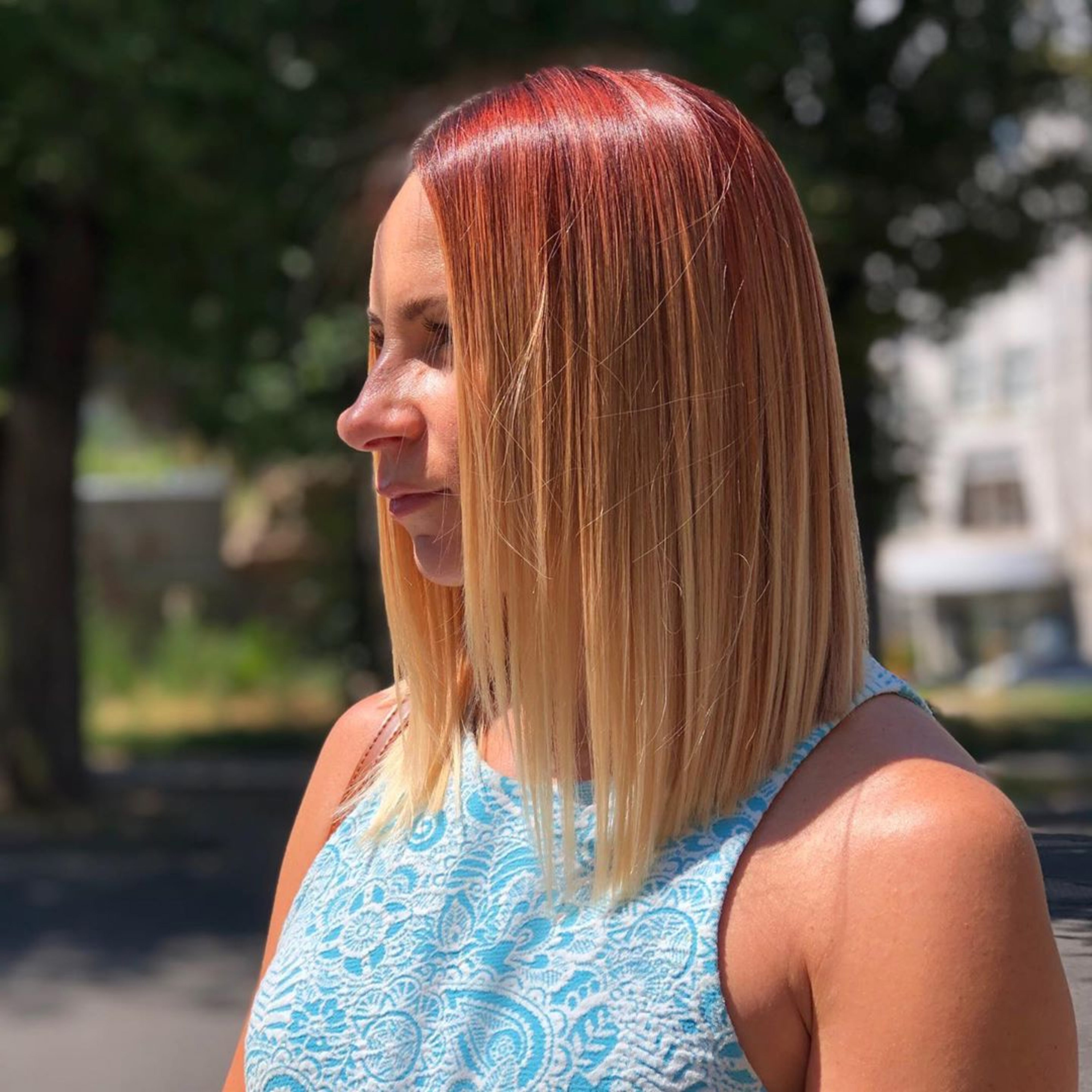 ---
Bob cuts for women over 50
There are many bob cuts for women over 50 for short and shoulder-length hair. Choose the one taking into account the shape of your face and the color you like. You shouldn't pick only classic options. The age of over 50 isn't a reason to forget about experiments.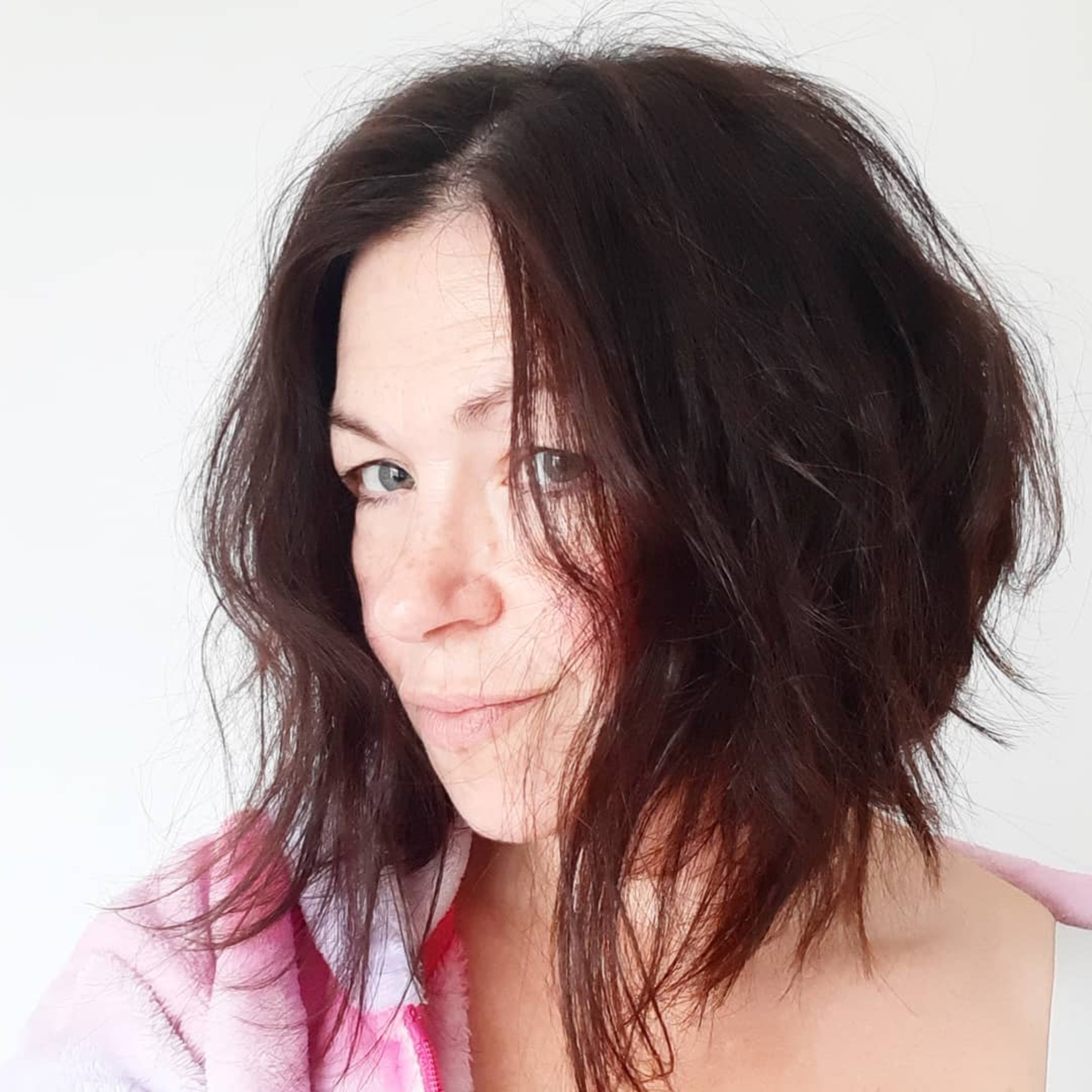 ---
Bob cuts for older women over 60
Bob cuts for older women over 60 make women look younger. You can choose an ultra-short haircut for ladies over 60 among short bob pixie styles or those that have bangs of different lengths. The right chosen bob cut is a key to success in everything you do.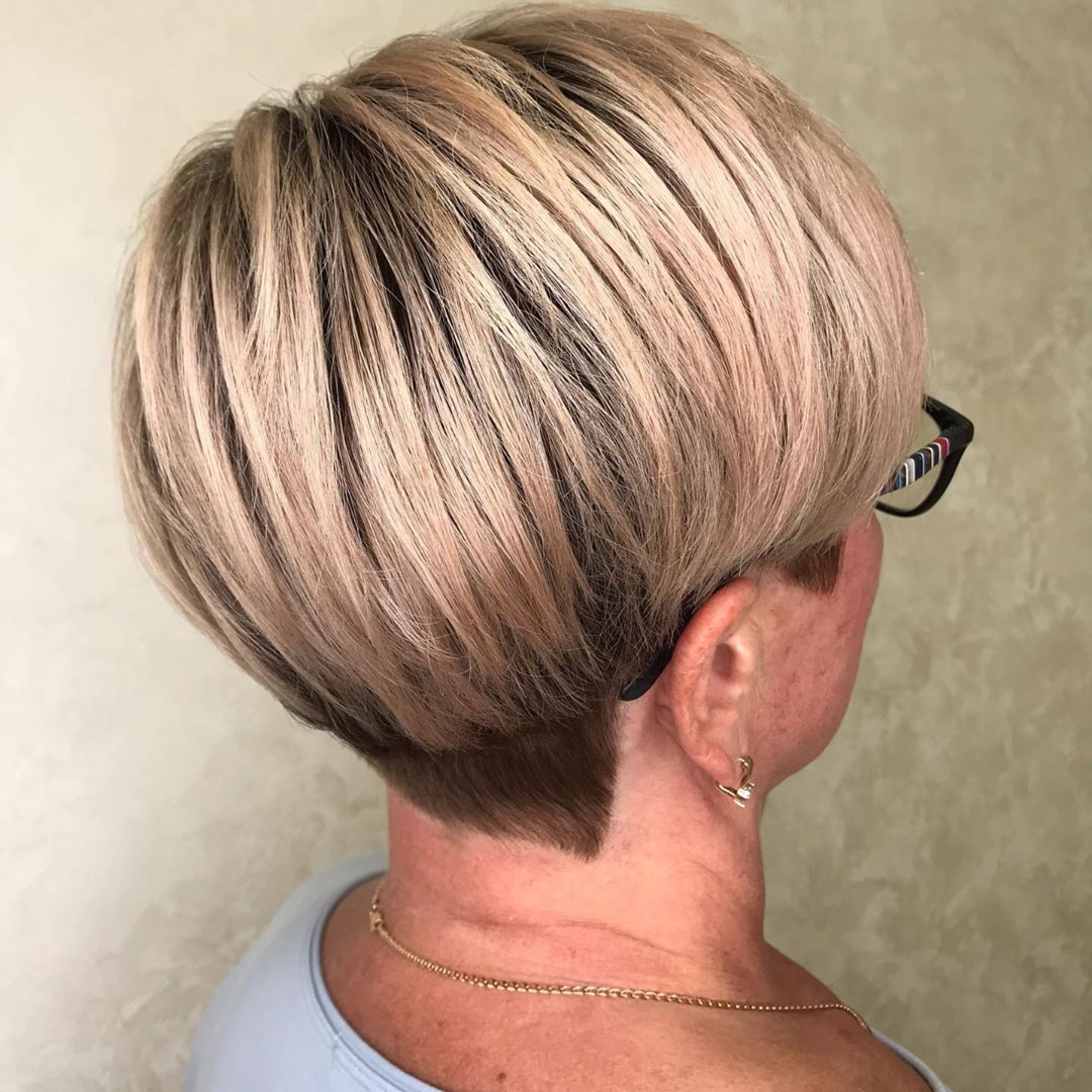 ---
Is a Bob haircut easy to maintain?
You won't face any difficulties when taking care of your bob style. Some haircuts are easy to maintain and those that require more time to style them. But you shouldn't worry that it will take you hours to style your hair.  Choose high-quality hair care products to make it easier to take care of your hair.
---
Best hair products for short hair cuts
The best hair goods for hair cuts are those that don't contain chemicals and don't harm hair texture. Choose natural shampoo without sulfates and you will see the result. Your bob haircut will shine and look healthy. You can use styling products like hairspray. Consult your professional hairstylist what products will fit your hair depending on its texture and personal needs.
---
FAQ
Are Bob cuts in style?
No doubts! These cuts have been popular always. Now, it is one of the trends in 2021 and it will be popular in the upcoming year.
What are the different styles of Bob haircuts?
There are many bob options to choose from depending on the hair length you have.
What is a stylish Bob?
All bob haircuts look stylish and elegant. The most trendy one is the pixie bob and styles with bangs of different lengths on both sides.
What is a French Bob?
A French bob has appeared in France and hasn't lost its popularity since 1890. It is a short hair cut with straight bangs and heavy texture.
Does Bob haircut make you look younger?
Definitely, yes. It fits women of any age but females over 50 look younger when choosing this cut.
What does a layered Bob haircut look like?
The main difference of this cut is the presence of layers which can differ in color.
What is the difference between a stacked Bob and a layered bob?
Layers in the stacked variation are at the back. It is shorter than a layered bob cut.
What is a classic Bob?
A classy bob cut is the short one with the straight upfront bangs.
How to style Bob's cuts?
You can style bob cuts differently experimenting with colors, highlights, and layers. Style your bob using a hairspray.
How long does it take to grow a pixie cut into a Bob?
It depends on your personal hair quality and how long your hair grows. It may take several months but not less than 6 months.
How to style short Bob cut?
There are many ways on how you can style a short bob cut, especially if you have got bangs.
How to know if hair Bob cut suits you?
You can check the styles on pics and choose the one that will fit your face shape best.
What types of Bob cuts are there?
Many bob types vary in the length and the presence of layers, bangs, etc.
Is a Bob haircut easy to maintain?
It's known for its low maintenance.
How do you maintain a Bob cut at home?
You should use natural hair care products and style your bob at home using a hairdryer to style your bangs perfectly.
What face shape can pull off a bob cut?
A round-shaped face fits the classic bob best but some options will fit a diamond-shaped, oval-shaped face, and other face shapes.