Want everyone to pass by and think "What a stylish guy he is"? Then, spend several minutes scrolling down the collection of the trendy styles that will suit young guys. Check the tips on how to make the best choice for you.
Most frequent types of guys' haircuts
---
This very article gives a vivid description of the most frequent and, thus, popular guy haircuts including black guy haircuts and haircuts for teenage guys. It has not been a surprise that in the vast world of guys' hair, it is easy to get overwhelmed by simply assuming that any style except for low maintenance and therefore short requires far too much time and product for your admiration and preference.
However, you shouldn't get disappointed in advance as there are plenty of styling options that won't require you getting up early in the morning or investing in lots of dollars for the products.
Look through all these sexy guy haircuts and get inspired!
---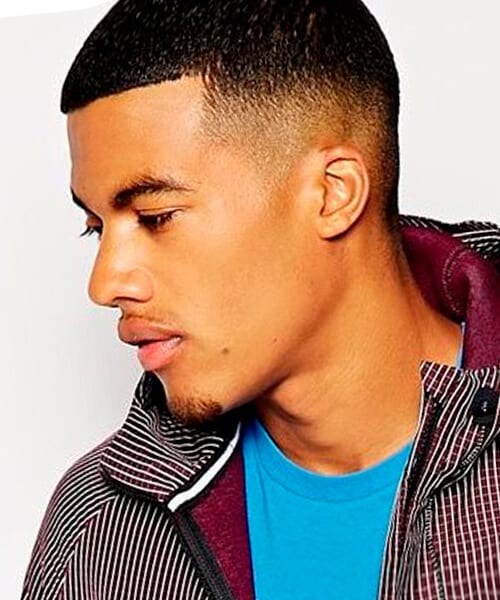 Nice and clean short haircut for guys
Perhaps this is one of the most popular guy haircuts due to its styling ease; this clean short cut surely will please even fastidious guys. In fact, you are not supposed to do anything for styling, if your hair is really short, there is no product or styling needed. However, if you are coming close to the next cut and your hair is a little on the thick or curly side, you may use some cream to keep it lying nicely and eliminate frizz. If your hair is not so short as to compromise on style, towel dry it wet leaving only a minimal amount of dampness. Then apply some styling product to the top of the hair and, after it, move your hands around randomly, thus the short top will have plenty of movement and texture.
Notably, this kind of haircut looks fantastic if you have a sharp jawline to show off and an oval-shaped face. Moreover, thick kind of hair will work well for this haircut.
---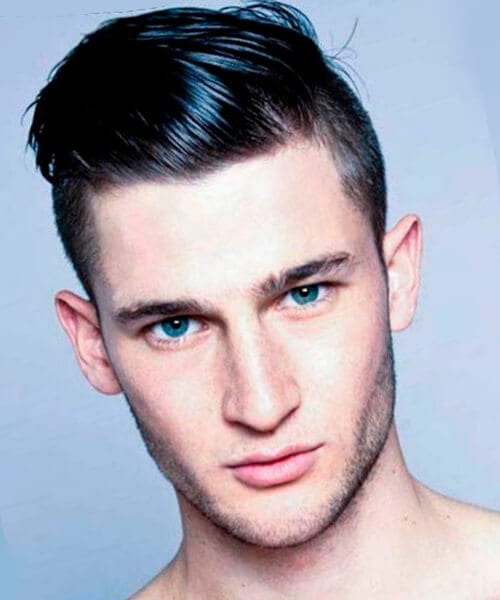 Extra sleek and slicked back guy haircut
This haircut for guys is dapper and reminiscent of haircuts decades ago. It is great for those who want to keep all of their hair out of the face without compromising on style. Such classic guys' haircuts never go out of style.  To achieve this perfect look, you should part your dry hair where desired and apply a pomade or a strong hold gel. Then just use a comb to smooth down your hair. The haircut really suits guys with straight kind of hair. Moreover, you will get the best of the world if your face shape is square.
---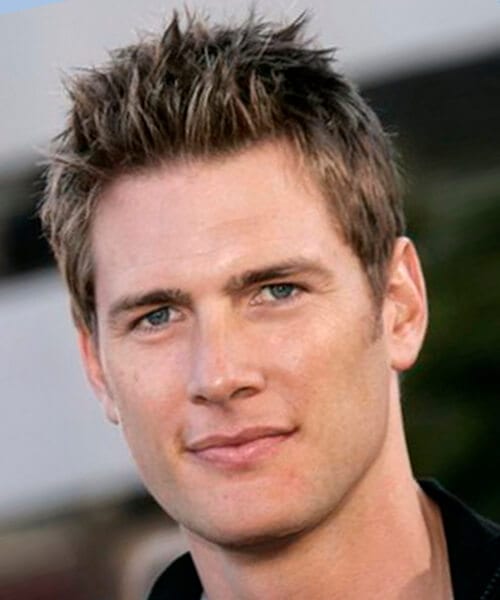 Topped with texture guys' haircut
The most popular among guy clients' requests is the haircut that is short on the sides and longer on the top. In fact, it is quite classic, rather easy to maintain and quick to style. First, you need to towel dry your hair so that there is minimal dampness. Second, apply some paste-like hair styling product to the top section of your hair to provide hold and firmness of the hair. Then run your fingers through your hair for a messier and more imperfect look. And to finish your look use a bit of some hairstyling product to the sides to keep them in place.
One of the benefits of this haircut is that it is great for any texture of hair and such haircut will bring extra attention to the facial features of the owner. Nevertheless, it will be hard to get the hair on top to look straight, if you have naturally curly or wavy hair.
---
Perfectly undone haircut for guys
You may perfectly pull off this modern guy haircut. This look is meant to be messy and undone; it is relaxed and really stylish. If you want to keep your hair a bit long, it may be a great option for you. For styling this haircut you need to wash and towel dry your hair until there is little moisture left. In case you have naturally wavy or curly hair and tend to accentuate the curls, you should apply some curl cream to wet hair.
Otherwise, it will be better to allow the hair to dry naturally. Then it's up to you to decide what kind of workable product to apply all over your hair. For instance, you may use some texture cream or hair spray to give a grittier and more undone look. While styling you shouldn't pay too much attention to where each lock is laying as imperfection is the key point in this haircut. Remarkably, this kind of haircut will be great for thick hair and round face shape.
---
Superbly side-parted guy haircut
You can surely rock this sexy side part haircut if your hair is a bit on the long side. To achieve this guys' haircut you should use a comb to distinguish a side part starting with the wet hair. Dry your hair with a blow dryer and a flat brush, keeping the blow dryer on low level and aiming it in the direction the hair is going to lie.
This procedure will ensure you that the hair is not sticking up everywhere and that your defined style looks deliberate. Then you should use some working product when the hair is almost fully dry to keep it in place. To finish the look you may apply some light-hold hairspray. In addition, it is worth mentioning that this haircut is ideal for those guys who have medium-textured or fine hair that is straight. In fact, a little wave won't be bad, too, however, if you have curls, it is not recommended to try this haircut. As for the best face shape with this haircut, it is considered to be a longer kind.
---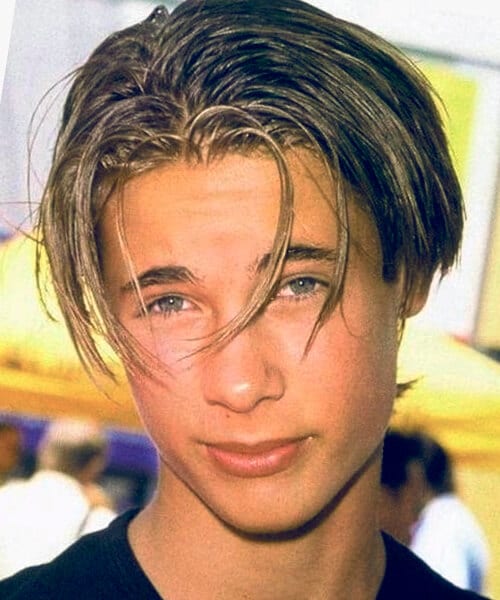 Modern middle-parted guys' haircut
The advantage of this haircut lies in that it can be applied for short length hair as well as for medium and long length hair. Moreover, the hair can be parted differently. The first variant will do better for a short kind of hair. So it can be sort-of parted, not really too defined or structured. After drying your hair, use some moldable and flexible hair styling product in the top of it. You are to apply it everywhere, not paying too much attention to where each piece lies.
Another variant will suit more a bit longer kind of hair. It is an excellent way to show off your long locks and with nearly no styling required. If you have curly hair and want to accentuate your curls, you should use a curl cream on the wet hair. In other case, just part your hair down the center letting dry it naturally. If you apply some texture cream to the ends of the hair when it is dry, you will get more texture. The best face shape for this haircut is considered to be round.
---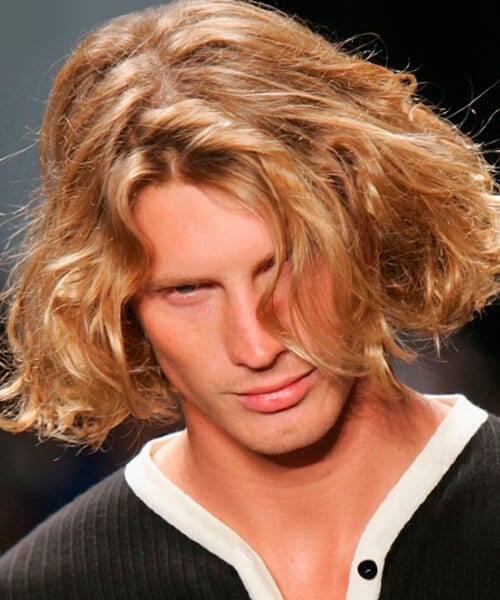 Lengthy locks haircut for guys
Typically, people tend to think that long kind of hair is supposed only for women. In fact, that is not so. Nowadays, lots of famous and just ordinary guys wear long length locks and look really fashionable and sexy. There is no need to say that guys with long locks stand out from the crowd and always draw women's attention.
To style this haircut you should allow your hair to air dry naturally in case you have naturally straight hair or a bit wavy. Then apply a small amount of texturizing wax to the ends of the hair and you will get more texture. Some barbers claim that day old hair is even better for this look, so if you skip the wash for the day, you will immediately love your new style. The haircut is ideal for straight and a bit wavy type of hair. And again around face shape will be the best for it.
---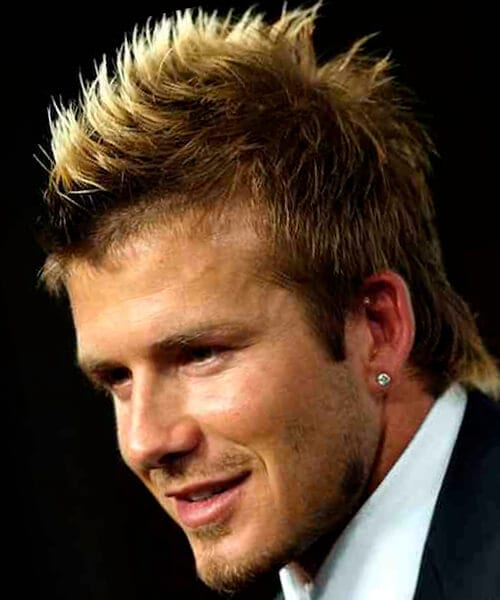 Relaxed faux-hawk guy haircut
A relaxed faux-hawk haircut represents not an extreme example of the original style; it is more undone and laid back. Basically, it must be partially cut into Mohawk haircut, but not all the way. The hair on the sides is generally clipped short whilst the hair on the top is left longer and can be spiked or formed into a point, in fact it depends on hair texture. For styling the haircut, it is advisable to towel dry the hair first until there is no moisture left. Then you should apply some working pomade to the top of the hair forming a subtle faux-hawk peak towards the front of the hair.
The most important thing here is to style it a bit imperfectly as the haircut represents a general look of a faux-hawk and not an exact style, it mustn't be ideally placed. To achieve this great look it is recommended to use some moldable product that is like a paste to keep the hair in place the whole day. The best hair type for this haircut is considered to be short and fine to be able to create some texture and style. The most beneficial face shape will be round as the haircut elongates the face.
---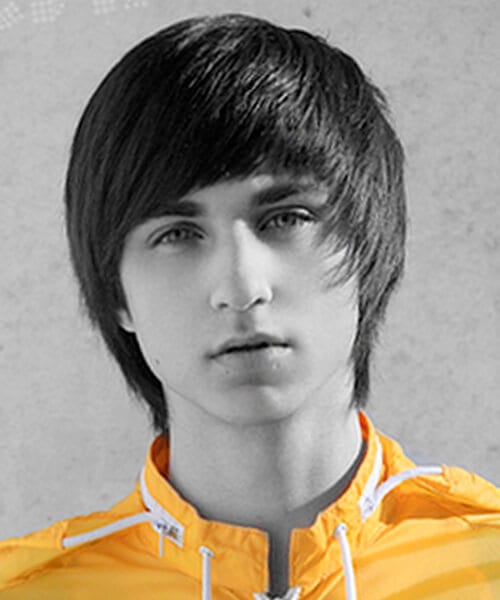 Face framer guys' haircut
This gorgeous haircut will draw all the attention to your face shape and features. It demonstrates longer hair on the top with shorter on the sides, moreover, this no-frills look requires virtually no styling time at all. You just need to towel dry the hair well and when there is little moisture left, apply some strong hold product pushing the hair on the top of the head to one side. It is worth mentioning that the hair must go in one direction and shouldn't look slicked down. The haircut will be perfect for the fine type of hair that is straight and in case you tend to keep it simple and short. If you keep the top a bit longer, you will have something to work with. Such haircut will suit those guys who have an oval face shape.
---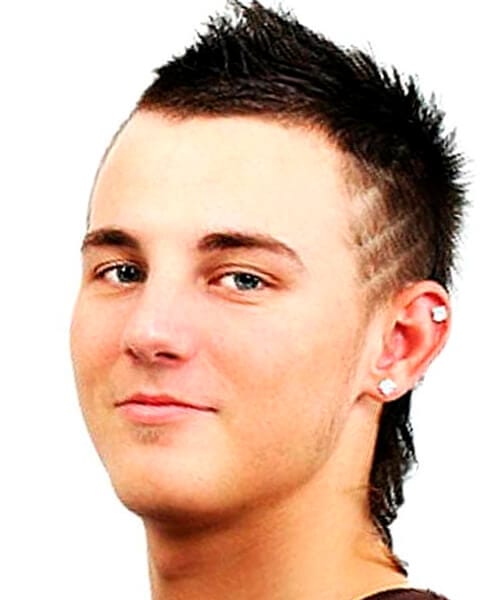 Modernized Mullet haircut for guys
This is not a typical mullet haircut, it is a modernized one. A bit of length in the back actually can be a good thing when styled properly. The modernized Mullet haircut depicts long lower section of the back with a shorter length of the rest of the hair on the scalp. To spot this haircut the top of the hair must be cut from two to six inches whilst the sides must be tapered to a half of an inch. The back represents the same hair length as the top of the head with the lower section spanning the area three inches up from the nape. The secret lies in that this section must be at least four inches longer than the hair length on the top of the head, in this case the hair on the lower section of the back will stand out.
You should use a flat brush and a blow dryer to take the hair back and away from the face. While blow-drying it is recommended to rush the hair back and do it until the hair is nearly dry. Then you apply some strong hold gel not applying it too much to the length in the back, in case you will have a greased back tail. When the hairstyling product is applied, it is advisable to use a comb to be sure that the product has been applied evenly. The haircut is ideal for long kind of hair and in case you want to get extra fancy for a night out. Also, it will accentuate sharp facial features and a defined jawline nicely.
---
Black guy haircuts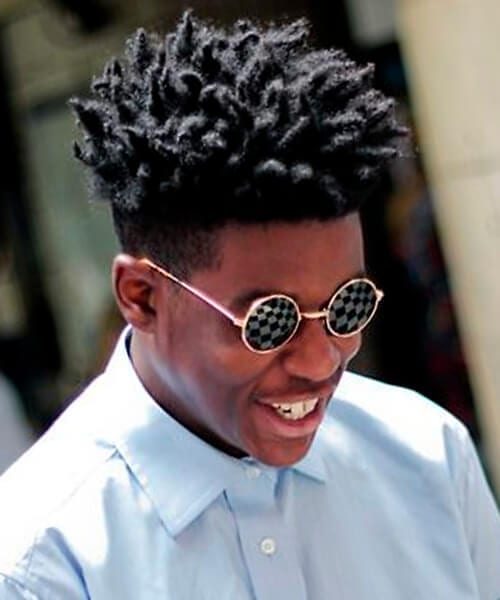 Locks – the most popular black guy haircut
Ultimately locks represent the end product of natural black hair and are among the most traditionally acceptable pro-black haircuts. They are deeply rooted in individualism and are rich in heritage as they have managed to transcend demographics, cultures and hair textures. This kind of haircut relies on texture to maintain its distinctive consistency, thus it differs depending on the individual. The length of such locks varies greatly. Short locks are quite easy to wear and they are fun in movement. They don't need braiding, pinning or being gathered into buns or ponytails.
In fact, the thickness and length of locks is a matter of preference, just chunkier or longer locks look more impressive, however, short locks also have their benefits. Moreover, during cold weather locks provide warmth around the ears and neck. To impress everybody with your perfect every day look you will need a good barber for retwisting the hair and greasing the scalp when needed. Nevertheless, it is surely a nice on-the-go look that breeds manliness and intrigue from the fairer sex.
---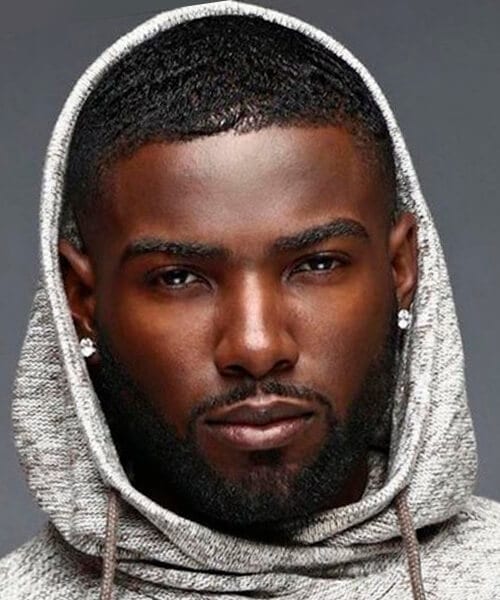 Caesar black guy haircut
It is another common haircut among black guys. You should go with the Caesar haircut if the clean-cut look works best for your face. It is a time-honored essentially low cut that remains level throughout. The haircut features clean and conscious, simple and effective look that exudes characteristics of a mature man. Basically, this haircut resembles fade haircut. It is famous for the sharp lines on the front, the back of the hair and sides. Black guys' haircut is introduced through African American guys so that there is a wide range of hairstyles that look attractive and gorgeous due to the unique pattern. The most advantageous thing about this haircut lies in that it is based on a shaved haircut and, thus, it is really low maintenance kind.
---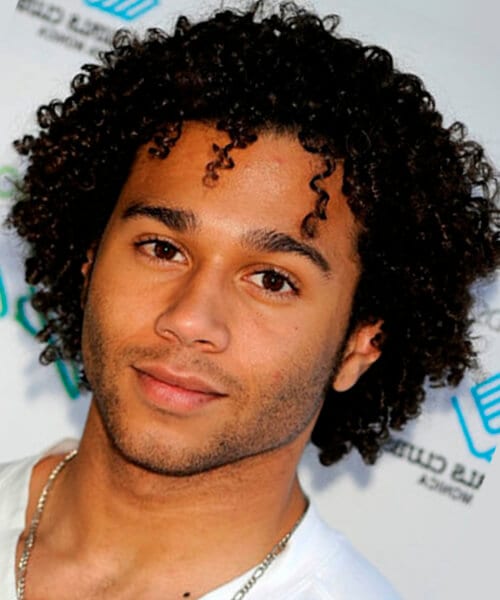 Natural black guy haircut with textured curls
Likely one of the most popular haircuts for youthful, sartorially inclined black guys, this is a look that is undefined and unique to the wearer. It can be described as natural encapsulating a wealth of variations. For the curly-headed guys this one especially is deceivingly tailored in its fluidity. The haircut features, at its centermost point, natural curls up the top and a tapered side and rear. The taper kind pulls the look together, locking in it through a sharply defined line. In fact, the key point of locking in the curly hair's natural moisture is some leave-in conditioner of high quality. Also, it is recommended to wash such hair with shampoo not more than twice a week as you may just dry out the curls and it won't be attractive at all. In case you need to make your hair clean, you may use only condition.
---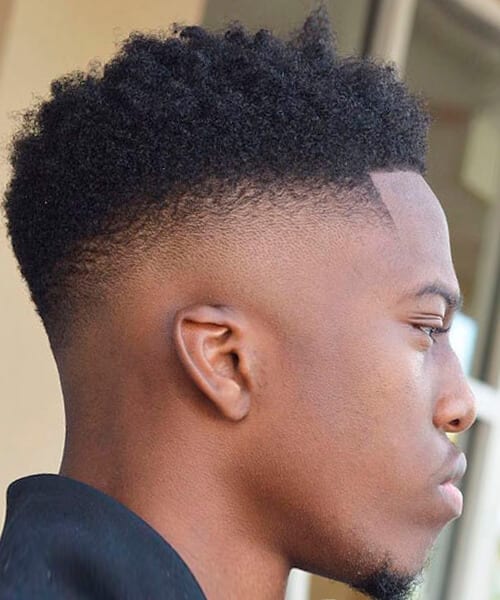 Taper fade black guy haircut
The taper fade has been a staple haircut as far back as it is possible to remember, it is a quintessential look for black guys not only young but old, too. To create this haircut a barber must perfectly blend your hair in a gradient-like fade from the top of the head to its rear and sides. The most difficult thing here will be to find a professional and skillful barber. Generally, the taper fade haircut features the hair that is kept longer on the top of the head whilst on the bottom of the back and side the hair length is made shorter.
It lies between low and high fade, so it is not an extreme one, but rather reserved and stylish. Notably, the hair on the top may be side-parted or slicked back in the comb-over hairstyle. The haircut is meant for African American guys with kinky or curly hair. The look will be perfect for round facial types as it makes a person slim and flatters the features. Also, the taper fade haircut is simple and traditional way to experiment with the natural hair type.

---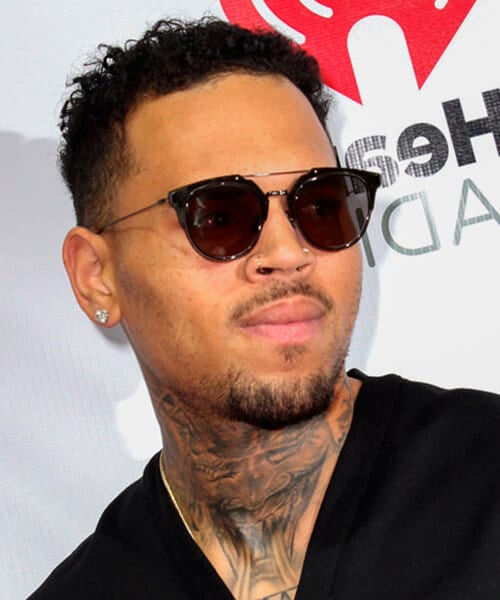 Hot blowout haircut for black guys
This is one of the most frequent black guy haircuts nowadays. Imagine you were out in a stormy wind and returned home with a look of all blown out, in fact, in the contemporary world of fashion you don't need those powerful winds; you can simply create a blowout haircut on your head. This kind of haircut is rather similar to very low bald fade with the hair slightly faded in the front of the ear and on the neckline.
The hair must be cut close to the skin between the nape of the neck and the temple. Surprisingly, lack of knowledge often makes barbers confuse low fade haircut with blowout one. That is why it is recommended to ask the barber whether he is familiar with the difference in these haircuts and if he has the right hair styling tools, such as a good set of clippers, trimmers and razors. Actually, blowout haircut is a variation of the temple fade. A celebrity DJ Pauly-D made it so famous as he wore this kind of variation frequently, he even brought about the revolutionary version of it. Styling this haircut depends on products, for instance, gel to hold the hair and make it look blown out by the wind. In fact, the gel in combination with the hairdryer can give additional texture to the kinky hair.
Mostly black guys wear blowout haircut combining it with various Afro styles or high top fades to give it a unique touch. This haircut is open to any variations, creativity and all kinds of modifications you desire to make in order to enhance your look and to impress the crowd or just one lady.
---
Haircuts for teenage guys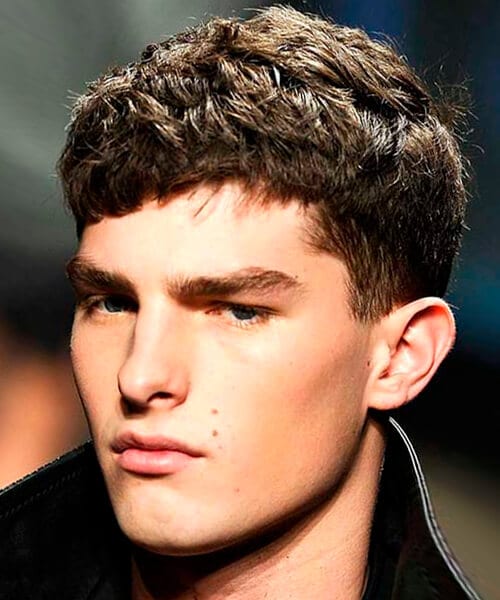 Traditional haircut for teenage guys
The first of the most popular haircuts for teenage guys is the traditional blend. It features a low servicing haircut with an excellent level of design. The top of the haircut represents short locks for design, whilst the rear and ends of it are shaved brief. It is a classic haircut that is as great as ever. This haircut suits best those guys who don't want to stress too much with their go of locks as with such haircut the short locks at the top can be raised for structure or combed ahead with mousse or gel. It performs perfectly with brief foreheads, square encounters and powerful experience bone fragments.
---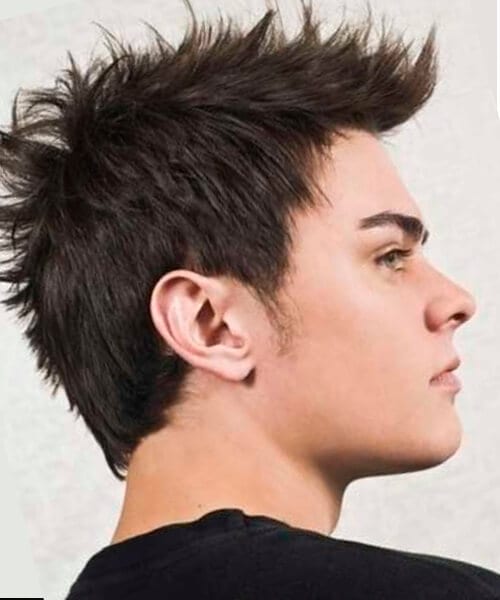 Up to date Mohawk haircut for teenage guys
Trendy and updated Mohawk haircut is a great option for those guys who want to do something a little different and edgy. In fact, all guys look incredibly attractive with Mohawk haircut and that is why it is so popular among celebrities, hipster fashion models and soccer players. There is always something about this haircut that catches everybody's eyes anywhere and anytime. So guys sporting a Mohawk haircut generally have an exciting way of living that reflects in their haircut as well. It is an enormous field for barbers because this look opens up lots of ways to play and experiment.
Moreover, different types of moods can be created with Mohawk haircut if styled in various ways. This up to date look is tribal and wild and brings out the fresh appeal of guys who enjoy showing off their masculine impressive style. Notably, the best thing about this haircut is that it can be styled in less than five minutes and you are not required to have any special skills or styling instruments. Damp hair will be ideal to begin the styling. To create some texture, it is recommended to apply a styling cream to your hair. Then you may spray the hair with a light-hold hairspray to finish the look. This kind of haircut looks awesome if your hair is thick with a little curl or wave. The best face shape for it is considered to be round.
---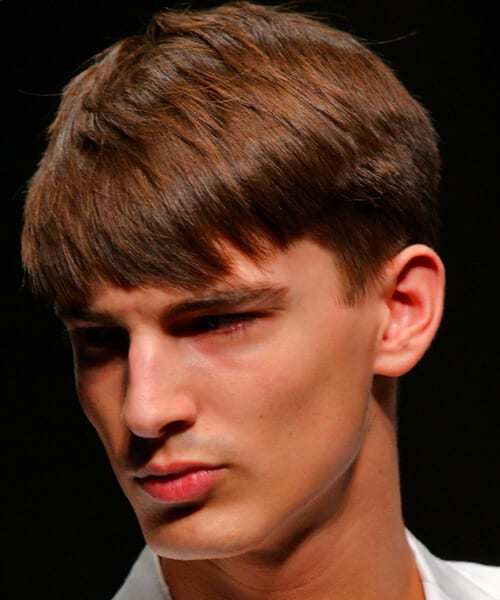 Butch haircut for teenage guys
This haircut has always been known well. Originally it was designed to use it in the army, but these days it is just common in ordinary life. The butch haircut is low at service and sweating will not make your locks look bad, because of its brief duration. Moreover, it doesn't have any need to be designed, as most guys like the gorgeous overall look and convenience of the haircut. Teenage guys wear this haircut as it is effective for those guys who desire a powerful and recognizable haircut. It must be cut with number two blade or even less, everything depends on hair structure.
---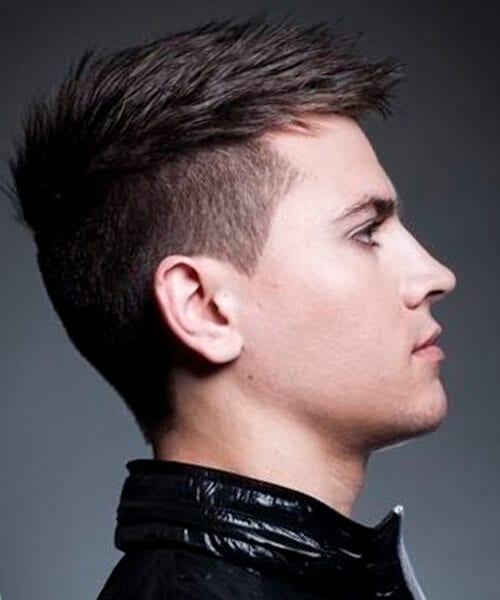 Undercut haircut for teenage guys
The undercut has made a great break in style recently. It demonstrates the locks that are cut short around the rear and ends of the haircut whilst the top continues to be lengthy. The most suitable way to design this haircut is by operating the locks smooth returning, but there are also several other ways to design it as well. Most images illustrate this haircut with direct locks; however, it is effective for wavy locks, too. This design needs a lot of effort with mousse or gel and requires to be managed by reducing daily. It really goes well with lengthy encounters and powerful jawlines. It is best suited for mature teenage guys who want to sustain an elegant overall appearance.
---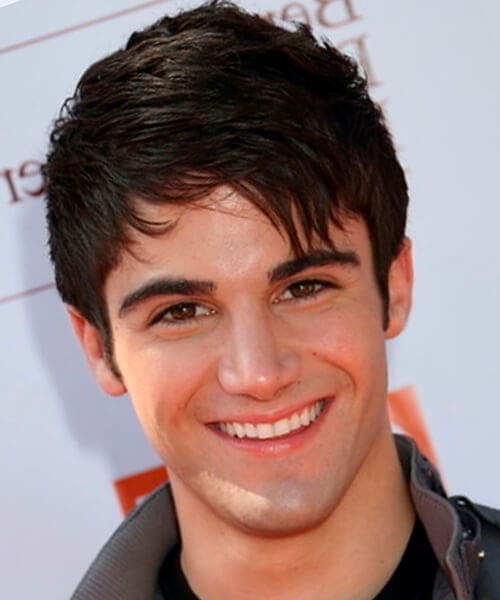 Trendy and tousled haircut for teenage guys
This haircut has recently appeared on the scene. It features very short length on the sides and long, tousled up top. Styling requires combing back damp hair, and in case you have cowlicks around the hairline you should use a blow dryer to smooth them out. Then it is advisable to apply a styling cream and as usual to start with just a bit on the fingertips and only then add more as needed. If necessary, use a comb. If your hair tends to get frizzy or curly, then it is recommended to use some hairspray.
To achieve a stronger hold, you may put some paste on completely dry hair. In case you want a product to be a bit more flexible, you should apply it when the hair is damp a little. The best hair type for this haircut is considered to be thick hair that has a bit of a wave as the waviness will give it more texture. As for the best face shape, a round face will be complemented by this style.
---
Effortlessly irresistible haircut for teenage guys
The haircut looks really effortless, simple and completely sexy at the same time. If you are a long-haired guy, you should give this pushed back style a try. It features long or medium length hair on the top and a bit shorter in the back and sides. For styling it is advisable to begin with damp hair and to use your blow dryer to push the hair back in case you have cowlicks around the hairline. Then it is recommended to apply a styling paste or cream, starting with a little bit and adding more as needed.
Using your fingers, push your hair back. To hold the hair in place, apply some hairspray to it. Professionals say that the best product for this look is something that will create enough amount of the hold but won't make your hair look too tacky. The haircut will mostly suit guys with thick and straight hair and a square face will be complemented by this style.
---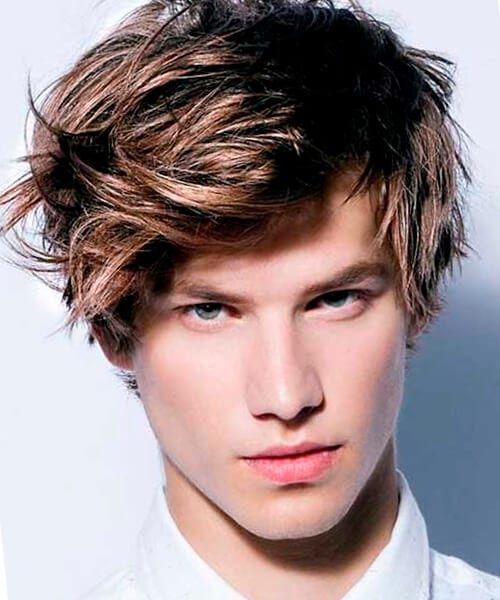 Messy mop haircut for teenage guys
The messy look has always been in fashion and will make you unique from the crowd. Guys with this kind of haircut surely look amazing and breathtaking. So you can rock it well in just a few easy steps. First, wash your hair and let it air dry. In case your hair is naturally very curly, brush it with a flat brush to make the curls softer and then blow-dry the hair. Second, apply a bit of light working cream so that you don't flatten the style, but just give a little texture.   This haircut is great if you have fine to medium hair that is a bit wavy. Moreover, if you have a small face, this trendy haircut for guys will help to elongate it.
---
Conclusion
There are so many guy haircuts that it can be really hard to choose the best suitable only for you. The article has been of help for you to make up your mind. You have recently discovered a great collection of traditional haircuts that never do out of design to most popular that will place you on the innovative way of great style.

---