Check the best hairstyle ideas for men and women who have a round face. If you choose the right hairstyle, you will look great. Here is the largest collection of trendy styles for 2021 you can choose from depending on your face type.
Bob best hairstyles for a round face
---
What is your face shape? If it is round, then you are lucky to choose the best hairstyle for a round face that verily boasts slightly wider cheekbones together with great symmetry. Try hairstyles that will help break up the symmetry for interest with incorporate lengths and angles that definitely will help offset wider looking cheeks and elongate your face. Gorgeous hairstyles for round faces skillfully mask their width, shaping them into cute ovals. Mid-length hairstyles for round faces with locks covering the sides of the face can make it narrower, cuter, and slimmer.
In addition, long hairstyles are also popular due to the beneficial vertical lines that elongate a full face. If you pair them with stylish bangs, you will bring your look to the absolute perfection. Unfortunately, there aren't many short hairstyles round face will benefit from. However, if you opt for asymmetry, you have a chance to find a suitable short hairstyle for your round face. In fact, by mistake, lots of women with round faces and chubby cheeks feel that they have to wear their hair long or add extensions to draw attention away from a plumper visage. As in many cases, all of that hair can weigh you down and look somewhat dated.
---
---
Professionals have found a great solution for a beautiful hairstyle for round face women can be proud of. That is a bob hairstyle which is definitely the style of the moments, particularly its shoulder-length varieties offering length, the desirable slimming effect and beautiful silhouette. It doesn't matter whether you are a brunette or blonde with straight tresses or wavy hair, there is always a bob hairstyle that won't overemphasize your round-shaped face. It is recommended to go no shorter than a chin-length in front, in case you wish to make your face appear slimmer. For this purpose, you may choose a stacked bob with shorter nape, graduated bob, angled bob or longer bob that is called lob.
---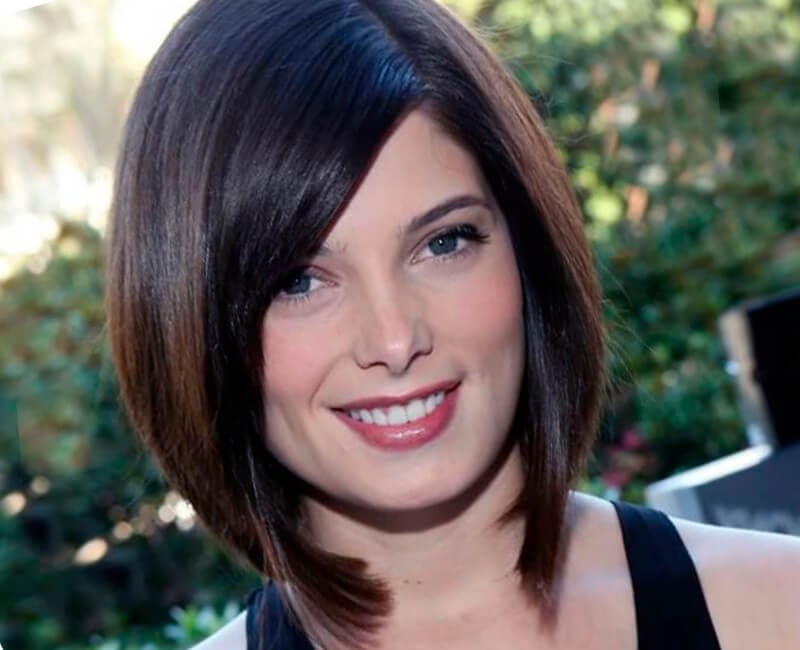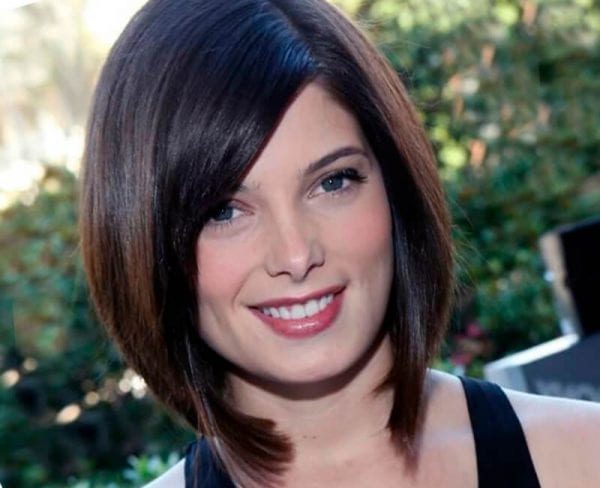 ---
If you want to make your gorgeous facial features the focal point, you definitely should opt for a blunt hairstyle that is classic and cute. It will let your eyes pop without any distractions; moreover, a clean-cut mid-length hairstyle for round face can work for any occasion. In case you tend to demonstrate a short cropped hairstyle and are afraid of turning it out unflattering for your face shape, a bob haircut with heavy side bangs will suit you perfectly. You will have the effect of a pixie hairstyle with the face-framing benefits of a bob. There is a good bob variation on shoulder-length hairstyle for round faces that is appropriate for medium curly hair.
Temper naturally curly hair with some layers may slim your style without changing the overall curl pattern. As a result, you will have a full hairdo without adding much extra weight around your face. Soft waves or curls look utterly romantic that makes them classic and timeless. Moreover, they help you appear thinner effectively drawing attention away from the widest part of a round face.
---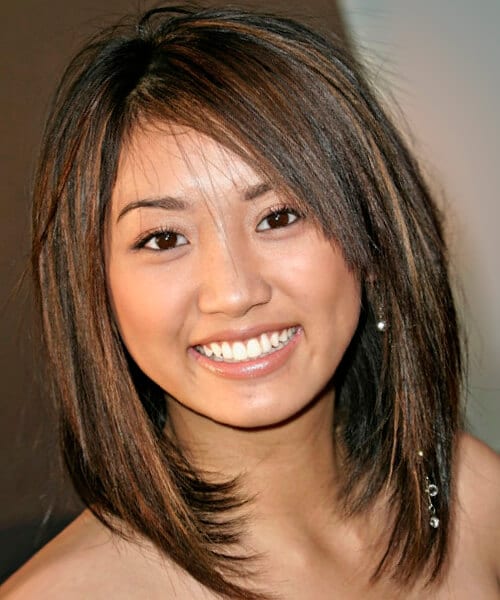 Long bob hairstyle for round face
Women opt for this style as its collarbone-grazing cut has a balancing effect. Indeed, it keeps the weight at the ends of the locks enhancing the angles along the jawline, thus the fullest part of a round face is situated at the cheeks. The hair may have almost one length, but if you create a few soft layers at the bottom, it will add thickness to your hairstyle.
For styling, it is recommended to set the hair with hot rollers and after brushing through the curls you should let them take their own shape. To give the hair instant volume and texture it is advisable to apply some texturizing body boost volumizing liquid powder, it is really easy in use and the result will be amazing. Moreover, this is one of the best hairstyles for thin hair and a round face. The imperfection of it makes it modern and trendy as it looks absolutely great on everyone.
---
---
Short hairstyles for round faces and thin hair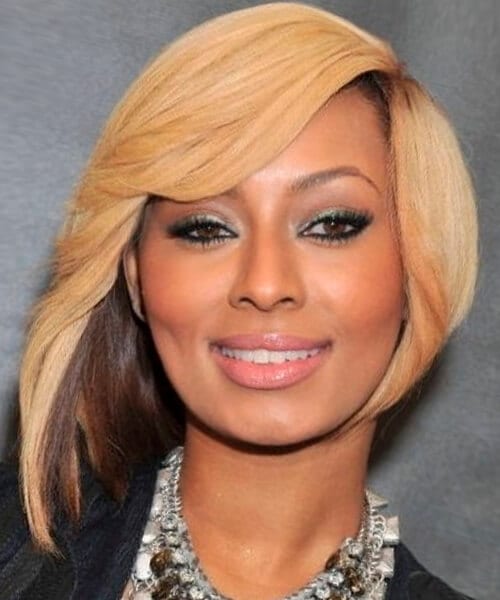 Volumized and asymmetric bob hairstyle for round face
Women choose such bob cuts that are really perfect for hairstyles for thin hair and round face. If you give a bob hairstyle a lot of volume, you will get the illusion of having a higher graduation. First, you need to apply a styling product to your hair. Then while blow-drying it with a round brush you should focus on lifting each section as far away from the natural fall as possible. Finally, tease your hair on the crown area using a comb.
To end the style you just need to set the backcombing with some firm hold spray and the entire look with a fast-drying lightweight finishing hairspray. As for asymmetric bob cut it is also ideal hairstyle for thin hair – round face – that looks beautiful when it starts out shorter on one side and gradually gets longer reaching the other side. If you want to style it yourself, you are to apply some hairstyling product and blow-dry your hair, not forgetting to focus on lifting it as high as possible. To add texture to the hair it is advisable to apply some styling product.
---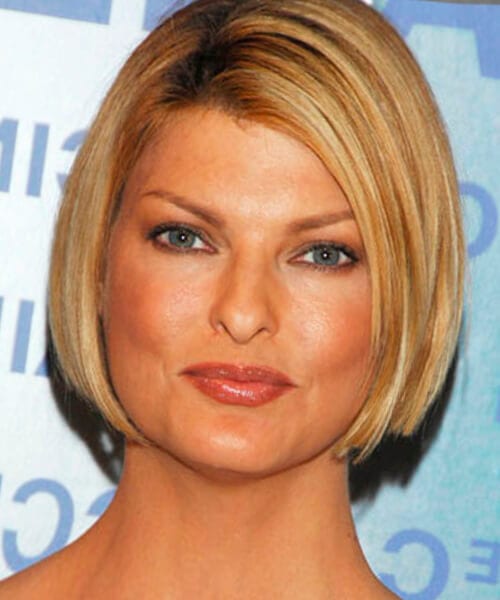 Inverted bob hairstyle for thin hair and round face
Another great short hairstyle for round faces and thin hair is so-called inverted bob. This hairstyle impresses by its genius inverted layers, thus it doesn't emphasize the roundness of the cheeks at all so that plus-size women should not feel as though they cannot wear short hairstyles. The stacked layers create a lot of desirable fullness in the back in a way that the roundness of your face is perfectly balanced. The layers are stacked on the top of each other, from the crown of the head to the nape of the neck, it keeps the back shorter and the front layers longer and due to this cutting technique the fullness is created.
You may go messy chic by adding a pea-sized dose of moose or texturizer for a bit of a wet look. If you want to achieve an interesting spin on the classic style, you should have half of your hair cropped at the nape line, whilst the remaining symmetrical sections must be elongated almost to the base of the neck. When your inverted bob looks limp and you don't feel quite free to make an appointment with your stylist, there is one more tip to boost volume – get some soft curls, as a curly texture definitely gives an instant result with added thickness and fullness.
---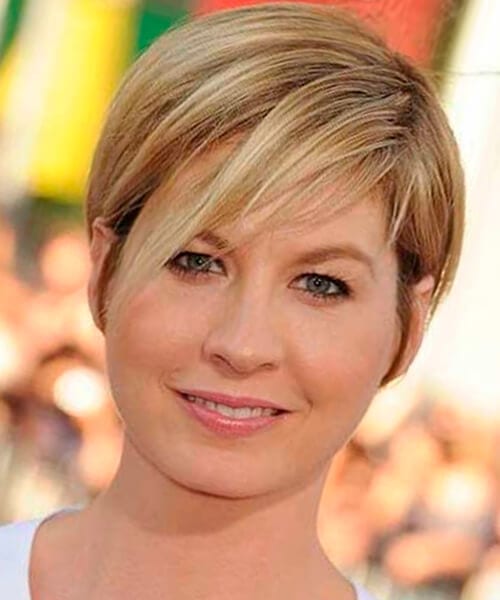 Pixie hairstyle for round face
Women with a thin type of hair should not be afraid to go short, as there is a gorgeous hairstyle created especially for them. Layered fringe paired with short tapered sides will give definition to your round face. One of the most important things in this hairstyle is softness around the ears as clipping too much may make you look masculine. Also, it is recommended to style the hairstyle with your fingers to avoid stiffness, as using a brush or flatiron might give too much artificial shape.
Actually, pixie is the right hairstyle for thin hair, round face also works great with it. In fact, pixie hairstyle can make thin hair appear thicker than it really is. You may try a pixie variation with choppy layers to add volume, or a pixie with side-swept bangs. They don't always accentuate a round face in combination with a sweeping fringe that can be matched with a deep side part.
---
Men's hairstyle for round face
The most essential thing to remember about a round-shaped face is to add height to draw attention away from the sides of the face. Nowadays there is a great variety of hairstyles that suit men with a round face.

Tall and spiky hairstyle for round face
Men with a round-shaped face choose this hairstyle as it balances the face out. As it is tall, then the height makes a round face look longer, whilst the short sides genially draw attention away from its width. This men's hairstyle for round face will give you incredible volume and add angles to the face. You can modify it to be more conservative or more extreme, depending on your preferences.
---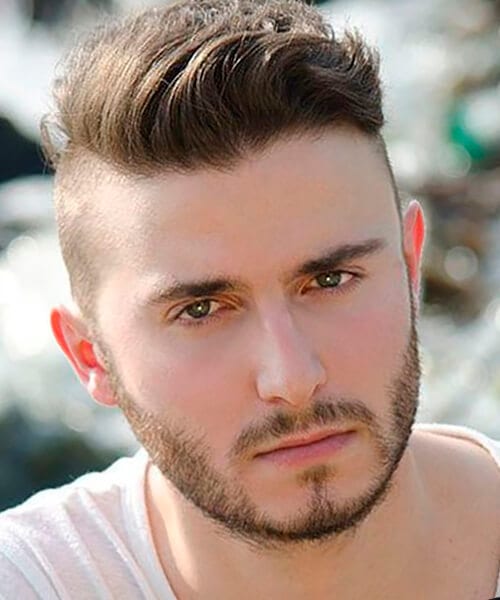 Short back and sides men's hairstyle for round face
One of the best hairstyles for a round face is considered to be the short back and sides hairstyle. It provides lots of varieties from long and curvy on the top, maybe slicked back to extreme undercut. Any variant you choose, it will elongate your face and will give your jawline a more square appearance.
---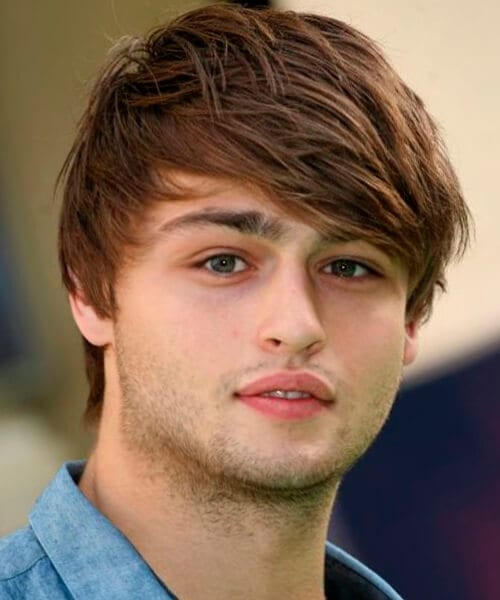 Angular fringe hairstyle for round face
Men tend to opt for this hairstyle as it is created to add contrast to the wide cheeks and it definitely makes the face more angular and masculine looking. The angular fringe hairstyle has recently emerged and became popular not only among men with round-shaped faces. The asymmetrical line enables you to wear your hair in a way you desire.
---
Conclusion
Round shaped faces and thin hair is not a problem at all in creating your best hairstyle. You just have to learn to embrace the face shape you were born with and as a result to make the most of it!