Short hairstyles are very practical and fit almost everyone. Check the best styles for women/men who have short hair. You'll definitely find the perfect style for everyday wear and special occasions. All the hairstyles for short hair are followed by the tips.
Short hairstyles for women
---
Short hairstyles are considered to be the classic ones among men of all ages and usual for women over 40. In fact, that is not quite so. There are lots of not really super short hairstyles for men that also relate to a classic type as well as many young women opt for short hairstyles. Below you will find all the necessary information on short hairstyles for women and short hairstyles for men, including short hairstyles for little girls, celebrity short hairstyles, trendy short African American hairstyles and plenty of other useful and interesting issues about the hairstyling fashion industry.
---
---
Celebrity short hairstyles
Rihanna celebrity short hairstyle
Rihanna sports a super short hairstyle called straight bob that is really chic and stylish. The jet black locks cut short at the jaw line emphasize amazing facial features beautifully. This black women short hairstyle has plenty of attitudes and gets a little boost of volume and sass with ease due to the addition of long side bangs and a bit of teasing at the root of the hair. Also Rihanna demonstrates another short cut hairstyle – colored pixie with bangs.
This hairstyle for short hair features caramel highlights that give to this gorgeous woman a splendid, vibrant makeover and it is nothing short of breathtaking. However, if you want to achieve seriously sexy short hairstyle you should add some deep blonde highlights to the locks and, thus, you will switch up your hairstyle without going overboard. Moreover, it can be a good short messy hairstyle if you cut it short into a messy stylish pixie cut for extra style points and enjoy this fun and quick hairstyle for short hair.
---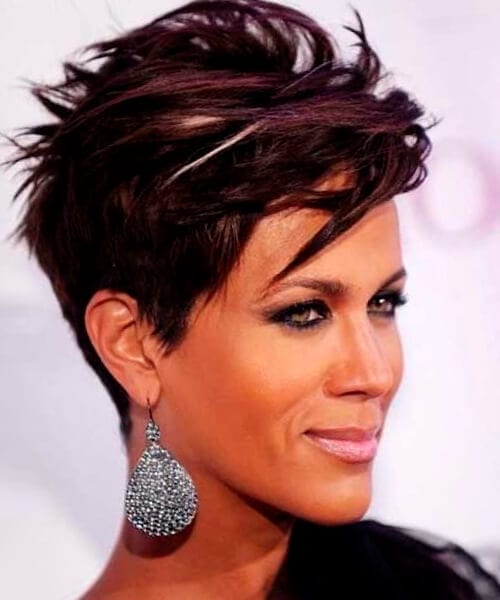 Nicole Ari Parker celebrity short hairstyle
Nichole Ari Parker usually demonstrates the audience how to keep the hair impertinent while staying elegant and classy. When it is a spiked pixie she doesn't settle for straight locks she teases instead and tussles to achieve a stylish and chic spiked hairstyle that is really marvelous with plenty of attitude.
This very short hairstyle could easily work the Red Carpet or work the room at a nightclub. This super versatile hairstyle will look fabulous on long face shape. Another short hairstyle sported by this celebrity woman is also pixie but with tight curls that looks gorgeous, too. Nicole Ari Parker shows off her style by demonstrating her natural looking tight curls. In case you don't have super tight locks like Nicole, but want to get this sexy short hairstyle, you may do a professional perm or use hair rollers to achieve this look.
These lovely tight curls give the hair plenty of volume and sass, almost looking like an edgy Afro that goes from day to night with ease. With this gorgeous short hairstyle for African American women you may forget straight hair as Nicole Ari Parker proves that sometimes it is better to rock your natural look.
---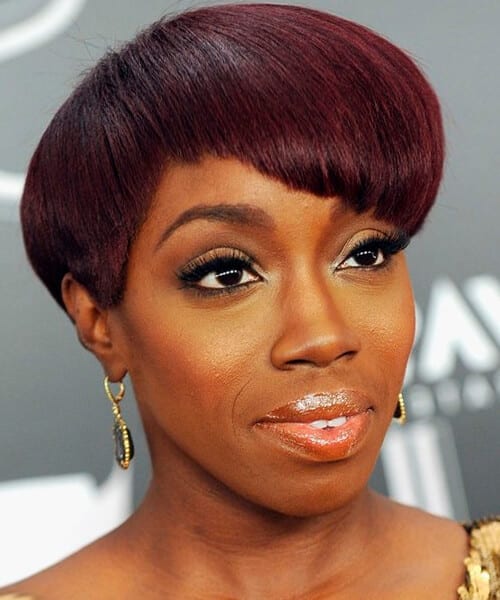 Estelle celebrity short hairstyle
This beautiful singer sports different hairstyles, among which is bob hairstyle with curls that looks cute and elegant glammed up with a few simple curls at the ends of the locks. It is an example of super quick hairstyle for short hair that will look amazing in every situation. You should just pull off the sexy curls with hair rollers or a hair curler. However, Estelle also likes another short African American hairstyle – bowl cut pixie.
This lovely lady demonstrates her chopped locks in a way that she switches up her hair with a cool boy haircut that can take us back to our elementary school days. You might want to give it a try if you are quirky and bold like this sensational singer as this hairstyle is definitely not for everyone. It is rather different, but actually quite intriguing and surely will get everyone talking.
---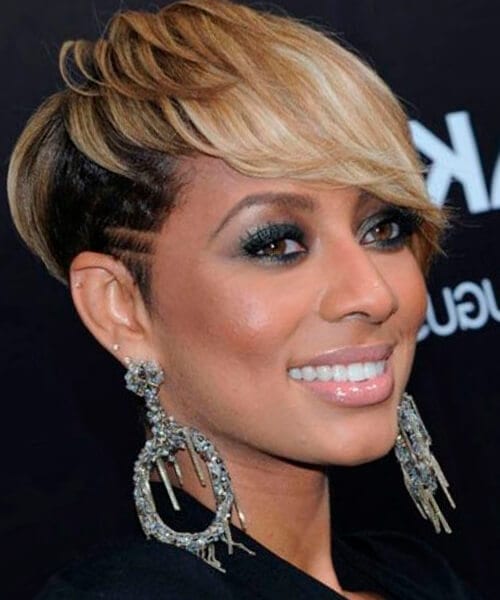 Keri Hilson celebrity short hairstyle
This show diva likes to sport side swept bob with side bangs hairstyle. She amps up it with lots of golden blonde highlights that brighten her face and make her look really fabulous. For a bit of natural effect Keri Hilson accents the blonde locks with hints of dark brown that allow playing off of the skin tone beautifully. This edgy and sexy short hairstyle impresses greatly. It is a perfect choice for women with round and oval faces, you just need to have it cut short and create super stylish thick side bangs.
There is also another hairstyle demonstrated by this famous woman – blonde voluminous ringlets. It is a perfect short blonde hairstyle with super trendy and cute ringlets that are also seriously sexy and sophisticated. Actually, you may get such ringlets using hair rollers or a hair curler, but if you desire your ringlets to start at the base of the hair, then the hair rollers will be ideal for this purpose. If you tease the roots a bit for a really amped up hairstyle, you will achieve even bigger hair.
---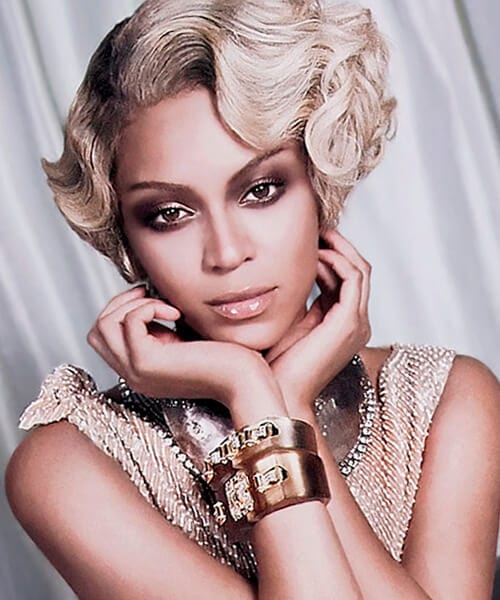 Beyonce celebrity short hairstyle
Beyonce always looks graceful and beautiful not mentioning this lovely angled bob hairstyle with which she gets an extra boost of glam and beauty. It is a trendy short hairstyle, super stylish with the right amount of edgy and seductive attitude to keep the audience interested. She adds super light blonde strands and pretty pink color on her lips that instantly transforms her into a bold and bright diva impossible to keep the eyes off. Another popular short hairstyle black women can imitate from Beyonce is voguish waves hairstyle.
She took this short hair hairstyle from the 1920s when women were really elegant. Beyonce looks very sophisticated and graceful with these voguish waves that take us back to the earlier days of sophistication and glamour. This trendy short hairstyle is perfect to showcase at your next upscale event as it will definitely attract plenty of compliments and stares. For a very striking finish you may dazzle it up with dark brown eye makeup and light blonde coloring.
---
---
Short hairstyles for girls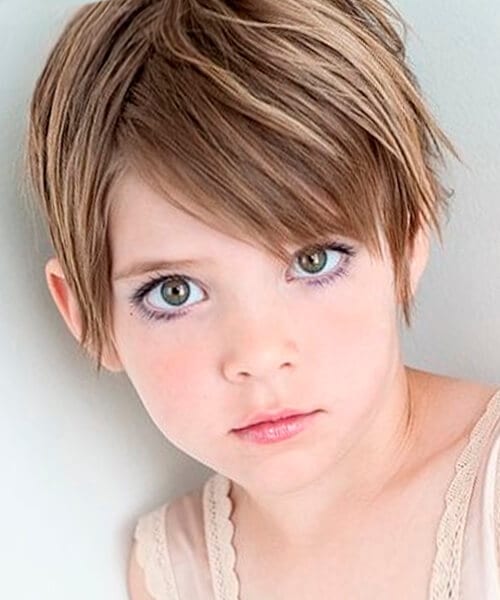 Pixie short hairstyle for little girls
The hairstyle features a pixie cut with a brow-length fringe. The length of the hair is traditional for this style demonstrating gentle tapering around the ears and in the nape. The layering is smooth and soft as it demonstrates more of a feathered look than choppy hairstyling. The salt of this short layered hairstyle for girls lies in the fringe that is cut with an inverse curved line. To create a wispy look to the hair the ends are textured. In fact, it is a boyish hairstyle, but at the same time it mystically retains all its femininity.
---
Cheek level bob short hairstyle for girls
To raise the weight line of the style to cheek level this variant of bob hairstyle demonstrates a lightly textured fringe with a gentle curvature in combination of box layering in the interior. A soft look is ensured by additional texturing on the ends of the hair. The color of this short layered hairstyle can be multi-dimensional and may vary from deep golden brown to dark honeyed blonde. The hairstyle refers to quick hairstyles for short hair as the styling is quite simple and effective at the same time, whereas the overall effect is both classy and casual. To achieve this hairstyle for girls with short hair you need to blow dry it using a round brush together with some light hairstyling product and smoothing serum. To add definition and texture to the finished hairstyle, apply a tiny dab of pomade.
---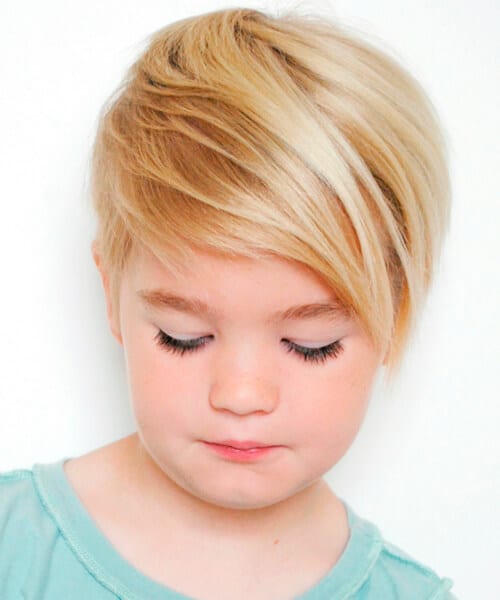 Timeless short hairstyle for little girls
The hairstyle for girls with short hair features a razor-textured incarnation of the bowl hairstyle and is a good example of timelessness. The formation of hard edges along the perimeter is prevented by the razor cut edges, whilst the bulk of the hair is confined to the regions above the ear level. As for the fringe, this area is slightly shorter than the rest of the length and delineates itself only a little. To style this quick hairstyle for short hair you just need a blow dryer with a flat brush and some light styling product to keep the hair soft.
---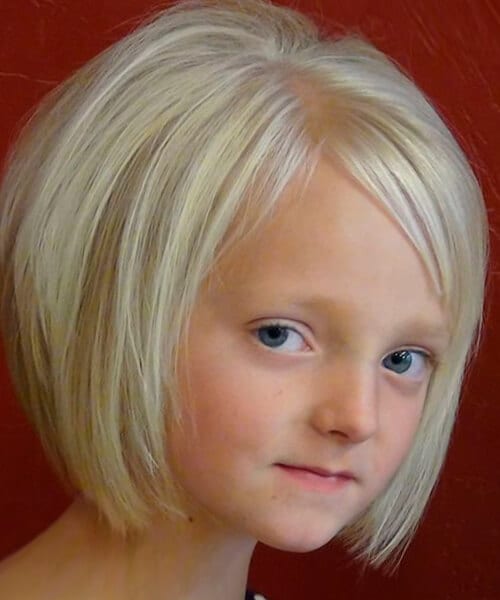 Razor cut short hairstyle for girls
The hairstyle represents a modified bob cut with smooth, silky curves caressing the face. There is a long fringe section with razor cut smooth ends that create wispy layers to frame the face. If you want to add a visual interest you may intersperse highlighting and accent colors, for instance, pale beige blonde can be combined with some coppery accents. To achieve this short hairstyle for girls you should style it using a blow dryer and a round brush in combination with a light hold styling product. Then you are to part the hair on the side with a slightly angled part and to direct it to create gentle curves.
---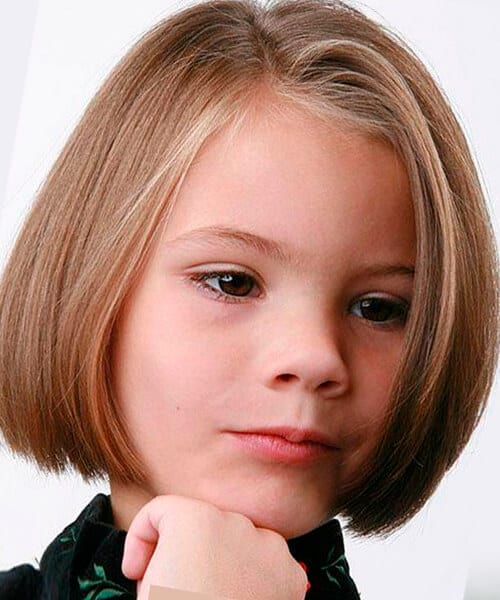 Circle short hairstyle for little girls
This is one of the most common hairstyles for girls with short hair. In fact, it is a basic hairstyle for many other with lots of possible variations. Using a traveling guide you should have the hair cut creating uniform length and layers all around the scalp. It refers to short hairstyles with thick hair as well as short to medium hairstyles, because it works particularly great with normal to thick, coarse and medium textured hair, especially if the hair has some measure of body and little wave. You are to determine whether you desire a fringe or not.
The fringe can be created the same length as the main body of the hair or it can be cut shorter. First, you are to cut the perimeter of the hair, beginning in the back and working from side to side. After it you should have cut the layers by starting at the bottom and working the way up. The next step is to hold the hair straight out from the head and to cut it perpendicular to the direction it is held. The final stage is to take segments of the cut hair to guide you in cutting the rest of it as you work the way to the top of the head.
---
Short hairstyles for women over 40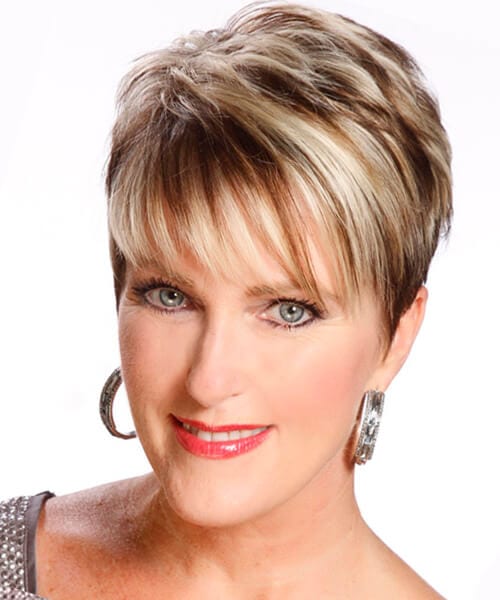 Sexy fringe short hairstyle for older women
Usually women over 40 want to hide their wrinkles, that is why they typically tend to create the type of bangs available for this purpose. Straight across and wispy bangs really cover wrinkles, however simultaneously they inform everybody that a woman wants to hide something. Moreover, such look can age a woman as it is rather dated. Considering all these important issues a new short hairstyle was invented. Its aim is not just to hide wrinkles, but to express your individual style. The salt of this trendy short hairstyle lies in long lash-grazing fringe that should sweep stylishly across the forehead and must be beautifully textured.
In fact, it is quite easy to style this women short hairstyle. First, you are to apply some styling product to wet hair, then blow dry it with a styling brush. Next you are to apply some thermal protection to your hair and smooth the ends with a flat iron. To finish the hairstyle it is recommended to use a product for texture and set the style with a flexible hold spray. It will suit short hairstyles for thick hair as well as short hairstyles for fine hair and longer face shapes will work better with it.
---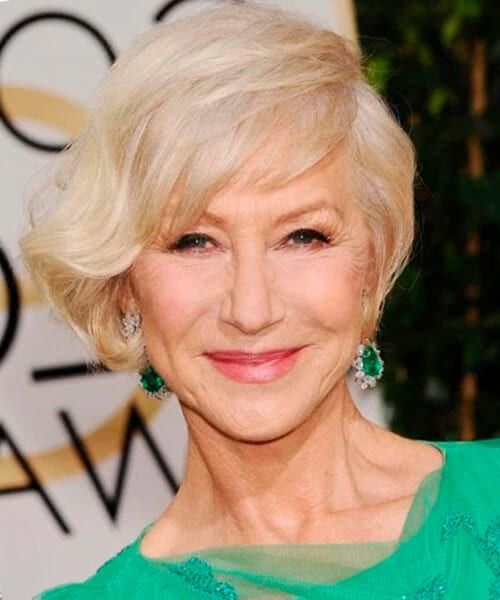 Asymmetric chic short hairstyle for women over 40
With the flow of time our hair can get finer and the best thing to solve this problem is to cut it shorter. Actually, it does not mean that you should automatically go for some men's short hairstyles; there is plenty of gorgeous short to medium hairstyles, short medium hairstyles and even very short hairstyles for women. You may try this super stylish asymmetric textured bob. Take into consideration several advice on how to style it.
First, you are to apply a hairstyling product to the hair and blow dry it with a styling brush. Second, you are to apply some thermal protection and using a flat iron smooth the middle to the ends of each section. Finally, apply some product for texture to the hair. Remarkably, all face shapes with medium in texture and density hair will suit this new short hairstyle for older women.
---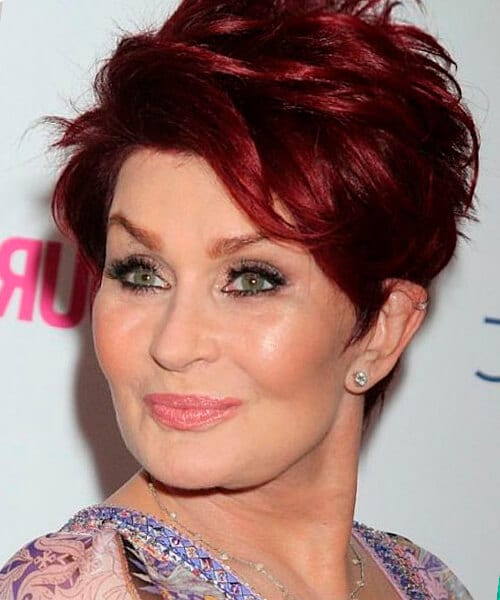 Pixie short hairstyle for women over 40
This kind of short hairstyle for women has been popularized by various famous ladies, such as Rihanna, Michelle Williams, Halle Berry and many other celebrities. Pixie hairstyle captures the essence of feminine beauty, as it frames the cheekbones, highlights the eyes and elongates the neck. It is a look that mixes both effortless and chic in such a way that you can't imagine a better combination. This short hairstyle for older women has been spotted season after season.
Thus, if you are looking for a versatile and fresh new look, this trendy short hairstyle is for you. In fact, there are lots of variations on a pixie hairstyle. It can be with side swept bangs framing the face perfectly; it may express a simple tousled look, especially if you have natural waves or curls; it can be with extra texture around the edges; as a pixie hairstyle is able to give the illusion of longer hair than it is in reality, you can demonstrate an undercut with a deep side part, and plenty of other different variations.
---
Short hairstyles for African American women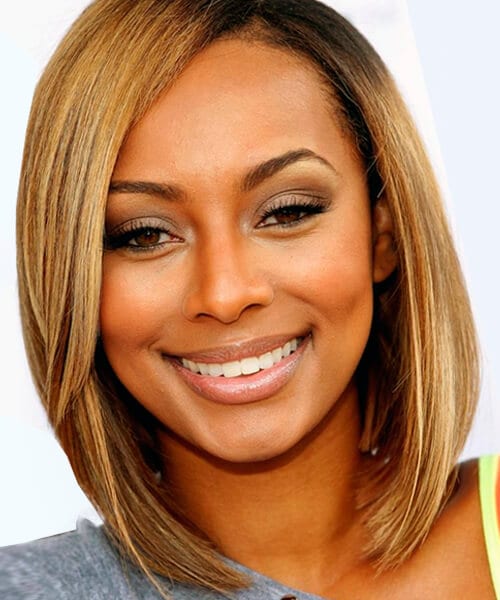 Straight bob black women short hairstyle
Among short hairstyles black women choose frequently is this women's short hairstyle. The beauty of bob hairstyle lies in its uniqueness and charm, elegance and style that make every woman more neat and refined. It is definitely a must-have idea for very short hairstyles for women that seizes many celebrities including the most favorite superstar Rihanna into its charisma.
Due to tapering layers and long side bangs across the chin facial features get prominent and attractive. There are a few tips on how to style this short African American hairstyle. First, you are to smoothly brush your hair forward and run the teeth firmly towards the back of your hair. Second, using the arch of your eyebrow as a base, create a side parting of your bangs with the help of a rat tail comb. Then you are to heat the straightener at 120 degrees and straighten your bangs in forward strokes so that they fall on your forehead.
To finish this short hairstyle for African American women rub some hair wax or pomade against your palms and run it through the hair. Notably, the hairstyle suits best heart shaped faces and oval faces with thin or wavy textured type of hair.
---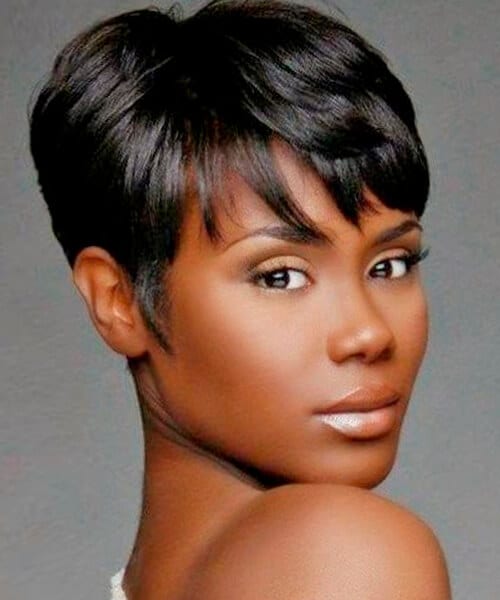 Cropped short hairstyle for African American women
This kind of short hairstyle women choose quite often. Cropped hair represents a special sparkle of the new season that has recently gained a lot of attention and appreciation for its easy styling. One of the most beneficial things about it is that the hairstyle is strikingly adorable on every face and does not need further gimmicks to play on the locks.
While styling, brush the hair, making sure that the teeth of the brush smoothly comb it next to the bangs. The next step is to blow dry the bangs outwards and loosely curl their edges. To make the hair still use a thick brush.  For the hair to remain in place you should apply a hair spray on the top of your head. In addition, a round or square-shaped face will suit these black women's short hairstyles as these shapes support side-parted curled and blow-dried bangs.
---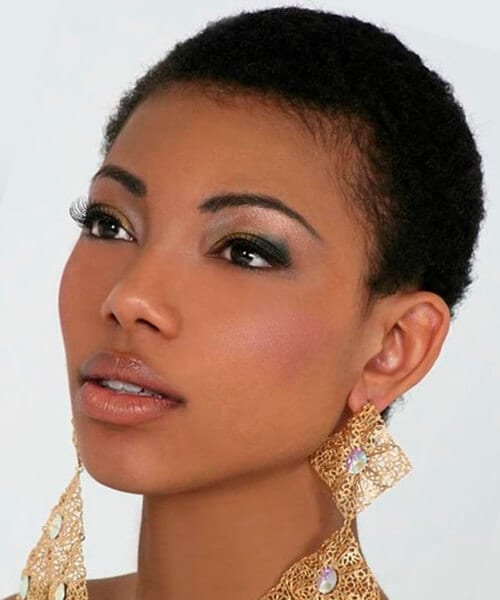 Trendy cute very short hairstyle for African American women
The hairstyle refers to short layered hairstyles and very short hairstyles for women. It is really gaining popularity among short hairstyles black women choose nowadays. The style features side-parted voluminous hair amassed on one side with the other side lesser in volume. Moreover, it heightens an illusionary effect that makes it even more irresistible. This women's short hairstyle is one of the trendiest and cute as it has no particular requirement of facial features or cheekbone lines.
In fact, it is a quick hairstyle for short hair as it only requires washing and drying the hair properly. You should place the bangs forward and blow-dry the hair in an outward manner. And finally, you are to apply some wax or pomade and run it against the hair. The best face shape for this short African American hairstyle is considered to be an oval face.
---
Short hairstyles for men
---
Trendy short hairstyles
The most part of hairstyles for short hair men choose nowadays are greatly influenced by the famous male celebrities. The most fashionable tendencies are keeping men's hairstyles short; thereby highlighting the neckline can make it look more trendy and glamorous. The key point for short men's hairstyles is to keep it natural and at the same time stylish.
---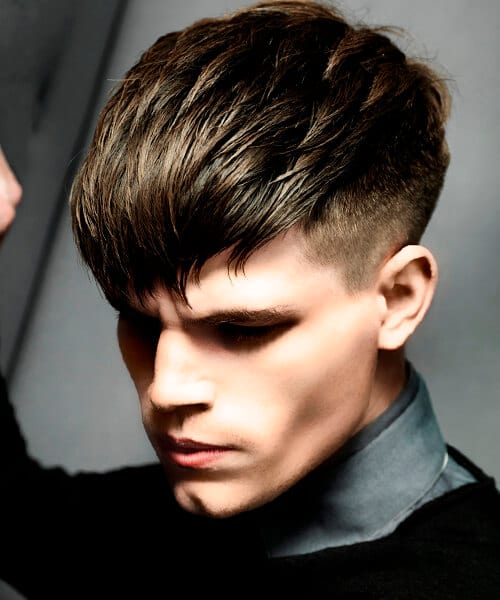 Angular fringe short men's hairstyle
This short men hairstyle with the angular fringe has recently come into fashion and became one of the trendiest men short hairstyles. It features tapered sides whilst the top layer is kept long and cut at an angle. The asymmetrical line of this short cut hairstyle is insanely handsome; it is strongly conceptual and enables you to play with your hair in different ways. You can have fun creating various kinds of style, from short messy hairstyles to super-chic comb over hairstyles.
In addition, this short hair hairstyle looks perfect for all face shapes; however, it is mostly suitable for men with a round face shape as the long top and short sides will give a round face a bit more length. At the same time the fringe balances out the cheek bulge and provides tremendous impact on the whole look.
---
Curly short hairstyle for men
The dominant short hairstyles for men are the short curls or the short waves with far less height and little effort required to straighten or relax the curls. In fact, the nature of the curls may be expressed in any degree of severity, from compact and tight curls to rather soft ones. With such manly curls you will definitely have everyone eager to run their fingers through your hair. To style it perfectly prepare damp hair with some curl enhancing cream, then air dry your hair, and when it is completely dry apply some light hold hairspray to finish the look. It will be a good short hairstyle for thick hair and for those men who have triangular, square or oval face shape.

---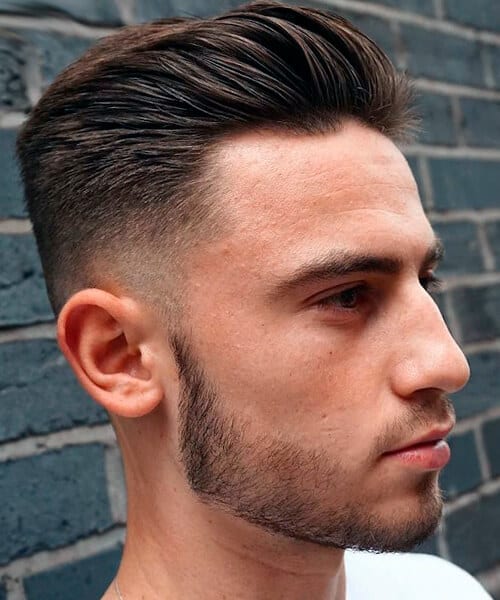 Slicked back undercut men's hairstyle, short
The slicked back undercut is another trendy short hairstyle men like to wear these days. It is emerging to be immensely popular as a more formal look. The most beneficial thing about this short men hairstyle lies in that it can be styled in different ways, for instance, it may be kept straight slicked to the side with a definite parting, slicked side part from a front-on angle or it can demonstrate a wavy variant of the slicked side part with more elements of volume and quiff.
The slicked back undercut represents a wonderful combination of old and new things about men's short hairstyles. It is easier to style this short men hairstyle if you have softer hair, but you shouldn't despair in case your hair is a bit hard. There are a few tricks on how to achieve this perfect look. Among them are: you should style the hair when it is completely dry, before styling it is better to blow dry the hair, use pomade instead of wax and be generous with it, and finally, have a comb with you to style the hair everywhere and at any time.
---
Short layered hairstyles
The short layered hairstyles for men can be styled with some gel only and worn with color highlights. Such hairstyles are mostly influenced from the male celebrities and therefore greatly reflect the glam and personality in you. That is why these men's short hairstyles are so popular and fashionable. They can be found everywhere in the hairstyle industry as any type of hair is surely will be refreshed with super cool layers. Moreover, layers are equally perfect for straight and curly hair, they add volume and fullness.
---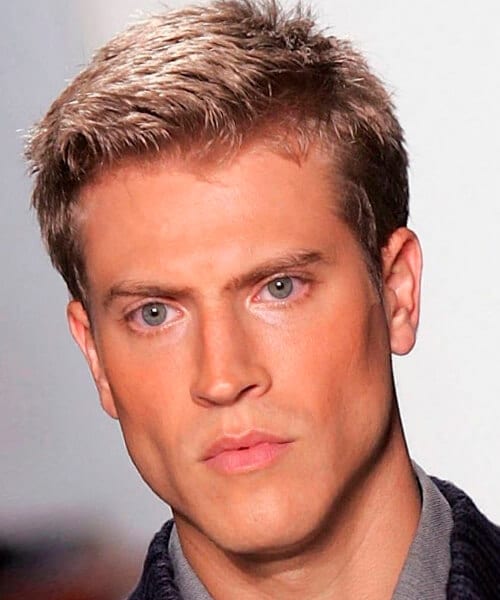 Short layered hairstyle for men
The short layered hairstyles give us an opportunity to go for different classic styles like the side combed or beautifully slicked back. A short layered hairstyle is an ideal solution for the thin hair that needs some volume on the top.  To be more creative you may combine the layers with wispy bangs which are usually swept to one side. This hairstyle for short hair men can also turn into a great spiky hairstyle with hair dryer and hair gel, and, of course, with the help of your own fingers.
---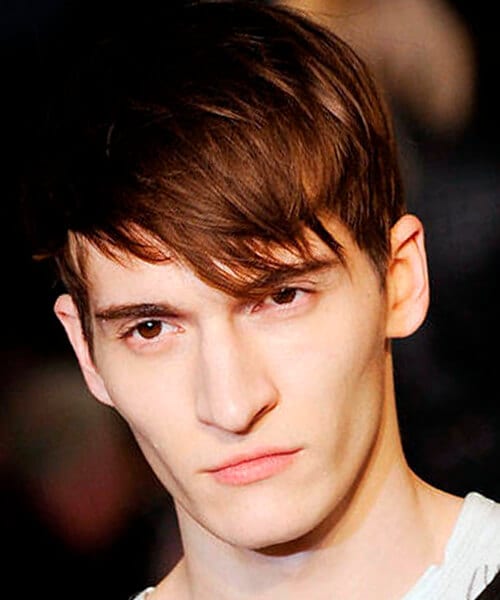 Men's medium short hairstyle with layers
The most important thing about opting for short medium hairstyles is not to forget about the regular touch ups. If it happens then the medium short layered hairstyle is the best solution. The layers can update the grown out hair and make it more fashionable, handsome and ravishing. Moreover, this medium short hairstyle for men will allow you to sport different medium short messy hairstyles. For instance, if you have curly hair you may try out slicked back hairstyles or the trendy wet-looking hairstyle to bring out your face shape, in case you have straight hair you can change the look by various curly hairstyles.
---
Curly short layered hairstyle for men
Only professional barbers can prove that the effect created with layers is absolutely incredible for curly locks and it is a mistake to think that layers are not visible in the messiness of curly and frizzy hair. Actually, it is a great idea to get rid of damaged and dry tips of the hair and lighten your hairstyle with a sophisticated touch and modern twist.
---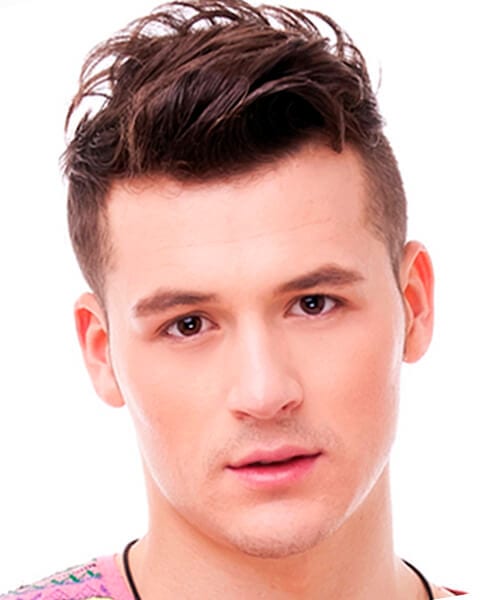 Short layered hairstyle with bangs
The trendiest layered hairstyles are quite often combined with fashionable bangs. Professionals consider that the best bangs hairstyles match with layered hair in side swept shaggy, wispy, straight and long forms. According to the face shape hairstylists provide their clients with seductive and flattering hairstyles that can visually change man's face shape.
---
Short blonde hairstyles
Blonde hair has always attracted everybody's attention, thus for those who have it the most important thing is to manage such hair properly. Remarkably, the way you look depends on the length of your hair and on your facial features, for instance the size of the forehead. If your forehead is wide and you do not feel ok about this fact, you may choose to get some flattering bangs that will make you more mysterious and sexy, or you can hide some things or one thing that you guess unattractive.
---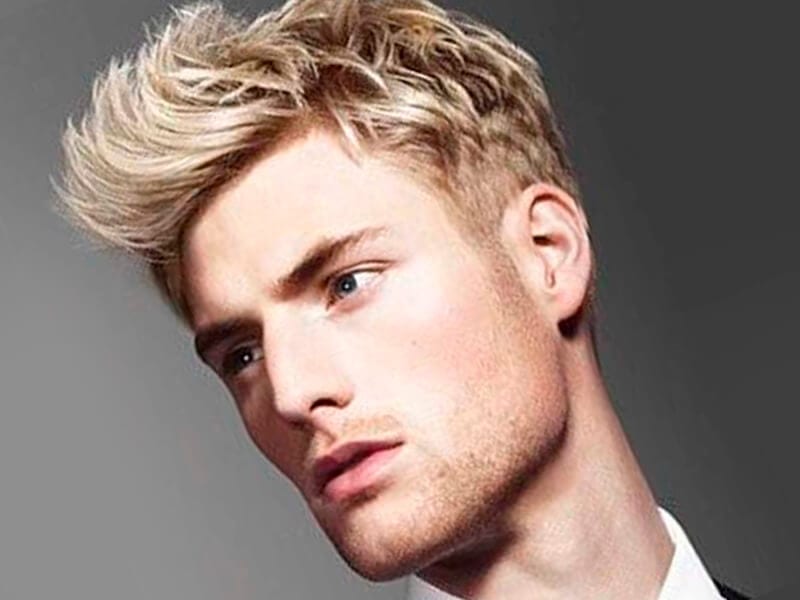 ---
Each year men's fascination for short blonde hairstyles is increasing because such sort of hair color is glam, shiny and sexy by nature. In fact, there are lots of blonde hair shades, among them are platinum, caramel and ash blonde shades. Also it is necessary to find the suitable hairstyle for your hair texture, face shape and hair nature as well. The length of these short men's hairstyles can vary from short to medium hairstyles; nevertheless all of them are sexy and diverse.
Among short blonde hairstyles the buzz hairstyle remains not only popular and trendy, but attractive and stylish. Besides the buzz hairstyle the faux hawk and Caesar are also among the frequent ones. A very stylish look can be achieved with another category of hair type – the short curly, straight, layered and messy hairstyles for blonde men.
---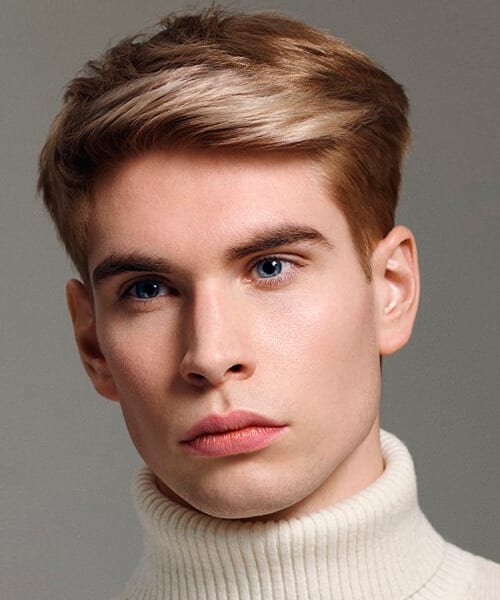 Traditional short blonde hairstyle for men
This is a short medium hairstyle that demonstrates layered sides and top in a circle cut. To give soft and wispy lines the perimeter of the hair must be textured with a razor tool and the hair should be styled smooth with a blow dryer and brush. For maximum movement in the hair it is recommended to use some light product. If you want to add a definition for the strands and keep the hair looking controlled, in this case you should enhance the finished look with a touch of smoothing serum.
---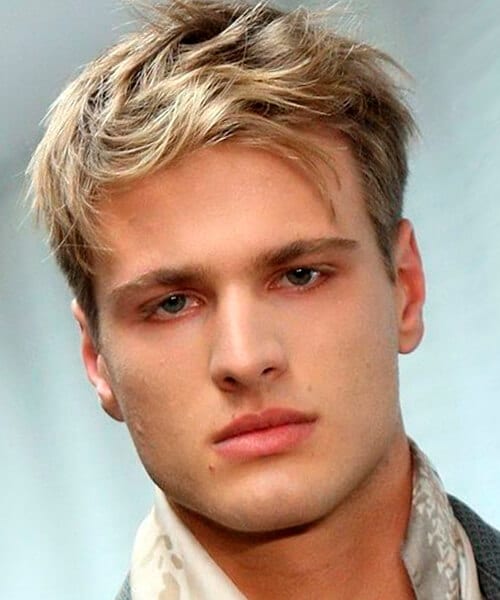 Versatile medium short blonde hairstyle for men
A perfect men's hairstyle must be defined, courageous and charismatic. All these things you will find in this medium short hairstyle for blonde men. It reminds of rock legends like Billy Idol and Kurt Cobain due to its sandy blonde base tone and lightened tips. It seems that this short medium hairstyle is made for an appearance on the scene. Combing it backwards you will achieve a rockabilly look. If you desire a fun summer look it must be styled straight.
---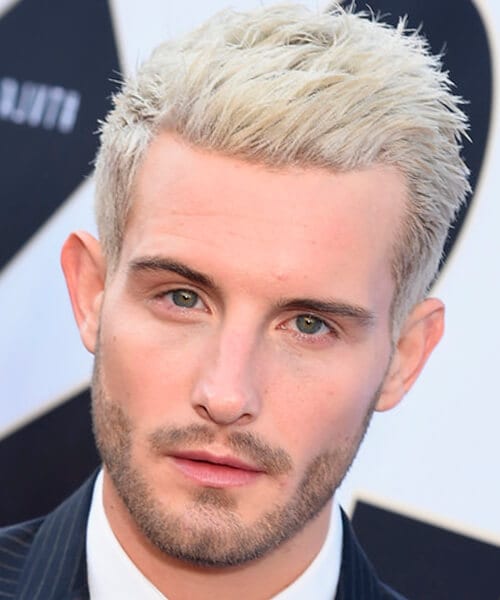 Casual blonde short hairstyle for men
A short hairstyle, faded blonde with little motion it perfectly exudes a little boy charm. In fact, it is just a casual type of men short hairstyle with a positive disposition. The hairstyle gorgeously reflects natural nonchalance by a few sunny highlights and displays the best sides of the wearer. To achieve this hairstyle for short blonde hair the neck's hair must be shortened and the whole hair must be layered. In case you want to get especially lively blond effects the hair experts advise betting on shoe shine technique that means placing the color only on the tips. You won't be disappointed as the result is really awesome.
---
Short hairstyles for fine hair
Nowadays fine hair is not a problem for stylish and trendy haircuts. A variety of hairstyles gives a great choice for men with fine, thin or thinning hair. In terms of hair density, fine hair has less locks of hair per area of scalp than other hair types. Individual locks can still be normal, fine or thick, but this type of hair has less volume of hair all over the head. Consequently, the best short hairstyles for fine hair should manage to provide additional coverage. Thus, the ways to make the most of limited hair is adding volume, texture and shape.
---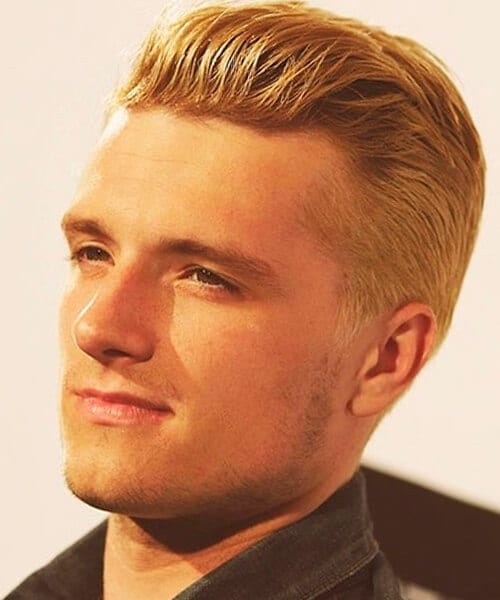 Slick men short hairstyle
For instance, the slick hairstyles are rather trendy trading in the slick for matte product. This men's short hairstyle provides growing the hair long and adds volume with a product and styling that is why it works well for fine hair. Here you should use a hair dryer that will help guide hair into place and build height, thus the hair will appear fuller. Also it is recommended to apply a lightweight, medium hold product that won't weigh hair down, but boost texture and thickness.
---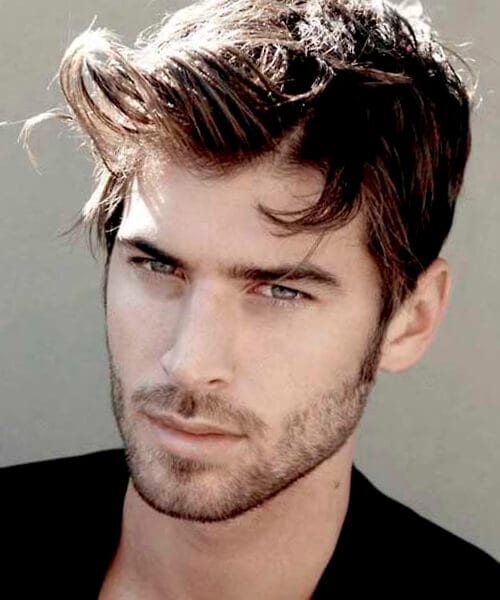 Messy short hairstyle for fine hair
Another trend for short hairstyles for fine hair is a short messy hairstyle as it is not only cool and easy hairstyle, but also it gives the appearance of more hair as it goes in all directions and covers up the scalp. This look is suitable for formal occasions as well as for casual events. There are some texturizing products with DHT blocking saw palmetto that stimulates hair growth. Moreover, it is really easy to style, you just need to rub a dab of product between your palms, work through the hair with fingers, and you are done.
However, you should stay away from straight up spikes for the reason that they make hair seem even thinner. In addition, a variation of this short messy hairstyle is a peak short hairstyle for fine hair that is a bit cleaner cut. The hair is styled in multiple directions towards the center of the hairline. It gives maximum fullness where the hair is the most visible plus covering up thin hair on the top. In fact, this men's short hairstyle works for a range of hair types and is flattering for every face.
---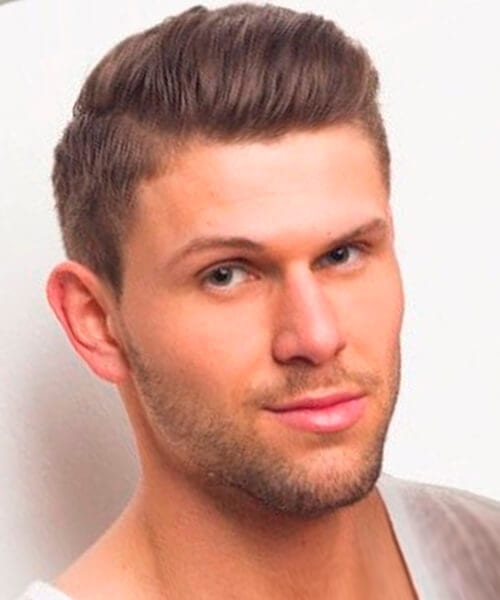 Long on top short hairstyle for men with fine hair
There is a strategy for fine hair that lies in growing it longer, but that is not the only way to make your hair appear thicker. For example, shaved sides in faded hairstyles or undercuts make hair on top look more prominent and, in addition, it also makes hair quick and easy to style. For maximum fullness it is advisable to wear the hair medium short on the top and comb it across to the opposite side.
Actually, the basis of almost all short men hairstyles is the hair relatively long on top with short sides and back haircut. This additional length provides the coverage you are missing that is why it works well for fine hair. To guide the hair in a desired direction you may use a blow dryer and, finally, the hair can be worn across or forward with some bangs, or slicked back.
---
A few pieces of advice for fine hair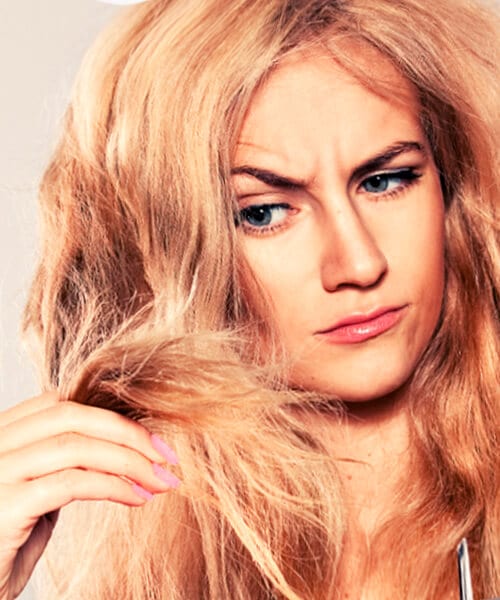 The most important thing for fine hair is to keep it short and cropped. If you give your hair a push to one side, it will look fresh and cool.
It is not recommended to wear a hat as the head needs to breathe.
When washing the hair just shampoo it with no use of conditioner as it makes the hair harder to control and softens it. It is advisable to wash fine hair no more than three times a week for the reason that the hair can become greasy very easily, which will make it look patchy and even thinner. On the other hand, to overdo the washing is also not really good as you shouldn't strip your hair of its natural oils.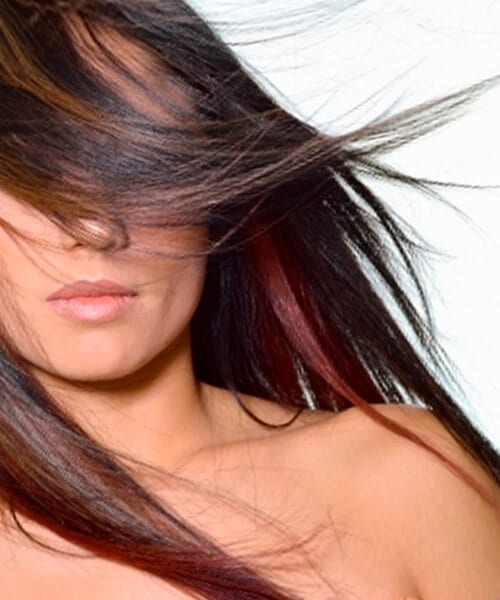 It is important to prepare the hair with a styling product, such as gel or mousse.
The next piece of advice is to dry your hair into the shape you desire.
And finally, for extra fullness you should apply a powder texturizer and for more detail you will need a paste.
Conclusion
Considering all the information mentioned think over about the short hairstyle you desire for yourself or your close friends and relatives. Choose the best one and be confident, gorgeous, glamorous, handsome or beautiful and just happy with your perfect choice.
---