"What is the best haircut for my hair type?" No need to look further. Here is a great collection of male haircuts for both short and long hair. Check professional tips and make the right choice now.
How to Choose the Best Haircut for Man
---
Nowadays men's haircuts vary greatly – from super short male haircuts to long haircuts. To create the right haircut means to get the basis for a further hairstyle. That is why it is strongly recommended to pay proper attention to choosing the best men's haircuts. In addition don't forget to take into consideration the shape of your scalp, the shape of your face, your height and weight, your skin color and your figure.
---
Short male haircuts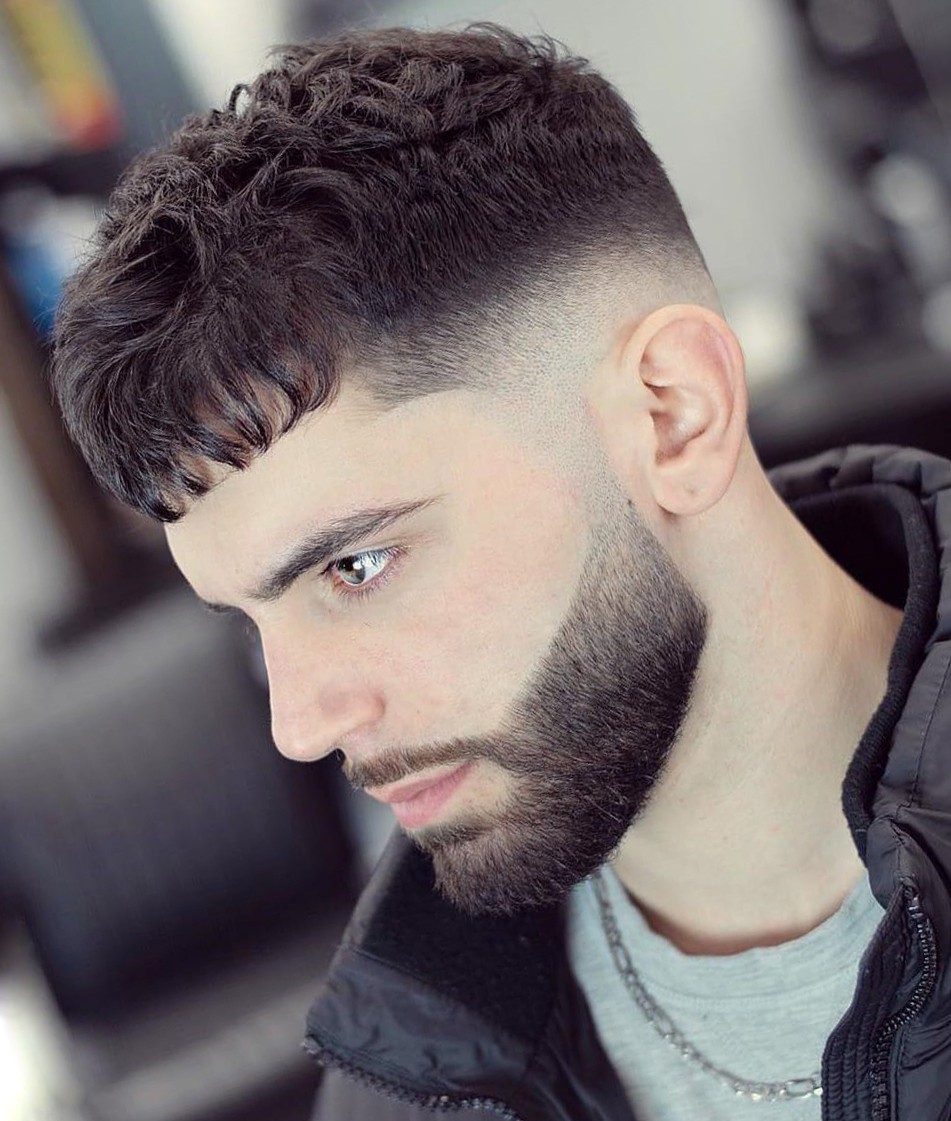 Caesar Haircut
It isn't difficult to guess when the haircut appeared. Men started to wear it a long time ago. A Caesar haircut is timeless. It will fit both teenagers and mature men who lead an active lifestyle. No barber doesn't know how to do this style as it is worn everywhere in the world. Your hair is almost of the same length all over the head. The length differs from half an inch to 3 inches. It looks classy and trendy at the same time. Don't hesitate to wear it with a casual style and formal suits this year.
---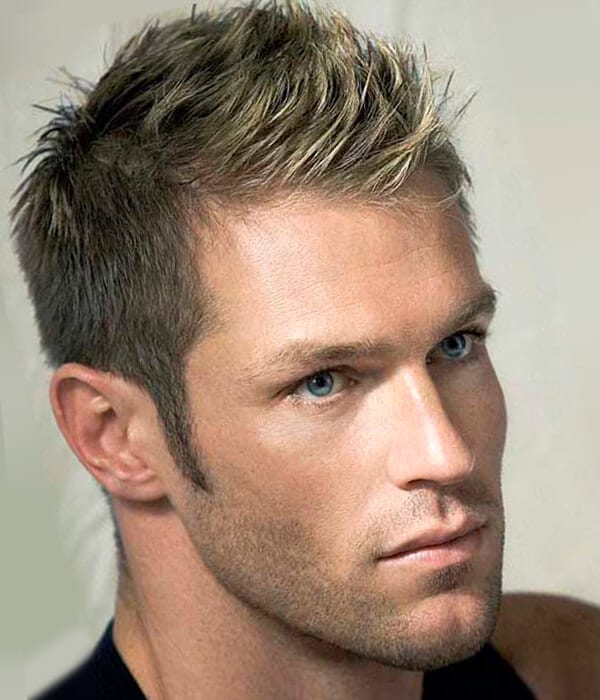 Clipper haircut for men
This classic clipper cut is the best way to have over and over again. It features cleaned up sides and back as a result of detailed clipper work. The crown represents short cut layers that can be expertly blended in. To finish the look the neckline is rounded with the neck trimmer. The clipper haircut is a great choice for on-the-go modern men. It is good for thin as well as thick hair, straight or wavy types.
---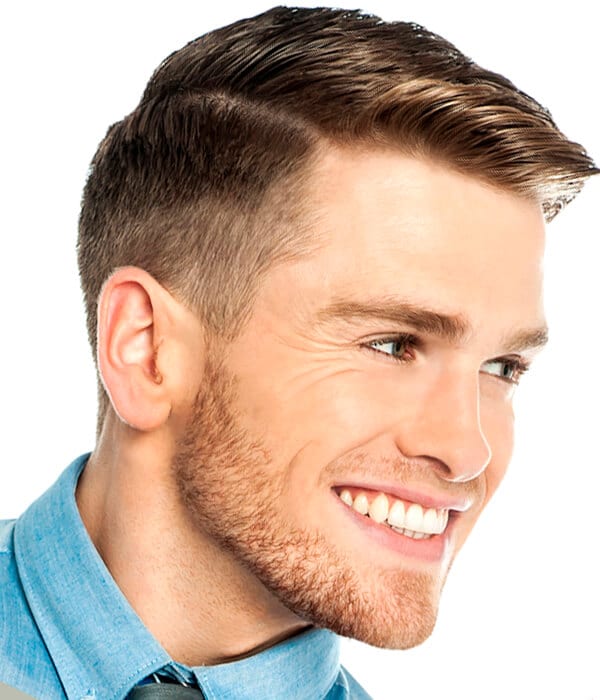 Classic taper men's haircut
The most popular among short length male haircuts is the classic taper one. This haircut is regarded as a low maintenance type and moreover it can be easily styled. The sides and back of the head must be shaved rather short whilst on the top of the head, a little hair is left. The cut is the best variant for those men who don't want to trouble about their hair too much. If you apply some kind of gel or mousse you can create different variations of one and the same haircut – the hair may be spiked for a composition or combed forward. This haircut works well with men who have strong cheekbones, short forehead, and oval shape of fac
---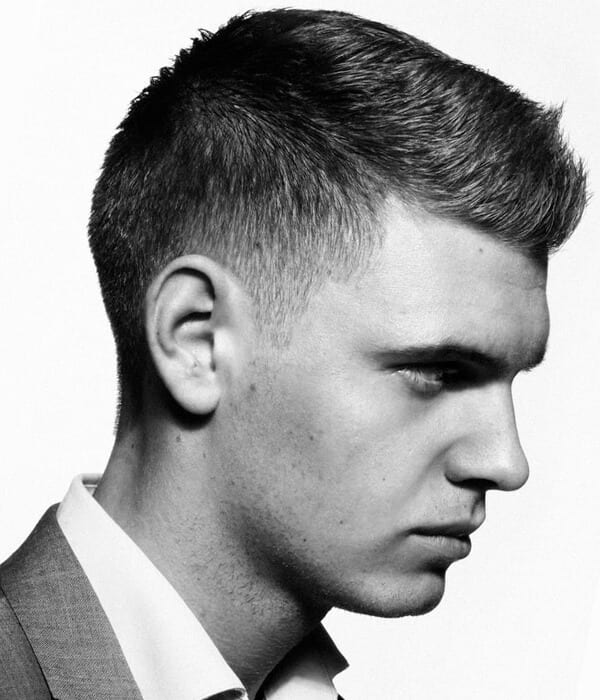 Crew haircut for men
It is one of the top choices for most guys just because of its timeless and classic style. This haircut is perfect for athletic men and can be adaptable to any style. Also, it can make any face more defined. To achieve the haircut the crown of the head must be buzzed with a clipper setting from number four to number six, the hair in front must be the longest, then as the hair goes toward the back of the head it gets shorter. At the same time, the sides and back must be trimmed with a shorter clipper setting from number two to number four. All the way down to the neck there must be a gradual taper.
---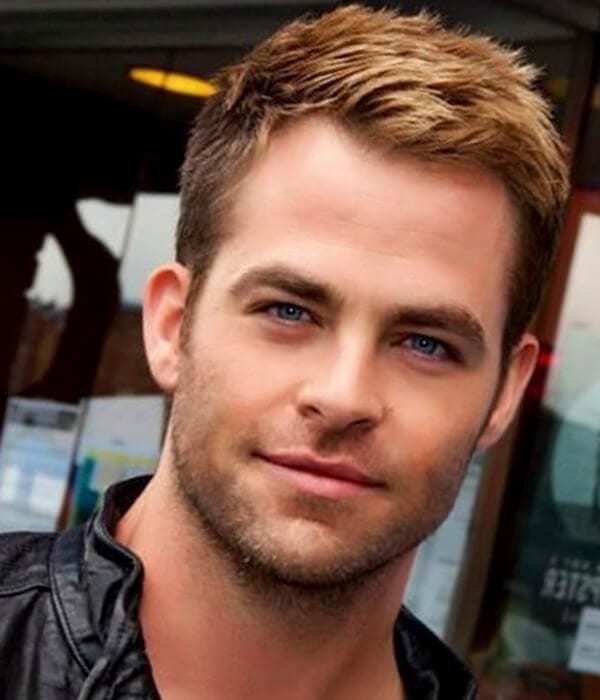 Short layers men's haircut
The haircut features trimmed sides and back and cut with scissors top. The length of the crown is about two inches. Then it is joined with the sides and back. Finally, the haircut is finished with a square cleaned up neckline that matches greatly with the overall look. If you want to keep it looking neat, apply some styling cream to add a touch of shine. This haircut is good for wavy and thick hair.
---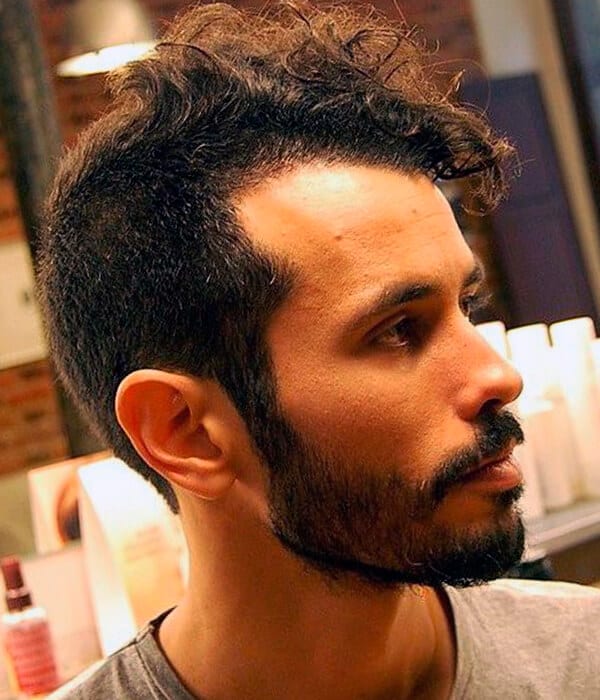 Long buzz male haircut
The name of the haircut doesn't give us the whole image of it. Though it is called long, in fact, it is short, but not so short, as natural buzz cut. There is short hair all around the head and that's it. This is the best way for professional sportsmen or just for people who are involved in high-energy activities as the haircut does not require too much fuss. The long buzz cut attracts chasers for low maintenance style because it is usually left essential. But if you are willing to put some effort, then use some gel or mousse and try some variations. The haircut suits those who have strong jawline, short forehead and oval shape of a face. To keep the hair short enough it is highly recommended to visit a barber at least twice a month.
---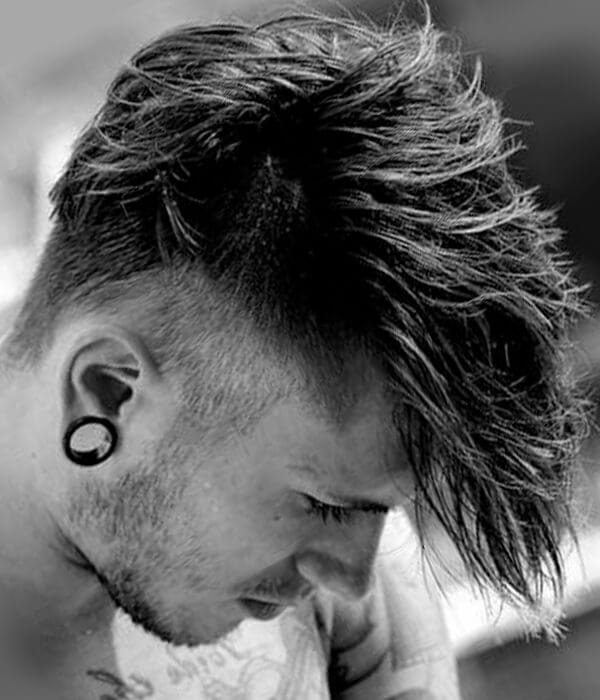 Undercut men's haircut
The undercut has become one of the trendiest male haircuts. This is a combination of various lengths – the sides and back of the head are cut short whilst the hair on the crown can be left medium as well as long. To achieve the perfect haircut you need to buzz the crown and the sides with a mild clipper leaving the bangs approximately eyebrow length to be able to slick the hair back or to do something else with it. The haircut is distinguished by plenty of variations in style.
So the hair may be slicked back, combed over, parted depending on your preferences. Notably, the undercut goes well not only with straight hair but also with curly. However, it is considered to be a high maintenance haircut, as it requires a lot of styling and frequent shaving. Nevertheless, if you are an older teen guy with a long face and strong jawline, this haircut is properly for you. Be sure you will preserve a classy appearance.
---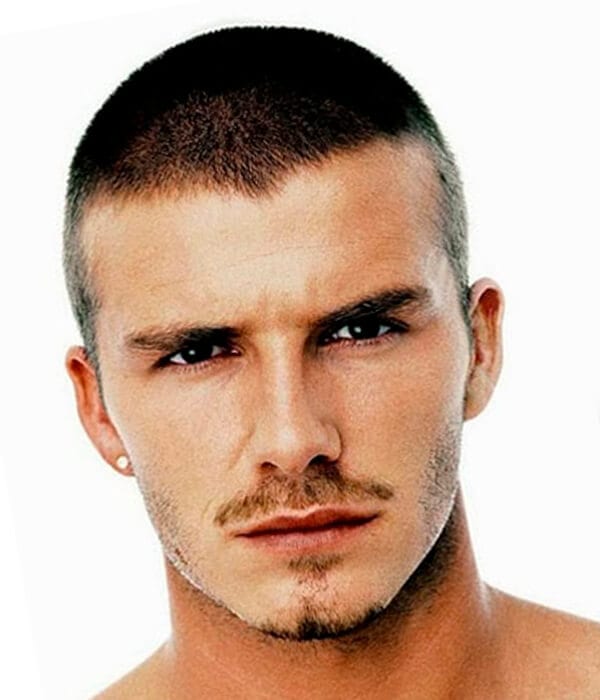 Butch haircut for men
This haircut is called an extremely short buzz cut and sometimes they refer to it as a burr. The haircut is rather popular among military men. This low maintenance haircut does not require any efforts in styling. It gives any men a masculine appearance. Moreover, if you want to avoid visiting a barber for some reason, you can easily do it at home with the help of proper blade guards.
---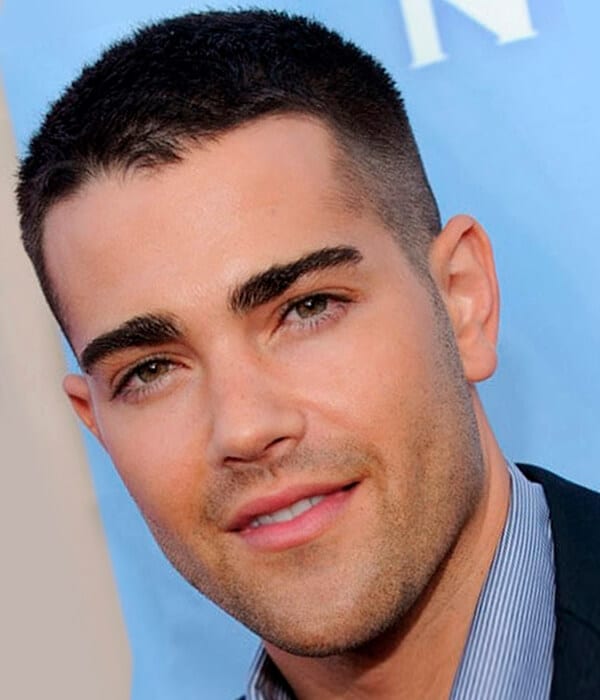 High and tight male haircut
This haircut also refers to military-style. The high and tight male haircut gained its popularity among African American guys. The haircut features a longer part on the top of the head and shorter part on the sides and in the back.  In fact, this haircut gives a man a strong and noticeable look.
---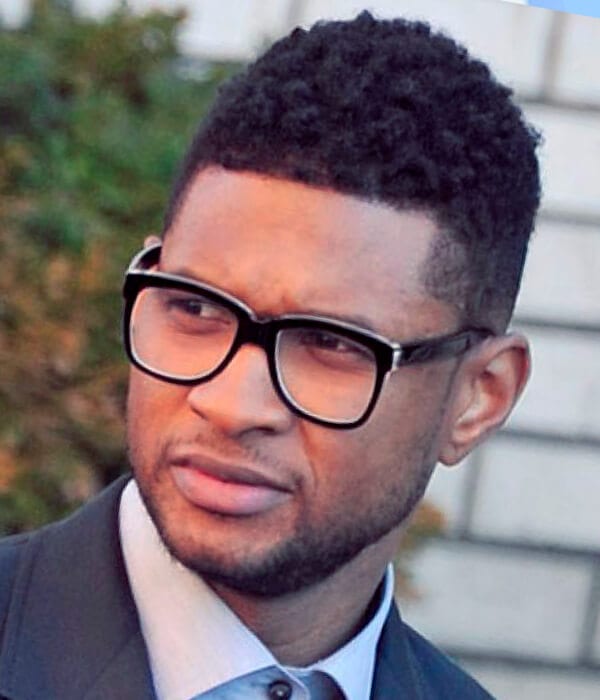 Short Afro men's haircut
As it is clear from the name the haircut is specialized on Afro American textured kind of hair. The haircut gives it a natural and soft curl that is widely spread these days. This kind of hair distinguishes with thickness, so it is a low maintenance haircut to get a proper curl. The haircut mostly suits African American men with short foreheads and oval or round faces.
---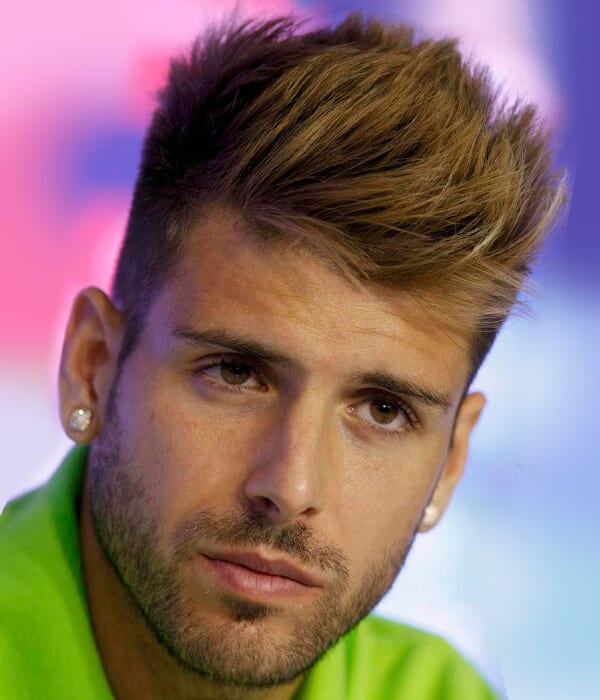 Faux Hawk haircut for men
Popular Hollywood haircut features the following pattern: the sides and back are short whilst the middle of the head is gradually cut longer. But with such haircut, it is essential to use styling gel in order to keep the middle in appropriate shape. Creating a faux hawk crest you can easily modify it in any variation. This kind of haircut accords with guys that have high cheekbones, strong chins, and long faces.
Notably, Faux Hawk haircut is the best variant for more expressive men.
---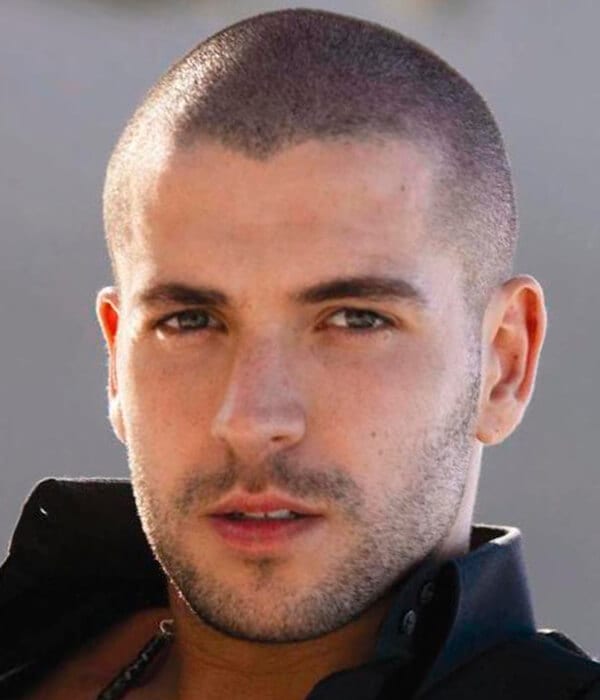 Induction male haircut
This is not only an extremely short kind of haircut, but it is also easily achieved cut. You just need to shave your hair with a zero razor setting on the clippers. It will effectively reduce the length of the hair without leaving you bald. The haircut is the best way to avoid summer heat or just sultriness in some hot countries. By the way, it is not recommended to get such haircut in wintertime. Another opportunity to play with this haircut is to decorate the scalp with any pattern you like. The induction cut goes well with a wide range of hairstyles and face shapes.
---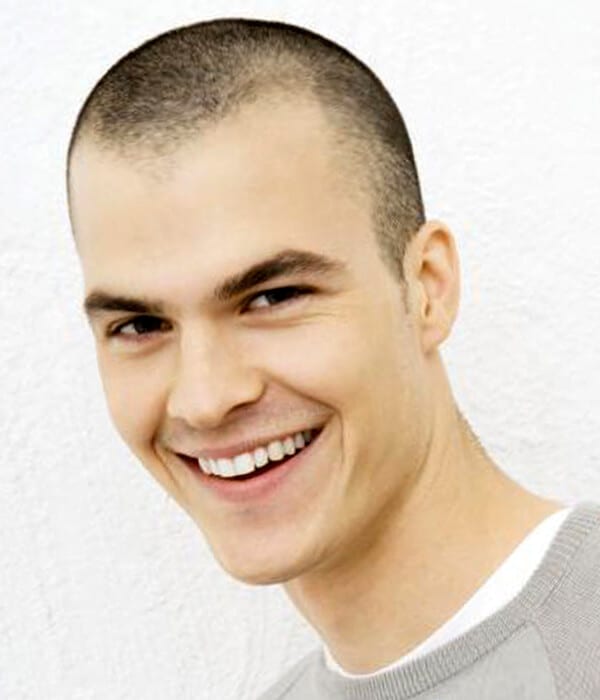 Burr men's haircut
This haircut is a bit less extreme than the induction cut. You can achieve this cut by employing number one, two or three razor setting on the clippers. Moreover, it is possible to contrast the length of the cut using all the three razors on different parts of the head. It's up to you to decide whether to consult and visit a barber or just to create it at home as the method is rather simple. This haircut resembles a butch cut, but with that difference of the longer top hair. So if you have an electric razor you can manage this practical haircut yourself.
---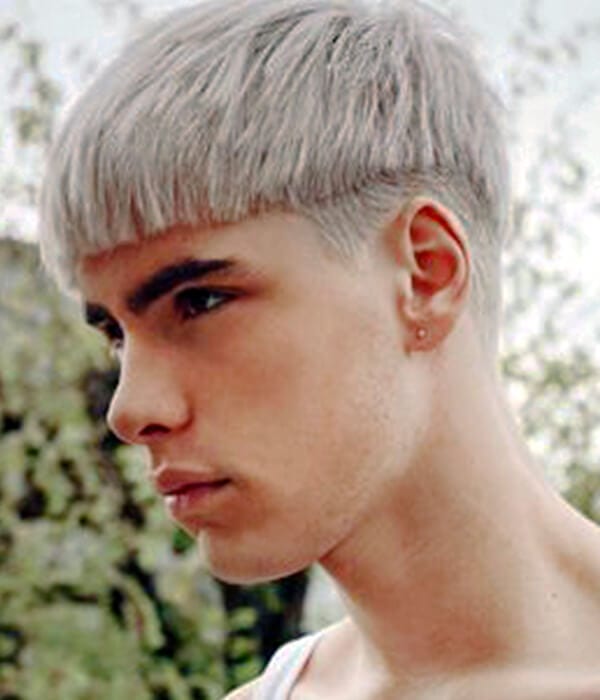 Straight fringe haircut for men
The haircut can be a solid choice for any man. It is a combination of classic and casual haircuts that makes it perfect for various situations, from everyday events to solemn ceremonies. As the fringe is supposed to reach eyebrows, the cut is perfect for long faces. To get some volume the hair's natural texture is used and a straight fringe emphasizes the undercut. In addition, the bangs must be left untouched and on top, the hair must be textured by tousling or applying some hairstyling product. It is recommended to use hair lotion to texture flat hair.
---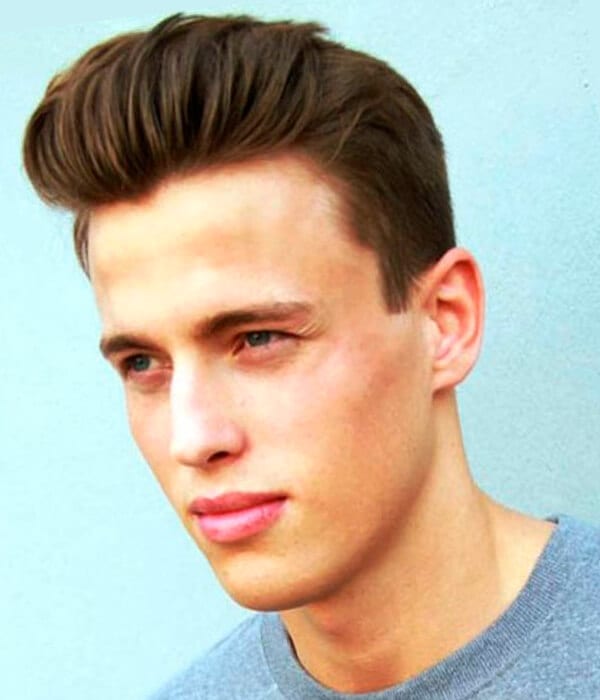 Vertical male haircut
One of the most striking haircuts is a perfect summer cut for guys with a thick and coarse type of hair. Energetic and high-reaching style accords with both short and long hair. It imparts some kind of height to the hair and is more suitable for round and square faces as it gives dimension. To make the hair stay upright it is advisable to apply hair wax or pomade. In fact, it can be modified in many ways.
---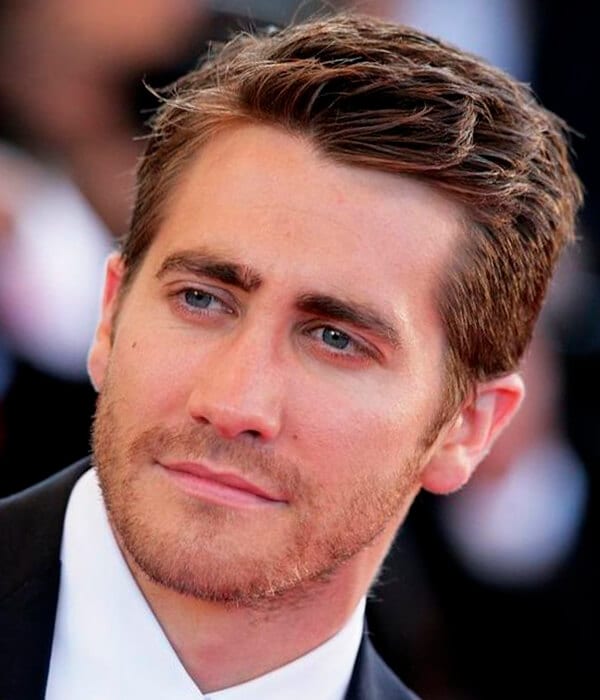 Modern Cowlick men's haircut
The modern Cowlick haircut is designed for men with coarse hair that is rather tough to work with. It permits you to tame such kind of hair and achieve a starring cut out of it. The haircut features a fair undercut on the sides and longer front part. Thus, you will have a wet look depicting plenty of defined ends along the scalp. To style the fringe it is advisable to apply medium hold paste and a dab of matte. If you want to get more texture, apply a hairstyling product when your hair is towel dried.
---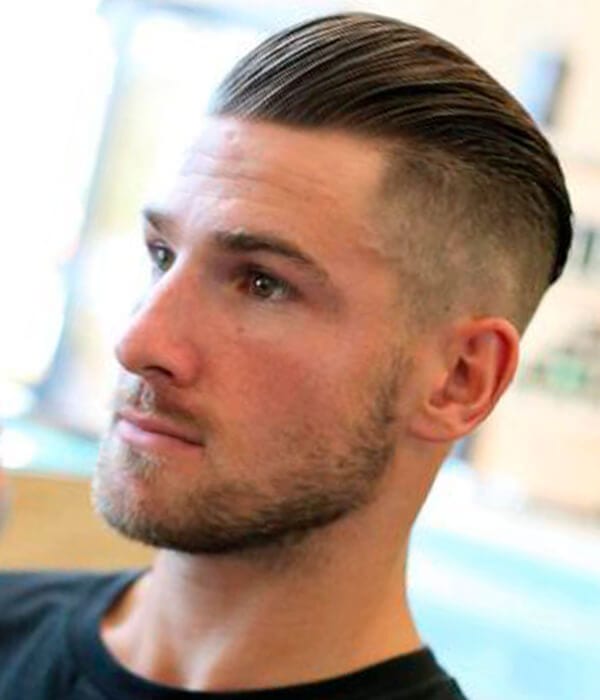 Disconnected undercut for men
The disconnected undercut has hit the men's hair trendy world. It slightly resembles the classic undercut but in a unique variation. The term used in the name of the undercut describes the sharp line that distinguishes the short hair on the sides with the long hair on the top. To achieve the haircut you should have the sides and back buzzed with number two, three or four clipper settings whilst the crown is recommended to be two inches of length.
---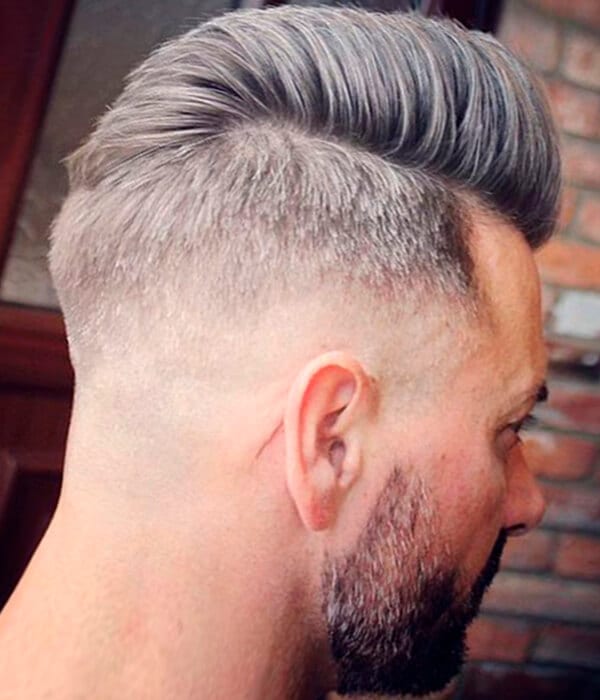 Disconnected pompadour male haircut
Disconnected haircuts regain their popularity each day. Here is an unexpected combination of undercut and pompadour haircuts. So there is a vivid line between sides and back that represent a style of undercut and the crown that is cut in pompadour. This variation of a haircut looks really stylish and slick cut with your individuality. However, the pompadour haircut needs some maintenance, so those guys who are involved in sports might find it difficult to keep. To achieve this haircut your bangs must be of at least eyebrow-length. The shorter hair you will have on the top, the more subtle pompadour you will get. Thus, the hair in the back and on the sides must be cut much shorter than the crown.
---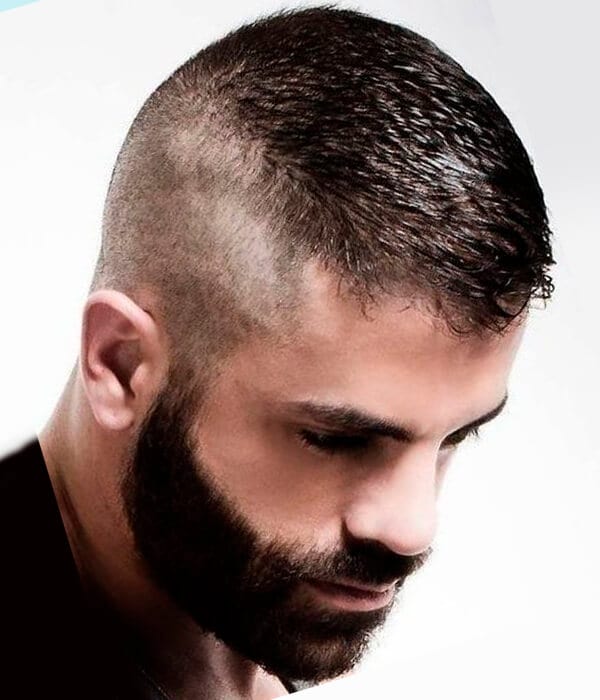 High and tight recon men's haircut
It is a variation of the classic military haircut that has become widespread among different types of men. The haircut features a small amount of hair in the middle of the head and almost no hair all around. Thus, it can be called a no-maintenance cut and the best variant for men who practice athletics and are not inclined to pay any time to their hair. Also if your hair is curly and you want to tame the locks, it will be a good choice to get an extremely tidy look. To achieve the haircut the sides and back must be buzzed with a number one razor, alternatively, they can be just shaved. It differs from the classic high and tight haircut in the amount of hair left on top – it is much less in the case of high and tight recon.
---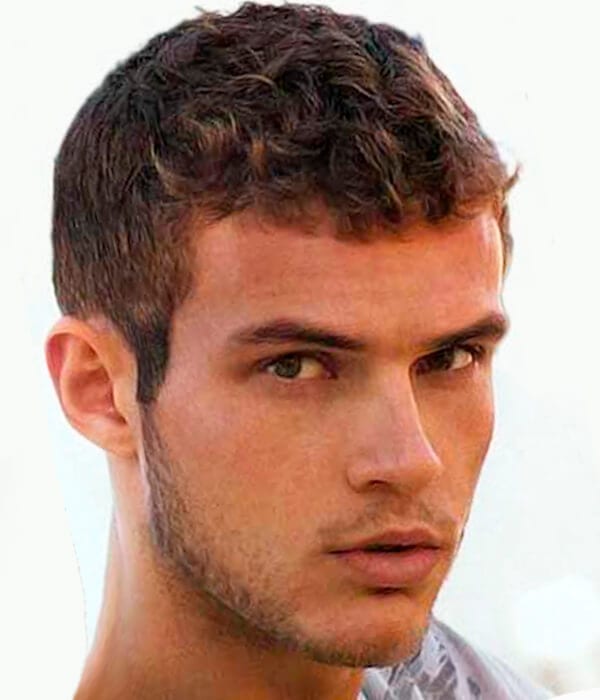 Caesar haircut for men
As it is clear from the name, the haircut owes its emergence to Julius Caesar who used it – attention – to hide his early balding. This no-fuss haircut is an ideal variant for active and energetic men who want to be stylish. It is not surprising that the haircut is popular all over the world, for its unique style surely. Caesar haircut features the hair of the same length all around the head, approximately from half an inch to three inches. It can be accomplished with clippers as well as with scissors for a longer cut.
---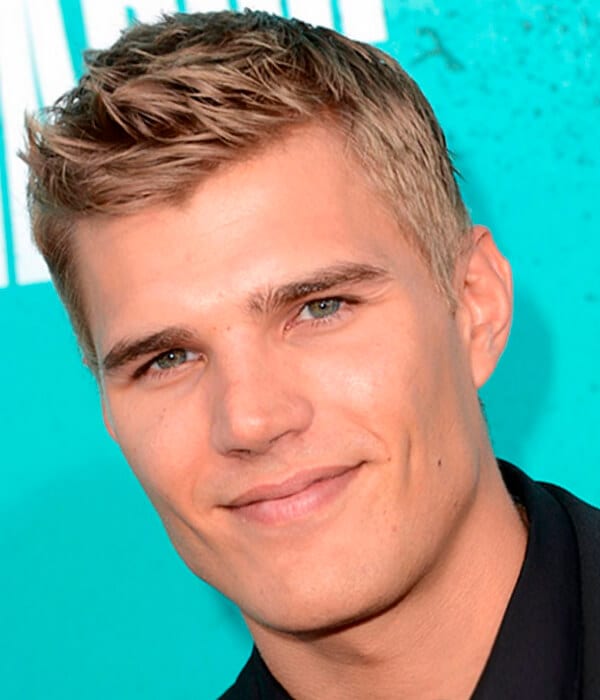 Ivy League male haircut
This haircut is more stylish than just the crew cut. The difference lies in that here enough hair is left on the crown to be parted. Traditionally, the haircut is paired with a side part. Also, it is a great variation on a classic cut. To achieve the haircut you should cut your hair with scissors. Generally, the length of the top of the head reaches half an inch to an inch of the hair. In the front, the hair should be a little bit longer, so that you can part it. The sides and back must be tapered with a shorter clipper setting, from number two to number four.
---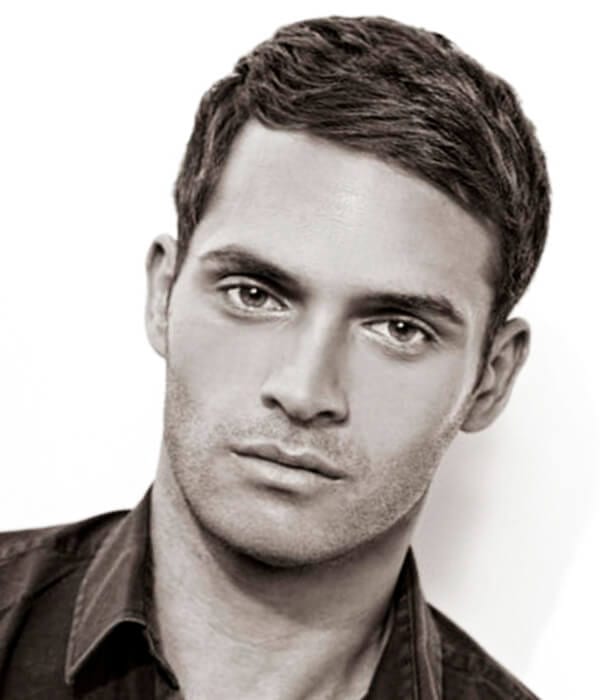 French crop men's haircut
A low maintenance haircut looks perfect on its own without any styling. This haircut is cut the same way as the Caesar cut but slightly longer and the hair in the front can be feathered. This is an ideal variant for guys who prefer short hair and want to have a softer look. It works well for fine hair and gives a smooth texture to the hair. To perform this haircut it is recommended to taper the sides and back of the hair using scissors. Also, it is possible to create a skin fade, where at the bottom the hair disappears into the skin. You may point cut the hair on the crown of your head to achieve a choppy look. If you blunt cut the hair on the top you will get a tidier look.
---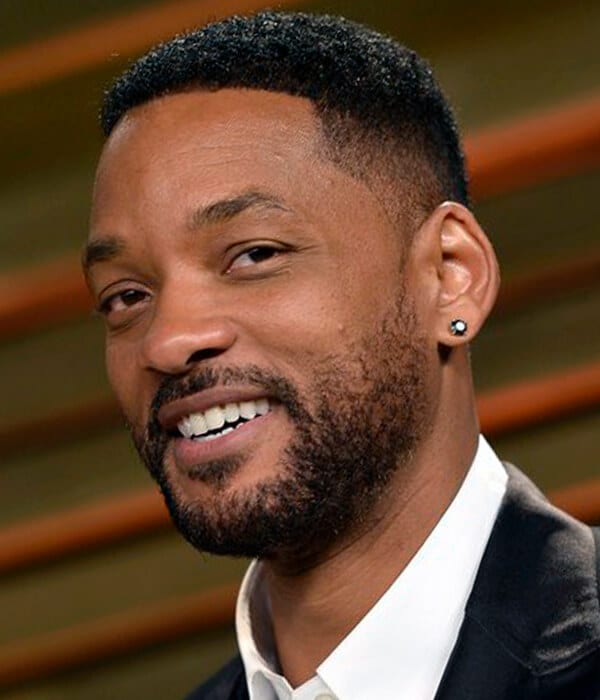 Temple taper fade male haircut
There is another extremely erratic option for men who prefer short hair. It is a perfect variant for energetic guys who like to have a clean-cut look. Furthermore, this haircut is original by nature as you can regulate the size of the fade by diversifying the blade guard. Temple taper fade haircut looks great on African textured hair.
---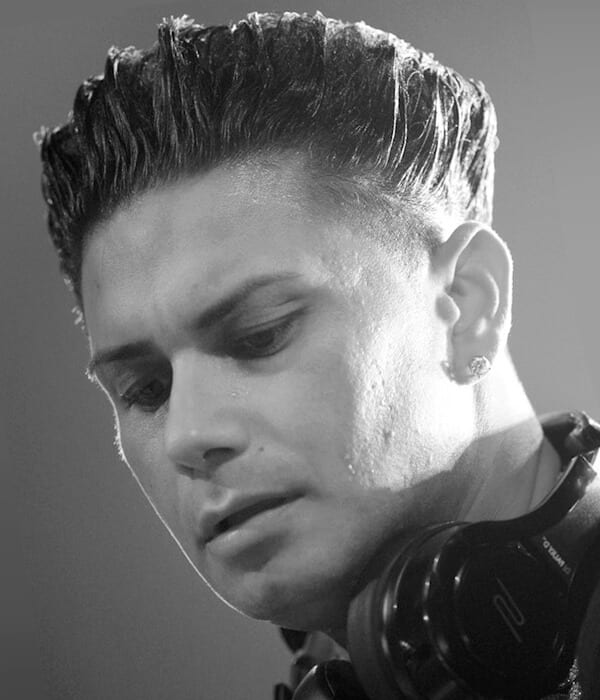 Blowout haircut for men
One of the newest, trendiest and really fashionable haircuts can impress everyone. Remarkably it may have any length on top that is frequently styled back, whilst the sides are made rather short and around the temple region slowly taper off. The haircut can have different variations mostly because of the fade below the forehead that characterizes this cut. Blowout haircut was extremely popular in the early 2000s, at that time a great number of young guys wore it in college. Nowadays, it is the best haircut for men with a round face shape.
---
Medium male haircuts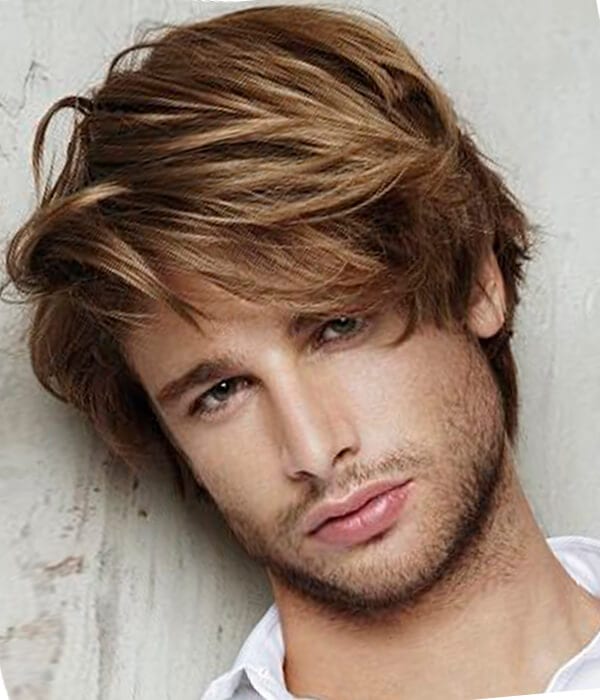 Straight shag male haircut
The straight shag haircut was once popularized by Justin Bieber so that these days it has grown into a very fashionable men's haircut. This haircut slightly resembles layered cut. To achieve the haircut barbers cut layers at the crown of the head short and then they increase them in length as they slide down. In fact, everything depends on the type of hair men have. So if your hair is naturally straight, you will find this haircut as a low maintenance one as the only required thing is your brush. If you'd like to enhance it, try to apply some mousse. However, another matter is with curly hair. In this case, to gain this gorgeous pin-straight look it is possible to use a flat iron.
There is a small tip with this haircut: if you razor cut the ends of the hair, you will get a messy look. This haircut works well with those guys who have naturally straight hair, round cheeks, high forehead and long shape of a face.
---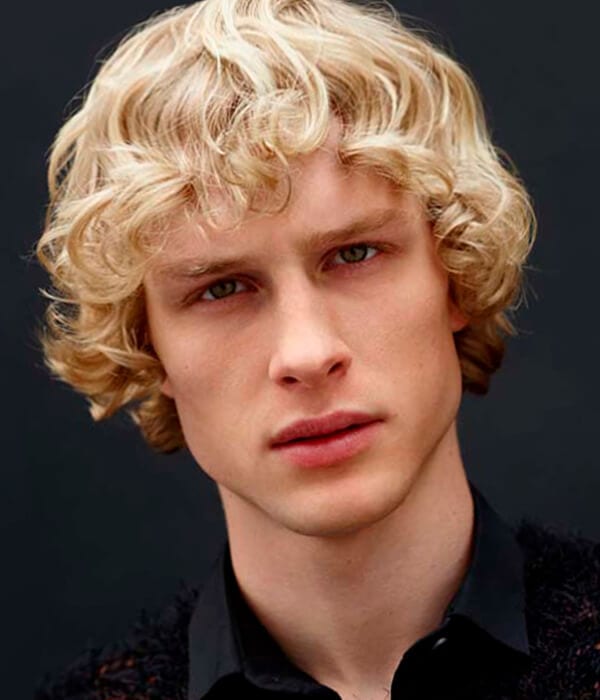 Wavy shag men's haircut
This haircut is regarded as one of the most sensational male haircuts. It has captured the world of casual teen boys. Wavy shag haircut is similar to the straight shag cut but involves wavy hair in layers all around the head. To achieve a perfect look instead of using scissors or clippers, the hair is always cut with a razor. Various types of wavy hair can be rather unpredictable, so in this case, some styling with mousse or gel is required. By the way, if you desire to go wild, don't use any hairstyling products, with this haircut it is always possible depending on your aims and places to visit. This haircut works great with those men who have naturally wavy thick hair, high forehead, strong cheekbones, and round shape of a face.
---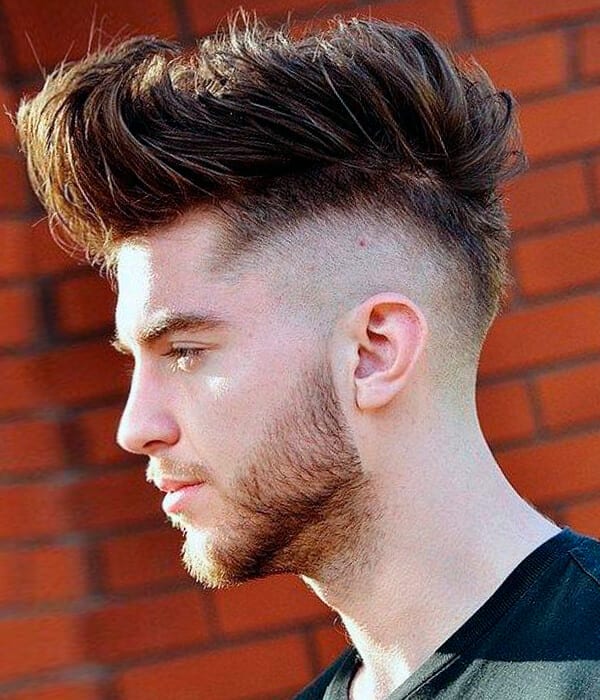 Mohawk haircut for men
The Mohawk haircut is one of the most original and extraordinary cuts in the contemporary world. A captivating point is its history. It owes its name to the Mohawk tribe of Native Americans. The warriors created this haircut to inspire fear in the enemies. They frequently shaved their heads leaving one strip in the middle. That is why a lot of adults find this haircut a bit aggressive. The modern version of the haircut features clean-shaven sides and back with an almost shaven part on the top, but with a strip in the center. This strip can be of any length and styled differently, but this is a topic of another article.
---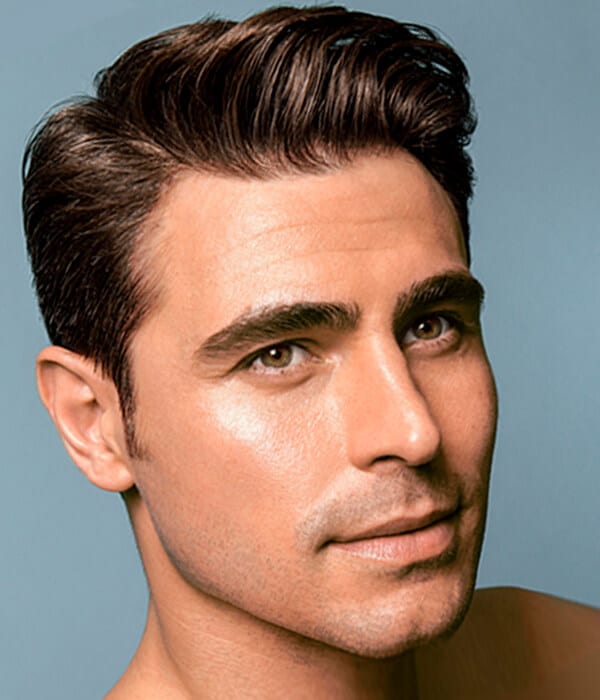 Side part male haircut
The haircut refers to classic haircuts. It was popular from the 1910s to 1960s and nowadays it regained its popularity with the difference that it has become more stylish. This haircut is created for smart young men who want to achieve a clean and sharp appearance. If you want to get this haircut to leave the top medium enough to make the part stay. As for the sides and back, they must be cut shorter not to take the emphasis off the crown. The side part is the central point of the whole haircut.
---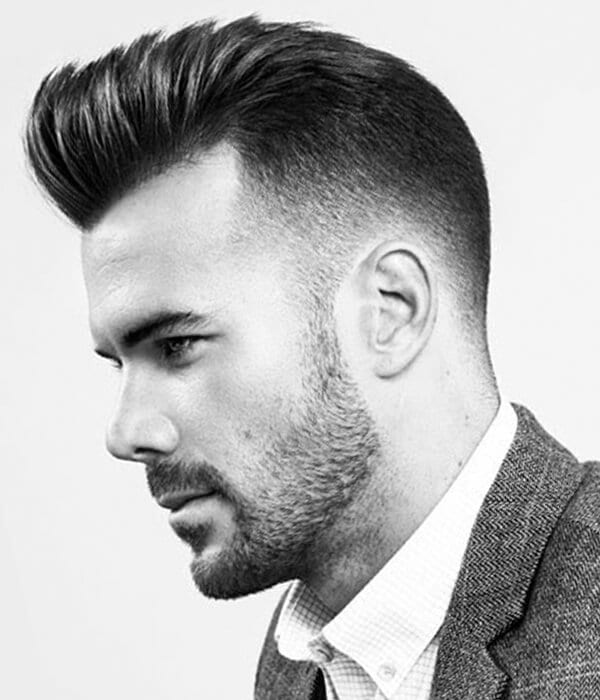 Pompadour men's haircut
The haircut was glorified by Elvis Presley and since then remains popular. It displays medium hair all around the head and it gets longer at the top. The haircut is usually styled slick back though not tight. The most difficult thing is to get the right pomp. For doing it you should place one of your free hands on the top of slicked-back hair. Then pushing this hand forward, you comb the hair at the front upward. If needed you may fix it with some hairspray. So this procedure will take you time and effort. Nevertheless, the haircut agrees with those men who have a short forehead, strong cheekbones, and round faces.
---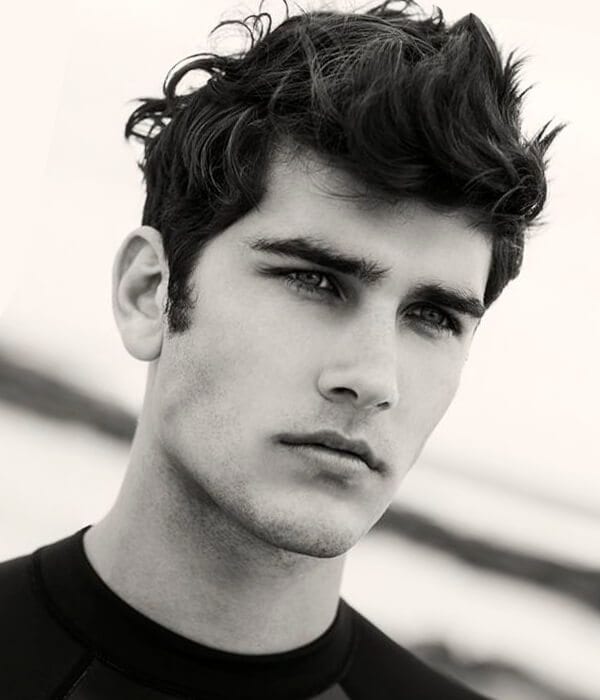 Perfect tousle haircut for men
In vernacular language, this haircut is also called just rolled out of bed hairstyle. If you want to get a laid-back appearance, this haircut is for you. Amazingly, to style it properly it will take you a bit of experimentation. The haircut features the hair sticking at the ends creating the best conditions for the perfect tousled look. It is advisable to apply some soft hold hair gel to achieve effortlessly chic hairstyle and to avoid untidy appearance. In addition, to impart some volume at the roots, you may use a teasing brush.
---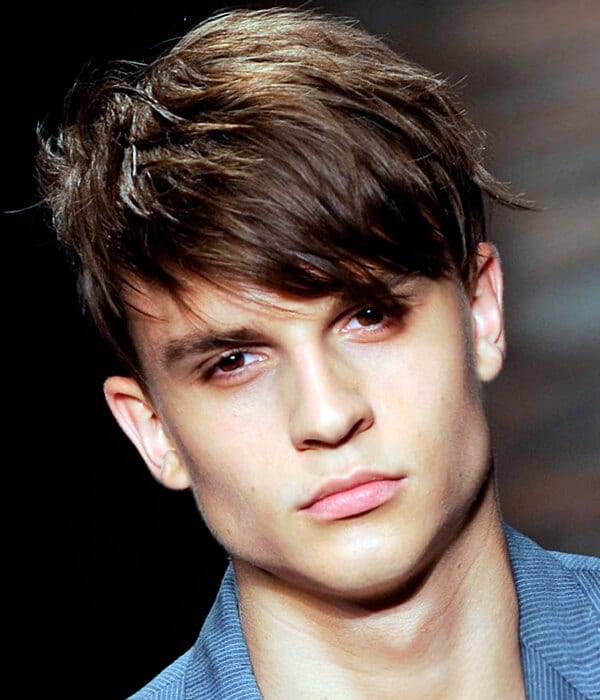 Messy fringe male haircut
It is a variation of a straight fringe haircut, but a bit longer and messy. The fringe descends far below the eyebrows and gives the most noticeable look. The great advantage of this haircut is that it goes well with every hair texture, hair color and face shape. The hair in the back and on the sides can be cut differently depending on your inclinations and the top is meant for the fringe so at least it has medium length. You can get it defining the bangs to your preferences and using some wax and to finish it off you just tousle your hair around the crown. Surprisingly, no styling is needed at all with second-day hair.
---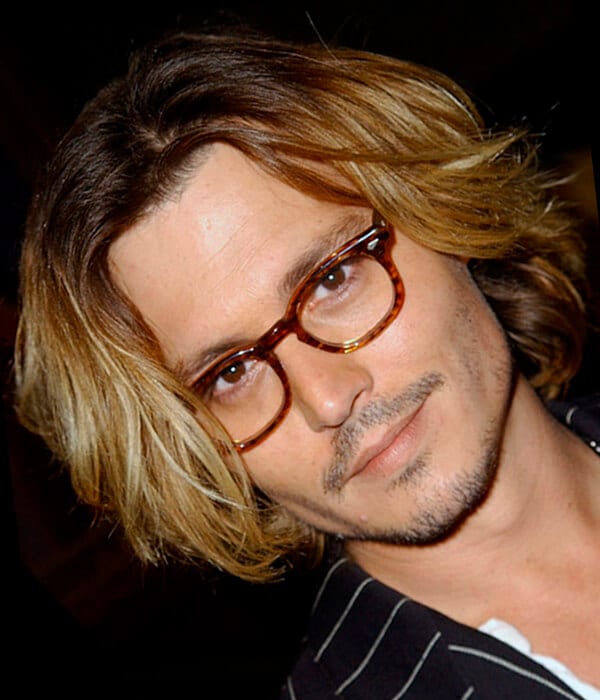 Wings haircut for men
A great choice for guys with naturally wavy medium length hair, though it can go well with straight hair. To achieve the haircut at least ear-length hair is required if you like it may be even longer. The hair is supposed to be layered and the ends must be cut with a razor. The next stage is to create wings. It is advisable to put on slightly wet hair a hat and blow-dry the exposed hair until it flips up. Also, it is possible to apply some wax or hair gel to keep the haircut in place.
---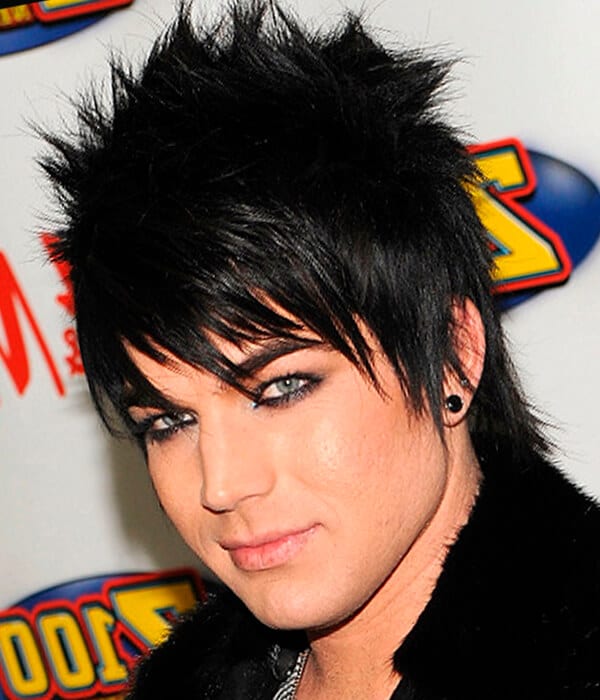 Emo haircut for men
The emo movement brought into life this extraordinary haircut. It demonstrates an uneven, choppy texture and is quite often seen with the hair of medium length and sometimes longer. It is also can be dyed black. This is a great choice for those guys, especially young, who want to have a fun style for their hair and stand out. It is popular among musicians of heavier music. To achieve the haircut the bangs must be kept long, but the ends are usually cut with a razor. For an asymmetrical appearance push your bangs to one side. As for the hair on the back and sides, it can be left long or cut short. In the end, you should take some hairstyling products and spike up the hair near the top of the head and finish the styling according to your preferences.
---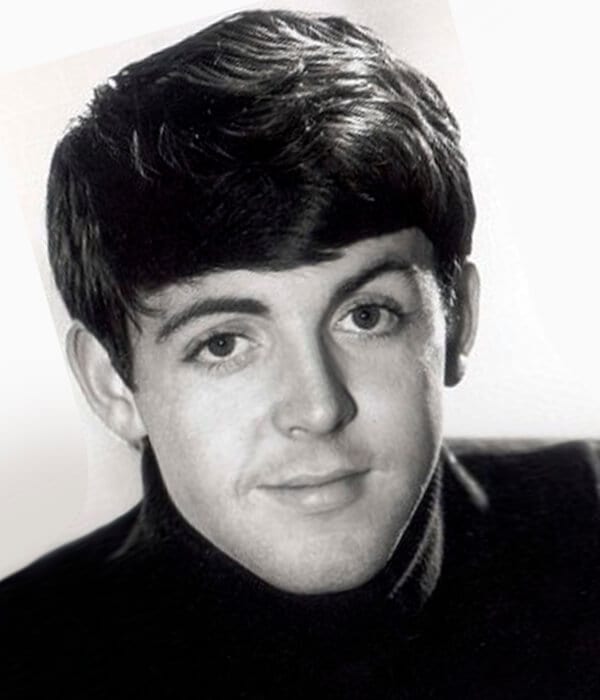 Mop top men's haircut
Once it was popularized by The Beatles and since then it has been revived as a fashionable haircut. The length of the haircut can vary from medium to long. It works well for guys with long faces or larger foreheads as with the mop-top haircut the forehead and ears are covered. The haircut is inclined to compress the face. However, it is not recommended for round faces. To get this haircut you should have your hair trimmed around the head in the way that the hair on the sides covers the ears and the front hair reaches the eyebrow. The hair in the back can be the same length or a little longer. It is also possible to style this haircut with gel or high-quality wax.
---
Long male haircuts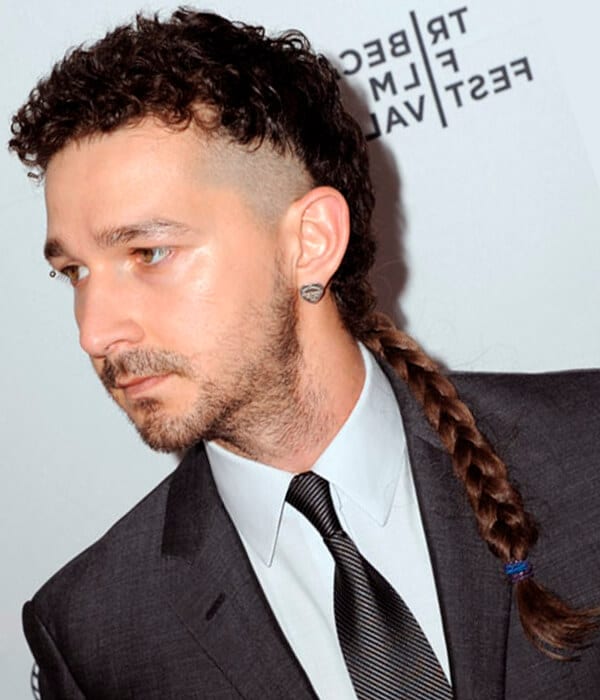 Rat-tail haircut for men
An unexpected combination of a mullet and a ponytail represents a tail-like section of long hair hanging at the back of the head. In the 1980s it was in fashion as well as nowadays. It has become popular among fans of anime and manga. An interesting fact lies in that this so-called rat-tail can be styled in different variations. It means it can be straightened, curled, braided, made in a dreadlock, or anything else you desire. To achieve this haircut you are supposed to grow the hair out. Then the sides and the top of your hair must be trimmed with any razor setting you prefer. In the back, you should leave one strand of your hair long. Thus it looks like there is a strand in the middle of the head and the hair around is cut shorter.
---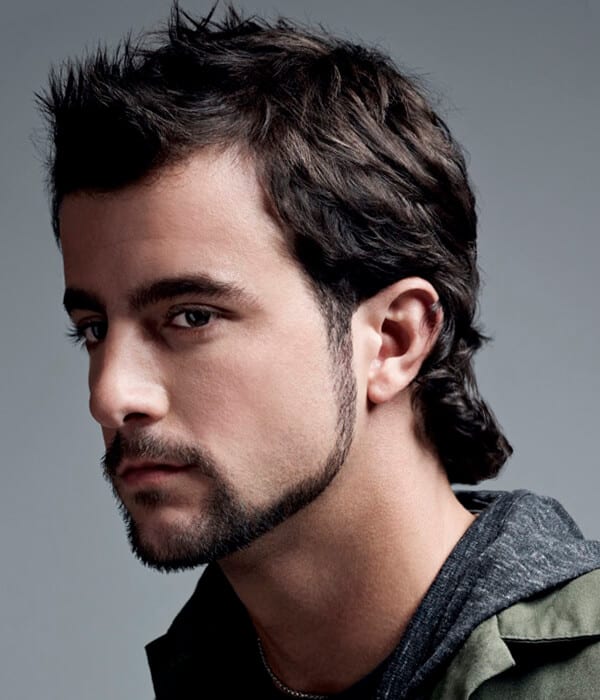 Modern mullet men's haircut
Once this haircut was made famous by The Beastie Boys music band and nowadays it regained its popularity among guys who like their hair to be long. In spite of the fact that this is a long haircut, it is rather low maintenance. Modern mullet men's haircut depicts clipped short top of the head and the area around the ears, and a long back with layers that can be added for effect. Moreover, it is possible to modify the layers as well as the length. It will surely attract everybody's attention in a crowd as it is quite rarely seen these days.
---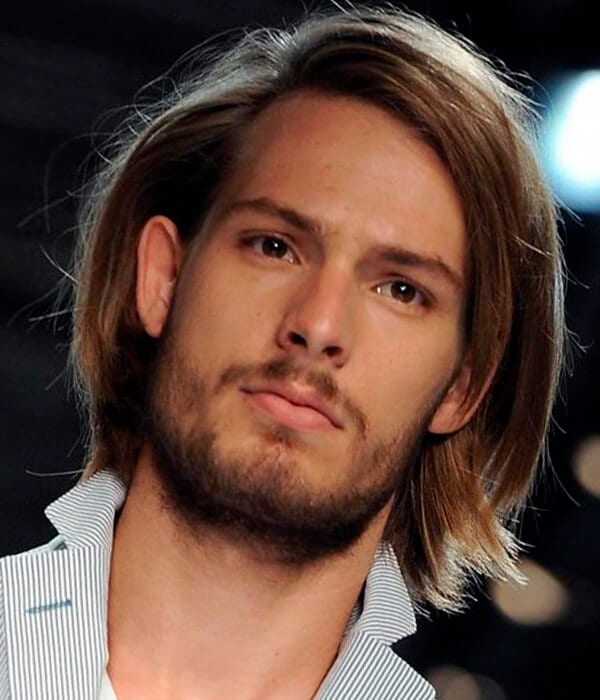 Long blunt male haircut
This haircut is created for lovers of long hair. You just need to grow your hair for a desirable length and constantly clip the edges to keep a neat look. The haircut serves a basis for various hairstyles with long hair, for instance, a man bun or a ponytail. As the hair is long, it requires permanent care, such as washing with shampoo and conditioner and high maintenance styling.
---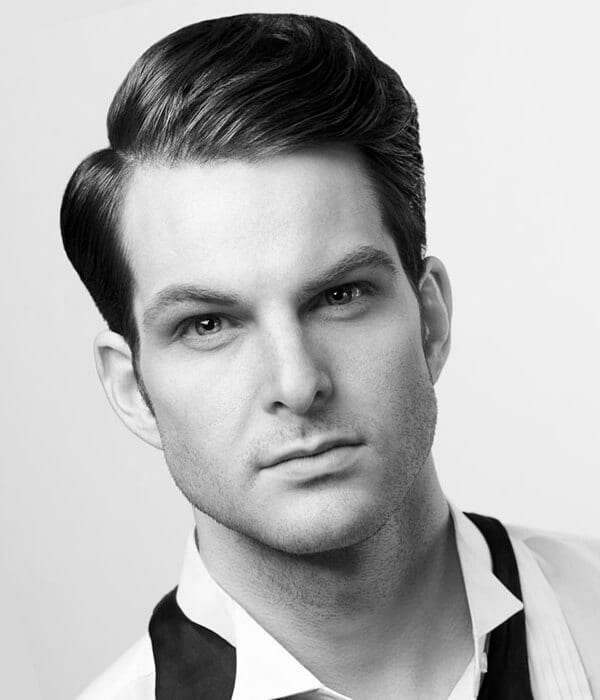 Shoulder length side part haircut for men
This look will add a touch of style to any carefree appearance. It requires a shoulder-length haircut with a deep side parting. It can be a perfect choice even for a formal occasion. To get a side part you will need a good comb and some hairstyling products to fix your gorgeous haircut.
---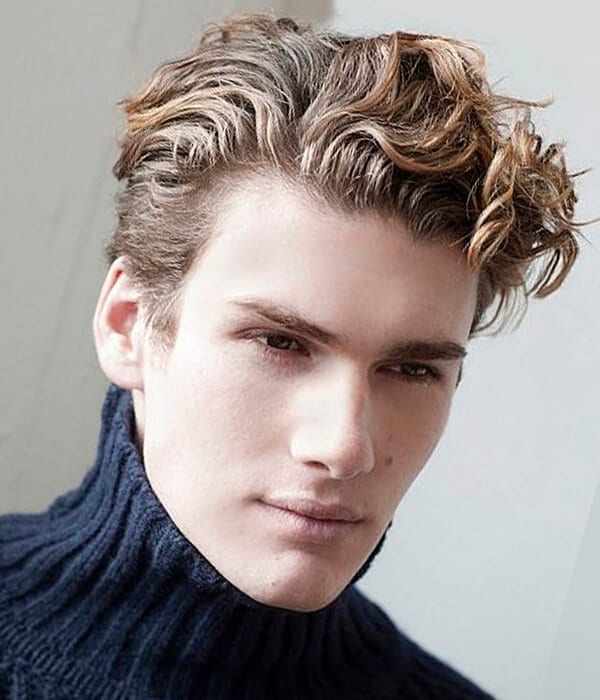 Curl and wave men's haircut
The longer length you will have the finest curl you will demonstrate with this haircut. Give it a volume and let it into free-flowing. If you prefer to maintain control over the curls have them shaped in gradual length. After it, you will be able to wear your haircut natural or create an off middle part by taking a flat bristle brush to the bang area and blowing out the front smooth. To finish the look you may apply different hairstyling products.
---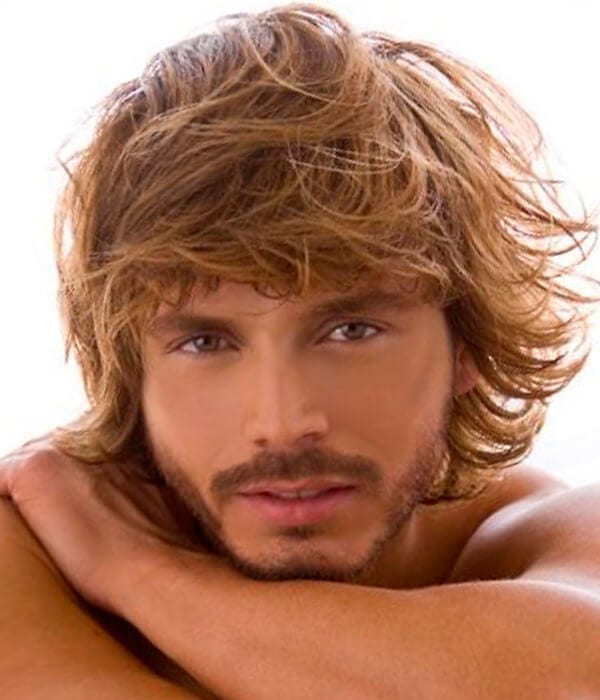 Beachy male haircut
To have beach-like hair is easy not only living at the beach. You just need to grow your hair shoulder length and mainly one and the same length all over. To create added movement have your hair chipped into the bottom with a light layering. If the sun doesn't naturally kiss your hair, highlight randomly a few strands. To finish your look with added texture it is advisable to spray the hair with a sea salt spray.
---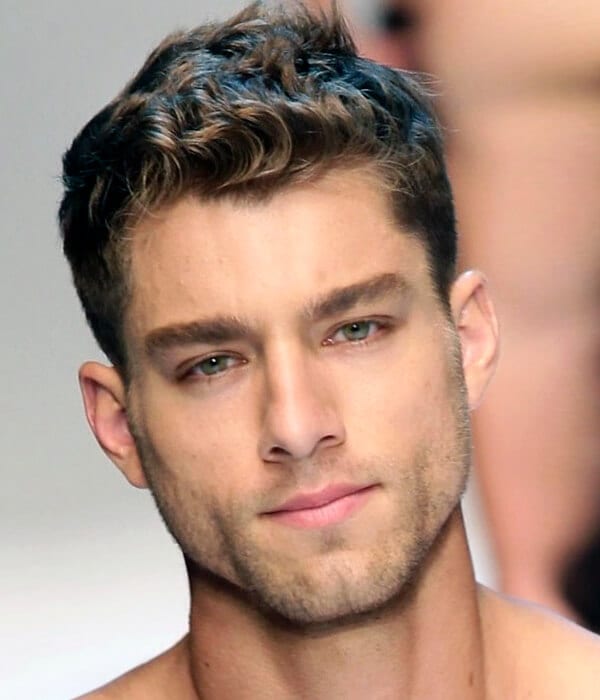 Thick and shiny haircut for men
This haircut is suitable for the thick type of hair. It features a full head of hair in long layers cut all over and framing the face. By using a blow drier you can create different looks. You may blow-dry the hair into one direction, then blow-dry the remaining part by tossing the fingers in the hair when it dries under the heat. Thus, a natural movement will be created. The darker your hair is, the shinier it will be. For additional shine, it is possible to use special shampoo and conditioner. To ensure that your thick hair looks proper, apply light hold shine pomade.
---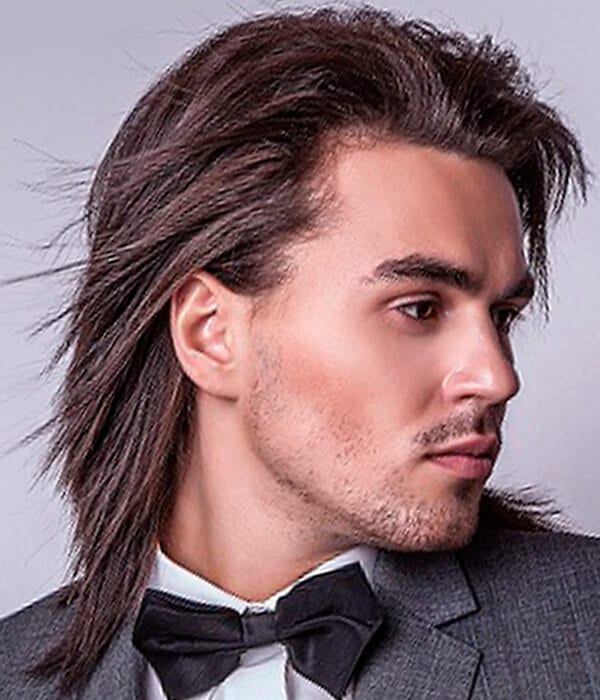 Simply straight and long men's haircut
This is a classic variant of long straight haircuts. The most important thing here is the hair texture. That will not do with thin kind of hair. But if you have a healthy full head of hair, it will look mysterious, handsome and even sexy. Regularly washing and conditioning with moisturizing products is constantly required. Not to split the ends of your gorgeous hair regular trims are also advisable. Take care of your long strands and you will be noticed in the crowd.
---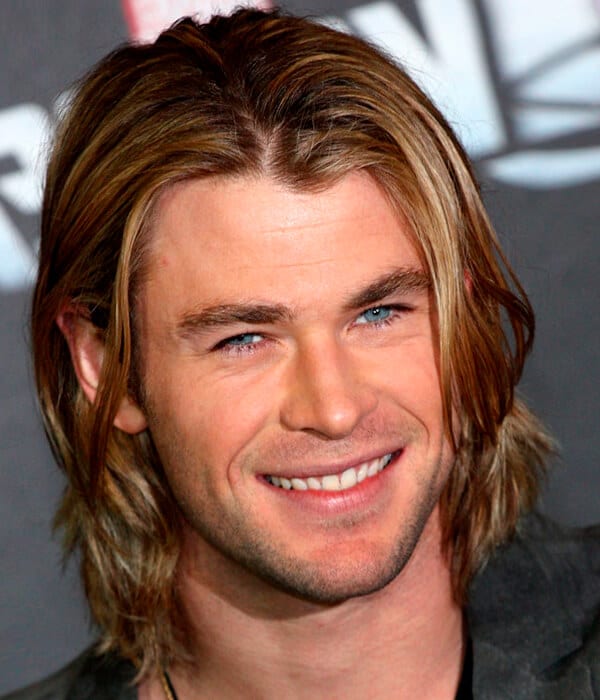 Bob haircut for men
A traditional bob represents one length all around, it has no layers but can be angled straight all-around or at a reversed angle. If the length falls at a jawline, the bob will look masculine. Have your hair shaped to your natural texture. The sides and back can be fairly stacked with layers whilst the front should be left long that will distinguish this haircut from a shag one. It is also possible to pull off the bob with straight hair. To show off the jawline you should tuck the strands behind the ears. To finish the look it is recommended to apply some styling cream or light hold gel for control and definition.
---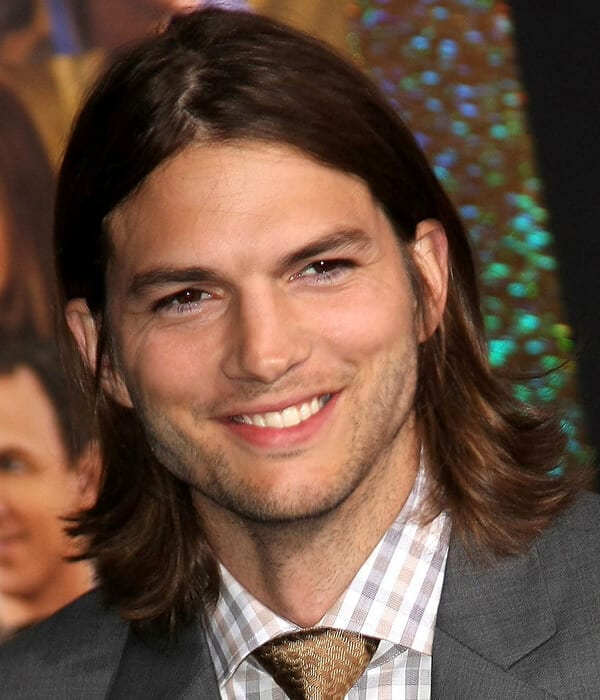 Tucked behind the ear male haircut
This haircut features tucking the strands behind the ear. For doing it you need to have your hair cut to chin or shoulder length and then layer the top with a bang. To tuck behind the ears the hair around the face must be long enough. This haircut provides control, keeps the hair out of the face and moreover as it shows off the square of the jawline it looks extremely masculine. To piece out the layers in the front and back it is recommended to apply light hold pomade.
---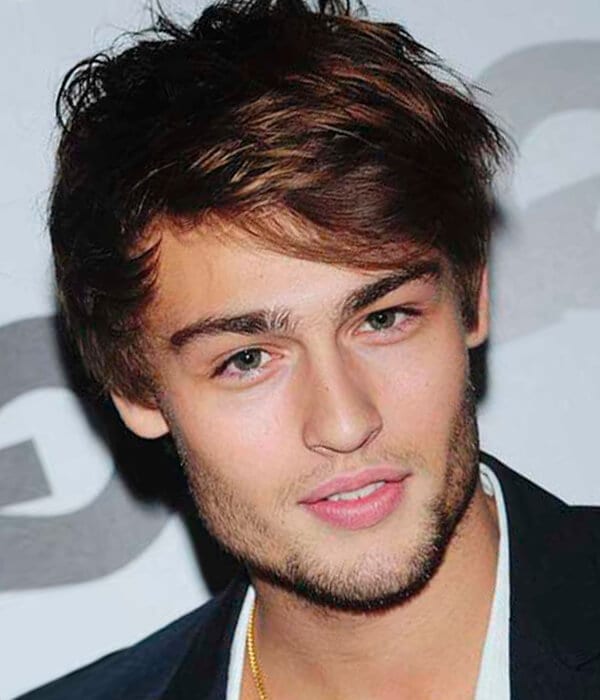 Layered male haircut
Layering is one of the hair cutting techniques used to create blended variable lengths of hair. It can take place on short, medium, or long lengths of hair. However, layers may greatly vary. It is possible to have one-length hair all around in combination with the hair framing your face and layered from the crown to the bottom. Also, you may have an all-over layer that helps to make movement and texture while eliminating bulk. Or in addition to layering the frame of your face, you can have an all-over layer. On straight hair, layers will look more defined whilst on curly hair, it creates the entire look shape and form. If you want to add dimension and definition don't forget to use various waxes, pomades, pastes, and muds to piece out the layers.
---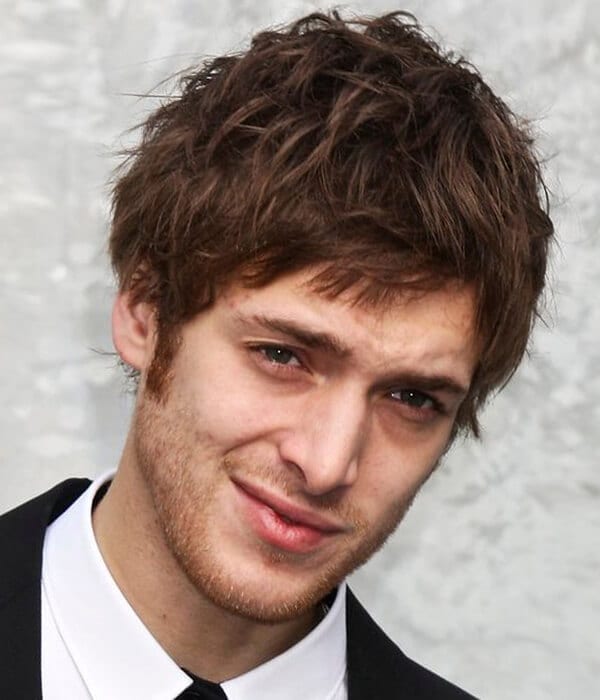 Deliberately messy haircut for men
Remarkably this haircut makes it on various types of lengths, from short to long. The most significant point here is to have the hair heavily layered all over. Layers and texture will create a deliberately just rolled out of bed look. Use your fingers to toss the hair while you are drying it. The natural movement will do its best. A good idea will be to add texture to the hair by applying a sea salt spray. To finish your look use a hair paste or putty and distribute it through your locks. Surely you will be on the edge of fashion.
---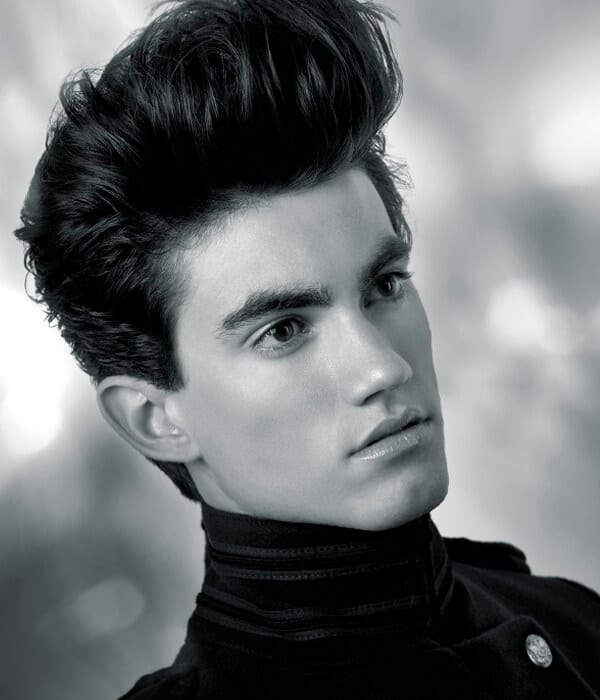 Rock-n-roll men's haircut
If you desire a look of a rock star, this haircut is surely for you. It is possible to cut the hair all one length or, if you like, have a slight layering around the face. To smooth out any wave or curl try to use a straightening balm or serum. If you want your hair to be super straight, after drying it use a flat iron. In the end, apply some hair wax through the ends to piece out the tips.
---
Conclusion
Everything mentioned plays crucial role in creating your personal male haircut. Pay attention to your preferences and the features of your appearance and be sure that your ideal haircut will strike on you.
---