Check the tips on how to create a nice haircut for boys. Here are a lot of ideas that will help your son to stand out and show his personality. Choose among many variations of styles for short and long hair.
Little boys' haircuts
---
Haircuts for boys are so various these days. Parents want their children to look fashionable and trendy. Therefore in this article, you will discover all necessary information about little boys' haircuts, including pageboy haircuts; toddler boy haircuts, and black boys' haircuts.
---
---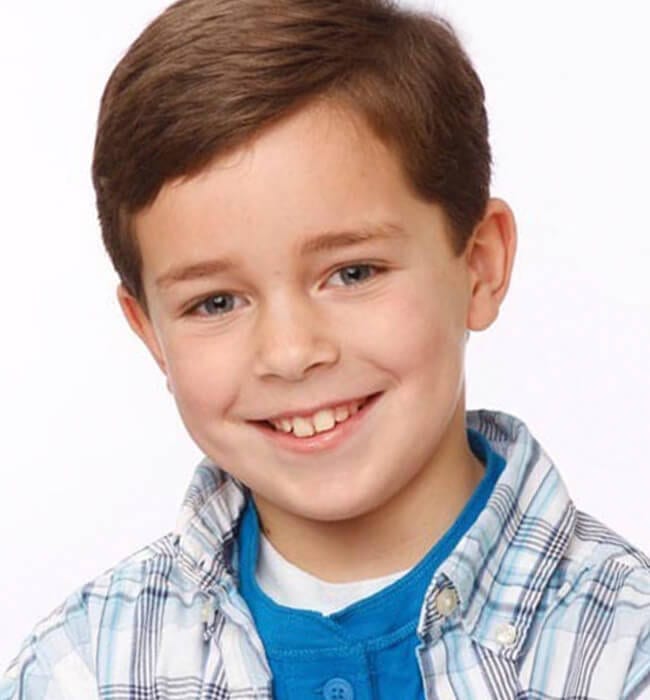 Classic little boys' haircut
Classic haircuts have always been in trend. This shag cut hairstyle, popular in the 1970s, nowadays is updated by razor cut. This little boys' haircut is distinguished by its symmetry made by the eye-level fringe and the central parting. All considered emphasizes the texture of the hair. To style the look it is recommended to use a brush and a blow-dryer adding some styling gel with smoothing serum. This will define the locks at the ends. In addition, this haircut is considered to be a classic one because it remains comfortable during most seasons; it is easy to care for and, moreover, works well for nearly all hair types.
---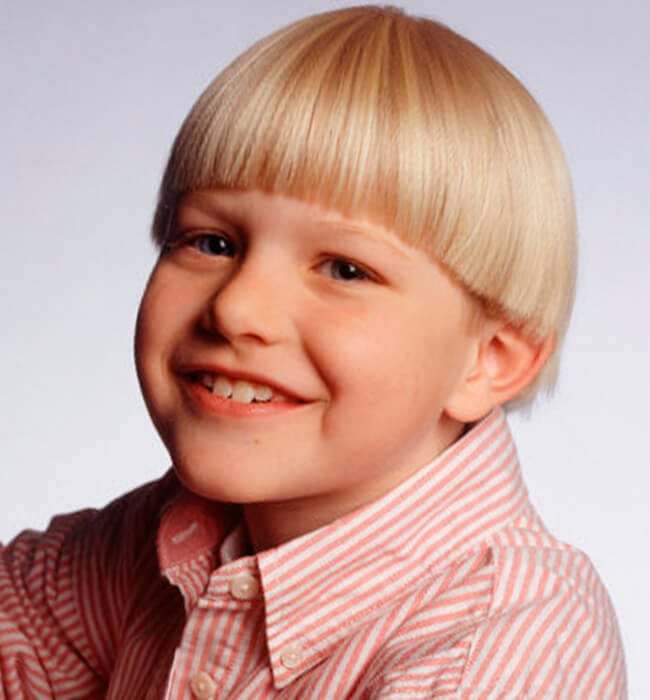 Bowl haircut for little boys
The haircut stands for the most frequent among hairstyles for little boys. It specializes in the lushness of the child's hair and its texture. To achieve this bowl haircut an inverted layering technique is usually used, it means that in the interior the hair is cut shortest. Also, it is possible to give more movement to the hair. For doing it you should use clippers to undercut the hair to approximately one half an inch below the parietal ridge.
---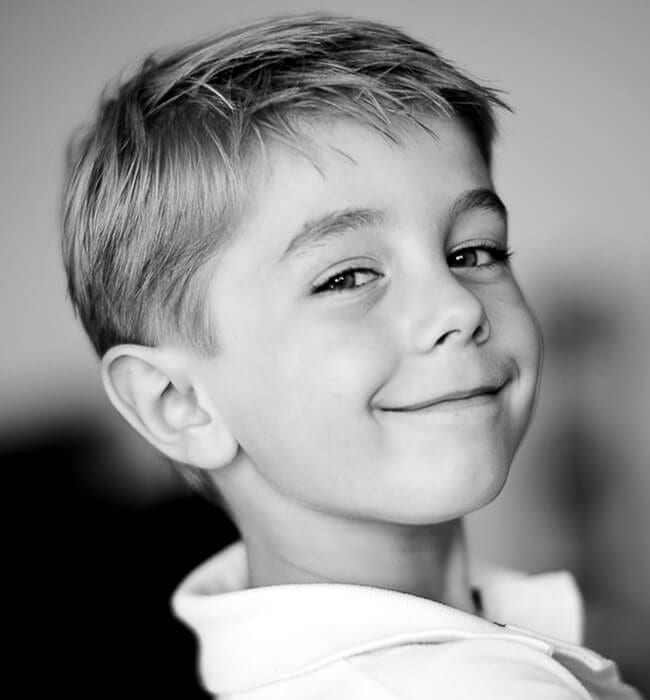 Short layered little boys' haircut
The short haircut features tapered sides and back with medium length top that can be styled differently. First, the top part can be textured with a razor-tool in case you want to create chunky and choppy effects in the layers. You just need to blow-dry your hair with a styling gel and ply with a pomade to achieve the fairly spiky, random look. Second, you play with the fringe razor-cutting it and creating a light wispy edge to the hair. Therefore, such a fringe will shape the whole of the hair framing the face perfectly. You may style the hair applying a vent brush and a blow-out, then with the help of the fingers and some mousse you finish the style.
Moreover, there is another variation of this haircut that differs in wedge-cut over the ears sides and slightly tapered both sides and back. Possibly it is better to keep to clipper-cut short lengths. As for the top and crown, they are slightly longer, whilst the entire head is textured by applying a point-cutting technique. In addition, the angle of the points is steep that helps to remove bulk and to define the locks when styled. For doing it you just need to towel-dry the hair and apply some styling gel. Then using a comb or simply the fingers, arrange the hair as you wish and leave it to dry naturally. Such look will last the whole day and easily can be refreshed with a small drop of water.
---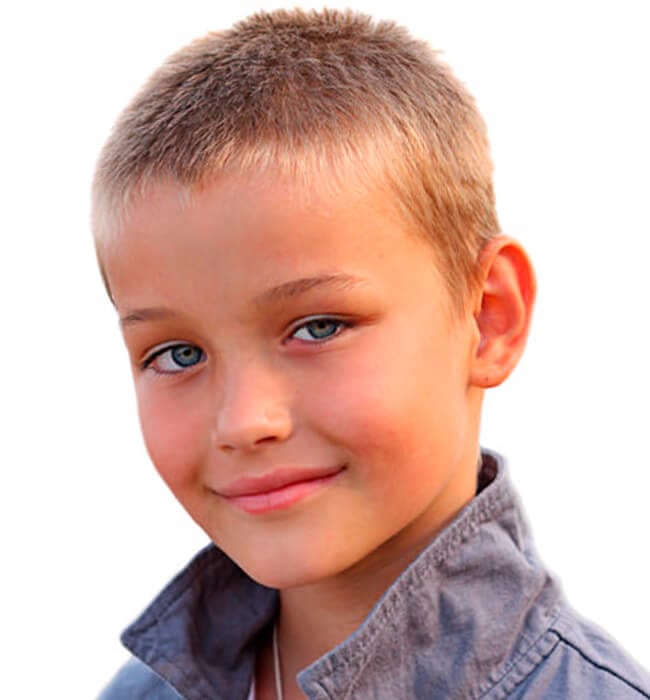 Short haircut for boys
The haircut can be classified as a short layered style with blocked off the perimeter. A definitive edge goes all around the head except the hair tapering to the scalp. The interior layering must be kept comparably long with fairly short lengths at the sides and back near the top. Afterwards these layers must be point cut creating a spiky look. Also for styling, it is advisable to use a blow-dryer and styling paste or pomade.
---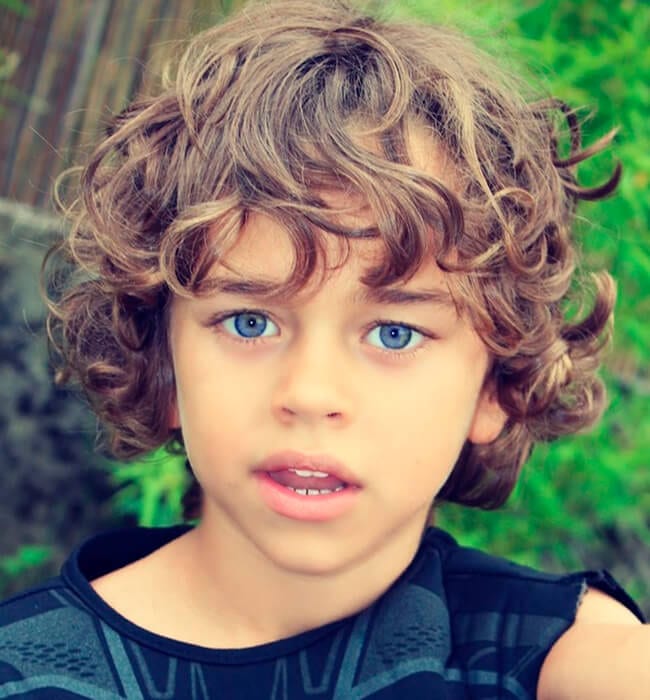 Haircut for boys with curls
This little boys' haircut represents a circle cut giving a casual looking style for any disobedient curls. Layers of one and the same form are textured with a graded technique and designed to emphasize the natural look of the curls. Mostly this haircut goes well with sun-bleached or slightly darker blonde hair. To achieve this haircut you may use a diffused dryer and with the help of your fingers gently scrunch the curls keeping them from being too frizzed.
---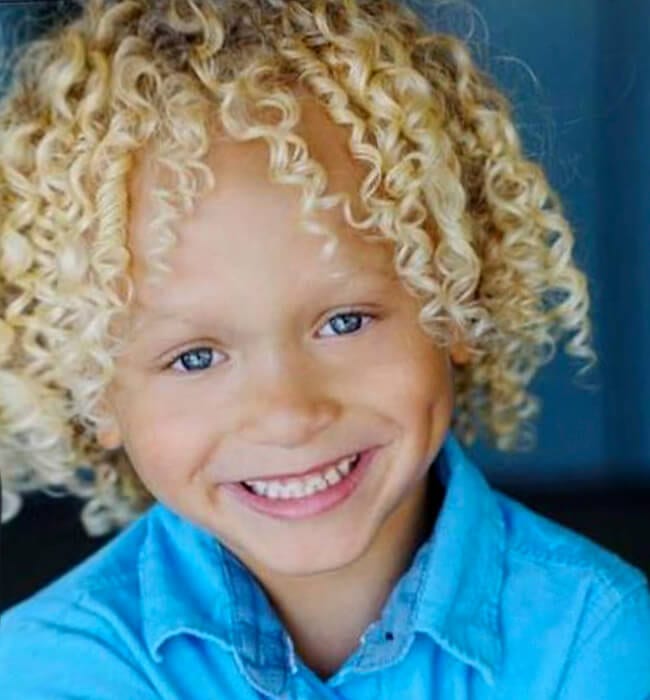 Boys' haircut for natural curls
The best way to tame natural curls is to let them go naturally but with a few haircut tips. You should lighten the load by giving your child a layered haircut. Thus, you will balance the weight and movement around the head that will make the mane easier to care for and more wearable. To create a fun childish look you just need to have the hair cut the same length all around and draw a side part. To enhance the shape of the curls it is possible to add a small amount of wet gel.
---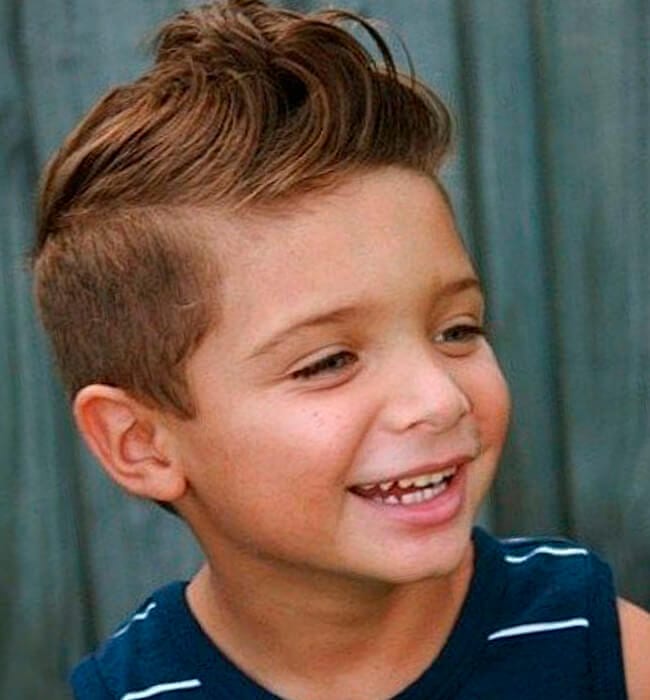 Mohawk haircut for little boys
Every boy has once dreamt to be a warrior. With the haircut, you are lucky to give your child this great opportunity. In fact, it is an extremely short buzz cut that is really easy to take care of. The only difference lies in that the hair in the central part of the head must be approximately one inch long. Then you texture it applying a bit of hairstyling product to make it stand up so smartly. Another advantage of the haircut is that it is short enough to grow out for quite a small period of time and your child will be able to experiment with other fun haircuts for boys.
---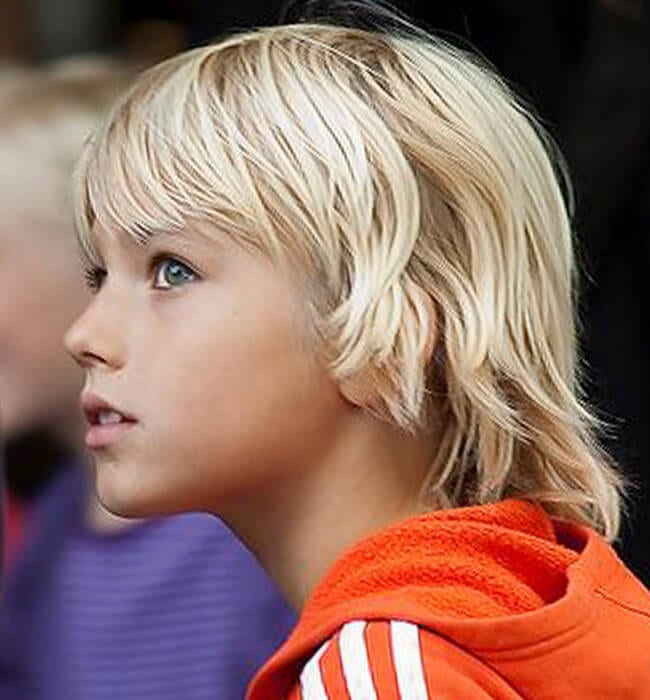 Little surfer haircut for boys
If you live somewhere not far from the sea, your child may be keen on surfing. Then this surfer inspired look will be really desirable for your little boy. This haircut features layered shoulder-length hair that can stay light and manageable all day long. The hair can be brushed backward if you want to keep the face free of flowing locks. In addition, to help with the hold it is possible to apply a bit of serum.
---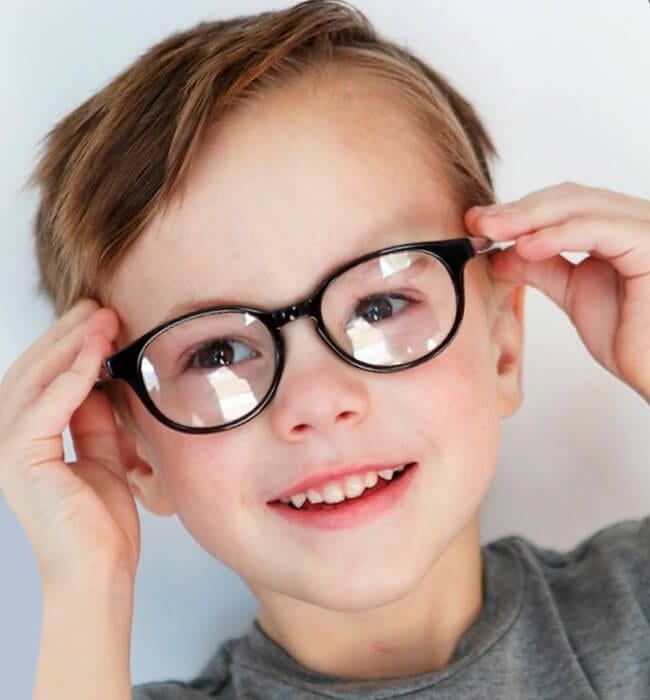 Sporty haircut for boys with glasses
Sometimes it happens that your child has to wear glasses. Then what haircut to choose? Don't hesitate, this one is brilliant. It is short and textured with no hair on the face. The shortest parts are the sides; however, the top hair is long enough to be styled in various ways. For instance, it can be tousled and fall playfully in different directions. By the way, if you apply some hairstyling products, the haircut will get manageable.
---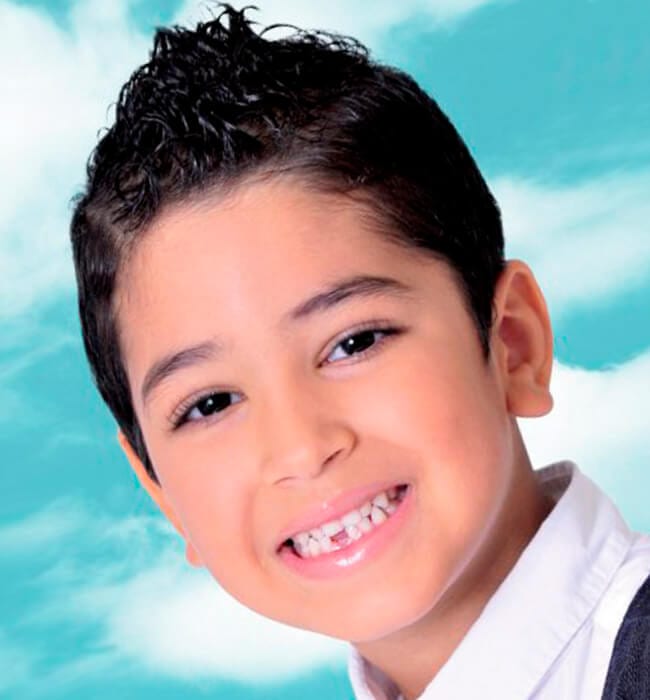 Little boys' haircut for unruly curly hair
A head full of rough curls has always been a problem. However, the right shape of a good haircut is a solution to such problems. The hair must be cropped approximately an inch long creating a neat edge around the ears, sides, and back. Then different versions are possible. It's up to you whether to let the curls be natural or style them with a comb and some gel, for instance in sleeker sides and an unruly peak on top.
---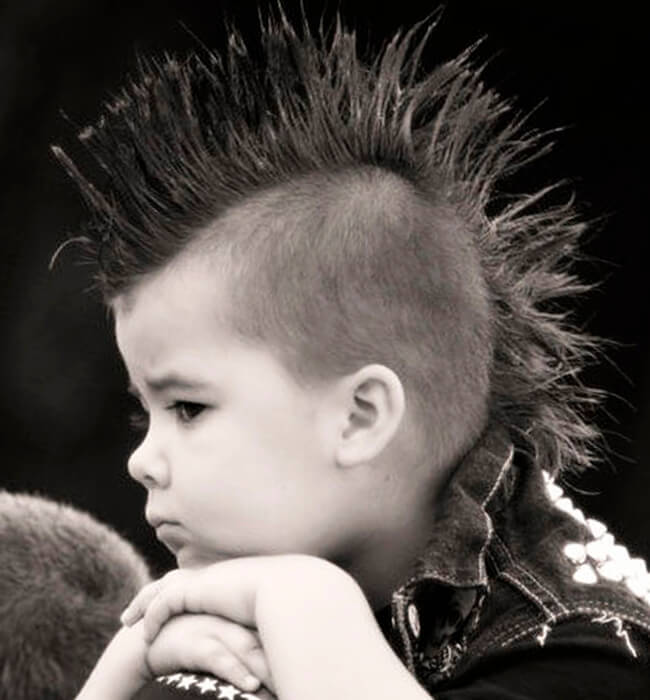 Punk haircut for little boys
This haircut is designed for fashionable little boys who want to impress everybody.
The basic haircut must be just short between one and two inches long. If you decide to make it a bit longer you will have difficulty in holding up. So to achieve this punk look the hair is supposed to be treated with gel after it various spikes are twisted all around. The dried gel will give the hair a fresh wet appearance and will hold the long spikes perfectly. In addition, different patterns are possible with spikes. They can be arranged randomly, wild or symmetrically. You even may let your child style them in the way he wishes. In fact, it is not as difficult as seems, and the effect will be great.
---
Young boys' haircuts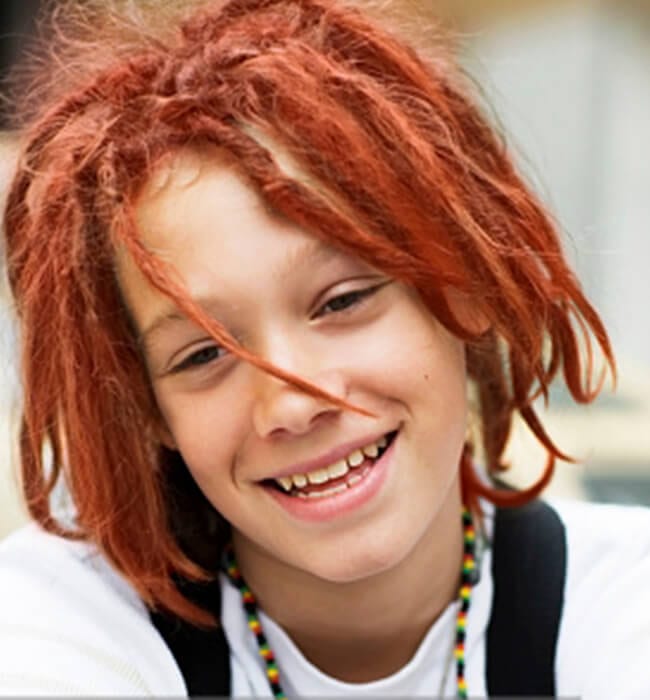 Red dreadlocks haircut for boys
If your child has naturally red hair, this haircut is surely for him. To achieve the haircut you need to combine Afro Caribbean texture of the hair with Nordic fine hair and a dreadlock effect will be created. Also, you may use different gloss based styling products.
---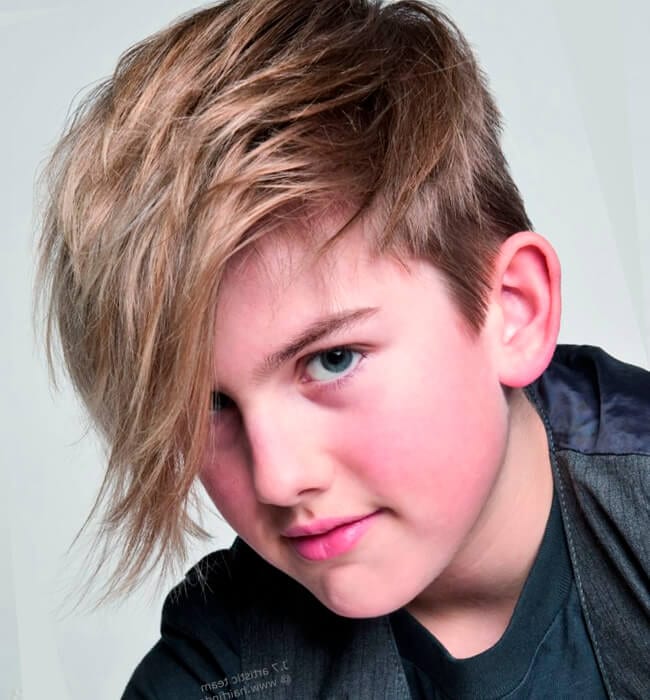 Devil-lock boys' haircut
The haircut will suit those boys who want to seem grown-ups and tend to look fashionable. For this haircut, the sides and nape must be cut with short layers continuing the hairline in crisp cutting lines. The top and the crown are also layered; however, the lengths progressively increase from the back to the fringe area. By the way, the layers must be razor-cut and leave soft and edgy finish. To style the haircut you may apply a blow dryer with some wax-based styling product.
---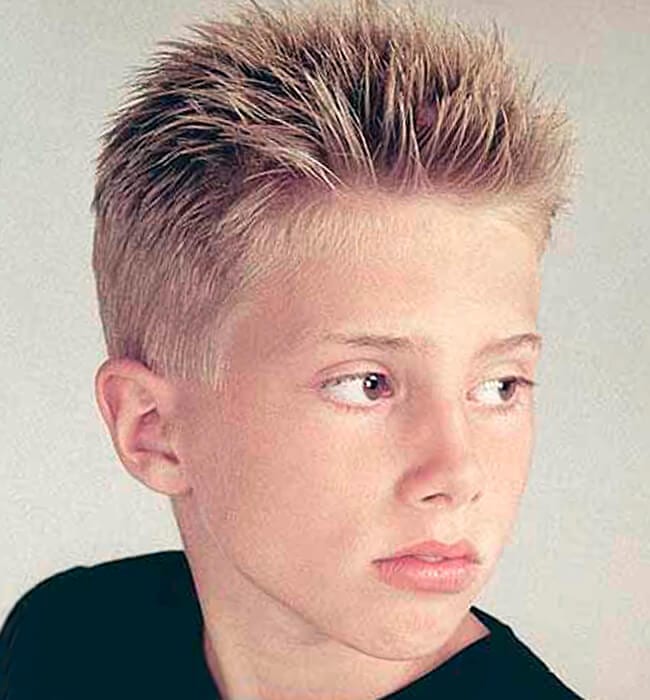 Short spiky boys' haircut
The haircut demonstrates short layers to a great extent textured with deep razor touch. Then these needle-like locks are randomized all over the head creating controlled chaos. The sides must be cut extremely short, usually with clippers, whilst the top part is left rather longer approximately 2.5-3.5 inches. If you like to design deep sweeps from the inside out and create wispy light tendrils, use the razor tool when the base cut is finished.
---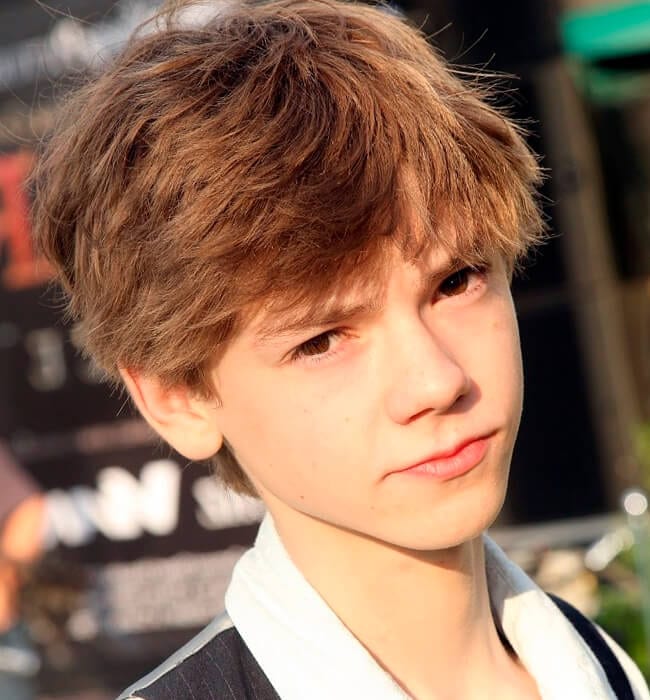 Shag boys' haircut
This is an explicit comeback from the mid-1970s into our days. The most exciting thing about it is that even young boys can take pleasure in this vintage look. The layered cut is created using a razor tool whilst the whole length reaches the chin area. Speaking about the interior of the hair, it must be considerably layered with jerky texture. The fringe should be wispy and extremely soft.
Styling of this boys' haircut requires a blow dryer with a small barrel round brush and some firm hold styling product to gorgeously turn out the ends of the locks.
---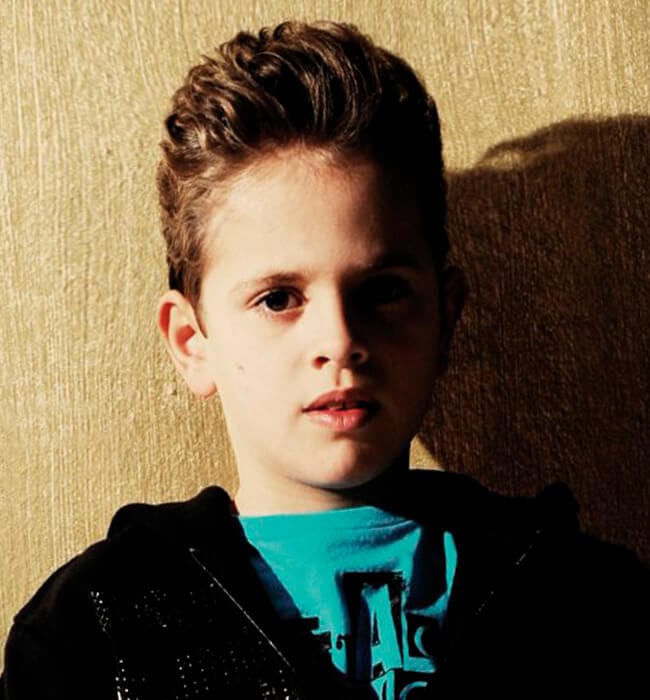 Little rebel haircut for boys
The haircut is ideal for young heartbreakers. The tender age of the wearer and modernized look in combination with many volumes and little pomade distinguish this extraordinary haircut. To achieve the style you need to leave the top hair longer than the sides. Then using a blow dryer and a round brush you lift up the top hair. If needed, you may apply some light gel or mousse.
---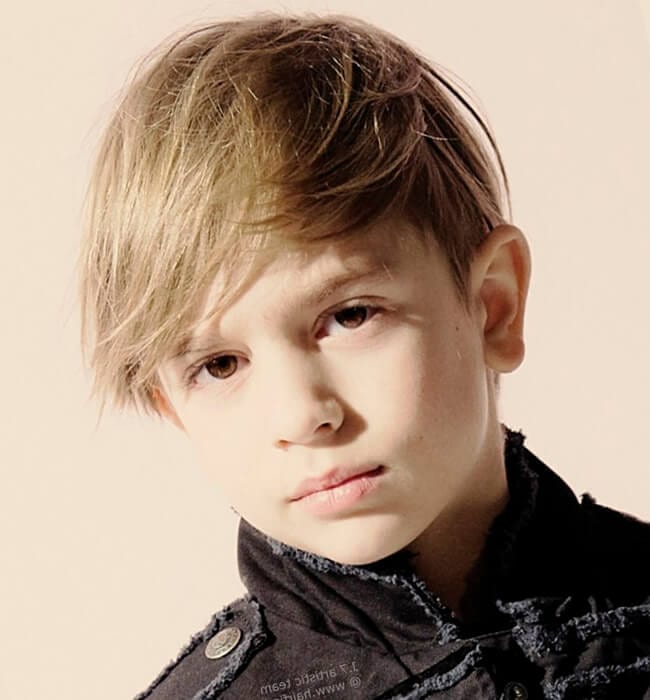 Heartthrob fringe boys' haircut
The style of Justin Bieber gave a great opportunity for young boys to show them off. A long fringe will surely draw everybody's attention to the wearer's eyes. The sides of this haircut must be short, not covering the ears. Also, there is a slight graduation in the neck area. The length of the top hair must be enough to touch the tip of the ears on the sides and the eyebrows in the front.
---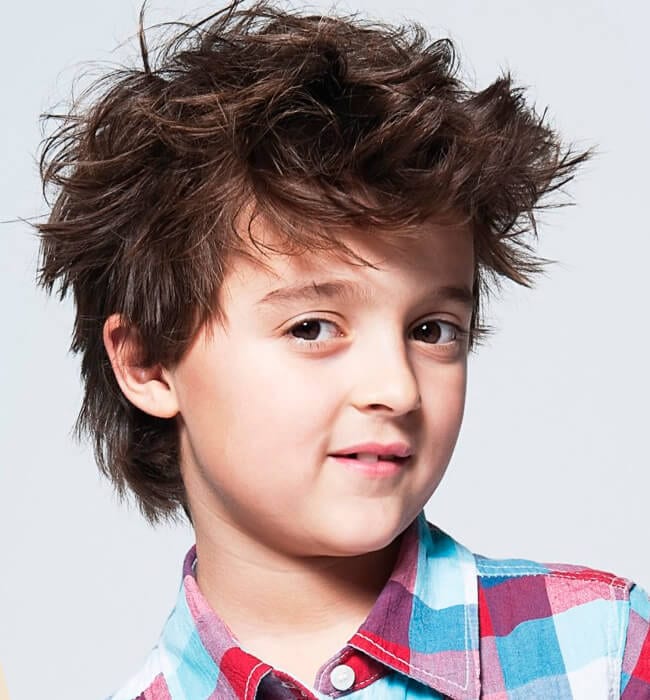 Little rascal haircut for boys
This is the greatest solution for those boys whose hair is thick and coarse. In this haircut, it is chopped all around the head at the same length and the tips are roughly textured. It allows highlighting the playful side of the hair. In addition, such haircut can be easily styled, just with fingers.
---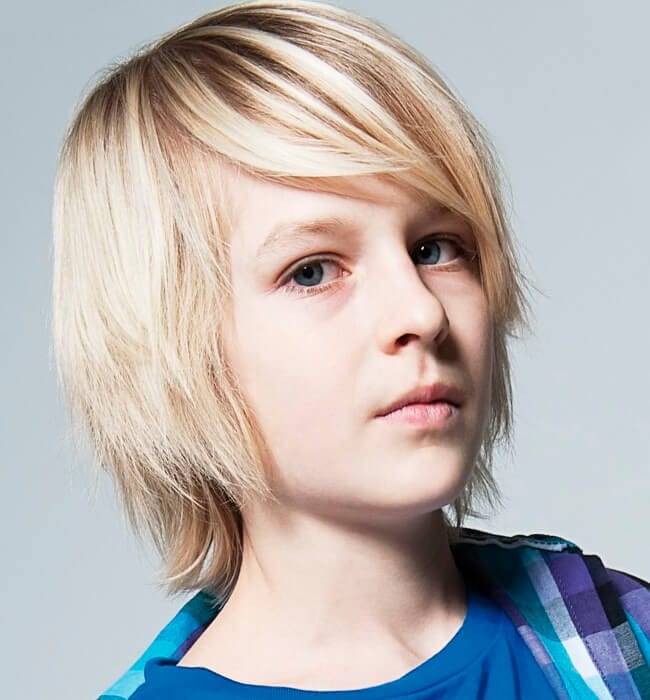 Medium long haircut for sporty boys
With this haircut, your boy will not look like anybody else. The haircut features the style between short and long in a combination of low maintenance. Much texture in the tips and layers preserve the weight on the headlight. Also, the side-parted look is added by a deep fringe.
---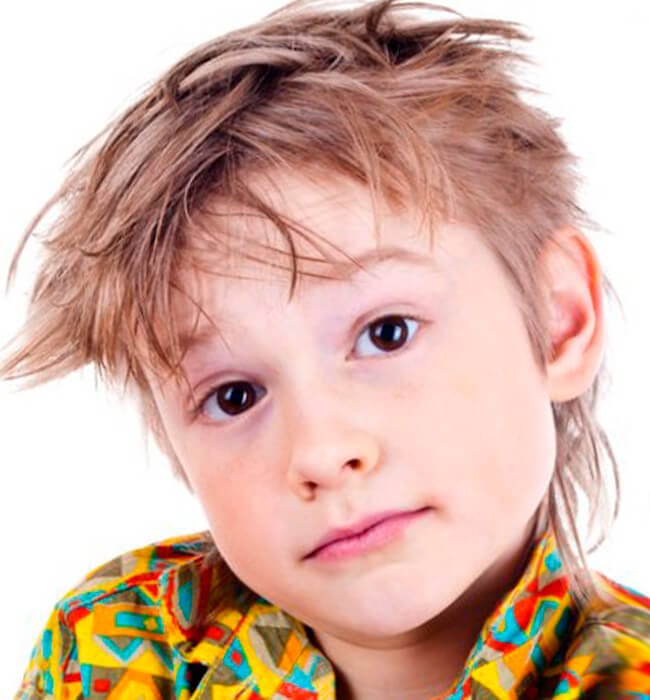 Rocker haircut for boys
If your child wants to be a rock star, give him that chance with a new haircut. It features layered cut, short-cropped sides, long length top hair with much longer strands in the neck area. The fringe must be short enough not to fall down into the eyes as well as the ears must be exposed. Such things as rugged textures, jagged edges and a variety of lengths bring a lot of rhythm to this haircut. By the way, it is quite easily styled – the top hair may be tousled and combed in various directions.
---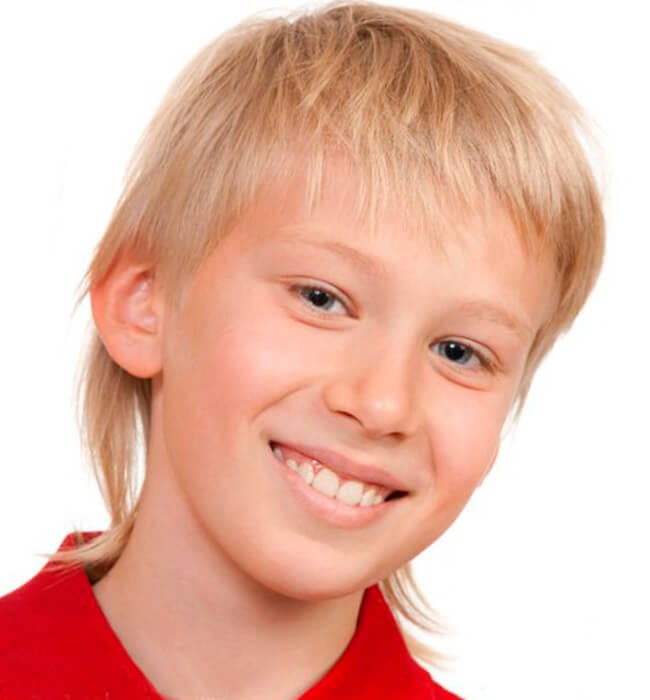 Mullet haircut for boys
These haircuts are popular among not only men but also young boys. The main elements of the haircut consist of a long back and short front whilst the new mullets can be a bit toned down. The hair is textured throughout the head together with the layers that keep locks light and make it easier to care for. Shoulder length strands in the back make this haircut stand out among other young boy haircuts. It is quite a low maintenance haircut and therefore not only fashionable but rather practical.
---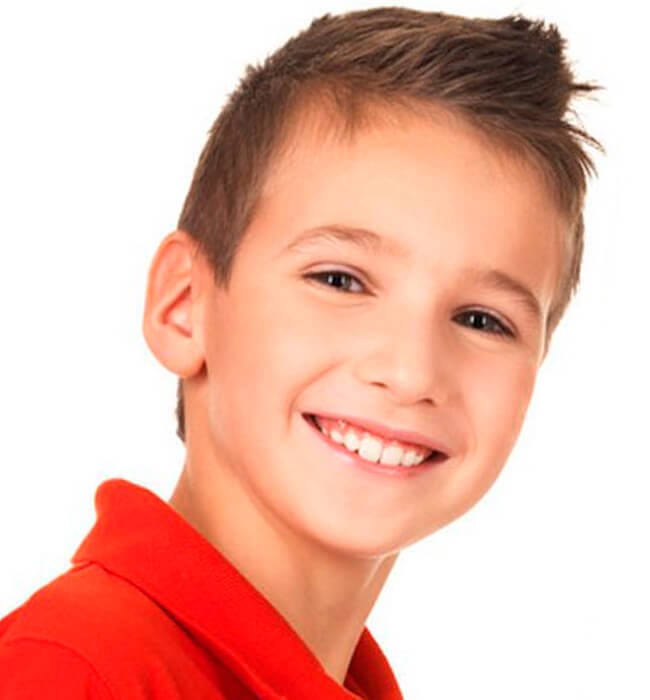 Fauxhawk haircut for boys
The haircut slightly resembles the famous Mohawk as there is still a long strip that goes down the center of the head. However, in this haircut, it is framed by gradient lengths to oppose a shift from length to the shaved scalp. As for the sides and back they can be cut as short as you wish, moreover the whole hair may be styled down if you prefer a more modest look to have. Depending on how short you desire the sides and back to be this haircut can be executed with a combination of scissors and clippers or simply with scissors. If you cut the tapers on each side of the crown and top evenly, you will get a good ridge down the center. To ensure a balanced cut and to gauge the evenness you may use the fingers to hold the hair up on each side.
---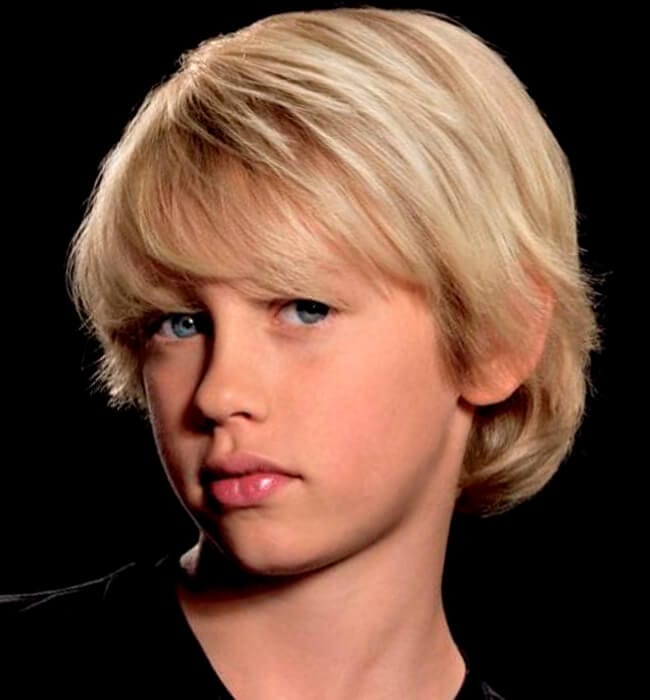 Pageboy haircut for boys
The name of the haircut is derived from the traditional haircut of an English page boy. In fact, originally it was a woman's hairstyle with shoulder-length rolled under the ends hair. These days such haircut can be seen on fashionable young boys. Moreover, different variations emphasizing various elements are possible. It can have bangs with blunt cut edges which don't angle upwards very much. Usually, this haircut does not have the short trimmed neck underneath the top hair. It better goes with thick and straight hair creating a perfect geometric cap and thus enhancing the face through a lovely frame.
---
Toddler boy haircuts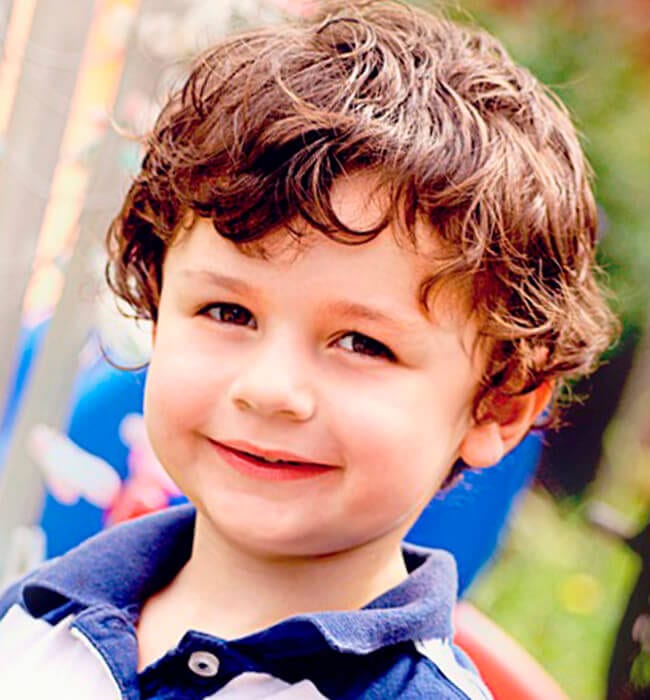 Curly haircut for toddlers
It is so adorable to look at natural angelic curls! Don't try to tame them, just thank nature, it's really cute. But the right haircut is also an important condition for a good natural look. As one of the possible variants, you may choose layered hair with more length on top and less on the sides. Thus, you will get a rounded silhouette with less weight. It is recommended to cut the fringe short so that it doesn't fall into the child's eyes.
---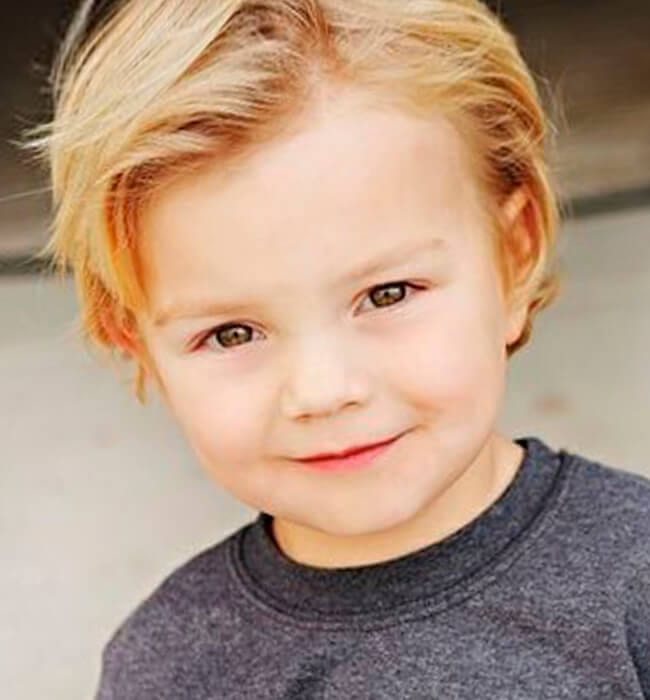 Short toddler boy haircut
Toddlers do not care about their haircuts; the only thing they care is comfort. That is why it is so important to make your child's haircut comfortable for him and adorable for you. The best variant for toddlers with fine hair is a short layered crop. The fringe is also cut short and creates a perfect frame for a child's cute face and can keep him cool even during his playtime. This basic cut always looks neat and even if tousled it will remain the way as it was supposed to be. Moreover, it is a low maintenance haircut for such busy guys.
---
Very short toddler boy haircut
This is one of the most popular haircuts for boys. It shows clipped short and velvety soft haircut. The main body of the hair can stand up all by itself due to the fact that it is cut really short, but not the same as a military buzz. A small part on the sides is clipped rather close to the scalp so that the forehead becomes a focus whilst the fun longer locks look thin and textured.
---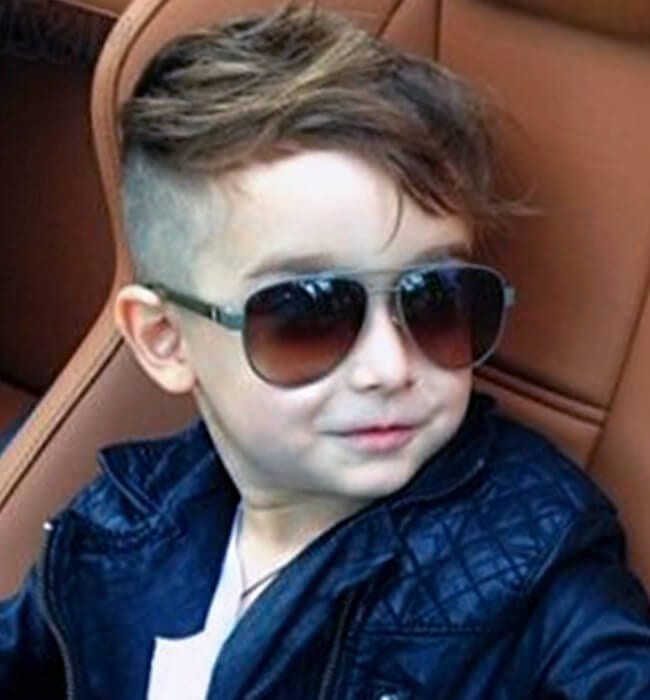 Toddler boy haircut with very short sides
Nowadays toddler boy short haircuts are in a big trend and in great variety. This haircut marks similarities in a traditional style but differs in some elements. To achieve this haircut the whole hair must be cut into layers featuring very short sides with more length on top. Thus you will have a fine fringe with a little texture in the tips. To style such hair you need to comb over it to one side, for instance from right to left. Set the natural flow of the hair and determine its direction.
---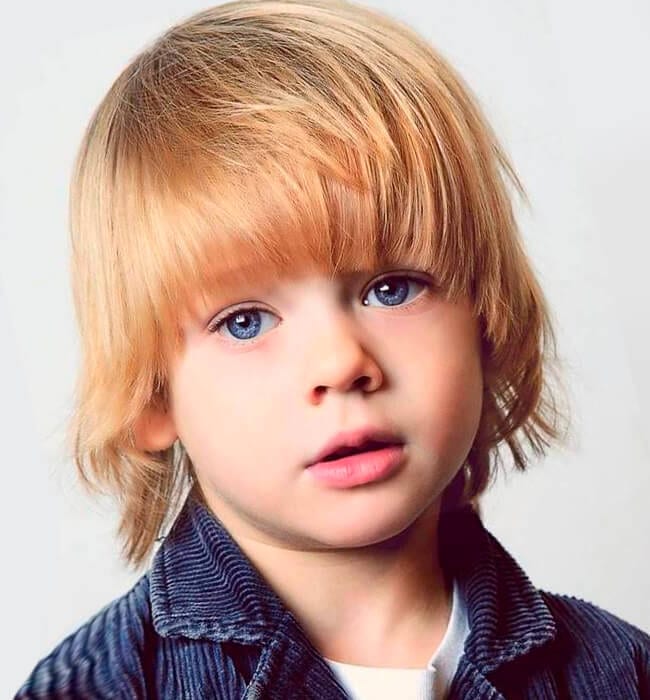 Toddler boy haircut with a longer crown
In this haircut, the face is gently framed by a cute short fringe. To make it appear a bit softer it has a fine texture along its straight edge. The sides are cut short but not really whilst the top crown is left longer. Thus the transition is kept more visible.
In fact, it resembles a mushroom look because of the thick graduated sides and back. Not overwhelming kind of bowl is quite fun and reminds of the Beatles look. If you add a little tousle to the fringe, you will get even more mischievous appearance.
---
Black boys' haircuts
Edged out black boys' haircut
The shortest haircut represents a buzzed style with a few lined details. A low maintenance haircut requires no styling that is why it is really easy to care for the neat appearance of your child. The only thing you will need is a good shampoo to keep the hair and scalp clean, fresh and healthy. In fact, the haircut goes well with all face shapes and even hair types. However, it is recommended to pay a visit to a barber to maintain a sharp look at this haircut. It looks really cute, up the edge and matches boys' cool attitude to life.
---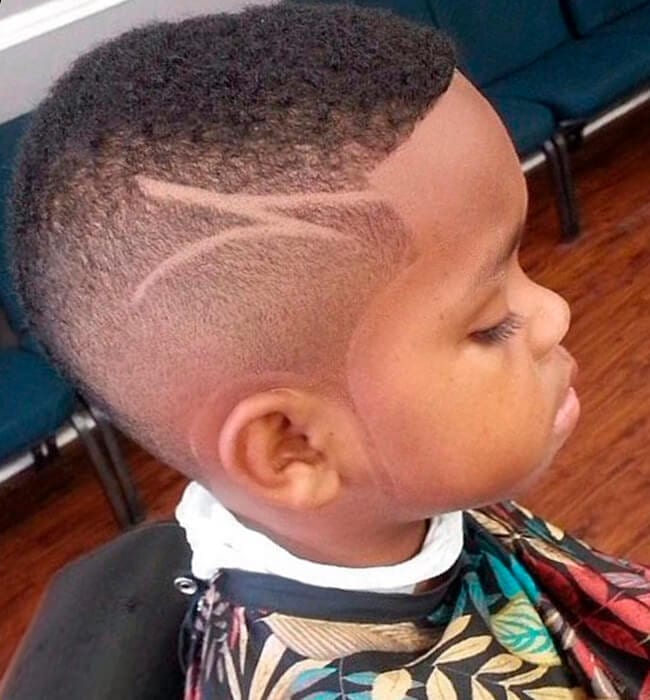 Faded black boys' haircut
This haircut is considered to be one of the most frequently seen on black boys and men. It supposes lots of variations; therefore the haircut is really interesting. The high fade features complete disappearing of hair higher than the natural lines of its growth at the back and temples of the head. Whilst low fade haircut demonstrates hair disappearing approximately an inch over the lines of hair growth. If you choose a mixed haircut between these two, it is called a regular fade that is recommended to start with. Also, there is a high top fade where the top of the hair stands in a vertical position, the back and sides are trimmed to fade; thus tightly coiled natural hair looks fabulous. In addition, more abrupt shifts between lengths can be gained with the temple fades.
For instance, to create a faded twist you need to apply some styling product to the lengths and the sides, then brush the hair on the sides close to the scalp and twist the top to the desired twist size. This haircut will suit most part of face shapes and will go better with coarser hair types.
---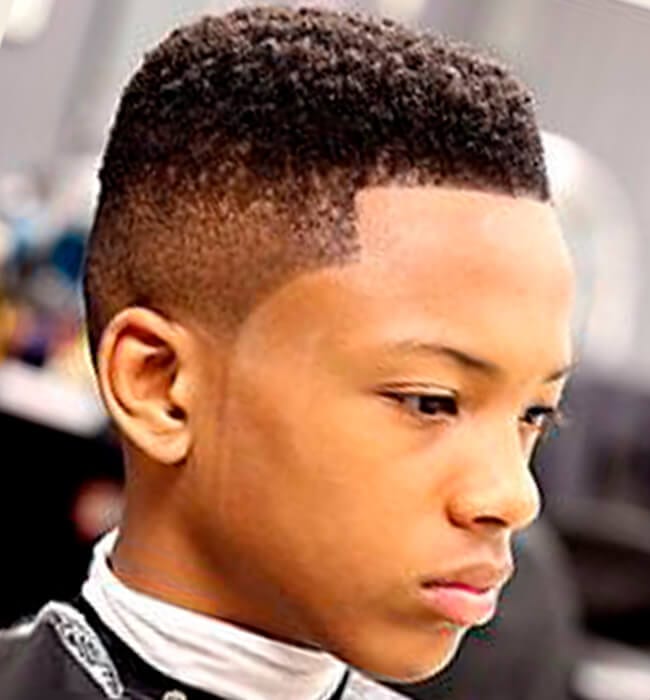 Flattop black boys' haircut
It is a comeback from the golden hip-hop era of the 1980s-1990s. Without any surprise young boys want to look like famous celebrities and athlete stars from NBA that is why they express a desire to sport this gorgeous haircut. To achieve it you need to have the sides cut extremely short and then gradually go to the long top. The Afro texture of the hair is ideal for this trendy haircut.
---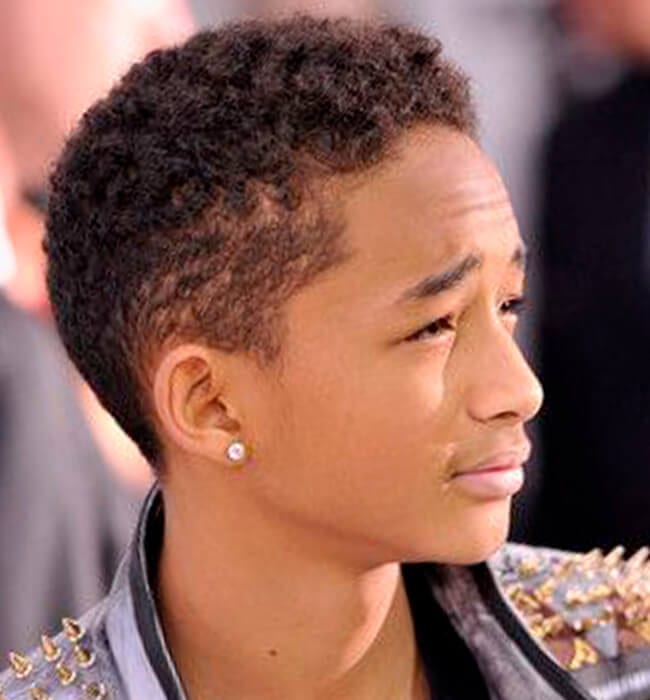 Undercut black boys' haircut
Cool boys would surely like to wear an undercut with short-sided and longer topped hair. In fact, the top hair can be particularly long, tousled and include asymmetric fringe. The side part requires a very short cut with scissors or razors. You may also create a slanting parting thus adding a new element to the look. Moreover, the undercut will look especially attractive if you give the top hair more volume and shine.
---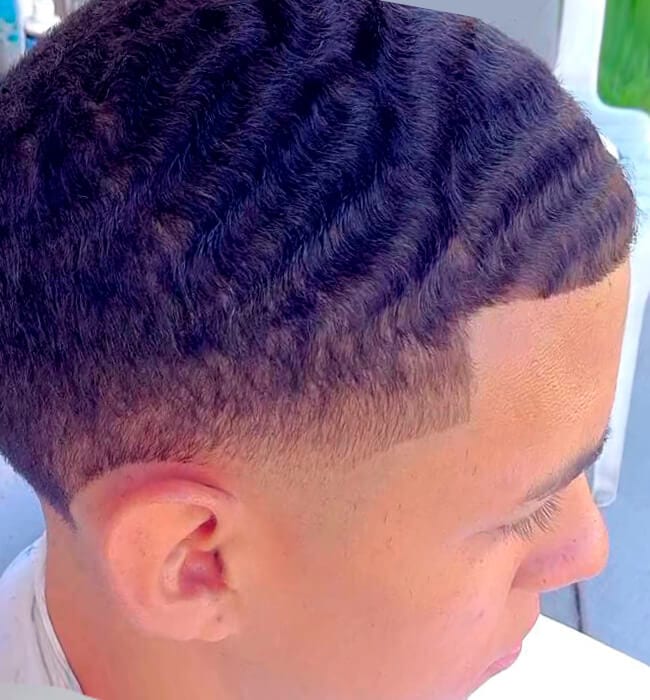 Deep wave black boys' haircut
The haircut impresses everybody by its well-defined edges and lightness of the waves therefore it is so popular with black boys. However, it is quite difficult for styling. You should start with picking or brushing hair depending on its length. To cut the entire head of hair evenly it is recommended to use a number two clipper. To properly cleanse visible or invisible scratches or nick cuts you may use some alcohol spray. Then it is necessary to wash the hair for removing previously shaven hair from head-pat dry hair.
After it, you are to put a generous amount of hair wax and make it dissolve into the hair with a hard bristle brush. And here comes the most important thing – applying of a wave builder cap overhead. You are required to leave it in place for 12 hours before removing it. Finally, you may admire these new marvelous waves. It suits all face shapes and coarse hair types.
---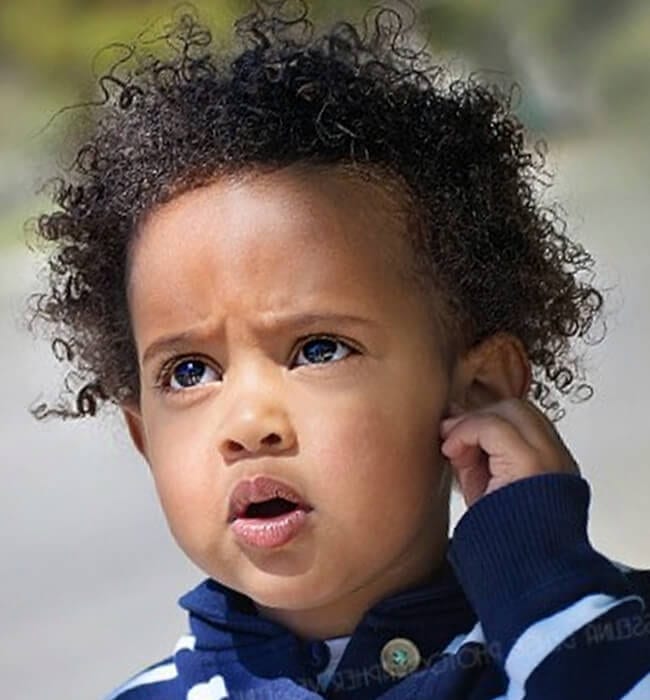 Short curls black boys' haircut
This haircut represents a combination of two great haircuts – short haircut and natural curls that is why it always looks stylish and hip. To style the haircut you need to apply hair and scalp moisturizer, then put a small amount of curl defining crème and allow the hair to air dry. This haircut is excellent for any shape of face and hair density. There is some styling tip if you want the hairstyle last another day, it is advisable to mist the hair with a bit of water to resuscitate the curls and to reactivate the product.
---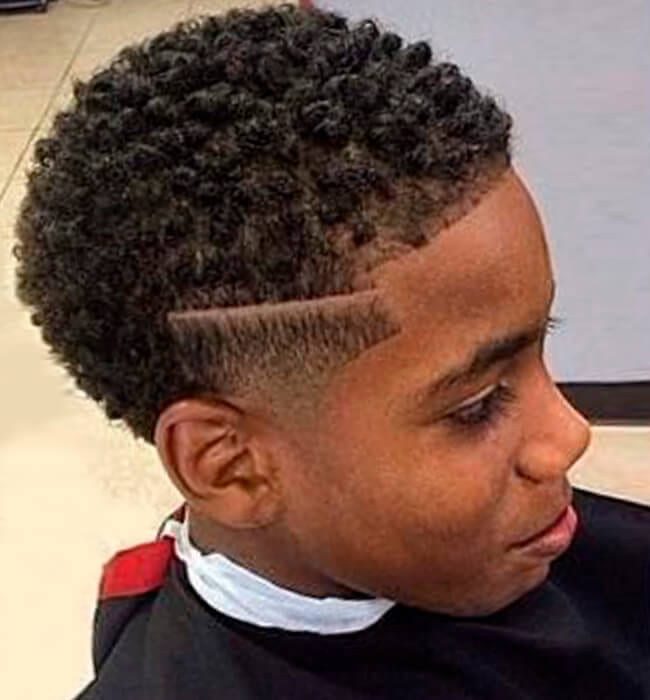 Tapered Afro haircut for black boys
This haircut is great for those who like to have the feeling of a close taper and desire to style the hair out longer but without any efforts or commitments of long hair. While styling it you are supposed to apply some grooming serum throughout the hair and massage it in. Then you just brush the back and sides close to the scalp. Notably, this haircut suits almost all face shapes and goes well with thicker, coarser hair types.
---
Conclusion
To make a long story short the first thing in choosing a haircut for your child lies in asking his desire. Then you are to decide whether to visit a barber or to create your little boy haircut at home.

---
---