Want to look like a hipster? Then, choose the best hipster haircut for men that are trendy in 2021. Find out why so many guys give preference to this hairstyle and what advantages you will enjoy if making it for you.
What is a hipster haircut?
---
Nowadays it is so important for modern fashionable guys to have a stylish hipster haircut. In fact, it has great success among men who are in their 20's and 30's. Noticeably, it came back to us from the 1920s-1950s and offers lots of interesting hairstyles in the modern age.
---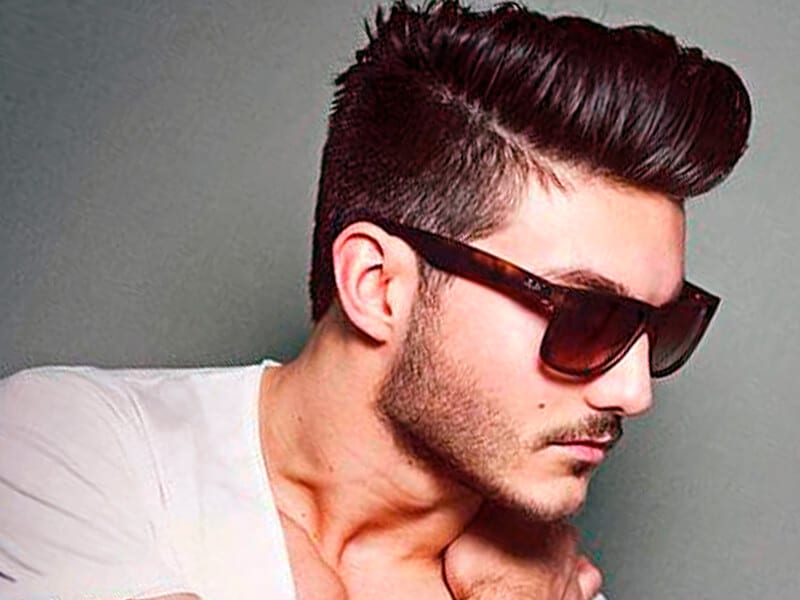 ---
Originally, hipster haircut consists not only of a style on the top of your head, it is even more complicated and every detail is of great significance. So you are supposed to have an undercut on the sides and back in combination with a beard and mustache. These hairstyles are related to some rock music scene. They represent a new trend among stylish hairdos for short hair, surfing around the world.
---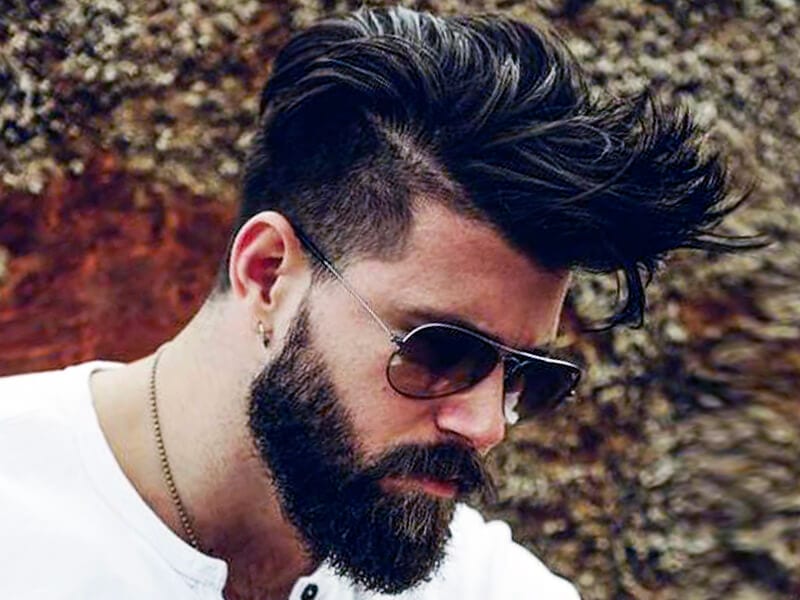 ---
Why do men choose hipster haircuts?
Hipster haircuts are really hot due to their brilliant vintage work of art. Therefore it's not a surprise that individuals wearing such haircuts look divine. If you are fed up with your regular haircut, it's high time to change it on a hipster one. No doubt this haircut will attract everybody's attention.
---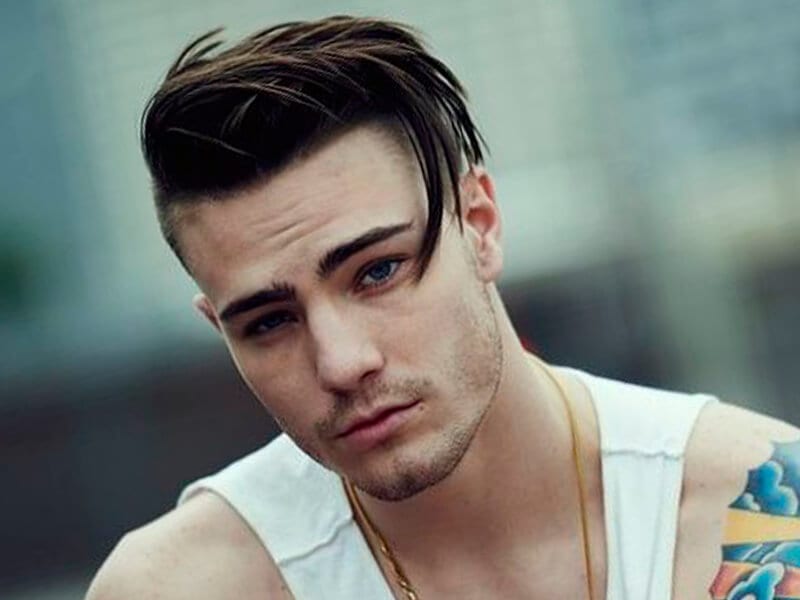 ---
Advantages of hipster haircuts
Hipster haircuts are a mixture of messed up, shaggy and short pixie cuts. Unfortunately, it's worth mentioning that this haircut is not suitable for everyone. To look perfectly gorgeous you are required to have a small face with high cheekbones. If so, then you are lucky to create this smart style as any hair length will go awesome – whether it is curly hair or straight, long from the mid or short from the side hair. Another benefit of this haircut is that you do not need to spend too much expense on hairstyling products. The first thing to pay attention to is your basic haircut. Then you are free to work with the top of your head in any direction you like.
Hipster haircuts provide you with a game of mix and match with colors. For instance, you can get some locks of various colors on your hair. Black locks will do the best for blonde hair, whilst blonde colored or red locks will match your brown hair.
Noticeably, you can always witness the ease and fresh view of hipster haircuts. As if you want to give messiness to your rough cuts, you may just use your fingers instead of a comb.
---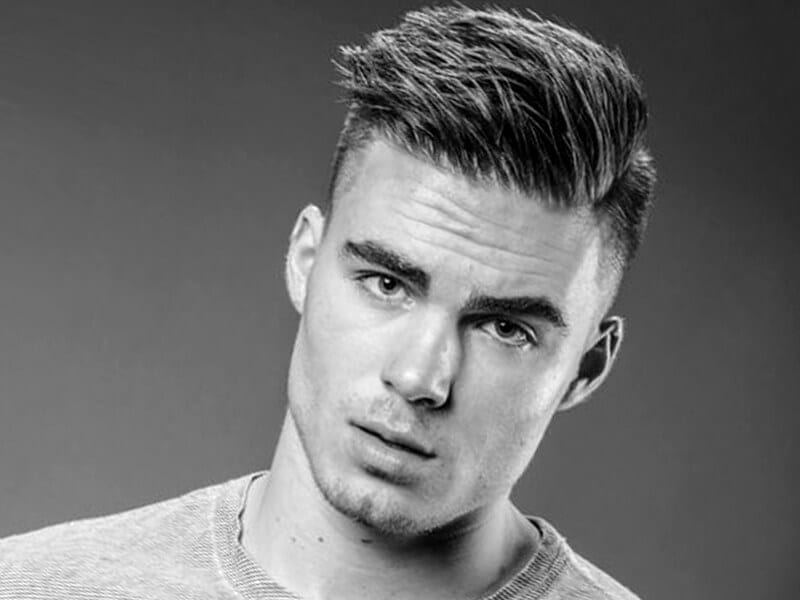 ---
One of the most efficient things about these hipster haircuts for men is the least need for heating.
However, the key point to a hipster haircut is texture. If you got an inborn quality texture, then you are really lucky. But if not, there is also no need to worry. With the help of numerous hair styling products, it is always possible to acquire the texture.
Another advantage of hipster haircut lies in that you can style it in different ways. There is a great opportunity to experiment with your haircut.
These haircuts are better for informal occasions, nevertheless if the occasion allows why not to try it for some formal event.
Hipster haircuts look gorgeous with any clothes and in any weather.
---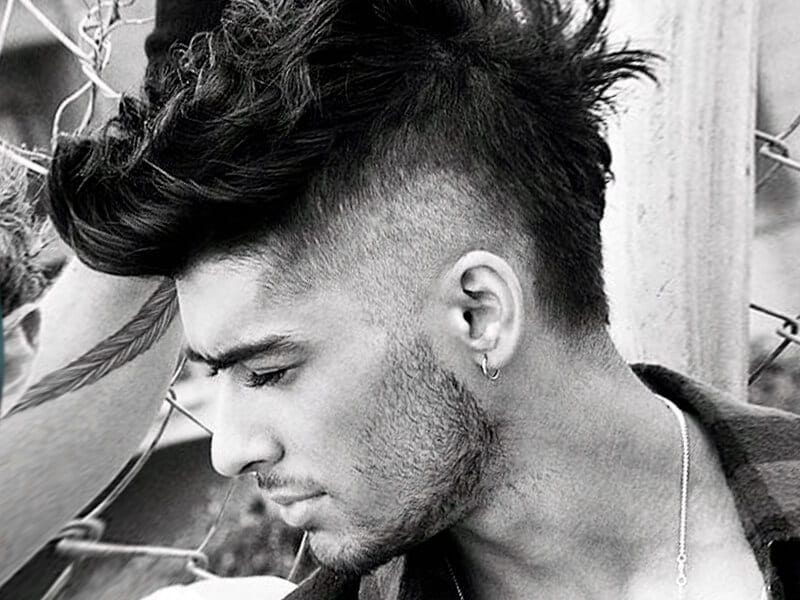 ---
---
Varieties of hipster haircuts
There are so many varieties of hipster haircuts, from trimmed and neat to long and messy. Quite often hipster haircuts and hairstyles represent a mixture of some classic hairstyles combined with fashionable and trendy elements. Among them are traditional undercut, fade, the undercut with a man bun, just a man bun, the slicked-back hair, the pompadour and beard combo. The most interesting fact of all these haircuts is that you can create whatever you like and appear with a new hairstyle almost every day. Enjoy different types of hipster haircuts and choose the best for you.
---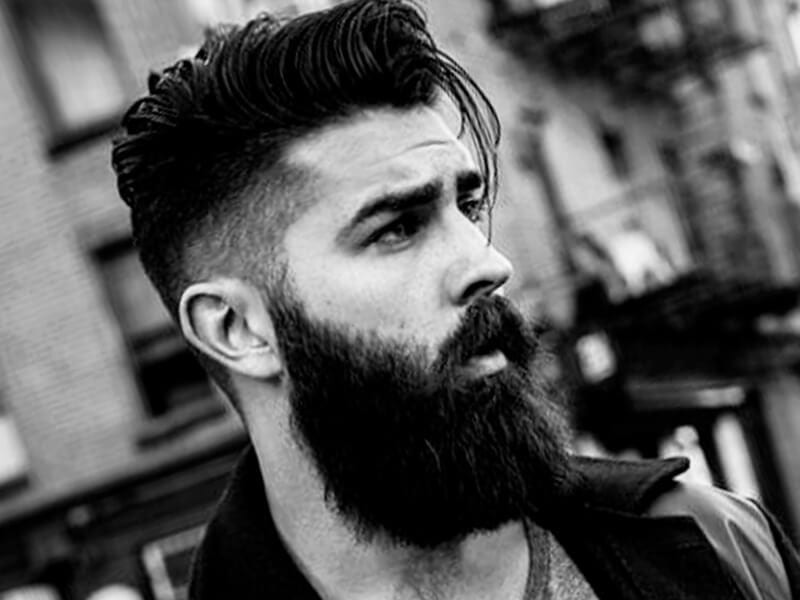 ---
Types of hipster haircuts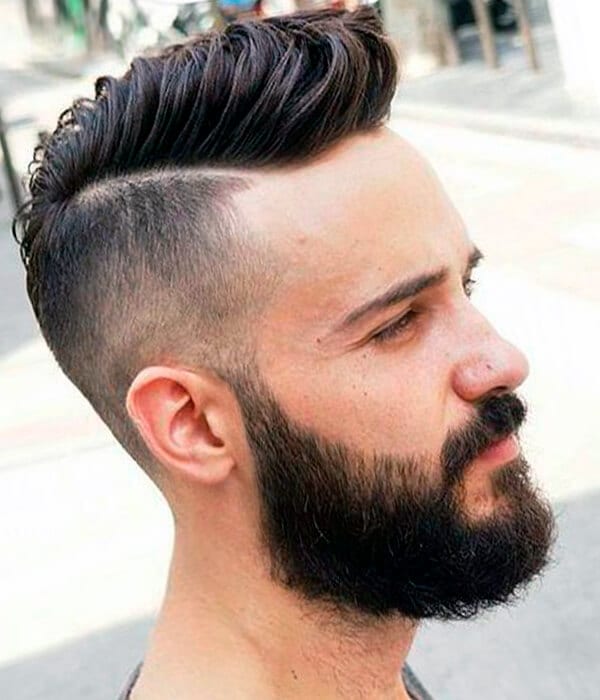 Comb-over with a side part hipster haircut
One of the most stylish and popular looks for hipster haircut is a comb-over with a side part. The haircut that adds a twist to the classic look was shot by Robin Bharaj, London-based videographer and photographer. In general, the cut represents long top with shorter sides, it resembles an undercut a bit. In fact, the top can vary from medium to long and must be styled into a comb-over, but with some volume. The sides distinguish the part line and a short cut. The curl that falls over the forehead will create a particular element of this hipster haircut. If you like to add a touch of casualness to this slick style, just pull a small part of hair out with your fingers and work it into place. This haircut is marvelous for men with thick hair as well as straight hair.
---
Slicked back hipster undercut
This hipster haircut shows a contemporary mix of classic undercut hairstyle with new elements. The top slicked back hair is complemented by the traditional undercut below. To achieve this haircut you need to have the sides and back buzzed. After it takes some pomade and a comb and using your fingers to slick back the hair comb it all back. When you are enough happy with the view, you may totally enjoy the style.
Remarkably this haircut came back from retro style; nevertheless, nowadays it is worn with chic pairing well with a variety of outfits. However, to maintain the style regular care is required. For instance, it is advisable to apply some quality pomade to keep a proper form all day long.
---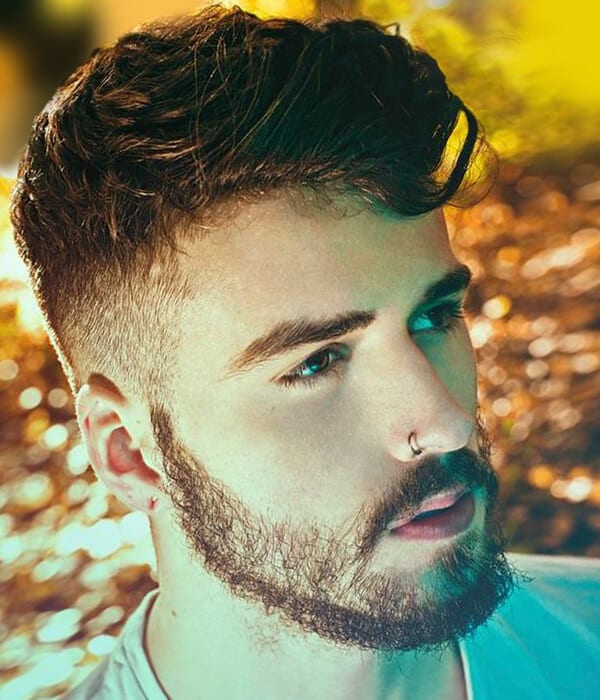 Fade hipster haircut
The haircut represents the fade on the sides and long hair on top. Moreover, it goes well with different face shapes and a variety of hair colors. What makes this haircut stand out from the rest? Of course, the decreasing levels of hair length. As it is clear from its name, the haircut features hair gradually coming shorter and shorter until it disappears at all.
It is also worth mentioning that fade hipster haircut is perfectly combined with plenty of other styles. If it is paired with an undercut or a quiff, it looks really great. In addition, if you are interested in an easy-keeping style, no doubt the best variant to choose is a classic fade as it requires less maintenance than any other.
---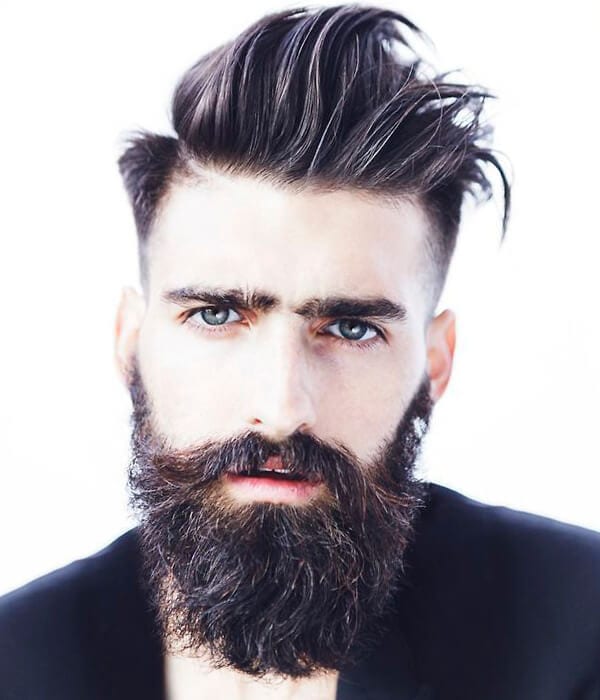 Quiff hipster haircut
Due to its marvelous combination of short hair in the back and long hair on the top, the haircut gives you an incredible look. It is suitable for all types of hair, and it is rather easy to style. It is quite similar to the undercut as it requires short hair on the sides and in the back. While getting this haircut you should have kept the crown area short leaving some length on top and at the front.
The next essential step is to get a vented comb, a hairdryer, and a quality styling gel. First, it is recommended to apply the gel and then comb the hair back simultaneously drying it. By the way, set your hairdryer on a high heat and low speed. At that time repeat the same on the other side but in a different direction. In the end, brush everything up and back and a perfect style is ready.
Also, the haircut is appropriate for a wide range of occasions. You can achieve a stylish quiff hipster haircut with any hair color. However, it looks great on medium-toned to dark hair as the light being reflected adds some shine. And of course, the usage of pomade will impart a high degree of that shine and make your quiff distinguishing.
---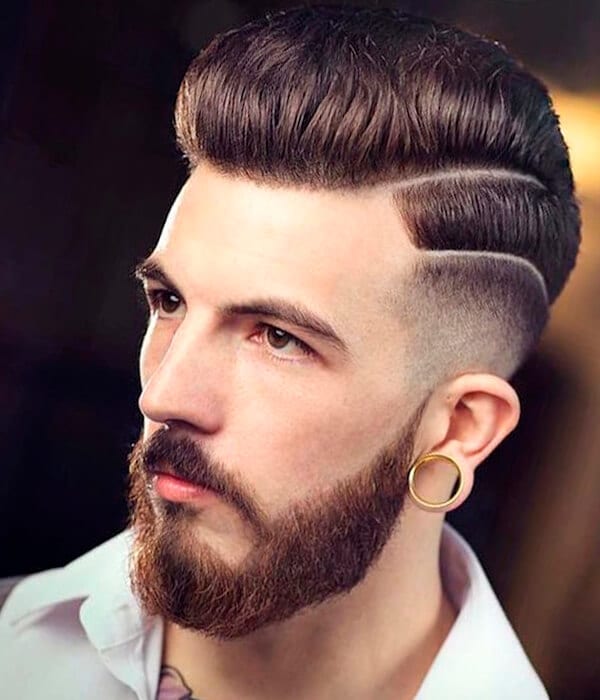 Pompadour hipster haircut
Once Elvis made it popular and so it remains common and frequent these days. However, classy gentlemen should take into consideration the seriousness of its maintenance. But when put in the work the haircut surely will produce great results. Wearing this haircut you are supposed to feel slick and relaxed. If you have made up your mind to rock it, don't miss an opportunity to become a famous Rock and Roll star even for some moment.
To get proper pomp you need to have your bangs cut down to the eyebrows. The taller pompadour you desire, the longer hair you are required, approximately 6 inches in length. For extra vintage points, you may add a side part. As for the hair on the sides and back it must be short. The pompadour hipster haircut demands the same styling as simple pompadour haircut. Don't forget to use both of your hands, a hairdryer if needed, a comb and, of course, a little hairspray to fix your splendid hairstyle.
---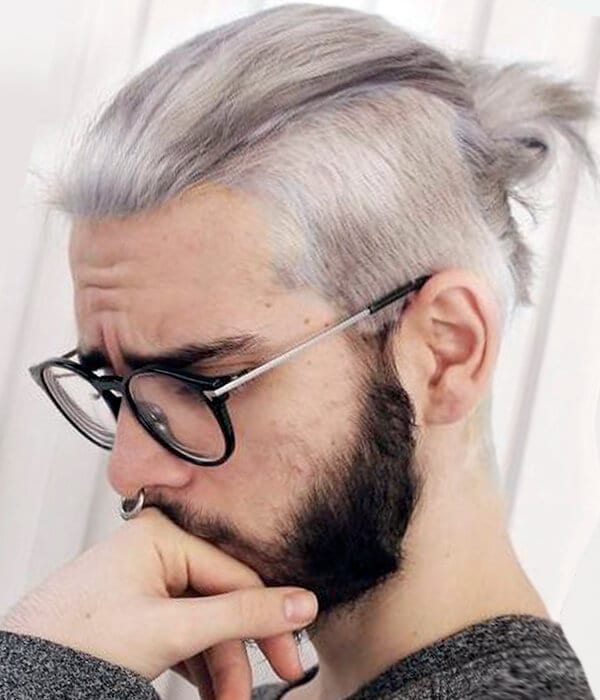 Man bun hipster haircut
If your hair is long enough, try tidying it up with a man bun. There are so many variations of a classic man bun that it is not necessary to tie up your hair just on the crown of the head. You may achieve a funky hybrid style by combining the man bun with the undercut. Also, it goes without saying that man buns look perfect with different kinds of beards which make the style even more complete. In addition, this haircut works well for blonde guys.
To style, the man bun is not difficult. First, you grab the hair you are going to tie up and then you tie it as if making a ponytail. Next twist the band and while making a second pass over the hair, stop halfway through and here is a desirable neat bun. If you place your bun in various spots, you will be able to modify your style. Moreover, you can get a topknot by changing the amount of tied up hair.
---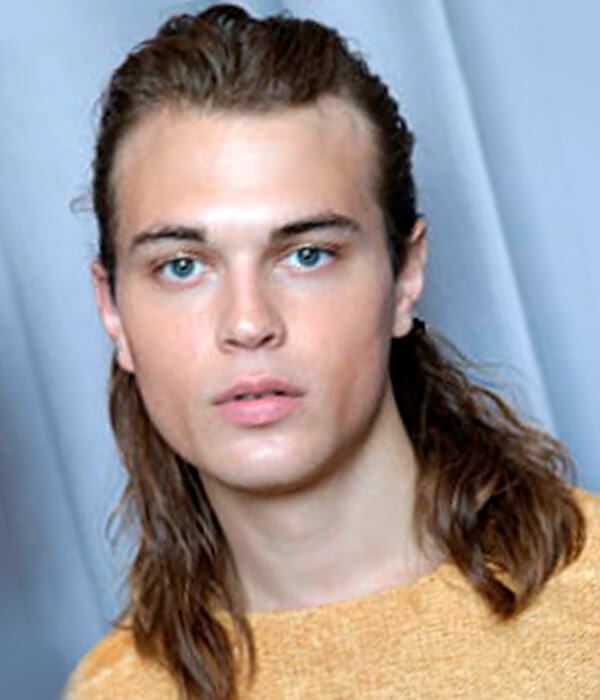 Wet-styled semi updo hipster haircut
This haircut is popular among long-haired hipsters. The kind of updo must be styled in the way to look wet. It allows men either to turn to hipsters or try being a hipster just for one day.
---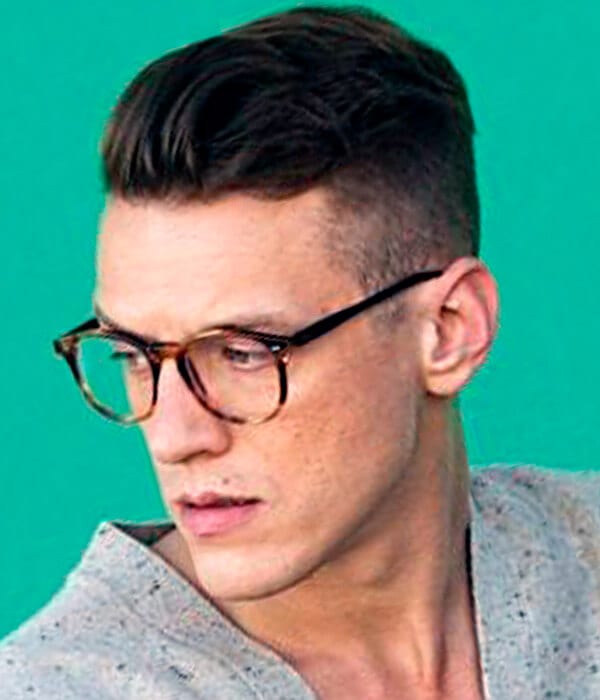 The new crop hipster haircut
It is considered to be new because the crop is a bit longer on top than the basic version of this hairstyle. Moreover, it remains one of the most popular military hairstyles. The cropped side hair must be of enough length to style. Hipsters with such haircut will surely assert their sense of individuality.
---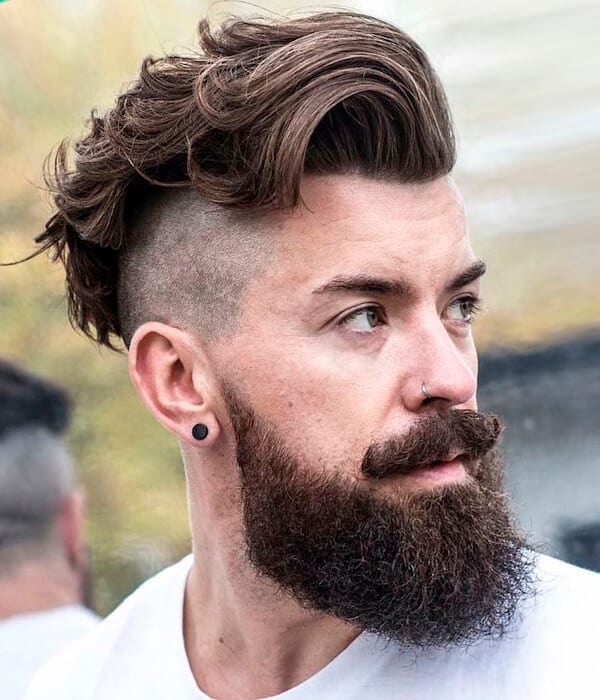 Sidecut and full beard hipster haircut
The haircut features a side cut with the front top hair that flips across the forehead. These locks of hair can be of any type – straight, curly, in waves, whatever you like. In addition, you need to grow a full beard that will remind us of ancient times and give you a mysterious look.
---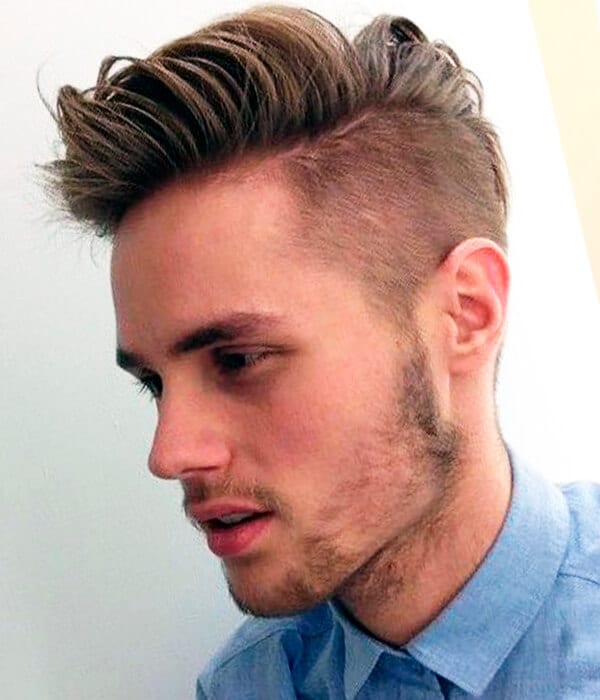 Shaved sides hipster haircut
This is a very adoptive hipster haircut. You just shave the sides short and high for a contrasting look. As for the hair in the front and center, you may leave it medium or long. If you decided to leave it long length, then, for instance, to slick it back applies some hairstyling product.
---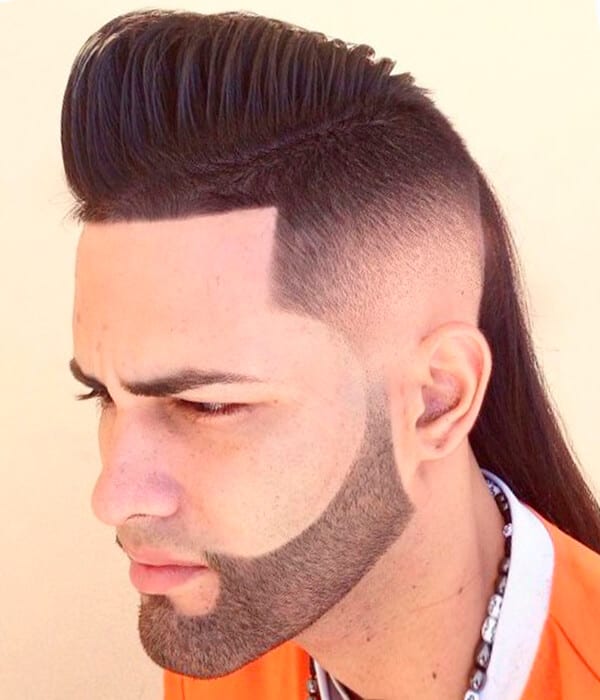 Mullet hipster haircut
As it is not frequently seen in modern life and professionally combined with a beard and mustache then for sure it can be classified as a hipster haircut. To achieve this style you need to have your medium length hair chopped on the sides, the crown and front hair are required to be long. In addition, if you want to impress your half, you may style the front hair in a pompadour.
---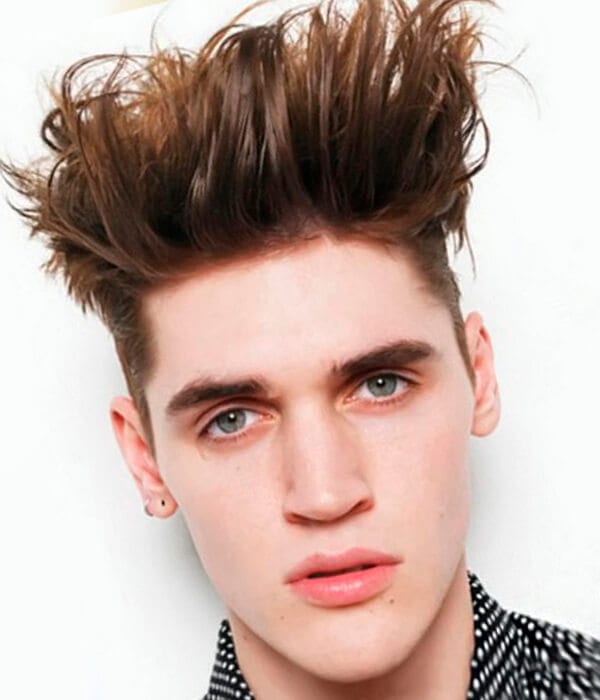 Ultimate spikes hipster haircut
Frankly speaking, only a hipster could afford such extraordinary haircut. So here you have an undercut on the sides and in the back, as usual, and medium length hair on the top. The most difficult thing is to style your top in high spikes. Therefore it is recommended to use different strong holding hair gels. And there is another piece of advice – it is more suitable for hipsters who are under 30 and are extremely keen on adventures.
---
Conclusion
The 21st century marked a revival of hipster haircuts. Modern men are lucky to choose among plenty of variations of the styles. And of course, it goes without saying that for this haircut you should go to a hair salon as hipster haircut was designed by professionals and you need professional help first.
---