Do you still think that that it is impossible to create an original look if you have short hair? It is a misconception! Check the most modern and super stylish haircuts for short male hair and you will see how many styles you can choose from.
Short Hairstyles for Men
---
The article gives a vivid description of men's short haircuts not only available but modern these days. Look through it and find all the necessary information about short haircuts for guys of all ages – from boys' short haircuts to adult men's short haircuts.
---
---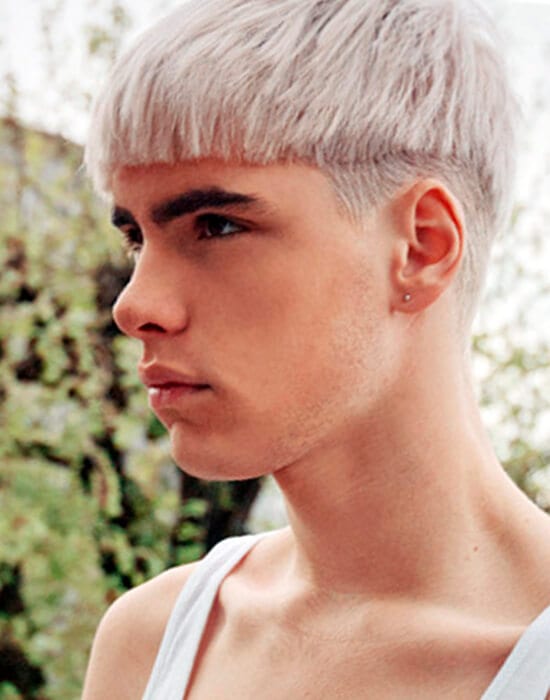 Bowl short haircut for men
The bowl cut is known as a goofy looking haircut from the '90s but it is surprisingly making a comeback in a modern men's hairstyling world. Originally it is a mop-top form or a haircut with a fringe where the hair is allowed to hang down under its own weight. Contemporary bowl haircut with some new twists and modern variations looks really great. Moreover, this so-called mushroom haircut has recently become a hipster trend thanks to Robert Pattinson. According to Daily mail, barbershops have experienced a whopping 200 percent surge in requests for the universally unflattering haircut. Who could guess that this traditionally boys' short haircut would go through such popularity in the 21st century?! It is a perfect variant for straight and wavy kind of hair.
---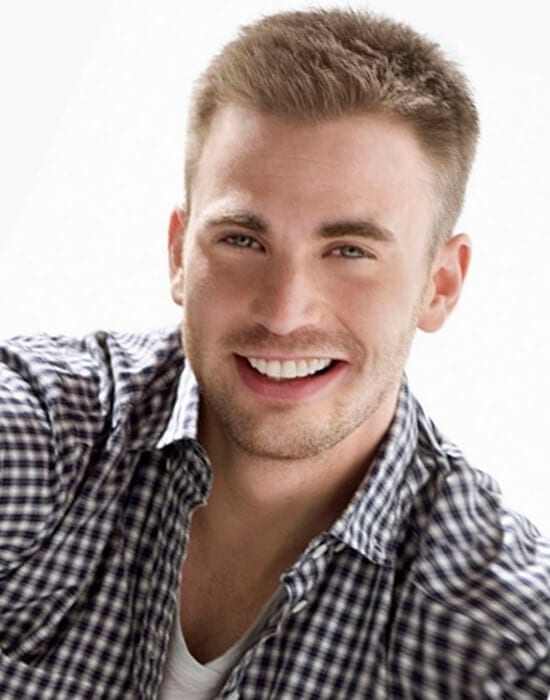 Brush men's short haircut
The brush cut may be an excellent variety for busy men with very little time to fuss over the hair. It accentuates the face; it is easy to cut and easier to upkeep and in addition, it allows for daily variations. To create this haircut you should have the sides and back cut close the top following the contours of the head. The hair on top must resemble the bristles of a brush so it is combed up in such a way. Prior to blow-drying the hair up and back, a light gel may be applied. This haircut is more frequent in the United States and Europe among guys under 25 years. It was brought into life due to such celebrities like Zayn Malik and Justin Bieber. Thus, it is also popular among boys' short haircuts.
---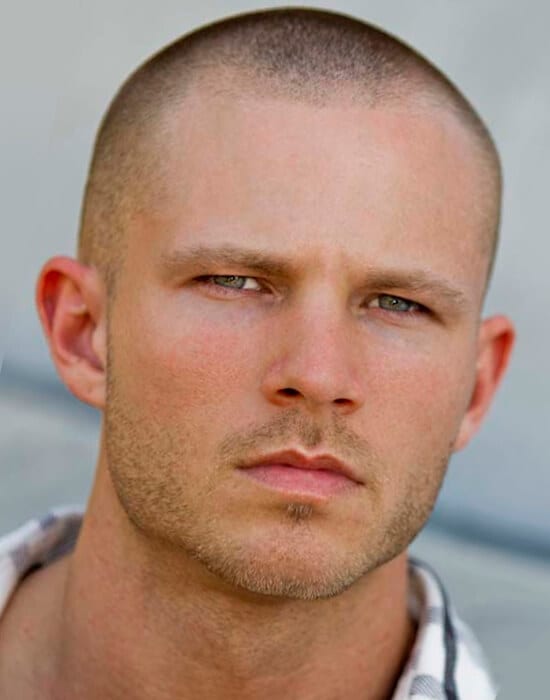 Burr short haircut for guys
The haircut features the hair over the entire head clipped one length, approximately one-eighth of an inch or shorter. It is a popular style among athletes and resembles the type of haircut new recruits receive upon entering their military service. Actually, no styling or product is needed for this haircut, except for a bit of sunscreen if spending time outdoors. The burr haircut involves having the hair clipped to an even hair clipper length of a number one or two all around the head. In fact, it is a simple military haircut that can be easily achieved in the comfort of your home with just a hair clipper. It is the most suitable variant for straight, wavy, coiled and kinky types of hair. Moreover, as the hair is near-shaved it requires no styling.
---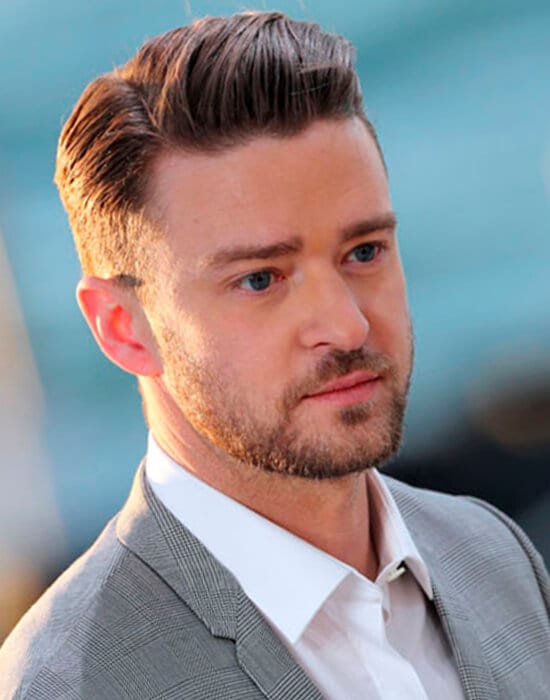 Business men's short haircut
This haircut is extremely popular among working gentlemen who require a conservative look. Generally, the hair is cut with a slight taper on the sides and back whilst the top is left long enough to part and comb to the side. Using a good men's comb or just the fingers the hair is usually parted to the side perpendicular to the parted line with a minimal or no fringe at all. The business men's haircut goes great with men who enjoy looking formal, classic and well-groomed. The nature of this haircut allows for the hair to be styled in other ways too, thus it is a winner in most of the situations. In addition, the hair products needed for this haircut are minimal and so men with various hair types such as for instance straight, curly, wavy or coiled can achieve this haircut without any problem.
---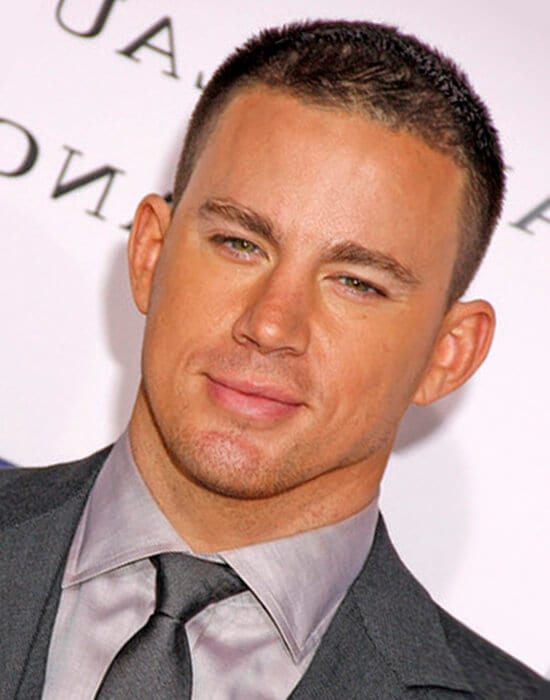 Butch short haircut for men
The butch haircut is often seen on the heads of military men and athletes. It is a shorter, uniform haircut. Using clippers the hair is cut to the same length all around the head. It will work well for any men who want a no-fuss haircut and a clean look. This haircut is also great for young boys as it is hassle-free and for balding men as it will help them to conceal their balding. In addition, it is one of the easiest haircuts to get so that you may do it even at home. Moreover, it doesn't need much styling; you just can go without it. But if you do want to style it, apply some butch wax that is a hair product made for buzz haircuts.
---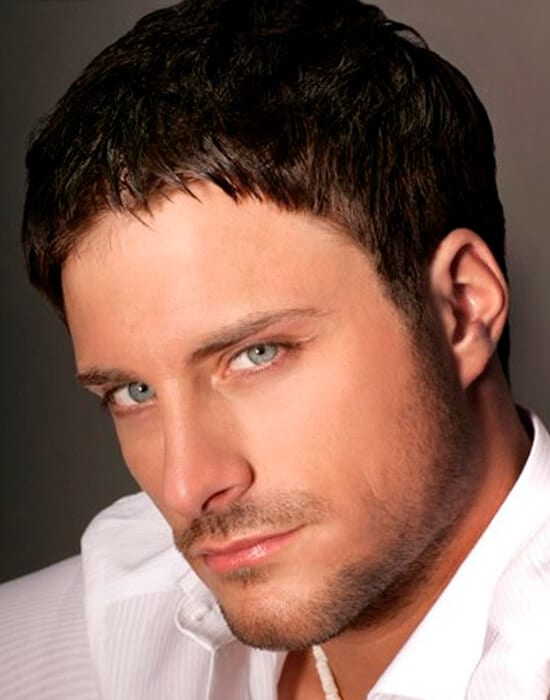 Caesar men's short haircut
This Roman haircut was last seen on the buff Gladiator actor Russell Crowe a decade ago and it has recently resurfaced with Gerard Butler. This shorter crop is hot again and being perfect for a low maintenance man it is here to stay. You may do it if your hair is fine to thick and straight to wavy. If your hair is more textured, put the scissors down. You should ask your barber to cut the hair evenly on the sides and top at a short length. To keep your haircut looking clean, push the hair forward with a light style aid.
Notably, this haircut is one of the most common among boys' short haircuts. It goes really well with kids, especially if a kid has straight or wavy hair. The Caesar haircut offers a convenient and easy to maintain cut for kids that is why the parents tend to prefer this type of haircuts for their active guys.
---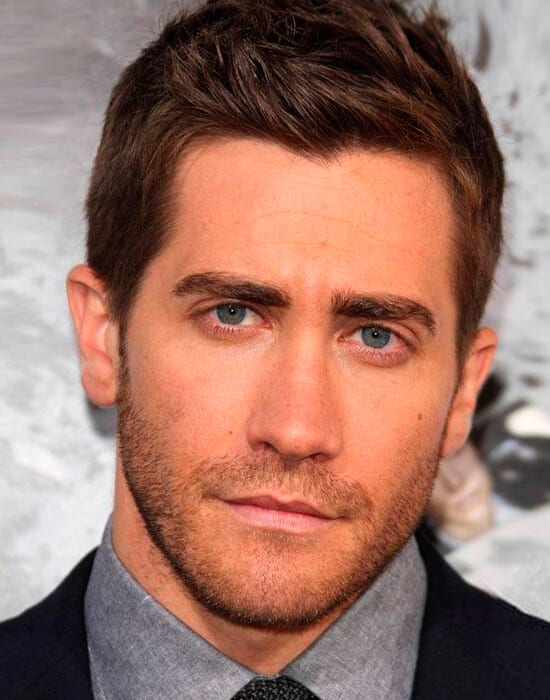 Convertible short haircut for guys
The term convertible refers to a haircut that can be worn in more than one way. Layered or taper haircuts can be styled with enough hair left on the top and thus can be worn forward in bangs, parted or without a part, combed to the side, up and back – everything depends on the hair type and its length.
---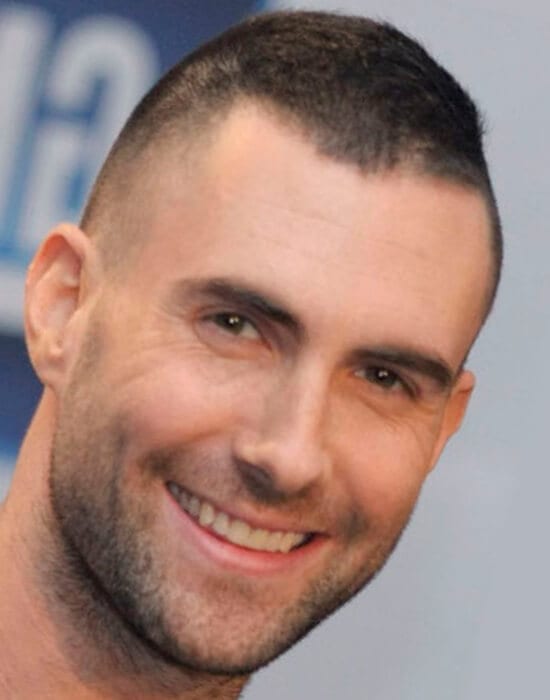 Crew short haircut for men
The crew haircut is designed to accentuate facial features and to make your face look more sharp and defined. If you are craving for an athletic and clean haircut, it will be a perfect variant for you. The haircut is very popular in the military and in the sporting world, especially for its practical usage and low maintenance. It demonstrates the hair short overall in a way that the shortest part is situated at the back of the head and the longest is at the crown, whilst the sides are tapered and also short. Generally, it suits all hair types and most face shapes. This haircut is frequent among various celebrities such as Zac Efron, Channing Tatum, Taylor Kinney, Ryan Gosling, Chris Evans, Colton Haynes, and many others.
---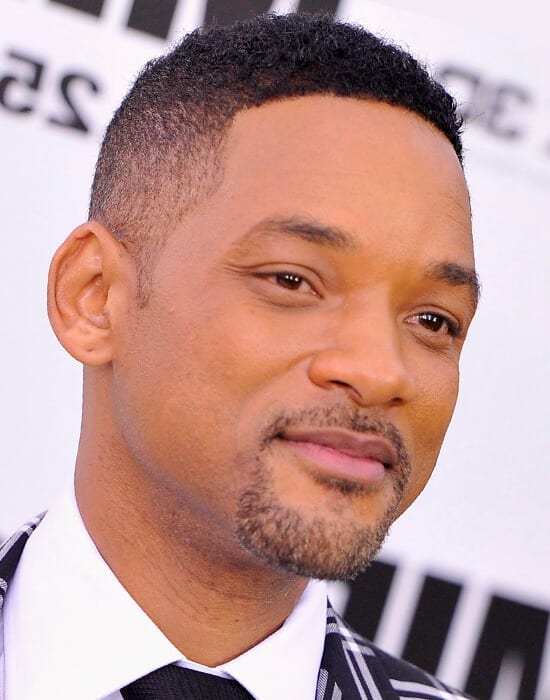 Fade men's short haircut
The haircut has recently become a popular term for an aggressively tight taper. The hair at the sides and back is usually cut as close as possible with clippers and then it fades or tapers up into almost any length on top. This hair on the top can be given a messy texture with paste, gel or pomade or it can be styled neatly. Nevertheless, the fade haircut being a contemporary look offers sharpness to hair styling. It can either be approached with more of an experimental styling or be interpreted in a traditional sense. Moreover, it allows lots of variations, for instance, a traditional fade, a lower fade, a mid fade, a higher fade, the scissor trim fade, the side part fade cut, Ivy League fade cut, a faux hawk fade cut and others.
---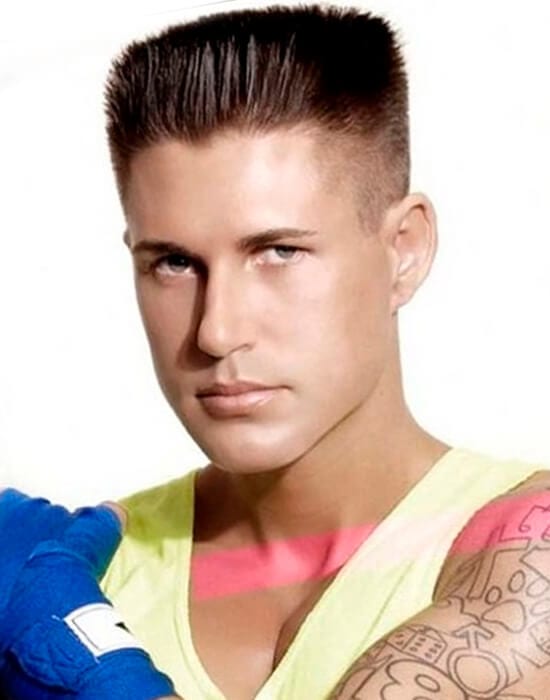 Flat top short haircut for guys
The haircut represents a high box shape cut, quite often combined with lightly faded or completely shaved sides and back. In spite of the fact that it is not the most conservative haircut a man can get by any means, it is one of the modern go-to haircuts of the hipster set and still very stylish. This hip-hop-influenced haircut provides for many inspirational ideas and variations. Actually, it was really popular in the 1950s in the United States. Nowadays the flat top is frequently seen on police officers, professional military men, weight lifters and computer geeks. Consequently, this haircut suggests physical fitness, a work ethic and a serious intense approach to life. These days we witness flat tops on working men and high-up professionals, on guys of all ethnic backgrounds and orientations.
---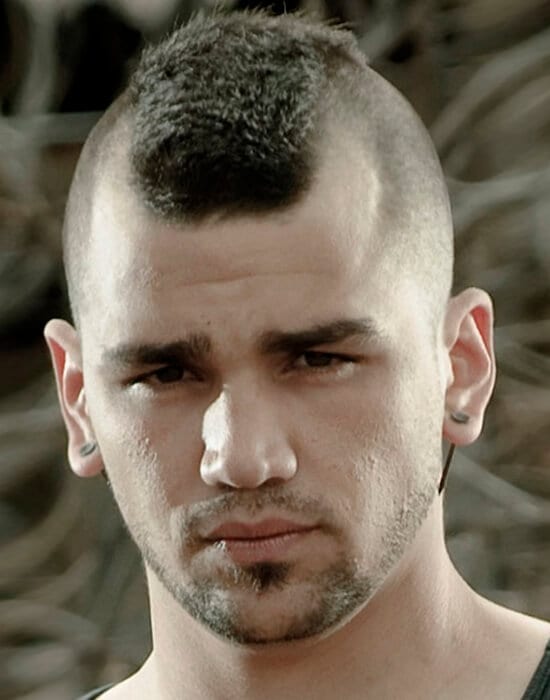 High and tight men's short haircut
Usually, this haircut is described as faded or totally shaved on the sides and back with a longer, generally short, portion of hair on the top. Quite often the best way to achieve something new is to break the rules a bit. So this haircut is able to demonstrate a break from the traditional military style of the high and tight and opt for a completely shaved look all over the head. Sometimes if it comes to receding hairline and thinning hair, in this case, the shorter your haircut is the better. Thus, this haircut featuring shaven sides helps eliminate the problem that bothers many men. As it is one of the oldest and most traditional military haircuts, some men who wear it choose to keep it very accurate, in a way that it seems they were currently enlisted.
---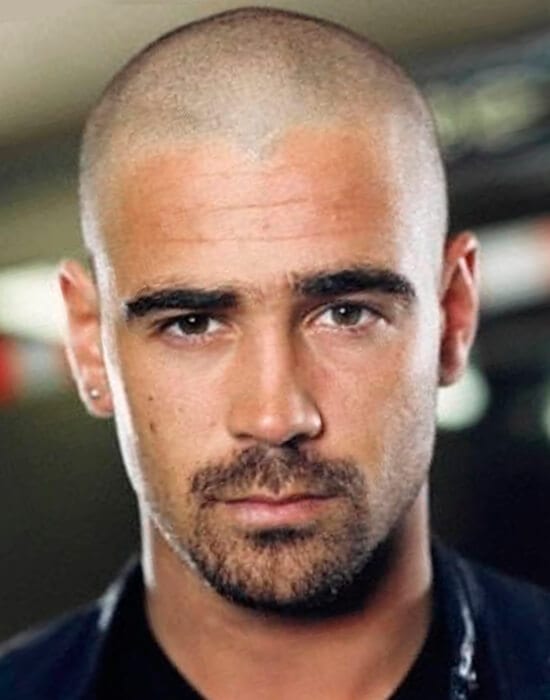 Induction short haircut for men
The induction haircut is considered to be an army haircut as it is given on the first day of boot camp. An appropriately titled haircut is given out in almost an assembly-line fashion to every man who is inducted into the first day of boot camp. So it must be really simple as it is basically a nearly bald haircut. To achieve the closest haircut possible, a good electric hair clipper must be used. As a result, a stubble-like texture must be created. The reason why all these procedures are done is to quickly remove all the hairs without going through the time-consuming phases of shaving it clean off. Nevertheless, this haircut can be found just in ordinary life, in the region of hot weather conditions and is perfect for the low maintenance job. Moreover, it requires no styling and as a consequence no effort.
---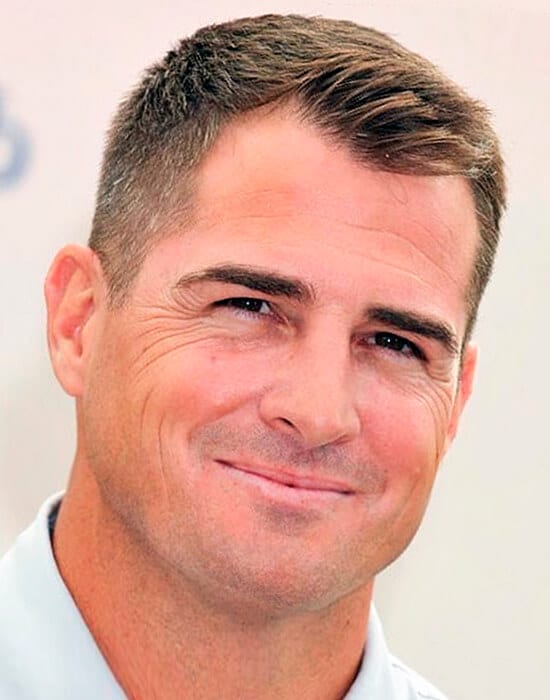 Ivy League men's short haircut
Looking for a more conservative or professional haircut? This variant is a perfect way to solve the problem. The Ivy League haircut is a very clean, conservative and ideal haircut for work you can't go wrong with. The haircut features a classy short style for the hair that yields a discreet and elegant look. Moreover, it can be styled in a pile of ways, thus it is suitable for the straight, wavy and coiled type of hair.
Traditionally this haircut has the top of the head tapered in length and the front of the top is usually carrying the longer length. As for the hair on the back and sides, it can be tapered to different lengths depending on your preferences, either to a clipped length or scissor trimmed. In addition, there must be no sharp edges so you should have evened out with scissors the line of junction between the sides and back together with the top.
---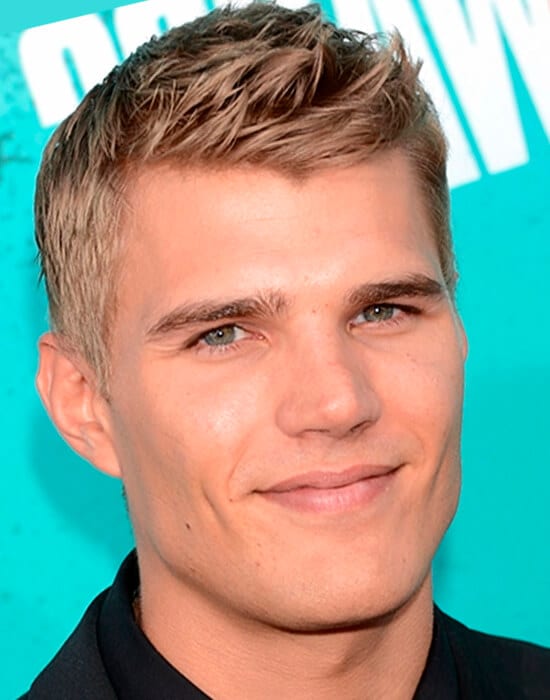 Layered short haircut for guys
This kind of haircut is really cool. Once it was made popular by a famous rock star Juanes and still attracts everybody's attention. When different products are applied this haircut provides a messy look. The haircut refers to cutting hair at various lengths so that the layers can be distinguished. These days layered haircut has come in more sexy and stylish look as ever. Besides that, it is rather simple and easy to get as usual. The only thing you need is to add any sort of layers, for instance choppy, shag, razored, asymmetrical or even soft layers to your current haircut. With this haircut your hair is going to get more texture and volume, this is especially important for those men who suffer from having fine or thin hair.
Another benefit lies in that you receive a great opportunity to style your hair in various ways. You can try a straight layered haircut, and then you may add some waves or curls to it. Also, you may try to sport either a messy or spiky layered haircut as both of them have very fashionable and stunning looks. It is also frequent among boys' short haircuts.
---
---
Pompadour short haircut for men
The pompadour is considered to be among classic men's short haircuts that has come to life again with a modern spin in many variations. This haircut is very manageable and suits many hair types and face shapes. Moreover, it is popular with men of all ages and quite frequent among not only men's but boys' short haircuts. Although the variation and extremity of the haircut need to be taken into consideration as the result should complement your personal style together with your lifestyle and profession.
---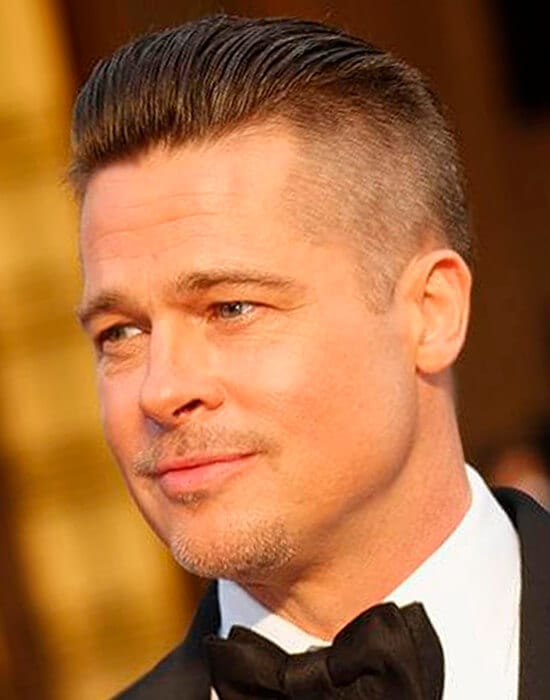 The classic pompadour short haircut for men
To keep the haircut refined and classic, the back and sides need to be clipped, but not really short as if to expose too much of the scalp. While maintaining some length throughout the haircut, the edges should be tapered really tight. It will strengthen the overall shape of the pompadour and make facial hair appear thicker and bushier if a man maintains a beard, for instance. Those who need to maintain a balance between the top and sides may choose to keep the more length through the sides that will suit most face shapes. In addition, you may avoid taking the clippers beyond the curve of the head for a more timeless aesthetic and a slightly squarer result. If you are feeling more courageous, ask your barber to take the sides higher to slightly disconnect the top and sides.
---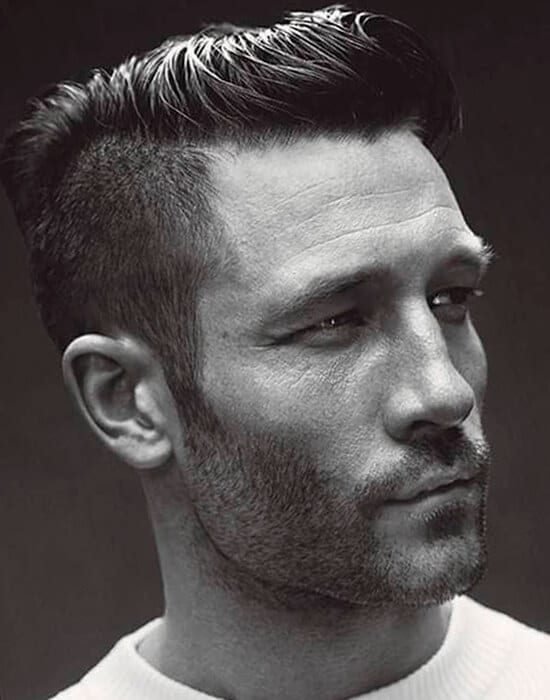 The modern pompadour short haircut for men
For an individual take on this haircut have the sides clipped on a grade one. Also, you may try a skin fade where the base of the haircut begins. Keeping more length through the top section the hair should be clipped high into the curve of the head. Thus, it can be worn connected into the crown or completely disconnected with hair hanging below the crown area. One of the most important things here is to choose the right balance for your face shape. For a round face shape, you should take the sides tighter and allow more volume on top that will help elongate your features. If you have a narrow face shape keep a bit more length through the sides and try to keep the top a bit slicker and closer to your head.
---
Regulation – men's short haircut
The regulation haircut refers to military-style and as there are several branches in the American military system consequently one haircut has numerous variations according to this system.
---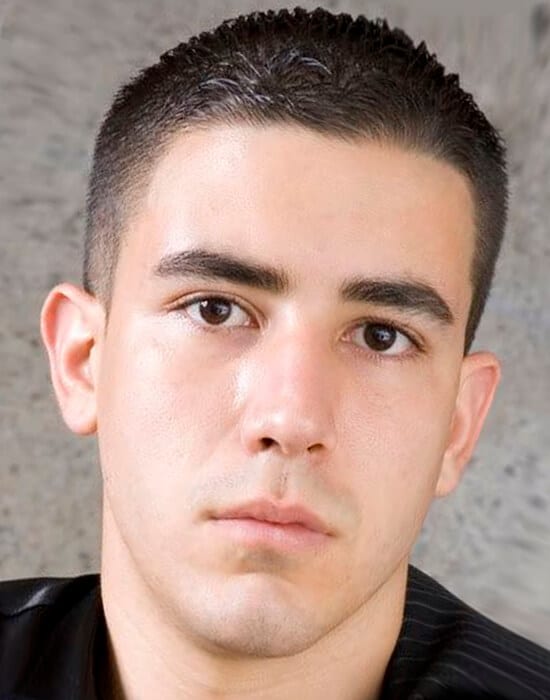 Air force haircut regulation
This short haircut for men represents clean, neat and well-groomed appearance. With this haircut, the hair above the ears and at the nape of the neck is tapered. The sideburns might not extend past the bottom of the ear orifice and might not be flared or pointed at the bottom but must terminate with a clean shaved horizontal line. Moreover, the face must be clean shaved with the only exception for a mustache.
---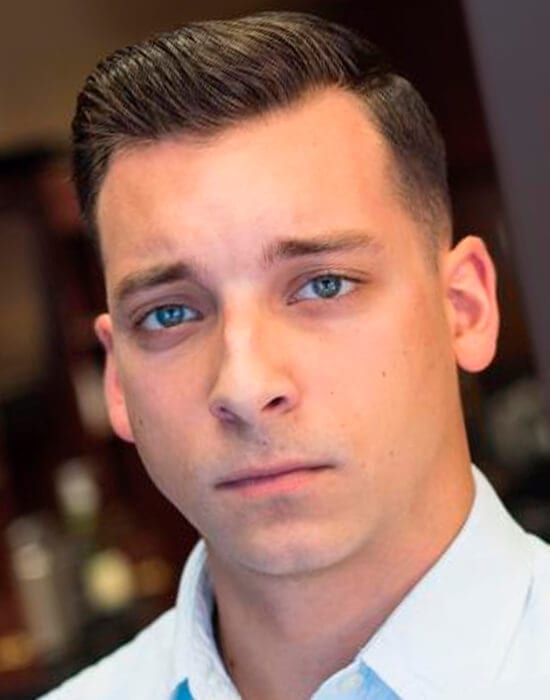 With this men's short haircut the hair above the ears and at the nape of the neck are usually tapered from the hairline upwards at least 3/4 inches. If the texture of the hair makes a taper difficult to attain, it may be combined with a line at the neck. It is allowed for hair to be no longer than four inches and not to touch the ears, eyebrows or collar. The bulk and the length of the hair should not interfere with decently worn headgear and is advisable to be styled in a manner that does not allow the hair to extend more than two inches from the scalp.
---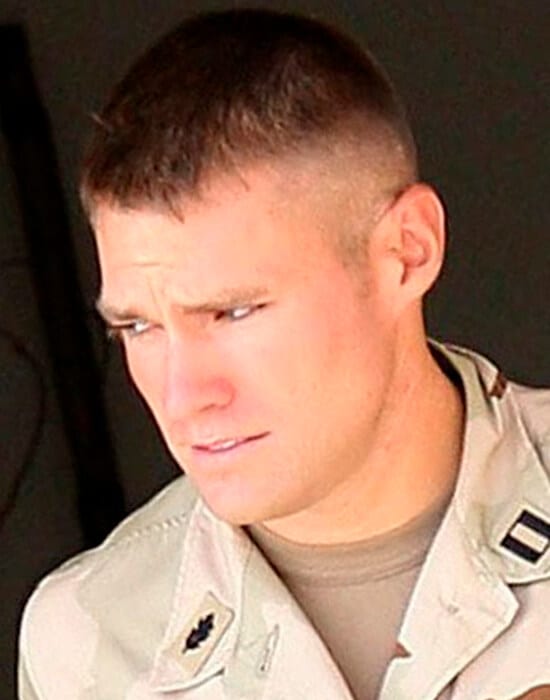 Army haircut regulation
Actually military men's short haircuts must conform to standards. That is why with this kind of regulation cut the hair on the top of the head must be neatly groomed; it is not allowed to be spiky, trendy or disheveled in appearance. To achieve this haircut the hair is usually tapered and conformed to the shape of the head, the neckline is also tapered. The hair cannot fall over the ears or touch the collar.
---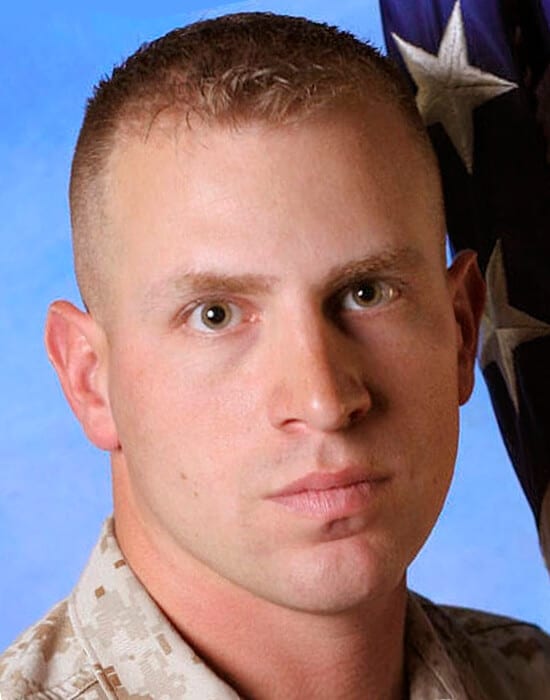 Marine haircut regulation
The Marine Corps standards of grooming require the hair to be evenly graduated from zero length at the hairline with no edging or outline. The hair is not allowed to be over three inches in length or be styled in a way that it protrudes from the scalp more than two inches. The hair length of the sideburns must not exceed 1/8 inch. In fact, it is not required for male Marines to have their hair clipped to the scalp all over the head, with the exception of undergoing recruit training. However, they may shave their entire head.
---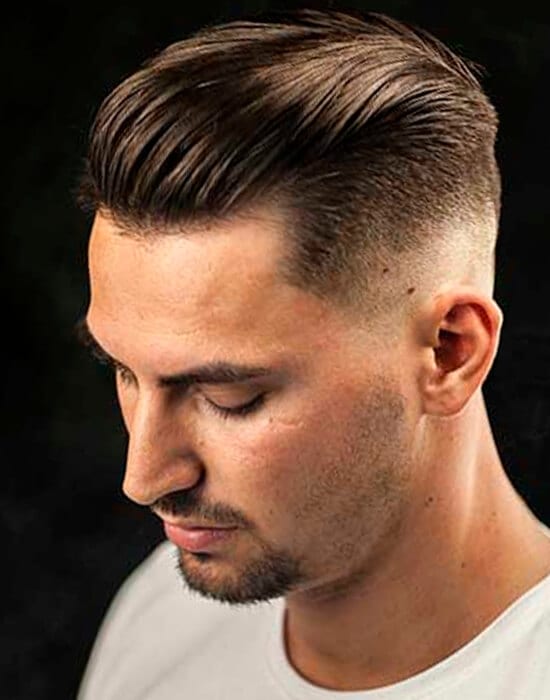 Undercut men's short haircut
This haircut has recently been popularized in fashion and thus has become common amongst lots of film and television stars. It has also been frequent in street style, especially worn by younger generations eager to embrace the trend. That is not a surprise for many reasons. The haircut is really youthful and works incredibly well for straight, curly or wavy types of hair. The other fantastic thing about the undercut lies in that it can be interpreted in different ways. From the classic versions of this haircut to the more modern variations and including everything in between, you may choose any variation dear to your heart and look.
---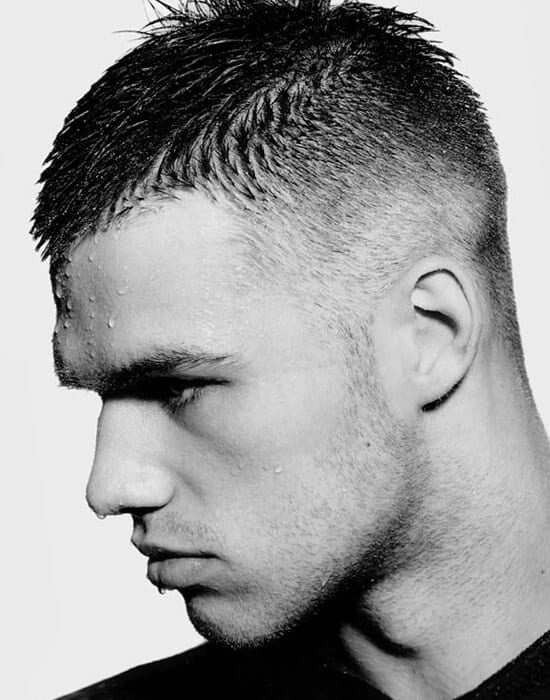 Taper short haircut for guys
Basically a taper haircut is a gradual trim which results in decreased hair length around the ears and back of the hair; such hair is also usually blended to make for a smooth haircut. The classic taper haircut is a typical men's haircut. It is quite easy to maintain this short and masculine haircut that never goes out of style. To create holds and separation with a neutral shine finish you may apply a bit of styling paste.
---
Conclusion
It is not a secret that only a good short haircut makes any man masculine, sexy and handsome. A variety of haircuts for all ages from boys' short haircuts to adult men's short haircuts provide you with a great possibility of choosing your personal style. Remember that a good haircut is of crucial importance not only for you but for your whole life.
---
---