Do you have a medium-length hair type? Then, don't hesitate to check the largest collection of the best men's medium hairstyles for any age. Here are styles for those men who want to look great daily spending minimum time and effort.
Some History about Medium Hairstyles
---
Nowadays men care about their looks as well as women do. A hairstyle is a thing that can make you look perfect but if chosen not correctly on the contrary it can spoil the whole picture of your appearance. That's why it is really necessary to pay attention to the hairstyle you want to wear. Medium hairstyles for men are getting popular each day. And the most amazing fact is that today all kinds of men's medium hairstyles can be found. If one hairstyle was popular, for instance, in the 1950s it is quite common and accepted these days. Everything depends on your age, profession, interests, hobbies, and views. But choosing appropriate hairstyle, in spite of the above-mentioned facts don't forget about your own facial features, the shape of your face and head, the strength of your hair, and even your height.
---
---
Actually there is plenty of variations of men's medium hairstyles, and each hairstyle is unique. It means that there are as many hairstyles as people. Naturally, it is impossible to describe millions of hairstyles just in one article. But a reasonable way out exists! If you look at several hairstyles, you will notice a kind of resemblance. It happens because in fact there are few groups of hairstyles. Generally, there are just three main groups among hairstyles for men: short-length, medium-length, and long-length hairstyles. Then each group is divided into several subgroups. And in the context of one group, you will find lots of variations. Thus, discover the main types of medium hairstyles for men.
---
Subgroups of men's medium hairstyles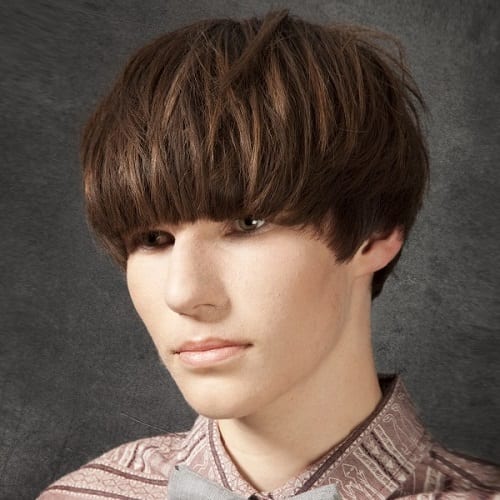 A bowl-cut hairstyle
This kind of style is a simple and plain medium haircut. The hair is cut with a straight fringe on the front and the rest of it is the same length all the way around or is cut medium on the sides and back. It is named so because it looks as though someone put a bowl on the head and cut off or trimmed all the visible hair. A bowl-cut is also considered a cheap and easy haircut quite often popular with children and teenagers.
The bowl hairstyle was popular among common people of different nationalities as an easy and neat cut by a non-professional. In fact, it was done by putting a cooking pot of a fit size to the level of ears whilst all hair below the rim was shaved off or cut. In some counties, it was a normal type of haircut while in the others the bowl-cut symbolized an attribute of poverty. It signified that the wearer could not afford to visit a barber.
---
---
In the middle of the 1960s, this men's medium hairstyle was represented by two well-known music groups The Beatles and the Monkees. Thereby this hairstyle became popular among teenagers. During the 1980s the bowl-cut hairstyle was brought into use by The Ramones, a punk rock music group.
More recent and notable examples featuring the bowl-cut in science fiction and fantasy films include Adam Brown as Ori in The Hobbit, Leonard Nimoy, and Zachary Quinto as Mr. Spock, and a child actor Jake Lloyd as Anakin Skywalker in Star Wars Episode I.
---
---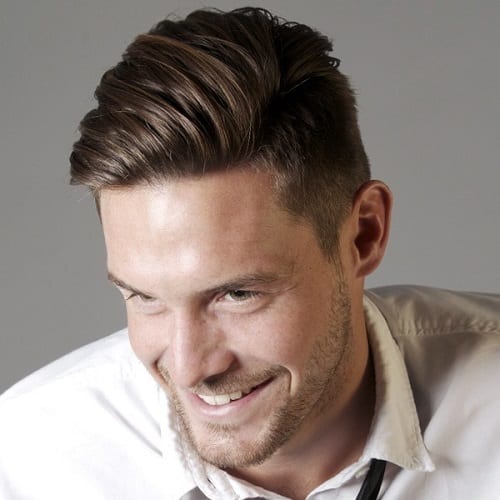 A comb-over hairstyle
A comb-over is a hairstyle in which hair is combed from one part of the head to another, it is used quite often to cover up a bald spot and to minimize the evidence of baldness.
In the year of 2004, Donald J. Smith and Frank J. Smith were awarded an Ig Nobel Prize for their U.S. Patent, a variation of the comb-over that conceals baldness by combing long hair in three separate directions.
---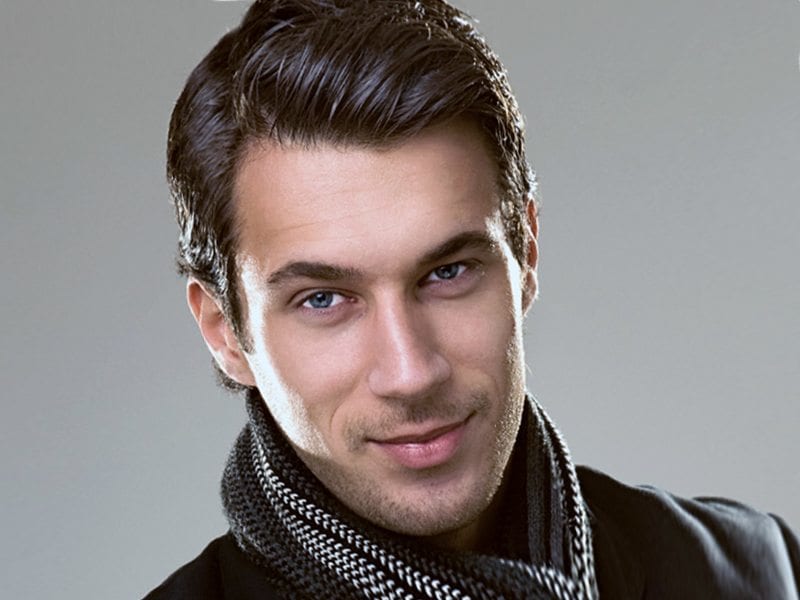 ---
Among famous so-called comb-overs we can define several politicians, such as Algerian president Abdelaziz Bouteflika, Alexander Lukashenko – President of Belorussia, Maithreepala Sirisena – President of Sri Lanka; a well-known military man Douglas MacArthur – American general and war-hero who was known for wearing an extreme comb-over that he quite often hid under his military hat; some sportsmen, such as Bobby Charlton – a World Cup winner, Gene Keady – a Purdue University basketball coach who wore his hair in a comb-over for decades until 2013, when he shaved it off at the behest of his present-day wife, amazingly he spent $600 a week on the hairstyle that included hair extensions and dye; a representative of celebrity people – Robert Robinson – the former chairman of the UK game show Call My Bluff; and finally Donald Trump – an American business magnate who has been mocked for his hairstyle.
---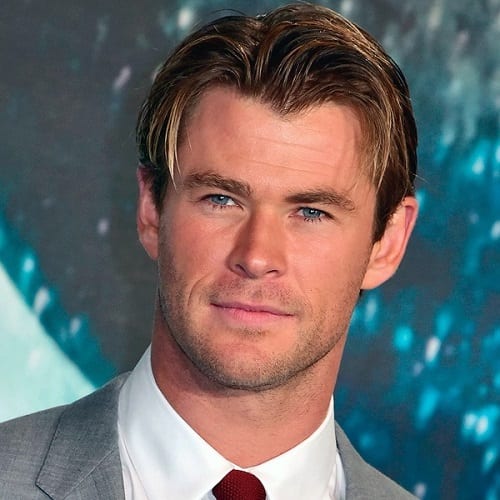 A curtained hairstyle
A curtained hair features a hairstyle with a long fringe divided in either a middle parting or a side parting, with short sides and back. Variations on this men's medium hairstyle have been popular in Europe and North America throughout the 20th century and in the 21st century.
A shorter version of the hairstyle parted in the middle and kept in place with pomade became popular and was used as a practical alternative to the longer hair. It was fashionable from the 1840s to the 1890s. From the turn of the century until the 1920s, a longer variant of the hairstyle was popular among young working-class men.
In the 70s David Bowie used this hairstyle with his orange color hair, then in the late 1980s curtained hair made a comeback among fans of new wave and electronic music. A longer, collar-length version of the hairstyle gained popularity in the early 1990s and was worn by many celebrities.
---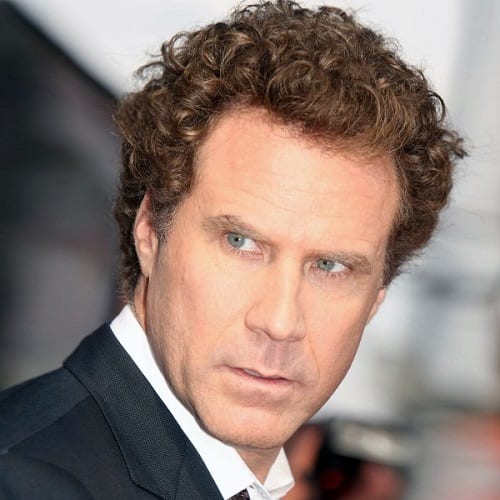 A Jewfro hairstyle
Jewfro refers to a curly hairstyle worn by some people usually of Ashkenazi Jewish descent, who often have tightly curled hair. Notably similar hairstyles carried by non-Jewish people are usually considered, with humor, to be Jewfros. It resembles the afro hairstyle by which it inspired its name.
The term has its roots in the 1960s and 1970s when many distinguished figures were described as representing the hairstyle, among them was a football star, Scott Marcus.
Variations of this men's medium hairstyle are common and popular these days among people with curly hair.
---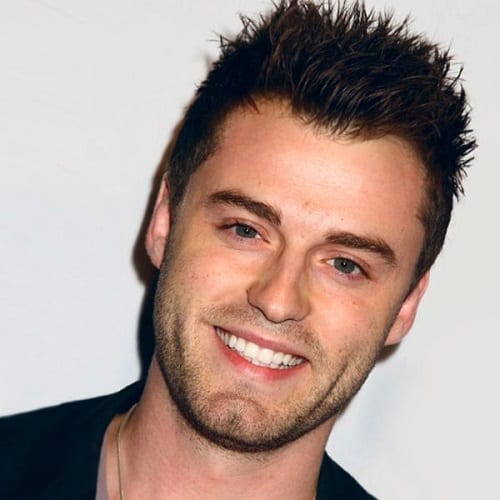 A liberty spikes hairstyle
In this style, hair is grown out medium and spiked up usually with a gel. It is styling hair in medium, thick, upright spikes. The style is so-called for the resemblance to the spikes on the head of the Statue of Liberty and nowadays is associated with the punk subculture. Here the hair is formed into thick spikes that may shine outwards in all directions or all point up in the same direction. Liberty spikes may be enhanced by the use of hair dyes.
Historically the Ancient Britons war men washed their long hair in lime water, which turned it blond. This hairstyle was highly symbolic and honorable. Spiked hair came out of use in favor of short Roman haircuts after the subjugation of Britain. In the 1970s this changed when the emerging British punk subculture chose choppy, messy hair in reaction to the long smooth styles carried by hippies and disco fans. Originally the spikes were small, as present-day pop-punk fans have them, but by the 1980s this had grown into tall liberty spikes. Liberty spikes were also widespread among the Goth subculture but in that case, they were dyed black instead of the bright unnatural colors encouraged by punk rockers.
---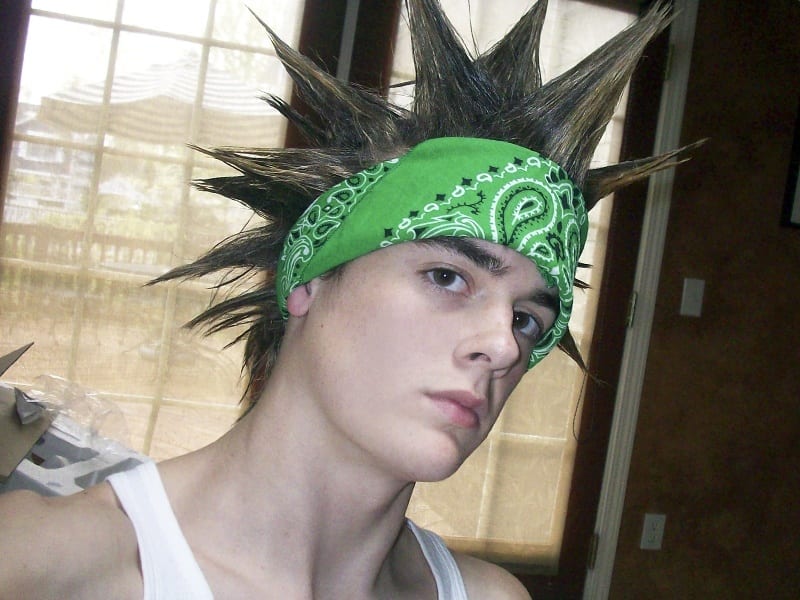 ---
Among famous people with this hairstyle are David Bowie, Alan Barton of British pop group Black Lace, Brad Pitt, David Beckham, musicians from the American rock group Linkin Park and others.
---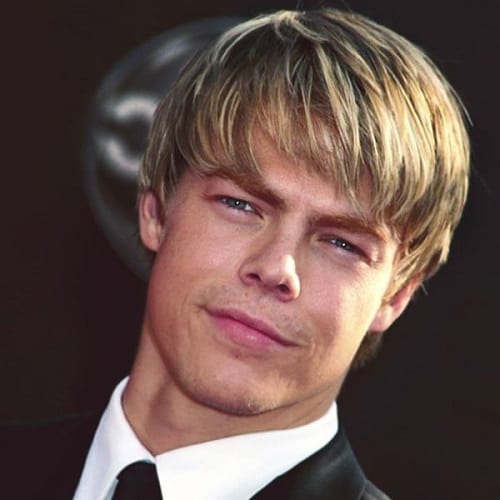 A pageboy hairstyle
This kind of men's medium hairstyle derived its name from a haircut of a late medieval page boy. In this style straight hair hangs to below the ear, where it usually turns under. There is usually a fringe in the front.
The pageboy hairstyle reached popularity in the 1950s. Its most distinguishing feature was the bangs made widespread by the fifties glamor model Bettie Page. In fact, this association was not acceptable to women's magazine editors, so it was sold to the public as the hairstyles historically worn by English page boys. Well cut, this hairstyle is easy to maintain, and in the 1950s it was an extremely stylish look.
A pageboy hairstyle is a haircut that is designed for medium length hair. Various barbers can make a pageboy style and explain how it should be maintained. This look suits different face shapes and body types.
---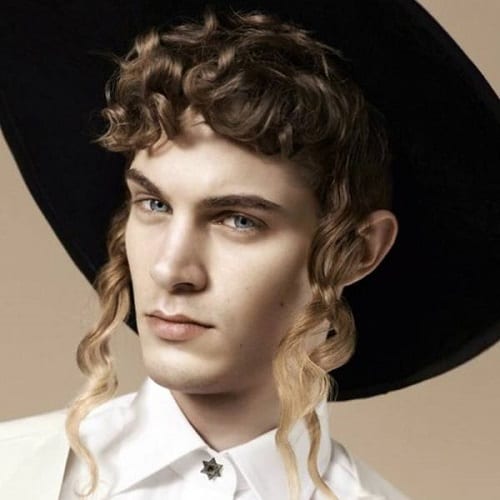 A payot hairstyle
The hairstyle owes its name for the Hebrew word that means side curls. This style is worn by men in the orthodox Jewish community who are against shaving the "corners" of one's head following their Biblical beliefs. There are different styles of payot among Jews. For instance, it can be twisted or tucked behind the ears. Moreover, the lengths and maintenance of the payot vary considerably among Jewish groups.
---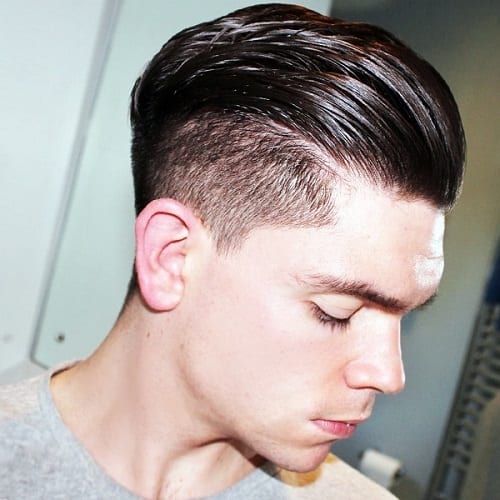 A pompadour hairstyle
In this style, the hair is swept upwards from the face and in such a wayworn high over the forehead. The hairstyle is named for Madame de Pompadour, a well-known mistress of King Louis XV. There are numerous variations of the style for men but the basic concept remains the same.
The men's version for this very style was popular in the late 1950s and early 1960s and was worn by early country and rock and roll stars such as Elvis Presley. Variations of the style continue to be worn by men in the 21st century. Notably, Latin variants of the hairstyle associated with European and Argentine tango fashion trends are quite popular nowadays.
In modern Japanese culture, the pompadour is a stereotypical hairstyle usually worn by gang members and is often caricatured in various forms of entertainment media. Today the pompadour hairstyle can be seen on such celebrities as Conan O'Brien, Bruno Mars, Justin Timberlake, and others.
---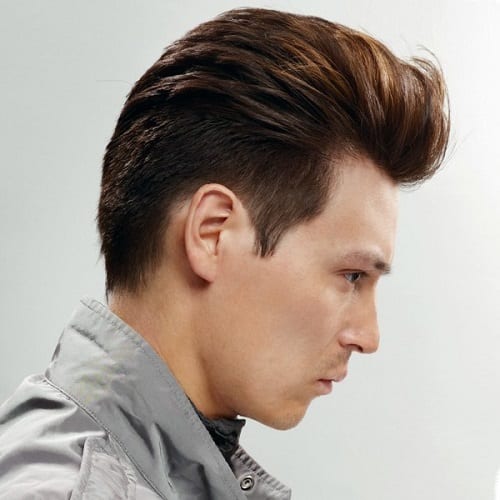 A quiff hairstyle
The quiff combines several hairstyles but in particular pompadour style. The etymology of the name of this style is not certain. Whether it owes its origin to the Hindi word meaning hair slicked back, whether to the French word meaning a hairstyle that knights wore over their heads and under their helmets or the Dutch word meaning crest.
The present-day quiff includes plenty of hair at the front of the top of the head that recedes into shorter hair at the back and has trimmed back and sides.
---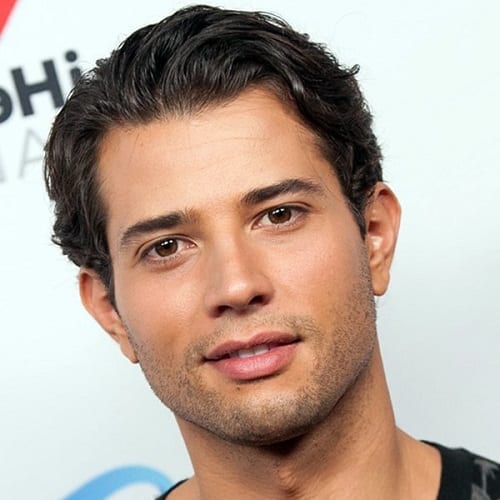 A regular hairstyle
This men's hairstyle has short length on top, a defined or deconstructed side part and a medium length back and sides.
The basic elements of a regular haircut are edging, siding and topping. First edging comes, followed by siding and topping. It is typically done with clippers; siding, shears over comb; topping, shears over fingers. There are other methods that can be used including all clipper cuts, all shears cuts, and all razor cuts. Barbers mark a two-line haircut and a one-line haircut. In fact, two-line haircuts are standard taper cuts. In this case, the hair is outlined around the ears and only then straight down the sides of the neck.
---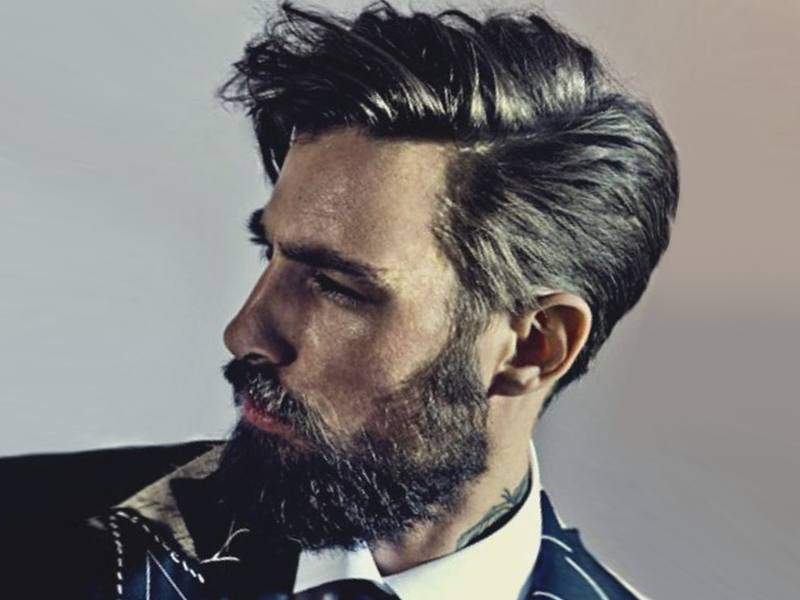 ---
Advantages of having medium length hairstyle:
You will look sexy and handsome
You will have an up-to-date and attractive style
It is easy wash and go
You will be able to change your appearance almost immediately just by combing your hair differently (for instance, from one side to another) or parting your hair on one side and combing it over.
---
Disadvantages of having medium length hairstyle:
Only one! Medium length style requires more attention to maintain than most short styles. But quite often just with the help of a comb, you can solve this problem.
---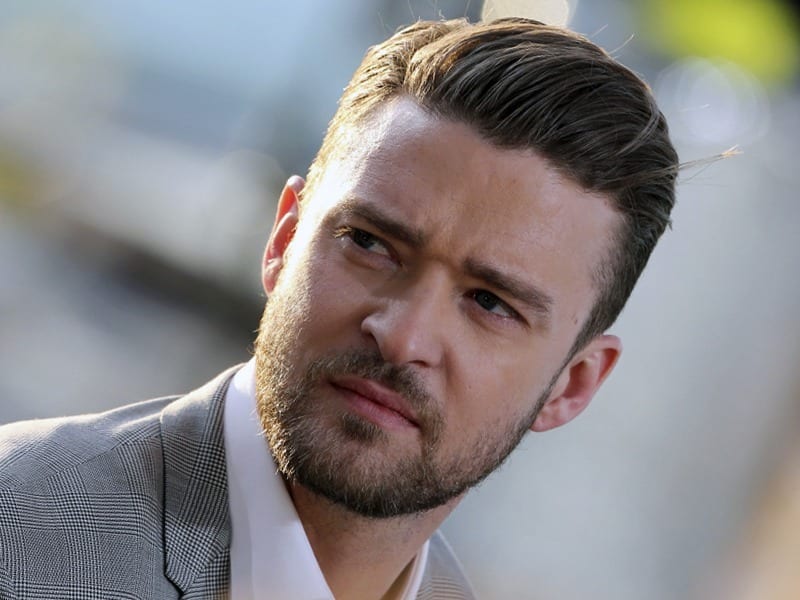 ---
Conclusion
To put it, in a nutshell, it is really essential to choose the right hairstyle for you. If chosen correctly, it will serve you well. You will be able to look younger in your advanced age as well as more mature when you are young enough.
---
---